Best Apartment Decorating Tips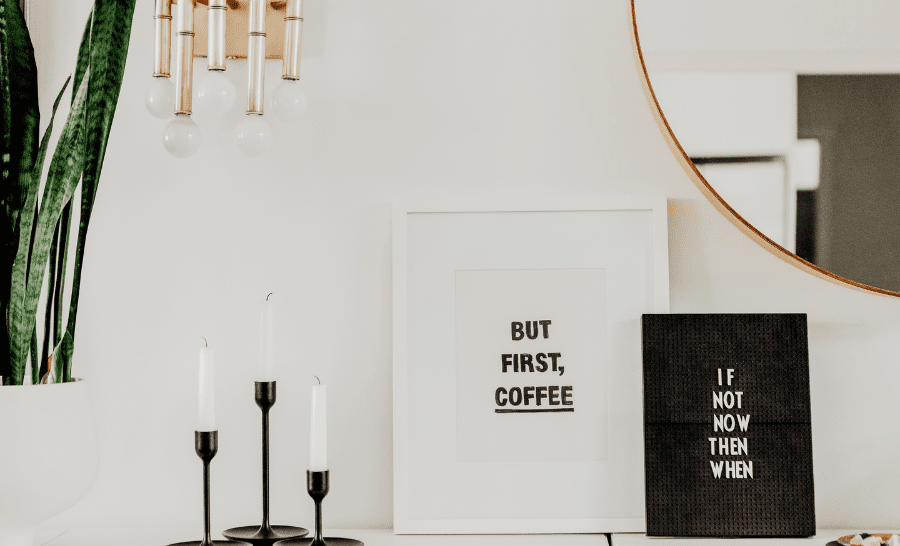 Best Apartment Decorating Tips. It can be tough to have enough space for everything, when you live in a small apartment. But your decor style does not have to suffer.
In fact, you can have a big style that makes a powerful statement within the small square footage.
So long as you know a few decorating tricks.
In this article, we will reveal the best apartment decorating tips so that you can style your space with convenience.
---
7 Easy Home Updates eBook: Free!
Today, get a free copy of our ebook that shows you 7 simple updates you can make in your home this weekend that will make your home look expensive and increase its value. Tell us where to send your free copy:  
This site uses ads and affiliate content as an Amazon associate earning on qualifying purchases. Disclosure.
---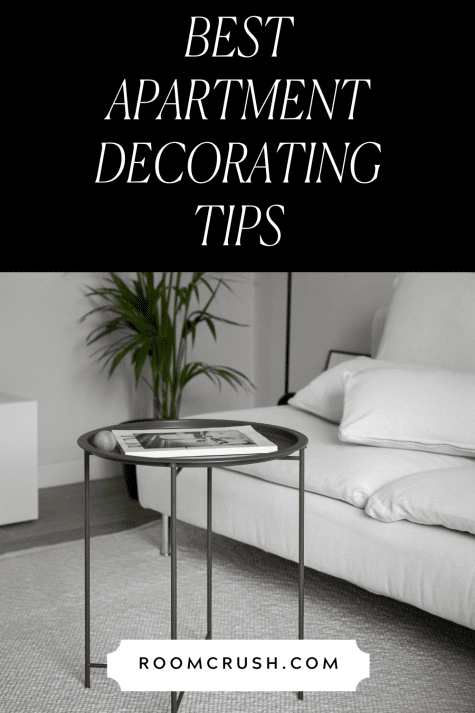 Best Apartment Decorating Tips
Apartment dwellers do not have it easy! Been there, done that. Here are the two most common pitfalls that most people find themselves in and why you should avoid them.
Number one is fooling yourself into thinking that since an apartment may only be temporary. Or that you should not invest some effort into making it feel like home.
Notice that I mentioned "effort" and NOT money because this is the absolute truth of the matter.
Decorating is not about how much you spend. Remember, wherever you reside in your home, it impacts your happiness; therefore, make it yours!
Second, not focusing on the positive aspects of not owning your own pad and enjoying the perks of not having "roots."
How To Create A Decor Plan For Your Apartment?
Once you find the perfect space that matches your taste and the features you want you should think of ways to decorate the space from scratch and on a budget.
To decorate a studio apartment on a budget, you need to come up with a good plan. The plan you make will help you prioritize the essential shopping list.
One of our favorite ways to make a plan is to create a mood board. This will help you decide which items, colors, and textures go well together.
To make a mood board, you can either save images to Pinterest or get a simple cork board and push pins:
Yalis Thumb Tacks 500-count, 3/8-inch Steel Roundness Push Pins Office Tacks for Corkboard (Gold)
The thumb tacks total 500 pieces. Good for color coding or brightening up your bulletin board, cork boards, marking maps, notice boards
Thumb tacks size, total length is 3/ 8 inch, head diameter is 3/ 8 inch, steel pin is 5/ 16 inch length
Easy to Use, Steel round head with sharp steel needle points for easy insertion and safe removal.
Convenient storage, these thumb tacks are packed in a clear plastic case, They are useful accessories for home, offices, classroom, dorm rooms, etc.
Sturdy and durable, these furniture tacks are made of iron, with golden color plated on the surface, hard, firm and durable, can last for a long time
A mood board and a plan allow you to focus on the critical elements to make your home cozy that is within the friendly budget cap.
Hence, it avoids you from making your apartment cluttered. Get rid of anything that is not important and functional.
Some experts say that if you want to maximize your tight budget, you need to choose two spaces that you want to prioritize.
Many people who live in apartments choose the living room and bedroom to prioritize because these spaces require most of the investment.
The key is your focus on quality over quantity.
Get some great inspiration and think of cozy ideas that will fit with the size and design of the space.
Furthermore, the challenging aspect of living in an apartment is the small available space. Some ignore decorating an apartment because of the idea of a limited decorating option.
Also, landlords provide limited rental rules, such as you are not allowed to nail your décor on the wall.
The good news is some ideas will help you overcome these limitations. Take time to read our article, and it will help you answer your question on how can I decorate my apartment without damaging it?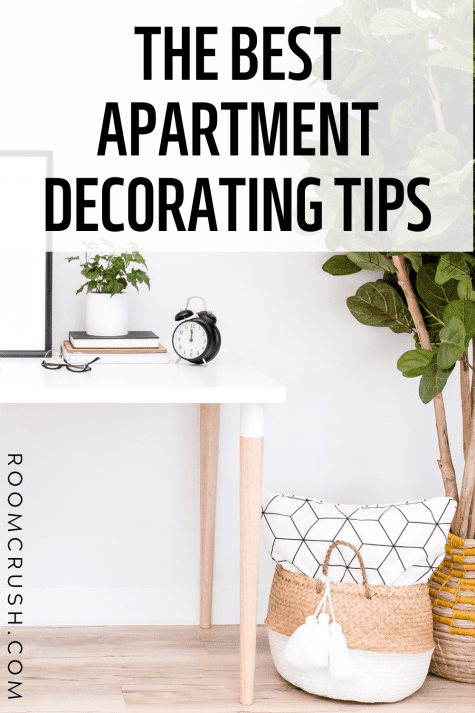 How Can I Decorate My Apartment?
Work With Your Floor Plan
To prioritize when decorating your space-limited apartment, make sure you work with the floor plan and not against it.
When doing so, you'll find that your limited options for furniture placement will assist you in styling your room for the best overall flow.
For example, for living rooms, first, determine which wall your cable connection is on if you plan to install a television set.
Since TV walls could be a bit tricky to decorate we gave some ideas you could review on What is the right size area rug for a living room?
How Can I Make My Apartment More Stylish?
There are a few things you can do to make your apartment more stylish. One is to add some plants or flowers.
We love succulents for their unique shapes and colors, as well as the fact that they're easy to care for. This makes them the perfect indoor plants for beginners.
Another is to hang some artwork or photography on the walls. You could also add a rug or some cushions to the furniture.
You May Also Like: The Correct Dining Room Rug Size For Your Table
And finally, you could change the light fixtures or buy some new curtains. Whatever you do, make sure it's something that reflects your personal style and makes you feel happy and comfortable in your own home.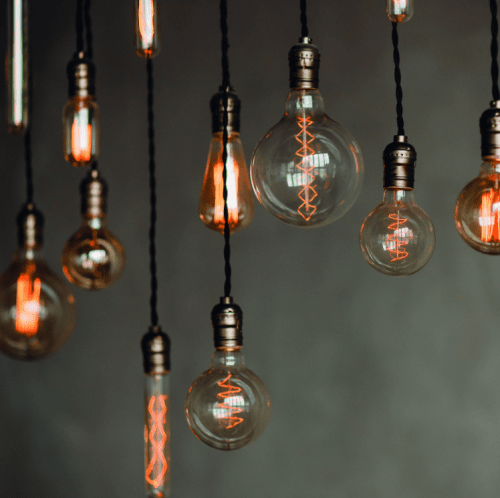 What Do You Put On Apartment Walls?
There are a few things you can do to decorate your apartment walls. One option is to paint them a different color. Another option is to hang artwork or photos on the walls.
You can also use wall decals or wallpaper to add some interest to the walls. Whatever you choose, make sure that it reflects your personal style and makes your apartment feel like home.
Most apartment dwellers will go for wall art as the quickest way to decorate a small space apartment. Ergo it is the best idea, but it requires creativity and ingenuity.
Remember, the wall art you should choose must define your apartment. Choosing the right wall art will set the tone of making your space inviting, communicating, and setting stories of different rooms.
Temporary Budget-Friendly Wall Ideas For Apartment LIVING
Be Particular About The Size
Part of planning is getting the size of the wall where you place the wall art. For professional designers, they will recommend larger pieces of art that will fit on your wall.
The art must not be more than the length of your sofa
The art or photo itself must be at least 15 cm above the edge of the furniture
Small artwork can also be better if you group them into pieces. But it is best if they all came from one artist to compliment
Consider the height of the ceiling
For more low-cost DIY projects for your walls check out Ideas For Art | Easy DIY Projects
Art By Style Matters
Art piece must match your room style
Selecting and investing to single oversized piece will be good enough
For short walls, small pieces of art grouped will work
A mix of wooden and metal materials will be good
Selecting Wall Art By Color
It will be best if the significant piece of art you select will have a background color that matches your wall color.
You can opt to choose wall art that fits the shade you already have in your room
If you are in doubt about color matching, selecting black and white will do as they can neutralize everything that surrounds them.
Stay away with light and neon colors
It will be best if you put mirrors to reflect the art. Reflection can make your apartment larger.
Play with a texture like the color of the wall art against your furniture and accessories around.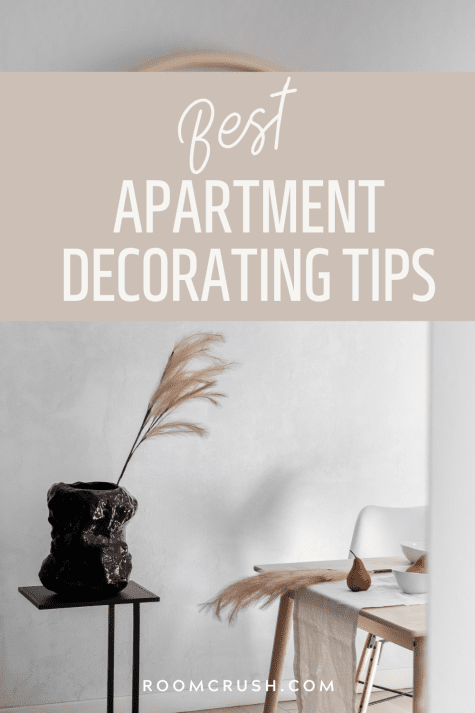 Choosing Wall Art By Theme
When you plan to decorate a studio apartment on a budget with intentions, it will be best if you stick with a theme. For instance, if you want your apartment to get the feel of a beach or bright walls, seal life artwork may work for you.
Take out the items that do not fit inside your apartment. To increase your budget and enhance, sell those things that do not match.
Related: Ideas To Decorate An Apartment For A Single Guy
Tips For Window Treatments And Affordable Options
There are numerous habits on just how you can treat your window and making your small apartment space cozy and feel bigger.
Hang Wide and High Curtains
The hanging drapes of at least 12 inches above the window will look your apartment space look bigger and luxurious. I recommend hanging the curtain to the ceiling and extending the curtain rod out three to six inches on each side.
H.VERSAILTEX Sheer Curtains 108 inches Long Linen Curtains, 2 Pack Ultra Luxurious Linen Elegant Curtain Panels, Light Reducing Privacy Panels Drapes, Tab Top Curtain Set, Natural
RICH LINEN: These beautiful curtains are crafted from open weave linen blended fabric, primitive and natural effect make the panels more draped and aesthetic, formaldehyde-free and environment friendly, transfer your room to be pretty garden
AIRY and PRIVACY: Premium soft touch feeling on these elegant linen textured draperies, add a refreshing charm to your window and lets in some beautiful diffused light, yet reduce energy usage and provide privacy protection
WELL MADE: Sold per pair, including 2 linen panels - Panel measures: 52" x 108"|Set measures: 104" x 108". Tab Tops insert can fit up to 1.5" inch rod. Each panel contains seven (7) tab top loops.
DECENT DECOR: These timeless classic linen panels will decorate your home with fresh effect, simple pattern has aesthetic look, decked out graceful and chic appearance to any space, creating a festive mood, perfectly match any home styles
BEST HOUSEKEEPING: 30 days money back guarantee on return policy, 100% satisfied customer service. Machine washable in cold water, use only non-chlorine bleach when needed, tumble dry low and warm iron as needed
Hang The Curtains Right Above The Windows
If you hang the curtain above the window frame will look your window small and stunted. As a result, seeing the whole house will be overcrowded. It is best to place the curtain in a way that it should not fall more than two inches inside the frame on each of the sides.
DIY Tutorial for using drop cloths as curtains.
Layering The Window Treatments Will Make Your Cozy Home Alive
You may have options like matching the frame by drapes, use of pairing to a pretty roman shade, or you can go for louvered shutters peppered with a chic style. It boasts style, creates centerpiece, and provide better insulation.
Avoid Putting Too Much In Your Window Treatment
Too much of anything will become a bad thing. Make sure that the different layering of styles will not prevent the right lighting from passing inside your home.
If you want to use blind and shutters, opt for a wide-sized slat
A right window treatment must bring style and must tailor with the architecture of your apartment. When you are choosing blinds or shutters, I recommend the wood or faux wood style with a broader slat.
It is best if you use different treatment for every room
Allow your apartment to tell a story. Each room is a representation of the unique story that you wish to discuss.
Statement Piece
One of the secrets of some beautiful apartments is having one statement piece as a show stopper.
They fill the space with pieces they love, such as a pillow, wall art, or anything that captures the eyes. One of the best practices is in every room the choice statement piece to tell a story.
But here are some points you need to remember when you wish to tell stories with statement piece:
Be Careful When Mixing and Matching Materials
You might be collecting or buying a lot of furniture without thinking of their complementation. If you are in a constricted budget, you need to plan out. Take a photo of your room and find inspiration before you decide what statement piece you must buy to maximize your budget.
If the area is too dark, you might need simple but well-designed lighting or lamp, or light hanging cabinet or rack.
Large Furniture Is Not A Good Buy
Most apartments have limited space and small sides. You need to scale the furniture you will place that will be lower but functional.
However, there can be instances that you also need to consider placing a large sofa because it will be more calm and inviting to guests. When you do this, make sure that other furniture will not eat all spaces and sacrifice comfort and functionality.
Be Careful In Combining Different Décor Styles
You may be a lover of everything. You may want to be chic but industrial. However, there are ways of mixing different décor style but make sure that the flow will not over-kill the whole apartment and becomes dull or cluttered.
Too much and wrong décor combination can be annoying.
Avoid Trying To Match Everything
One of the struggles of living in an apartment is that you don't have many walls to work with.
Decide on the color scheme that will match your area.
Why not make your small space apartment relaxing and comfortable with a light and airy color combination?
If you have old items with you that do not match, sell them, so that you can buy new ones. The colors will tell the story of your personality and convenience.
Make Your Investments In Things That Matter Most
A few things that you should invest in are items that will be with you for years to come and ones that will fit into your future space.
For example, a mattress or a coffee maker.
If you plan on purchasing a quality dining room table, consider buying one that is expandable as you would benefit from a larger table once you move into a house.
Mobili Fiver, Iacopo Extendable Dining Table, Rustic Oak, Made in Italy
MODERN TABLE: Extendable dining table. Min. length: 55.11 in. Features 2 extra leaves that reach a length of 70.86 or 86.61 cm (seats up to 10 people). The extension leaves can be stored under the table top. The continuity of the wood grain on the finish is NOT guaranteed (on the top and between the leaves and the top).
DETAILS: Perfect for the kitchen or the dining room. Easily extendable: the legs are always located at the corners of the table for maximum seating space. Easy to clean with the use of a damp cloth and mild detergent. Chairs not included.
ASSEMBLY: Hardware and assembly instructions are included in the package. It takes about an hour to assemble (2 people). The special packaging will protect the table from potential transportation damage.
MATERIALS:Structure in high quality melamine, the extension mechanism (guides) is in galvanized metal
100% MADE IN ITALYVisioned, styled, designed and manufactured by Mobili Fiver
Gallery Wall
You can decorate a studio apartment on a budget and make your new space cozy with gallery displays.
The use of floating drops to show off collections and decorative mementos will surely be an excellent attraction for your new apartment.
When you have a dull wall, a wall decoration idea with a statement of memories and messages can be a great choice.
However, putting a gallery display in a tight space will not be valid if not well-thought. Here are some of my bits or tips:
Photo credit @ Stayloom
Plan Ahead
Before placing anything, it will be a smart idea if you cut pieces of paper that are the sizes of your frames.
Tape them on the wall and see what it looks like.
Be Careful When Using A Level
Remember that not all corners of your apartment are aligned.
There may be some problems during construction, or due to weathering and shrinking of some wood parts, there is likely a misalignment of lines and corners.
Anchor The Wall With The Largest Art Piece First
Avoid putting a lot of small pieces will surely clutter your wall. Instead of making an attractive statement gallery, it may send a gallery of garbage.
The best way to hang wall art of photo frames is to start with a big piece and work with different shapes and sizes outwards. In this way, you can carefully select the right combination of style and color.
Avoid Mixing Different Frames
Relative to what I explained earlier, you need to match the frames on a gallery wall. No need for all photos to be in the same sizes as the frame.
Make sure that everything flows together and do not clutter.
Inspiration Decor Ideas For Apartment Living
Using a wood crate as a box spring.
Bring the string lightingindoors.
Best Apartment Decorating Tips – Conclusion
Even if you live in a small space, it's always important to make it cozy. It can be tricky, but it is doable when you follow our simple guides and steps.
We hope this list of the best apartment decorating tips is helpful.
for more decor tips, you'll love:
How To Avoid Decorating Mistakes