We have some brilliant minimalist living room ideas for you today.
Minimalism is the art of being able to conveniently live with less and still hold that clean aesthetic touch. Fashionistas will say that the fashion-conscious woman is a minimalist. And sustainable!
Well, the same applies to minimalistic décor. While it just sounds so easy to have a minimalist living room design, the process is not actually as easy as it sounds. However, it is achievable.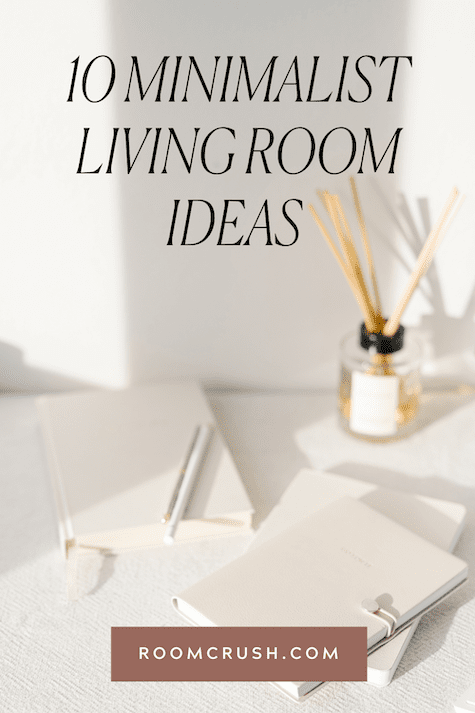 10 Minimalist Living Room Ideas That Will Inspire YouEssentially, the living room has to be the most important part of the house.
Why? This is the first room that visitors have access to whenever you let them into their house.
Since it is the first room accessed by almost everyone, including you, it must provide a homely feel just at a glance.
Why is minimalism the way to go?
It's relaxing and cozy- many homeowners are choosing this because it amplifies relaxation.
It's easy to clean and make everything in place.
It looks chic.
Some of the things that can make your transition to minimalism decor easier include:
Having an open floor plan that allows in much natural light
Incorporating the right lighting plan to

reflect who we are and how we want to live.
Clearing too much clutter alone won't guarantee you that clean minimalist design.
Much work goes into the same to ensure your living room is beautiful, clean and functional as well.
At a time when each and every campaign is about sustainability, it's about time we also had sustainable décor which largely inspires minimalism.
So, these 10 minimalist living room ideas will inspire you to clear the clutter and make your living space even more homely!
10 Minimalist Living Room Ideas Inspiring You To Declutter
1. Less Is More
Less is indeed more! That is the mantra of every minimalist!
Scan around your living room and notice the first recommendation that comes to mind.
I mean, does your living space look too small? Do you have the hardest time cleaning under the sofa sets?
Then it's about time to get rid of too much furniture in your living room.
Give away what you can, eliminate or store what can be and organize your living space to ensure there is as much space left to move or clean around freely.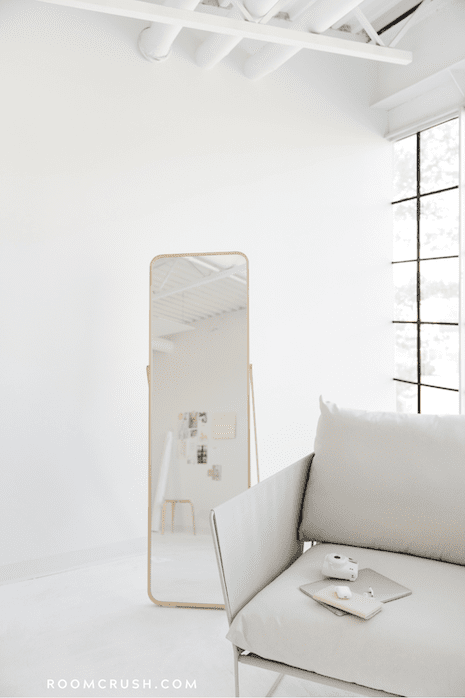 2. No Clutter!
Imagine leading a very busy lifestyle that you hardly have time to do a thorough house cleaning.
It will require a great level of diligence to actually keep your home clean, right? Hence, the inspiration behind a minimalist design.
Get down to the basics and clear too much clutter in your living space.
Look on top of your tables, couches, and even cupboards and if you find:
too many papers lying around?
key bunches on the sofa?
a couple of pairs of shoes under the chairs?
small items everywhere?
Well, just know that you need to clean those surfaces.
Learn to store your items out of sight for a less-cluttered space.
and save yourself the hassle of vacuuming, and get yourself a Narwal. You will thank me!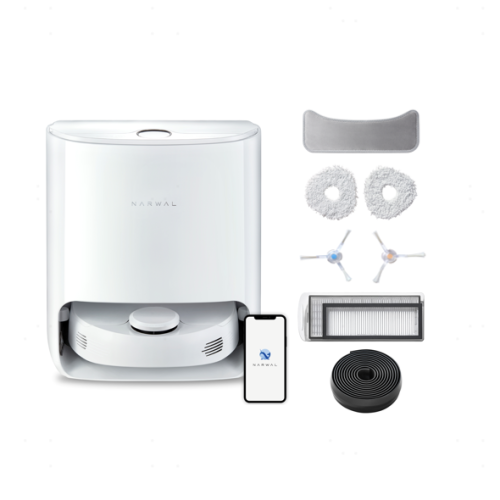 Get Your Narwal Here!
3. Pick a color palette
When picking out your color palette for a minimalist space, you can consider a monochromatic, muted or tonal color scheme.
With a monochromatic scheme, you can choose all-white or all-black with pops of other shades and textures here and there.
When going for a muted color scheme, it's all about the 'silent' colors like the greyscale that you can incorporate.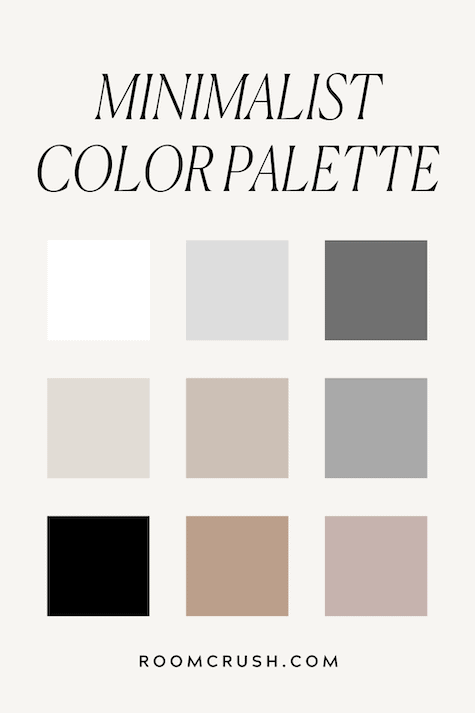 For tonal color palettes, you should stay within one color and add soothing tones and shades of a similar color for a unified color scheme.
For example, a blue couch with a soothing tone and bulbous shapes and shades of blue from the table to the pendant light
Even if your house is small and you can't afford to bring in those large couches that would easily elevate your minimalist space, then go plain color with a few pops here and there.
For example, you can get white paint for your living room. White paint really amplifies relaxation.
While you could certainly go the all-white route, you could also always go for brighter shades like cream. You could mix up brighter shades across the room.
For example, bare white walls, a white rug, white-ash grey couches or cream sofas.
However, others tend to avoid all-white due to having kids or pets around. In this case, you could mix up white pieces of furniture with more neutral-toned designs or paint.
Another option is if you can't go all-white, then go dark.
However, black is a great color for your living room if your room is really spacious. And if you have to add black, do just do a dark room!
And in this case, texture and picking out different shades is so important! Right from the walls to the floor and couches.
Sometimes, you can have pops of dark color instead of going dark to create a theatrical theme. Rich, dark gray sofas and matching drapery panels can add drama and bring in a relaxed aura in your minimalist room.
I've also seen others going subtly in pink or cream. And as long as there is no clutter, you have only what you need in the living room and you have picked the right accents for the textures, you'll be good to go!
If you're stuck on how to go about with color in your living room, just pick one color then add pops of color. Essentially, establish your base color then build around it with shades that blend in so well.
4. Appreciate texture
Texture is king when it comes to a minimalist home!
Every minimalist appreciates that texture is indeed powerful since it ensures your living space is not boring but has this touch of sophistication.
You could play with different tones and textures in order to add contrast to your living room.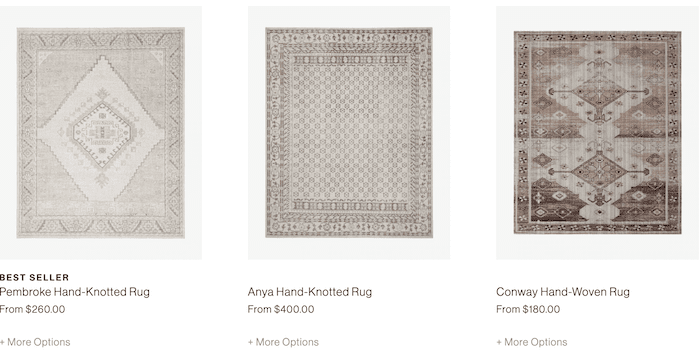 See more rugs from this brand »
For example: using wallpapers or using different shades of one color across the room from the walls to the couches. Adding a couple of pops of color here and there can also add style to your room.
Know that a boldly woven rug makes a big impact!
Also, having different fabrics around the room, that are all within the same neutral color palette works well. Consider wool nd tweed pillows, metal and wood shelving, and cotton rugs. Terrific!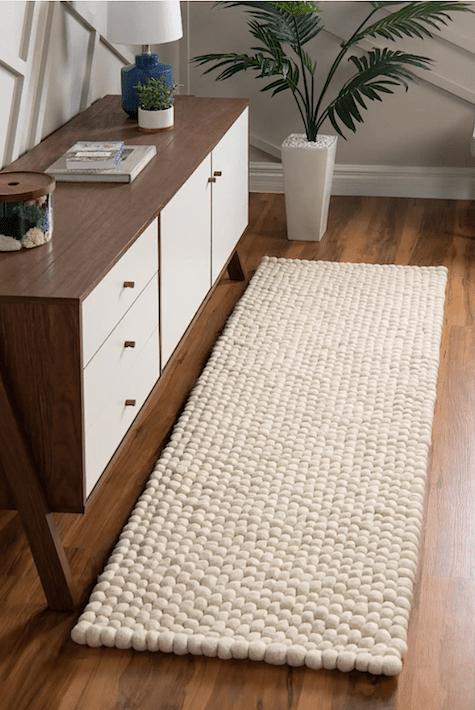 Get this minimalist woven rug here.
5. Time to appreciate dramatic furniture
Before adding dramatic furniture to increase sophistication in your room, consider scaling. What is the size of your room? Is it too small?
Knowing this will ensure you bring in dramatic furniture that will make your room less cramped.
Since a minimalist space significantly has less, you can make it pop by adding dramatic furniture in your living room.
In this case, shop for your furniture with a keen eye on the details. Bring in an L-shaped couch that will fill the room and also, leave enough space for other pieces of furniture.
You can also have dramatic walls like geometric tiles on the wall or beautiful wallpapers.
Also, be sure to allow your 'dramatic' furniture to do the talking. As you DIY your living room, let it stand out and make a statement! No one can ignore a statement piece in the living room.
Everything should pair so well together. Endeavor to create a unified design and color scheme for your living room.
Your room should be stylishly clean, classic, and well put together.
So, after your living room DIY, look around the room and see if everything blends in so well. Listen to your instincts as you do this.
6. Bring in green
Bringing the outdoors indoors significantly improves the look and feel of your house. Adding a few plants to your space makes the room clean and fresh.
Purchase indoor-friendly plants like succulents.
Seek advice from your local nursery on the best type of plants that can work well inside your room based on the amount of sunshine you receive in your home.
And read this guide to the best house plants.
7. What about art?
With neutral walls and minimalist furniture, your artwork is allowed to stand out without them disappearing in too much clutter.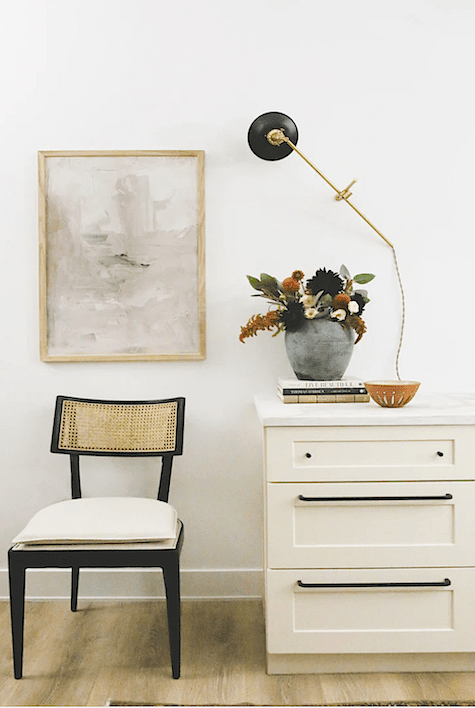 Buy this minimalist artwork here.
8. Light it up
Lights always accentuate and tone the atmosphere. Would you want a calm living space? Then get lights to keep your home cheerful and bright with adequate, ambient lighting.
A beautiful chandelier can really add much detail to your living room.
You can also have pendant lights.
Sale
Bestseller No. 1
3-Pack Industrial Pendant Lights, Seeded Glass Pendant Lamp Shade, Modern Indoor Hanging Light Fixtures, Black Farmhouse Ceiling Light for Hallway Porch Corridor Kitchen Bedroom, Bulb Not Included
➤【Adjustable Height & DIY Design】: The pendant light come with three same cables length which can be adjusted by unscrewing the 3 tightening caps according to your preferences and design to fit your ceiling height needs. You can hang higher or lower as you want, compatible with different types of ceiling designs such as vaulted ceilings, sloped ceilings, and flat ceilings.
➤【Modern & Industrial Design】: The sturdy black metal body, the simple glass shape , and function are great for daily hanging lighting or as a decoration in your living room, foyer, hallway, bedroom, kitchen, dining room, bar, or even a coffee shop. Perfect choice for a gift for your family, and friends in all occasion such as Christmas, Brithday, New Years, etc,.
➤ 【Perfect Size & Easy Installation】: Base diameter 4.7inch, wire length 46.06inch. Glass lampshade: H 5.9inch x W 4.1inch, which saves space and allows you to place your lamp where you need it most for easy access such as bedroom, living room, kitchen, dinning room, hallway. And this ceiling pendant light comes with all mounting hardware for quick and easy installation.
➤ 【Bulb Requirements】: You can use any E26 standard base bulbs (Max 60W for each bulb) such as LED, CFL, incandescent, and halogen bulbs for these kitchen lights ceiling. Bulbs are not included, need to purchase them separately. You can choose different style bulbs and color temperatures to create multiple atmospheres in your house.
➤【No Worry To Buy】: Please check all parts of lamps carefully after the kitchen lights are delivered. If there is any problem as glass broken or part missing, please contact us via the Amazon message box, we will arrange a new replacement for you immediately.
Bestseller No. 2
KLSS Modern Black Farmhouse Clear Glass Cylinder Pendant Light Fixture,Mini Pendant Lighting for Kitchen Island Decor - 4.75 Inch Shade, 2-58 Inch Cord, Matte Black.(2 Pack)
◆New release ASIN: B0B3MSLQGG..DIMMABLE AND WORKS WITH MOST BULBS - Fully dimmable when used with a dimmable bulb and compatible dimmer switch. Uses medium base bulbs including LED, CFL, Halogen and Edison bulbs, compatible with most smart bulbs
◆PENDANTS PERFECT FOR YOUR SPACE - The matte black pendant light is ideal for a variety of spaces, from farmhouse pendant lighting for kitchens to pendant lights for bathrooms. It's great in dining rooms, bars, kitchen counters, over sinks and in bedrooms. This pendant light works with industrial, modern and transitional designs.
◆FITS YOUR CEILINGS - Comes with adjustable rods that work with ceiling heights from 2 inch to 50 inch. Install a single pendant over a sink, or in groups of 3 or 5 pendants above a kitchen island.
◆SAFE AND EASY TO INSTALL - Mounting base compatible with U.S.junction boxes.This ceiling pendant light comes with all mounting hardware for quick and easy installation
◆WARRANTY- The glass light shade is well-made,durable and carefully packed. We provide warranty 2 years. If glass shade is damaged during shipment,please get free replacement by searching ASIN: B09NQXJLHC
Sale
Bestseller No. 3
Industrial Pendant Light Fixture, Adjustable Hanging Lamp with Hammered Metal Shade, Modern Black Pendant Lighting for Kitchen Island, Coffee Bar, Cafe Sink Dining Room,Living Room,10''
Rich texture: the Hammered Flat Black Dome features hundreds of small hammered dimples around an industrial sleek dome, takes this hanging light to the industrial side while modern tooling gives it a contemporary edge for your kitchen or dining room.Inside of this island lights for kitchen is painted white to further reflect the light.
Combination of metal and wood: Wood as a material symbolises warmth and will make a space feel welcoming and comfortable.This kitchen light combines solid oak wood caps off acylinder with a black iron finish metalwork to produce elegant light fittings that brings a distinctly charming touch to any space, and is an ideal lighting choice for abodes with a industrial, eclectic, contemporary or farmhouse blend styles.
Adjustable height: The black cable flex can be height adjusted at the point of installation for use in rooms with lower ceilings. Great for lighting over a dining room table or kitchen island in an industrial setting. The ceiling light shown here is ideal for using individually over small tables and for lighting over breakfast bars. For lighting over larger tables and kitchen islands a group of 2, 3 or more will create greater impact.
E26 Socket: This kitchen light fixture is compatible with incandescent, LED, CFL, and halogen bulbs with E26 sockets (standard USA sockets and 60W Max). It is also suitable for use on a dimmer switch providing the bulb used is also dimmable. Note: The Bulb and Dimmer Switch Not Included.
Easy to Install:Simply hanging this industrial pendant lamp on the ceiling, and then adjust the cable to fit your ceiling height, compatible with different types of ceiling designs. Ceiling plate is finished in black.Hangs from a braided kink-free cord in black.
9. Go modern
If you want to add a serious touch of sophistication, then go modern!
Get a good flat-screen TV or a home theatre.
It is so easy to go minimalist in your living room when the atmosphere is all modern, thanks to the furniture design and the whole living room design in general.
Apart from electronics, you can have sleek pieces like around a mirror or a golden-hanging chair, for instance.
Another way to go modern is to feature one vibrant accent. Essentially, you can choose one item to really pop in a bright color. For example, your couch or wallpaper.
10. Show off your signature aesthetic
Minimalist décor is all about personal aesthetics which is your personal preference.
Now that minimalism is all about simple and classic décor, you don't have to throw in the stylish items that you've had forever. Just find a way in which you can integrate such into your living room.
For some, it could be a chunky plant, a bookshelf, sleek metallic accents or a piece of wall art you love.
For others, it could be a jaw-dropping view! Lucky are you if you live close to a lush forest or in a skyscraper overlooking the city.
Please, don't clutter this space and enhance it by matching your minimal interior design with the stunning exterior.
If you're dreaming of the perfect minimalist living room, then consider keeping your décor simple and neutral. Also, pick your items wisely because, in a minimalist living room, all pieces must be unified for a clean, classic design.
Above all, you should have fun with your living space and ensure the accents blend in so well.
Would you also embrace such minimalist living room decor ideas? What are your thoughts on a minimalist living room space?
Please share your thoughts with us below.
Pin This: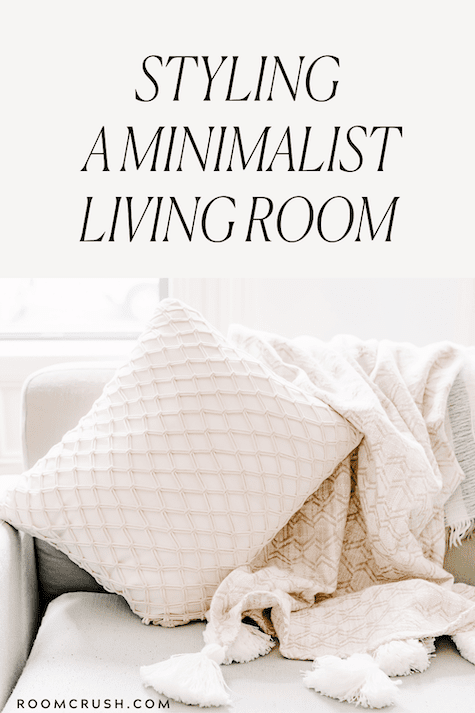 What To Read Next:
5 Bedroom Makeover Ideas You Need To Know About
Would You Try A Maximalist Living Room? Here's How!