Society6 Review: Stylish Wall Art At Affordable Prices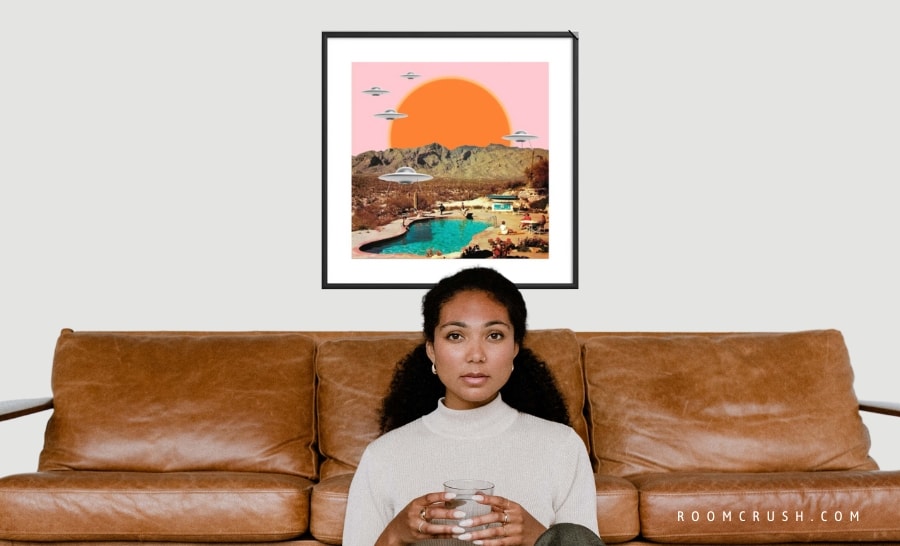 I wanted to find some new framed wall art for my home recently, and I came across Society6.
In this Society6 review, I'll share my experience ordering from the brand, and show you the UFO landing print I got!
Society6 is known for its diverse collection of art prints, which they print on canvas, clothing, pillowcases, and even bathmats.
If you are curious about ordering from this online retailer, read on.
---
7 Easy Home Updates eBook: Free!
Today, get a free copy of our ebook that shows you 7 simple updates you can make in your home this weekend that will make your home look expensive and increase its value. Tell us where to send your free copy:  
This site uses ads and affiliate content as an Amazon associate earning on qualifying purchases. Disclosure.
---
Society6 Review: Awesome Artwork At Affordable Prices
Here's a detailed review of what it was like to order wall art from Society6.
1. Browsing and Selection
One of the standout features of Society6 is its vast and diverse selection of designs.
From prints and posters to canvas prints and framed art, they offer an extensive range of options to suit every taste and style.
Browsing through their website was a visual treat, with countless artists showcasing their unique creations.
It's easy to get lost in the world of art, and the ability to explore different artists and styles was a major highlight.
However, once I saw this UFO landing collage by artist MsGonzalez I knew it was the one for me!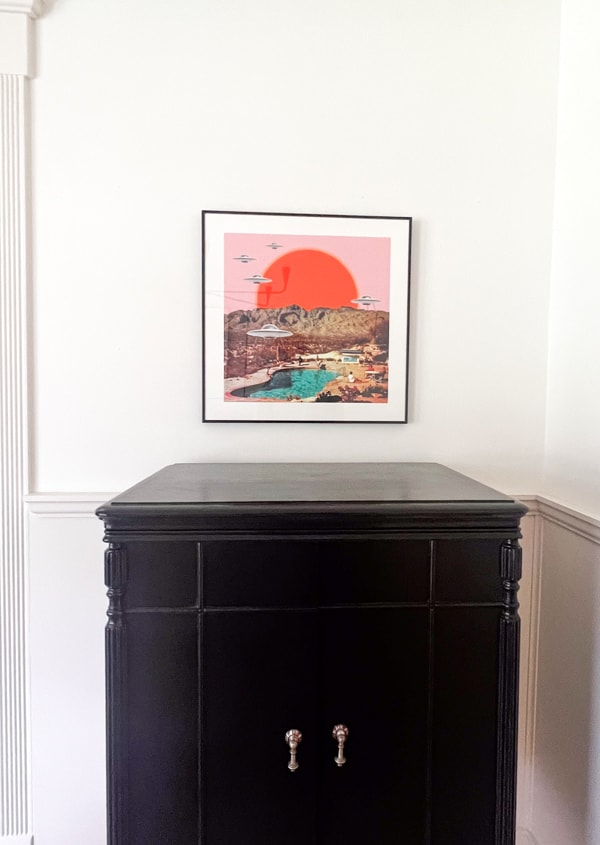 "They've arrived!" as the art print is named was a perfect piece to hang over my vintage bar cabinet.
It's also timely, because at the time that I ordered it, the UFO Congressional hearing was happening, where it was confirmed that aliens exist.
2. Ordering From Society6
Placing an order on Society6's website was straightforward and user-friendly.
The website is well-organized, allowing you to filter and search for specific themes, artists, or styles.
Customization options are available for certain products, such as choosing the size and frame type for your wall art.
The checkout process was smooth, and I appreciated the various payment options they accepted.
They accept Discover, Visa, Mastercard and American Express cards and debit and pre-paid debit cards. As well as PayPal and Apple Pay.
3. Shipping and Packaging
My order arrived in just a couple of weeks, and it was packed well.
I was worried that the glass frame might break in transit but it was packaged securely and arrived in perfect condition.
4. Art Quality
The most crucial aspect of ordering wall art is, of course, the quality of the artwork itself.
I've ordered from other online art print retailers before, where I received prints with low-quality resolution.
I'm happy to say that Society6 art did not disappoint in this regard.
The print quality was excellent, with vivid colors and sharp details that closely resembled the online images. I was particularly impressed with the canvas print, which had a texture that added depth and character to the artwork.
5. Pricing
The pricing at Society6 is reasonable, considering the quality of the art and the variety of products available.
Each price is determined by the individual artist, so some pieces will be higher than others.
While you may find lower prices elsewhere, the ability to support independent artists makes it a worthwhile investment.
Society6 Review – Conclusion
In conclusion, ordering wall art from Society6 was a happy experience overall.
The extensive selection of artwork, easy ordering process, and high-quality prints make it a fantastic choice for anyone looking to enhance their living space with unique art pieces.
Read this next: The 10 best eco-friendly furniture designers.