The Correct Dining Room Rug Size For Your Table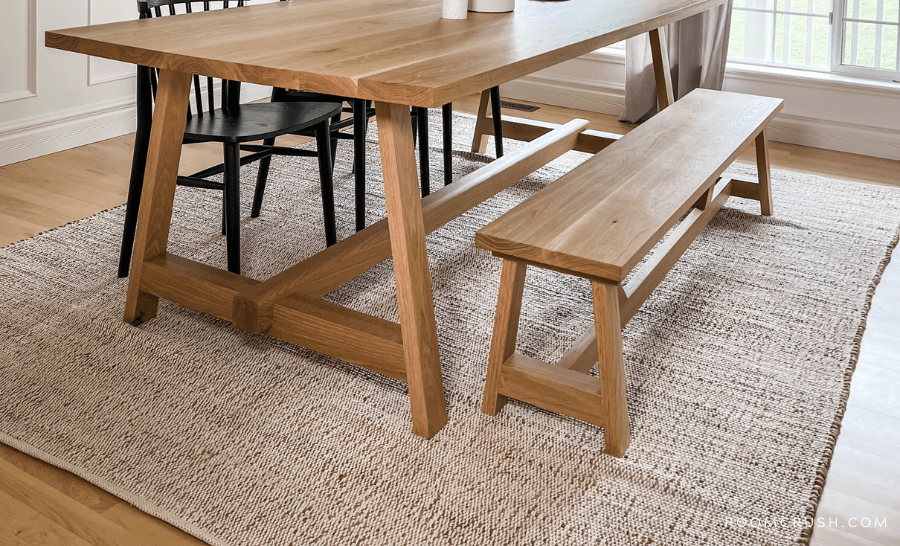 Are you stumped, trying to figure out the correct dining room rug size for your table?
Choosing the right size rug to fit properly under your dining table is important. The right-sized rug will balance the room and make the space look expensive.
But a poorly sized rug will throw off the balance of the space and make the room look cheap!
We'll show you how to choose the right size rug for your dining room, considering the size and shape of the room, and the furniture inside it.
---
7 Easy Home Updates eBook: Free!
Today, get a free copy of our ebook that shows you 7 simple updates you can make in your home this weekend that will make your home look expensive and increase its value. Tell us where to send your free copy:  
This site uses ads and affiliate content as an Amazon associate earning on qualifying purchases. Disclosure.
---
The Correct Dining Room Rug Size For Your Table
Rugs serve many purposes in a dining room.
They can help define the space, provide color, add texture, and give you something to walk on.
Large area rugs usually need to be big enough to cover the majority of the floor space, including any furniture placed against its edge. Smaller area rugs are easier to move around, as long as they're not too close to the furniture.
In most rooms, rugs should measure at least 5×8 feet, though you may need to go bigger if there will be lots of foot traffic.
But did you know that in a dining room, the size of the rug is crucial, and choosing the wrong size can make the room look really awful?
For example, look at what a difference this is between these images: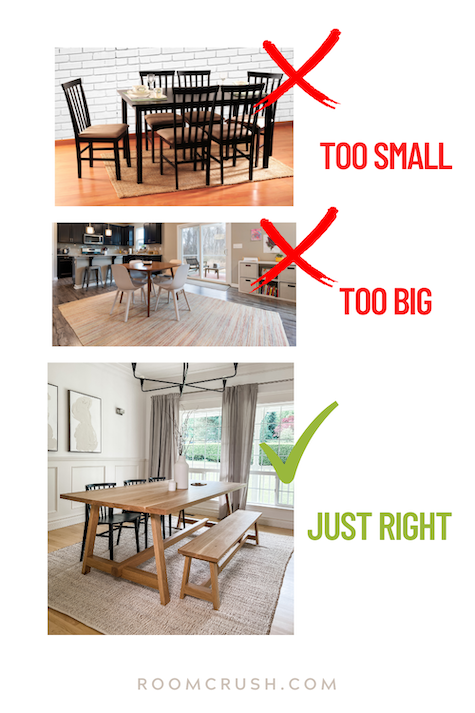 Don't worry – I have the formula for you, so you avoid making a size mistake with your dining room rug.
How To Choose The Right Dining Room Rug Size 
Choosing the right size rug to fit under your dining room table is essential because they add style and function to your home.
Know that when finding the perfect rug for your dining room, you aren't just measuring the space around the table alone!
Because you also need to take into consideration the chairs, and the space the chairs need to pull out behind them when someone goes to sit down.
You can't have your guests falling back or getting their chairs stuck in the rug, as would be the case if you bought one that is too small.
The standard measurement to figure out what size rug you need for your dining table and chairs is to add about 4 feet to each side.
So your correct dining room rug size will be about four feet longer and wider than your table.
Here is a photo of my dining room below, with its new rug, after I followed this very dining room rug size measurement formula: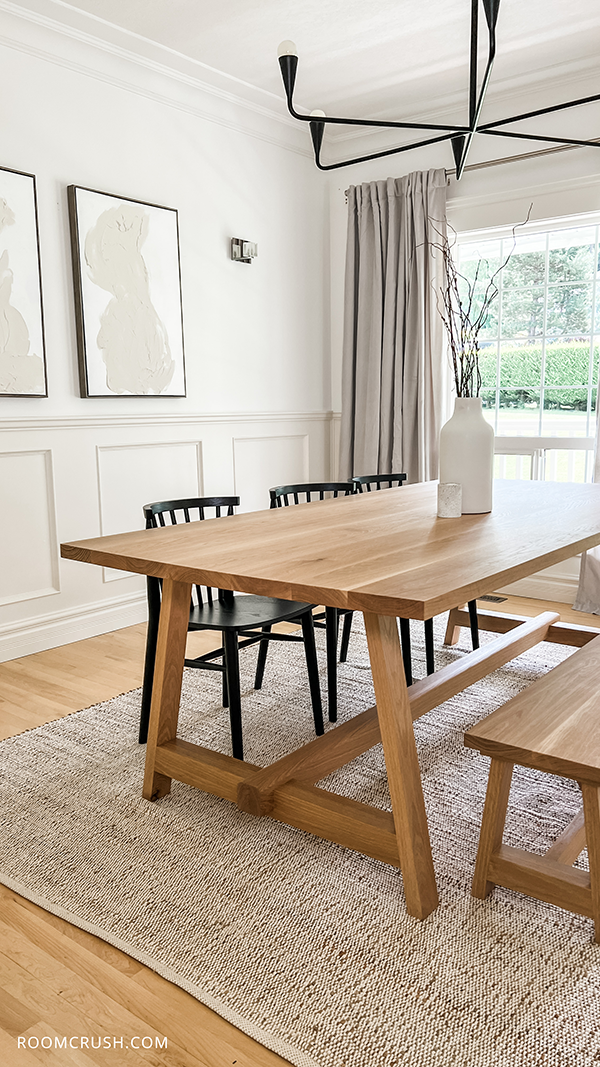 I'm very happy with how the size of the rug allows for just enough space around the seats.
I bought the rug thinking it would balance out the space nicely, and I am so in love with how it refines the room.
Actually, there are several other things to consider before buying a dining room rug!
Here are some important tips on how to choose the right size rug for your dining room.
Consider the size of your table
If you have a large dining table with lots of seating, then it will be best to get a larger-sized rug.
Go big
A longer rug will look better than one that is too short, any day!
Match the width of the rug to the width of your dining table and chairs
Again, make sure the rug has enough length on either side to provide space for the chairs to slide out.
Most rugs are sold by their widths, which means that they are measured in inches.
Want to make your dining room look expensive? Go for texture!
It all depends on what type of feel you want from your space.
For me, my decor style is called organic modern, which is an aesthetic that looks expensive, yet has a very laid-back, not-fussy vibe.
The easiest way to make a room look elegant and expensive is to include rich textures while keeping the colors neutral.
I love textured rugs for this, and that's why I was so excited when I found this textured rug in a neutral color!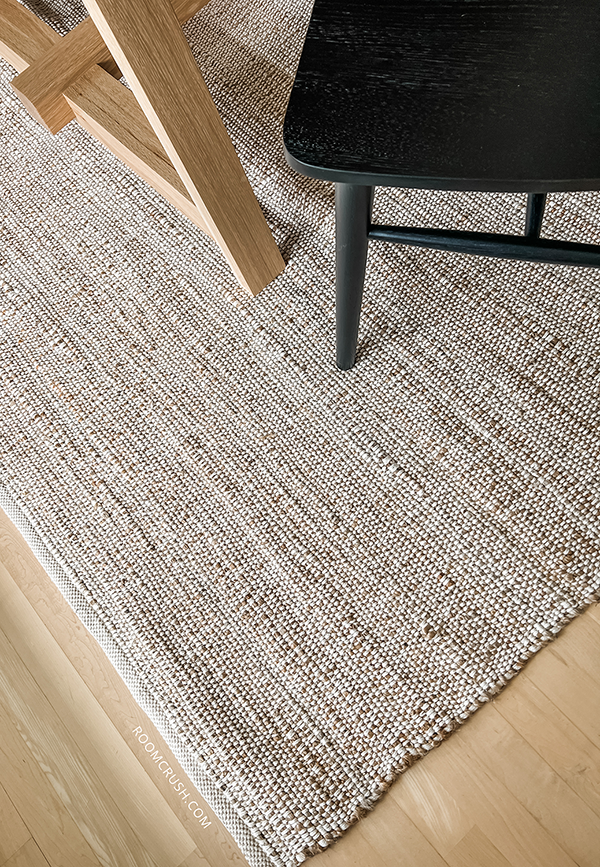 If you are wondering if you really need a rug in your dining room or not, just look at my dining room without the rug, and then with it: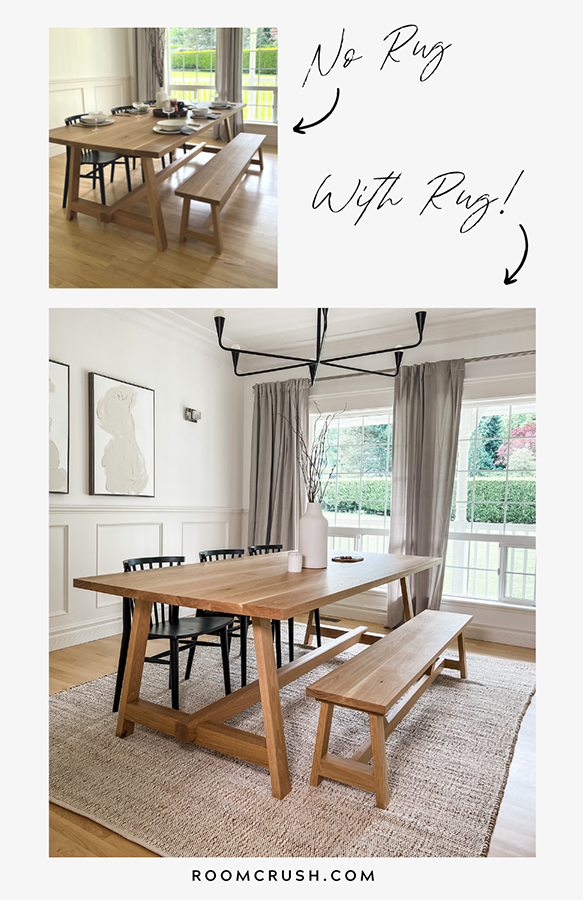 …Big difference!
You can buy this exact same rug here. I would recommend the 9″ x 12″ size if your dining table seats 4-6 people like mine.
The dining table was made by my husband. I've posted a video from his Youtube channel at the end of this post, where he shows how he made it.
Choose a rug that matches the color scheme of your home
You don't want to buy a rug that clashes with the rest of the decor.
Rugs are an investment, so it is important to find a rug that fits the overall style of your home and decor, so that you can enjoy it for years to come.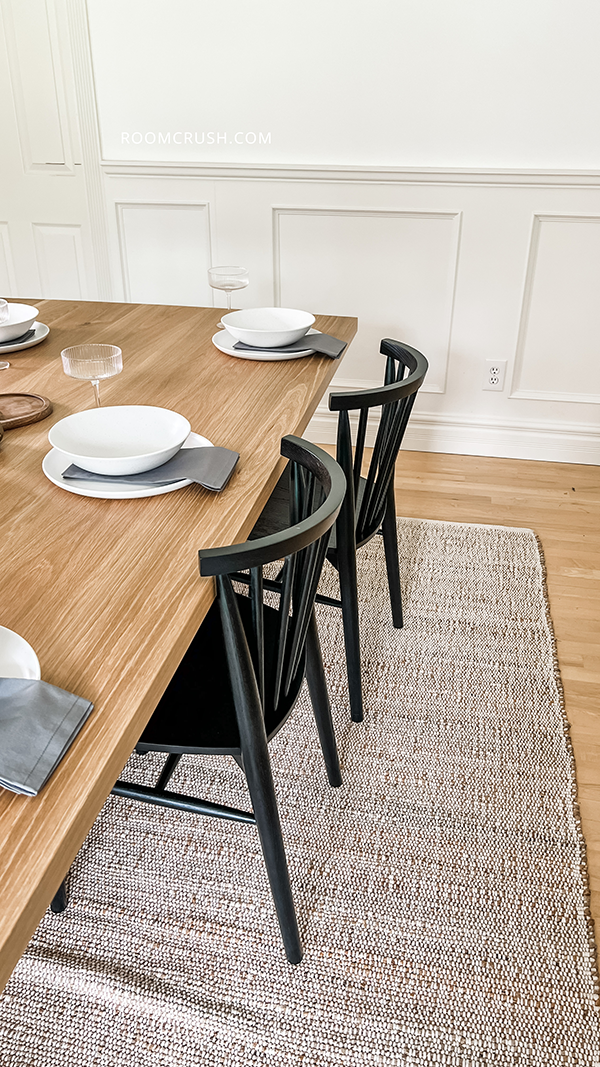 My advice is: unless you like the wild, colorful mess of a maximalist style, then it's best to stay away from bright colors and wild mismatched prints when choosing your dining room rug.
To create a natural, zen-like dining room, choose a rug that is in a neutral color like beige, white, grey or black or muted greens and blues.
When you select your neutral color palette, you can then decide if you want a solid weave, textured, or a traditional print.
Check out my favorite rugs below: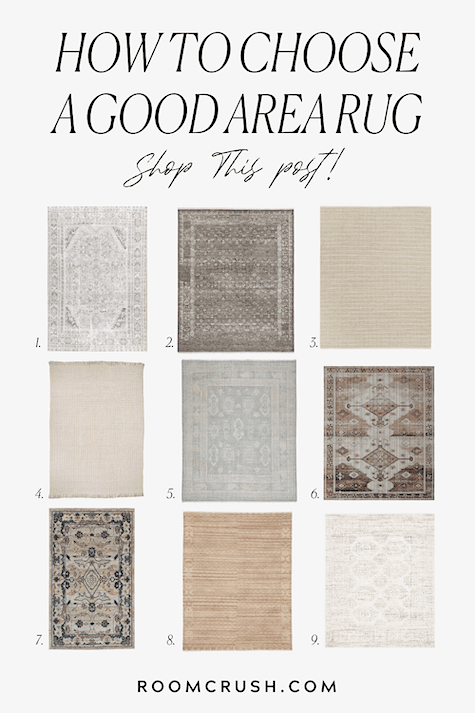 Shop this post: Rug 1  / 2 / 3 / 4 / 5 / 6 / 7 / 8 / 9
Keeping Your Dining Room Rug Clean
It's unavoidable that crumbs will end up on your dining room rug.
This is your main place to eat, afterall.
I have a Narwal vacuum, which automatically vacuums and mops my home.
I highly recommend this product to anyone. It has paid for itself tenfold in my opinion.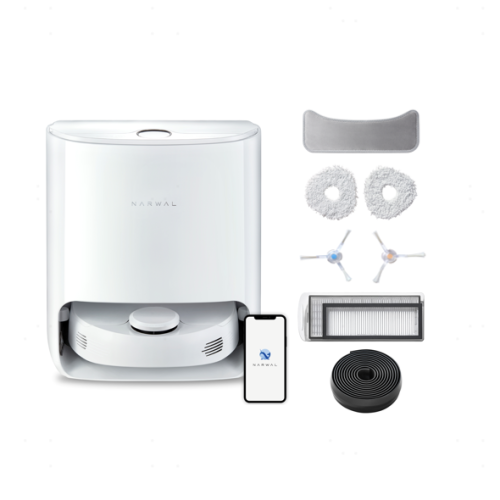 Stop cleaning your floors manually. Get Your Narwal Here!
The Correct Dining Room Rug Size For Your Table – Conclusion
A rug in the dining room is very useful.
The key is to make sure that you pick the right size rug for the room.
When choosing a rug for any room, make sure it suits the overall decor style of your home.
Remember to keep these tips in mind when making your selection.
You most definitely can choose a good-sized area rug for your dining room if you're willing to put in the effort to do so!
I hope you enjoyed this article above with my tips and tricks for getting the job done well!
Follow me on Instagram @EditorsFaves and tag me in your dining room makeovers so I can see it!
Share this post on social media and pin it to Pinterest: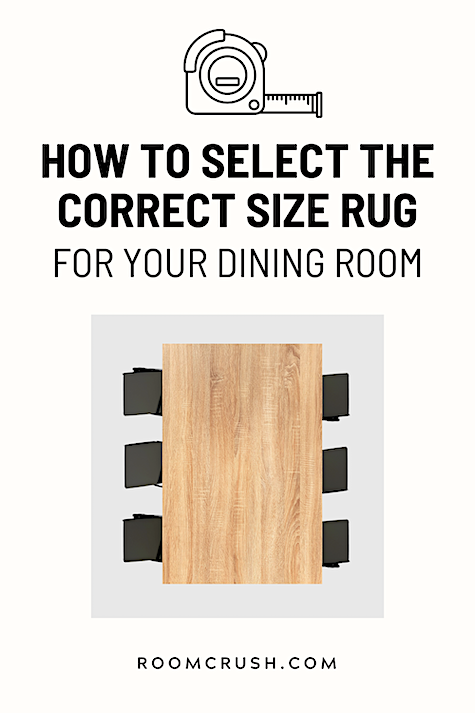 As promised, here's how Nick built our dining room table:
Shop Black Dining Chairs