The Best Modern Farmhouse Decor On Amazon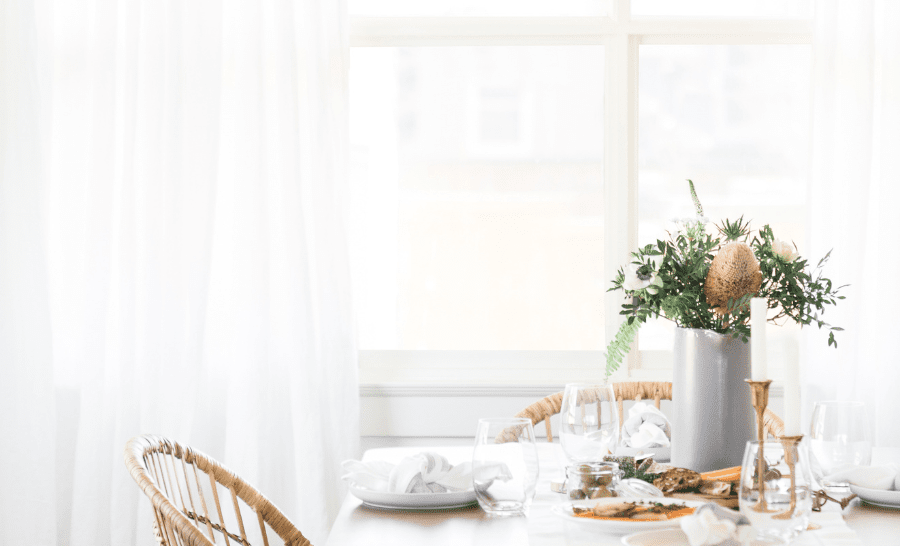 Are you ready to score some awesome modern farmhouse decor on Amazon today?
The reason behind the flourishing popularity of this design style is due to its simplistic, clean lines and comfortable, informal vibes, which help create a positive atmosphere and feeling.
We did the hard work for you and created a shopping list of all the best modern farmhouse decor on Amazon!
Read on for all the details you need to style your home beautifully in this aesthetic.
---
7 Easy Home Updates eBook: Free!
Today, get a free copy of our ebook that shows you 7 simple updates you can make in your home this weekend that will make your home look expensive and increase its value. Tell us where to send your free copy:  
This site uses ads and affiliate content as an Amazon associate earning on qualifying purchases. Disclosure.
---
Top Selling Farmhouse Decor On Amazon
We are conveying to you some of the best modern farmhouse decor on Amazon!
Elegant Window Treatments Made Of Linen Fabric
To help you transition your style, it's best to introduce some neutral and muted colors that have a relaxed feel to them.
The easiest way to do this is by updating your curtains and making sure they "puddle" on the floor to create some simple elegance.
These Modern Farmhouse Curtains are a top pick with over 4,500 raving reviews.
Not only are they a steal, but they come in five different lengths and nine colors.
Pro Tip: Avoid using any patterns on your curtains unless you have a trained eye or have a neutral scheme.
Decorative Throw Pillow Covers
These pillow covers work for a few reasons. First, the color palette is modern farmhouse all the way!
Next, these little beauties are covers, which makes them super affordable.
A perfect item to decorate your bedroom, sofa, or chairs or patio furniture. It can perfectly contrast with any vintage-designed decor in your home.
The natural foundation and rustic colors and distressed designs of items will ideally invite your guests with the retro pillows. It will give a comfortable seat while chatting and enjoying the cozy vibe of farmhouse family rooms.
Modern METAL Console Table

CHECK PRICE ON AMAZON
This narrow console table will make a great addition to any entryway, living room, or even dining area.
To style this table, consider placing a mirror on top and layering in some details such as books, candles, or framed photos on top.
Large straw baskets underneath will help you stay organized and hide anything from toys, blankets, or shoes.
VINTAGE Metal Bread Box
What we appreciate about this vintage bread box is that it has the modern farmhouse aesthetic without any oversized, goofy typographic motif. This one keeps it classy.
Artistically fashioned in metal, this vintage bread box looks fresh and charming. During breakfast, it will surely let your visitors feel the cozy breakfast aura.
The distressed design and weathered body add a pop of pattern to any arrangement you wish. Pepper the dining space with bright sunflowers or a bowl of any shimmering metal orbs to contrast.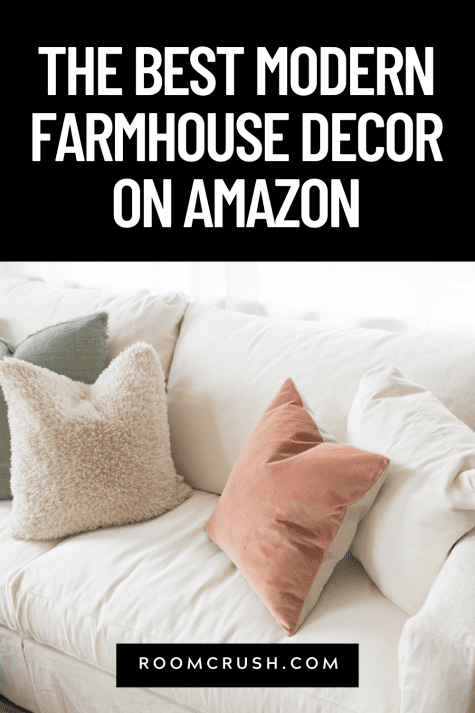 Metal Salt and Pepper Holder

CHECK PRICE ON AMAZON
Surely this will bring a homey and inviting feel to your kitchen.
Indeed a perfect eye-catcher as it brings trendy retro vibes to your kitchen. The metal and minimalistic design is an excellent taste of a modern farmhouse kitchen.
This cute metal S&P organizer will help keep your salt and pepper nearby.
FARMHOUSE Bistro Dining Chairs
What's not to love about these bistro chairs?
They are perfect for a kitchen, casual dining paired with a rustic table, or outdoor use.
They are super durable and scratch-resistant. If you're styling a small space, you'll especially love the fact that these chairs are stackable.
They are sold in a set of four.
You May Also Like: How To Choose Lighting For Your Dining Room
A Few Farmhouse Wall Decor Ideas
Rustic Framed Wall Mounted Steel Chalkboard
The chalkboard maybe not be a new idea.
But this décor is a bit different because it is naturally not polished and milled.  The rough and uneven surface gives this authentic and vintage feel.
The wooden frame is coated with a perfectly rustic, vintage color.
If you hang it around in your kitchen, it will surely be the centerpiece and add some warmth to your space.
Inspirational Quotes and Sayings
Quotes have become popular in decor since they can convey precise truths, inspire emotions, and even provide some positivity when needed.
We like this Marie Forleo "Everything is figureoutable" quote block.
CHECK PRICE ON AMAZON
When used very, very sparingly quotes can be great. As in one small framed quote that you love. Never, ever go crazy with signage all over your home. Keep it classy. 
Also, a small quote here and there doesn't add too much complexity to your decor since most quotes are printed in simple black and white.
Wired Wall File Holder
This farmhouse wire wall file holder is a great way to stay organized. It is designed with an iron wire wall-mount 3-tier pocketed organizer.
It is perfect for placing some magazines or books.
Place it in your personalized reading space or living space, surely, and you feel a natural comfort.
Farmhouse Lighting
Every farmhouse-style home needs some metal barn lighting.
Here are some of our favorite farmhouse lighting picks that can be purchased on Amazon:
CHECK PRICE ON AMAZON
CHECK PRICE ON AMAZON
Farmhouse GREENERY
Add greenery to your farmhouse decor by growing some herbs in the kitchen, or utilizing some faux eucalyptus leaves.
Add Texture To Your Wall Or Fireplace
If your house is blessed with a brick fireplace, you may be interested in the German Smear Brick technique.
It's an easy and inexpensive DIY project!
What Is The Modern Farmhouse Decorating Style?
Modern farmhouse decor is a mix of a few well-chosen character pieces, a neutral color palette and some modern elements to keep the style fresh.
Please don't get this style confused with a rustic and cluttered country home as its signature is clean and simple.
A modern farmhouse has roots in rustic charm and is focused on warm minimalism and industrial elements.
The contemporary farmhouse decor is emphasizing comfort and casual contemporary living, while striking the balance of rustic and modern.
Hence, the modern farmhouse idea is paying attention to making a fresh spin on rustic elements, making them unique and fresh.
Is Modern Farmhouse Joanna Gaines Style?
Joanna Gaines is the most well-known farmhouse-style interior designer. And she does it right because she knows when to pull back her designs.
In true Joanna style, she adds her farmhouse touches throughout the decor.
Not every piece is farmhouse style, and some, if not all, of her individual choices, could work in other decor styles.
How Do You Make Farmhouse Decor Work?
If you're wondering how to make farmhouse decor work, this article will show you exactly how.
We have all seen homes that went overboard and took the farmhouse decor style way too heavily.
Where the farmhouse decor has felt forced and out of place. Do you really need a distressed sign in every room of the house to remind the visitor which room they're in? No! That's overkill. Even one sign is probably too cheesy.
Here's how to make the farmhouse style work and actually look good. Not crazy.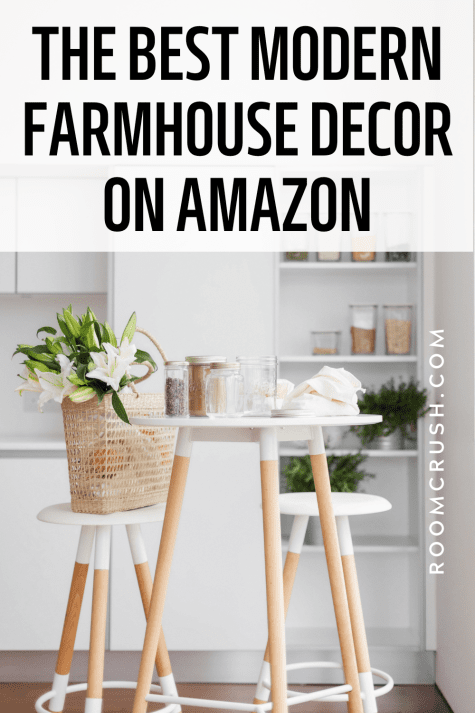 How Do I Decorate My Home Farmhouse Style?
If you have a hobby or interest that you love, try to find ways to incorporate that into your decor.
For example, if you're a photographer, print some of your images and choose classic black and muted frames as those work well with the farmhouse style.
To add visual interest, maybe find a blueprint of an old camera or a famous photography quote and frame that as well for that little extra personal touch.
Just a word of caution, resist the urge to cling too heavily to a theme.
Instead of creating the entire space around your hobby, just add enough that people are aware of your interest.
That being said, try to use chosen items as a focal point in your space.
Pro Tip – Try finding a digital print and have it printed on canvas paper. You can age the look of the canvas paper by staining it. You can purchase art stain or use a strong tea brew to stain it.
The Modern Farmhouse Color Palette
The color scheme should remain neutral, soft, and muted overall. If you have a favorite color, consider using it in an accent piece.
Natural Fibers
Farmhouse decor has a very relaxed and cozy vibe to it.
Bringing natural elements into your home, such as rugs in sisal, jute, or wool, will add comfort without making a loud statement.
Think of a rug as a background layer and one to help ground the space and create areas.
You May Also Like: The Correct Dining Room Rug Size For Your Table
CHECK PRICE ON AMAZON
Mixing wood and metals makes farmhouse decor look modern. We love reclaimed wood since it's a great way to incorporate warmth into a space.
Find Ways To Add Some Architectural Elements
This is can be a fun family project.
Depending on where you live, you may have access to antique shops or flea markets.  If you do, take an afternoon to find a few items to layer into your existing décor.
Keep an open mind while shopping.
Instead of going on the hunt for a particular item like a desk or headboard browse during your shopping trip for materials or a color you want to introduce.
Your goal is to find ways to bring farmhouse into your décor.
That could be done in many ways with small, inexpensive items such as a few old books, vases, or an antique chest.
Lastly, you may hit a home run and score yourself a beautiful antique door that could be used as a tabletop for a desk or as a headboard in the bedroom.
How To Make Good Use Of Farmhouse Items
Burn anything that says "Live Laugh Love." We are not about cheesy mass-produced farmhouse décor items.
Instead, keep it classy by simply layering wooden cutting boards on the back of your kitchen counter or stove.
The wear of those cutting boards will only add to the charm, so don't be afraid to use them.
And know that avoiding mass-produced novelty decor items does not mean you can't jump on a trend – it merely means you should add your own twist to make it unique.
Is Modern Farmhouse Out Of Style?
Because of its balance of timeless vintage charm paired with modern industrial elements, we see the modern farmhouse style sticking around for a while.
What IS out of style is the corny wooden signs that tell you what room you are in, or what you are supposed to put in an item. 
But the actual design of farmhouse spaces is very much in style.
Here are some of the top reasons why we see this style staying around:
People feel comfortable with a simple design. The modern farmhouse style evokes a warm and inviting feeling.
The essence of the design style focuses on functionality.
Creating a modern farmhouse home encourages the homeowner to plan meaningfully. It means they assess every space carefully. Such as considering flow through a room, lighting, scale of furniture, and placement of every aspect. ·
People love to select furnishings that take center stage and create focal points for visual interest.
The all-natural foundation and mixture of vintage but unique decor makes a modern farmhouse comfortable and relaxing.
What Does Modern Farmhouse Decor Look Like?
Remember that the critical combination of modern farmhouse ideas is minimalism and country chic elements that will transform a dull space into explorative and fun.
Therefore, you need to think of a vibrant mix of old and new soothing vibe decors.
Try to find unique things that are attractive and artistic, but not crafty. This decor style has more sophistication than its rustic older sister.
Let us mention some specific elements you must consider:
The foundation must be organic and natural. It must be mixed with industrial metals and balanced with marble (i.e., countertops). It will be best if the finish will be matte and apply some low-shine materials.
Have some limits. Edit, eliminate, and reconsider everything to make sure that it remains comfortable to feel and easy for the eyes. Ask yourself the purpose of everything you bring into your designs, as this style should remain uncluttered and functional.
Stick to neutral colors for soothing contrast while you mix with decorative pieces. I recommend you use optic white to highlight statement-making sections. If your farmhouse furnishings are eating up some spaces, you can combat with optic white plus plenty of mirrors.
Mix high and low contrast. Let the house play with old and new interiors to evoke down, relaxed, and low-key luxury style. Today's modern farmhouse styles are shying away with old-school elements. The mantra is keeping it fresh. Don't be afraid to incorporate interesting objects and let creativity flourish out of these unique objects.
One thing that I love with modern farmhouse decor is bringing the outdoors inside your home. These are the wood, linen, hemp, and all-natural finishes that are best to bring inside your home. It will be useful to avoid plastics and strange objects because they can confuse the eyes.
Weathered faucets, oversized pendants, rustic sconces, and dramatic lights are what make the farmhouse family rooms unique and cozy. It will highlight the sophisticated beauty of your home.
Imperfection makes your home perfect. Approach your modern farmhouse design with irregular, inconsistent, and imperfect nature. What we love most about the modern farmhouse design style is how it allows the design to work with the homeowner's personality.
The Best Modern Farmhouse Decor On Amazon – Conclusion
The modern farmhouse decor style will be popular for years to come. The clean lines, fresh approach, and unpatterned designs make this style very versatile and affordable.
In fact, you may find it impossible to commit to one decor style simply because you appreciate and love so many things. And that's OK!
A home should be a collection of things that make you happy, and that you genuinely enjoy.
Of course, they should blend well together and play nicely together.
But know that following a style trend piece-by-piece won't allow for your own character to shine.
Once you understand how to make farmhouse decor work for your home it's quite simple.
There is no need to scream, "I love Farmhouse decor," with every piece purchased.
Simply stick to muted colors, natural textures, and all things cozy. And be sure to shop this huge list of modern farmhouse decor on Amazon now.
What To Read Next:
The Best Housewarming Gift Ideas
Unique Gifts for Interior Design Lovers