How To Choose A Good Area Rug
How To Choose A Good Area Rug: A great area rug can transform any space.
A quality rug pulls everything together in any room while covering the floor in order to make a big statement.
---
7 Easy Home Updates eBook: Free!
Today, get a free copy of our ebook that shows you 7 simple updates you can make in your home this weekend that will make your home look expensive and increase its value. Tell us where to send your free copy:  
This site uses ads and affiliate content as an Amazon associate earning on qualifying purchases. Disclosure.
---
Arranging furniture within a room is one of the most important elements in decorating.
However, this wouldn't be complete without anchoring the space with an area rug, whether it is in the living room, dining room, bedroom, hallway, or entryway.
The goal is to tie all the different pieces around the room together in order to visually it up so it works well for everything you want to be in the room.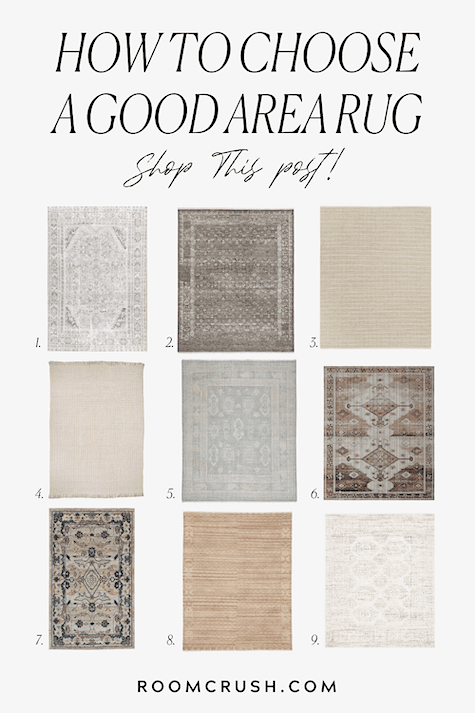 Shop this post: Rug 1  / 2 / 3 / 4 / 5 / 6 / 7 / 8 / 9
How To Choose A Good Area Rug
Finding an area rug that is both practical and stylish for every room in your house is no easy feat.
But a good rug can bring color, texture, warmth and style to any room—making the hunt well worth the effort.
Read on for 10 tips for choosing the just-right rug for this hardworking room.
The Benefits Of Using An Area Rug In Your Home
As homeowners, we love placing various area rugs in our homes.
Area rugs are used as decorative accents and functional furnishings. They provide warmth and coziness to the rooms where they are placed.
There are many benefits of using an area rug in your home. Some of them include:
Adding warmth and comfort to a cold room
Protecting floors from wear and tear
Providing protection against spills and stains
Preventing slipping hazards
Improving air circulation
Creating a cozy atmosphere
Reducing noise levels
Adding value to the property
Making a statement in a room
Increasing the aesthetic appeal of a room
Giving a room a more formal appearance
It's the perfect time to invest in a fantastic new rug, but where do you start?
Knowing how to choose and use rugs around your home will ensure you pick the right one.
The following guide will show you exactly what to consider when choosing an area rug for your home. 
1. What's Your Budget?
It's no secret that rugs are expensive. Rugs are investment pieces that will last a lifetime so it is wise to choose a good area rug made with high-quality materials.
High-quality rugs have a rich color and a plush feel, and if properly cared for, they will last a decade or more. Low-cost rugs, on the other hand, will fade and pill quickly, necessitating more frequent replacement.
Try a flat-woven rug rather than a tufted rug if you're on a tight budget but don't want to compromise on quality.
Flat-woven rugs are more affordable and come in larger sizes, and their close weave makes them more sturdy.
2. In Which Room Will the Rug be Placed?
When deciding whether to invest in an area rug, consider where you plan to put the rug.
Ideally, if the room receives a lot of foot traffic like the entryway or kitchen, then an investment rug might not be the best choice because it is more likely to be stomped on and worn down.
Your living room or bedroom, on the other hand, could be a better spot for an investment rug.
However, if you have shoes on within your household, your area rug's lifespan might be shortened.
Thus, your lifestyle choices should dictate whether you skimp or splurge on an area rug.
Decor Tip: High-pile rugs are great for low-traffic areas like your bedroom or living room, and lower pile rugs are better for high-traffic areas like the entryway, dining room or kitchen.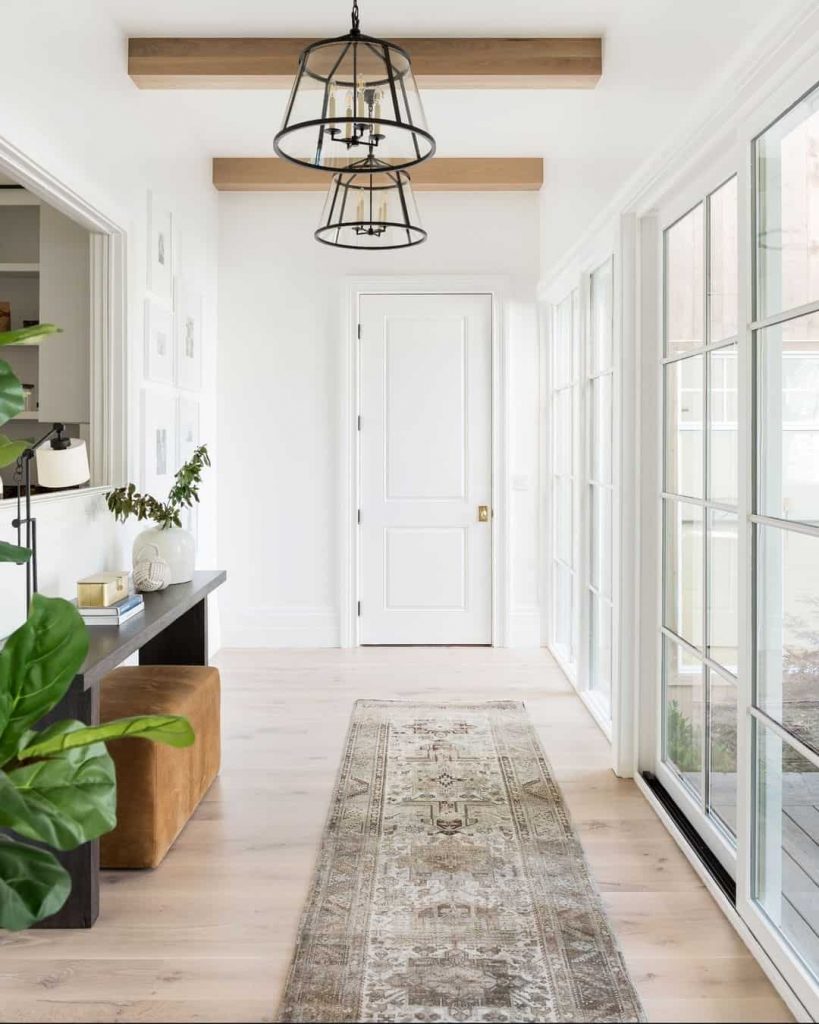 If an area rug is high pile, the fibers are taller and looser, giving off a warm, cozy and comfortable underfoot feel.
They offer a full, luxurious look, and are also less likely to flatten than low pile options which are also easy to clean, and flatter.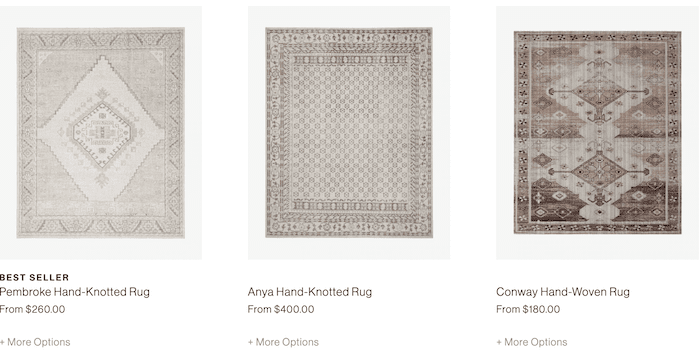 See more rugs from this brand »
3. Consider Rug Sizes
Different spaces in your home require different rug sizes, so think about what size you'll need before making a purchase.
Because an area rug will give you some basic structure around where to place your furniture, you want to consider the shape and size of your room, as well as the furniture in the space and the overall layout.
For living rooms, bedrooms and dining rooms, do this easily by choosing a rug big enough to define your space.
Then, fit all of your furniture, at least partially on the rug, to ensure your layout feels more intentional.
4. And Rug Materials
Different rug materials will impact the overall cost of a rug. This should be strictly based on your budget and lifestyle factors as well.
While natural fibers like jute, wool or cotton tend to be easier to clean, making them great for high-traffic areas cost more.
Synthetic fibers cost less, and hold onto dirt making cleaning a challenge.
Sale
nuLOOM Ansley Moroccan Lattice Tassel Area Rug, 3′ x 5′, Beige
With a high/low consturction and a .67″ pile height, this rug will bring the perfect amount of texture to your space
Easy to clean and maintain, we recommend vacuuming regularly (avoiding tassels) and spot treating any mild stains with mild detergent
We recommend pairing with a nuLOOM rug pad for added comfort and ease of care
5. Do You Have Kids or Pets?
Kids and pets are prone to messes so a lower-cost rug would be a better option if it gets destroyed.
However, they tend to fall apart faster, so they can end up costing you more in the long run.
Instead of replacing a rug every few months, consider investing in a high-quality rug that can withstand spills and won't be destroyed right away.
Natural fibers are a good choice because they are durable and easy to clean.
Also, avoid synthetic fibers which might be toxic to pets and kids.
To make cleaning a breeze, I recommend you get yourself a Narwal to clean your floors and rugs. I have one and it's the best robot vacuum/mop ever. (And I have tried a few!)
6. Your Rug Style
Area rugs are must-haves. While you should consider the above factors before buying an area rug, also consider the rug style you want to ensure your decor is cohesive; whether brightly colored, solid, or patterned.
What you choose is up to you and your personal preference!
Decor Tip: Consider getting a rug pad under your area rug on the floor to ensure your rug lasts longer and reduce slippage. You can use a rubberized non-slip rug pad although one made of recycled materials is a better option.
How To Use & Place A Rug Around Your Home
1. Elevate Your Living Room
A functional living room is incomplete without an area rug. Use your preferred rug as the basis of the color scheme in the living room or to accent or tie in your existing colors.
Sale
nuLOOM Elfriede Handwoven Solid Jute Area Rug, 2′ 6″ x 10′, Natural
Sleek and functional 0.25" thickness allows for convenient placement in entryways and underneath furniture
Sprouting and debris are common due to being made from plant fibers, trim any loose threads with scissors and regularly clean under your rug
Vacuum your jute rug 1-2 times a week on the lowest power level or with handheld attachment and spot clean as needed with mild detergent
With so many layout options, here are a few you can try:
Rug Layout #1: All Furniture On Top
In this layout, use a very large area rug that covers the entire floor area of your living room then arrange all your furniture on top.
This layout is great for large living rooms and anchors the space vividly; just be sure to leave enough room on all sides so they don't feel crammed onto the rug.
You May Also Like: 10 Minimalist Living Room Ideas That Will Inspire You To Declutter
Rug Layout #2: Furniture Partially On Top
Use your area rug to center your living room and arrange your furniture with only its front legs on the rug.
Rug Layout #3: No Furniture On Top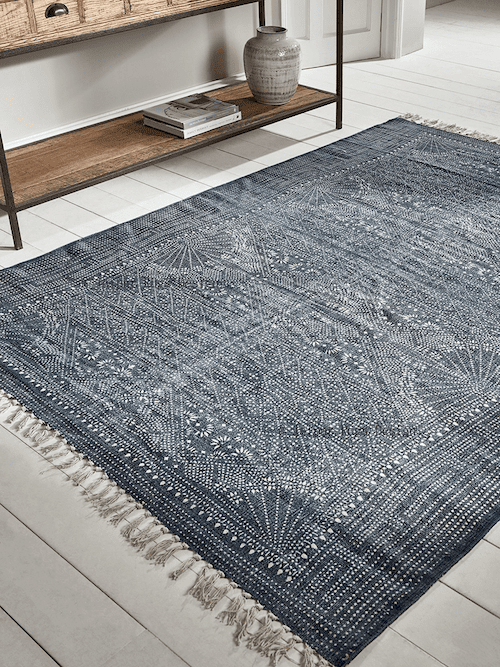 Get this blue rug pictured above, from Etsy here.
In this rug layout, accent your living room by simply placing a rug on the floor, with no furniture (the sofas and chairs especially) on the rug.
However, the coffee table can find a sweet spot on the rug.
Use a rug size that ends a few inches from the front leg of your sofas and not one too small to ensure the room doesn't end up feeling bare and empty.
You May Also Like: Coffee Table Styling: How to Pick & Style Your Coffee Table Like A Pro
Rug Layout #4: Layer Up Rugs
For a cozy option, layer up to 2 rugs. Start with a large area rug and set all your furniture on top of this rug then arrange only the front legs of your furniture on the smaller top rug.
You can also throw a fluffy rug with a stand-out color, material and shape to break up the linear look of your space after arranging furniture on a larger rug.
2. Update Your Bedroom
Place a wide area rug on the floor to provide a warm, soft and cozy landing for your feet.
Even if you have wall-to-wall carpeting, you can add color, texture, and pattern to your room by layering a cozy area rug under your bed. Here are several layouts you can try:
Rug Layout #1: At the Foot of the Bed
Feature an area rug in your bedroom by placing it at the foot of your bed, ideally under the footboard of the bed.
Rug Layout #2: Partially Underneath the Bed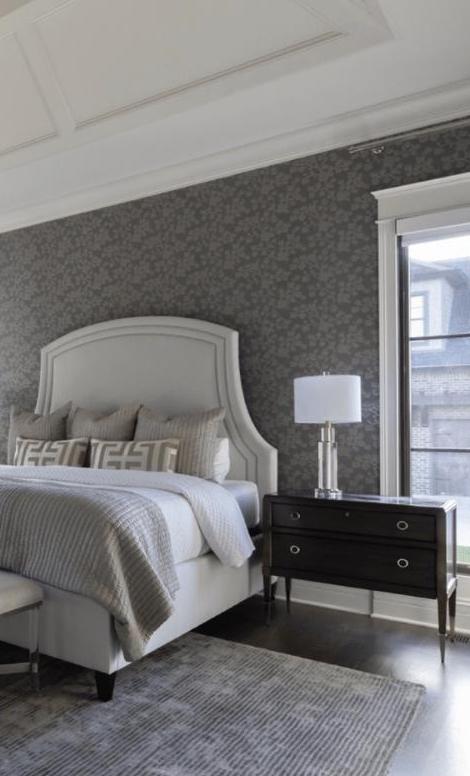 Do you love the rug pictured above? Us to!! You can get it here. 
You can also place only the top few inches of the rug under the bed or draw it further to cover three-quarters of the rug underneath the bed.
You May Also Like: These 15 Bedroom Makeover Ideas Will Transform Your Bedroom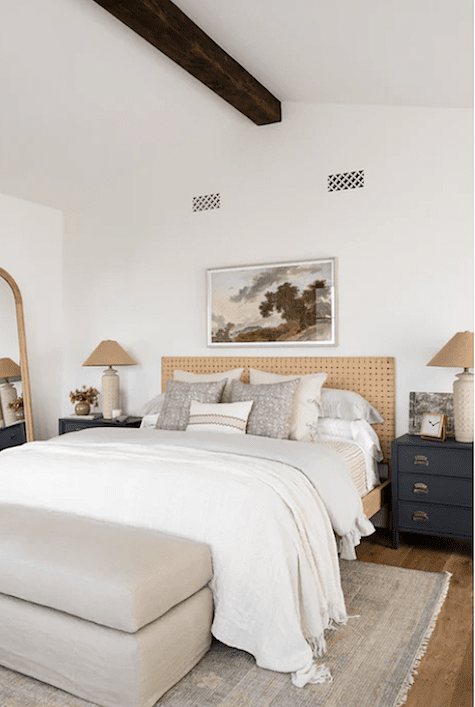 photo: Studio McGee – Get this rug here!
Rug Layout #3: Fully Underneath the Bed
If the size of your rug is larger, you can slide it completely under the nightstands, or start the rug an inch before the nightstands. This technique works well in spacious bedrooms.
Rug Layout #4: At the Side of the Bed
If your space is smaller and the bed has been pushed against the wall to free up space, placing an area rug at the side of the bed to take up all the central space and become the focal point of the room.
Rug Layout #5: Layering Under the Bed
Slide a larger rug completely or partially underneath your bed and consider layering with a rug of a natural, fluffy material just at the foot or side of the bed for a soft landing spot.
Rug Layout #6: Accentuating Furniture Around the Bed
For a multi-use bedroom, use a rug to define and separate spaces. For instance, your seating area or dresser.
You May Also Like: 15 Quick Luxury Bedroom Ideas On A Budget
3. Define Your Dining Room
A dining room rug protects the floor, and enhances the visual appeal of the area.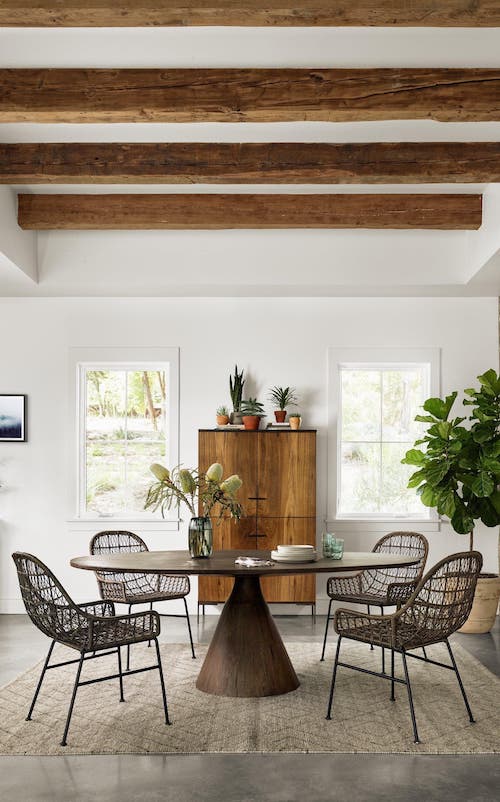 photo: Bone & Brass
Love the rug pictured above? Get it here!
A dining room rug should be big enough for your dining table and chairs to be placed on it.
There should be enough room for chairs to have their back legs on them when pulled away from the table.
==> Here's how to measure the correct size rug for your dining room!
4. Highlight Your Entry or Hallway
Anchor your entryway/foyer and hallway by placing a rug that is in proportion to the size of the entryway (not too big, not too small).
Remember to leave a sufficient vertical air gap between your rug and the door to ensure it does not wear out easily.
It should also be easy to clean and sturdy because of high traffic.
You May Also Like: 18 Entryway Décor Ideas To Set The Tone For Your Home
5. Use It In The Kitchen
Photo: Studio McGee
Having an area rug in the kitchen is just as practical. It can help with noise control, soften the look and create warmth in your kitchen so pick washable rugs so you won't fear any (inevitable) kitchen spills.
We love this washable rug that looks similar to the Studio McGee one above. But it's on Amazon! 
Use a kitchen mat or a long, narrow runner rug in the kitchen area, or simply place it in the open space of the kitchen to soften up the room and fill the empty space.
6. Bathroom Rugs
If you're lucky enough to have a tub, especially a stand-alone tub, a rug can definitely be an ideal addition for your space. It can also be suitable for the area by your bathroom vanity.
Swap out your basic bath mat for something with a bit more decorative punch.
Natural-fiber rugs like sisal and bamboo add warm, organic texture that offsets all those glossy bath surfaces; they also hold up well to damp, humid conditions.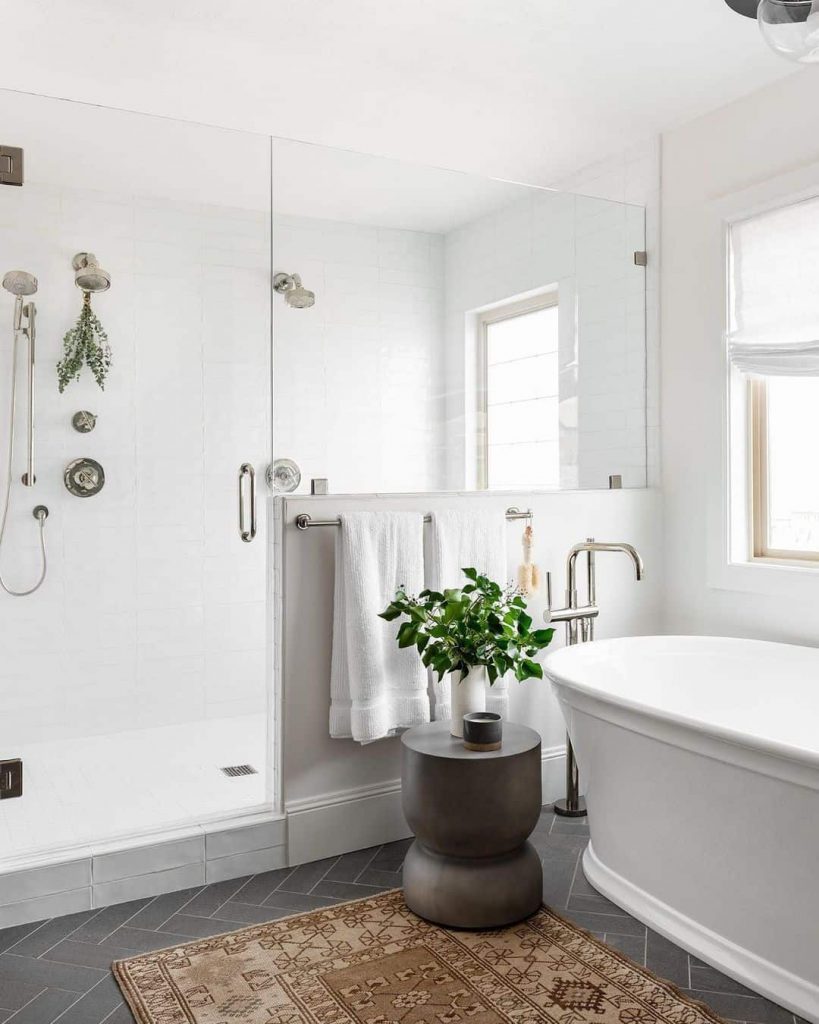 Photo: Studio McGee
A bathroom rug should also be made of smooth, quick-drying material that is easy to clean with a vacuum cleaner to remove hair, dust, and dirt.
Cotton and Egyptian cotton make excellent bathroom rugs because they are long-lasting and easy to clean, feel soft underfoot, and dry quickly to prevent mildew.
Chenille also has a luxurious feel to them, dry quickly and are simple to clean.
You May Also Like: Ideas to Update Your Tiny, Boring, Old Bathroom Stylishly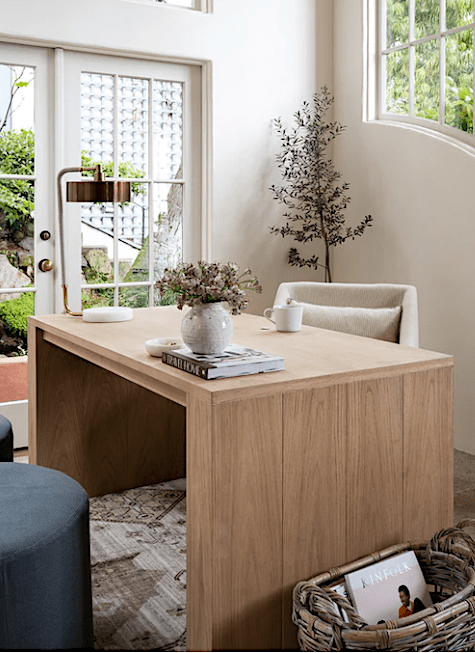 Photo: Studio McGee – Get this rug here!
7. Cozy up your Study Area
Whether it is a home office or a cozy study area by the window, you can use an area rug to add more comfort to your underfoot.
8. Define A Play Area
Looking to update your child's play area or define a play area within your child's bedroom?
A cozy area rug can come in handy; just be sure to pick an easy-to-clean material.
9. Outdoor Living Area Rugs
Use an area rug to define your outdoor living space.
Start with the rug and decorate around it so it highlights your space and create a focal point of your outdoor arrangement.
Consider arranging your patio furniture fully or partially on your outdoor area rug, remembering to coordinate the materials, texture, and color of your outdoor rug with your patio furniture.
You May Also Like: 20+ Ideas To Make Your Outdoor Space Look More Expensive & Resort-Style
Decor Tip: Create a cohesive color scheme by matching one of your rug's colors with your furniture or walls.
What is the right rug size for a living room?
What is the right rug size for a living room? We have your answer.
Determining the right rug size to purchase for a living room takes a bit of planning. And a bit more than just pulling out some measuring tape, or placing some outlines with blue painter's tape on the floor.
That, my friend, can assist you in buying the correct size, but how about the style, shape, or even placement?
Read on to learn exactly how To find the right size rug for your living room.
Surprisingly, measuring for the correct living room rug size is not a one size fits all type of scenario.
We taught you the hack for knowing what size rug you need for your dining room, and now it's time to understand the important considerations for your living room rug.
Since your area rug will be covering a large area in your living room, it deserves a lot of attention.
The right or wrong size could make or break your design.
This is especially true if you have an open floor plan concept as it can assist you in defining spaces in your home.
How To Measure For An Area Rug In A Living Room
Fortunately, area rugs come in many standard sizes.
Among those sizes, we'll be able to find the right size area rug for pretty much every room of your home. Here's a quick overview of rug sizes and how they are generally used.
Common Area Rug Sizes Vs Room Size
Rug Orientation
The shape of your living room, as well as the furniture, should be the deciding factor when choosing the orientation of the rug.
This will allow for better flow and for the space to appear larger.
Designing According To Scale
It's essential when decorating to make sure to keep things to scale.
The right rug should be scaled to both the sitting area and room.
Therefore, we will consider the furniture, the "sitting area" as a collective group, and the size of the room.
To accomplish this, you could tuck the rug just a few inches under the front feet of the sofa and accent chairs.
The appropriate amount of carpet to tuck underneath the furniture is around 6″ inches.
That defines the sitting area.
To scale the rug to the room, you would want to leave some bare floor showing between the edge of the carpet and the room's walls.
In general, the larger the room, the more bare floor should be left showing.
Frequently Asked Questions About Choosing A Good Area Rug
Q. Is A Bigger Living Room Rug Better?
One of the biggest decor mistakes you can make is getting a rug that is too small.
If you're torn between two different sizes, lean towards the more significant option.
You could always tuck more of the rug underneath the furniture or place the furniture entirely on top of the carpet.
Having an area rug in your living room, that is even a few inches too small will appear you misjudged your measurements.
The right size rug will pull the room together instead of making it seem lacking.
Q. How To Find a Good Rug?
Of course, you would want to purchase the best quality rug you can afford, but are there any guidelines?
Yes, you can use the cost of your furniture, mainly your sofa, as a reference for how much you should spend on your living room rug.
When shopping, look for natural quality materials such as wool or silk. The higher the quality of the material, the better they tend to wear.
Over time as wool becomes exposed to sunlight, air, and foot traffic, it will develop some character. This is one of the many reasons some opt to pony up for those vintage area rugs.
Some people have even purchased a high-plush rug and flipped it over to imitate a vintage-inspired look.
Grass, jute, and sisal rugs are usually less expensive choices and blend very well for most decors. However, due to their solid color and being difficult to clean, they tend not to last as long.
Q. How Can I Make My Rug Look More Expensive?
Tips To Make Your Rug Look More Expensive:
If the area rug you purchased appears thin or flat, place one or two nonslip thick rug pads underneath.
This will provide more substance to a carpet, giving it a more luxurious appearance. 
A good rule to follow for choosing the right size rug pad is leaving 1″ of rug overhanging on all sides of the rug pad.
Q. Is There a Right Way To Clean a Rug?
Most rugs will have a care label attached, which should be your go-to instructions. You should vacuum your living room rug regularly and spot-clean it when necessary.
For Synthetic Fiber or Cotton Area Rugs
For small rugs, toss in your washing machine on a cold water delicate cycle, and then let it air-dry. If the carpet is too big for the washing machine, wait for a sunny day and go at it by hand. Yep, it's a JOB!
Sisal and Jute Area Rugs
Know that water weakens the fibers, so it's recommended not to deep clean these types of rugs.
The suggestion is to use a mix of warm water and a little bit of delicate laundry detergent.
Use a blotting method to gently get the stain out. Unfortunately, these rugs are a bit unforgiving in the stain department.
Antique Area Rugs
Don't even risk ruining your living room rug! Call a professional for the peace of mind it will be cleaned correctly.
Q. What Do I Need To Know When Buying A Good Area Rug?
Area rugs are meant to last. When selecting an area rug, you need to think about its durability.
Ask yourself:
Will it fade easily?
Is it easy to clean?
These questions will help you determine whether this rug is worth purchasing.
Make sure the rug you purchase is made of quality material
This includes both the fabric and the construction.
Check out the reviews online
Read through customer testimonials and see what other customers say about the product.
Ask around
Talk to friends and family members who have purchased similar products.
They might know something about the product that you don't.
Do research
Research different types of rugs and read reviews online.
Buy a few options for different seasons
Remember to change out rugs and other textures like pillows to update a room for changing seasons, or as a way to introduce new color trends.
How To Choose A Good Area Rug – Conclusion
Area rugs are great additions to any room in the house. Spruce up your home today, with a good area rug!
Although you may be a bit anxious to find that perfect rug, this is not a purchase you want to rush into.
Trust me; I get it – I'm not the most patient person either, but you'll regret getting this wrong.
If you need some convincing on why rushing into purchasing items is never a good idea, you'll benefit from our post on How To Avoid Decorating Mistakes.
The right size living room area rug will elevate your design and bring some style into your space…when done correctly. 
What To Read Next: How To Choose The Right Furniture For Your Home