Decorating Trends That Are Out of Style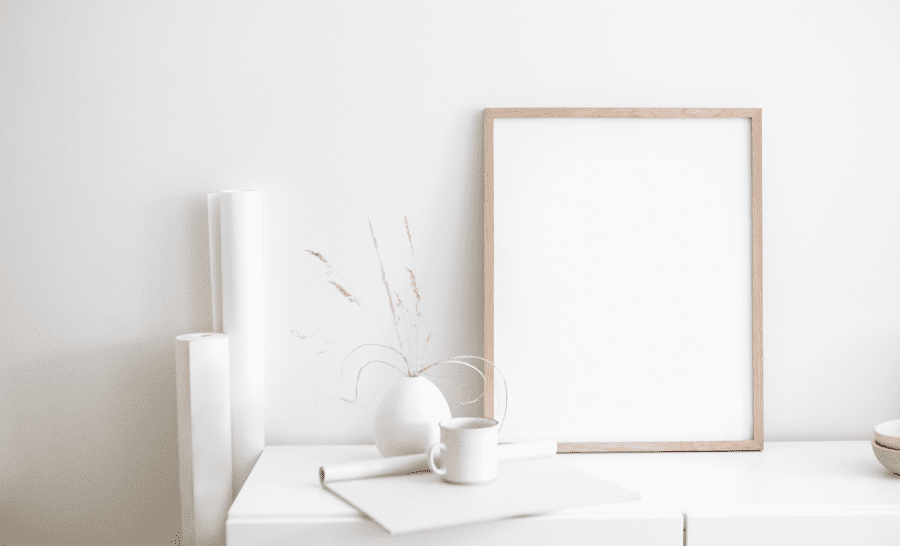 It's time for a change, and to be truthful, we are glad to say goodbye to some of these decorating trends that are out of style – some more than others.
How do you define a trend? According to Merriam-webster, a trend can be defined as "the general movement over time of a statistically detectable change." Sorry, that's a bit formal.
In simpler terms, trends are everywhere. You see it in clothes, shoes, and even in popular dances. You see it on social media platforms.
Trends can also follow you inside your home. From the color you pick for the walls to those small ornaments you bought because they were "in" at that moment, your decisions are influenced by these trends.
---
7 Easy Home Updates eBook: Free!
Today, get a free copy of our ebook that shows you 7 simple updates you can make in your home this weekend that will make your home look expensive and increase its value. Tell us where to send your free copy:  
This site uses ads and affiliate content as an Amazon associate earning on qualifying purchases. Disclosure.
---
Of course, there are timeless pieces that you can always rely on. But there will always come a time when you come upon that trendy style or trendy piece and you'd say to yourself, "Well, it looks cute, and everybody's doing it, so it wouldn't hurt to try."
But trends are unpredictable, sometimes it only takes a few months before a new one pops up to the scene, or it can also take a whole year before people hop into the next hype.
And it can get hazy learning all of the new trends in just one sitting, so why not make it easier and just take notes of what not to follow?
Here are the home decor trends designers advise against. These are the decorating trends that are out this year.
Say goodbye to them and don't look back.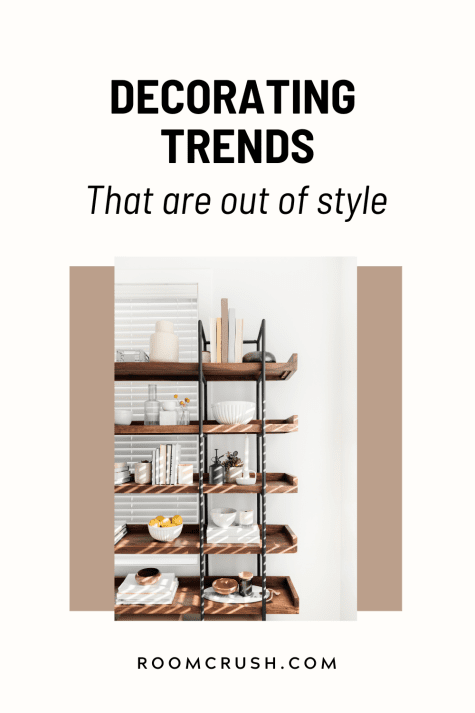 Box-Store Furniture, And Having Everything Brown
Back in 2015, brown colors were at their peak.
But nowadays, your home deserves a splash of color.
Don't fear intense colors. Don't restrict yourself by just playing it safe and keeping it down.
The drabness of too many brown tones paired with dated box-store furniture makes your home look and feel old and trust us; you don't want that.
You need your place to look alive so you can feel the same way.
It's time to be bold and accept the idea of surrounding yourself with dominant colors.
Experiment with it. Replace that old couch of yours and upgrade to a more modern style, like this sofa: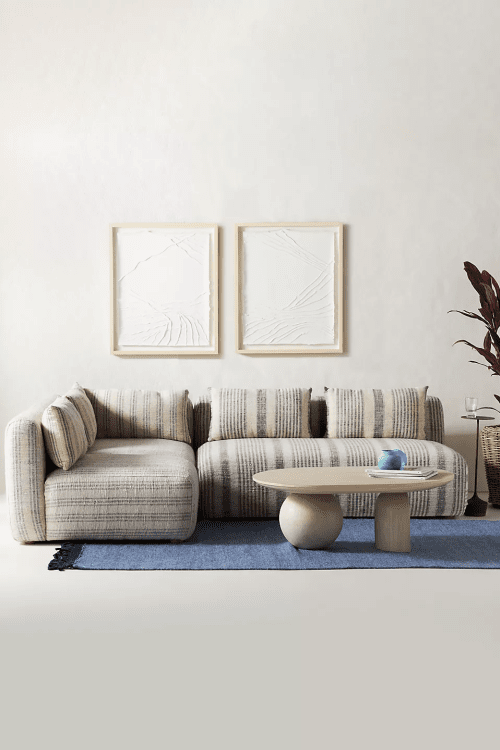 Have someone paint a few walls a new color. Put an end to the lack of texture and visual interest in your home.
You do not have to paint your whole house a bright color. In fact, we would recommend painting just one room while leaving the majority a bright white.
As well, you can simply use a pop of color in your home accents.
For example, we love these colorful mid-century modern-style vases, which add a pop of color while enhancing your decor:
Sale
Rumi Décor Modern Ceramic Vases for Decor - Living Room Decor, Coffee Table Decor, Home Decor, Fireplace Decor, Shelf Decor Accents, Dining Room Table Décor, Farmhouse Kitchen Decor Ceramic Vase1
Modern Home Decorations for Living Room - Our boho vase set measurements are Large 4"L x 4"W x 10.2"H and 2.5" opening, Medium 3.8"L x 3.8"W x 8.1"H and 2.3" opening, Small 3.5"L x 3.5"W x 6.3"H and 2" opening. This decorative vase set is an excellent addition to your farmhouse table decor, farmhouse bedroom decor, kitchen table decor, dining table centerpiece, and can be placed on top of your white mantle decor.
These endlessly chic and rich color combinations of ceramic vase decor work well with variety of styles; minimalist, Japandi, Morandi, modern farmhouse decor, boho, contemporary, and rustic decor.
In complimentary jewel tones, this glazed vase set looks great displayed solo or as a set for any occasions and home decorations: Halloween and fall decoration with pumpkin, wedding, birthdays, and bridal showers. The gift ready package made it the stylish gift for housewarming and Christmas Day.
These decorative ceramic vases can serve as beautiful centerpieces for home decor living room and entryway decor to add a minimalist touch on kitchen table, bedroom, dresser, tv stand decor, and bookshelf decor. Place faux or fresh botanicals and bouquets in them for added beauty.
These decorative ceramic vases can serve as beautiful centerpieces for home decor living room and entryway decor to add a minimalist touch on kitchen table, bedroom, dresser, tv stand decor, and bookshelf decor. Place faux or fresh botanicals and bouquets in them for added beauty.
If you want to experiment with painting a room a bold color, choose to do it in a small room such as a half bathroom.
The Overuse Of Plaid
Checkered and tartan designs have had their time.
If you still want to use plaid in your décor, use it sparingly and favor a minimalistic design. An easy way to do this is to use seasonal colors.
Decorating Trends That Are Out In The Kitchen
Edison Bulbs, 2016 was the year of these little bulbs. You'd see these hanging from the ceilings of almost all restaurants and homes. But it's time to ditch them to the side.
Edison bulbs are all about that industrial aesthetic, and unless you want your home to look like an old-office space, then you're better off without these harsh lighting bulbs.
Don't live in the past, as in 100+ years back when Thomas Edison came up with these bulbs.
Get lighting that will brighten your house gracefully. Choose something that not only gives your space an artistic touch but also serves its purpose right.
And for an artisanal and luxe look, consider getting handmade pendant lights. We love the ones below—they're made by Thai artisans from old fishing nets, but look super luxurious!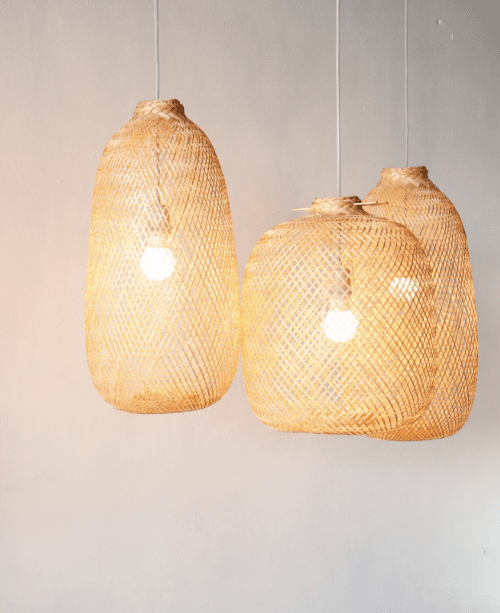 Design meets functionality. If you want advice on lighting check out our post, How Important is Dining Room Lighting?
Tuscan Kitchens
Unless you want to imitate the look and feel of an Italian restaurant, Tuscan-inspired kitchens are taking a step back this year.
Instead of stones and dark colors, a bright and airy place where you can cook your meals is the preferred choice today.
This can also extend to the pots and pans you use to cook too! For example, OurPlace Always Pans come in an array of gorgeous colors, and we love that they complement a kitchen's decor.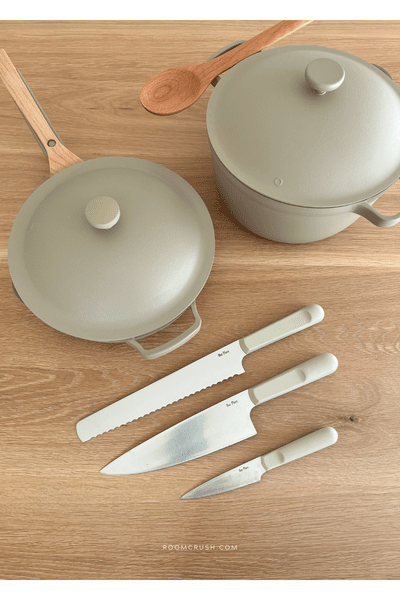 Too Much Granite
Ah, you know what other people say. Too much of something is bad. And this perfectly goes well with having too much granite on your kitchen countertops.
Sometimes, a minimalist approach to kitchen design is best.
In general, granite has a hectic pattern that can quickly date a kitchen.
Open Shelves
There's a new trend going around lately. Open shelving. When kept minimal they can be lovely. But too many, is just, too many!
Instead of many open shelves, just keep the numbers low. One or two, maybe?
Terrazzo
Another material that designers want to fade away is terrazzo tile. Choose other materials such as marble. Trust us, everything will work better.
Mason Jars
We have seen this trend take over our lives for the past few years – from cocktails to candle holders, they were used for everything.
Perhaps it's time to let them rest. Instead, opt for handmade goods as decorations in your home.
For example, a set of handmade tapered candle holders add a cozy yet design-forward look to your home—perfect for when you're entertaining!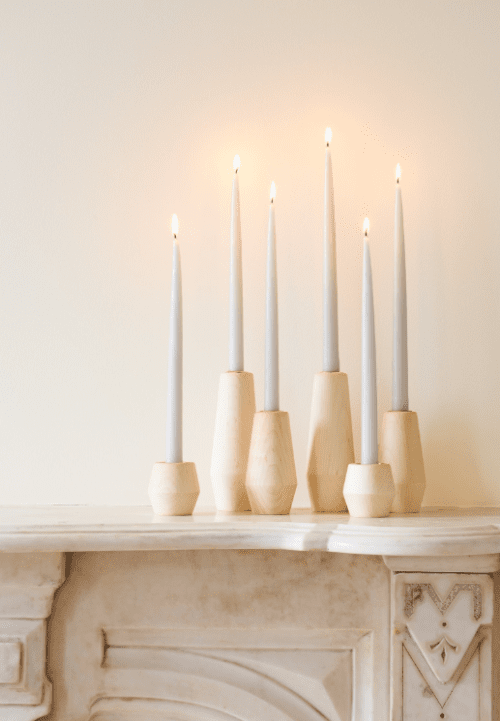 The Faux Look
When your home is filled with decorations with faux finishes, it just looks cheap.
This goes for cheap laminate flooring, DIY painted cabinets and faux tile (peel and stick) backsplashes. Just don't!
Improve the quality of your spaces by reducing your purchases of faux items, and investing in the real ones.
One way to add real materials while keeping your budget reasonable is to incorporate natural textures into your space. This is also a great way to get the organic modern look in your home's design.
Some great natural textures you can include are bamboo, seagrass, and easy-to-care-for plants like succulents.
Check out this seagrass wall art, which is perfect for boho, coastal, or farmhouse decor:
Sale
Wall Basket Decor Boho Set of 6 - Handcrafted Seagrass Hanging Woven Wall Baskets for Coastal, Farmhouse, Boho Wall Decor - Unique Wicker Wall Art Decor
ENHANCE YOUR SPACE: A wonderful alternative to artwork & prints, this basket wall decor set effortlessly adds a textural feel & creates a contemporary natural aesthetic to your space.
COMPLETE SET: This woven wall basket set is shipped as a set of 6 in different designs and sizes, ranging from 13 inches to 7.78 inches allowing you to create an eye-catching statement in a room.
NATURAL & HANDWOVEN: Each unique hanging seagrass basket is handmade from start to finish by artisans from Vietnam. They have a natural aroma when first opened,which dissipates over a short time.
MULTI-USE: These baskets are finished with neutral colors of tan and white plastic cords for sturdiness & durability. Be inspired to also use this wall decor for decorative displays on your coffee/hall table.
EASY TO HANG: Each basket comes with a woven hook on the back. You also receive paper templates to assist with the wall placement of your baskets. Admire your modern boho wall decor in no time at all.

All-white Kitchens or All-white Everything
If you're one of the people who fell into the hype and based your kitchen space or even your whole place on the color of white, that's alright.
You don't have to spend too much time cleaning and maintaining your all-white interior anymore. It's official; this "all-white" trend is out of style.
For your kitchens, colors and patterns are what it's all about. You name it: cabinetry, countertops, and floors—just everything.
The same thing goes for the other parts of your home.
Gone are the days when color only exists on little objects found in your place—incorporate textures and different materials to your style.
You May Also Like: How To Decorate A TV Wall Stylishly
One easy way to do this is to add metal hardware. This includes your faucets, drawer pulls, cabinet handles, and even your light switch plates!
Skip the essential elements and go straight to the exciting parts.
But what if your kitchen already is all-white and you don't want another renovation? You can easily warm up an all-white kitchen with these savvy design finishes.
If you're just starting to experiment with color, choose one furniture piece and go bold.
For example, if your living room is all white, change things up with a statement couch.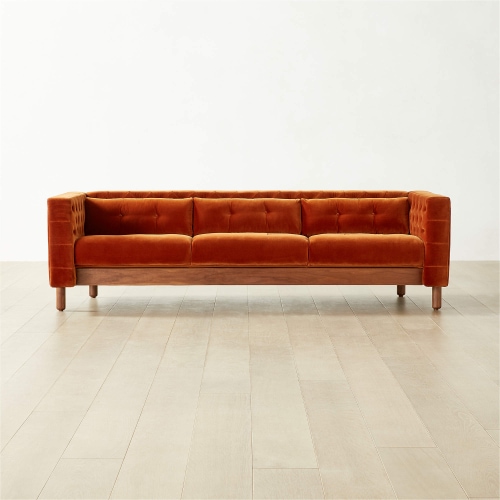 Decorating With A Strong Nautical Trend Is Out
You're familiar with this: seashells, anchors, seashells, sailor's rope, seashells again…you get the idea.
The point is that this beachy vibe is one of the decorating trends that are out of style.
Yes, let the waves take this style and get lost in the sea.
There's nothing wrong with this aesthetic, it's just that people tend to go too far with this one. If you still want to have this kind of motif in your home, be subtle as possible.
Choose a color that's close to this style. Pick out simple decors such as coral or driftwood. You can also get useful items like hanging shelves that have a rope accent to keep the look subtle:
Yankario Rope Hanging Floating Shelves, Rustic Wood Wall Decor Swing Shelf with 4 Hooks, Pack of 2
COMPLETE SET OF 2 SHELVES - The package include 2 torched finish dark brown floating shelves and 4 mounting cup hooks for easy hanging to a wall or ceiling
STABLE WALL HANGING SHELVES - Each shelf is suspended by two thick jute ropes and each rope in a triangle shape when knotted, sturdy and stable for wall shelving
ClEVER ROPE HANGING SHELVES - Jute ropes are adjustable and enable shelves hanging arranged in various ways, perfect for adding some rustic and farmouse touch
STYLISH AND FUNCTIONAL - Beautiful addition to any home decor and useful for adding additional storage space to display house plants, collectibles, pictures and more
SPECS - 16.5" L × 5.5" D. 100% satisfactioin gurantee. If you are unsatisfied with this item for any reason, please contact us promptly, full refund or replacement for free guaranteed.
Take only small doses, and you'll be fine.
Just leave the seashells outside.
Fake Plants
But why? They are just fake plants. They are only decor elements and another plus side; you won't have to take care of them. Right?
Well, taking care of plants is not as difficult as you would think. Come on; you already like the idea of having plants inside your home, so why not just swap them with a living one?
This is especially true of succulents, which are not only easy to care for but come in so many varieties that it's easy to decorate your home with them.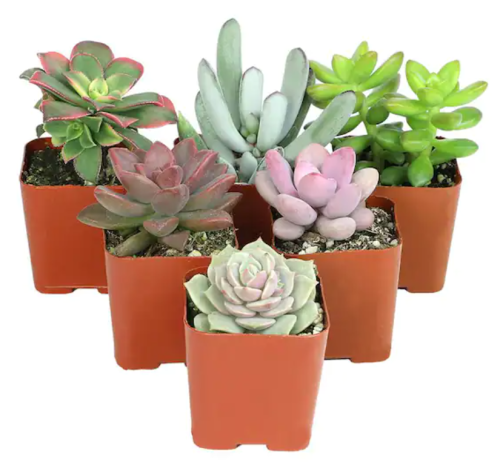 Real plants freshen and improve your air quality and the overall feeling of staying indoors. Don't you want that instead of surrounding yourself with fake plants that serve no other use at all?
Learn more about plant styling, to help give your space new life.
Too Much Shiplap
This style is commonly used for the exterior part of a house. And we love it!
But maybe it's time to minimize your use of it indoors? One shiplap accent wall is charming; a whole shiplap room is uncomfortable.
Uber-Modern Aesthetic
Modern times indeed require modern changes.
We love modern design, where there is color, life and style.
But what's out is the uber-modern design where everything is cold, metal and hospital-like.
Your home should have layers of color, texture and style. Hints of textures and colors are important to make your home special and have its own identity.
So avoid anything that is too overly uber-modern.
To balance out your modern accents, get something like a chunky cable-knit throw to add coziness and warmth to a room.
Dark Walls
This trend is not seeing any light this year (see what we did there).
As we stated earlier, strong shades are what make the world go round right now. Time to pop those colors in your home and feel vibrant.
Hollywood Mirror Lights
As we stated earlier, harsh lighting needs to go this year. Pick out softer bulbs that will not only look good in your skin but also won't get you blinded by looking at them.
Single-Use Spaces
Buying or renovating houses is not easy and cheap. This is why having multi-use spaces in your home is slowly being considered a necessity nowadays.
Imagine: your basement can also turn out to be a home theater.
With single-use spaces being put to the side this year, the possibilities of practicality and functionality in your home are endless.
Wicker Furniture
Rattan sets and pieces are meant to be outside on your porch or patio. Putting wicker furniture indoors is one fast way to make the look of your home go out of style.
Vertical Blinds
We know what you're thinking, these things are difficult to open and close. Well, you'll be thrilled to know that you won't be seeing them that much this year.
Pick lightweight and eye-catching curtains instead to add a hint of beauty and surprise in your home.
Tufted Headboards
If you're looking to make a statement, then keep looking. These stuffy headboards are not coming back. There are other ways of integrating a statement into your room.
Perhaps a bookcase headboard will work for you?
Imagine, it's not just a headboard for your bed but also a place where you can store your books. Another win for practicality – just kidding!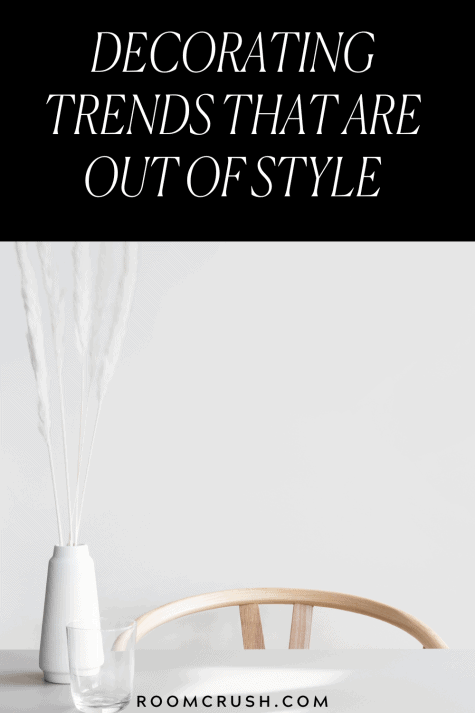 Matchy-Matchy Patterns
It's time to let your playful side out because having the same pattern style in your home is dated this year.
Go ahead and mix and match different patterns to achieve a fun vibe.
Sale
Folkulture Decorative Throw Pillow Covers, Cushion Cases or Pillow Cases for Couch, Sofa, Bedroom, Set of 4 Farmhouse Pillow Covers 18x18, Bohemian Pillows for Home Decor, 100% Cotton, Reef
MODERN AND TRENDY DESIGNS: All our bohemian throw pillow covers have a modern look with geometric patterns. Every pillow case has a unique design that makes a perfect decoration for bedroom, living room, farmhouse, car, outdoor or indoor and almost all spaces.
SOFT AND COZY FABRIC: These Set of 4 Decorative easter pillow covers 18x18 are made of 100% woven cotton and are designed to give you utmost comfort with its soft and smooth fabric. Simply fit in your cushion inserts and enjoy the cozy touch it gives to your homes!
BACK ZIPPER: These boho throw pillow covers come with back zipper which holds the cushions firmly and enables easy removal and fill.
VIBRANT COLORS: The vibrant and classy color cojines will brighten up your surroundings. The floor pillow or cushion set looks beautiful and elegant with the unique and eye-catching colors which lifts up your mood instantly.
THOUGHTFUL GIFT: They make for a perfect gift for any occasion for your mom, daughter, girlfriend, girls, boys, teens and any loved ones.
Fast Furniture
This is the same thing with fast fashion clothes – avoid fast-furniture, too.
Cheap furniture may sell you the illusion of being able to "save money" due to the low prices.
However, in the long run, that cheap furniture will not last. You'll have to replace it soon. And so the process of buying inexpensive home decor will commence again.
Meaning you end up spending more money!
This year, throw this way of thinking out to the window. Be wise in your purchasing decisions and go with high-quality sustainable furniture instead.
Why not invest in the right things? Quality pieces will last.
Chevron Pattern
This zig-zag pattern is commonly used in bedding, rugs, walls, and a lot more.
But you don't have to see this in your home anymore as they are slowly fading out of the scene. It's better to take this design in small doses and incorporate it in small accents.
Neon Lighting
Hey, we all tried this trend.
Cool pictures were put out with this kind of lighting, gyms, dorms, and other facilities integrated this to their styles as well.
But it's time to leave this in the past and opt for lighting that functions and goes well with your home.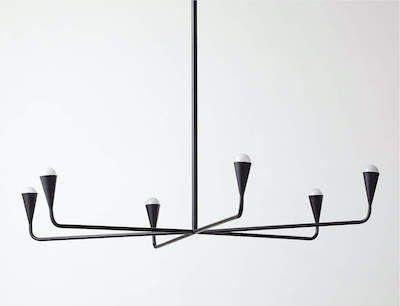 Bean Bag Chairs
Comfy. That's the word you associate with this type of chair. But there are other ways to get comfortable in your home.
Invest in a cozy sofa. Besides, we think that bean bags should stay in student dorms. Sorry.
Boho Hanging Chairs
If placed in the right room that will perfectly fit your boho-aesthetic room, then these chairs are awesome.
But for most spaces, a hanging boho chair just doesn't work.
Conversation Pit
We all love a place where we can gather around and talk as a family.
But this trend is counterproductive to the movement of multi-use spaces in our homes. Unless you can use it for multiple purposes, we don't see that wasting space is worth it.
Instead, if you're anticipating large numbers of guests, invest in comfortable floor seating that you can store and take out whenever you have unexpected company.
Getmo Resin Meditation Floor Pillow,Large Floor Cushion, Square Floor Pillows Seating for Adults,Chenille Thick Meditation Cushion for Yoga Living Room Balcony Outdoor Tatami,20x20 Inch,Beige
PACKAGE INCLUDED: 1*Meditation Floor Pillow, Color:Beige , Size:20*20 inch(52*52cm), thickness is about 5 inch(12.7cm).We offer many colors of cushion. You can choose the color you like.
FAST REBOUN:The cushion is packed in a compressed package, which takes time to rebound after a long transit time. After you receive the cushion by tapping the cushion or put the floor cushion exposing under the sunlight for a few hours, you can accelerate the cushion rebound and return to normal thickness.
SOFT FABRIC: The floor pillow is skin-friendly Chenille fabric, the mid filling is PP cotton fabric.Our seat cushions are sewn in nine positions, rather than positioning buckles, more comfortable to use and not easily deformed.
MULTI-SCENE USE: The square floor pillow can be placed in the living room, bedroom, balcony, outdoor, etc. You can use it anytime while reading, watching TV or meditating.It can also be used as an exclusive resting pad for your beloved pet.
CLEANING INSTRUCTIONS: For localized stains, you can use a mild detergent for local scrubbing. If you need to clean all of them, please wash and shade dry them, and wait for them to dry thoroughly before putting them back on the furniture or floor.
Decorating Trends That Are Out Of Style – Conclusion
Phew. There are a lot of design trends that are out of style.
They say that trends come and go. It's true but that shouldn't stop you from giving in to the hype from time to time.
Use your judgment and decide what speaks to your personality and own style. This list just made it easier for you to decide what works best for your aesthetic.
Whether you're buying a new house or you just thought of renovating a minute ago, these decorating trends that are out can serve as a reference when you already go shopping next time.
So take the shopping list on your one hand, and our outdated trends list on the other and let the transformation of your home begin.
what to read next: