The Best Moon Lamps For Better Sleep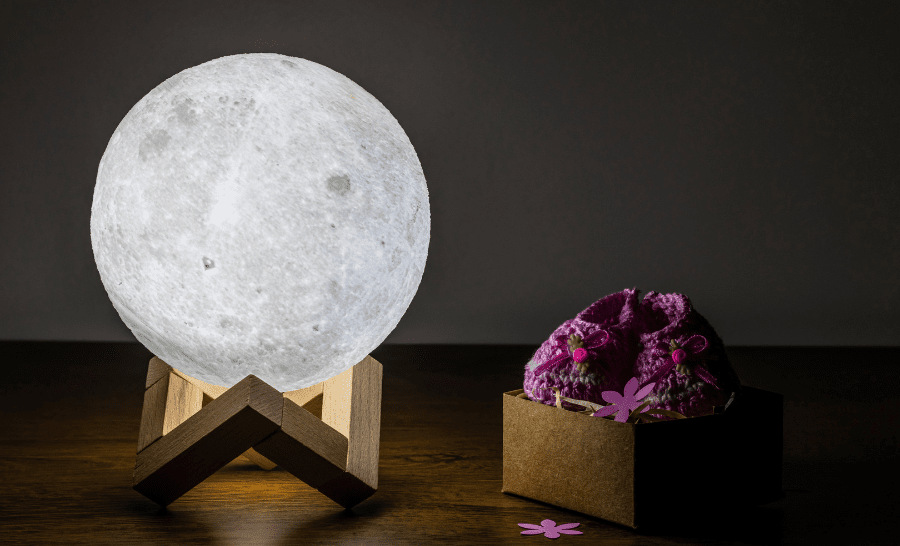 We found the best moon lamps and have a list to share with you. Did you know that Moon Lamps are not only beautiful but they've also been said to help you get better sleep, too?
These lamps have become a popular decorative element as they help create a relaxing environment, and who wouldn't want that?
If we stop and think about it, when we take a glimpse of the moon, we are inevitably drawn to its beauty and feel calm.
People are spending more time at home these days; therefore, creating a more comfortable home has become more of a priority. Here's why you should get a moon lamp for your home.
---
7 Easy Home Updates eBook: Free!
Today, get a free copy of our ebook that shows you 7 simple updates you can make in your home this weekend that will make your home look expensive and increase its value. Tell us where to send your free copy:  
This site uses ads and affiliate content as an Amazon associate earning on qualifying purchases. Disclosure.
---
The Best Moon Lamps For Better Sleep
The sphere and life-like design is a fitting name since the glowing globe lamp is placed on a stand to give the illusion of a being suspended in the air.
When you turn it on, it glows, creating a stunning ambiance.
Moon lamps look stunning in a bedroom!
Now let's explore our options as there are many different lamps to choose from, and I want you to purchase the one that's right for you and your space.
When researching these lamps, I contacted the original manufacturers and creators of the Moon Lamp for the purpose of educating myself.
The creators have been in business since 2015 and have sold over 400,000 units.
This is why I felt they would be the right source if anyone was interested. Plus, from an aesthetics standpoint, their lamps are beautiful, and they ship free (they are priced at $39.99 and up).
Are Moon Lamps Good?
There are vital things to look for before buying moon lamps.
Here are critical aspects you need to look at to make sure that you are purchasing the right one:
The texture is truly what makes this lamp so unique. Not only does it help create visual interest, but it also gives an artistic feature in imitation of the original surface of the moon.
Second, some lamps have the added feature of being dimmable. By touching the globe, you are able to adjust the brightness and ambiance of the room.
We love how these levitating lamps are also an instant conversation starter. This is especially true if you get a customizable lamp that you can engrave an image or text onto!
These little details are helpful when purchasing the right one that gives the best touch to a room.
How Long Do Moon Lamps Last?
Moon Lamps vary in quality and construction, so it's difficult to give a general answer. However, most moon lamps should last for around 50,000 hours.
Does The Moon Lamp Have A Stand?
A stand is an essential element when it comes to moon lamps. The stand is what makes the moon lamp secure.
Some moon lamp stands are made of wood, while others are painted a color that matches the lamp.
Check if the model you wish to buy comes with a functional and durable stand that fits your desired style and design.
Will the Lamp Change Color?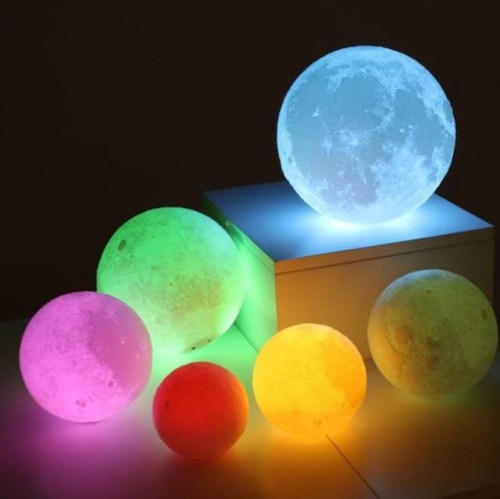 There are moon lamps that are capable of changing colors. Most bulbs give off either a soft to warm white light, which is diffused by the globe.
However, there is an added component that rotates a color wheel over the bulb, which can be a cool feature, especially in a kid's bedroom.
Here are a few popular picks from Amazon:
Sale
Moon Lamp, LOGROTATE 16 Colors LED Night Light 3D Printing Moon Light with Stand & Remote/Touch Control and USB Rechargeable, Moon Light Lamps for kids friends Lover Birthday Gift (Diameter 4.8 INCH)
A Unique Kids Night Light: Moon lamp with the diameter is 4.8 INCH, made with 3D printing technology, realistic full moon shape, the surface of the moon lamp is very close to the lunar moon, novelty and charming; Create a peaceful environment in your kids' rooms and help them enter a blissful slumber with the bright moon light.
Night Light with 16 colors RGB, and the 16 colors can flash or fade or strobe, dreamlike and creative decorative lights, perfect for your nursery room or children bedroom; can adjust brightness to turn this moon lamp into a soft kids' night light, provide children with a comfortable sleeping environment.
Moon light with remote & touch control model. And the REMOTE CONTROL DISTANCE CAN REACH TO 30 FEET. Use the remote control to change the color or also the brightness of the color, very convenient for you to choose your perfect color.
Moon lamp with the build-in rechargeable battery; no line hanging around, you can hold the moon light on your hand; Designed with USB charging port, and you can charge this moon globe on any USB devices, like computer/power bank or USB adapter etc.
What You Get : A comfortable night light, perfect decoration for bedroom, courtyard, dinner table, parties, cafe and outdoor decoration; A romantic and mysterious gift for friends, kids and families on birthday, wedding, anniversary, Thanksgiving Day and Christmas.
Sale
BRIGHTWORLD Moon Lamp Galaxy Lamp 5.9 inch 16 Colors LED 3D Moon Light, Remote & Touch Control Lava Lamp Moon Night Light Gifts for Girls Boys Kids Women Birthday
✅ Magic Star Moon Light: Making the 3D effect of the moon's surface based on astronomical data by NASA satellite. Color drawing craft make the ball colorful and gorgeous. The hollow shell with built-in LED lights, When the light is turn on, it seems to be in the splendid galaxy and also looks like lava. As the color and perspective change, it presents a magical and colorful color.We took some pictures from a few different angles for your reference.
✅ Remote and Touch Control: Touch the metal ring to switch 7 color, remote control to switch 16 colors remote control dimming. And it also support one color or colorful automatic conversion.
✅ Long-lasting Battery(500mAh): built-in USB rechargeable battery, it is easy to carry. And can normally use during charging (3 hours fully charging, 4-12 hours of use, depends on its brightness ).
✅ Cool Decorative Lamp: This moon night light can use as decorative light, child lamp, night lights. Colorful color changes give children a feeling of novelty transformation, perfect as children/kids room decorative and special occasion.
✅ Excellent present: The colorful star sky 3D effect gives people unlimited imagination to the universe or distant galaxies, and many customers shared beautiful photos of galaxy lamps from various poses. It could be treated as an excellent gifts for children kids girls.
You May Also Like: How To Decorate A TV Wall Stylishly
Which Moon Lamp Is the Best?
Now that you have a good idea of the different kinds of moon lamps you can get, let's take a look at our favorite moon lamps!
1.  The original moon lamp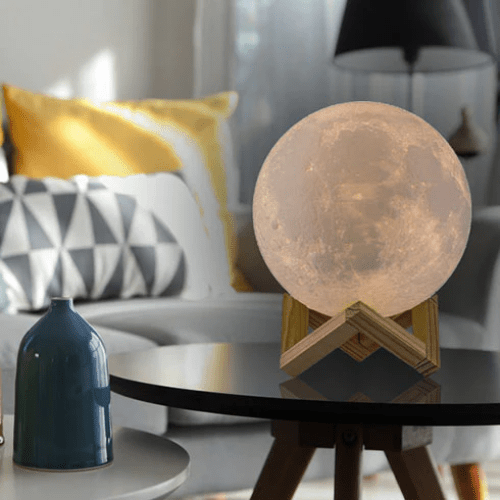 This design is my "best moon lamp" of choice. We love that it's 3D printed using real satellite images of the moon and looks great lit up or turned off.
Plus, the LEDs in the lamp let off very little heat, so it's safe for kids to touch.
It is the ideal nightlight because of its mobile capabilities. This lamp comes with rechargeable batteries, so its wireless capability makes it safer from any wire connections while lighting. You can also bring the moon lamp anywhere – patio, garden, or backyard camping.
The plastic globe sits on a wooden base. The light can be attuned by the touch of your finger to glow from warm yellow to natural white.
The capability to change the shades of view can create the perfect emotions and mood you are going through. However, its price point is a tiny bit steep.
2. HyoDream 3D Moon Lamp
Sale
HYODREAM5.9' Moon Lamp Kids Night Light Galaxy Lamp 16 Colors LED Moon Light with Rechargeable Battery Touch & Remote Control as Birthday Gifts for Boys/Girls/Kids
Star moon light:Special craft on the surface, its 3D effect seems like the rugged surface of star. Color drawing craft make the ball colorful and gorgeous while it is lighted up, like the starry .
Easy using:It's easy and simple to be controlled by using the touch switch, on and off/changing the seven color. The remote control the lamp on and off/changing 16 colors/brightness/timing and etc.
Soft controllable lighting:Varied soft and controlable color can be adjusted that adults and kid like. Built in polymer lithium battery support 6 to 8 hous lighting. Charging cable connect to the power for long time lighting.
Night light and decorate light:It could be used as night light for adults and kid, or put it on the special occasion as a decoration.
Excellent present:The colorful star sky 3D effect gives people unlimited imagination to the universe or distant galaxies. It could be treated as an excellent present for children and adults.
If you want to see a moon lamp that shows the imagery of the galaxy, the HyoDream is the best pick.
The color shifts and shows different forms and marvelous galaxies, making this lamp the perfect gift for kids.
What I love with this moon lamp are the glowing colors that move in a unique swirling pattern. The automatic color fading mode allows the graceful flow between colors, which is pretty fantastic.
Also, it has a remote control where you can easily adjust everything.
3. Vgazer Levitating Moon Lamp
Sale
VGAzer Levitating Moon Lamp,Floating and Spinning in Air Freely with 3D Printing LED Moon Lamp Has 20 Modes for Unique Gifts,Room Decor,Night Light,Office Desk Toys (Wooden Base 3 Colors)
【MAGNETIC LEVITATING MOON LAMP】- Use Magnetic levitation technique,Suspended and Spinning automatically in mid-air Freely without any support or contact,able to attract people's eyes.Use 3D printing technology to imitate Moon Surface to create a texture that is similar to the real moon.
【16 COLORS SETTING & BRIGHTNESS ADJUSTABLE】: 16 Different colors you can choose with the remote control like warm, yellow, white,green ...,ALso The colors can be flash,smooth,fade and strobe,very colorful and full of fantasy.
【WIRELESS POWER TRANSMISSION】:Levitating moon lamp is powered by electromagnetic induction, no need cable or built-in battery, soft LED lights, no damage to eyes.
【PERFECT GIFT AND DECRO】:A perfect gift for your friends, families and colleagues at Christmas, birthday, or holidays.a very cool and unique decoration for your home, office.
【TWO YEAR WARRANTY】:100% Support- We love our customers and hope to make the VGAzer levitating moon lamp better. Please contact us if you have any questions or suggestions. We will help you solve the problem.
This moon lamp is so futuristic and looks just like the moon because it levitates above its base! This is possible due to magnets in both the moon and the stand, which cause the lunar globe to float above the base and rotate in mid-air.
Simply tap the lamp lightly that is seated in a small wooden base, a magnetic levitation lamp will allow you to see the moon that orbits.
The reason this lamp looks so realistic is that it's 3D-printed from a high-resolution scan of the real moon.
While reviewers say there's a bit of a learning curve to getting the moon to float properly, it looks amazing when it does.
This lamp can also switch between warm shades of white to yellow, so if you're looking for a color-changing lamp, go with the Hyodream lamp instead.
4. Ultrasonic Moon Essential Oil Diffuser
MEIDI Essential Oil Diffuser - Aromatherapy Diffuser, 200ML LED Desk Moon Lamp Diffuser with Cool Mist Humidifier Function, Adjustable Brightness and Mist Mode
★ Attractive Night Lamp Design - Immerse yourself in the captivating fusion of 3D printing and night lamp diffuser technology. Witness the enchantment as it crafts mesmerizing light patterns, tailored to your mood and room decor. With adjustable brightness settings for each delightful color, indulge in a personalized ambiance that radiates tranquility. Experience the perfect union of art and functionality in this aroma diffuser.
★ Two in One Application & Lifetime After-sale Support - Elevate your space with this two-in-one wonder. Not just an LED light, it doubles as a personal Humidifier, Moisturizer, Ionizer, and Aroma Diffuser, enveloping you in soothing aromatherapy. Rest easy with our lifetime after-sale support, ensuring your satisfaction and peace of mind. Experience the perfect harmony of functionality and customer care with this remarkable essential oil diffusers for home.
★ Cool Mist & Whisper Quiet - Harness the power of advanced ultrasonic technology in this oil diffuser. It ionizes water into fine mist particles, maintaining air moisture and hydrating your skin while reducing radiation. Experience serene tranquility with its super quiet operation, delivering a calm and comfortable sleeping atmosphere. In addition, infuse your lovely essential oils for a fragrant ambiance that rejuvenates your senses. Elevate your well-being with this multifunctional diffuser.
★ Two Mist Mode & Timer Setting - The Mist button is the same as the power button, but remember to connect the power plug before using. Pressing the button once activates the continuous spray mode which lasts for 4 hours, while pressing it a second time activates the intermittent spray mode which lasts for 6 hours. Additionally, you can set a timer for 1 hour or 2 hours of use before the device shuts down automatically, ensuring safety and convenience.
★ Smart Protection & Effortless Operation - This aromatherapy diffuser is equipped with an intelligent IC that shields against over-current, over-charging, and over-heating, providing you with peace of mind as you relax in its calming mist. And don't worry about forgetting to fill up the tank - its safety mechanism prevents the device from turning on without enough water. Meanwhile, the humidifier function is easy to operate, with a simple lift of the cover and a pour of water into the tank.
We're picking this innovative moon lamp because it not only gives you three different color options (lunar white, warm white, and soft yellow) but emits aromatherapy that makes you more relaxed and comfortable.
The lamp has a built-in chamber that diffuses essential oils in your room. The diffuser functions as an air freshener, which makes your lamp a true multitasker!
5. Logrotate Moon Light Lamp
LOGROTATE Sliding Control Moon Lamp, Moon Light, 18 Colors Moon Night Lamp with Unique Stand, Remote&Sliding Control, Timing, USB Rechargeable, Gifts for Kid Friend Lover(9.5 inch)
🎆 LOGROTATE 2021 Upgraded Version Moon Lamp - Sliding Control Moon Lamp has a unique design with a unique stand; Compared with ordinary touch control, the sliding control has stronger operability. Built-in rechargeable battery, no line hanging around, can hold the moon light on the hand. Made of PLA Environmental material, durability and beautiful view.
🌈 3 Colors Night Light & 16 Colors RGB - As a night light, this moon lamp has 3 comfortable lights, warm light, white light and orange light; Soft moon light can be used as a source of reading and relaxing before going to bed, creat a comfortable and peaceful atmosphere for you and your family and friends. Play with 16 RGB colors to create the effect you want; works as a novelty dreamlike and romantic decorative light for your kids' nursery room, living room, dining room and bedroom.
🌟 Sliding Control Modes - In the 3-color night light mode, can adjust the brightness of the light by sliding control. In the multi-color custom mode, sliding control to adjust the RGB multi-color selection; You can customize the favorite color. After the color is selected, there is a memory function after the shutdown. In the multi-color fade and multi-color flash modes, it can be adjusted frequency.
⏰ Remote Control & Timing Setting - You can conveniently change the modes to customize your needs with remote control. Freely turn on/off the light, change color or modes, adjust brightness. Features 30min/60min Auto off timing setting, can create a warm and quiet sleep environment to help you or your children and babies sleep better. Note: The remote control need two 3A batteries (not include), please check the remote control before using.
🎁 Best Gift - Sliding control moon light, a comfortable night light, a great decoration for room, courtyard, dinner table, parties, cafe, etc. A perfectly romantic and mysterious gift for friends, kids, lover and families on birthday, wedding, anniversary, Thanksgiving and Christmas, they will be very happy and surprised to receive the sliding control moon lamp. ☎ 24-hour professional service! Just try it!
If you are passionate about the beauty of the moon, this Moon Lamp is best for you. It's a large-size moon lamp that measures 9.5 inches in diameter.
It has a remote control for you to enjoy the 16 different colors that flash and fade quickly.
Also, this lamp has a sleep timer to keep you from accidentally keeping the lamp on all night.
It can be displayed with a wooden base or you can use the included pothook and string to hang the moon lamp from the ceiling.
Why Is Lighting So Important For Mood And Sleep?
According to the Sleep Foundation, "Light plays a central role in regulating circadian rhythm, the body's internal clock that signals when to be alert and when to rest. Light also affects the production of melatonin, an essential sleep-promoting hormone."
The lighting plan in your home is not something to overlook. Often homeowners consume themselves with picking out furnishings and room layouts.
Meanwhile, they don't give any thought to how lighting can transform their space and affect emotions. For more on this topic read my post on – How Important is Dining Room Lighting?
Use The Moon Lamp To Draw Attention To Artwork
Depending on the layout of your room, the accent lights of the moon lamp can be useful to highlight artistry.
For example, you can place the moon lamp beside the seating to add another layer of lighting. This creates visual interest in a space.
Consider Lighting Up The Corners Of A Room
Most houses can have empty corners. Transform these dull corners by creating a cozy reading nook.
Make sure that the lamp is complimentary in the finish and the surrounding space. Let the light become the life of the dead angle.
The light of the moon lamp can emphasize a statement accent. Moreover, it is essential to find something that will compliment the tone and texture of your room, furniture, and overall theme of the room.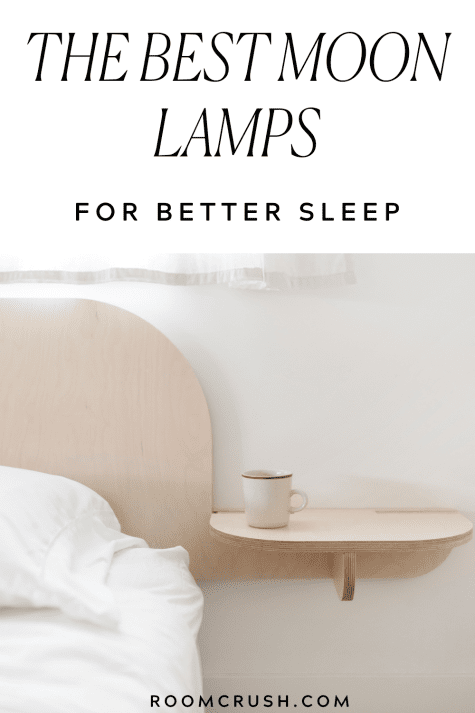 Keep It Simple
You must be keen on choosing the shades of light. Even the moon lamp that is capable of changing the colors must complement the walls and other elements at home, or else it will look dull and boring.
Be keen in choosing the shades of lighting and how they will emphasize a centerpiece or portion of your home.
For example, if you already have busy patterns in your space keep it simple and uncolorful. If you do not you'll be creating an eye sore.
Bulbs Are Important
When you buy a moon lamp, make sure that the bulb is safe and energy-efficient. Today, lamps are using LED bulbs instead of incandescent bulbs.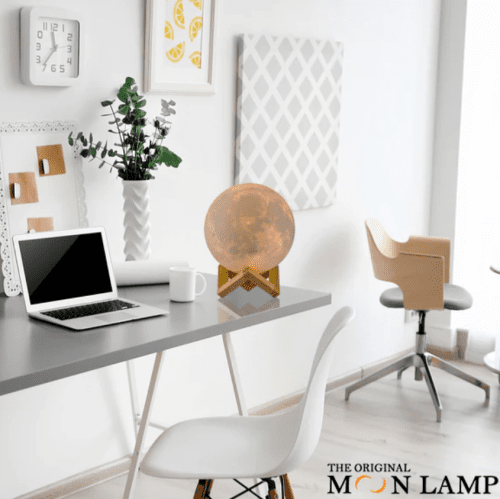 Frequently Asked Questions About Moon Lamps
Why Do People Use Hanging Moon Lamps?
There are many reasons people use hanging moon lamps. Some people use them for decoration, while others use them for their purported health benefits.
Some people believe that hanging moon lamps can help improve sleep quality.
One theory is that the light from the lamp simulates moonlight, which can cue the brain to produce melatonin, a hormone that helps regulate sleep.
Additionally, the soft, calming light of a hanging moon lamp may help reduce anxiety and promote relaxation.
Others believe that hanging moon lamps can boost energy levels and support concentration. One theory is that the blue-enriched white light emitted by LED lamps can improve mood and alertness.
Are Moon Lamps Safe?
Moon Lamps are relatively safe. When buying and installing a moon lamp, make sure to follow the user guide and recommendations of the manufacturer.
Are Moon Lamps Still Popular?
Moon Lamps are definitely still popular. They provide a soft, relaxing light that is perfect for reading, winding down after a long day, or just relaxing in general.
Plus, they come in various colors and styles, so you can find the perfect one for your home.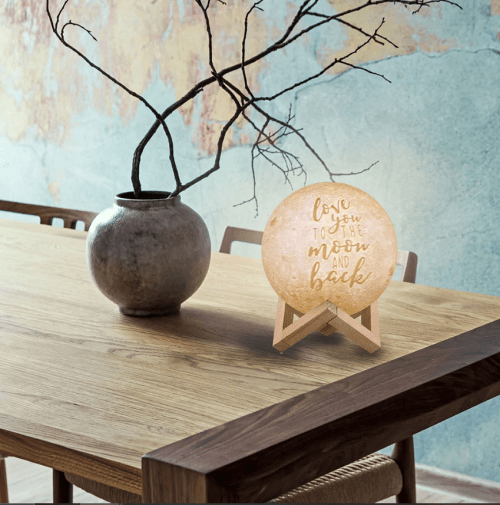 The Best Moon Lamps For Better Sleep – Conclusion
Moon Lamps are becoming popular in many homes. They not only provide aesthetic value to your home but also can help improve your mental health.
The shades, lights, and ambiance can create great stress relief for anyone.
After doing a deep dive, I understand why this item has become such a hot item. Finding ways to destress or make our homes cozy is what our lives are all about.
GET 10% OFF YOUR MOON LAMP WITH CODE ROOMCRUSH10
For more decor ideas, check out:
Pin This: