Hey apartment dwellers! Need some apartment balcony ideas to spice up your outdoor life?
With these apartment deck ideas, even a tiny outdoor space can become a comfortable place to relax and unwind.
We have the advice you need!
Here are some excellent small balcony ideas and meditation balcony ideas to inspire you to create a small space outdoor retreat.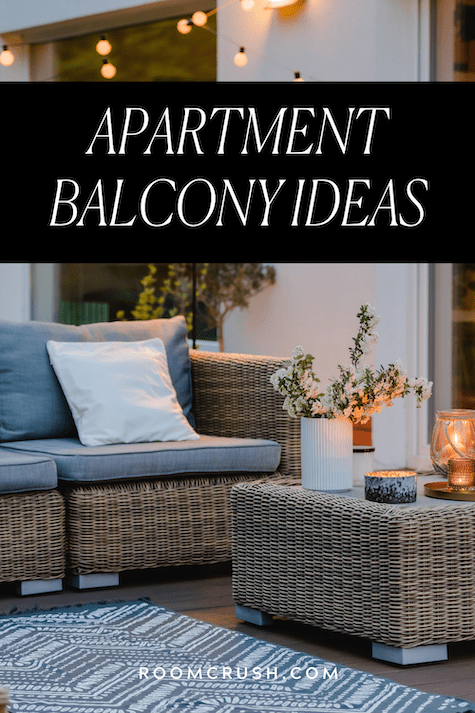 9 Balcony Ideas That Will Spice Up Your Outdoor Apartment Life
Small space living?  Do you live in a small apartment with a balcony?
Everyone desires a gorgeous outdoor space.
The good thing is that you don't require an expansive yard and a beautiful swimming pool because even if you live in an apartment, you can enjoy your outdoors too!
In this article, you'll gather tips on how to decorate your apartment balcony.
Look around your balcony now. Well, what do you see? Just a table and a chair?
With a few clever apartment deck ideas, anyone can make the most of a small outdoor space and make it look awesome.
But you could be asking yourself: where do I even start?
Knowing how to decorate an apartment balcony can be an art. But it doesn't have to be hard!
When beautifying your balcony, you have to first keep in mind the following points:
An apartment balcony is usually smaller than a normal patio. Hence, when buying balcony accessories, you have to keep in mind their sizes to ensure they don't appear too bulky for your space.
Read Also: 7 Ways to Make your Patio Summer-Ready
To make your balcony décor procedure an easy one, you can decide to choose a theme and focus on it. I mean, would you want a modern or traditional or farmyard type of balcony? The theme of your balcony can largely be impacted by the design of your apartment. For example, a modern glass apartment will hardly look good with a farmyard-type of balcony.
Try some layering of colors, textures, and fabrics. For example, you can mix up the textures of your throw pillows and poufs, have some nice rugs around and even the cushions on your sofa.
The balcony, that small extension to your living space that offers you the possibility of viewing the outdoors right from your flat can be transformed into a tranquil spot with these 9 small apartment balcony ideas.
For instance, some may prefer a balcony office or garden while others a fitting jacuzzi or dining area. Just do you!
1. Have a small table
You don't need a yard to dine alfresco, because alfresco dining can happen anywhere, even on your balcony.
Take advantage of weekends and work-from-home days and set up an al-fresco dining table that you can use for having meals. Set the table and add natural elements like flowers to add a distinctive style.
Well, a table is already a basic piece of furniture on almost everyone's balcony but perhaps, you could play around with various designs and actually get a prettier one.
A nice café table creates such a nice café spot on your balcony.
Imagine enjoying a cup of coffee on your balcony with a view of the sunrise.
In fact, you can also enjoy dinner under the moon! So beautiful, right?
2. Add some foldable seats
Your café table won't be complete without the nice foldable seats.
Foldable seats make it very easy to store them aside especially if you'd want to create extra space on your small apartment balcony.
Go for chairs that are lightweight so that you can move them around easily as much as they provide maximum comfort while sitting on them.
Also, don't forget to install a vertical shelf that can provide a surface for organizing your office, and outdoor kitchen items as well as growing plants in containers.
Take working from home to the next level by designing an outdoor office on your balcony. What you need is a comfortable chair, an office desk, and a bookshelf. You can always bring out your computer or laptop and other organizers to keep your space neat.
Be sure to mix prints, patterns, and textures by introducing textiles.  From using pillows and an outdoor area rug to a simple outdoor throw or that can keep you cozy at night.
3. You can even have a nested swing
This is one of my favorite apartment deck ideas!
A nested swing is ideal where you don't want to take the trouble of putting in hooks on the ceiling.
This self-standing swing lets you cocoon in peace on your balcony.
4. Hang a balcony bench
Adding warmth to your balcony with a wooden old-school bench can add personality to your balcony.
It is comfortable even when you want to lay! Just add some pillows and reminisce.
There is plenty of small balcony furniture and you can even go for other types of balcony benches.
And don't forget to get some stylish outdoor pillows, too.
5. What about the shade?
Easy apartment balcony cover ideas: simple standing shade!
Yes! Any time, please!
A nice shade will serve a lot of purposes. It will protect you from the summer heat and also, the rain!
Shades are normally waterproof so you never have to worry about the rain dripping on you or the shade wetting up.
All you will need to do is get that warm coffee.
Consider having some natural bug repellents nearby, such as citronella candles, apple cider vinegar, and lavender mix, and also, protect your dishes as well so no flies and mosquitos hover all over the meal.
This citronella candle is super chic.
Don't ignore your balcony space, it could be the perfect spot for a stylish outdoor dining area!
6. And some greens and flowers
You may not have a full backyard, but by utilizing these backyard balcony ideas, you almost won't notice!
Want to enhance the view of your balcony? All plant life!
Plants and flowers let the balcony serve its original purpose...
Which is, actually having plants!
Greenery helps anchor the space and inject life into your balcony.
You can choose to plant flowers, herbs, edibles, or other outdoor plants and it will look so charming and inviting!
Create a planter wall with a variety of plants including climbing plants, add planter boxes to your balcony railing and bring your balcony to life with beautiful blooms.
Install planter boxes along the balcony railing where you can plant flowers.
You can also hang the plants directly from your ceiling or along your walls or line your window cill.
Plant as many greens and flowers as you can and you'll even be luckier if your balcony gets plenty of sunlight during summer.
Some balconies may also be completely shaded. If you want to know if a plant will thrive in your lighting conditions, read the plant description. Also, don't forget to water your plants on regular basis.
A balcony garden has never disappointed anyone!
Consider how much sunlight your balcony receives at different times of the day before purchasing plants. "Full sun" refers to six or more hours of direct sunlight, whereas "part sun" refers to about half of that. 
7. Outdoor string lights
If you have an apartment living room with balcony attached, extend the indoor mood into the outdoor space with great lighting.
Pendant lighting is the latest form of stylish lighting that you can have in your home.
Radiate your balcony with some amazing pendant lights which will be so useful during the night.
And since lighting is a crucial part of creating a homely feel, you'll need some lights.
Good enough, you can go for portable pendant lights in case you are warry about leaving your lighting outdoors.
You can even string the lights up to turn your balcony into a magical hideaway!
Watching the starry night while sipping some warm chocolate drink would be so welcome in a properly lit balcony, right?
8. Must-have hammocks & Comfy Chill Space
Vacation vibes should not only be experienced while away on vacation!
Even apartment dwellers like you can actually experience the vibe.
And it's simple! You can easily install a hammock on your balcony and watch it turn vacay-ready.
So you thought that the outdoor daybeds are only meant for big, spacious patios, right?
Well, you are mistaken!
Depending on the size of your balcony, you can actually bring in a day bed, a hanging outdoor bed or a chaise lounge in order to create a good unwinding spot.
Feel free to add some throw-on pillows for an extra dose of comfort.
Remember to also take advantage of the view that your balcony provides.
And don't forget to pick up a quality outdoor rug to ground the space and bring your patio design altogether.
9. Mini Bar
You may not have the space for a full bar, but this small, portable mini bar is perfect for an apartment balcony!
Not only does it double as a side table, but it lifts up to a full ice cooler, to keep your drinks chilled.
10. Go For Privacy
Most apartments or flats are designed with balconies that help connect the indoors to the outdoors.
A balcony is a convenient place to chill and relax during the day.
Lucky you if your balcony has walls to the side and maybe, blinds at the front for added privacy.
However, you can always use outdoor curtains and drapes to enclose your balcony in style.
Bamboo roll-up blinds also offer excellent privacy and some additional protection from the elements. 
Shutters can add a quaint, unique quality to your balcony if your space has floor-to-ceiling wooden pillars or supports while pre-made privacy screens, particularly those with artificial leaves √ add a dose of greenery with privacy to your balcony.
Awesome Small Apartment Balcony Ideas  - Conclusion
When decorating your balcony, the key is to make it simple. Most balconies are small so cluttering your space with decorative items is not ideal. Don't go overboard with furniture, and accessories.
You want to be able to relax out there after all!
Now you know how to decorate an apartment balcony. 
Even if there isn't much space on your balcony where you can include all these pieces of furniture, you can simply make it a scenic view spot.
If you can see the city at night, then good for you!
To wrap up, your luxe apartment patio essentials:
Patio chairs/sofa and or hammock
Lost of outdoor cushions and pillows
Patio table
An outdoor rug Rug
Lots of plants
Just add the wine/cocktails
Check out these Summer Patio Essentials, and Urban Farmhouse ideas too
Did you love these small apartment balcony ideas?
Tag me on Instagram @EditorsFaves so that I can check out how your balcony decorating turns out!
Read Next: