How to Create a Modern Bohemian Home
One of the interior design trends that have been widely embraced in many homes has to be modern bohemian home design.
At times, many of us have boho chic homes even without noticing.
So, what is the Bohemian style?  The bohemian style creates a home full of life, oozing culture and expressing global items from many areas of the world, all in an aesthetic and casual manner.
Modern boho-chic style is eclectic and emphasizes ethnic and vintage pieces from the 50s, 60s, and 70s.
---
7 Easy Home Updates eBook: Free!
Today, get a free copy of our ebook that shows you 7 simple updates you can make in your home this weekend that will make your home look expensive and increase its value. Tell us where to send your free copy:  
This site uses ads and affiliate content as an Amazon associate earning on qualifying purchases. Disclosure.
---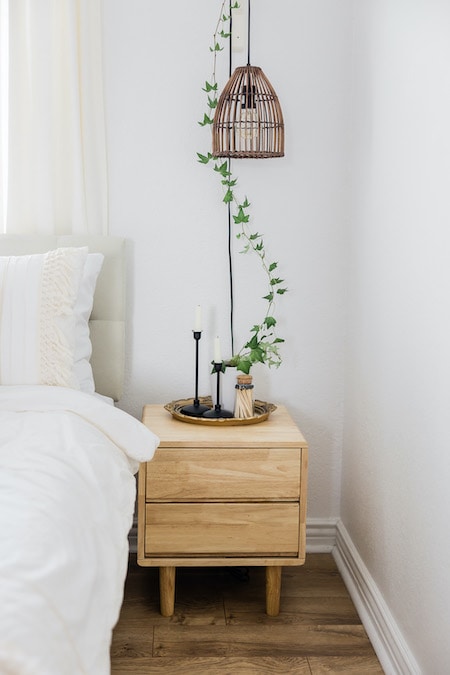 How to Create a Modern Bohemian Home
Boho decor style represents beautiful art and a born wanderlust who creates a home by curating and collecting items.
It is for this reason that boho decorating on a budget can be achieved so quickly – how could you not fall in love with this decor style?
The modern bohemian style is universal and can be adapted to include the owner's personality.
Further, it's also easy to create amazing feminine spaces.
So girls, let's see how we can create the atmosphere of a well-traveled person, and embrace that free-spirit that inspires the boho vibe!
1. Mix Colors and Patterns with an Ethnic Twist
If there is something you will notice about every boho space, it is the patterned colors!
In a way, a bohemian home is maximalist-inspired but with an ethnic twist.
You can add tons of color and patterns just like you would in a maximalist living room.
However, to bring in the modern boho vibe, be sure to mix it with ethnic patterns like tribal prints and geometric patterns which are essential ingredients in a boho-chic home.
Some of the most-embraced colors include olive green, rusty oranges, mustard yellow, wine red, vintage brown, and velvet blue.
INSPIRED IVORY Boho Throw Pillow Covers - Set of 4 Decorative Farmhouse Pillow Cases for Living Room,Home - Aztec Toss Pillow Covers 18x18 Striped Geometric Aztec for Couch Sofa Bed - Urban Collection
Change the Look & Feel of any Room… brighten up a tired living room or office reception with cozy Boho Throw Pillow Covers that compliment Neutral Décor for a more homely feel
Thick Textured Materials… our 2lb throw pillow covers are heavy weights of their class; being substantial & not see-through they are the choice of stylists looking for luxury Boho pillow cases
Compliment Your Style… 18 x 18 inch couch pillow cases made from 100% cotton & tan vegan faux leather; 1 x textured ivory, 1 x black with white Aztec patterns, 1 x white with black stripes, & 1 x brown faux leather (inserts not included)
Machine Washable… easy to clean on a delicate cycle; make our couch pillows ideal for busy families
12-Months Warranty & more… if for any reason you aren't happy with our throw pillows, we have our 100% customer satisfaction guarantee; a full refund/replacement within 30 days
2. Use Natural, Raw or Rustic Finishes
No matter the shade or smoothness of natural, raw, and rustic finishes, your bohemian home won't be complete without it.
Clearly, the bohemian style utilizes accessories made of rustic, natural, or raw materials such as sisal, wood, rattan, or hemp.
Think of cactus silk pillows, sisal rugs, rattan swinging chairs, leather plant hangers, velvet pillows, leather footstool, or traditional mud cloth pillows.
You can also add metallic accents like metal lampstands or clay accents like handmade wall hangings for a modern touch.
Sale
Christopher Knight Home Isaiah Indoor/Outdoor Wicker Tear Drop Hanging Chair (Stand Not Included), Multi-Brown and Tan
PROFESSIONAL INSTALLATION REQUIRED: Professional installation is required for this swing chair. This is not intended for use by children 12 years of age or younger. Please note that this product does not include a hanging stand or mounting hardware.
TEARDROP BASKET CHAIR: Featuring a graceful teardrop shape, this chair encapsulates you in its cozy structure, giving you maximum comfort to lounge about. Finished with an intricate weave design, this chair gives your space an eye-catching modern look. This basket should be installed no more than 20-inches above the ground with a minimum of 4.5-feet away from the walls. This should also maintain a minimum clearance of 30-inches from any obstacles.
POLYETHYLENE RATTAN: Featuring a long-lasting woven finish, this style is not only incredibly durable, but also provides a versatile appearance. The handcrafted details of this material allow this piece to blend seamlessly with your outdoor decor.
WATER-RESISTANT CUSHIONS: Our plush, tufted cushions are covered with a non-porous material that makes cleaning any spill a breeze. Please note that these cushions are water-resistant and not waterproof. Please do not submerge in water.
DIMENSIONS: Choose an accessory that is the perfect size for you and your furniture. This basket chair is 38.00" W x 23.50" D x 48.00" H. You will love how much your space can transform with the simple addition of this charming chair.
You May Also Like: 10 Tips to Create a Minimalist Living Room
3. Use Global Accents
Bohemian style is inspired by a wandering culture hence, incorporating global accessories in your home really elevates your Bohemian-inspired space.
Think Moroccan rugs, Laos blankets, Moroccan Pompom blankets, Hmong Long Lumbar pillows and Kilim Lumbar pillows from Thailand, Borneo woven baskets from Indonesia or Indian Kantha quilts to act as sofa throws.
Sale
If you are a traveler, you should consider bringing home such souvenirs after your global trips. It could be vintage or modern but hey, that would elevate your boho space a ton!
You May Also Like: 15 Awesome Gift Ideas For the Home Decor Enthusiast
4. Bring in Nature
Bohemian style largely relies on nature so you'd be sure that adding plants inside the house will surely amp your space.
Splurge on the houseplants while you let in natural light shine in on your space.
5. Go Artsy
No bohemian space is complete without amazing art pieces.
This could be a gallery wall or just a large piece of wall art, creatively-mounted lamps, fringe curtains or even, a guitar on the wall.
Mkono 100 Inches Boho Macrame Table Runner Woven Christmas Party Decor Handmade Linen Placemats with Tassels Home Decoration for Dining Room Kitchen, 12 x 100 Inches
LONGER TABLE RUNNER: 12" Wide, 100" Length (measure from the longest fringe of both sides). -Selected according to the length of your table, pay attention to eliminate the length of the tassel hanging down on both sides. Tables with a length between 78" - 90" are best fit. May have slight variations in size as this is a handmade product.
PREMIUM QUALITY MACRAME: This table runners made of 100% Pure cotton cord, without artificial ingredients or chemicals. Durable, classic and premium quality. This macrame table runner with several long handmade woven snazzy tassels on each side, gives a chic feeling, creates a relaxed mood in your home, and makes your life in style
DISTINCTIVE CRAFT: The bohemian style of the table runner evokes a warm and classy taste that both works harmoniously and aesthetically with any décor and furniture. Great accessory for dinner or party with this handmade woven table runner and make an impact on your guests
VARIOUS OCCASIONS: This Boho Table Runner brings an instant Farmhouse and Bohemian vibe to any surface such as a long dining table, wedding table, coffee tables, dresser, kitchen island or even your piano! Be creative, use it as a bed runner, or as a throw on your sofa/couch. It is also suitable for any place, such as wedding, boho party, bridal shower
MEMORABLE GIFT. Improved tassel runner by simple and elegant design, meticulously handcrafted, as an eye-catching work of art. It will be a beautiful and practical gift for your family or friends, also great for housewarming, holiday, birthday, wedding, Christmas, and more.
6. Stay Casual and Comfortable
Modern Bohemian home decor gives off a casual, no-fuss vibe.
Think cushions on the floor, piles of different-colored pillows by the TV, stacks of books neatly arranged on the coffee table, Kantha quilts over the sofas, or faux fur rugs.
Bohemian décor is not only about the variation of colors, patterns, and pieces but also about the variation in texture. The beauty is in the variety so be sure to embrace it!
Define Boho Decor
The word Bohemian is defined as an unconventional person, especially an artistic one. So you could expect a very imaginative, creative, and eclectic style. Therefore, this decorating style is the opposite of a clean, simple, and minimalistic style.
Here is a word of caution:
This can be a tricky style to accomplish as people often add in one too many large scale patterns, which can become distracting to the eye. In other words, you need to know where to add your vibrant designs and prints, and when to STOP!
What Are The Top Boho Decorating Tricks?
1. Use lots of plants and natural materials.
Add fresh flowers, greenery, or fruits to your space to create a natural and inviting atmosphere. You can also use reclaimed wood, wool rugs, and other natural materials to add warmth and texture.
2. Create a layered look.
Boho decor is all about embracing eclectic style, so feel free to mix and match different patterns and textures. Try adding a throw blanket or colorful pillows to your couch, or hang some eclectic artwork on your walls.
3. Use bright colors and bold prints.
A touch of color can really brighten up any boho space. Try using brightly-colored textiles, wallpaper, or artwork to add energy and personality
How To Properly Incorporate Bohemian Furniture Or Decor
Keeping your base color palettes such as your walls or large furniture pieces neutral will allow you to achieve this look with less complexity.
Since the boho style is rich in patterns and prints, your best bet is to use your accents to layer this look into your décor.
To illustrate, when you are cold, you will naturally add a layer or two to be comfortable. A sweater may be all that is needed; however, what if you were to continue to add a coat, gloves, and a scarf? Overlaying your clothing will cause you to become uncomfortably hot.
If you add in too many patterns and prints, you will create chaos. It needs to be just right for the space to feel well-designed.
My advice here would be when adding a vibrant print or a bohemian furniture piece, give yourself time to adjust to the new piece before adding to the room.
You May Also Like: How To Decorate A TV Wall Stylishly
Modern Bohemian Style Requires Balance
Since the Boho decor style is very eclectic, you should feel free to experiment with color.
The key to making it look cohesive which is the secret to any good interior design is to keep your accent color all in the same tone. For example, a range of yellows, or a rainbow of blues.
Also, if you would like to incorporate a few colors into the room follow these two rules:
Choose colors and tones that complement each other.
Trust me, I understand how exciting a decor project can be in the beginning, but after a  few hours, days, or months the frustration kicks in. Yep, that excitement turns into – I JUST WANT IT DONE!
NOTE TO SELF: Take a break because it is at this point your project will go south. For clarity, your decor will end up looking like a hot mess on a very humid summer day.
Therefore, if you must experiment with the wall color, dedicate a small room such as a bathroom or limit the number of patterns used in the design.
Why Plants Are Your Best Friend when Boho Decorating On A Budget
Since the Boho lifestyle is all about the love of feeling free, it embraces nature as it grows without boundaries.
Living plants will add texture and life to your home and will so don't be afraid to place them freely around your bohemian furniture.
For those of you who may not want to care for plants, you may find my post on How To Style Indoor Plants helpful.
A great DIY trick is to purchase large wicker baskets and add tassels, as shown in the picture. You can even add tassels to the corners of your pillows to tie the design together.
Boho Bamboo Stands And Plant Containers | Top Amazon Finds
Stackable Bamboo Plant Stand Comes In 3 Colors (Under $40) – Check price on Amazon
Seagrass Planter Plant Containers, Natural Color (3-Pack, Under $30) – Check price on Amazon
Modern Bohemian Lighting
The boho decor style is known for its romantic ambient lighting.
Most designers transform spaces by incorporating fairy lights, pendant lighting, and adding a few lanterns.
When trying to stick to a tight budget, you can count on hitting a home run in the lighting department if you take your time.
If you're willing to spend an afternoon or two hitting up some ehrift shops or Estate sales, you'll probably score big and add a lot of character to your design.
I've picked out some examples that would work for a boho-inspired look for your reference.
3 Light Pendant With A Natural Rope Design
– Check price on Amazon
Bohemia Wood Beaded Chandelier –  Check price on Amazon
Create Your Own Artwork
Find at least one wall in your home to incorporate a few pieces of art and photos from your travels.
A few inexpensive ways would be to purchase vibrant fabric to create your own tapestry or even frame a few pieces of fabric.
You can use the remaining materials to make your own pillows.
Next, add in some photos of your travels.
Boho Dorm Room Ideas
Because dorm students are on a super tight budget, you could find tons of students checking out second-hand shops and thrift shops to fill up their dorms.
Instead of splurging on a headboard, consider using a Tapestry instead. It's a thrifty way to add a wow factor to any wall.
If you are able to score a lightweight Tapestry, you'll be able to hang it up with Command Strips instead of nails!  This way, you won't have issues with leaving behind large holes from hanging heavy artwork.
Hanging Photo Dorm Room
– Check price on Amazon
Hammock Comes In Five Colors – Check price on Amazon
Fairy Lights – Check price on Amazon
Poufs are great, especially for those late studying nights.
For extra seating, toss around a few poufs or large flat floor pillows around your room.
This will help soften your space, and provide extra seating when you feel like entertaining. Plus, they're super inviting and comfortable.
Wicker baskets and hampers will keep your pad looking neat without all the fuss.
How to Create a Modern Bohemian Home – Conclusion
The boho decor style is one that is soothing, chic, and free-spirited.
Plus, boho decorating on a budget can definitely be achieved with great success! The more effort you put into planning your design, the happier you will be with the end result.
Also, don't forget to check out your local listings for some used bohemian furniture styles. You can go boho-chic or vintage.
Hopefully, you are now feeling inspired and have some direction when shopping for your future home decor ideas.
That was easy, right?  Go ahead and express your unique style with Bohemian décor.
Please share your thoughts if you would also love to create a Bohemian home in the comments below.
And for more boho room inspiration, check out our Bohemian room styling collection!
Pin this: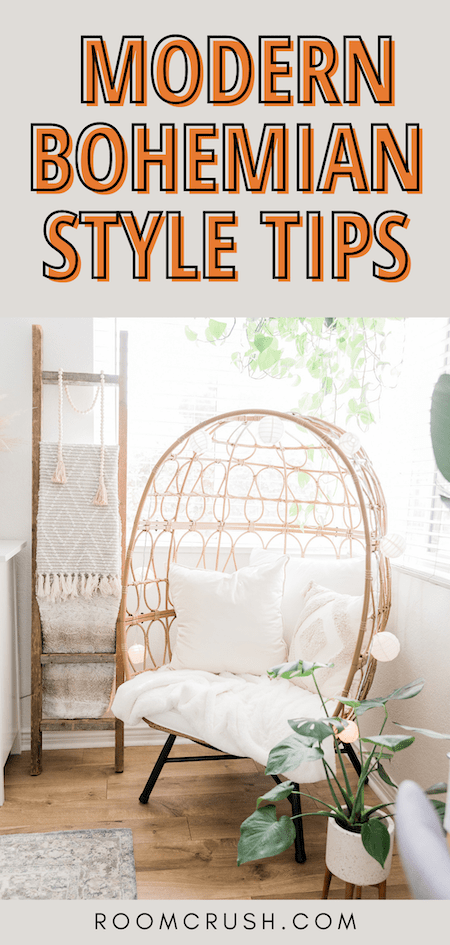 You May Also Like: 10 Steps to Create An Eco-Friendly Bathroom