How To Create A Home Decor Mood Board [+Examples]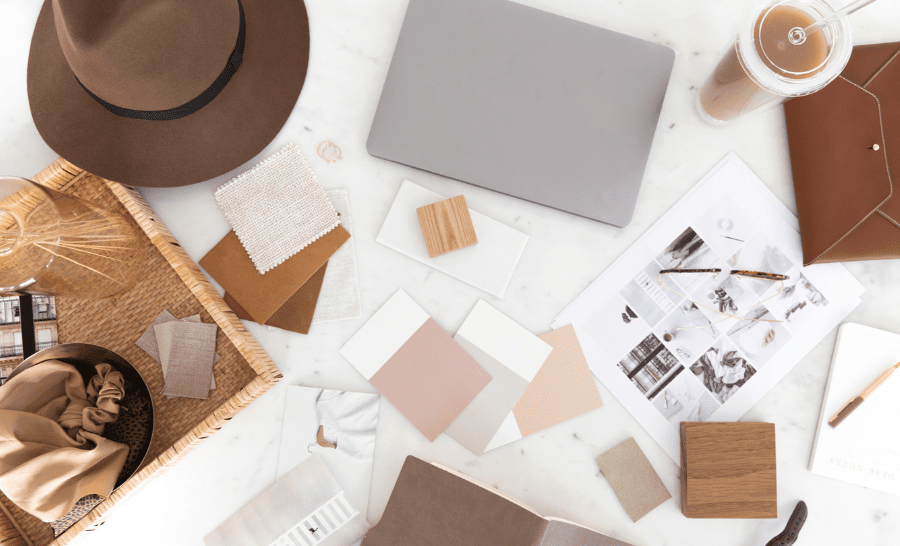 Are you looking for inspiration for your next home decor project?
Knowing how to create a mood board is an essential first step in any design process.
Mood boards help you lay out your ideas, space plan and budget, while saving you time and money.
In this article, we will show you how to create a mood board, and show you some excellent mood board examples to get your creative juices flowing.
---
7 Easy Home Updates eBook: Free!
Today, get a free copy of our ebook that shows you 7 simple updates you can make in your home this weekend that will make your home look expensive and increase its value. Tell us where to send your free copy:  
This site uses ads and affiliate content as an Amazon associate earning on qualifying purchases. Disclosure.
---
How To Create A Home Decor Mood Board [+Examples]
Many of us home renovation junkies can watch reruns all day of our favorite design shows. We can appreciate that very few people can walk into a space and envision what they would like the end project to look like.
When watching seasoned professionals, there is a reason their final reveals are nothing short of amazing.
You may have even caught yourself cheering to move that bus while watching Extreme Makeover, Home Addition.
Yes, they do possess skills and talent. Still, these professionals create mood boards, review materials, and collaborate with others.
Usually, during the creative process, materials are chosen with several criteria in mind, such as quality, cost, and availability.
Multiple products and vendors are selected to allow for those hiccups since their experience tells them to plan for issues that will arise.
Prepare Your Home Project For Success
By failing to prepare, you are preparing to fail or design an ugly room. Even this dog in the photo seems upset by the poor design choices.
Yes, it's a small space, which is why it's more important to utilize the space to its full potential.
What could have been done differently?
Corner windows provide the perfect opportunities to create cozy reading nooks.  For one, the chair is too large and not facing the direction of the light.
A smaller comfortable chair would allow for the area to include an end table for beverages.
Let's not forget a throw blanket for those chilly nights when you leave the window open for a breeze.
Draping the throw across the chair, instead of rolled up as shown would add more texture and interest.
You may have heard of a mood board, either from a friend or the internet. But, let's take a moment to learn what it is.

What Is a Mood Board?
A decor mood board is a kind of collage that is made up of color palettes, images, furniture pieces, and sample objects.
You can also call it an inspiration board because you can collect ideas and inspiration from anywhere for a given project.
Mood boards are a way for people to communicate and discuss their ideas in a visual way by involving imagery, animation, original texts, and object samples.
It helps you communicate your thoughts and ideas. This can express an opinion much faster than words, and it also defines the style of a project.
A mood board virtually reduces complications and keeps everyone on the same page.
How Powerful Is a Mood Board?
A few years ago, I was asked to work alongside an upscale kitchen design firm on a project which had a few challenges.
We needed to create a dark blue modern open kitchen. Use lime green in the surrounding area and work within the plumbing and electrical limitations.
Every member of the family had a different design style.
One saving grace was during the demolition phase we found the original plans of the house.
When reviewing the blueprints, I realized we could use the electrical above for lighting and move the appliances to an opposing wall.
The photos allowed the kitchen designer and homeowner to visualize what I was trying to communicate. It convinced them to open up the space above the island.
The requested lime green color choice was added in fabrics and a few decor items to make everyone happy.
My Ideas Presented by Mood Board Examples
Now, the furniture pictured in the mood boards below are pretty dated! But, please look at the context of how the board is used, rather than the out-of-style pieces shown:
Are Mood Boards Necessary in Designing?
Yes, mood boards are necessary because they give you detail more than words.
Sometimes while designing a room, you fall in love with a particular piece of furniture or artwork only to realize it doesn't work with the overall style.
A mood board prevents you from making costly and time-consuming mistakes.
Your design concept becomes more transparent, and in the process, your style is developed.
Where Can I Make a Mood Board?
Mood boards can be quite complicated to create, so here is my suggestion on how to make the process easy and fun.
One way is to use an online tool like this one to create mood boards. This software lets you create a photo collage, which is perfect for seeing what goes well together.
If you are a Pinterest user, you can create a board and label it with the name of the project. Your goal would be to gather "Pins" and place them on the board.
Here are a few Mood Board Examples on Pinterest:
If you want to create a physical mood board, then you can easily create one by using a cork board and printing out any images that inspire you.
This would include printing out colors, patterns, and furniture that you'd like to include in your space. You can also get these from magazine clippings.
The best part about a cork board is that you can reuse it for future home decor projects, especially if you're renovating one room at a time.
To make a physical mood board, you can use a simple cork board and push pins:
Sale
U Brands Cork Bulletin Board, 17'' x 23'' Inches, Birch Wood Frame
With dense board backing material under the board's cork surface, push pins and thumbtacks are firmly gripped to stay in place every time
Self Healing, Natural Cork Surface Resists Push Pin Holes After Each Use
Sturdy Birch MDF Frame Perfect For Home, Office, Classroom Or Commercial Use
Great For Pinning Notes, Messages, Pictures, Memos, Calendars, Menus, Reminders and More
Mounts Vertically Or Horizontally, Includes Hassle-Free Mounting Hardware and Instructions
Sale
U Brands Wood Push Pins, Walnut, 20-Count (2096U06-24), Brown
20 wood push pins in a walnut wood finish with steel pin will add a contemporary look to your office space
Steel pin is durable and reusable, providing long term operation
Add a pop or style to any important message on bulletin boards, cork boards, foam boards, and more
Pair with any U Brands bulletin board (sold separately) for the ultimate work space experience
Packed in reusable clear tub to keep your desktop or your desk drawer organized, while reducing waste
Frequently Asked Questions About How to Create a Home Decor Mood Board
How Do I Make an Interior Design Mood Board?
Before you start your mood board, decide how many rooms you're renovating (or if it's your entire house). If you're just renovating a room, always make sure it fits the rest of your home's interior design style.
Then, start gathering inspiration. This includes anything that makes you excited, such as wall colors, textures (i.e. bamboo, velvet), and pieces of furniture you'd love to have.
How Do You Make a Mood Board Step by Step?
The first step in creating your mood board is deciding whether you want to make a physical or digital one.
Then, think of a theme. Do you want to go for something Scandinavian and minimalist, or something colorful and eye-catching?
Next, it's time to gather your inspirations. These could include printouts, magazine cutouts, a Canva collage, or Pinterest Pins.
What Should Be Included in a Mood Board?
Aside from images of furniture that you want to include, there are a few other things you should add to your mood board.
These include color palettes (and on physical mood boards, paint and fabric swatches), textures, and patterns.
What Are the Two Types of Mood Board?
The two types of mood board are physical and digital. To create a physical mood board, all you need are a cork board, push pins, and printed images of your inspirations.
For a digital mood board, you can create one (or multiple) Pinterest boards, or use Canva to create a collage.
How To Create A Home Decor Mood Board –  Conclusion
Learning how to create a home decor mood board can save you from costly design disasters down the road.
Often, we think certain furniture and colors will look great together and are then horrified when we find out they don't. But by then, it's often too late. These are the kinds of mistakes that a home decor mood board can help you avoid.
Plus, a mood board can help you see combinations, colors, and textures that you may not have thought of before!
I hope you found this post helpful! As always, if there is a particular decor struggle you need help with, please let me know by leaving a comment below.
For More Decor Tips, You'll Love: