How To Decorate A TV Wall Stylishly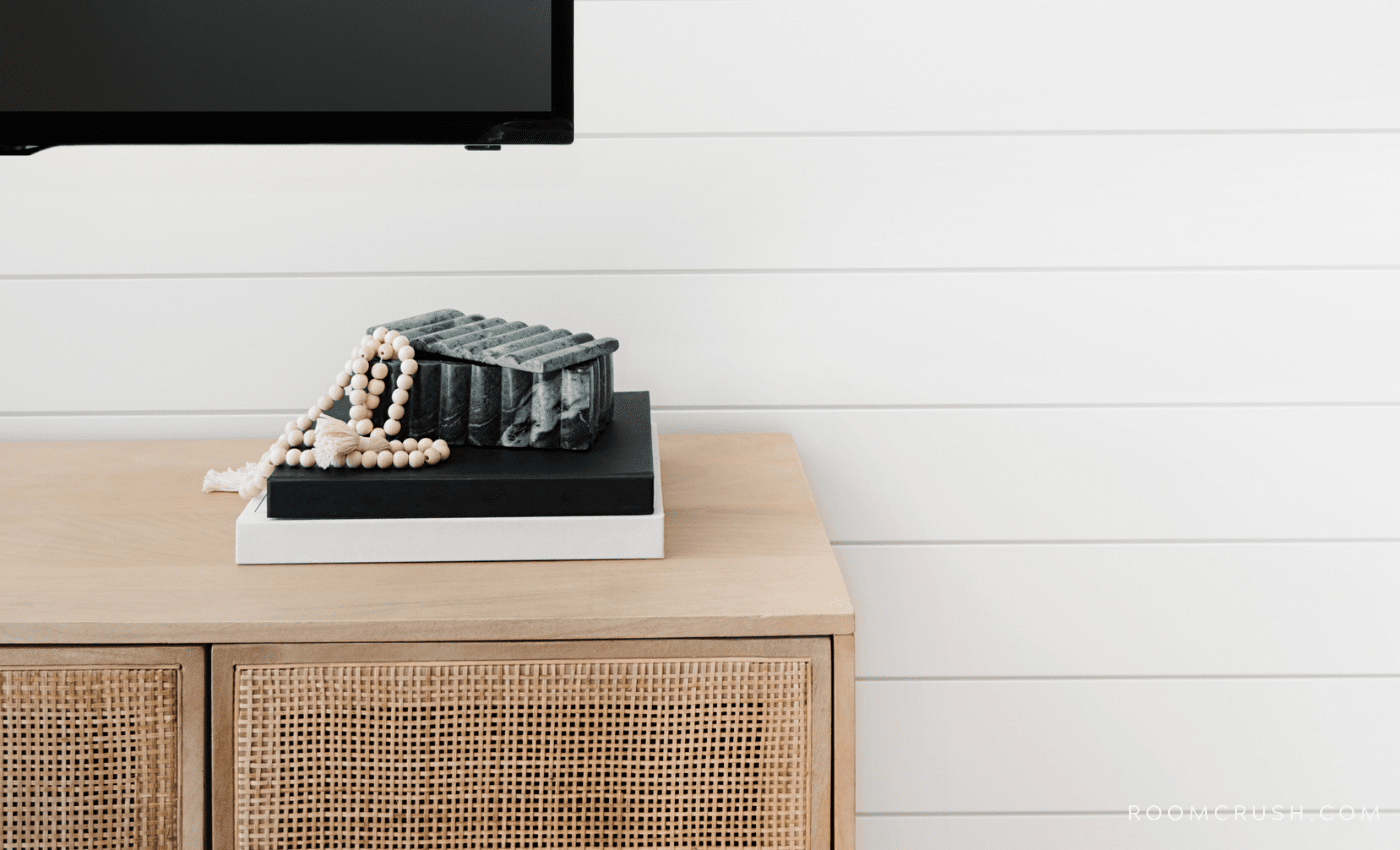 A TV wall doesn't have to be an eyesore. There are ways to decorate a TV wall so it will become a stylish focal point in the room.
Ideas to Decorate a TV Wall Stylishly
Try these ideas to bring life to your TV wall so you can complement your entertainment spot, and cause a stir with this feature wall.
Make it practical and test out how high you'll need to mount your TV above a media cabinet or other piece of furniture that ground your TV wall by sitting where you intend to sit while watching the tv to decide that.
---
7 Easy Home Updates eBook: Free!
Today, get a free copy of our ebook that shows you 7 simple updates you can make in your home this weekend that will make your home look expensive and increase its value. Tell us where to send your free copy:  
This site uses ads and affiliate content as an Amazon associate earning on qualifying purchases. Disclosure.
---
1. Ground the TV Wall with a Media Console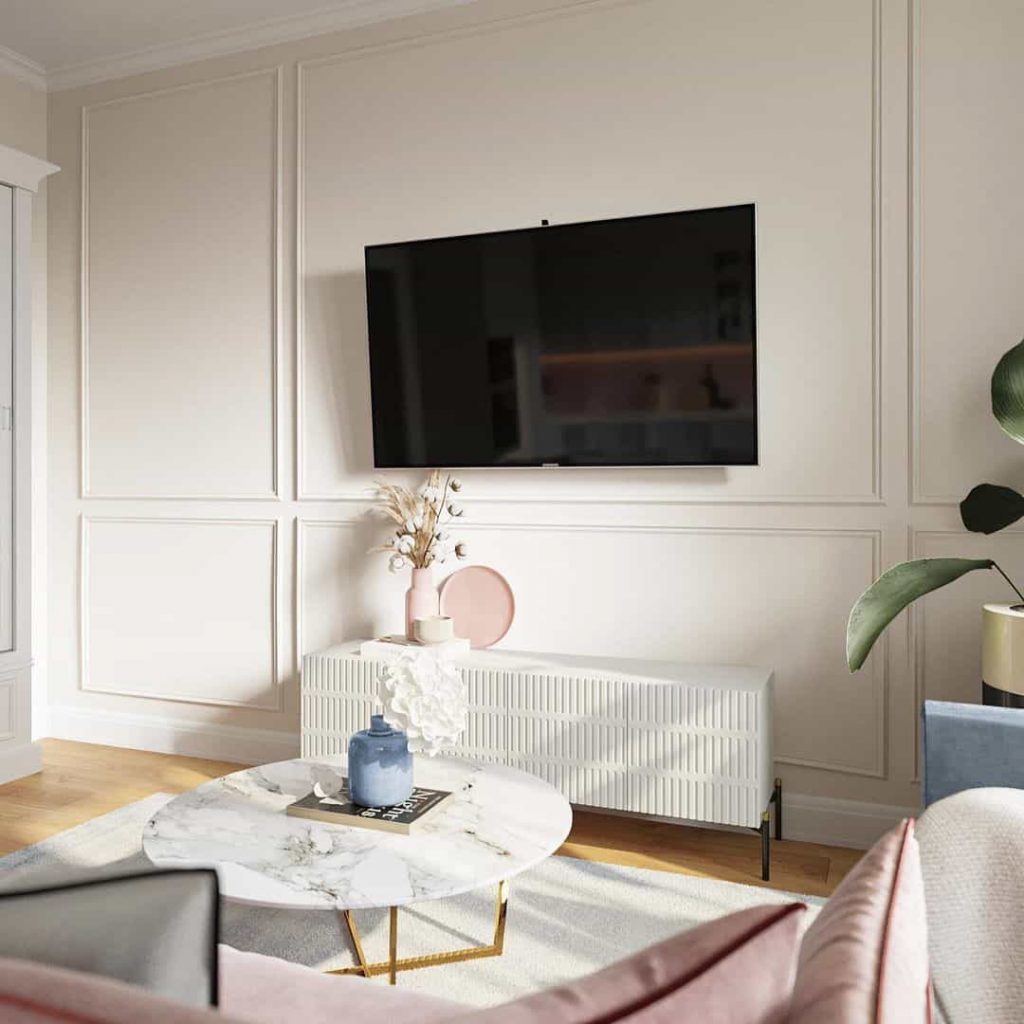 Adding a console table underneath the TV is perhaps the quickest way to add a ground to this wall and provide a TV stand for your TV that is already anchoring the wall.
You want to pick a console that is slightly longer than the length of your TV screen to help balance the visual weight of the TV.
Also, to showcase your flat-screen TV, it is important to keep your TV console free of clutter and cables. Thus, shop for a TV console with storage to organize media or magazines, and look for units with broad tabletop space if you want to put accent decor on display.
You May Also Like: A Step-by-Step Guide To Follow For Your Console Table Decor
And since it is wise to decorate your media console so the surface doesn't look all drab and boring, here are steps to go about that:
Add height and texture using greenery or flowers, ideally in a beautiful vase on one of the farthest ends of the TV. It's no lie that plants add a wonderful organic texture and stands give the plants a nice height boost.
Complete the other furthest end of the TV by adding an equally tall lamp.
Stack books anywhere around the mid-surface of your console to act as pedestals for accents that you will group together on top of these books to create a vignette.
Subtly spread out a range of other decorative items of different materials and textures in the empty spaces – Marble, wood, brass, terra cotta and greenery all work together to create visual interest and draw your attention away from the TV.
The goal in decorating your media console is to achieve a balance, no matter the decorative items you decide to go for. Here is a complete guide on how to decorate your surfaces (including your coffee table).
2. Get a Wall-Mounted TV Console
A stand-alone TV console is an effortless opportunity to ground your TV.
Additionally, wall-mounted consoles work even better. A simple yet contemporary media console that is mounted on the wall will open up free space and bring in an airy look to your living room.
This is a great idea for a bedroom tv feature wall decor.
It is not designed to hold a TV, instead, this design requires that the TV must be wall-mounted as shown in the photo above.
3. Or a Floating TV Stand
A floating TV console is another compact media console that affords you maximum storage space.
You can always decoratively use the underneath area for extra storage maybe with stylish boxes or ottoman benches of your choice.
4. Spice Up The Wall With Mirrors
By now, your TV should already be ground using a console. Next is to accent your TV wall.
Decor over TV ideas: Instantly liven up your space with stylish wall mirrors as they are the perfect accent piece for your space, adding texture and dimension to your TV wall.
Instead of one wall mirror, create a gallery wall of mirrors in beautiful shapes and styles to instantly emphasize the look and feel of your living room.
For sure, these TV wall decor ideas can make your overall living room decor go from bland to beautiful!
You May Also Like: 9 Dazzling Mirror Decorating Ideas To Try & Mistakes To Avoid
5. Add Display Shelves Above the TV
Fill in the empty wall space above your TV using beautiful floating shelves where you can display charming tiny or hanging plants, striking showpieces, decorative items, and other prized possessions.
Such functional storage floating shelves can quickly add character and warmth to any living room interior whilst highlighting your TV wall.
You May Also Like: 10 Minimalist Living Room Ideas That Will Inspire You To Declutter
6. Add Shelving Units Around the TV
A tall corner shelving unit with a large storage capacity yet space-saving is the ideal opportunity to decorate your living room whilst adding a decorative touch to your TV wall.
Feel free to display on the shelves all your novels, framed photos, and collected curios.
To ensure balance, avoid having other shelves above the TV. Instead, keep things simple with a plain TV wall and a console.
You May Also Like: Corner Decoration Ideas To Try Around Your Home
7. A Built-In Media Cabinet
A contemporary yet vintage-inspired way to decorate your TV wall stylishly is to consider having a wall cut-out made for a media cabinet that lends a high-end, clean, custom look and provides storage space for everything.
Cabinets can hide wires, sound systems, remotes, and game consoles to keep your space free of clutter whilst grounding the oversize TV.
8. Frame With Plants
Frame your TV Wall in plants on either side is a minimalist way to bring some natural life into your living room. Huge and tall houseplants, for that matter, help to make a statement.
The height of tall plants around the corners, to the furthest sides of your TV wall, brings the natural wood features in the room while also introducing a casual, natural touch to compliment the sleek, sophisticated décor and bold pops of color.
Some of the tall plants to bring indoors include: the rubber tree, fiddle leaf fig that remains a stunning option for a large houseplant that makes a big statement, or olive tree.
You May Also Like: 20+ Houseplant Decor Ideas To Inject Life Into Your Home
9. Or Frame With Art
Using art around your TV wall is a great way to showcases beautiful pieces of artwork. Keep things subtle by using two pieces of art on either side of your TV as this allows the TV to stand out.
However, if you'd want to create a TV gallery wall, it's possible. Just know where to stop.
While creating a TV gallery wall, avoid adding and adding and adding artwork to your TV gallery wall until you barely notice the TV anymore. Or worse, the TV doesn't blend with the look created that it seems odd and disjointed in the decorating scheme.
Keep in mind the fact that your TV is the focal point because viewers will need to watch it without getting distracted by everything around the television set.
Less is more, so keep the art decorations subtle, muted, classic, and minimal. To create a cohesive TV gallery wall:
Use frames and art in lighter and neutral colors to keep the TV as the focal point.
Use frames that are the same color and style, to ensure the TV gallery wall look is cohesive.
Space out the artwork consistently so everything is balances, and don't overdo it or add too many items to compete for attention.
10. Use Metal Accents
Decorate your TV wall with an eye-catching contemporary design. Using a TV wall panel, with metal pieces of wall decor. Such chic additions really boost the character in your modern living room space.
Go for stylish styles and shapes including sunburst sculptures, crosshatched metal designs of varying line lengths, and more intriguing shapes to create abstract motion on your walls.
How To Decorate A TV Wall – Conclusion
As a focal point and gathering spot in your home, a flat-screen TV needs to be showcased. Use these beautiful ideas to decorate your TV wall and enjoy your entertainment!
Remember, at the end of the day, how you choose to decorate the space around your TV should be centered around your preference and personal style. Just do what you love!