How To Fix A Door That Is Sticking?
There's little that is more annoying than having to yank your sticking front door open when you have a hand full of groceries!
So, likely at the height of your frustration, the next thing you do is google, "How to fix a door that is sticking," and hope your answer is waiting.
Well, fortunately for you, we have your answer.
I've seen what a pain and hassle troubleshooting a stuck front door is. Just a tinge of being off-level in one direction can cause a world of trouble.
---
7 Easy Home Updates eBook: Free!
Today, get a free copy of our ebook that shows you 7 simple updates you can make in your home this weekend that will make your home look expensive and increase its value. Tell us where to send your free copy:  
This site uses ads and affiliate content as an Amazon associate earning on qualifying purchases. Disclosure.
---
But is fixing a sticking door just as troublesome?
It doesn't have to be.
We have three major sticky door solutions for you below.
But first, let's examine why doors even begin to start sticking in the first place.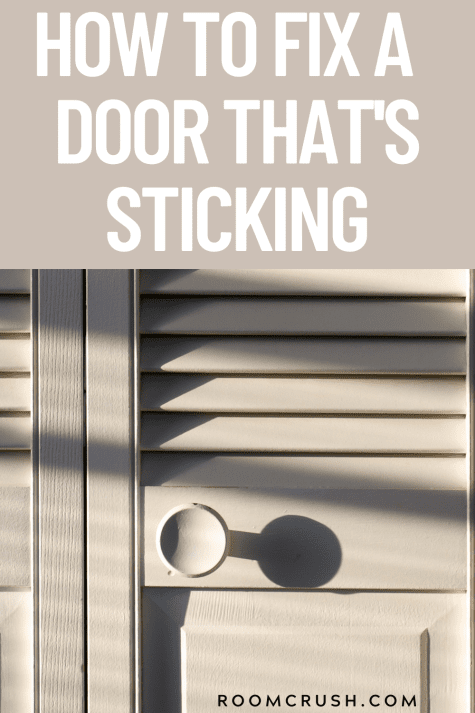 What Causes A Door To Start Sticking?
Often, a sticking door is caused by changes in the weather. As the temperature and humidity outside change, they can also cause your door to swell or shrink slightly.
This movement can cause your door to bind in the frame and become difficult (or even impossible) to open.
Another common reason for a sticking door is that the hinges have become loose. Over time, the screws that hold the hinges in place can come loose and allow the door to move out of alignment.
When this happens, the door will not be able to close or open properly.
Finally, if your door has a sealant on it, it may start to wear down over time and cause the door to stick.
Now that you know some of the possible causes of a sticking door, let's go over how to fix them!
How Do You Fix A Door That Sticks Or Won't Close?
If your door is sticking or won't close, the likely culprit is that the hinges have become loose. To fix this, you'll need to tighten the screws on the hinges using a .
If you find the screws are stripped or too tight, you can purchase replacement screws at your local hardware store.
If your screws aren't tightening correctly, you may find that replacing them with longer screws will fix this problem.
Mr. Pen- Wood Screws Assortment Kit, 152 pcs, Phillips Tips, Wood Screws, Screws, Assorted Screws, Screws Set, Flat Head Screws, Assorted Wood Screws, Screws Assortment, Screw Set Assortment
Total package quantity of 152 pcs consist 50 pcs x 20mm, 30 pcs x 25mm, 24 pcs x 30mm, 20 pcs x 35mm, 16 pcs x 40mm and 12 pcs x 50mm.
Made of galvanized iron, corrosion-resistant, durable and steady.
Ideal for outdoor and indoor woodworking such as build benches and tables, maintain shelves, fence panels, and door hinges.
Don't easily slip, provides good holding power in different woods and man-made materials.
All of the screws will be packed in a sturdy convenient case, can be used for a storage box, is organized for you.
Use a 3-inch wood screw in the middle screw at the top hinge of the vertical side of the door jamb. This can generally help bring the door jamb closer to the frame, which eliminates any door sticking as it opens and closes.
Once the screws have been tightened or replaced, you should be able to open and close your door without any issues.
How To Fix A Door That Is Sticking Due To Weather Changes
If your door is sticking due to weather changes, the best solution is to adjust the humidity and temperature in your home.
Adjust this by using a humidifier in the winter or an air conditioner in the summer. You can also try using a door sweepto help keep the weather out.
If you live in an area with extreme weather changes, we recommend investing in a weatherstripping kit to help prevent your door from sticking in the future.
Weather Stripping for Doors and Windows, Self Adhesive D-Shape Indoor Insulation Kit, Sound Proofing Foam Seal Strip, 7/20-inch x 6/25-inch x 8-Feet, Brown (4 Seals)
WINDOW AND DOOR WEATHER STRIPPING: Waterproof, dust-proof, sound-proof, insulation, shock absorption, decorative effect, durable and elegant appearance
EXCELLENT SEALING PERFORMANCE: shock-proof, heat insulation and sound insulation performance, stops heat, cold, draughts, dust, insects, noise and rain.
LONG-LASTING: The good elasticity and flexibility and anti-deformation, excellent weather ability, anti-aging resistance, anti-weather, anti-ozone, anti-wearing resistance and chemical resistance, excellent anti-UV performance, super flexibility and elasticity
Can be used in wide application temperature scope (- 40`C~+120`C). Note that apply this seal only if the air and surface temperature is between 55°- 104°F(13° – 40°C). If 45°-54°F(7° – 12°C) you can use a hair dryer and warm the tape and surface of pickup 6in (15cm) section at a time, then apply.
EASY TO INSTALL: Excellent self- adhesive backing,decorative, seals firmly, excellent wearable, Good tight dimensional tolerances and have excellent compressability, elasticity and adaptability to uneven surfaces
How To Fix A Door That Is Sticking Due To Worn Down Sealant
If your door is sticking due to worn-down sealant, you'll need to remove the old sealant and apply a new layer.
First, use a putty knifeor screwdriver to scrape away the old sealant. Once the area is clean, apply a new sealant layer utilizing a caulking gun.
Allow the sealant to dry thoroughly for 24 hours before using the door.
So you've figured out what is causing your door to stick, and you've addressed the problem. But how can you prevent the sticking from happening again?
How Do You Stop A Door From Sticking?
To prevent a door from sticking, you should:
Check the weatherstripping to ensure it is intact and not peeling away from the door.
Inspect the hinges to ensure they are tight and not loose.
Add a sealantto the door if it does not already have one.
Adjust the humidity and temperature in your home.
By following these tips, you can help prevent your door from sticking in the future!
How To Fix Sticking Closet Doors?
Closet doors are notorious for sticking, especially if they're made of wood. If your closet doors are sticking, you can do a few things to fix the problem.
Essentially, they're pretty similar to fixing a front door from sticking too.
The first thing is to make sure the hinges are tight. You can do this by tightening the screws with a screwdriver. If the screws are stripped or too tight, you can replace them with new ones.
If adjusting the screws doesn't fix the problem, you may need to add some lubricant to the hinges. You can use WD-40, petroleum jelly, or even cooking oil as a lubricant.
This will help the door open and close more smoothly.
Another thing you can try is to sand down any rough spots on the door. This will help it move more smoothly in the frame.
If your closet doors are still sticking after trying these tips, you may need to replace the hinges or the door itself.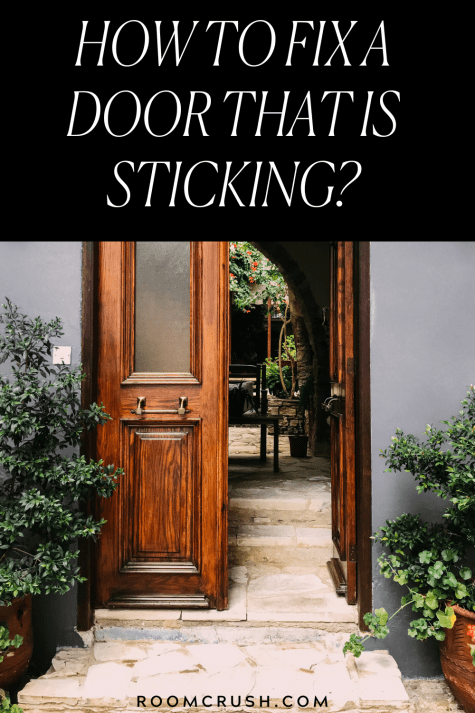 What about sticking metal doors?
Metal doors can also become stuck, usually because of weather changes or dirt and dust build-up. The best way to fix this and the first step would be to take the door off its hinges and clean it thoroughly.
Simply use a damp cloth to wipe away any dirt or dust and then dry it off with a towel.
Once the door is clean, put it back on the hinges and make sure it's properly aligned. If it's not, you can adjust the screws on the hinges until it is.
Sometimes the closet door tracks can become bent or warped, which can also cause the doors to stick. In this case, you'll need to replace the tracks. You can purchase new tracks at your local hardware store.
How To Replace Tracks For A Closet Door?
Remove the doors from the hinges by unscrewing the screws.
Clean the door with a damp cloth to remove any dirt or dust.
Measure the length of the old tracks and cut new ones to size using a hacksaw.
Install the new tracks in place of the old ones, making sure they're level.
Hang the door back on the hinges and screw it in place.
Test the door to make sure it opens and closes smoothly.
The key to installing new tracks is to ensure they're in line with the door. This tends to be a tricky process, so it's best to measure and cut them to size before installing them.
If your closet doors are still sticking after replacing the tracks, you may need other hardware, such as new rollers or wheels.
In this case, it may be a better price to get a closet door repair kit so that you have everything you need.
New Life 9-1142 Bi-Fold Door/Closet Door Repair Kit, for 7/8 in. Wide Track, Used with 7/16 in. Outside Diameter Pivots & Guides
New Life 9-1142 Bi-Fold Door/Closet Door Repair Kit, for Pivots and Guides Measure 7/16″. Intended for a 7/8-inch Track
For use with 7/16 in. outside diameter pivots and guides in a 7/8 in. wide bi-fold door track
Kit Includes: One Top Pivot, One Top Pivot With Wheel, One Bottom Pivot, One Bracket, One Spring Snugger, One Wood Knob and Fasteners.
This kit is constructed of plastic fittings, steel brackets, fasteners and a steel spring.
This product is designed for door panels with lower and upper holes for pivot diameters of 7/16″.
With a bit of patience and some ingenuity, you can fix a sticking door yourself. By taking the time to figure out what is causing the problem and addressing it, you can save yourself the cost of calling a professional.
And, in this day and age, saving a penny wherever we can, adds up and helps!
If you notice your garage door is one that needs some repairs, take a look at our garage door repair post here!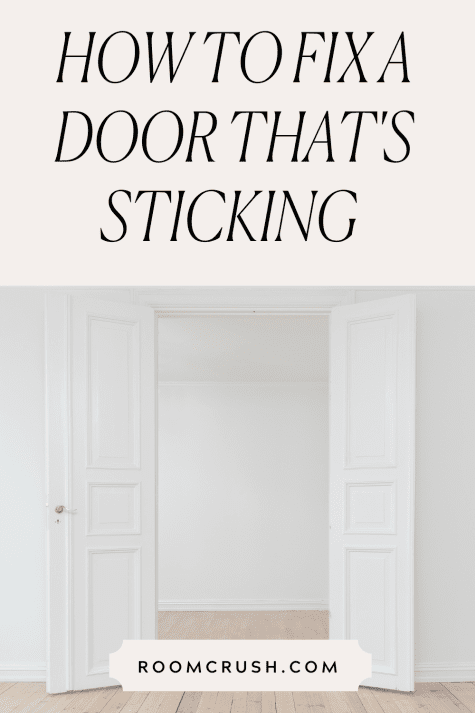 How To Fix A Door That Is Sticking – Conclusion
Sticking doors can cause quite a bit of frustration and annoyance! But unlike replacing an entire front door, adjusting it so that it stops sticking may not be as difficult and time-consuming as you think.
Whether the reason your door is sticking is from weather changes, loose hinges, or worn-down sealant, all of these have simple remedies.
Our tips above can get you from wondering how to fix a door that is sticking to smooth flawless opens and closes!
Read this next: What Are Average Prices For A Garage Door Repair?