Is your room looking a bit cheap? Hanging curtains is a great way to make a room look more expensive while adding color and style too.
But what if you are unable to put holes in your wall? If you're wondering how to hang curtains without drilling holes, you've come to the right place.
In this article, I will explore a few different ways to hang curtains in a room that don't require making any holes.
Let's get started.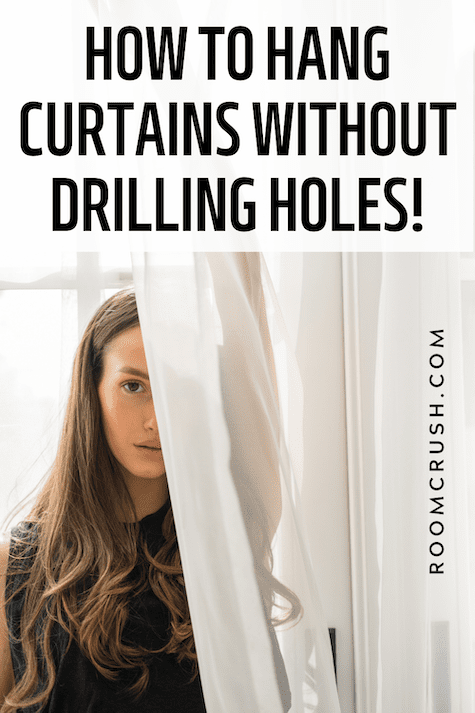 How To Hang Curtains Without Drilling Holes
If you are a homeowner, you can hand curtains in the traditional way - with screws. However, dorm rooms or any other rented accommodations frequently don't allow you to make permanent changes.
This means that drilling holes into the ceiling or walls for your curtains in your rented space room is a no-go.
Bearing this in mind, whichever hanging solution you opt for to fit your curtains, you will need to make sure that it doesn't cause permanent damage to your walls.
Luckily for you, there are several ways to hang curtains in a room that doesn't require the need for drilling.
Which option you choose will largely depend on the size and shape of your room.
So, what options are available for hanging curtains without drilling holes?
Tension Rods
If you have lightweight curtains that you'd like to hang from the ceiling, then you'll need to use tension rods.
Tension rods are often plastic or metal rods that are supported by a center spring and can be adjusted to fit between your window.
In order to prevent damage to the wall and to stop the rod from falling down, end caps are fitted to the end of the rod.
Tension rods are a fairly inexpensive method of hanging curtains in your room but can range in price depending on factors such as length, thickness, and material.
On average, you can expect to spend around $5 to $25 for a tension rod.
However, despite this convenient solution, you should be aware that tension rods are only sufficient for hanging lightweight curtains. 
Bearing this in mind, if you wish to hang thicker, black-out curtains, tension rods aren't the best choice as tension rods won't be able to support the weight of heavy curtains.
Twist and Fit Curtain Rods 
Twist and fit rods are slightly more durable than the previous option.
If your room's window isn't suitable for a regular tension rod, then a twist and fit curtain rod might be a suitable alternative. 
The great thing about twist and fit curtain rods is that they are able to withstand more weight than regular tension rods.
They feature an added "bracket" support, meaning that you can hang medium-weight curtains without trouble.
That being said, they aren't able to support heavier curtains. In addition to this, twist and fit rods are significantly more expensive than tension rods.
When purchasing a twist and fit rod, you can expect to pay approximately $20 to $25 and up, with some high-quality products priced at around $50.
However, for the added extra weight, you might deem this a small price to pay.
Maytex Twist and Shout Easy Install Tension Window Curtain Rod, No Tools Needed, 28" - 48", with Decorative Round Ball Finials, Brushed Nickel
EASY TO INSTALL IN MINUTES WITH NO TOOLS OR DRILLING: Twist and Shout Easy Install Smart Rods require no tools and no drilling, and cause no damage to your walls or window molding (Note: Works best on molding that has a flat interior surface)
STRONG AND SECURE TWIST AND SHOUT TECHNOLOGY: Twist the finial towards the window for approximately 5 to 10 turns (you won't feel the finial tighten as you twist, but rest assured it is tightening with every turn)
FITS INSIDE YOUR WINDOW AND PROVIDES A STRONG HOLD: Extends from 28 in. to 48 in. and supports up to 20 lbs.; confirm you have 5 in. of clearance from the inside of your window frame outward on both the left and right sides (see graphic on this page)
ATTRACTIVE AND HIGH QUALITY: Crafted of durable, high quality resin with a rich brushed nickel finish and decorative round ball finials
LOOKS GREAT IN MANY ROOMS: Ideal for hanging your choice of decorative or blackout window curtains in any bedroom, bathroom, kitchen, home office or other room (window panels sold separately)
Kwik-Hang No Drill Curtain Rod Brackets
No drill curtain rod brackets are a damage-free solution to hanging curtains in your dorm.
This solution allows you to hang your curtains without the need for nails, drills, or screws that can damage your dorm room. All you need to do is carefully align the brackets to your window, tap them in, and hang your curtains.
Prices for these no drill curtain rod brackets can range from $11.99 for a single rod bracket to $15.99 or for a pair of double rod brackets.
However, a major downside of no drill curtain rod brackets is that they aren't as durable as twist and fit curtain rods. 
Ceiling Hooks 
Another option for hanging curtains in your room without drilling holes is to install ceiling hooks. 
They work well because many of them don't require any drilling or screwing into the ceiling, and instead have adhesive backings you can stick to the ceiling. Simply attach the hook to the ceiling and hang your curtains.
These are relatively easy to install and can provide a quick and simple solution to hanging curtains. You can usually find these items in hardware stores or home improvement centers.
Although adhesive ceiling hooks are cheap (around $10) and are good for lightweight curtains, they're not good for heavier curtains.
What To Consider When Choosing Curtains For Your Room
There are a variety of different factors that you will need to consider when choosing curtains for your room. These factors include but are not limited to:
Material 
First, you will need to think about the material of your curtains.
Ask yourself, do you want a more transparent, light-weight material, or do you want a thicker, opaque material that will block more light out?
You will need to bear in mind that the type of material that you opt for will also largely determine the weight of the curtain.
So, if your hanging solution can only withstand light material, this will help you narrow the search down.
I'm a big fan of velvet curtains, they make any room look more luxe.
Sale
StangH 120 inches Long Black Blackout Velvet Curtains for Living Room, Extra Long Rod Pocket Thermal Insulated Backdrop Curtains for Theater / Bedroom / Sliding Door, W52 x L120, 2 Panels
WELL MADE: Sold as 2 panels, each measuring 52"W x 120"L (from top edge of installed rod to bottom). Dual rod pocket top designed curtains can be hung on rod or with curtain clips, creating different style easily.
LUXURY LOOK: The plush velvet curtains are silky-smooth, soft, drapery and very pleasant to touch. Offered in charming tones and hues they easily blend into any style setting to make your rooms look more sophisticated and elegant.
LIGHT DIMMING: Rich velvet curtains can block most sunlight and uv ray to create a dark and cozy environment to enjoy better TV viewing or sleeping. Also provide privacy. Perfect for living room, bedroom, dinning room, home theater, kids room...
ENERGY EFFICIENT: Thick heavy insulated curtains balance room temperature by insulating against summer heat and winter chill, protect your floors ,furniture and artwork from the ravages of the sun and save energy cost.
EASY CARE: Machine wash or dry clean. Spot clean with mild soap and water, air dry. Steam iron from back when needed. If you have any requirements, please email your request to us.
Color
Incorporating color into your room is a great way of adding a touch of your personality to the room.
Whatever the style you're going for, choosing the color of your curtains is important to creating the right environment.
For instance, you might want to add muted colored curtains to match the simple decor, or on the other hand, you may want to brighten the room with brightly colored curtains. 
Allow your creativity to take over when making your choice, and really have fun with it!
After all, the more your home feels like home, the happier you will feel spending time in the space.
Size 
You will also want to consider the size of the curtains.
Before you look for the right curtains, make sure that you accurately measure the space, measuring both the length and the width that you would like for your room.
How To Hang Curtains Without Drilling Holes - Conclusion
So, there you have it! Hopefully, after reading this article you have a better understanding of how to hang curtains in your room without the need for a drill. 
Good luck!
Keep Reading: