Corner Decoration Ideas To Try Around Your Home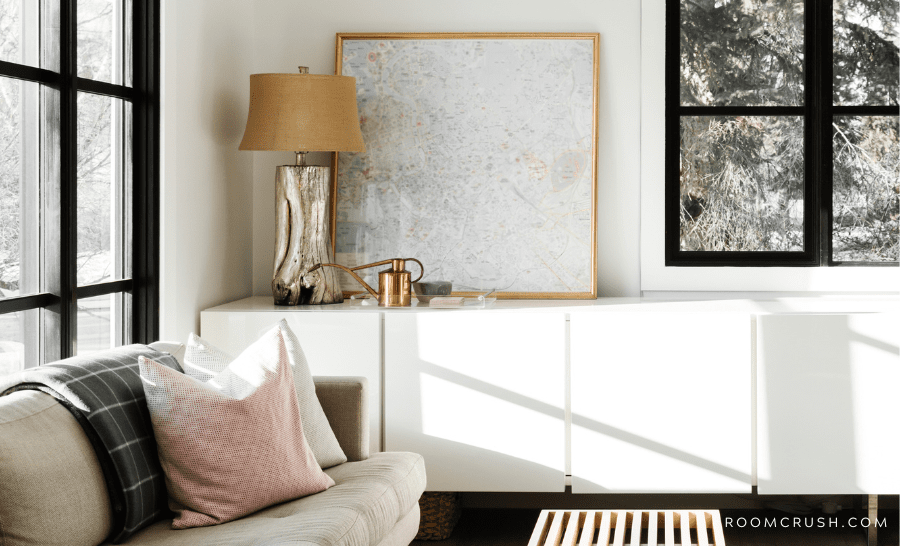 Looking for corner decoration ideas to spice up boring and empty corners around your home?
Well, angles are inevitable in our houses, without which those houses wouldn't exist. Every room has at least three corners and is likely to cause dead space in your interior.
Read on for tons of inspiration to help you style the empty corners in your home. 
Corner Decoration Ideas To Try Around Your Home
---
7 Easy Home Updates eBook: Free!
Today, get a free copy of our ebook that shows you 7 simple updates you can make in your home this weekend that will make your home look expensive and increase its value. Tell us where to send your free copy:  
This site uses ads and affiliate content as an Amazon associate earning on qualifying purchases. Disclosure.
---
You could end up with one or two empty corners especially if you have a large space, or the arrangement of furniture in your space is such that everything is centered in the middle of the room.
No matter what your reason is, empty corners are displeasing to look at.
That alone can have your house looking like you have insufficient furniture, which may not necessarily be the case. They are a waste of functional and potential decoration space.
Empty corners are particularly awkward in your living room or bedroom. Good thing, corner decoration can be quite easy.
You May Also Like: The Correct Dining Room Rug Size For Your Table
We recommend the following possibilities for corner decoration for a more cohesive look:
1. A Zen Spot
If not everyone, at least every house deserves a relaxation spot where you can go unwind, reminisce and meditate.
This is the easiest spot to decorate because you can accessorize with anything that makes you feel peaceful and cheerful.
In addition, there are so many forms that a zen spot can take but this is dictated by the room and part of the house.
In the living room, it is more elegant to have a comfortable armrest, an ottoman, and a side table. The table can be decorated by the use of scented candles.
Choose calming scents and those that boost your mood. Two or three books can also work.
In the bedroom, a couple of floor pillows and bean-bag will be cozy. Although a chair cozied up with pillows can also do.
Now, go explore and get more creative in customizing your zen spot into a spot that will have you chasing your way home every day.
You May Also Like: How To Decorate A TV Wall Stylishly
2. A Plant Corner
Indoor plants are a must-have interior accessory. Large plants fit perfectly in corners and can create the focal point of your living room. Medium-sized plants can transform your hallway and staircase corners to a whole new level.
Use planters that have some texture or of bold color so that it is eccentric. Sisal planters do this for you as they themselves are the statement.
You May Also Like: Ideas To Decorate An Apartment For A Single Guy
Why go small when you can go big? Create a plant corner by having a plant shelf where you can have a collection of several species from hanging plants to succulents.
Dot the shelf with photo frames, lamps, and even dummy books in between the green for a striking plant shelf.
You May Also Like: 20+ Houseplant Decor Ideas To Inject Life Into Your Home
3. A Display Area
Corner spaces are perfect spots for hiding away items, as long as you do it right.
A storage unit can be fitted into the corner. An open shelving unit for example is such a statement.
You can use it to display sentimental items like trophies, mementos and if you are a décor junky, you could use this space to showcase the items that you don't have space for elsewhere.
Group your items in creative ways you deem fit and remember to space them out so that it doesn't look like you brought the thrift store home.
The larger and more outstanding items that you are likely to be attracted to first are best displayed on the middle shelves.
The top can host smaller items like tiny vases while the bottom can be used for storage of miscellaneous items like pets' or kids' toys. These should be well organized in organizers like sisal or wicker baskets.
Other than a shelving unit, you can also use living room corners to host a blanket stand for all your throw blankets. In these ways, your corner space will serve both a functional and decorative purpose.
Decor Tip…
Use lighting to highlight the beauty of your decor items around the corners.
Besides illuminating the walls, carefully selected wall lights can really highlight the pictures, plants, or any other architectural element around that corner.
You May Also Like: How To Choose Lighting For Your Dining Room
Likewise, if you're fortunate enough to have your corners quite empty, then opt for larger statement decorative lighting that accentuates this corner and further adds the wow factor.
4. Add a Bar Cart
A bar cart is so much safer in a corner than behind or by the side of a couch. In a corner, it is tacked away to reduce the possibilities of causing people to trip over.
A bar cart can permanently stay in the corner while contributing to overall décor. However, keep in mind that alcohol is not décor.
It's a common mistake to line up wine bottles on a shelf or fill your bar cart with alcohol only and imagine that that is house décor. Alcohol bottles alone are not inviting if it not in the bar.
The correct way to make them double up as décor is to incorporate other décor items with the bar cart. Group the bottles according to their similarity in either color, size, or shape in even numbers but varying their heights.
Maintain the Odd Numbers décor rule by making the third or fifth item a décor item. Try a tiny succulent at the front or a taller flower vase at the back of your arrangement.
Decor Tip…
In the world of decorating, the Odd Numbers rule is highly adopted when styling a group of decor items together. This rule is particularly important when styling surfaces around your home.
You May Also Like: How to Style Your Coffee Table (Tips For All Surfaces i.e Consoles, Shelves, End Tables)
A grouping of decorative objects is a vignette. Ideally, clustering your favorite items together to form a vignette should create cute displays around your home. They can be considered one dominant object.
Some of the most common vignette formations are the 'A' and 'L' formations.
To create the 'A' formation, pick an anchor piece – ideally, a decor item that's the tallest at the middle and some smaller pieces around it to create an A-shape on the surface.
If you're not for the idea of having your 'A' vignette with the tallest object in the middle, have it veer more toward an 'L' shape with the tallest item to one side.
Vary heights of your decor items as well as the alignment and textures to create that 'WOW' factor!
5. Use Floor Vases
Floor vases are perfect for holding large flowers and pampas grass. To make your floor vase make a statement, create u unique arrangement, and mix up other things like grass.
Pedestal vases are in style currently and this is great because of the additional height and wide top that can be used to hold a large arrangement.
6. Create a Gallery Corner
Create a statement corner by forming a gallery corner with framed art pieces or decorative plates as it can help enlarge or reduce your space.
Putting large frames or plates closer to the wall junction on either wall will create an approaching horizon hence an illusion of a smaller space while arranging smaller frames or plates closer to the junction will do the opposite.
Now, add interest by varying the frame colors or designs.
7. Add Furniture
Small-sized furniture like tables, consoles, armrests, wicker chairs, etc. can easily be slipped into corners to take up that void.
An egg chair is also a perfect and cozy alternative.
However, in the living room, a sectional is the perfect seating option to fit right into a corner, so you don't have to worry about having other decor items accentuating such a corner.
Also called a sectional sofa, these pieces are upholstered furniture that consists of two or more joined sections for sitting. L-shaped sectionals are perfect for empty corners!
You May Also Like: How To Choose The Right Furniture For Your Home
Corner décor is not only limited to floors and walls as you can make use of the ceiling by letting something hang off it, like a hammock or cascading plant. Bold light fixtures and pendant lights would light up the room even further.
An empty, incomplete or haphazardly accessorized interior is an eyesore and nobody needs that.
8. Tilt a Long Mirror
If there is enough corner space for a full-length mirror, consider tilting the mirror out from the wall at the top. However, make sure it's a mirror designed to be titled as usually written on the back.
On a more positive note, an idle corner is an opportunity for you to get creative and pop some things for stunning spaces. It is also true that sometimes finding the correct use for empty corner spaces can be a real hustle.
Decorating corners may be challenging, but not anymore now that you have our secrets! Let us know what your favorite corner decoration ideas are from our list!