9 Dazzling Mirror Decorating Ideas To Try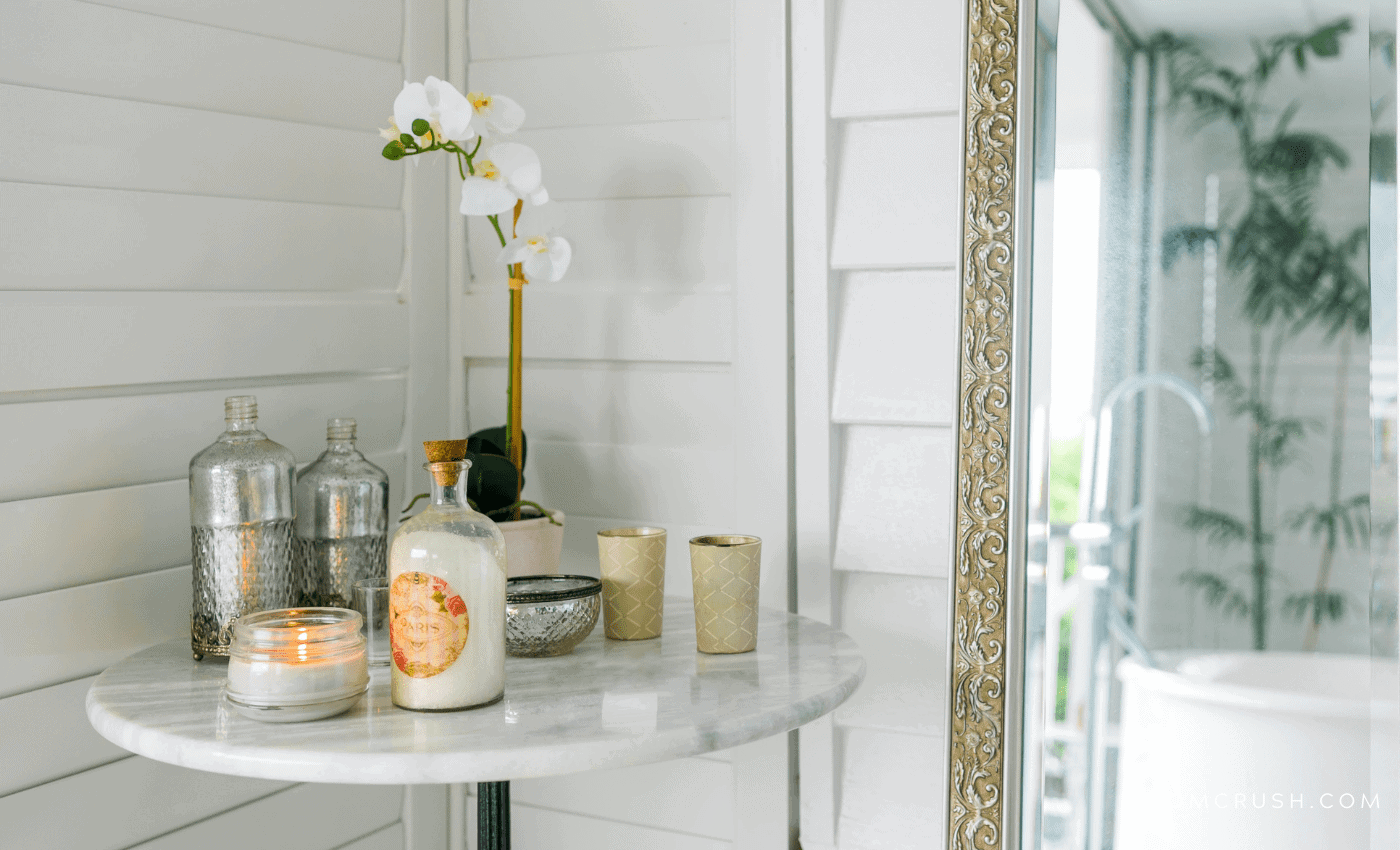 Need some mirror decorating ideas? Mirrors serve an important function in most homes.
They add beauty and function to any space so if you haven't tried any mirror decorating ideas at home, we hope you'll rethink after reading this article.
Using mirrors in your room-living room, bathroom, bedroom or entryway, is one way to reflect many things in your room.
From the beauty to light, to space, which can help increase the look and feel of the room. This makes the room feel airy and brighter.
---
7 Easy Home Updates eBook: Free!
Today, get a free copy of our ebook that shows you 7 simple updates you can make in your home this weekend that will make your home look expensive and increase its value. Tell us where to send your free copy:  
This site uses ads and affiliate content as an Amazon associate earning on qualifying purchases. Disclosure.
---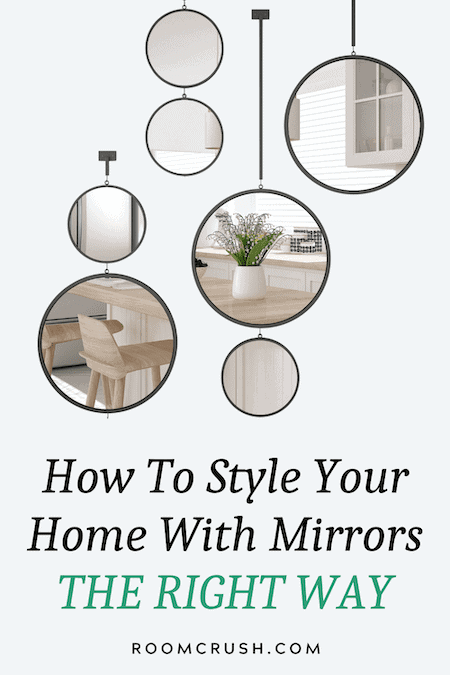 But before we decorate, let's ensure you don't make any mirror decorating mistakes as you get started:
7 Common Mirror Decorating Mistakes To Avoid
1. Placing Mirrors In Direct Sunlight
Mirrors are used to reflect light into your home. However, avoid placing them in direct sunlight because high temperatures can make them dull and their reflective quality will reduce after some time.
In other cases, the glare might be very piercing to your eyes thus uncomfortable.
If you have a mirror facing the sun in your home, remove it and place it in another spot out of direct sunlight, ensuring it can still catch light from a suitable angle to reflect into the rest of the room.
2. Placing Mirrors Anywhere You Please
Mirrors should be used discerningly and creatively to enhance the appearance of a room.
To check if your mirror's in the right place:
Take a look at whether the mirror is reflecting an unappealing part of your room like a huge pile of mess on the table, or a worn-out sofa – your mirror should always be used to reflect the best light and features in your home.
Consider how dangerous hanging the mirror at a particular spot can be. For instance, hanging a mirror above your bed is dangerous. You also don't want to hang a mirror by the door especially if it is not secured well-it might cut anyone getting into your house or break as the door swings.
Think about how disruptive it can be. Suppose you hung a mirror opposite your bed, this could be disruptive to your sleep especially if they bounce light around. Ultimately, this doesn't make for a very restorative night's sleep.
Mind how uncomfortable it can be. A mirror opposite your front door can be startling to visitors entering your home. Rather than seeing you first, they will see themselves. This can detract from your warm welcome and could make your guests feel uncomfortable.
Think about how pointless the mirror will be. While many homeowners mount their mirrors above the fireplace, it is actually not a good idea because the point of the mirror is lost completely. Here, the mirror is hung too high, which then reflects the ceiling, an awkward part of the room, unless you have decorated it.
Mirrors should be hung with space, alignment, and light in mind. Wherever you hang your mirror, its radiance should shine through whilst offering function.
A mirror in the bathroom or by the hallway would be terrific!
You May Also Like: The Best Shower Organizers Every Bathroom Needs
Quick Tip…
Always consider the reflection when you hung your mirror. Suppose you hung it opposite an important architectural element, painting, or piece of furniture, it will give that item even more importance. This is better than hanging it across something unattractive.
You May Also Like: Ideas To Decorate An Apartment For A Single Guy
3. Having Too Many Mirrors
Multiple simple mirrors in a room can look chic. Be sure to vary the sizes and shapes, but don't allow them to reflect each other since this creates an unsettling fun-house effect.
Also, having too many mirrors in one room just becomes too much. It makes people feel very uncomfortable and distractive especially when it is reflecting things here and there – as a rule of thumb, keep your mirrors down to at most, two walls in a room.
HOSERIMO 32" Gold Art Decorative Round Mirror with Metal Frame Sunbrust Wall Hanging Mirror for Home Decor
SPECIFICATION: 32 inch round mirror, we will provide mounting accessories, you can easily install it on the wall.
MODERN DESIGN: Stylish decorative wall mirror with unique metal sunburst frame and gold finish is very versatile and suitable for bathroom, entryway, bedroom and living room decor, this round wall mirror will be a charming part of modern home decor.
STURDY AND DURABLE: High-quality gold coating, durable and rust-proof, not easy to fade, easy to clean, the metal frame is strong and not deformed, mirror and frame fit perfectly.
HD DISTORTION-FREE: High-quality mirrors ensure bright views and true HD images that reflect ambient light easily, making your home look brighter and more spacious.
SAFE PACKAGING: The wall mounted round mirror is well packaged in a thick cardboard box with enough filler. We have taken steps to avoid damage in transit.
You May Also Like: 10 Ideas To Update Your Boring, Old, Tiny Bathroom Stylishly
4. Hanging Full-length Mirrors
Full-length mirrors don't have to be mounted to the wall in order to serve their purpose as a decorative piece or enhance the room. Large and tall enough, they can stand on their own and make an impact.
You can lean one against the wall or in a corner of the room. This is also a great way to create a focal point in the room, adding depth and dimension to space.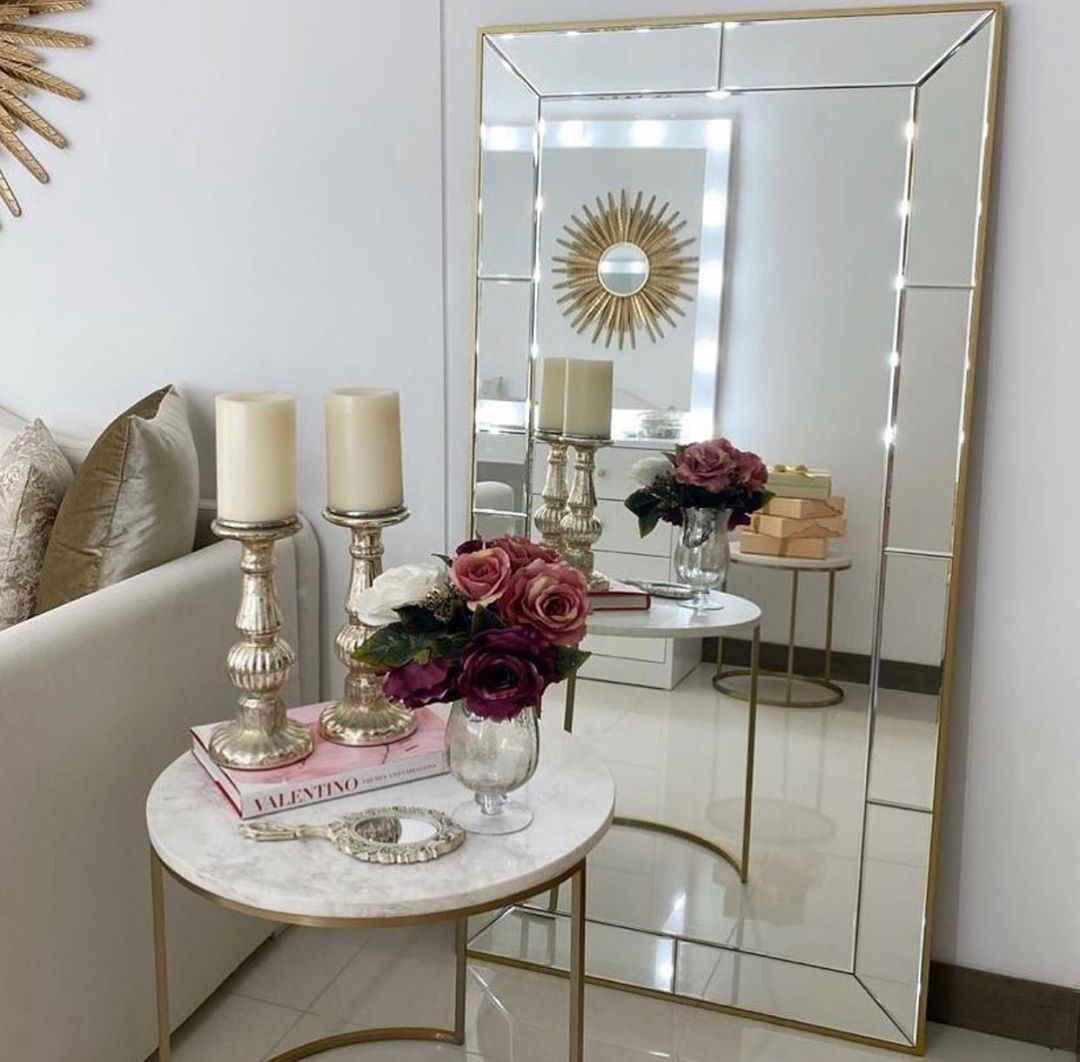 5. Overexposing Your Mirror To Moisture In Kitchens & Bathrooms
Placing mirrors in areas with high moisture levels can cause black spots on the mirror's front.
Also, when moisture is trapped between the mirror and wall, this can cause dark stains to appear on the mirror's backing and wall's surface. So think through before hanging that mirror in the bathroom or kitchen!
Mirrors are very versatile in a decorating theme. They fit into any style, and you can use any size mirror, or choose from simple to elaborate mirrors. If you love the way mirrors look in a room setting, here are some ideas for how to use them in your decorating theme.
6. Using Too Big A Mirror Especially Above Furniture
When positioning a mirror over a piece of furniture, it is recommended that your mirror should not be wider than the piece it's hanging over. It should be as seen as the image below.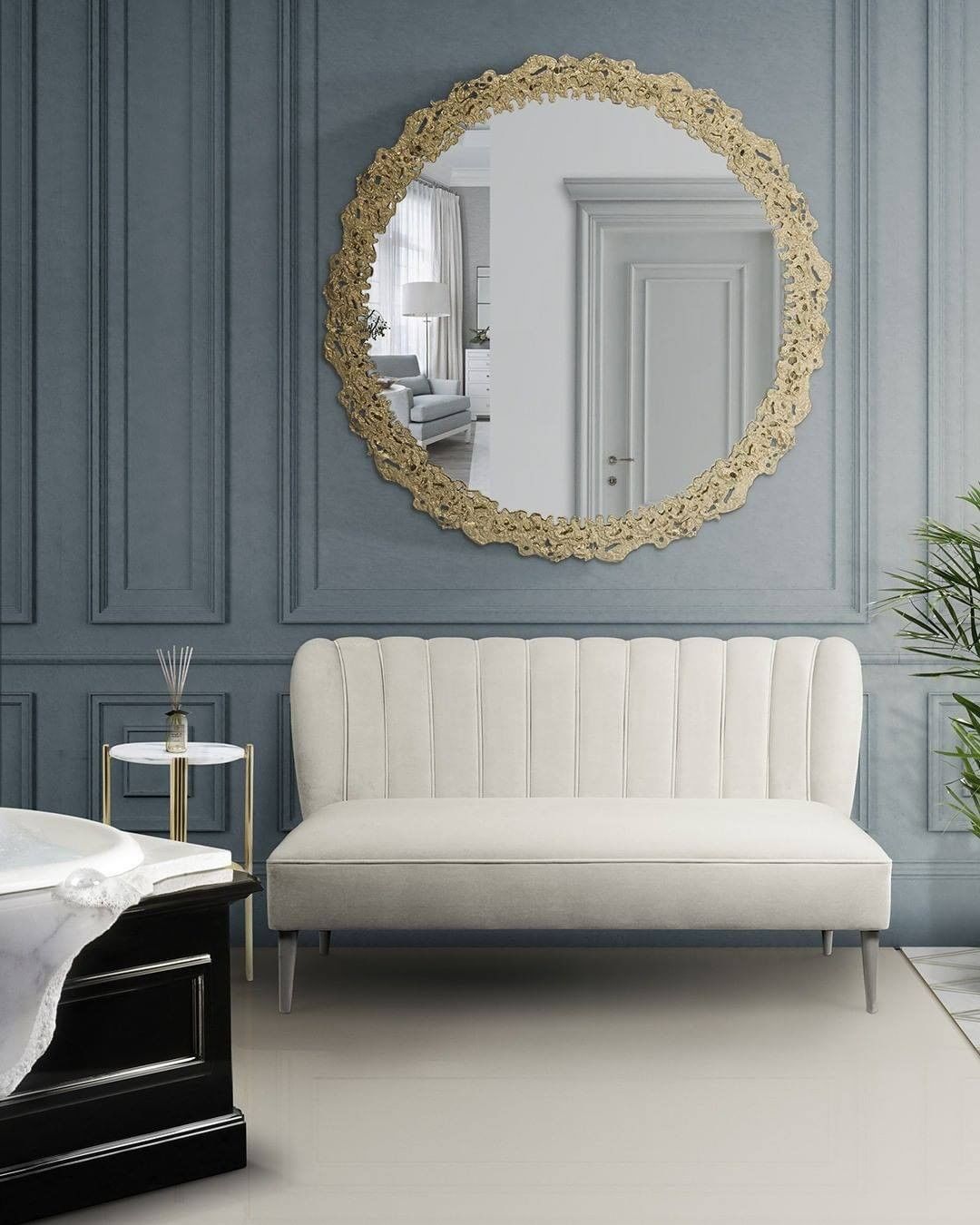 7. Hanging The Mirror Too High
Even though you might want to draw the eye upward to make ceilings appear higher, hanging a mirror too high can make people cran their necks to look into the mirror. Thus, the room feels more disconnected.
Be sure to hang mirrors at about eye level.
9 Dazzling Mirror Decorating Ideas
Go Big
Don't be afraid to use a large mirror in a small space. Since mirrors create the illusion of depth and space, they can really help make a small room feel bigger.
Lean a full-length mirror against the wall or hang one in a narrow spot such as your hallway. Your living wall will also appreciate this large accessory.
Fill An Empty Wall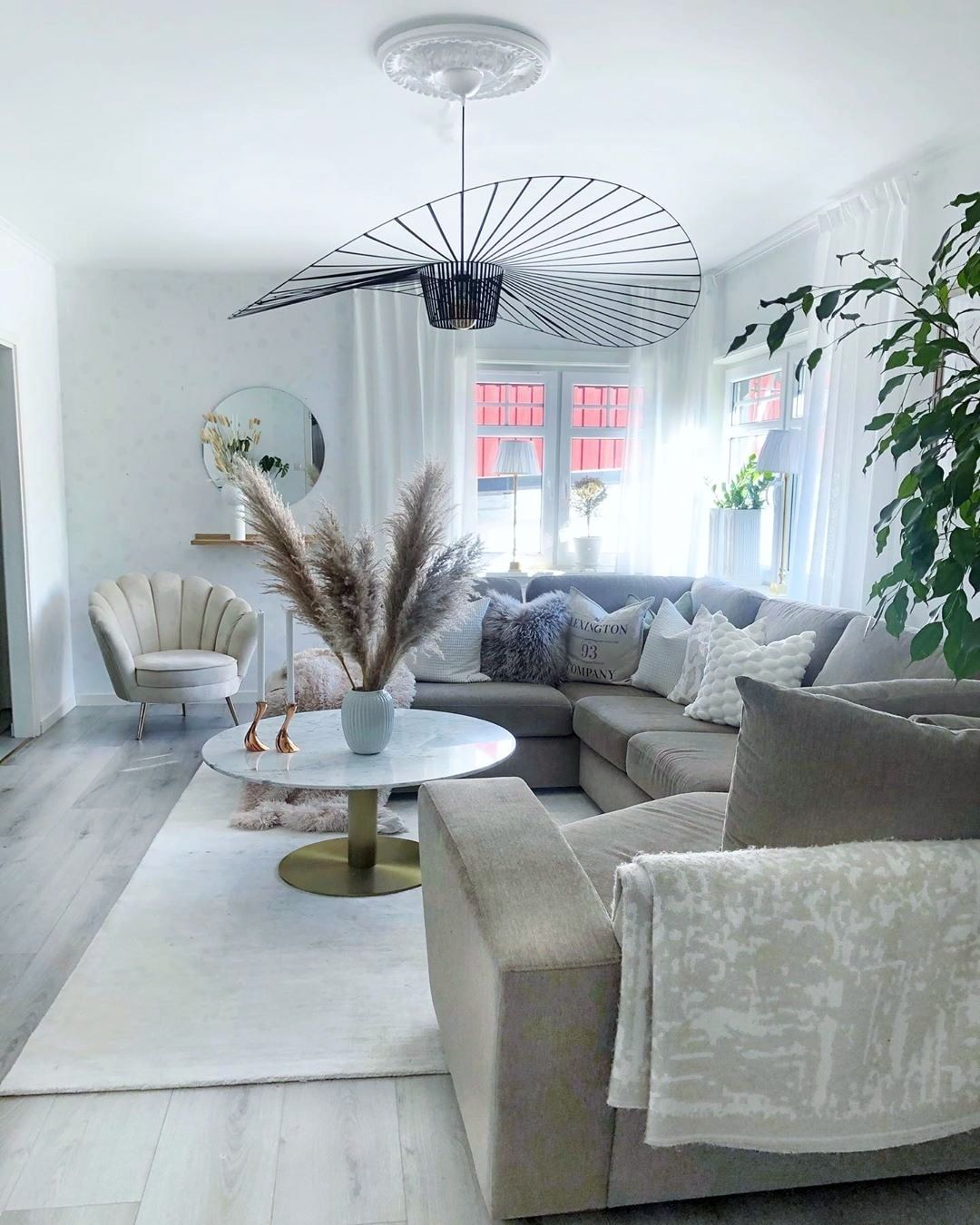 A mirror is a great way to cover a lonely wall that would otherwise look awkward or bare. This could be the wall above your furniture like your sofa in the seating area or in the bathroom.
You May Also Like: 15 Ways You Can Decorate your Walls Today-No Repainting Necessary
FANYUSHOW Round Wall Mirror 19.6" Gold Metal Frame Circle Mirror Wall Mounted Mirror for Bathroom, Vanity, Living Room, Home Decor
CLASSIC DESIGN: This metal round mirror is a simple and exquisite circular wall mirror,it is made of Al-alloy, brushed frame, floating round glass panel The modern design look makes it stand out at home.
VERSATILE USE: Circle wall mirror is a perfect vanity mirror or home decoration in bedroom, bathroom, living room, waiting room,dressing table , entryways, salons and so on.
SAFE AND DURABLE: Our wall mounted mirror made of high quality floating annealed glass which can prevent warping and distortion, give you a real HD imaging. Lead and copper free environmentally friendly silver back keep durable in moist environments.
SIZE AND INSTALLATION: This circular mirror has a diameter of 19.6". When hanging the wall, hooks are pre-installed behind the backboard, the package includes screws, It is easy to install and hang.Please be sure to hang it safely & carefully with your family.
SATISFACTION CUSTOMER SERVICE: We attach great importance to product quality and customer shopping experience, If you received products with any problems, please do not hesitate to contact us, we will reply asap and give you a best solution.
Create a Focal Point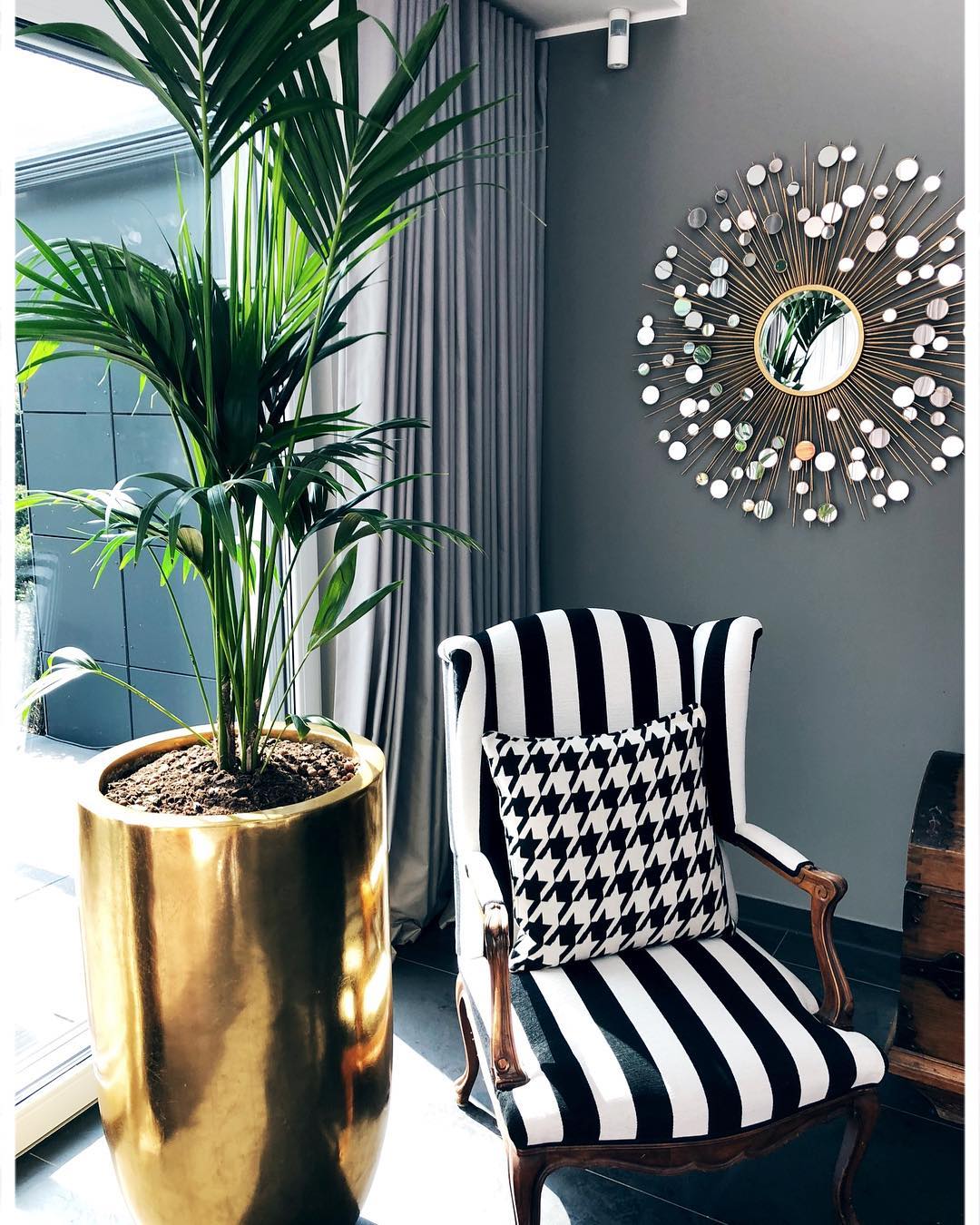 Add interest to your room by creating a focal with a mirror-they make such great focal points.
If your living room is lacking in a focal point for the room, create one by using a large statement mirror to draw the eye in when one walks in the room. A sunburst mirror is a great focal point!
Create A Gallery Wall
Don't shy away from creating a gallery wall with mirrors. Like with any photo wall, treat them as one unit when deciding on placement. Display several smaller pieces salon-style to create a wow factor.
Beautify Your Entryway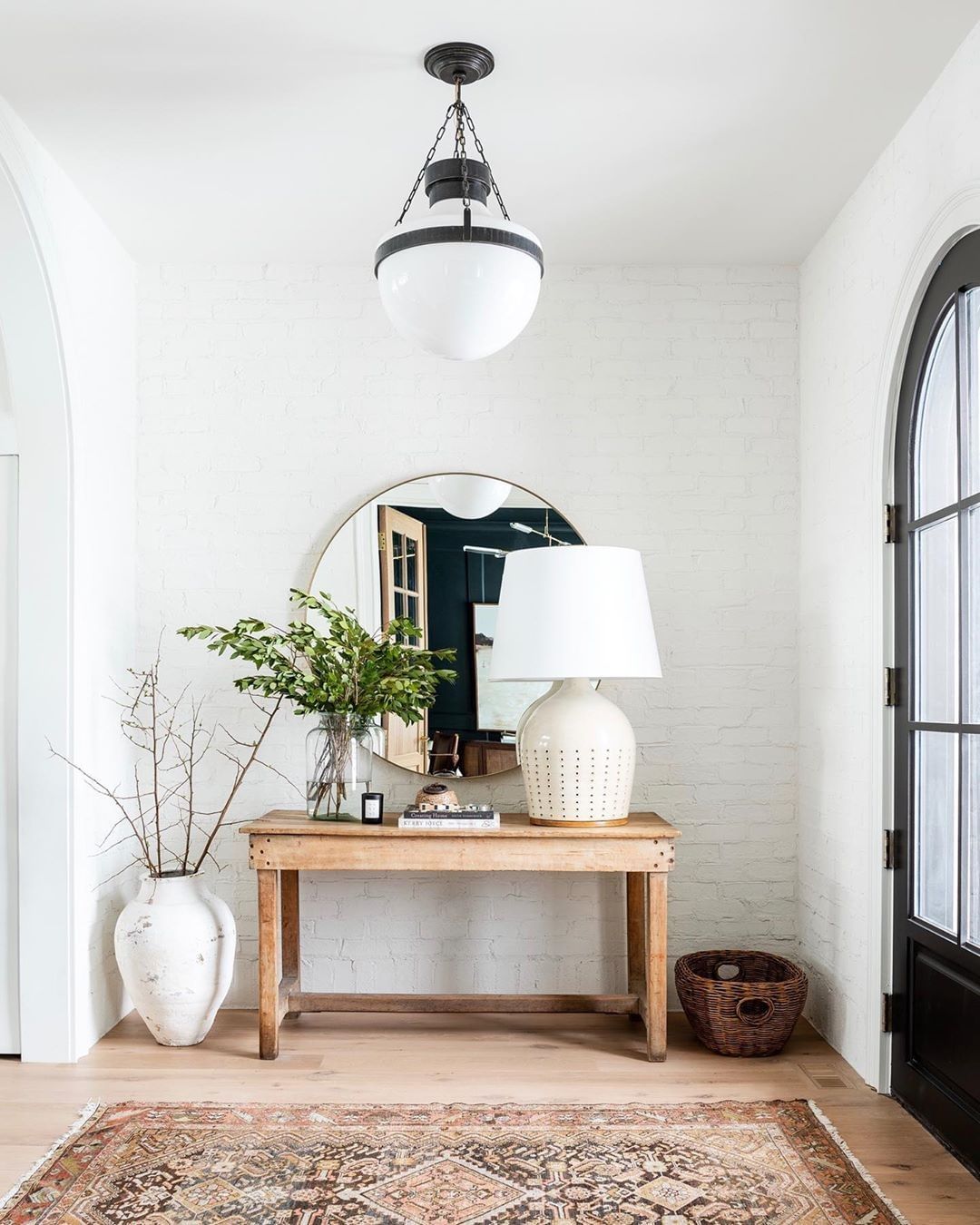 Position mirrors opposite a room's entryway. This commonly deployed "greeting technique" makes small and narrow entryways and hallways feel more expansive. Remember to hang the mirror opposite something you would like to see reflected back.
Mirror Your Walls
Mirrored walls, especially in the master bath, add an inch of sophistication and class to your bathroom for a spa-like atmosphere.
Don't Forget The Dining Room
The grand presence of a mirror in your dining area helps to unite the other elements of the space, creating an inviting area for meals.
Statement Furniture
Instead of leaning your full-length mirror against a wall near the door, try putting it on a door. You can also fix antiqued mirrored glass on cabinet doors to enlarge a small kitchen or on wardrobe panels to refresh your dressing room.
And Your Vanity
Adding a mirror above your bedroom vanity or bathroom vanity is a great way to inject function and beauty to your space. I believe every homeowner should enjoy this simple mirror decorating idea.
Quick Tip…While hanging and choosing mirrors can be a daunting task, keeping them clean and usable shouldn't be. If a mirror does get dusty, simply dust it with a feather duster or using a small amount of window-cleaning solution on the plate.
We'd love to know what you think about these mirror decorating ideas!
You May Also Like:
15 Ways to Decorate Your Home Office
How to Decorate your Home on a Budget
20 DIY Home Decor Ideas To Try On A Budget
Funerom Vintage 11.6 x 9 Inch Decorative Wall Mirror Gold Shield Shape
It's a decorative hanging wall mirror and also an Perfect for use as jewelry, accessories, makeup organizer。but not a big mirror, about the size of A4 paper
Golden Shield Shape decorate , makes it a stunning for living roombathroom and wedding party
Unique design, golden frame, luxurious shield shape, bringing retro Baroque style
Made of environmentally friendly resin materials,SIZE:11.6*9 in
If your purchase doesn't meet your expectations, let us know and receive a full refund with no question. If you have any concern on product or service, please don't hesitate to let us know and we'll make it right.