How To Install Board and Batten – The Ultimate Guide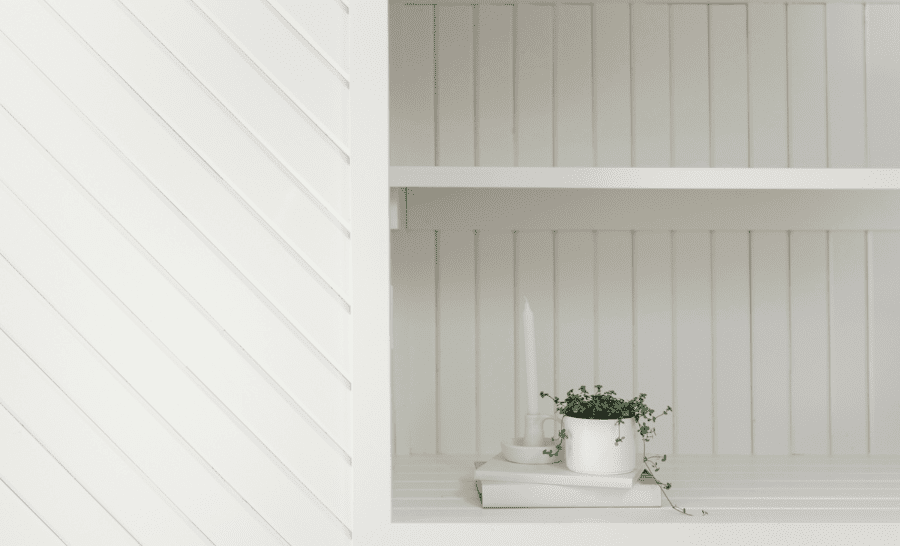 Board and Batten is a decor trend that has withstood the test of time, and it's here to stay!
There are a few things to consider when choosing board and batten siding: the first is your climate.
If you live in an area with high winds, you'll want to choose a style that's more wind-resistant. The second consideration is your home's style.
In this article, we will show you how to install board and batten siding in your home.
---
7 Easy Home Updates eBook: Free!
Today, get a free copy of our ebook that shows you 7 simple updates you can make in your home this weekend that will make your home look expensive and increase its value. Tell us where to send your free copy:  
This site uses ads and affiliate content as an Amazon associate earning on qualifying purchases. Disclosure.
---
What Does Board and Batten Mean?
Board and Batten is a term used to describe boards placed either vertically or horizontally for exterior siding or used for interior wall panels.
The boards are commonly one foot in width, and the battens are typically half-width.
Initially, wooden Batten was used over seams for greater energy efficiency and stronger siding. Over time builders began incorporating this look indoors as well.
It can be used as an interior feature wall, or even the entire exterior of your home.
In general, wood is a material that can yield an impactful punch. Plus, a quick coat of paint can transform a rustic country design into a modern farmhouse style.
It's pretty popular in rustic, country, traditional and farmhouse décor styles and for a good reason.
Really, it goes with any style. And why should you for that matter, pigeonhole your decor choices to one style?
A home should represent the people who live in them; their DNA is unique, and with age and experience, they evolve.
Therefore, so should your décor. However, when choosing molding, paneling, and trim work, it's essential to aim for a timeless choice.
Eddie Miles is the owner of Old Hillsboro Building Co, whose firm is responsible for building this beautiful home which is located in Tennessee.
Raise your hand if you love shiplap!
Here's a little more insight from the homeowner of this beautiful home.
"The board and batten was added because we live in a historic area and we wanted the home to feel as though it was built long ago & then added onto. Our architect does a lot of historic-looking details in his work & he suggested this as a good way to divide it up & create that feel. It's meant to look like the center is the original home & the rest was added later, just like many old homes in our area."
What Kind Of Wood Is Used For Board and Batten?
If you plan on installing exterior board and batten siding, you must use wood that is both insect and moisture-resistant.
Popular choices are cedarwood, cypress, white oak, and redwood, to name a few.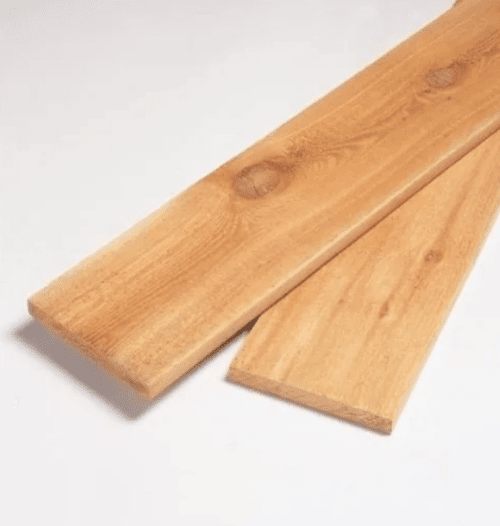 For interior projects, the standard wood choice is pine since it does not need to withstand outdoor elements.
The wood used in the home above was poplar. You can opt for MDF instead of wood to reduce your cost even further.
We might all love this design, and a new update inside or outside your home seems pretty great right about now.
With inflation rising the way it is, most of us don't have loads of money to throw at a home update. So, what's the cost looking like for a board & batten decor?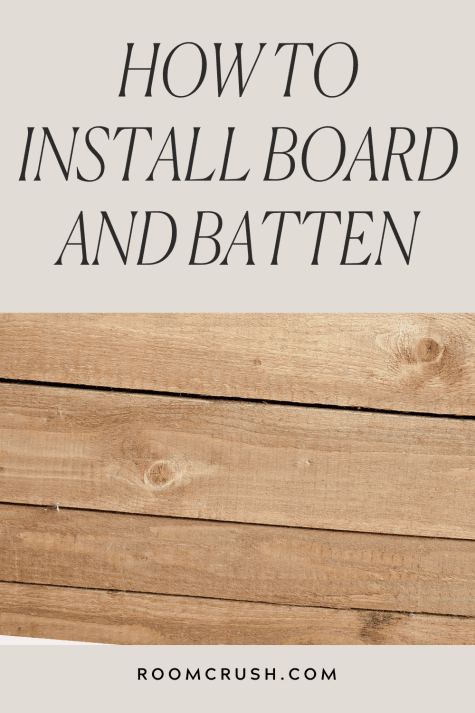 What Supplies Are Needed:
You can get most (if not all) of these supplies on retailers like Amazon or Home Depot.
Your choice of wood or MDF
Backboard material
For exterior Board and Batten siding backboard material is needed.
For interior walls, the Batten would get installed directly to your dry walls. A Backer board would be necessary if you are trying to cover textured walls.
Screws, liquid nails, or both
Sale
Sale
Liquid Nails LN-903 2 Pack Heavy Duty Construction Adhesive, Tan
Liquid Nails Heavy Duty Construction Adhesive is a multi-purpose, low-solvent, high-strength construction adhesive specially formulated to provide the professional and do-it-yourselfer excellent adhesion and extended working time
Certified by UL Environment to meet the GREENGUARD Gold Standard as a low emitting material
Recommended for many exterior and interior heavy duty applications including plywood, particleboard, brick veneers (interior only), foamboard, waferboard, treated lumber, imitation stone (interior only), ceiling tiles, cementboard, drywall, tileboard and 1/8" MDF paneling
Not recommended for flooring applications, ceramics, mirrors, granite, marble, plastic, vinyl, underlayment and installing tileboard directly to studding
Strong bond will outlast project. Strong, durable and flexible
Wood filler to fill in the holes
Gorilla All Purpose Wood Filler, 16 Ounce Tub, Natural (Pack of 1)
Gorilla All Purpose Wood Filler is the go-to product for strong, durable repairs on cracks, gouges and holes.
The unique formula is easy to spread allowing for a smooth, natural finish.
Its high performance stainability, paintability, and sandability provides you with a professional looking finished project.
Shrink & Crack Resistant
Interior/ Exterior; Water Resistant
Sandpaper
Sale
Fandeli | Multi-Purpose Sandpaper | 220 Grit | 25 Sheets of 9'' x 11'' | Metal and Wood Sandpaper | Wall Sandpaper | Hand Sanding | Orbital Sanders
🔶 PRODUCT SIZE AND CONTENTS: The package includes 25 pieces of 220 grit. Size: 9'' x 11''. Can also be easily cut to fit any smaller size needed.
🔧 POSSIBLE USES: This sandpaper can be used for a variety of purposes, including carpentry and drywall, as well as old aging processing, plastic, paint and stain removal. It is the best choice for hand sanding, cue sanding or orbital sanding. Due to the sheet structure, its structure is resistant to obstructions, so it can be used over and over again.
🕑 GREAT DURABILITY AND MORE ADVANTAGES: Long lasting material. Thanks to its premium aluminium oxide construction, it offers fast sanding and increased performance. The paper is made of a flexible material which makes it easy to place on any curved surface and can be applied to any shape of DIY sander. Can be easily cut to fit hand sanders and electric polishers of various sizes.
✅ PREMIUM QUALITY: Paper made with high quality aluminium oxide mineral for longer lasting sheets, less clogging and less waste. Made with super heavyweight paper that works on all surfaces. In addition, we take care of the forests! Because at Fandeli we want to be sure that our products are made from materials that come from well-managed forests, our paper raw material suppliers are FSC-certified.
📍 QUALITY GUARANTEED: Fandeli sandpaper is present in 30 countries around the world. Since its foundation in 1927, it has been a favourite of professionals and DIY enthusiasts all over the world. We are committed to offering you the highest quality products possible and we are 100% confident in the quality of our products because our sandpaper sheets are not only made with love, but we go above and beyond with our customer service.
Paintable Caulk
SIDE NOTE: To lessen the cost of the project, you could choose to install the battens further apart or reduce the height of the battens on the wall.
Exterior Board And Batten Rules
There's no one definitive answer to this question since there are many different ways to install board and batten siding.
However, there are a few basic principles that you should keep in mind when installing this type of siding.
First, make sure the boards you select are of uniform thickness so they'll lay flat against the wall.
If the boards are uneven, they won't sit flush against each other and will create an unattractive finished product.
Second, use either galvanized or stainless steel nails to avoid rusting over time.
Third, seal all joints and seams with caulk or weatherproofing tape to prevent moisture from seeping in and causing rot or mold. Finally, finish by painting or staining.
Is Board And Batten Inexpensive?
Yes, board and batten can be an extremely inexpensive way to add some gorgeous decor and style to your home!
The beauty of this style is that with good attention to detail and with some time on your side, it is actually a quite simple technique you can master yourself, and we all know paying for labor on anything nowadays is expensive!
So, since you can do this yourself, you can save a ton of money.
Additionally, you have a few options of wood you can buy and use, especially if you are doing this decor style interiorly.
Having the ability to choose a cheaper wood option can make this a very inexpensive home update project.
How To Install Board And Batten Siding )And Make It Look Professional)
Do Not Rush This Project….I repeat…do not rush this project. Your woodcuts need to be accurate and STRAIGHT.
Therefore, if it's getting late in the day or you're too tired to continue – stop the project for the time being.
Always measured twice (sometimes three times) and cut once.
You could also install a few pieces temporarily on the wall and take a few steps back to confirm your cuts were accurate, and of course, use a level.
Then, use those as your example for all future cuts.
Day One:            Design
Day Two:            Pick up material and prep (cut the pieces and pick up any extra or replacements to complete the job)
Day Three:         Start installing
Advice For Painting Interior Board And Batten Siding and Paneling
If you are working with bare or unprimed wood, use primer.
Sale
ZINSSER 1 qt 02004 White, Bulls Eye 1-2-3 Water-Based Stain Blocking Primer/Sealer
Interior/exterior use on new or previously painted drywall, concrete, wood, masonry, metal and glossy or difficult surfaces
Water-based formula seals uniformly and will stick to surface without sanding
Dries to the touch in 35 minutes, ready to topcoat in 1 hour and covers up between 87-112 sq. ft. per quart
Has excellent stain blocking resistance and can be used with any oil or latex topcoat
One coat hide saves time and money by improving hide and coverage of topcoats
We would advise against using an all-in-one prime plus paint product.
It only contains a small amount of primer, which would not provide you with the best base foundation.
In other words, a pro can tell the difference when a separate primer is used.
Depending on how detailed your wainscoting paneling is, you may use a roller and brush for the edges.
However, if your project is extensive or you are looking for a super smooth finish, a paint sprayerwill be your best friend.
Is Board and Batten Siding Out Of Style?
Board and batten siding is definitely not out of style.
It's a classic look that will always be in demand.
Board and batten can be used on any type of home, but it might not be the right choice for a more traditional, or farmhouse-style home.
Ideas For Wainscoting and Other DIY Accent Walls
In the video above, Tresha provides some great tips and inspiration. Her larger grid pattern and choice of color make her design very modern.
How To Install Board and Batten – Conclusion
Molding can transform any exterior or interior room in your home. And as you can see, there are different ways to go about it.
Board and batten siding, walls, or wainscotting can be installed to create artistic designs so much so that you could skip artwork altogether.
what to read next: