Best Whole House Humidifier Picks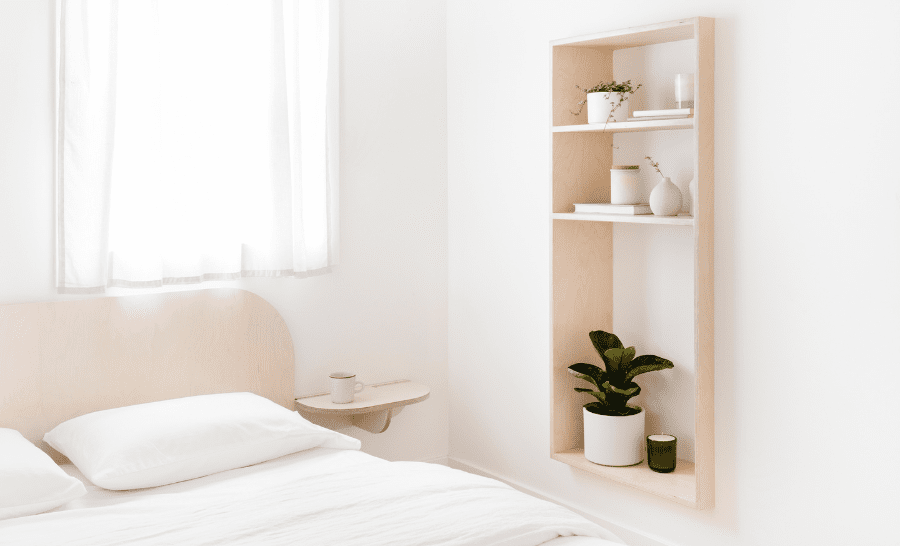 Why would someone even consider searching for the best whole house humidifier for their home? Because air quality matters.
A humidifier is an accessory to help maintain the right level of air moisture inside your home.
The humidifier in the house gives not only human comfort but also protects your wood and furniture inside your home.
Here are our picks for the best whole house humidifiers on the market.
---
7 Easy Home Updates eBook: Free!
Today, get a free copy of our ebook that shows you 7 simple updates you can make in your home this weekend that will make your home look expensive and increase its value. Tell us where to send your free copy:  
This site uses ads and affiliate content as an Amazon associate earning on qualifying purchases. Disclosure.
---
Best Whole House Humidifier Picks
To guide you well, we are picking some top choices of whole house humidifiers.
1. Aprilaire 700 Whole Home Humidifier
Aprilaire 700 Whole Home Humidifier, Automatic Fan Powered Furnace Humidifier, Large Capacity Whole House Humidifier for Homes up to 4,200 Sq. Ft.
2. AIRCARE MA1201 Whole-House Console
AIRCARE is up to something again! I love how they make their models with high quality and durability.
Supports 3,600 square feet of home
I think this is hard to beat. With the accessible push-button functions, it can humidify the whole corner of your home. You only need to figure out where the best place this whole house humidifier system must be perfectly in place.
AIRCARE MA Whole-House Console-Style Evaporative Humidifier (Console)
Console-style humidifier for a whole house up to 3600 square feet. Standalone Type : Cool Mist Evaporative
Digital humidistat automatically maintains your desired humidity level with digital accuracy
Automatically shuts off when desired humidity level is reached or when unit is empty
Easy to clean - evaporative wick traps mineral deposits, Smooth operation - no belts, pulleys or wheels
Assembled Dimension: 20.5(h) x 21.5(w) x 14.5 (l) in
The unit is ergonomically designed for easy cleaning and maintenance. You do not need to spend so much time cleaning the unit. If you are someone looking for a humidified home and does not like any hassle in constant cleaning, you better take a second look at this AIRCARE model.
Is this a big deal? For me, it must be a big deal. It saves energy consumption and expenses. When the atmosphere humidity reaches it's desired level, it shuts-off and monitors the backgrounds. When the level of humidity changes, it automatically turns-on. Isn't it cool?
3. Aprilaire 500 Humidifier
A 24V whole house humidifier comes with a reliable reputation from Aprilaire. Here are my thoughts:
Ability to reach 3000 square feet of home
If you own a large home or an apartment, the Aprilaire 500 Humidifier can powerfully reach all corners. Easy to use with uncomplicated functions that can undoubtedly reach all local hotspots inside your home.
AprilAire 500 Whole-House Humidifier, Automatic Compact Furnace Humidifier, Large Capacity Whole-House Humidifier for Homes up to 3,600 Sq. Ft., White
BUY WITH CONFIDENCE This humidifier was designed and manufactured in the USA by AprilAire – the inventor of the whole home evaporative humidifier, and the leader in indoor air quality solutions
FULL COVERAGE up to 3,600 square feet in tightly built homes with a capacity of 12 gallons per day
AUTOMATIC HUMIDIFIER with dual sensors to monitor and respond to both outdoor temperature and indoor relative humidity to deliver optimum humidity 24/7 throughout the home – simply set it and forget it
CONVENIENT DIGITAL CONTROL shows percent humidity, lights indicate humidifier is running, when to change the Water Panel, when service is needed, and Blower Activation switch sets humidifier to run continually, or only when the furnace runs
HUMIDITY FOR HEALTH AprilAire Humidifiers can help you maintain optimal humidity in your home of 40% – 60% which has been shown to reduce the incidence of respiratory infections and symptoms related to allergies and asthma by minimizing the formation of bacteria and viruses, fungi, and dust mites. In addition, you'll feel more comfortable while also preserving items in your home susceptible to damage from changing humidity or dry conditions
Evaporative rate of 0.5 gallons per hour
The Evaporative rate is something about efficiency. Half a gallon per hour means it can get the job done with less energy consumption and water expenses. If you are living in a highly humid climate, better consider buying this model.
Efficient digital controls
Some models may have a digital control that are often complex to see and use. In this model, the digital controls are straightforward and easy to use.
Small footprint but powerful to cover the whole home
The system is not too huge to eat more space. But the size can already support a considerable area or the whole house with very minimal cost and use of energy.
You May Also Like: These Are The Best-Smelling Laundry Detergent Brands
4. AIRCARE 831000 Space-Saver Evaporative Humidifier
Another stand-out model that AIRCARE is proud of. A reliable whole house humidifier model that you should take a second consideration.
Built-in Automatic humidistat control
The unit is intelligently designed so that you can simply type the level you like, and the humidifier system will do the rest. It automatically adjusts the air depending on the need of the atmosphere.
Sale
Innovative Tampmax Filter with antimicrobial protection
When you are facing this AIRCARE model, surely you will love the filtering system. It has a built-in antimicrobial element that is perfect for homes with babies or your kids. For some models, the antimicrobial system can impair the system performance, but not in the case of this model.
Built-in indicators for refill and filter
No need to do the guessing game. The indicators will give you the signal when to refill or change filters. You do not need to guess and call for servicing and spend a lot of money even if the filters are still in good working condition.
Best Humidifiers For Smaller Spaces
Honeywell Cool Moisture Humidifier
Honeywell Cool Moisture Humidifier, Medium Room, 1 Gallon Tank, White – Invisible Moisture Humidifier for Baby, Kids, Adult Bedrooms – Quiet and Easy to Clean with UV Technology for Everyday Comfort
CLEANER INVISIBLE MOISTURE – Honeywell Cool Moisture Humidifier effectively brings invisible moisture to your home. It utilizes UV technology and a wicking filter to help treat the water and capture minerals to keep them out of the air for a cleaner mist.
EVERYDAY COMFORT – This humidifier for home features evaporative technology that increases and holds the targeted humidity level to optimize moisture in the room. It's ideal for everyday comfort and year-round relief from dry throat and dry, itchy skin.
EASY TO USE – Featuring a large 1.1 gallon, easy-fill, self-standing tank, this cool moisture humidifier provides up to 24 hours of run time. Plus, it's easy to clean – all parts that touch water can be cleaned in the dishwasher.
HUMIDIFIER FOR BEDROOM – As the ideal humidifier for baby, this device has a soft, fan-like sound to add restful noise to any room. Great for an adult or child's bedroom, the large tank can run overnight, providing consistent soothing moisture.
COMPATIBLE DOES NOT MEAN COMPARABLE – For best performance, use only a genuine Honeywell Replacement Wicking Filter A. Compatible humidifier filter replacements are not guaranteed to offer the same performance or efficiency.
It is known to be a germ-free cool mist humidifier. Honeywell is new in the market of humidifiers, but I am seeing their models to be viable and reliable.
Control of moisture is friendly and comfortable with its three-speed settings
It keeps the use of the system easy and precise. You need to choose on 1-2-3 moisture control. If you are a person that wants everything to be simple out-of-the-box, then the Honeywell Cool Moisture Humidifier is perfect for your style.
Innovative wicking filter
Honeywell was able to develop an innovation out the small piece of wicking filter that makes your home virtually dust-free. If you are a person that is meticulous when it comes to little bits of dust, then you can take pride in this model.
Plus, this humidifier can fit 1.1 gallons of water, meaning that it can run continuously for up to 24 hours!
Very silent and ideal for bedroom use
Do you know that your bedroom is one of the difficult areas to get the right humidification? Many of the models are noisy, which makes you sleepless all night. The engineering design of this model is perfect with the use of minimal moving parts, and this Honeywell humidifier is so quiet that you can enjoy a sounding sleep.
The model can produce the very small size of droplets that are distributed in the atmosphere invisibly. You are not distracted, and you are entirely comfortable.
And the best part about this humidifier is that all the parts that touch water can be placed in the dishwasher for easy cleaning.
Elechomes HTJ-2119 Ultrasonic Humidifier
Sale
Elechomes HTJ-2119 Ultrasonic Humidifier 4.5L(1.19Gal) Vaporizer Cool Mist for Large Room Baby Bedroom with Remote Control, Large LED Touch Display, Whisper-Quiet, Child Lock, Lasts up to 38 Hours
REMOTE CONTROL & LARGE CAPACITY: You are free to control this ultrasonic humidifier! Just stay in the bed or crouch on the sofa, then you can set the device as you wish via the handy remote within 6 meters! Comes with 4.5L large tank, you can expect up to 38-hour continuous use.
MAKE YOUR LIFE BETTER: Place the ultrasonic humidifier in your garden, then you can expect the plants flourish. Place it in kid's room, your baby will sleep better because the device keeps the air quality balanced. Absolutely, the spraying mist enables you to breathe easily and achieve moister skin!
LARGE LED DIGITAL SCREEN: With a large LED screen, you can get the information like humidity, temperature and settings easily on both day and night! You can manually turn on the sleep mode for quieter running without lights too.
CUSTOMIZED TIMERS & CHILD LOCK: Want to schedule the working time? No problem. The ultrasonic humidifier lets you freely set the timer from 1 to 12 hours! Moreover, the child lock function can lock the control panel to prevent your little kids away from any risk due to accidental or wrong button operation.
REPLACEMENT FILTER & AROMATHERAPY: Search for B08NSM3FY4 to help soften the water and make the mist finer and more comfortable. The package includes 1 f-ilter and 3pcs essential oil cotton pad.
I love this humidifier because of all the options you can choose from on the large LED panel.
"Whisper Quiet"—Sleep mode
Once you get to meet this model, the first that captures your eyes is the sleep mode option. What I like in this model is I do not have to scroll and find the option easily, especially when I want to tap it while on the bed. A simple push of a button and then silence the noise and turn-off those indicators without moving out in my bed.
Not only does this humidifier have a remote control for easy changes from your couch or bed, but it also has a child lock in case the little ones push one of the buttons by accident.
No plastic button is available. The soft-touch panel gives you easy access to the functions of the unit.
A built-in timer makes you comfortable
You can set the timer to turn-on at the time you wish the system will function, from 1 to 12 hours.
So, if you are coming home, form the office, and you want to your home will be nice and comfy when you arrive home, it automatically runs before you arrive.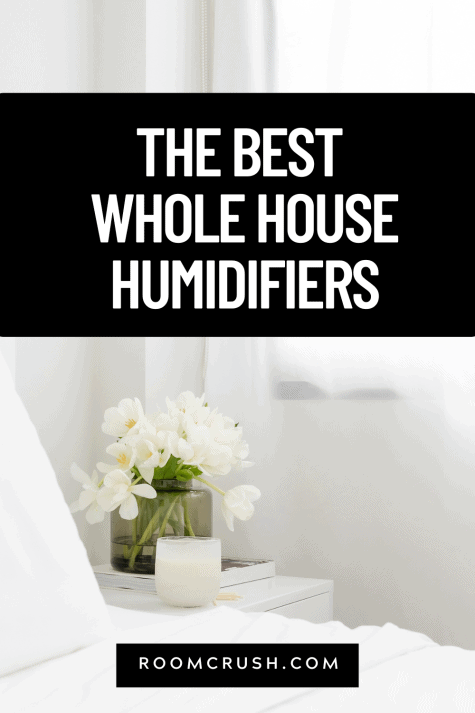 How Much Does A Whole House Humidifier Cost?
Humidifier for whole home saves money.
Do you know that setting up a whole house humidifier will cost you less than buying a portable one?
The reason and the difference are the use of "water."
The portable humidifiers need to be filled with distilled water to function efficiently. Meanwhile, installing humidifier for whole home will only use the water that your existing plumbing can produce.
| Aprilaire 700 | AIRCARE MA1201 Whole-House Console | Aprilaire 500 Humidifier | AIRCARE 831000 Space-Saver Evaporative Humidifier |
| --- | --- | --- | --- |
| $325.00 | $150.00 | $195.00 | $125.00 |
When selecting your humidifier, think about your budget, how much space you have for it, as well as how large your home is.
This will help you select the right size humidifier that will still give you all the benefits you're looking for!
What Are The Benefits Of A Whole House Humidifier?
The following are the benefits of whole house humidifier and why you should install one at home:
During cold months, drying of skin is always a problem. As soon as skin drying starts, pre-existing skin conditions may start to become worse, and your lips start to break is an all-day battle. The whole house humidifier will counteract the drying effect will maintain the smoothness of your skin.
Prevention from wood damage
Dry air does not only break your skin, but it also causes breakage on your wooden furniture, floor, and cabinets. When air moisture is dry, the wood will splint, crack, and split.
When the air is dry, startling shocks will happen when you touch an appliance, pet, or another person inside your home. Although it does not pose a great danger, the shocks are annoying. Once you increase the air humidity, these shocks will be prevented from happening.
Prevent disease-causing viruses to reproduce inside your home
When the air is dry, common viruses like flu and common colds flourish in the dry atmosphere. That is why many families, even if they don't go outside, suffer from different illnesses during colder days or months. Moreover, allergies become worse when the air is dry.
Do Whole House Humidifiers Really Work?
According to the Mayo Clinic, maintaining the right humidity can ease skin problems and other illnesses like asthma, allergies, and breathing problems.
However, when the whole-house humidifier is not appropriately managed, it can also make you sick.
Are All Whole House Humidifiers The Same?
Before buying your whole home humidifier, it is essential to first understand the different types of options available to you.
This way you can purchase the right one for your needs and household.
Reservoir / Drum Style Humidifier
This type of humidifier uses a float-controlled reservoir pan that is filled with water saturating a rotating foam-covered evaporator drum pad.
The airflow gets through the rotating evaporating pad to add humidity to the atmosphere. It has a humidistat to control the moisture.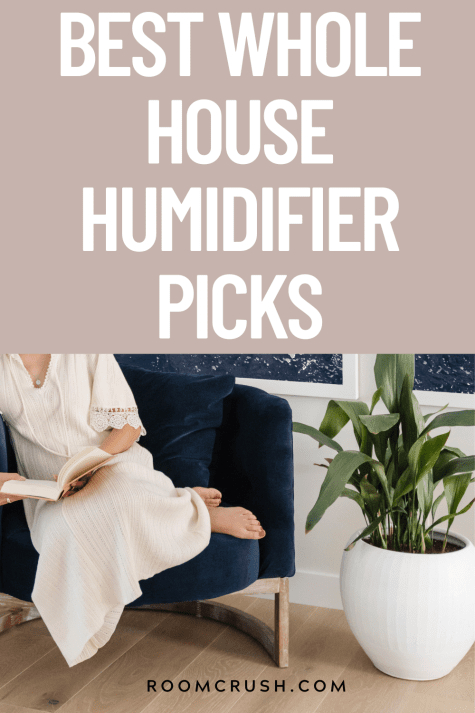 Advantages
Disadvantages
Sediments and minerals from the water can quickly harden the foam pad and lose its absorptive capacity
Without proper maintenance, expect water stagnation and usually becomes a breeding ground for bacteria and mold
You SHOULD clean the system every month and replace the foam evaporator pad annually.
Flow-through / Drip Style Humidifier
The flow-through style is using a dripping water system to the special-coated rectangular metal or plastic evaporator pad that adds humidity to the air. It has a built-in humidistat to control moisture.
Advantages
Competitive price against the drum-style humidifier, you get a maximized feature with a not too high price
Not prone to bacteria and mold building
Maintenance cost is less
Disadvantages
It consumes more water
You need to replace the evaporative screen pads every year
Steam-Style Humidifier Maintenance
The steam-type of whole house humidifier uses the electrical-heating of water to create humidity in the form of steam. The steam is picked up and blown throughout the vents of the home.
Advantages
Zero standing water that can cause the building of bacteria and molds
Even if your furnace is not running, it can add moisture to the air
You have the full control with excellent precision on the humidity
If you have a heat pump system, it works great!
Requires less maintenance compared to other types of humidifiers
Disadvantages
You need to establish a dedicated electric circuitry to boil water
More expensive
Best Whole House Humidifier Picks –  Conclusion
Wowzers – that was a lot of information!
If you're searching to find one of the best whole-house humidifier out there you may want to review the above models or use them as a guide to find one that fits your needs.
What To Read Next