Stylish Console Table Decor: Make Your Home Look Expensive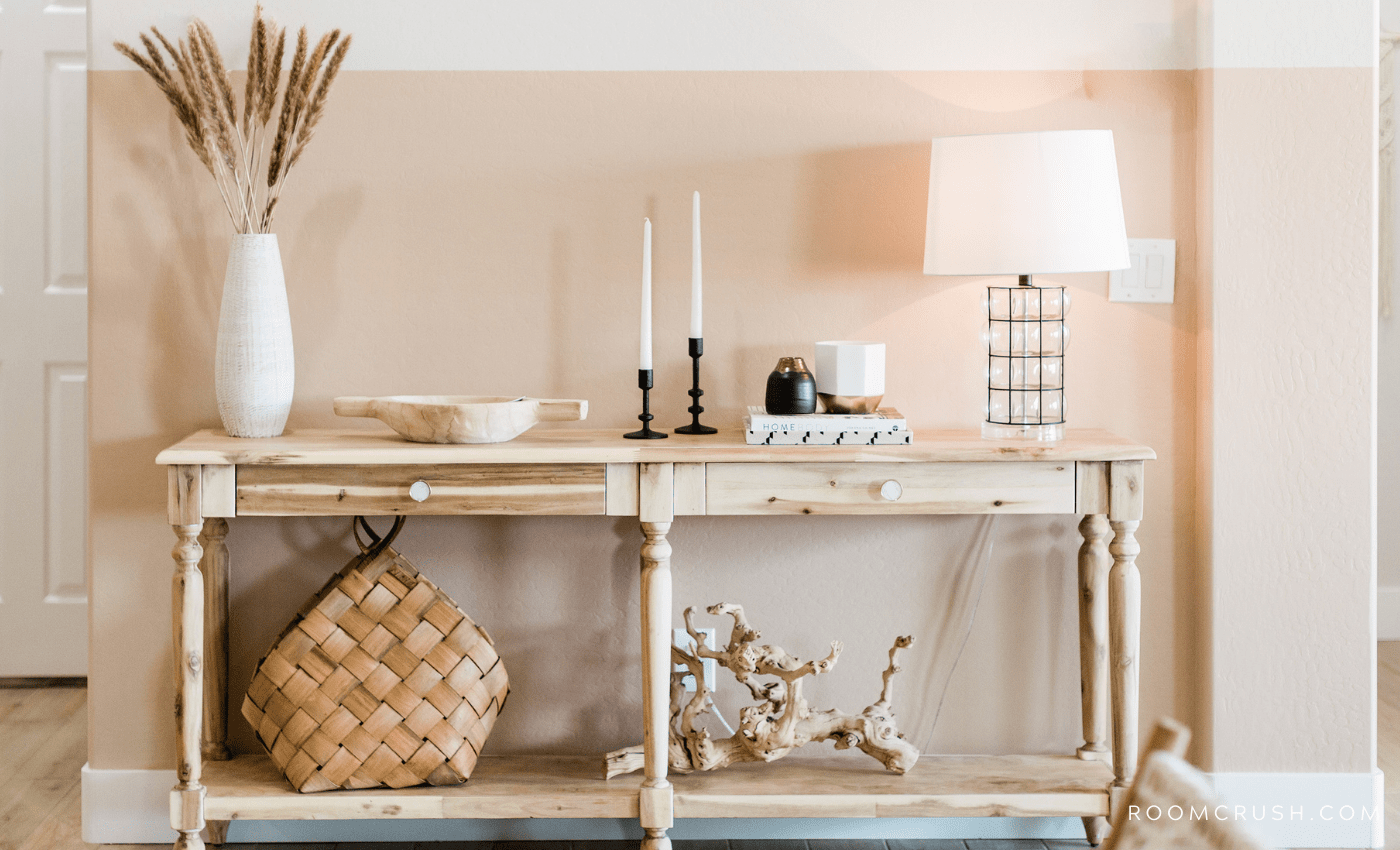 Looking for stylish ideas for your console table decor? We know exactly how to make your home look expensive: it's by having a well-styled, refined console table. 
Well, it's no doubt that console tables are one of the most hardworking furniture pieces in the home.
They can be used for storage, as bar carts, as buffet tables at your next brunch, or as staging areas for antiques.
---
7 Easy Home Updates eBook: Free!
Today, get a free copy of our ebook that shows you 7 simple updates you can make in your home this weekend that will make your home look expensive and increase its value. Tell us where to send your free copy:  
This site uses ads and affiliate content as an Amazon associate earning on qualifying purchases. Disclosure.
---
These versatile pieces of furniture that grace most entryways or hallways are usually slender, and long, and can steal the show and create a welcoming ambiance for your guests. That's why you cannot neglect your console table decor.
Stylish Console Table Decor That Makes A Home Look Expensive
With the right table and the correct placement, a console table can be used in a variety of ways and can add a lovely stylistic accent to any space.
For ideas on how to style or revamp your console table, read this step-by-step guide for more!
Click the post below to shop the console table decor items pictured: 
 

 

View this post on Instagram

 
Most importantly, choose a console table that not only matches the decor of your home but one that is also functional, even if that means holding keys and mail by the front door.
You May Also Like: 18 Ideas For Revamping Your Entryway Like A Pro
A Step-by-Step Guide On How to Style Your Console Table
When it comes to styling surfaces around the house, console tables are just as important as your coffee tables. When done right, these surfaces definitely steal the spotlight.
Since console tables are often located in the entryway, where a good first impression is crucial, follow these simple styling guide and let your console table stand out! Trust me, this will tie the whole place together.
You May Also Like: 10 Ideas for Home Decorating on a Budget
1. Start With The Surface
Depending on the space around your entryway console, pick any table that works for you. It should work with your interior design scheme.
It can be a stylish single-top console that allows you to stash baskets full of folded throws underneath, or can also have a pair of pull-out drawers that offer out-of-sight storage for smaller accessories. Folded throws in particular are great choices for rustic entry table decor.
Additionally, it can be a double-tier console table that offers more surface space for a row of books while the top shelf can be designated to the essentials, like a light to leave on for anyone coming home late and a catch-all for keys.
You May Also Like: Ideas To Decorate An Apartment For A Single Guy
Styling Tips: 
a) Stack Books on the Surface
Got some extra coffee table books? Stack them on your console. These are some of my favorite console table decorating ideas because they create an artistic and editorial vibe.
You can do one stack on the top surface and if your console has lower shelves, add another stack there.
To make your console table elegant, balance your table and don't overwhelm a particular shelf or side of the console with books.
b) Fill out the Shelves with Accents
To break the clean vertical and horizontal lines, add uniquely shaped pieces like a sculpture, a raw-edged wooden bowl, a platter of lemons for organic warmth, and greenery to soften the space.
You can also add seasonal items. For example, I like to add a green garland during the holiday season for warmth and coziness.
However, you want to add these accents last with the aim of filling out the empty spaces and ensuring you do not add clutter to your table.
2. Anchor Your Console Table
To create an anchor for your console table, consider a large item placed at the center of your console in order to tie it in place.
An anchor can be:
a) A Statement Piece of Art
Choose an oversized piece of artwork that stands out yet still blends with your decor, and hung it at this spot.
Whether it's a vibrant floral piece or a Zen art, pick what you love. You can also consider hanging a set of four to six smaller pieces of artwork arranged in a grid.
You can also sprinkle in some picture frames, whether they're frames with artwork or photos of your family and loved ones.
At the end of the day, you want to achieve a cohesive focal point that will serve as the foundation for the rest of your arrangement.
b) A Statement Mirror
Your entryway is the place to make a grand first impression.  
While statement artwork helps to visually anchor your console on the wall, you can also prefer a statement mirror.
Large centered circular mirrors are a popular choice.
However, you can pick any shape, making sure that the longer side of the mirror is hung horizontally to mimic the proportions of the console table.
You May Also Like: How to Decorate your Home with Mirrors
3. Inject Height
When it comes to styling a console table, don't be afraid of adding height. This is a tried-and-true interior designer trick that adds visual interest to your entryway.
Layering the table with books and other decorative objects like boxes is great as long as you don't clutter it, but remember to balance the tablescape by adding taller objects.
Some of the ways of adding height include:
a) Displaying Flowers in a Vase
To create a welcoming statement in any entryway, add a touch of greenery. This could mean, fresh flowers or tropical leaves in a vase or, a cute pot with your favorite plant.
These organic elements give life to your console table and make it more visually appealing. Flowers also look fantastic with an antique console table as they add to the vintage element while keeping the look fresh.
Vases are also a great way to add holiday or Christmas entryway decor, such as filling them with pine stems or dried eucalyptus.
You May Also Like: How To Decorate A TV Wall Stylishly
b) Highlighting with Lamps or Candlesticks
Candles are some of the best ideas for entry hall table decor because they add height to the console table.
You can do this by including a table lamp or even a sconce. We love this stone lamp, made of concrete for added texture.
These are powerful in an entryway, especially as the first thing you see when you come in the door.
Every console table needs to be lit up in order to highlight that gorgeous space you just created!
4. Go Underneath
Your console table styling is not complete without some items underneath. To decorate below, depending on the type of your console table, you can:
a) Slide In A Bench, Poufs or Stools
Don't be afraid to make your console table both functional and a focal point. Interior designers often suggest that you slide in an X-bench, poufs or stolls underneath to save on space and provide extra seating.
If you have the room, creating a conversation nook with a bench paired with your perfect console table to give the entryway an additional purpose and further define the space.
b) Or A Basket
A basket on the bottom tier of a console table is perfect for random items like scarves and sweaters but also looks stylish.
Styling Tip: When styling your console table, the aim is to achieve balance. Make sure you are not placing everything in the middle or heavily on one side. Instead, create balance by adding objects to more than one side of the table, layering towards the center of the table.
You May Also Like: 13 Mistakes People Make in Minimalist Interior Design & How to Fix Them
Never underestimate the power of a console table or hallway bench to transform a space.
Stylish Console Table Decor That Makes A Home Look Expensive – Conclusion
These console table decor styling tips will add height, volume, texture and style to your console table, bringing loads of refined personality into your space.
And by refined personality, we mean class. Because class is what makes a home look expensive!
Will you try these console table decor ideas? Let us know!
Keep Reading
Pin This: