How To Create A Cozy Reading Area In Your Home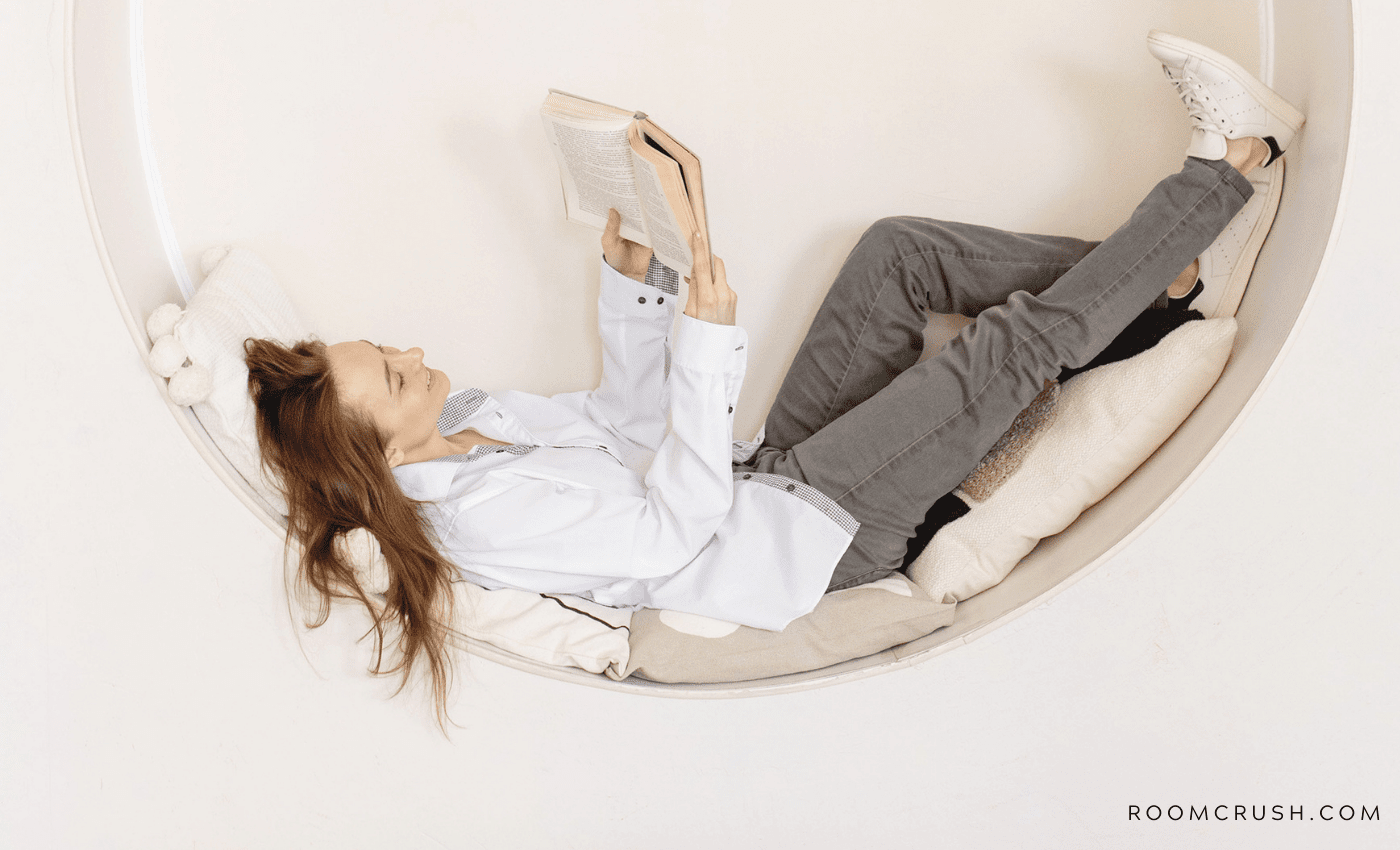 Do you want to create a cozy reading area in your home that is both stylish and practical?
People chose different spots to do their reading. Most people will say that they love to read in their bed, on a couch near a window.
Maybe curled up in a wicker chair next to the fireplace or pool.
---
7 Easy Home Updates eBook: Free!
Today, get a free copy of our ebook that shows you 7 simple updates you can make in your home this weekend that will make your home look expensive and increase its value. Tell us where to send your free copy:  
This site uses ads and affiliate content as an Amazon associate earning on qualifying purchases. Disclosure.
---
This post will give you lots of inspiration to create a stylish reading area in your home!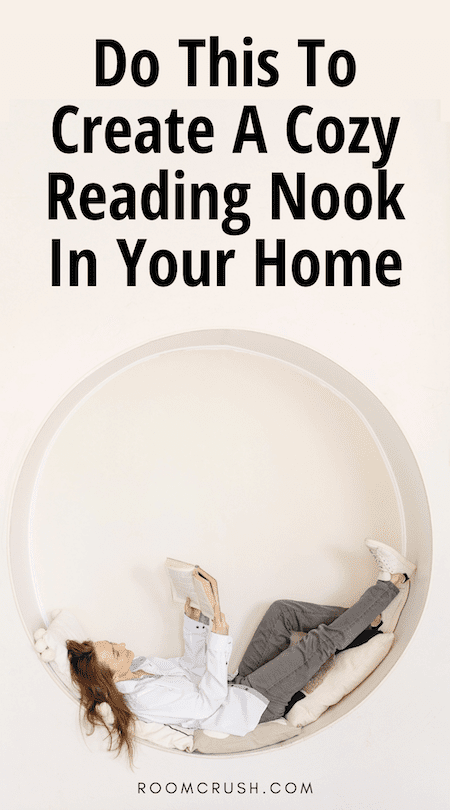 How To Create A Reading Area In Your Home
In today's article, we will explore important factors to put into consideration while creating a reading nook that will draw the eye, while still remaining functional.
We will also discover various spots within our homes that are ideal for setting up such a space.
My Reading Area
I recently created a small reading area / chill space in a corner of our master bedroom. 
Take a look at how it turned out, on my Instagram: 
 

 

View this post on Instagram

 
Whether you choose a designated spot in your home or an entire room for your reading, a reading nook must be one thing: calm!
Regardless of whether it is indoors or outdoors, we can all agree that you need the right zen, hygge, and comfort to give you the concentration you need to get carried away in your book or magazine.
Spots That Are Perfect to Create a Cozy Reading Area
Dedicating spaces in our homes to peaceful reading activities can for sure inspire more reading.
Good thing, you can turn that awkward or underutilized area of your home into a classy and welcoming reading nook with just a few pieces of furniture and some soft accessories.
Try these ideal locations:
1. Near a Window
I would like to describe this as the perfect spot for reading. This is because window space is usually neglected yet there is so much goodness that it offers.
Imagine all the bright light shining through, a view of the outside and not to mention all the fresh air allowable.
Create a dreamy reading spot by introducing a bench to sit on below the window and adorn it with pillows.
You can also lay down a bean bag and a few pillows for a casual and comfortable reading area. Finish styling your reading spot with comfortable textured blankets.
You May Also Like: The Correct Dining Room Rug Size For Your Table
2. Next to a Fireplace
In the living room, you can style a reading nook next to the fireplace, if you have one.
You can fit shelves to store and display your books and other reading material. The fireplace will keep you warm while it's sound would form the perfect background accent.
Writing this just made me nostalgic of when I was young and little me and my cousins would gather around a fire and listen to grandma narrate fables and ogre stories.
You May Also Like: How To Choose Lighting For Your Dining Room
3. An Unused Corner
Just like spaces under a window, corners are also under-decorated and sometimes underutilized, especially when you have the luxury of space.
An empty corner can have your room look like you have little furniture and that your space is incomplete.
Kill that negative vibe by transforming idle corner space into a reading corner for a more cohesive look.
Set up a chair and decorate it with some pillows and a throw blanket.
Have a nice soft rug. Add a floating or hanging shelf to hold some of your book and other décor items.
You can even use photo or art frames to add some interest to the walls not forgetting a plant to complete the look.
You May Also Like: 15 Ways To Decorate Your Walls- No Painting Needed!
4. Awkward Spaces
There are many spots in the house that can form dead spaces: spaces where nothing seems to fit or look good in. This could be behind a door, a bay window area, in a tight nook, under a staircase, or the end of a hallway.
You can design a reading nook to take up that awkward space as long as you do not hinder the efficiency of the room.
5. A Home Office
Your home office or home library can be your reading space. It is advantageous because then you already have everything you need in there.
The fact that a designated room will ensure minimal distraction and enough space to decorate it just how you like it.
When designing a home office, you need to consider how much desktop space you require.
As well as what equipment to have, what storage you need, and how peaceful the spot is.
Together, this will ensure your home office is functional and insulated from noise and disruption within the home.
Choose a quality desk that is big enough to accommodate your laptop or computer, while giving you space to take notes or sort files.
Add a comfortable office chair and finish with home office storage, such as shelving and other small home office storage accessories that are functional and stylish and will encourage you to keep everything where it should be. This will ensure a clutter-free home office.
You May Also Like: 9 Ways to Decorate your Home Office
6. Outdoors
Outdoors are also potential places to locate book spots.
You could really enjoy reading in the garden or balcony as you could in your bedroom.
Related: How to transform your outdoor space into a luxury retreat
Decor Tip:  When creating a cozy reading area, it is indeed very important to factor in the location.
An ideal spot should offer some privacy and you should also consider the amount of noise your space might receive. It might be quite hard to get some reading done in an area with the kids running around!
That's why we recommend creating more than one reading area for use during different times of the day.
For instance, your fireplace or foot-of-the-bed area would be a perfect spot for night reading while you can move to your home office during the day, when the kids are around.
Factors to Consider When Styling a Reading Nook
Now that we have ideas on where to create a cozy reading area, here are vital issues to look into for functionality:
Comfort
Comfort is key for any reading nook, more so where it doubles up as a zen spot. It should make you feel at ease and free from any form of constraint.
That will ensure you grasp or soak up the words of your reading.
Physically, you need to be in a rested position so that you do not strain any part of the body, especially your back.
For this, you need a comfortable seat that gives both your back and butt sufficient support even for very long periods because sometimes you can get so engrossed in a book that you forget to keep track of time.
Your seat should also allow you to shift positions because staying in one position for too long can make you tired. You should also have some space where you can move and stretch.
Pillows are good for providing extra back support as well as adding coziness.
Don't forget a footrest to lift up your feet especially if your reading nook is a designated corner.
A throw blanket is also good for keeping warm during those chilly days or on nights when you pick up a book because you can't fall asleep.
A rug under your feet is also good for keeping away cold from the floor.
You May Also Like: How To Choose A Good Area Rug & Ways To Use It Around Your Home
Lighting
As an interior stylist, we will always insist on good lighting especially natural lighting. Lighting has the ability to influence how a space is perceived and even an individual performs in that space.
For reading, poor lighting will cause strain to the eye and that could affect vision in the long run.
As you choose your ideal spot, ensure there is sufficient lighting. Where natural lighting cannot reach, compensate with lamps that can also contribute to the aesthetics.
For reading, we recommend desk lamps that provide adjustable task lighting that can be aimed in a specific direction. Plug-in tables and floor lamps are also commonly used to provide task lighting for reading.
Wall-mounted lamps, often located in the bedroom, near the bedside, are commonly used as task lighting for reading in the evening.
You May Also Like: 10 Ideas To Update Your Boring, Old, Tiny Bathroom Stylishly
Storage
Some form of storage is necessary especially if this is solely a reading spot, depending on the amount of reading material you intend to keep there of course.
You may need anything from one floating shelf to entire floor-to-ceiling shelving (which is every reader's dream) in which arranging your books according to color will boost comeliness.
Ambiance
The mood you create around your reading space can be manipulated by the use of color. If you are going for a cheerful and relaxing feel, bright colours are the go-to.
You will do good with navies, black, and dark green if you prefer a serious and moody look.
Situate your reading nook away from distractions of noise and movement so that you have the full concentration to read.
Decor Tip: Inject life into your cozy reading area by adding plants and flowers. A rubber tree, succulents, or hanging plants —quite literally—breathe life into the room.
You May Also Like: 20+ Houseplant Decor Ideas To Inject Life Into Your Home
You can create a cozy reading area in any room of the house as long as it has the above characteristics and you have the space for it.