How To Nail The Organic Modern Interior Decor Trend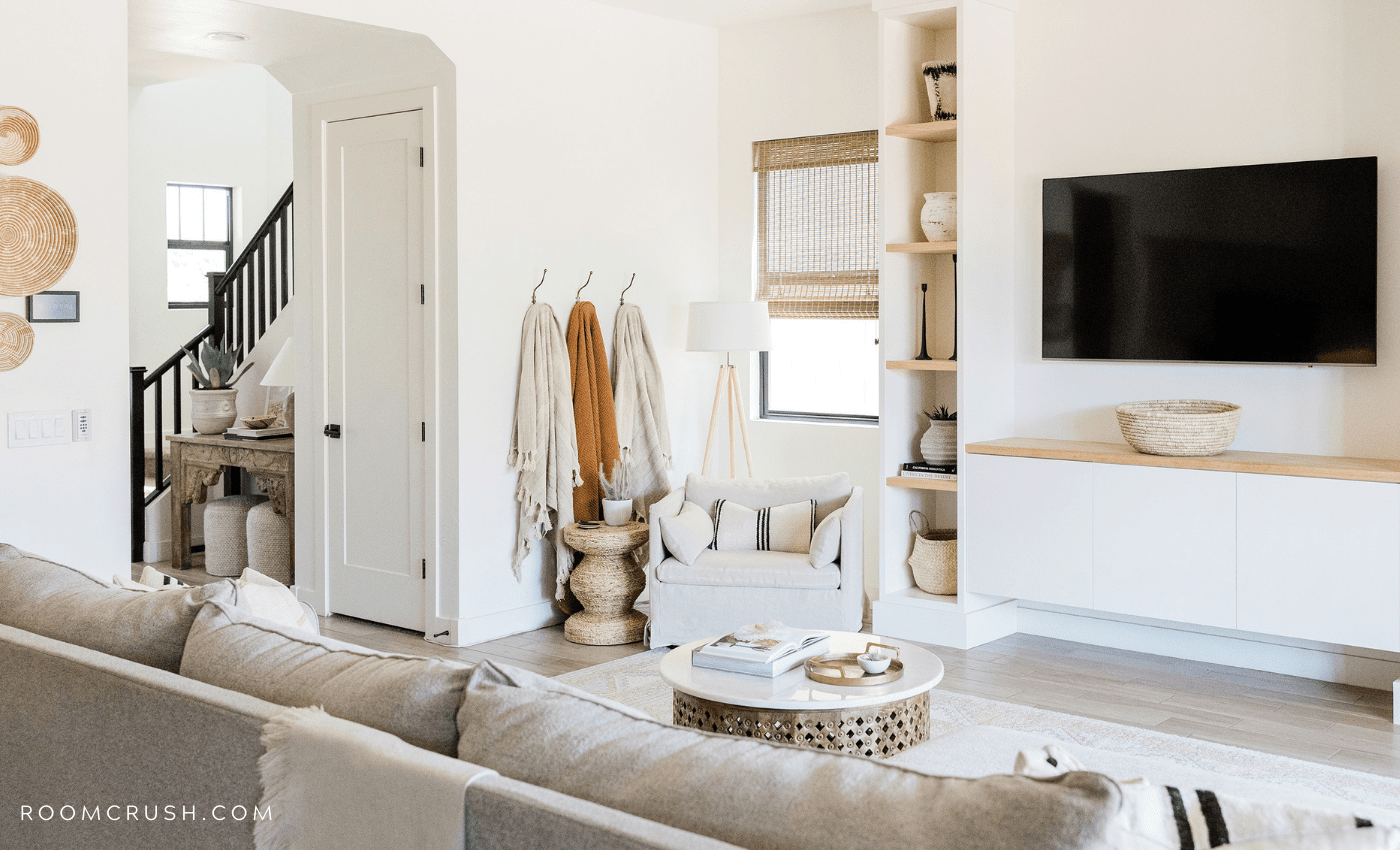 Have you fallen in love with the organic modern interior decor trend? I sure have!
All over the world, homeowners are tailoring their home decor towards sustainability. And the easiest way you can do so is by creating an organic modern interior style in your home.
This type of interior decor style is very welcoming and screams comfort.
Here are all the key elements of styling your home following organic modern design.
---
7 Easy Home Updates eBook: Free!
Today, get a free copy of our ebook that shows you 7 simple updates you can make in your home this weekend that will make your home look expensive and increase its value. Tell us where to send your free copy:  
This site uses ads and affiliate content as an Amazon associate earning on qualifying purchases. Disclosure.
---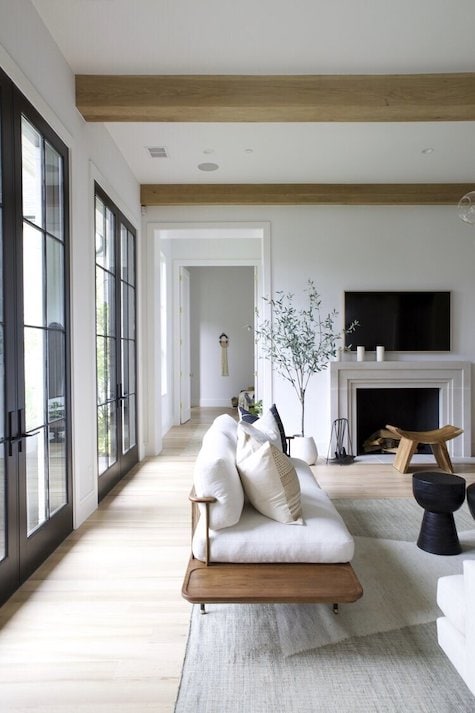 Source: urbanologydesigns.com
What Is Organic Modern Style Of Interior Design?
Organic modern interior design blends modern interior architecture with earthy materials, forms and colors for a cohesive interior look.
It employs the use of clean lines and white surfaces acting as a background for natural, organic materials in contrasting yet neutral or nature-inspired colors.
Organic modern interiors fuse other interior design styles like the clean and minimalist Scandinavian, the sleek Mid-Century modern as well as the warm and inviting Bohemian style to create a comfortable space.
Click the post below to shop the organic modern decor items: 
 

 

View this post on Instagram

 
How do I Make my Room & Home Look Organic Yet Modern?
These organic modern interior styles will give you the inspiration to help you create a warm home of your choice.
Scroll down to look at how the designers utilized the spaces, colors and materials to bring the whole room together.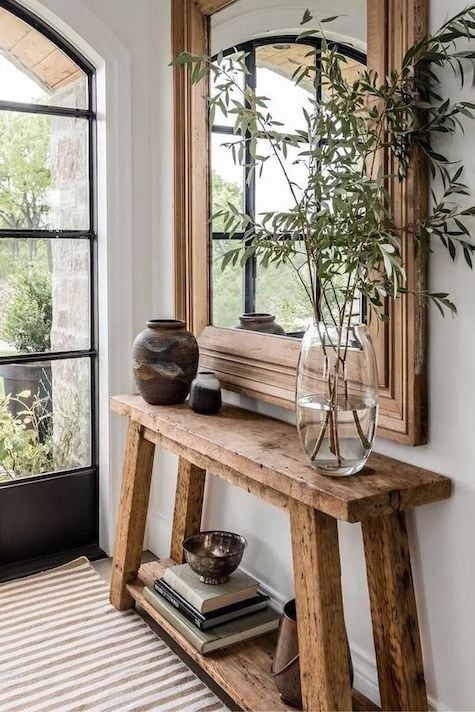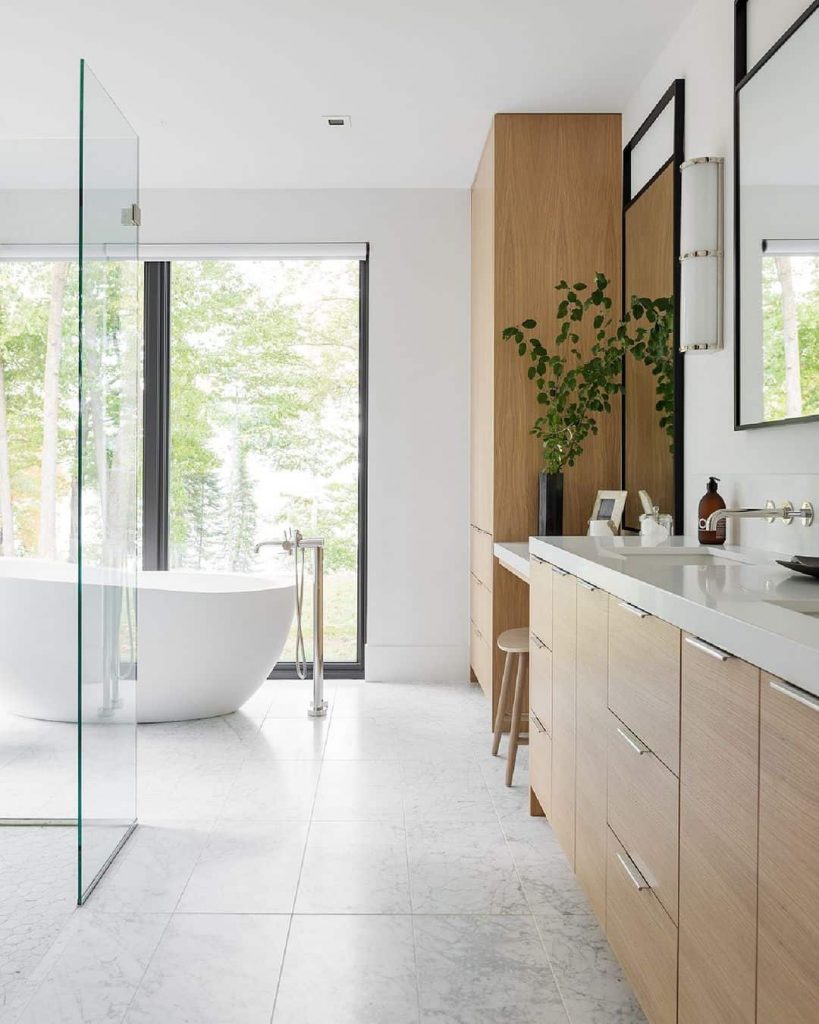 1. Paint Your Walls Crisp White
Painting a room white can make it feel spacious, open, clean, quiet, or minimalist. It creates the perfect contrasting backdrop for other natural accentuating colors and materials that follow.

Also, when decorating crisp white walls:
Add pops of color and contrast around the room using accents so it doesn't look one-dimensional,
Consider creating an accent wall and here is a complete guide to creating a stunning feature wall in your home.
Inject warmth by incorporating wooden materials and add life using greenery.
DII Rustic Farmhouse Cotton Chevron Blanket Throw with Fringe for Chair, Couch, Picnic, Camping, Beach, & Everyday Use, 50 x 60 - Urban Chevron Stone
CONSTRUCTION - Throw measures 50 x 60", 100% Cotton
QUALITY IN THE DETAILS - Old-fashioned look with a modern twist with decorative fringe for the perfect finish that won't unravel in the wash
FITS THE RUSTIC, VINTAGE, OR DISTRESSED LOOK - This throw has a very chic and trendy look, throw over a couch or chair to add a splash of color and provide warmth on a cold night
VERSATILE - Use DII throw blankets to stay warm, as a decor piece, over a chair or couch, to wrap housewarming gifts, as a picnic blanket, when camping, and more
CARE INSTRUCTIONS - Machine wash colors separately wash in cold water, gentle cycle, tumble dry low, low iron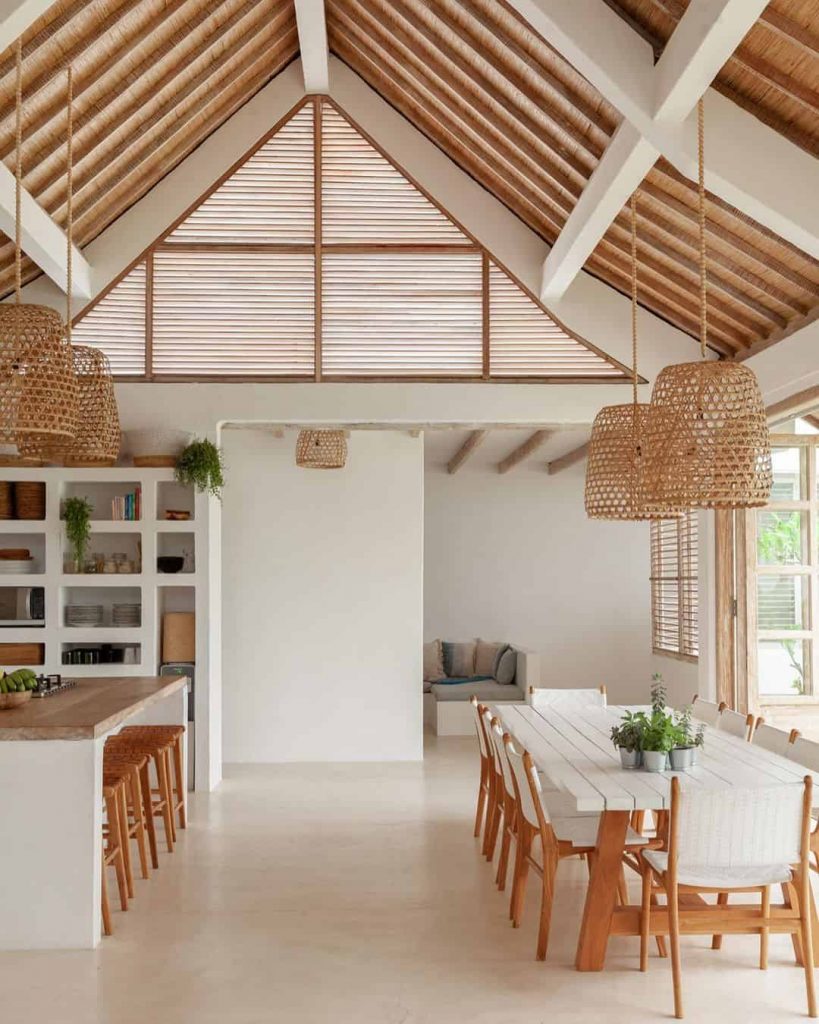 However, when picking your white paint, avoid the stark or brilliant white shades which create a whole clinical vibe within your home look.
Instead, choose soft whites to get a more muted, natural or muted effect.
Amazon Brand - Rivet Erikson Vegan Leather Woven Dining Chair, Set of 2, 21.5"D x 18"W x 35.8"H, Beige
The retro feel of this dining room chair adds a hint of whimsy to your decor. The rattan backrest and woven vegan-leather seat contribute textural interest while also offering a comfortable place to sit, eat, and converse with friends and family.
18"W x 21.5"D x 35.75"H; seat height: 18.5"H; seat depth: 17"D; seat back height: 17.5"H; leg height: 15"H
The solid wood frame and rattan backrest are strong and durable, while the seat is woven from strips of vegan leather.
As stylish as it is functional, the woven seat of this chair is exceptionally comfortable.
The woven rattan back finds a stylish echo in the woven strips of vegan leather that form the seat of this striking wood-framed chair.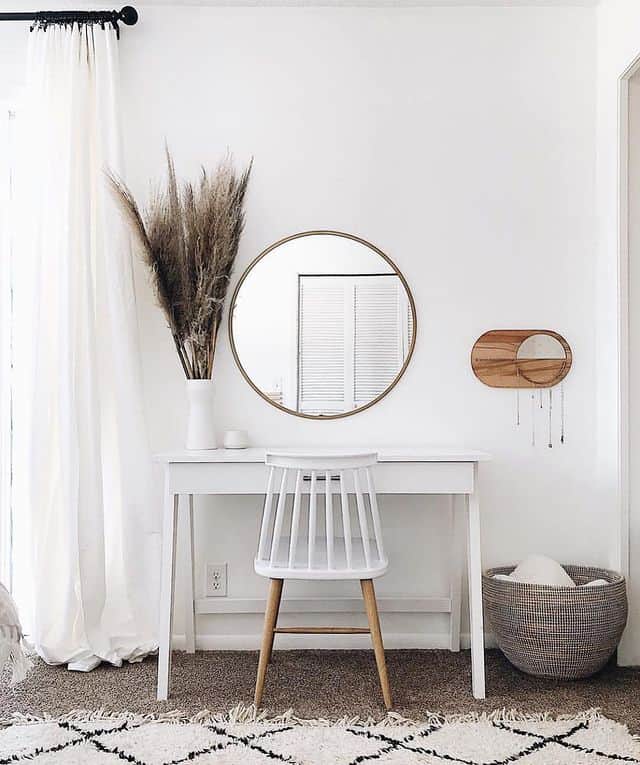 Always consider the natural lighting from the sun before painting your room white.
South-facing rooms tend to be consistently bright throughout the day with warm yellow, golden tones from the good natural sunlight all day long.
If you have large or too many windows in such rooms, you can balance out the warm, south-facing light with cooler tones so if you're looking for white paint, opt for one with clean, neutral undertones.
Even bright whites can work in such rooms.
If you don't have many windows, then white paint with a warmer base can help bring some more light into the room.
You May Also Like: How To Choose Lighting For Your Dining Room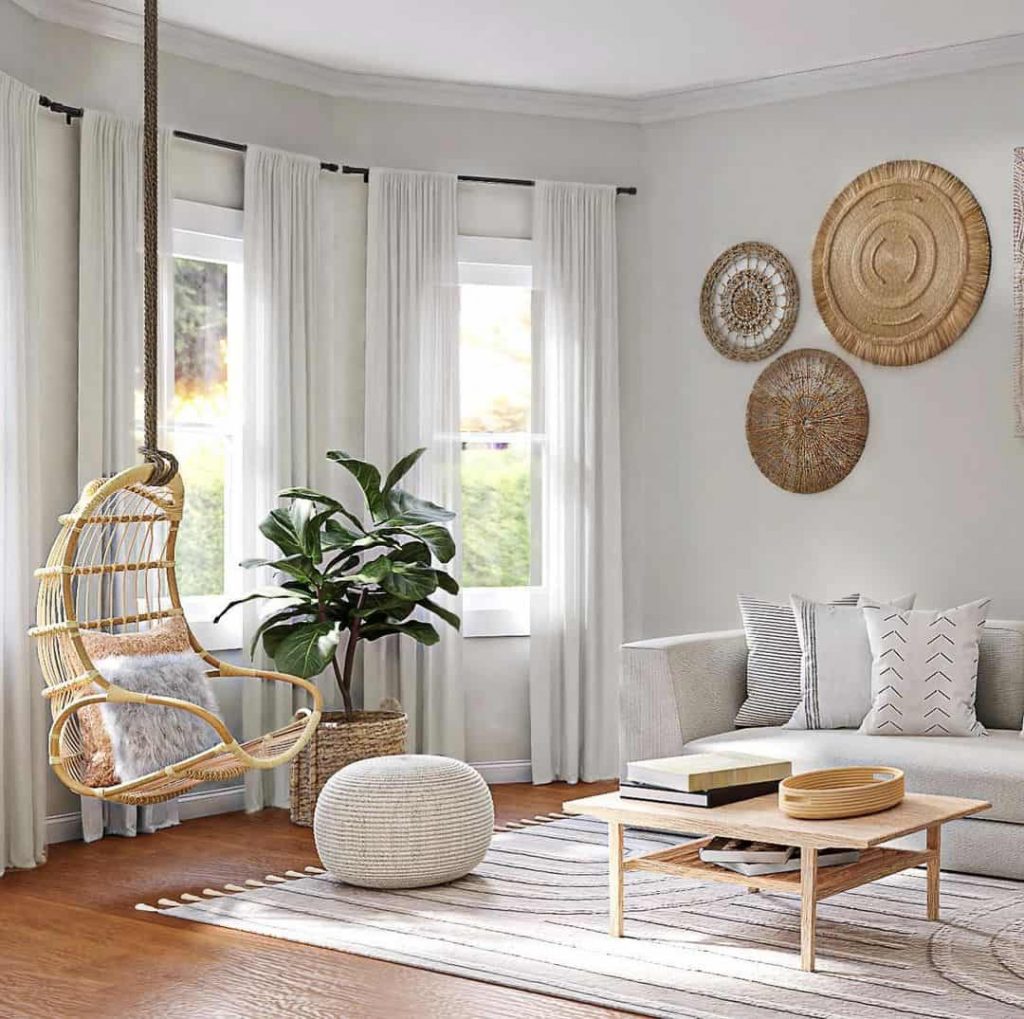 North-facing rooms, on the other hand, never receive full sunlight during the day,so they tend to feel a bit cooler than other rooms, and look more grayish-toned.
Paint such rooms with a warmer or soft cream white to liven the space. Anything with a yellow undertone should work.
Christopher Knight Home Becky Wicker Hanging Chair with Cushion (Stand Not Included), Light Brown, Brown, Beige
BASKET CHAIR: Featuring a cozy basket shape, this chair encapsulates you in its cozy structure, giving you maximum comfort to lounge about. Finished with an intricate weave design, this chair gives your space an eye-catching modern look.
POLYETHYLENE RATTAN: Featuring a long-lasting woven finish, this style is not only incredibly durable but also provides a versatile appearance. The handcrafted details of this material allow this piece to blend seamlessly with your outdoor decor.
WATER-RESISTANT CUSHIONS: Our plush, tufted cushions are covered with a non-porous material that makes cleaning any spill a breeze. Please note that these cushions are water-resistant and not waterproof. Please do not submerge in water.
DIMENSIONS: Choose an accessory that is the perfect size for you and your furniture. This basket chair is 34. 50" W x 25. 00" D x 46. 25" H with a hanging chain length of 12. 00 inches. Please note that this chain is for the base only. This is not a suspension chain.
PROFESSIONAL INSTALLATION REQUIRED: Professional installation is required for this swing chair. All of the instructions and tools needed for assembly are included. Please note that this product does NOT include a hanging stand or the hanging hook and suspension chain.
You May Also Like: 15 Ways To Decorate Your Walls – No Painting Needed!
2. Bring the Outdoors In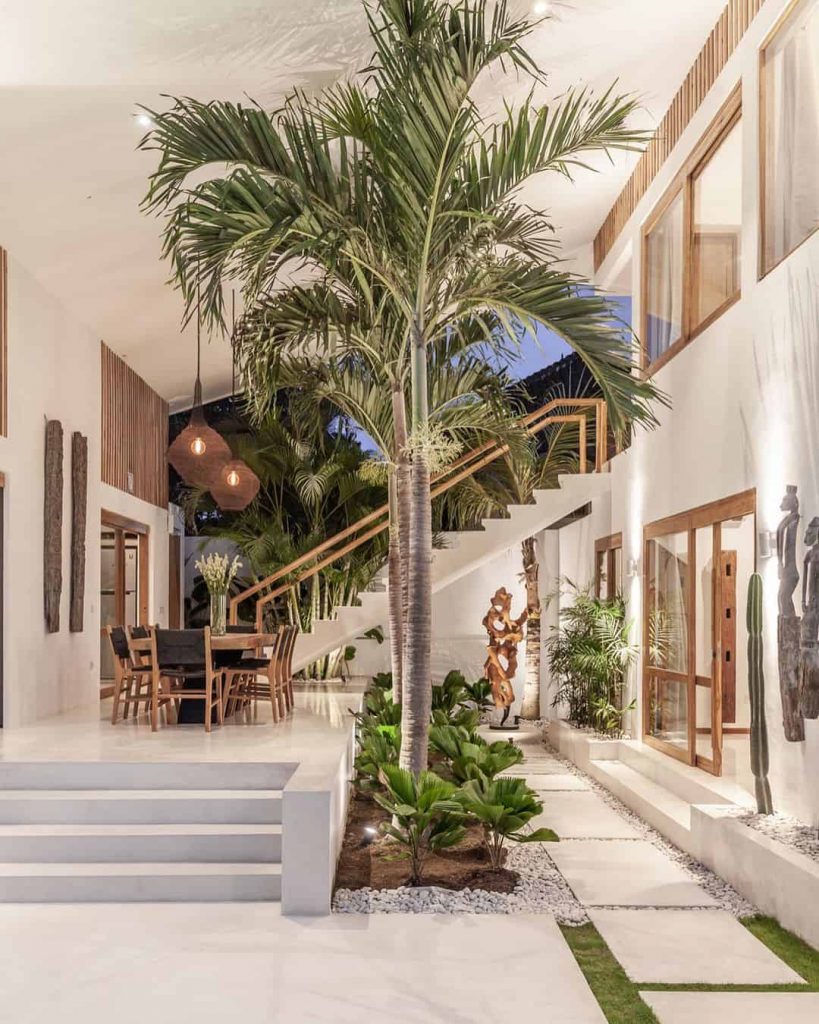 Bringing the outdoor in is perhaps the best place to start while thinking of making your room look more organic.
We all enjoy being surrounded by nature and the opportunity to feel its presence around us, right inside our houses is welcome.
Sale
Patio Sense 63710 Sava Indoor Outdoor Armless Dining Side Chair All Weather Wicker Low Slung Portable Seating Solid Acacia Wood Woven Seat Porch Lawn Garden Fishing Sporting - Black Webbing
PATIO SENSE 63710: The Sava Armless Dining Chair is midcentury inspired modern seating with a solid acacia wood frame and woven webbing seat and back.
SAVA INDOOR OUTDOOR ARMLESS DINING SIDE CHAIR IN BLACK WEBBING: The attractive teak-toned finish is the perfect accent for any patio or indoor dining area. The comfortable design is perfect for a relaxing meal alfresco or a modern dining set.
SOLID ACACIA WOOD CONSTRUCTION: The Sava Dining Chair can be used all season long with basic care and maintenance, and may be easily stored away in the off-season thanks to its folding design.
FEATURES: Sturdy black nylon webbing seat and backrest | Solid acacia wood construction | Beautiful teak toned oiled wood finish | Chair can be used indoors or out | Low maintenance: just wipe down with soft cloth | Simple assembly | Light weight for easy portability.
ASSEMBLED DIMENSIONS: 21.5"W x 23"D x 36.25"H, Weight: 12 lbs | Seat: 18"H x 17.5"W x 13.5"D | Folded Dimensions (approx): 41" x 21.5" x 5.25"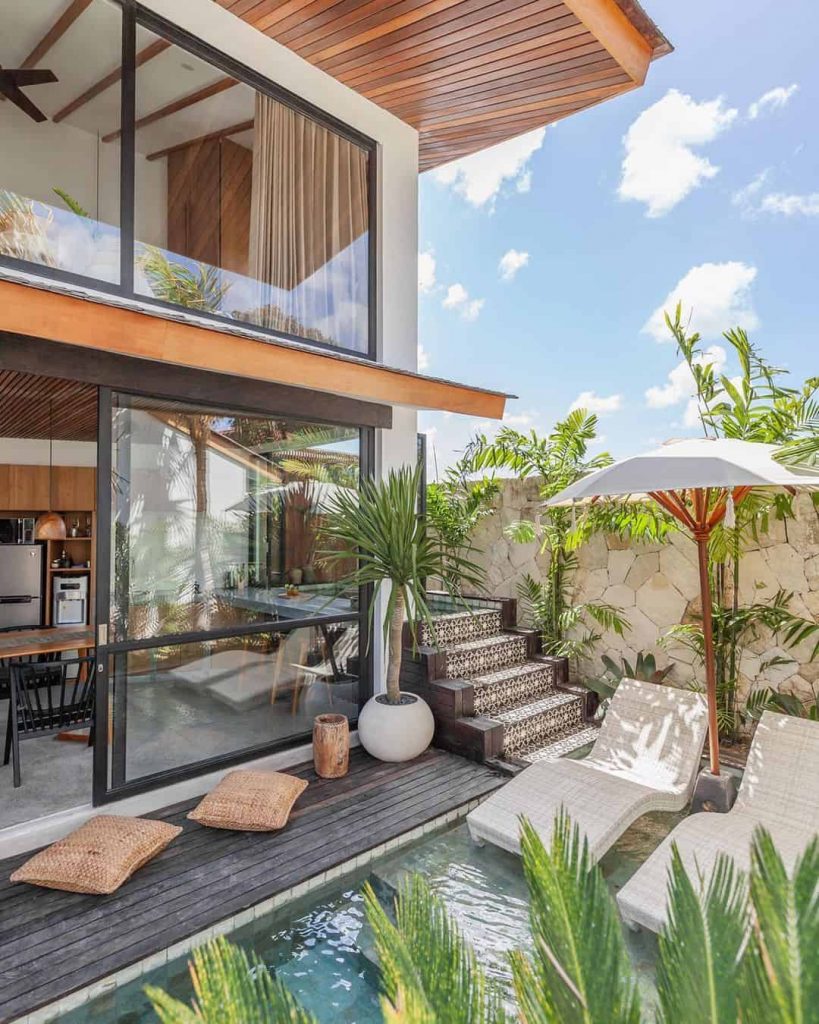 Picture your landscape and if it features lush greenery, then consider injecting more browns, greens, and other floral colors into your decor.
If you live near a beach and blue is dominant, then consider the color. Brown and oranges are also great for a desert-like theme.
You May Also Like: The Correct Dining Room Rug Size For Your Table
3. Use Other Colors From Nature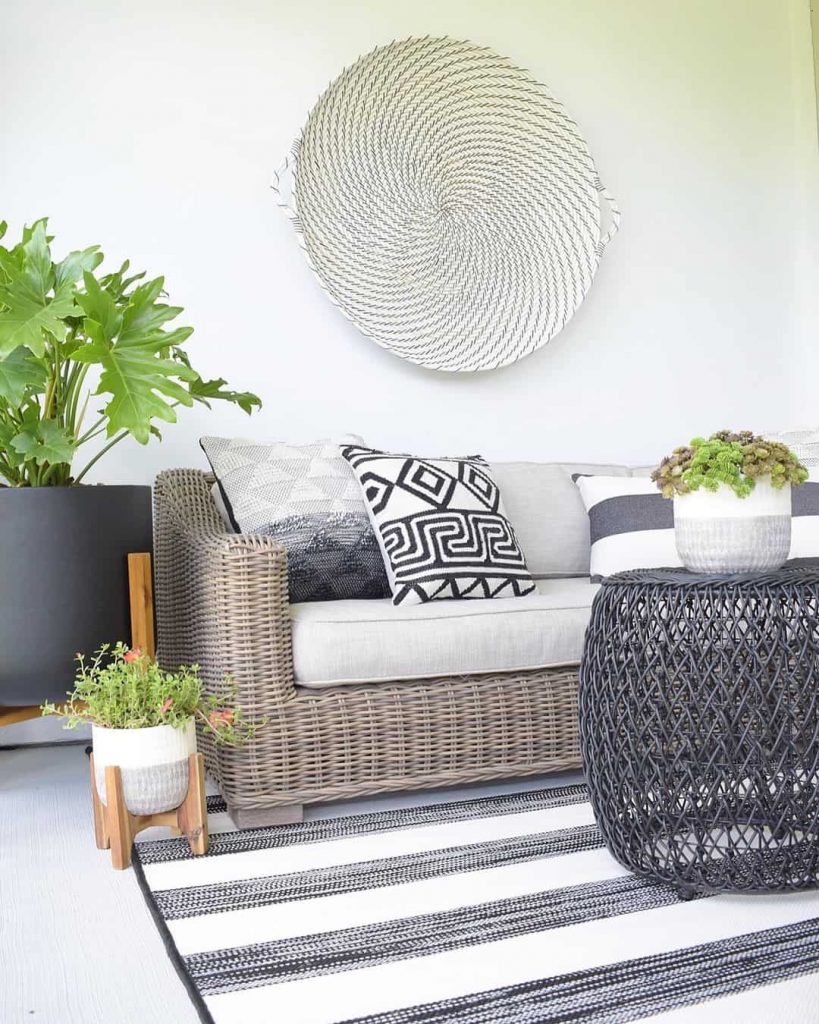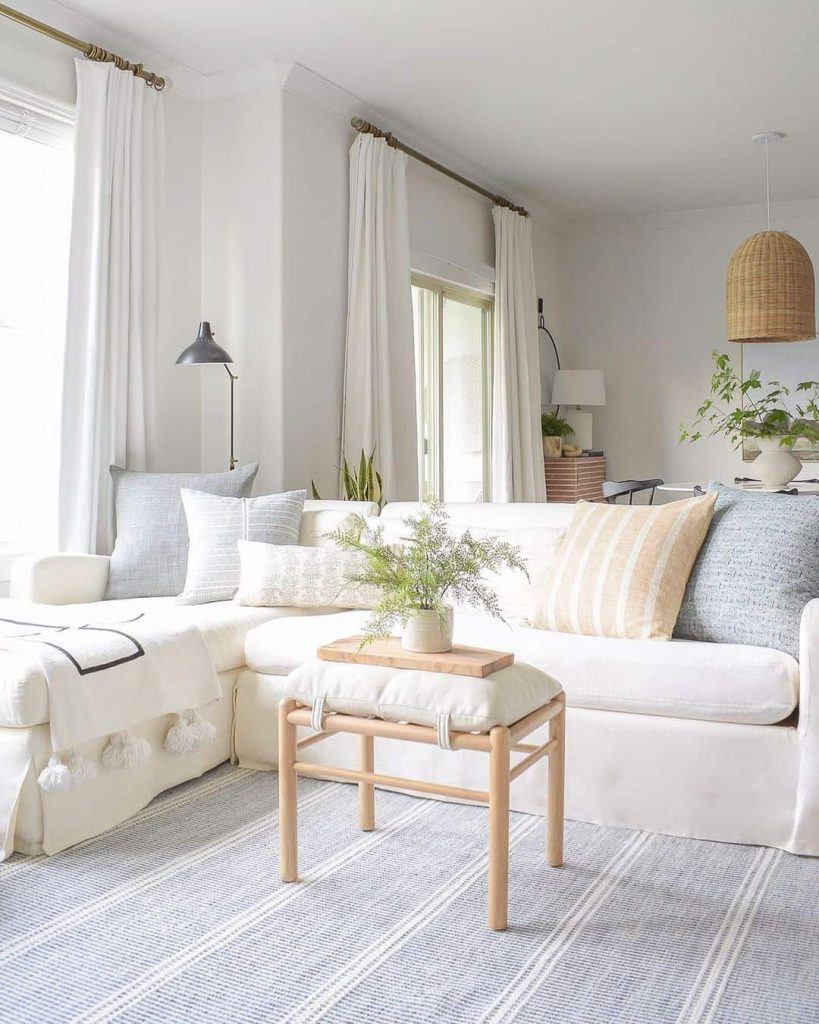 Rooms with a view of the ocean or clear blue skies can be spectacular so inject the whole bluish vibe into your home by using more blues to accent your space.
Light blue, blue, and navy blue are some of the best colors to use. They pair well with whites, yellows, gold, and many light brown shades.
Related: Ideas To Decorate An Apartment For A Single Guy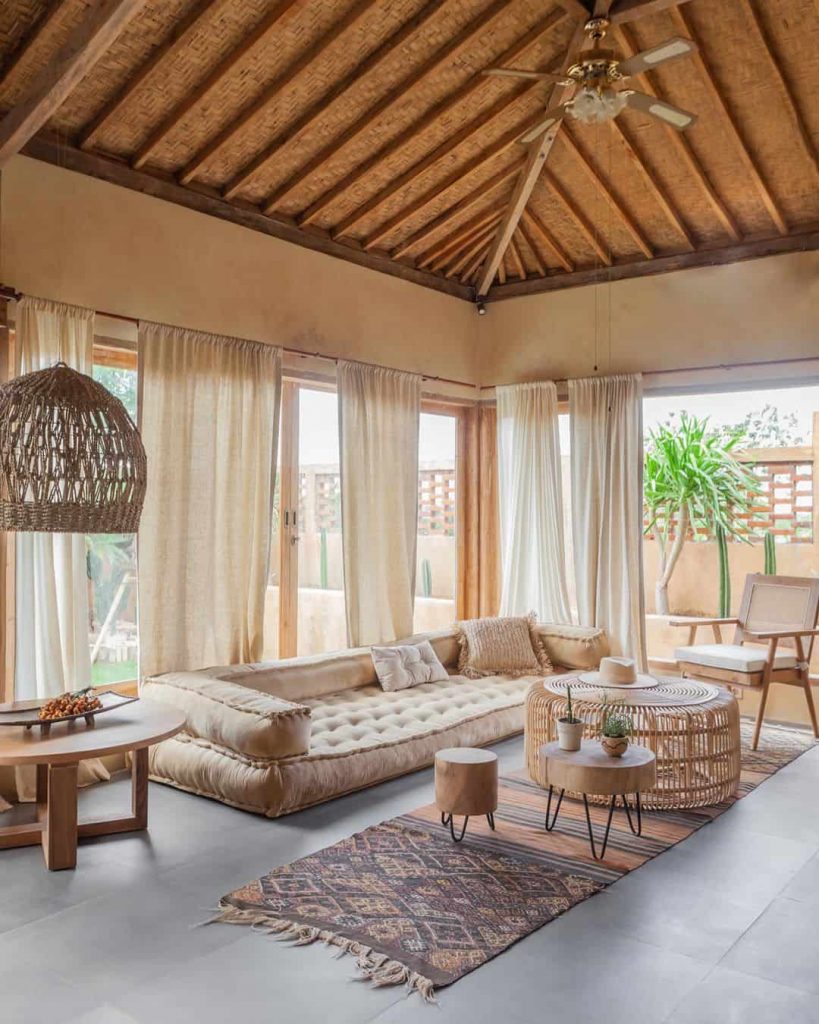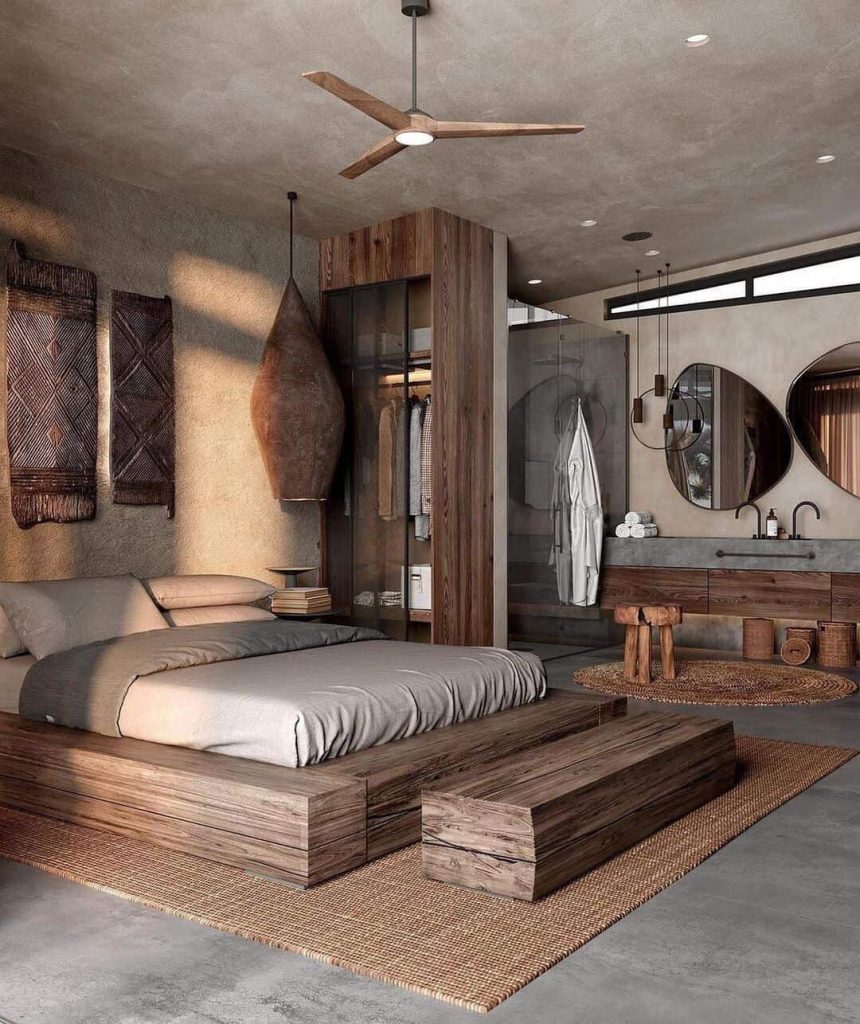 Brown room decor is a unique and beautiful way to add some warmth to any interior space. It embodies the woodlands or desert landscape so you might want to use this color as an accent or as the dominant color.
Make this kind of interior space more interesting by mixing different textures and materials so it's not so plain.
Think rattan, leather, or cotton. Also, mix different shades of brown for a stunning monochromatic interior look.
You May Also Like: 13 Mistakes Most People Make In Minimalist Design & How To Fix Them
Sale
4. Go For Natural Materials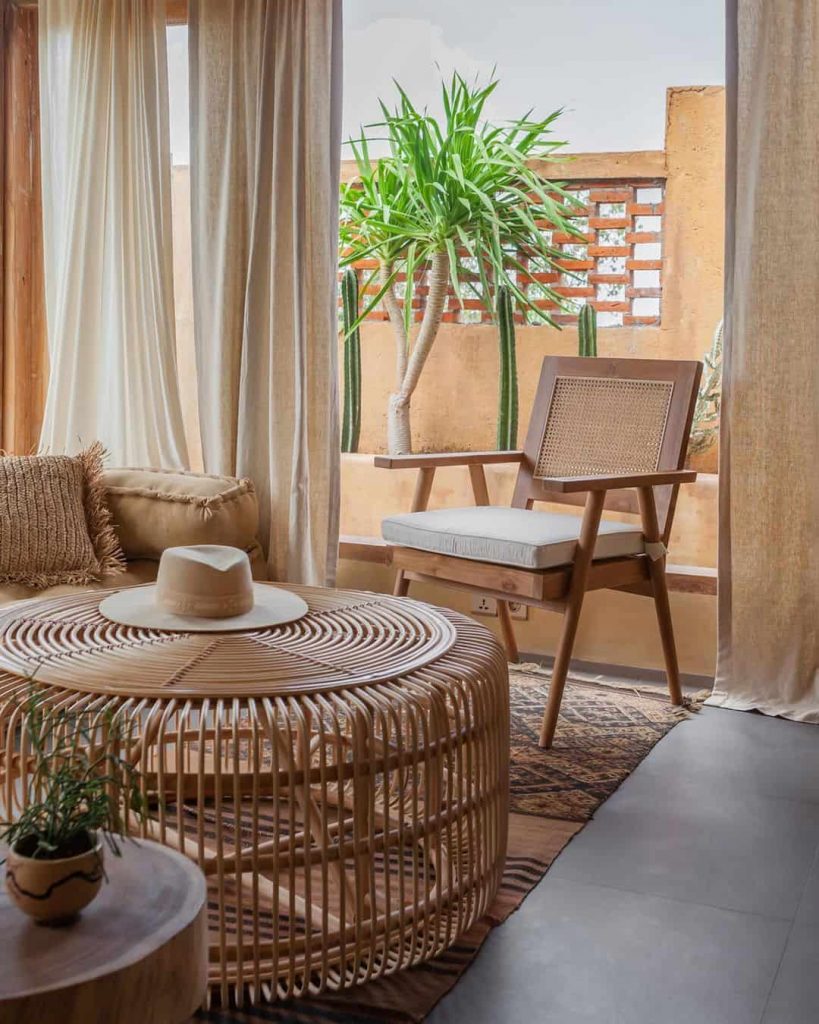 It is a great idea when creating an organic modern interior to start with the framework of a modern room and incorporate natural materials within the interiors.
Simply use materials such as marble, stone, concrete, wood, bamboo, stained elm, woven cattail, and sea grass. Anything which is normally found outdoors, and make them a part of your home's interior décor, ensuring they make a statement.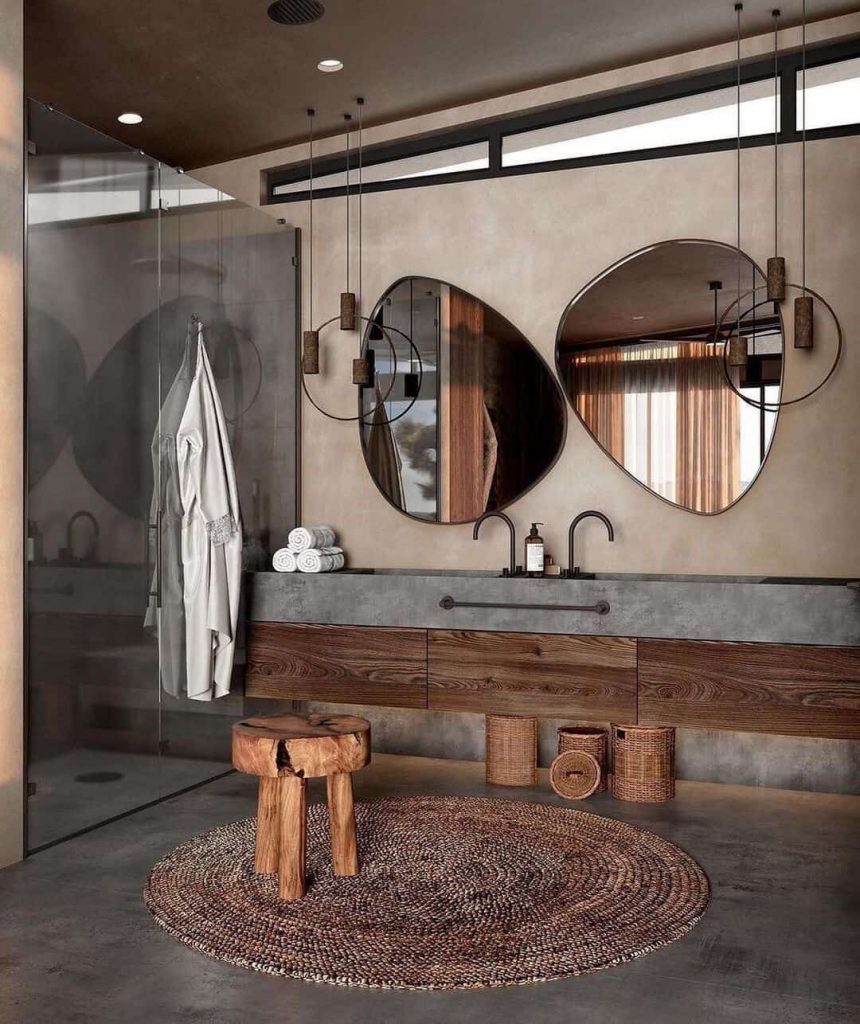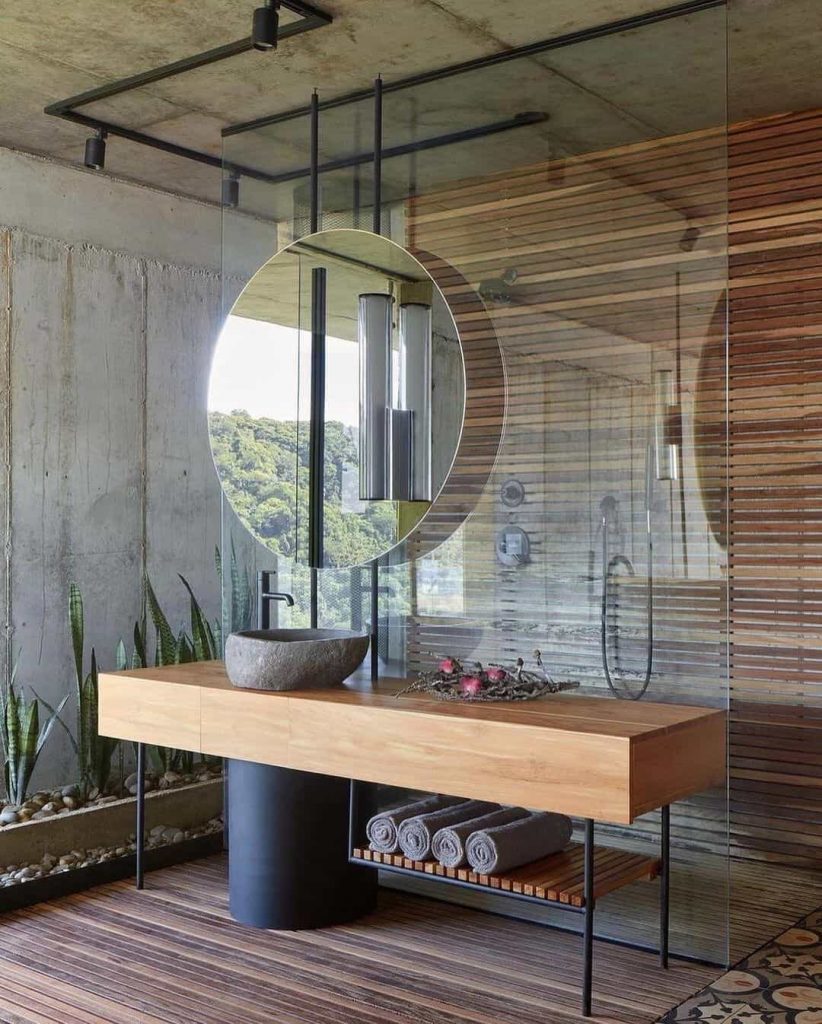 For example, wooden furniture or a stone washbasin in the bathroom would be a really interesting feature. There is no better way to complete your bathroom sanctuary than with natural materials.
You May Also Like: How To Create An Eco-Bathroom In 8 Actionable Steps
5. Incorporate Organic Textures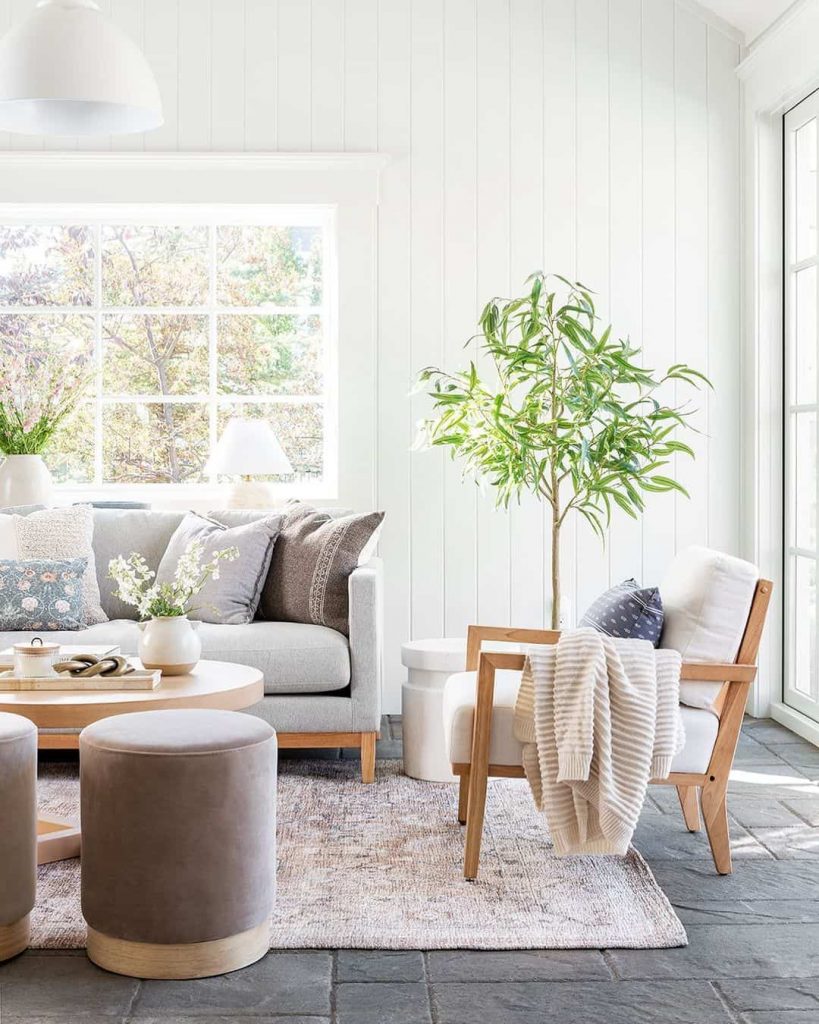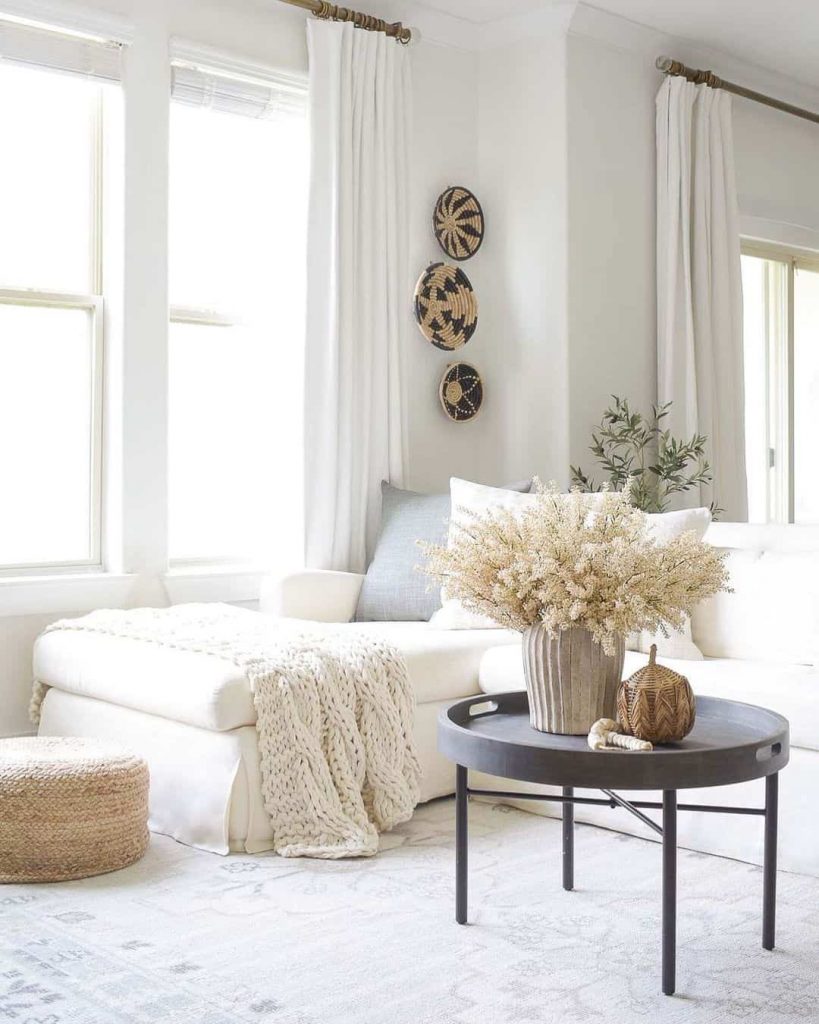 Fabrics are another way to incorporate organic materials into your design. Natural organic fibers such as wool, cotton, and linen bring a sense of coziness to any space.
Rugs, blankets, throws and pillows also allow you to play with color, pattern and texture within the space.
You May Also Like: How To Choose A Good Area Rug & Ways To Use It Around Your Home
New La Reine Chunky Knit Blanket Chenille - Bundle with Knitted Throw Pillow - Bulky, Soft, Fluffy, Oversized Cable Braided Hand Knotted Throw for Sofa, Boho Gift (Ivory, 50" x 60")
♥ SOFT & COZY, AS IT SHOULD BE: Our cloud-like fluffy blankets fits your body wonderfully and helps you maintain a pleasant temperature, allowing you to enjoy yourself to the fullest.
♥ SUITABLE IN ANYWAY: A chunky throw blanket may be easily integrated into your everyday life from bed decor with a western bedding vibe, to boho living room decor, photo background and more.
♥ ALSO A HEARTFELT GIFT IDEA: Giving our soft throw blanket as gifts during holidays, birthdays, anniversaries and more is a certain way to show someone how much you care.
♥ CARE INSTRUCTION: Handle gently because our wool blanket is very delicate. Avoid area where it's likely to get stained or heavy color liquid spilled. Simply remove pilling and shredding by hands or scissors. Do not machine wash or iron.
♥ SUPERB AFTER-SALE SERVICE: Shall you encounter any difficulties or queries about our blankets and throws or your order, feel free to contact us!
6. Use Highly Crafted Furnishings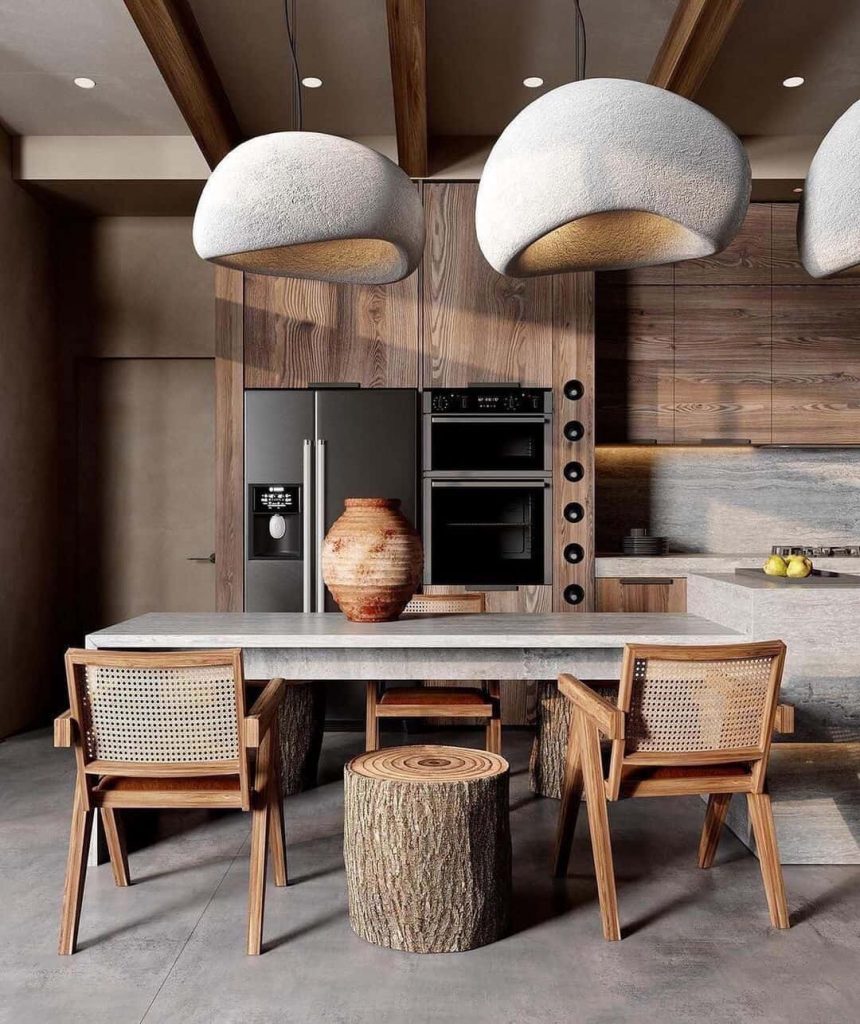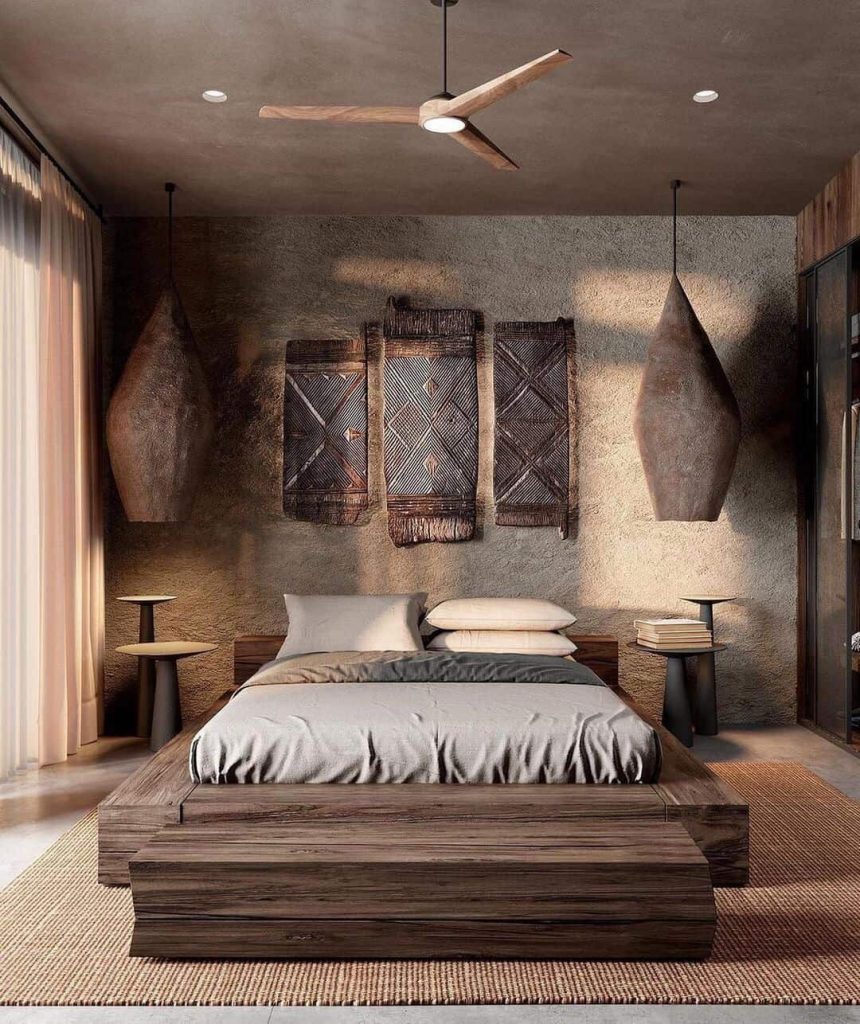 The easiest way to create a stunning organic modern interior is by using furniture and accents that highlight the beauty of nature.
Choose pieces with a raw finish for your furniture like tables and chairs to introduce raw wood into your space since they're highly customizable to suit your style.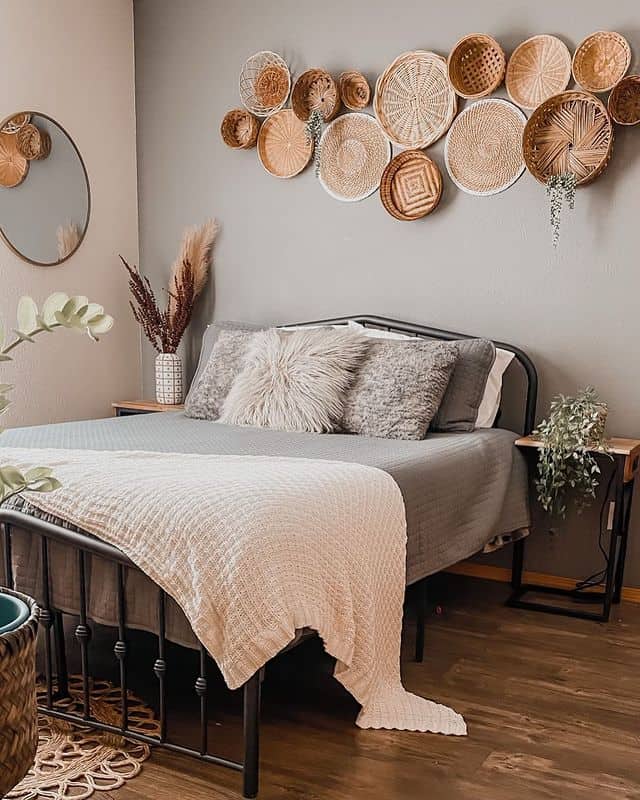 Other accents include crafted lighting fixtures like rattan lights and flat baskets that can create a stand-out feature for your walls.
7. Decorate With Plants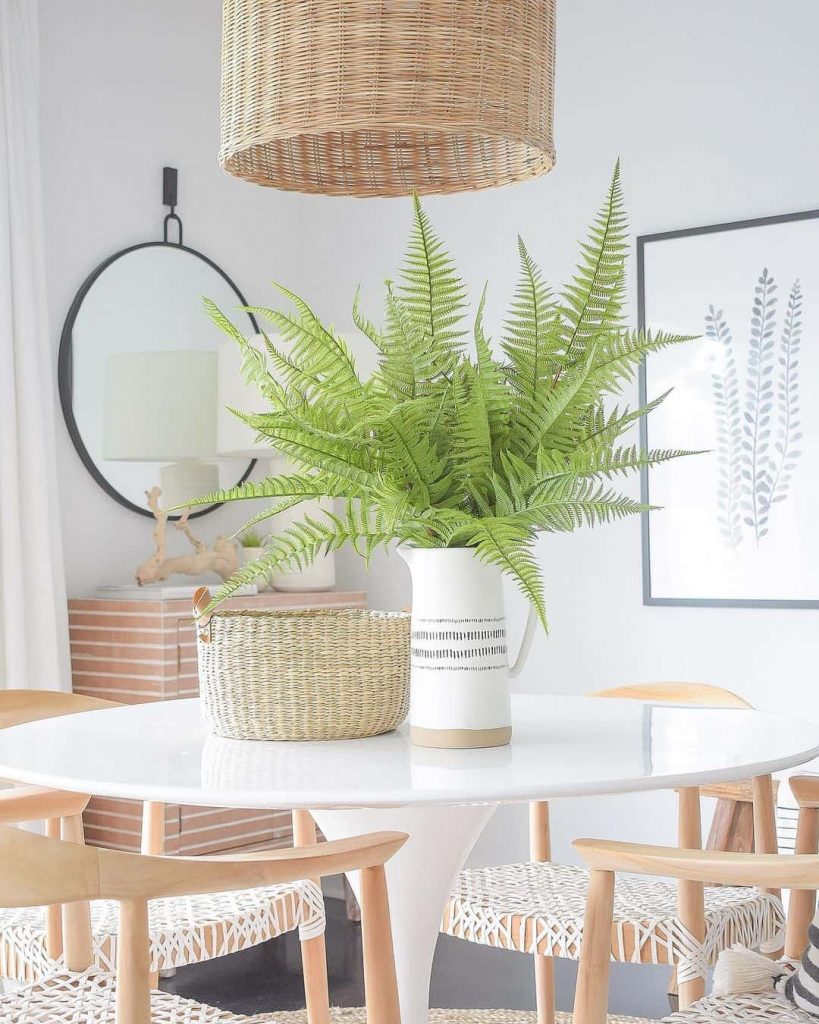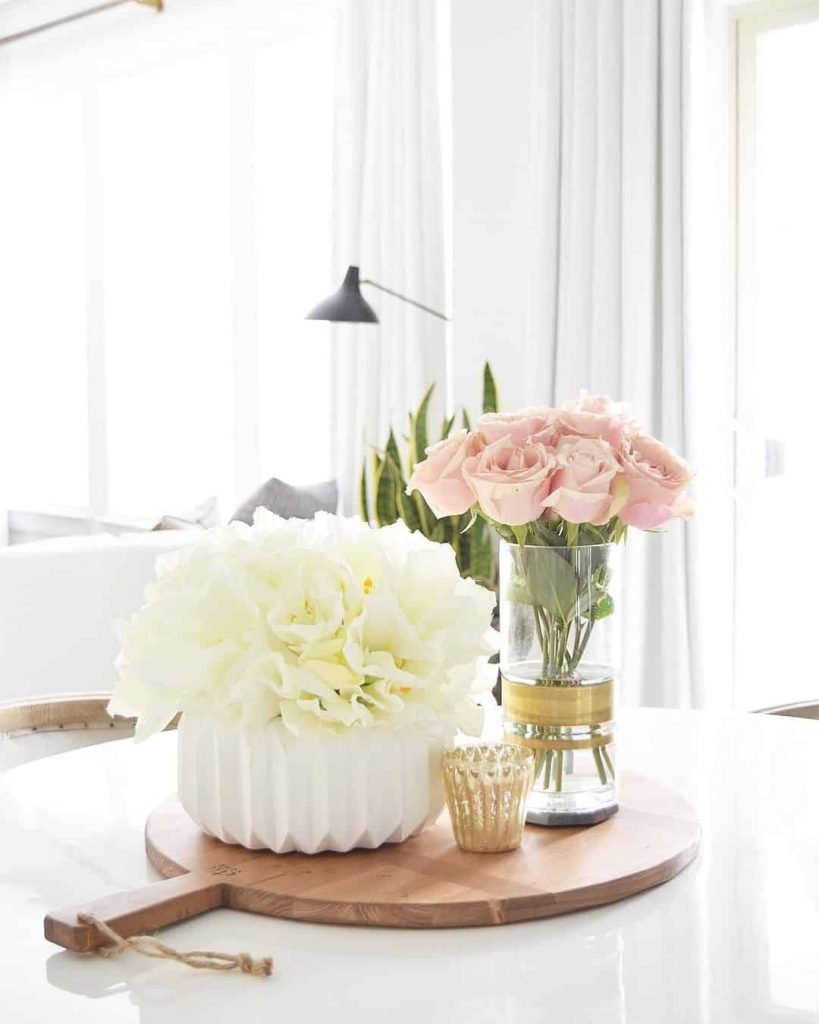 Plants are much appreciated in modern interior design. Plants make your interior spaces more appealing to the eye and alive, while also playing a key role in your overall health and wellbeing.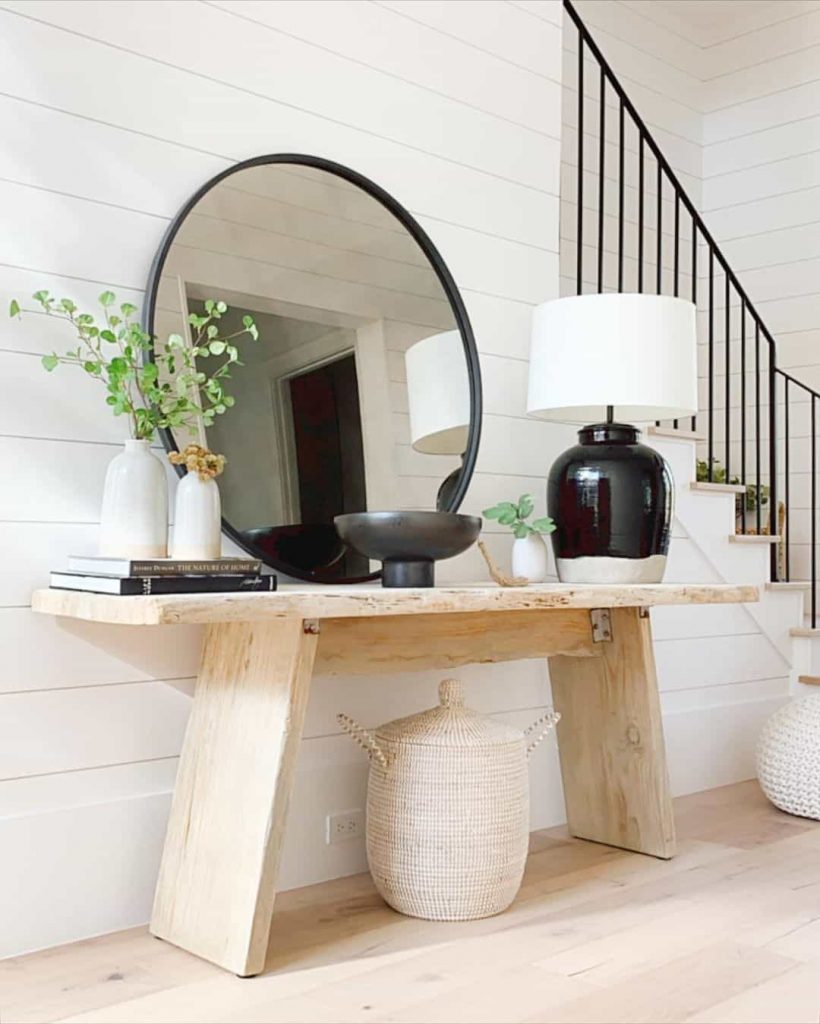 Plants filter toxins in the air making your room more habitable. Skip synthetic plants and decide to start growing your own plants indoors. Here are some of the best indoor plants for beginners.
And if you have no green thumb, try the low-maintenance cacti with our guide for starting a cactus garden indoors.
Sale
You May Also Like: 20 Houseplant Decor Ideas To Inject Life Into Your Home
8. Keep the Space Clean-lined & Minimalist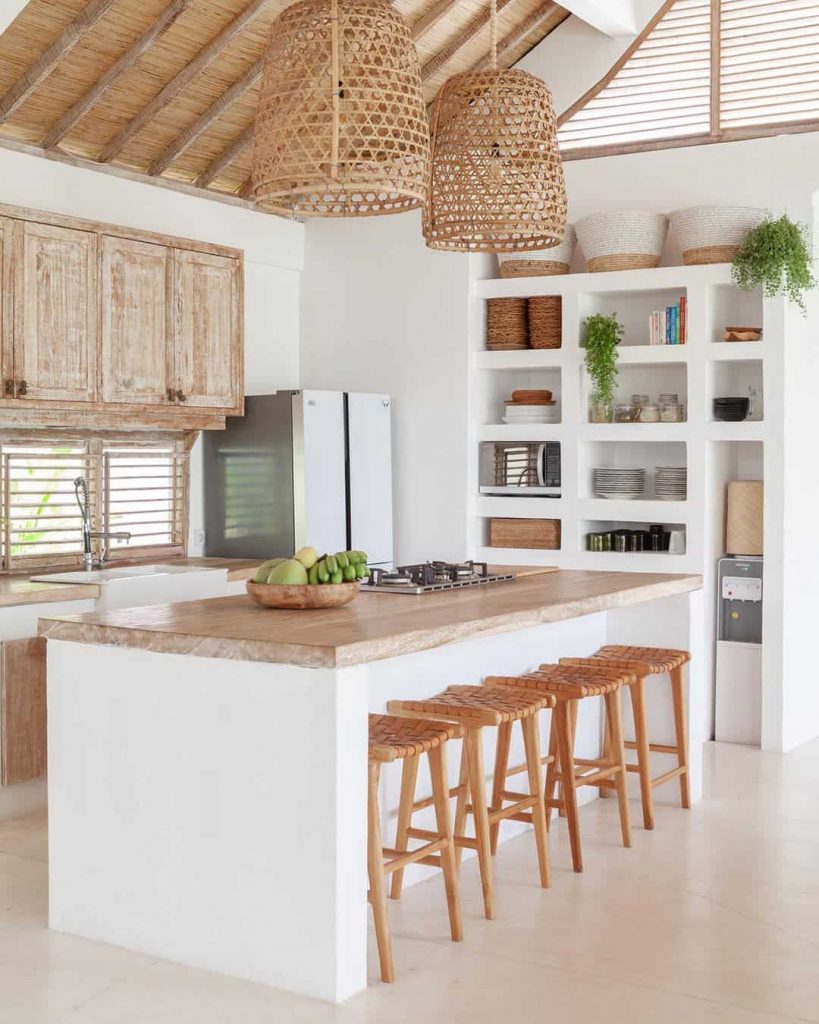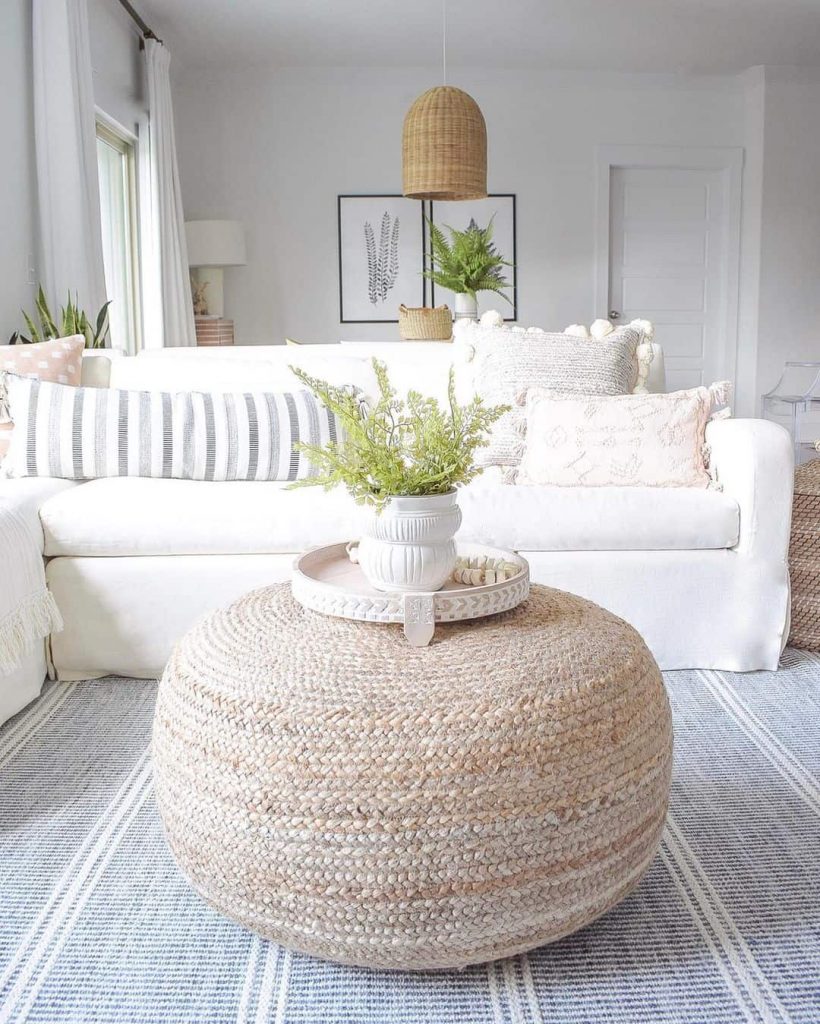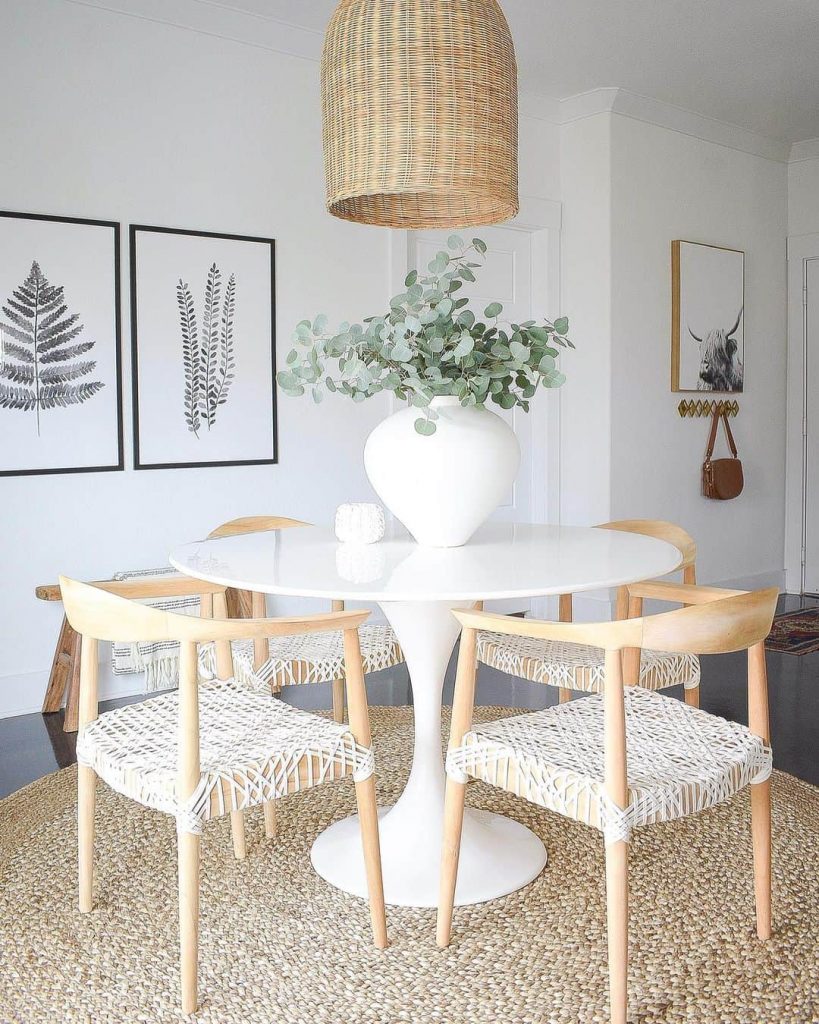 A stunning organic modern interior features clean lines, sleek surfaces and a minimalist vibe that ensures the whole room looks put together and very inviting.
All decor items must flow from room to room, with no signs of clutter and chunkiness.
So, after you're done decorating your home, stand back and look at it. Trim down any unnecessary items to ensure the final look is polished and airy.
You May Also Like: 10 Minimalist Living Room Ideas That Will Inspire You To Declutter
Would you try an organic modern interior style?
Want more organic modern interior design tips?
Check out our Organic Modern Pinterest board, jam-packed with design ideas and inspiration to help you style your organic modern dream space!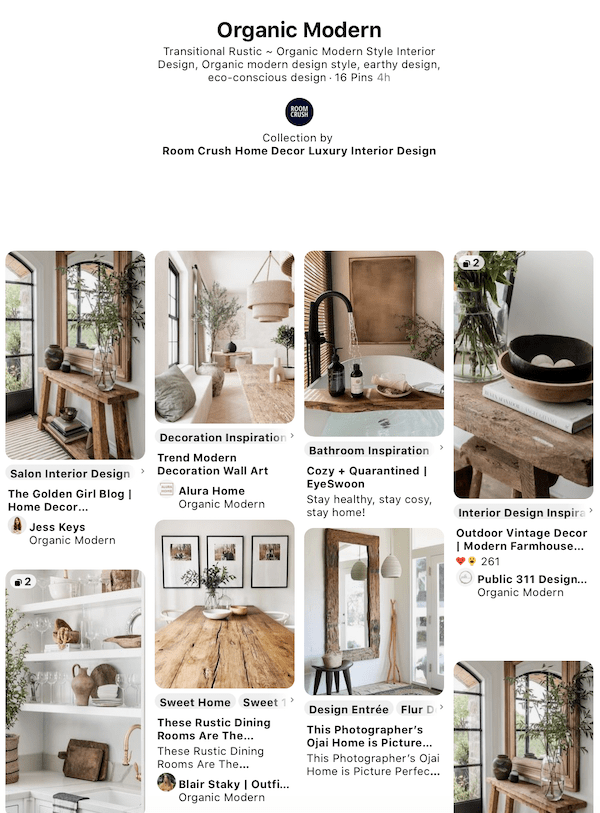 Pin This: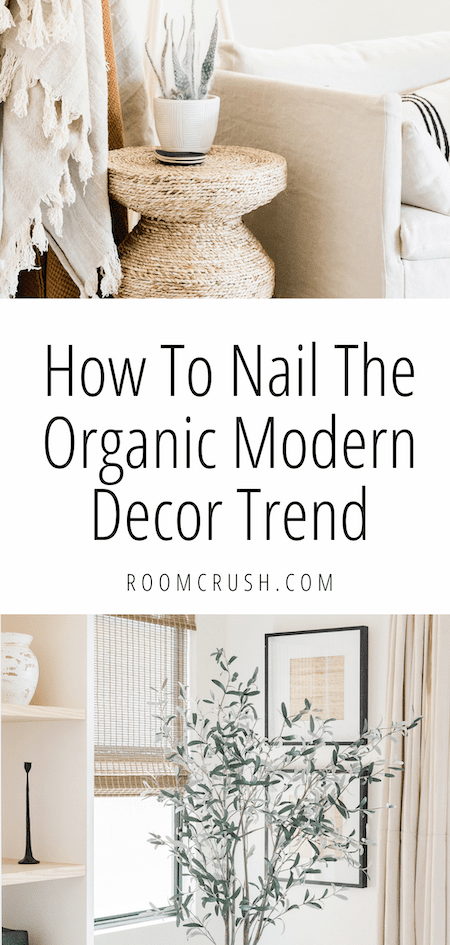 You May Also Like: How to Create a Modern Bohemian Home
Shop Organic Modern Decor