Top 10 Mistakes To Avoid In Maximalist Home Design
Maximalist home design is an interior design style that involves a tremendous sense of indulgence in décor. This design trend screams more in more, in color, texture, arrangement, and literally everything.
When it comes to maximalist interiors, instead of letting one color do all the talking, be strategic.
A selection of yellow throw pillows on the sofa paired with yellow art on the walls will be more impactful than yellow everywhere.
This will grant the color yellow relevance in the room since the color will be tied together by other elements in the room.
You May Also Like: How To Choose The Right Furniture For Your Home
2. Too Many Bright Colors with No Blend Anywhere
Maximalists love color! And indeed, the foundation for maximalist design is color- lots of it, for that matter!
However, you want to be generous with color since using too many bright colors everywhere without a natural blend creates a visual overwhelm or overload. Eventually, the rooms feel out of place.
While white and other subdued neutral colors are great wall colors in a minimalist home, you'll notice that when you're looking for maximalist inspiration, it's anything but beige!
Dark colors like black, charcoal grey, and navy blue are popular wall colors. And of course, boldly patterned anything.
To use colors wisely:
Find one color that ties the whole house together- this is the unifying color. For instance, pick the color blue to be present in every room then the rest of the décor items can be built around that color.
Also, fill the room with bold or bright accents and patterns just to balance things out and create a naturally appealing space.
3. Use Different Colors in Different Rooms with No Particular Flow
Bold and rich colors are a maximalist's pick when it comes to décor. However, a sense of cohesiveness has to be really worked on.
Mixing up different colors in different rooms can be fun. Just do it with an overall forethought. 
Imagine walking into a living room that screams blue, a bedroom that screams red, a kitchen that is all about green and a walkway that is just so bright yellow!
This doesn't look mature at all, and you'll feel like you're walking into different worlds at the same time, that you'll have no time to take in the beauty of your home.
If you have to use different colors in different rooms:
Go for colors within the same family. This will create a smooth progression as you walk through the rooms. Pro designers prefer using one dominant color for the walls then indulging when it comes to the colors for accessories. And that's allowed!
You should also repeat the same colors throughout the whole space to bring the rooms and other décor items together.
You May Also Like: 15 Ways To Decorate Your Walls- No Painting Needed!
4. Mixing Too Many Design Styles
Apart from using too much color, some maximalists also explore too many design styles that make a home feel very disjointed!
For instance, it would be too hectic if the living room was very modern, while the kitchen gives off a farmhouse vibe and the dining room is art-deco inspired.
This is quite distractive since it feels like you're moving through different worlds altogether.
There needs to be some cohesiveness throughout the space, from room to room.
To mix decorating styles like a pro:
Choose a limited color palette. No matter the variations in design styles you'd want to incorporate, having a unifying color scheme around the house will help unite all the rooms.
Choose a unifying pattern. Apart from using color as the base that ties your whole house together, you can also incorporate pattern that helps to unify the varying styles of décor. It could be the rattan element in every room for a bohemian home – think a rattan chair in the living room, and rattan overhead lighting in your dining.
It is also wise to just stick to one theme. Choose a certain theme, such as coastal instead of scattering around different themes. This can really bring a room's elements together since you can build your décor around the theme and any style will do!
5. Accessorizing With Too Many Little Things
Accessorizing any space should be fun! But even with maximalist interiors, there has to be some thought to what accessories make the cut.
Adding little touches that tie the room together and make it come to life.
However, some beginner decorators make a mistake when they over-accessorize the room, with too many little things.
Having too many little decorations scattered about can end up looking like clutter.
A good example would be having a million dolls spread in every room around the house.
A few or several of those are okay, and to add more detail, group them together.
You still don't want to overdo the number of small groupings of these small things in one room too!
In fact, the bigger the pieces of furniture in a room, the bigger the accessories should be!
Pro Tip: When accessorizing with plants, embrace live plants because diverse use of plastic plants and flowers really cheapens the room.
You May Also Like: The Best Indoor Plants For Beginners
6. Using a Lot of Everything Everywhere
Maximalist design includes more of everything; essentially, more of your favorite colors, textured fabrics and accessories.
Some maximalists make their décor look too random, and cluttered by using a lot of everything everywhere, particularly, in the living room.
Instead, find a few common colors or patterns to repeat through the rooms. This creates a platter of colorful pastries and prevents your room from looking too busy.
7. Too Much Layering
Layering décor is another way to beautifully accessorize your home!
After painting a room and adding the right furniture, you want to finish the space so that it feels cozy, welcoming, and personal.
However, it can be a daunting task since some end up layering aimlessly, making the home look cluttered.
Adding layers shouldn't equal adding clutter back into a room. The trick is to bring in layers that add both texture and function to your décor.
Texture adds warmth and interest while function brings meaning, joy and inspiration into your space.
Rugs are a wonderful way to add texture to a space- and they also visually define and finish a room.
Window treatments like curtains and drapery add softness and privacy while throws, pillows, cushions, and duvets add more coziness to the space while keeping you warm and rest more easily.
Stick to this and avoid using too many layers. 
You May Also Like: 13 Mistakes To Avoid In Minimalist Home Design
Boho-style decorating is a perfect match for maximalist home design.
If unsure about where to begin with bohemian homes, here's an article on how to create a bohemian home like a pro.
However you choose to feature maximalist design in your home, it should really feel like an extension of your own personality.
Go for colors you love, and patterns and prints that make you joyful. After all, your home should truly feel like you.
5 Tips for Creating a Maximalist Living Room
'Maximalist has such an emotional quality to it because you are drawing upon things you love' – Sasha Bikoff, an Interior Designer.
1. Lots of Color
A maximalist living room clearly has 'that extra' vibe that attracts the eye. And first off, with color!
There are no rules when it comes to adding color to your living room. You can:
Add a little, or a lot of bold, bright or warm colors
Mix unrealistic color combinations and ensure they all work together.
Some of the widely incorporated colors include:
a. Yellow
If your space doesn't get much natural light, do not fret- just add the color yellow to help brighten the interiors and save them from looking gloomy.
b. BlueBlues belong to the cool color family and extremely versatile.
When experimenting with blue, you can add a dark shade of blue as a wall color in your living room or corridor to exhibit a heat collection of beautiful porcelain or have bold blue sofa sets.
c. Orange
Orange is a beautiful and contemporary color that works great as a complementary hue to an existing color scheme.
The color is rather dominating, no matter what the shade. It is a delicate balance between having it come off interesting and sophisticated in a room rather than over-the-top.
The simplest way of achieving this is to go for the white and orange combination.
You can also perfectly put together the dominating color with pops of vibrant hue and keep it well balanced. This creates an eclectic space.
d. Green
Pops of green here and there like a green chair creates a show-stealer in your living room!
e. Red
Red has to be a super bold color and a couple of red seats or a red rug can do the trick.
f. Purple
Deep purple is definitely the maximalist's color and when used for seats, pillows or rugs, velvet or fur fabric can speak a lot!
To add color the easier way, be sure to brighten up your furnishings – use brightly colored cushion covers, runners, throws, and sheets ( especially those in raw silk and velvet) to make your living room perfect!
2. Standout Artwork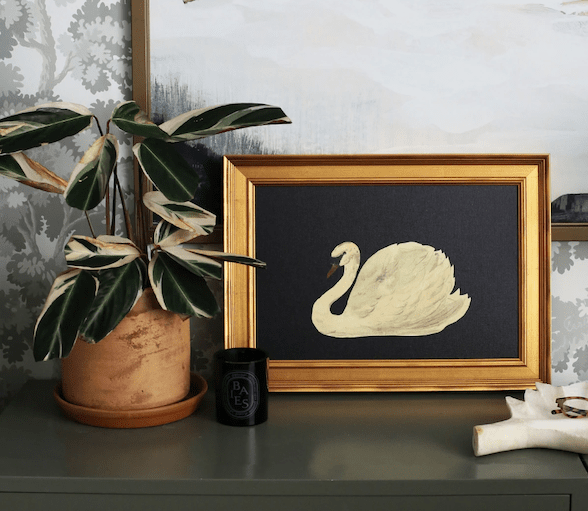 Click here to buy this watercolor Swan art print on canvas.
The best way of having standout artwork in your living room is by creating a gallery wall that features different pieces of artwork that can be more or just clearly vivid.
Standout wallpapers and beautiful backdrops can also add a quizzical artsy effect in your living room.
Use different styles of art, a mix of frames, and a range of sizes. You can also have different colors as long as your wall of art connects with your wall color.
3. Tons of Patterns and Textures
Using textures in your interiors truly brings the décor of the room together. You can use diverse patterns that all come together and compliment the overall look of the house.
For example, a patterned rug pulls an area together which accent pillows.
Scale correctly– in this case, have items of different sizes
Feature pieces that have the same color hues in equal intensity. You can also feature pieces in the same color family but of different hues.
Offset your patterns by a solid color. For example: have the fur rug and decorative pillows complement the solid sofas so well.
Pattern and texture play indeed!
You May Also Like:
The Correct Dining Room Rug Size For Your Table
4. Bold Paint ChoicesEver thought about having bold paint in your living room?
Well, many choose the safe route and keep neutral paint, especially for the walls and this is a good choice.
However, if you are more daring, you can work with bolder colors like dark blue, deep yellow, sky blue or deep red.
If you want to be safe when using bolder paint choices, dress up your walls by adopting wallpapers instead. At least, these can always be removed now and then, especially when the bold paint gets overwhelming.
You can also choose to keep your walls neutral and go bold on the ceiling alone. I mean, paint the ceiling bold or have a wallpapered ceiling too.
5. Keep It Cohesive
Just because there is a lot of colors, patterns, and artwork going on in your living room, that is no reason to keep your room cluttered.
Connect the pieces together and listen to your gut. If you feel like the room is so loud for you, remove some items so that eventually, you'll be seated in a maximalist living room that is comfortable enough for you.
If you're looking for a way to connect the pieces together, consider a standout accessory then build around it. For example: if you picked a bold sofa set, coordinate its color with other colors in the same family or those that can clearly match.
I would love a bold yellow sofa with large black and white wallpapers!
Bold colors and patterns are essential ingredients in a maximalist-inspired home. The wallpapers, statement artwork, curtains, the row of bookshelves, graphic prints, decorative accessories or decorative floor tiles make it all work.
Top 10 Mistakes To Avoid In Maximalist Interiors – Conclusion
Remember that every time you decorate your maximalist space, work on an area, stand back, and look at it.
Edit and add and change things up as necessary to ensure you achieve a space you're proud of.
You May Also Like: 10 Minimalist Living Room Ideas That Will Inspire You To Declutter
Have you tried maximalist home design before? Which of these mistakes did you commit?
Check out my Maximalist Pinterest board for inspiration!