15 Thoughtful Housewarming Gifts They Can't Wait to Use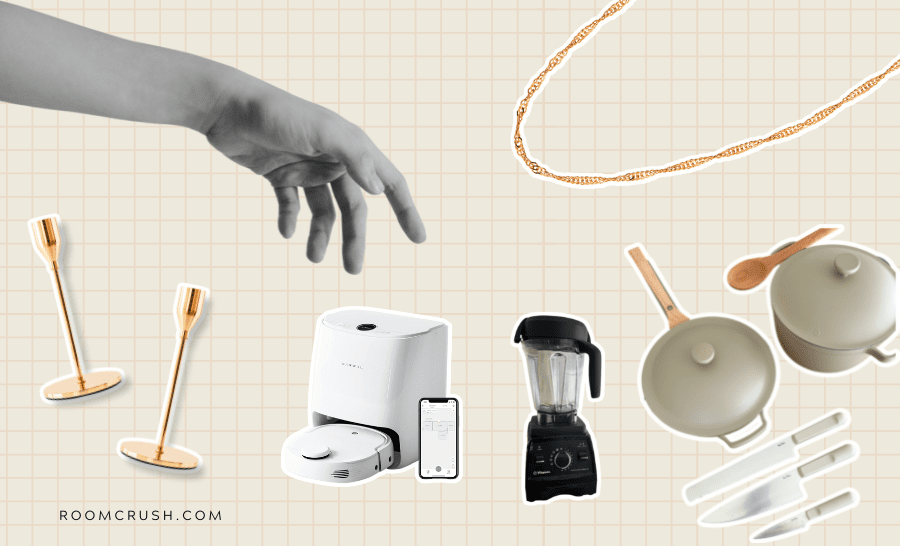 The Best thoughtful housewarming gifts: Getting a new place is always a huge milestone in anyone's life, whether it's the down payment on a first apartment or the ultimate dream home.
And there's no better way to help your friends and family members celebrate than by getting them thoughtful housewarming gifts.
However, many people buy gifts that their loved ones simply won't use, wasting both their money and their space. But when you focus your search on everyday items that add to a home's decor, you're sure to find something they'll love and appreciate.
Our guide has the perfect ideas, no matter who you're shopping for!
---
7 Easy Home Updates eBook: Free!
Today, get a free copy of our ebook that shows you 7 simple updates you can make in your home this weekend that will make your home look expensive and increase its value. Tell us where to send your free copy:  
This site uses ads and affiliate content as an Amazon associate earning on qualifying purchases. Disclosure.
---
15 Thoughtful Housewarming Gifts They Can't Wait to Use
Choosing the right housewarming gifts means thinking about your recipient's lifestyle and their new space.
Since they're moving into a new home, you might not know what design inspirations they're going for.
This is why it's best to get them useful housewarming gifts that they can use daily or weekly (rather than purely decorative items like wall art).
These include everyday items like doormats, kitchen towels, and cleaning products.
The key is to get items that are useful, yet really add a luxurious look to a loved one's new home.
Here are 10 thoughtful gifts for housewarming that you can get today!
1. Narwal Vacuum
The Narwal Freo takes robot vacuums up a notch by offering all-in-one cleaning.
This innovative cleaning robot has both a vacuum and a mop, making it one of the most versatile and useful housewarming gifts you can get!
One of the best parts about the Narwal vacuum is that you can program it to vacuum first, then mop, or the other way around.
It can also vacuum only or mop only depending on your needs.
While some robot vacuums map out your home and make sure to clean every inch of it, the Narwal Freo takes this step even further.
The Narwal Freo's algorithm will decide where it needs to overlap and vacuum/mop again if the area is still dirty.
One reviewer even purposely left a stain to see that the Narwal kept returning to it until everything was mopped up!
The Narwal vacuum comes with an app, as well as a large LCD display at the top for those who don't use a smartphone.
The ability to schedule cleanings, make customized cleaning plans, and see detailed cleaning reports makes this a perfect housewarming gift.
One that will greatly simplify your loved ones' cleaning routine.
Here's an image of the Narwal vacuum that I bought:
I have had my Narwal for almost a year and it is one of the most used appliances in my home. It's a work horse!
Its quality is top of the line and saves us so much time now that we never have to manually clean the floors.
Gifting a loved one their very own Narwal is a thoughtful and useful gift. And I bet you will want one for yourself, too!
2. Fable Dinnerware Set
This upscale dinnerwear set is the perfect useful housewarming gift for friends and family who are committing to a redesign in their new home.
So if you know they've thrown out their old dinnerware, this gift is the perfect replacement and will add a touch of luxury to any table setting.
It would look equally great at the dining table or outside for an upscale backyard dinner.
Each piece is handmade and unique, and the set comes with dinner plates, salad plates, pasta bowls, and breakfast bowls.
This makes the set perfect for families, as well as couples who like to have guests over.
The best part about it is the minimalist design, which suits any interior design style.
Here's a photo of my own Fable dinnerware set (I actually bought two sets so I can seat 8 places):
I also bought both the tall and short glasses.
The glasses appear to be super dainty and fragile but actually, these made-in-Japan glasses are built strong and virtually shatterproof!
Something I love most about my Fable dinnerware and glassware (after the beautiful design) is that everything is 100% dishwasher-safe. A must, as I do NOT have time to be washing things by hand.
I've had my Fable products since November 2021, we use them daily, and they are still like new.
Fable dinnerware comes in neutral colors like white, gray, navy blue, and pale green.
If you're not sure which color would work best, I would suggest going with white or gray, as these can match any design style.
3. Vitamix
Whether your gift recipient loves or hates cooking, an efficient blender is an essential kitchen tool.
And there's no better blender than the Vitamix.
From smoothies to sauces to even soups, this powerful tool can whip up a meal or snack in seconds.
Photo of my own Vitamix: 
Unlike other blenders, the Vitamix has an extremely powerful motor and blades that can chop the most difficult ingredients.
Vitamix blades and parts are metal – unlike other brands that are plastic. The Vitamix will last.
Another benefit to giving a Vitamix as a gift, is the speed and convenience it will bring to their lives!
While other blenders require you to painstakingly turn them off, add water, mix everything up, and blend again; the Vitamix effortlessly blends even thick mixtures on its own.
One of my favorite things about owning a Vitamix is that I can make thick items like dips without having to make them too watery out of necessity.
In particular, the Vitamix 5200 blender is so good that some chefs say it's the best blender they've ever used in their culinary careers.
So whether your gift recipient is single or has a large family, a Vitamix will simplify their routine and add dozens of new dishes to their cooking repertoire.
4. The Always Pan
This viral favorite is the perfect gift to help someone reduce clutter because it does the work of 8 pieces of cookware.
This takes the meaning of multipurpose to an entirely new level!
With the Always Pan, you can steam, fry, boil, serve, braise, sear, and store food!
This makes it the perfect gift for cooking enthusiasts and those on the go like busy parents, students, and professionals.
For those who are concerned about the chemicals present in many non-stick pans, the Always Pan is made with a non-toxic coating free of harmful chemicals like PFOAS, PTFEs, and lead.
It also works with all cooktops, making it perfect for anyone's new home.
Since the pan will be sitting in a cabinet when it's not in use, you don't have to worry about matching your gift recipient's existing decor.
Instead, choose a color you think they'd like.
The Always Pan's most popular color is lavender (soft, feminine purple), but you can also get the pan in colors like earth green and dusty blue.
I'm all about neutrals, so I purchased mine in the color 'steam' which is a pretty greige color.
Here's a photo of my Always Pan:
I also purchased the Perfect Pot, and the knife set from Our Place.
The knife handles come in all the same colors as the cookware, so you can have a completely cohesive look in your kitchen. So chic!
5. Candle Holder Set
A good candle holder can instantly make even the plainest white candles look like they came from a luxury store.
For an even more thoughtful gift, get handmade candle holders, like these ones, pictured above from Etsy.
Not only are you supporting small businesses, but you'll also get a thoughtful gift your friends and family won't be able to find in regular big-box stores.
The key to choosing a good set of candle holders is looking for a design that's simple, yet elegant.
Go for luxurious metals like gold tones or brass (which really elevate the design), as well as glass and crystal.
When buying your candle holder, make sure to look at the dimensions carefully.
While tealight candle holders can be great for making a statement, you don't want to get a candle holder that's so large that it's impossible to find a good place for it.
This is another reason why a set of multiple candle holders like these handmade ones are perfect, as your gift recipients can choose how to arrange them depending on their existing furniture.
6. A Unique Doormat
While most homeowners invest in a doormat pretty quickly, the designs can be pretty boring and generic.
The key to getting a thoughtful doormat gift is to go for a mat that has an interesting design, texture, or pattern to it.
Examples include stripes, interesting patterns, or designs woven into the fabric.
If you're worried about your gift matching with the rest of the house, go for a natural fiber, such as the mat above.
This eco-friendly material comes from the outer husk of coconuts and offers both and a neutral color that can go with any interior or exterior décor.
7. Coffee Maker
If your gift recipients are coffee lovers, why not make their morning brew easy with a coffee machine?
A coffee machine helps keep your gift recipient's new kitchen clean from those messy coffee grounds that come with using a French press.
A coffee machine like a Keurig is also a great choice for friends/family members who have kids as it can also brew tea, hot chocolate, and hot water/milk for instant oatmeal and baby cereal!
And for busy professionals, Keurig's pre-measured coffee pods cut out a lot of time (and waste) from their morning routine.
Unlike some previous versions of Keurig (which were quite large and took up a lot of counter space), new models like the Keurig K-Mini are less than 5 inches wide.
Aside from black and gray, it also comes in modern colors like turquoise and dusty pink.
Keep in mind that the Keurig Mini is best for someone single or for a couple, as you can only fill it one cup at a time.
For families, go for a larger model like the Keurig K-Supreme Plus.
8. Elegant Hand Soap and Lotion Set
A hand soap and lotion set is perfect for the bathroom and is especially great for sprucing up guest bathrooms.
Not only are your gift recipients guaranteed to use it, but a set like this can really add a luxurious feel to the bathroom.
Just make sure to choose a high-quality set with nourishing ingredients like shea butter and olive oil.
To make sure your soap and lotion set is received well, think about the scent you're going for.
You'll want to get something that smells fresh but isn't overpowering.
If you're shopping online and can't smell the scent in person, go for something with many five-star reviews, like the Capri Blue soap and lotion set pictured above.
This set features citrus and sugar notes based on the brand's extremely popular Volcano candle.
The other thing to look for is the presentation of the set.
Choose something with aesthetically pleasing packaging that would look good as a piece of décor.
Many sets come with a metal caddy, which adds both luxury and practicality to any bathroom.
Plus, your gift recipients can re-use the caddy for something else once they've run out of the initial product.
9. Turkish Cotton Kitchen Towels
Kitchen towels are great housewarming gifts for friends because they're sure to use them, whether they're passionate cooks or just need to get things done in the kitchen!
The best part about kitchen towels is that there are endless designs to choose from.
If you know your friend's style, you can get them a set of two kitchen towels with an organic or eclectic pattern (fruit and stripes are a common pairing).
But if you don't know what style they'll decorate their new house in, go for a neutral set of kitchen towels.
This doesn't mean that they have to be boring black or white though—you can go for stripes or muted colors for added visual interest.
Be sure to get 100% cotton kitchen towels for optimal absorption and softness.
10. Wooden Cutting Board
Cutting boards go far beyond just a utilitarian piece of wood—they can also make thoughtful gifts for housewarmings that people are guaranteed to use.
Of course, simple doesn't have to mean boring.
To amp up visual interest (and quality), go for a high-quality wooden cutting board, like this walnut one.
Not only are wood cutting boards better for keeping knives sharp, but they make for great serving platters that will complement your food.
For an even more interesting gift, go beyond the usual rectangular shape and get an eye-catching round cutting board, which looks just as good on a dining room table as it does as wall décor!
11. Decorative Clothes Hangers
Believe it or not, most people stick with plastic coat hangers all their lives because they're durable and hidden in your closet.
But having decorative clothes hangers can be the one thing that transforms a closet from boring into one that feels like walking into a luxury clothing store.
And with all the stress of moving, your gift recipients may not even have thought of changing out their coat racks to match their new house!
I always suggest staying away from velvet hangers, as these easily catch lint and pet hair (and are difficult to clean).
Instead, pick out wooden clothes hangers for a classic look or gold metal hangers for a luxurious feel (make sure they're non-slip).
Padded hangers are excellent choices for kids' rooms or nurseries.
12. Cheese Board
A well-designed cheese board can instantly transform a table setting from plain to 5-star restaurant-worthy.
If you want to go the more traditional route with your cheese board gift, opt for high-quality wood like olive wood.
This gives a rustic style to any food presentation and can double as a cutting board in a pinch.
It also works well with pretty much any interior design style.
For a fine-dining look, choose a cheese board with wood and slate, or go for dark marble.
For an airy, yet luxurious feel, pick a cheese board made of white marble, mixed with wood, or go for marble with brass handles.
13. Eco-Friendly Cleaning Kit
One thing that doesn't often come to people's minds when it comes to housewarming gifts is cleaning products.
However, many conventional cleaning products are full of toxic chemicals, making them especially bad for families or people with allergies/sensitivities.
This is why getting an eco-friendly cleaning kit is a super thoughtful gift that helps your friends and family keep their new house clean!
Not only does a kit give them the full spectrum of cleaning products that they need, but it's a great way for them to try out some new products that are better for their health (and that they might not have known about).
Kits like the Blueland Essentials kit come with everything someone needs to detox their home: glass cleaner, multi-surface cleaner, bathroom cleaner, and hand soap.
Not only are these cleaning products biodegradable, but they're made without harmful chemicals like parabens, ammonia, or chlorine.
This makes the set the perfect gift for anyone, but especially those with allergies, kids, and pets.
14. Coasters
Coasters are always good ideas for housewarming gifts because people can use them no matter what drink they prefer, whether that's a hot cup of tea in the mornings or a Friday night whiskey.
Given that there are so many options available, try to zero in on what style your gift recipient might like.
If you know them well, you might know that they like minimalist designs, for example.
In this case, a marble, gold, or quartz coaster would work well. For those that love cozy or rustic designs, try a hand-beaded or woven coaster.
If you don't know their style well, you can't go wrong with wood and resin coasters.
These give a sophisticated, yet modern look that goes with almost all interior design styles.
15. Trinket Dish
Trinket dishes make for great gifts because they have so many possible uses.
They're also some of the most unique housewarming gift ideas due to the sheer number of designs and materials out there.
They're perfect for storing your keys by the front door, as an earring or perfume tray on the vanity, or a stylish way to store small office supplies like paper clips!
They're most commonly made of ceramic, but you can also get ones made of metal, terrazzo, and terracotta.
When picking out a trinket dish, keep the dimensions in mind.
You'll want to go for something that's no more than 4 or 5 inches in length.
This keeps the dish compact and easy to decorate with, no matter how someone chooses to use it.
Some trinket dishes come in a set with a slightly larger tray, which makes for an excellent matching gift.
Frequently Asked Questions About Thoughtful Housewarming Gifts
What Are Simple Housewarming Gifts I Can Buy?
Some of the simplest housewarming gifts are cutting boards and kitchen towels.
These items get used almost daily, so they're sure not to sit tucked away in a cupboard for too long.
Keep in mind that even simple gifts can still look great and add to the design of a home, such as cutting boards with a nice wood grain or a matching set of kitchen towels.
What Are Some Great Housewarming Gifts for Women?
Some ideas for great housewarming gifts for women, in addition to the ideas above, could be a home repair tool set, the Our Place knife set, a nice soy wax candle, and anything from this cruelty-free beauty list.
What Is An Inexpensive Gift That Is Useful?
One of the best housewarming gifts for that are inexpensive and useful is a trinket tray set because they're perfect for holding perfume bottles, small cosmetics and creams, as well as earrings (which get lost easily).
Trinket trays are also very versatile, so she can decide if she wants to use them for her keys, vanity, or home office.
What Are Some Housewarming Gifts for Couples?
One of the best housewarming gifts for couples is a Keurig coffee maker. If only one of them likes coffee, that's okay!
The Keurig can make all sorts of things like tea and even a quick dash of hot water for instant oatmeal.
This is the ultimate convenience for couples on the go!
How Can I Come Up With Unique Housewarming Gift Ideas?
Your housewarming gift idea doesn't have to be the wackiest thing out there.
But if you want to get something more unique, focus on shape and design rather than the item itself.
For example, you could get a useful item like a cheese board, and then choose unique textures and colors that you normally wouldn't see on a cheese board.
Examples include marble, brass, terrazzo, and even handles!
What Should I Put in a Housewarming Gift Basket?
With a housewarming gift basket, you'll want to either pick a theme (e.g., kitchen, cleaning) or create an all-around gift basket with various home essentials.
Some of the best products for a housewarming gift basket include a lotion and soap set, coasters, bar soap, and a cutting board.
These are useful, everyday products that can often add to the look of a home as well.
15 Thoughtful Housewarming Gifts They Can't Wait to Use – Conclusion
The right housewarming gift makes people feel appreciated and even more excited to settle into their new home.
When picking out your thoughtful housewarming gifts, always keep utility and aesthetics in mind.
Think about your friend's or loved one's lifestyle, whether they can use the gift daily or weekly, and whether the gift would add to the design of their space.
This will ensure that you get them the perfect gift!
Have any go-to housewarming gifts that you love? Share them in the comments below!
What To Read Next: