Cheat Sheet: The 6 Most Expensive Boujee Drinks
The summer is just around the corner, which means it'll be time for many to enjoy a glass or two of the best and highest-priced liquor bottles.
Hosts go to far lengths to make sure parties are filled with delicious foods, beautiful décor and the best in booze so you want to make sure you show up with something that shows your gratitude.
Liquor is often an ideal hostess gift since it can be enjoyed by almost everyone, which also means a lot of people will be talking about what you brought.
For those occasions when $2 Trader Joe's wine just won't cut it, here's your cheat sheet of the boujiest alcoholic drinks.
---
7 Easy Home Updates eBook: Free!
Today, get a free copy of our ebook that shows you 7 simple updates you can make in your home this weekend that will make your home look expensive and increase its value. Tell us where to send your free copy:  
This site uses ads and affiliate content as an Amazon associate earning on qualifying purchases. Disclosure.
---
Cheat Sheet: The 6 Most Expensive Boujee Drinks
Demand by the uber-rich has produced a wide variety of the most elite and expensive alcoholic spirits the world has to offer.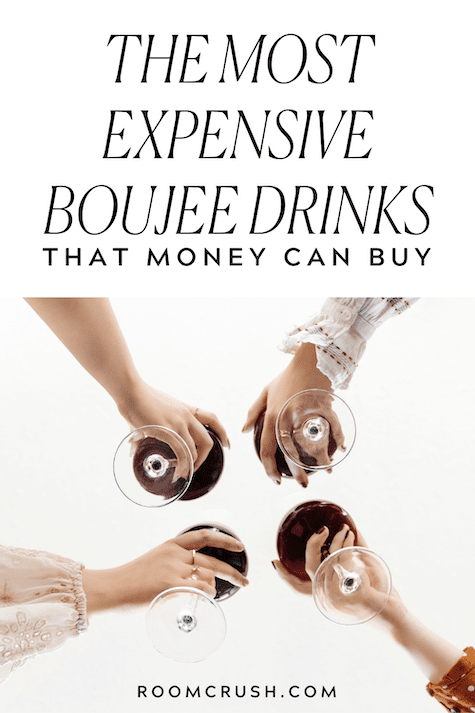 1. Domaine de la Romanée-Conti Montrachet Grand Cru is a Chardonnay and the world's highest-priced white wine.
The grapes are harvested from the Montrachet vineyard, which is known to be the best for many white wines.
It also produces some of the most expensive and rarest other wines in the world.
The high asking price of $4,774 is regarded as acceptable in some corners for the most respected white wine on the planet.
2. A bottle of Henri Jayer Richebourg Grand Cru Pinot Noir should be at the top of your list.
Reds offer a dryer taste with a deeper body.
This Pinot is the most expensive red wine the world has to offer made of grapes from the historic and highly respected region of Burgundy, France. Richebourg literally means 'rich town', making the $14,826 price tag all the more appropriate.
Pinot's offer a deep variety of tastes, and this one has the legs that show it from the stem of the glass to the upper regions.
3. Invest in the Macallan 1928 / 50 Year Old Speyside single malt Scotch Whiskey.
Whiskey is a particularly interesting choice since those who drink it are loyal to their brand.
This bottle holds "unicorn status" because of how difficult it is to find. Considering it's the most sought-after whiskey in the world and comes with a price tag of $40,665, it may be the best alcohol to impress fellow party-goers.
4. A bottle of 1858 Cognac Croizet, Cuvée Léonie is from one of the world's finest cognac producing houses.
Perhaps you prefer a stronger drink, a "gentlemen's" drink? Cognac is regarded as the ultimate man's beverage.
But we are all about equal rights around here so if you are a lady who enjoys these, cheers!
This bottle will set you back $135,209 but considering it has been aged over 100 years since the grapes were picked, this sharp-tasting rarity may be worth the price tag to impress the best if it's in your budget.
5. Be the ultimate party guest by bringing Cout de Diamants Champagne, coveted as the world's finest champagne.
What would a celebratory toast be without champagne?
The grapes are grown on a private family-owned vineyard in the Grand Crurated Village of Oger, France.
The bubbly is bottled and aged for three years before it hits the shelves.
Your bottle will be the talk of the party, not only because of the exquisite design, but also because of its high $1.8-million price tag, the highest-priced booze to party with in the world.
6. Ultra Premium Tequila Ley .925
Perhaps your holiday party is going to be more of a wild night, so you may want to bring tequila.
Pasion Azteca holds the world record for being the most expensive tequila bottle ever sold at $225,000.
Ley .925 contains 100% pure blue agave from the cactus plant, while most other tequila brands contain just 70% to 80%.
But you probably want to keep the bottle once it's empty since it's made of solid platinum and white gold, making it a real collector's find.
For some reason, we think you'll be buzzing about it for a long time.
Related: How To Make Your Home Look Expensive