16 Expensive-Looking Gifts That Are Luxurious Yet Affordable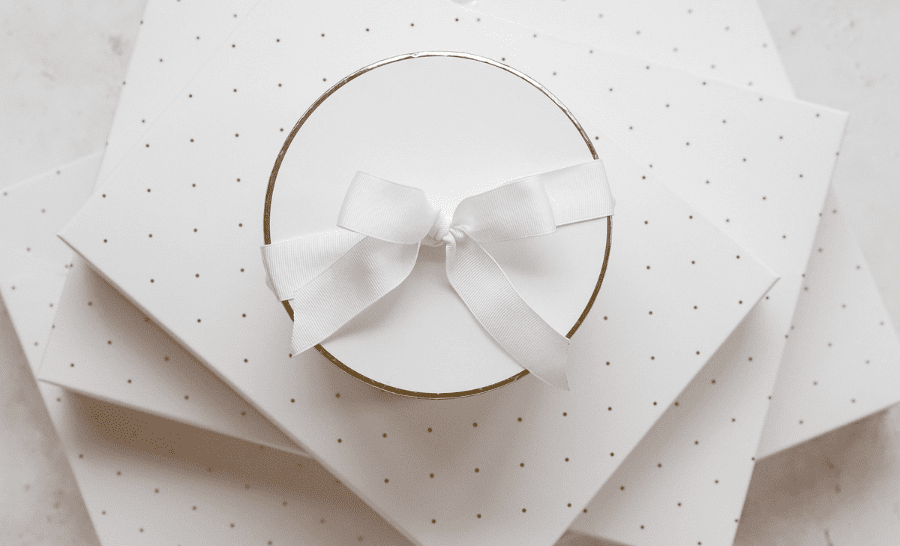 We found the best expensive-looking gifts! If you're on a budget, you might be worried that you can only get someone a cheap-looking gift that makes them feel like an afterthought.
But this couldn't be further from the truth! It's definitely possible to get someone a luxurious gift without breaking the bank, and our gift guide is here to help.
Not only are these gifts all $50 or under, but they look like they cost hundreds of dollars more. Plus, your wallet will thank you!
Here are our picks for the 16 best expensive-looking gifts!
---
7 Easy Home Updates eBook: Free!
Today, get a free copy of our ebook that shows you 7 simple updates you can make in your home this weekend that will make your home look expensive and increase its value. Tell us where to send your free copy:  
This site uses ads and affiliate content as an Amazon associate earning on qualifying purchases. Disclosure.
---
16 Expensive-Looking Gifts That Are Luxurious Yet Affordable
Some of the most common "cheap" gifts include things like discount bath-and-body sets, plain decor that you'll never use, and generic mugs that look like they came from the dollar store.
We've all probably been on either the giving or receiving end of one of these gifts at one point or another.
And chances are the gift either didn't last long or wasn't very usable.
This is what causes the misconception that a budget-friendly gift has to be low quality or visually unappealing.
But this definitely doesn't have to be true! And when you know what to look for, you'll find that it's not too hard to find a luxurious, good-quality gift for $50 or less!
You may have seen our list of the best thoughtful luxury gifts, which is worth checking out too!
But if you are on a budget, the affordable gifts in this article below, has you covered. You'll see that each of these expensive-looking gift ideas looks great, and are useful too.
Plus, you'll be able to find something that fits your gift recipient's unique home design (and lifestyle).
Here's our expensive-looking gift guide to help you find the perfect gift under $50!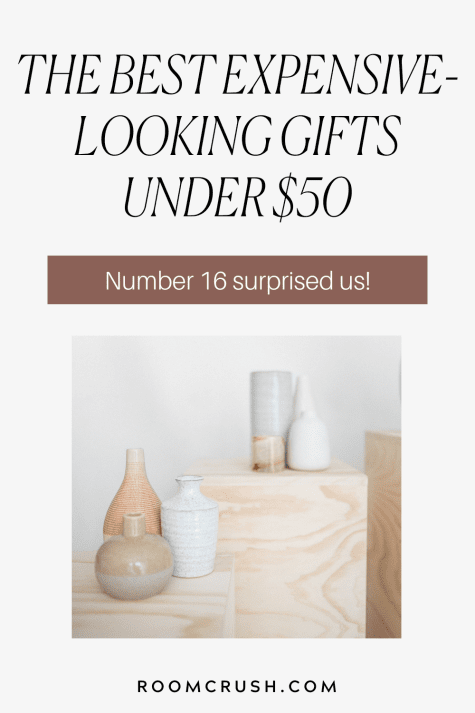 1. Luxurious Hand Soap and Lotion Set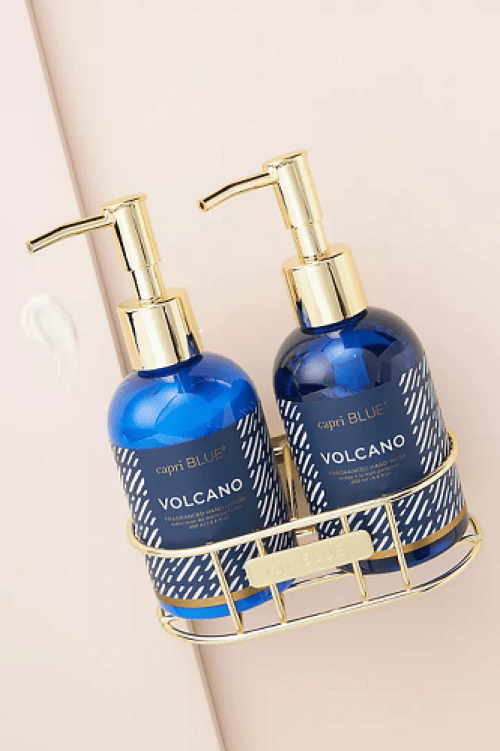 Most people don't put much thought into how the functional objects in their bathroom (such as hand soap) actually add or take away from their decor.
This is why soap and lotion sets make for affordable luxury gifts that add to the decor and are useful.
And that's why we love this hand soap and lotion set.
Not only does it look like something you'd find in a fancy hotel bathroom, but it also has nourishing ingredients like olive oil and shea butter.
Plus, the fruity, tropical scent of the soap is based on Anthropologie's iconic Volcano scent.
The best part is your gift recipients can reuse both the bottles and the gold caddy once they've run out of the initial soap, extending its usefulness.
You May Also Like: These Are The Best-Smelling Laundry Detergent Brands
2. Minimalist Vanity Tray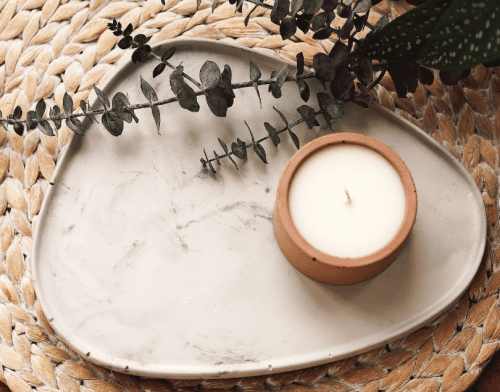 This handmade vanity tray looks like something you'd see in an interior design magazine spread on minimalism. We love its unique shape and the fact that it comes with rubber feet to stop it from slipping.
While most vanity trays are made of metal, ceramic, or plastic, this tray is made of concrete, making it extremely durable.
We love the "blanc marbré color," which is white with a marble-like pattern to it. This marble pattern adds a touch of luxury that makes the tray look far more expensive than it is.
Even though the tray is sealed with varnish, concrete is very porous, so it's best to use a tray like this away from water.
This tray would be perfect for holding perfume or jewelry on a vanity (making trays like this perfect inexpensive gifts for women), or in the living room as a candle, book, or decorative tray.
3. Tapered Candle Holders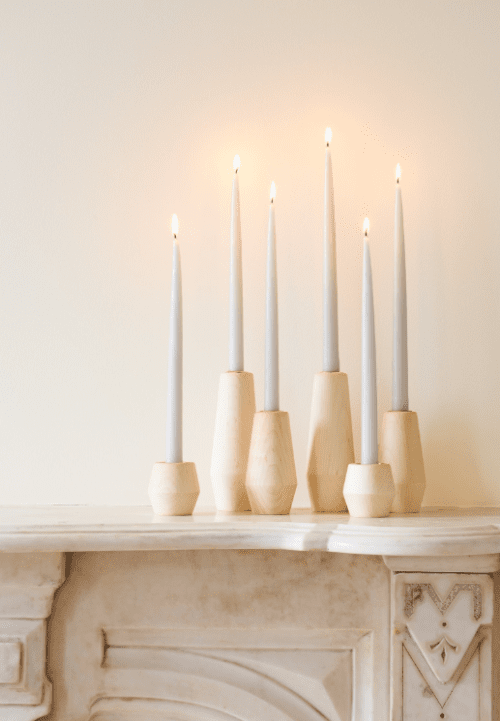 These tapered candle holders are perfect for the interior design lovers in your life.
Reviewers love these candle holders for their excellent craftsmanship.
The best part about them is that you can choose between lighter maple wood or darker walnut wood, depending on what you think your gift recipient would prefer.
Their unique, geometric shape gives a modern, yet sculptural touch to any home.
We love the idea of getting a large one and a small one, as the height difference adds sophistication and visual interest.
These candle holders also make for inexpensive Christmas gifts, as people love to light candles around the holidays.
Not to mention how good the wood would look with a wreath, like these wreaths that are sure to impress your silly neighbors.
You May Also Like: How To Choose Lighting For Your Dining Room
4. Grecian-Style Plant Pot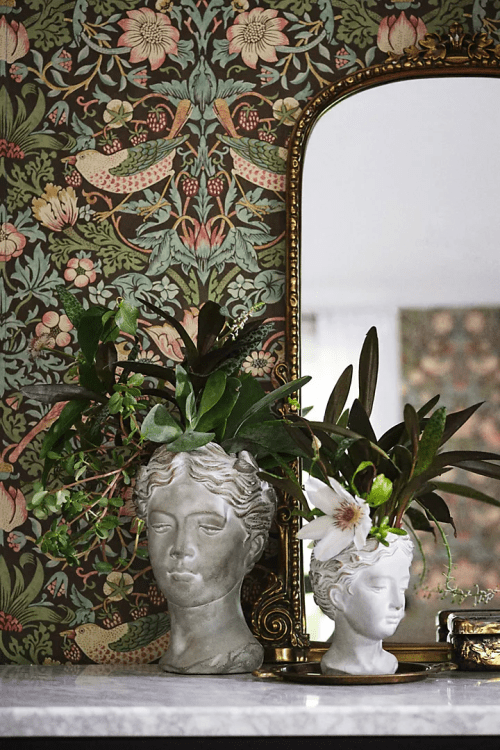 Plant pots make for some of the best affordable gifts, but the plain ones often look cheap and boring.
The key to getting a plant pot that also complements a room's decor is to get something in a unique shape and finish, like these Grecian bust pots.
We love how these bust pots add a touch of art to any space, and that they can be displayed together or separately.
While these bust pots would look great in any style of home, they make a beautiful decor addition to the patio or in front of unique wallpaper.
5. Resin and Wood Coasters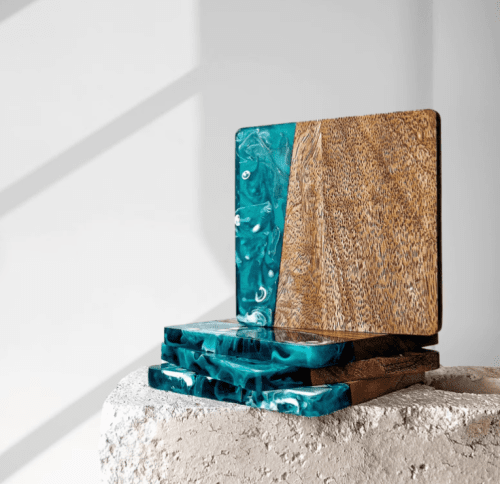 If you're looking for an instant touch of luxury, then look no further than resin.
And with these coasters, which are half laser-cut wood and half resin, you can bring a taste of the beach inside the home.
These coasters would look particularly great in an organic modern or coastal-themed home.
We love that the shop has really made these coasters to last: they're heat and UV-resistant, so you can put your morning tea or coffee on them without any issues.
Plus, you can leave them out in the sun and not worry about them turning yellow.
Plus, the shop itself focuses on sustainable practices.
These include using locally-sourced materials, powering their workspace with green energy, and emphasizing reusing and recycling!
6. Personalized Cutting Board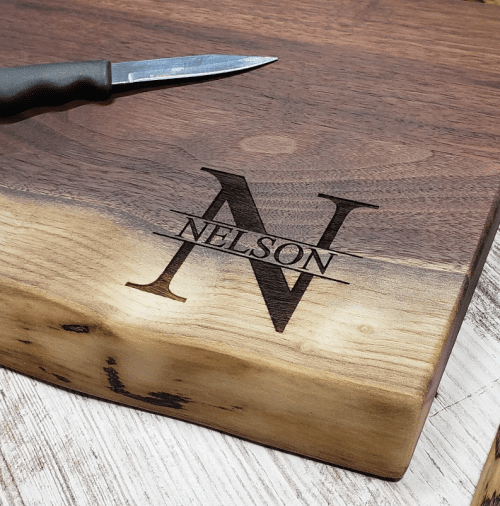 Personalized gifts are all the rage right now, and for good reason—it's one of the best ways to get a gift that shows someone you care!
This beautiful walnut cutting board looks like it could easily be upwards of $100, yet for half the price, you can get a fully customized, high-quality gift.
We love "Option 1" for the engraving style, as it looks both sophisticated and professionally designed.
The shop not only engraves each cutting board on the spot but makes each board using local wood and materials.
Some good ideas for engravings are the person's name/family name, their city, something they love, or something that's meaningful to them.
7. Antiqued Bud Vase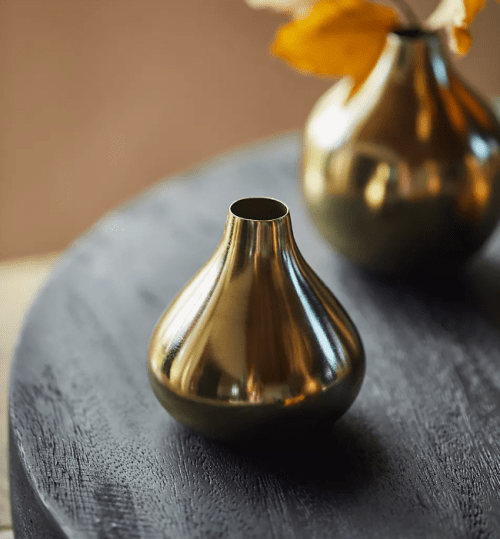 This cute bud vase is a fancy-looking, yet useful gift that people can use for multiple purposes.
For example, they can use it for freshly-cut flowers, fake flowers, incense, or just display it as is.
We love the unique shape of this vase and the fact that it can fit with any design style, from industrial to maximalist. It's the perfect accent piece for console tables, coffee tables, and corners where you need to add some decor.
We recommend getting the copper vase for those with more understated design styles and getting the bronze for those who prefer shinier pieces that stand out more.
8. Recycled Glass Tumbler Set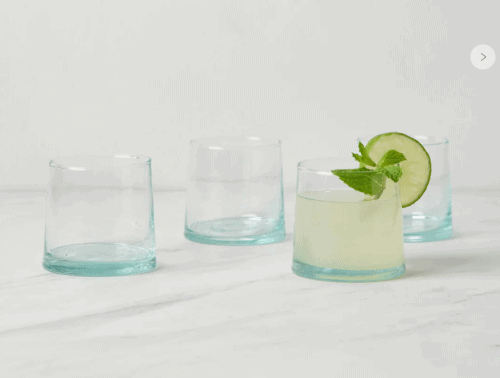 Tumblers make for perfect small inexpensive gifts because they instantly transform any table setting into restaurant-patio worthy.
We love the subtle blue tint on these tumblers, especially when paired with a lime and a summer drink!
These pieces are made in collaboration with Moroccan artisans, so each piece is slightly different and unique.
The best part about these tumblers is that they're unique in their shape and tint, yet neutral enough to suit any decor style.
9. Earth-Toned Bowl Set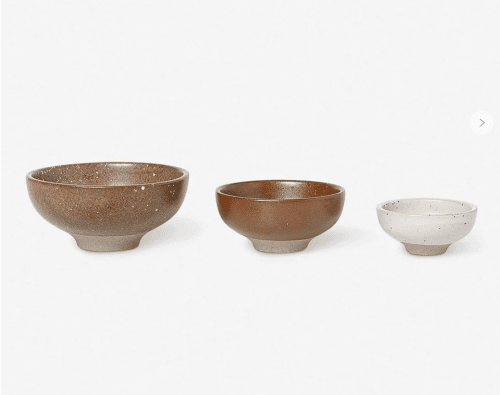 We couldn't believe this set of 3 artisanal bowls is under $50!
The earth tones of these bowls are just gorgeous and lend a truly artisanal look to each piece.
These bowls are also incredibly versatile. The 3 different sizes also mean that you can serve a variety of dips, sauces, and snacks for one table setting, or use the bowls individually.
Plus, you can even use the bowls to hold chopped ingredients while cooking!
These bowls would also make for a great housewarming gift, as your gift recipients can choose when and how to use each piece.
10. Bamboo Pendant Light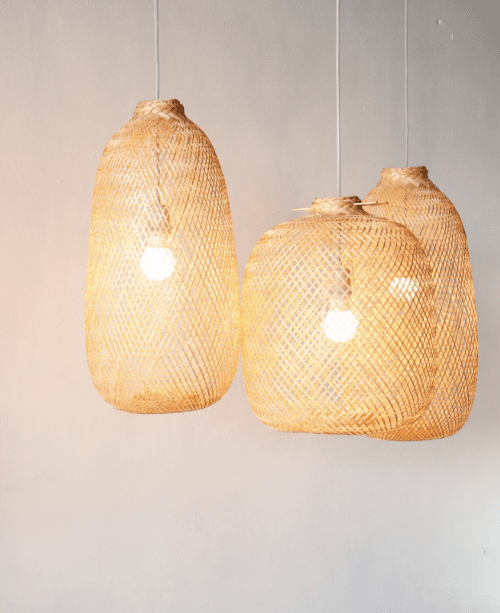 These beautiful pendant lights look like they could be part of a luxurious tropical resort. And at under $50 for a 21-inch light, anyone can bring a piece of this luxury into their own home.
We love that these pendant lights are eco-friendly. They're made from handwoven fishing traps used by local fishermen in Korat, Thailand.
And once each fishing trap reaches the end of its life, it's repurposed by local craftsmen using traditional Thai weaving techniques.
And one of the best parts about these pendant lights is that you can reshape them!
Since bamboo is flexible, you can pull the ends of the lights to create an oblong or globe shape, making it perfect for any home decor.
11. Mediterranean Guest Towel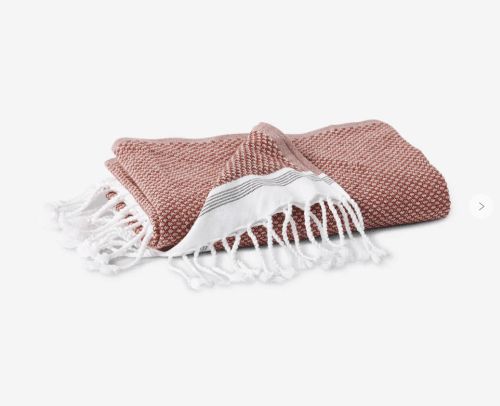 One of the best ways to add instant luxury to a home is to get a Turkish cotton towel.
Unlike regular cotton, Turkish cotton has longer fibers, which result in a stronger material that gets softer and more absorbent the more you use it.
You can choose between white, gray, and red, all of which are neutral enough to work with any bathroom style.
And with its softness and durability, you can help someone create their dream spa bathroom for under $25!
12. Decorative Scented Candle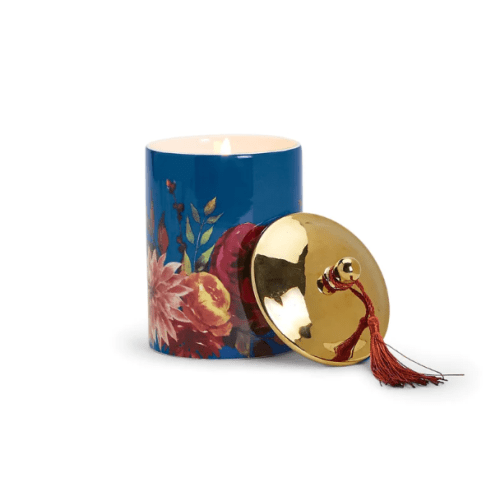 Most times, people burn the candle they're given and then throw out the container.
But a more eco-friendly way to gift a candle is to get one whose container you can reuse again and again.
That's precisely why we love this candle. The beautiful floral design on the porcelain candleholder and the metal lid makes for the perfect trinket tray, keyholder, or cotton ball holder in the bathroom!
This candle is also perfect for animal lovers in your life as it doesn't contain any beeswax or other animal products. Plus, the unique quince scent is something you can't find at your average candle store.
13. Olive Wood Utensils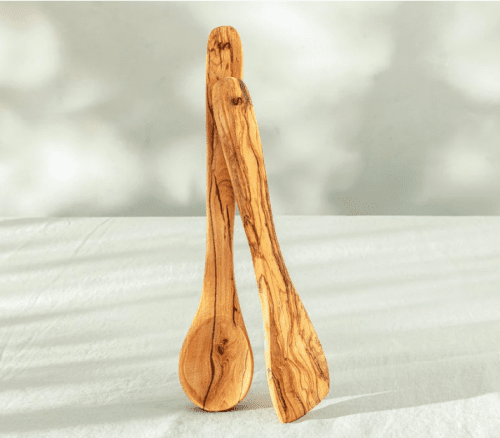 These versatile utensils make for a useful yet aesthetically-pleasing gift for the foodie in your life.
If you're not sure what to choose for inexpensive gifts for men, for example, then get these if your gift recipient loves to cook!
This olive wood utensil set is made by artisans in the Italian region of Puglia. It comes with a flat-bottom spoon and a rounded spoon, which are perfect for sauteeing, stirring, and taste-testing.
Just imagine how great this set would look with a rustic pasta dinner or as part of a luxurious outdoor dinner party!
14. Boho-Style Cotton Pillow Covers
Sale
Mecatny Boho Throw Pillow Covers Beige and Cream White Pillow Covers 20X20 Set of 2 Farmhouse Decorative Pillow Covers for Couch Sofa Living Room
【Boho & Farmhouse】These beige and cream white throw pillow covers are woven with beige tassels and cream white base fabric. Simple and neutral patterns give these knitted textured pillow covers a modern and boho style
【Thick & Durable】These 20X20 boho pillow covers are super thick and durable, made of high-quality woven and cotton fabric, antikle, anti-fading, no ball. The tassels of the couch pillow covers are woven firmly
【Sturdy Hidden Zipper】The delicate hidden zipper closure is designed to give these modern farmhouse pillow covers an elegant appearance. Sturdy and work smoothly, easy to plug and unplug
【Package Includes】Package includes 2 pieces beige and cream white boho pillow covers 20X20 inch. Pls kindly be noted that only set of 2 boho pillow covers 20X20, inserts are not included
【Care Instructions】 These textured throw pillow covers can be machine washed separately in cold water. Tumble Dry Low or Hang to Dry. No Bleach. Do Not Iron
What makes these pillows so luxurious is their minimalist design and their sturdy, high-quality fabric.
Unlike other pillows like this, these pillows are made of cotton (as opposed to lower-quality materials like polyester). Reviewers love how thick and durable the fabric is.
Given their neutral design, these pillows would make the perfect gift for any decor style, but they'd look especially great in a minimalist, bohemian, or urban farmhouse home.
15. Turkish Cotton Throw
Like the Turkish cotton towels above, this throw is incredibly soft, making any room feel like a posh hotel.
Plus, it's machine-washable, making it super easy for your gift recipients to care for their new throw.
Your gift recipient can use this throw in a bedroom, guest room, living room, and even as a warm blanket in the den.
The throw comes in both plaid and zigzag patterns. We love the light brown zigzag for the visual interest it adds to a room without taking attention away from the focal point.
16. Goop x Social Studies Textural Vase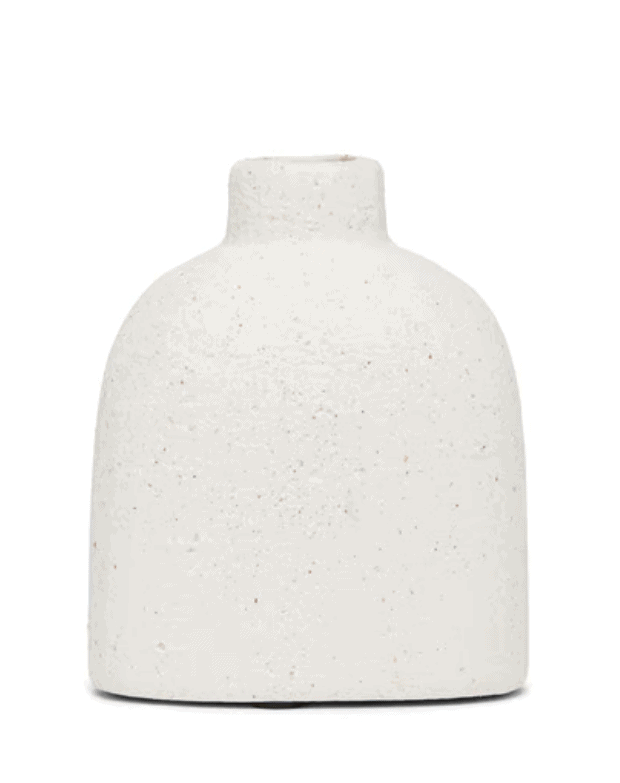 This elegant, minimal porcelain vase designed by Gweneth Paltrow's company Goop will elevate the class in any room.
It looks like it should be $100+ but surprisingly, it's less than $30!
Frequently Asked Questions About Expensive-Looking Gifts
How Do You Make a Gift Look More Expensive?
With gifts like soap and lotion sets, you can often remove them from their packaging and place them in an elegant box or bag with tissue paper.
But the best way to make gifts look more expensive is to get a gift that's made of good quality materials, like a Turkish cotton towel or a candle in a beautiful jar.
What Are Thoughtful Gifts?
The most thoughtful gifts are ones that someone can use regularly and that add to the decor of a home. This will make your gift recipient feel seen and appreciated.
Thoughtful gifts include olive wood utensils and resin coasters, which look high-end but can be used on an everyday basis.
What Are Sentimental Gifts?
Sentimental gifts remind someone of the time you spent together. One of the best ways to do this is to get personalized items like a monogrammed cutting board.
This way, the person will be reminded of your good memories together every time they use the item.
How Can I Make My Gift Look Good?
To make your gift look good, check out what it's wrapped in. Sometimes, even luxurious gifts come packaged in plastic or cheap-looking materials.
Remove these and replace them with an understated gift box and tissue paper, or use a gift bag that's neutral and matte rather than glossy.
What Are Some Unique Expensive Gifts?
Unique expensive gifts don't need to be something you've never seen before. Instead, they can be a unique twist on an everyday item.
For example, you can get a uniquely-scented candle, handmade resin coasters, or artisanal pendant lights.
What Are Some Affordable Luxury Gifts for Her?
Some great affordable luxury gifts for her include a minimalist vanity tray, Mediterranean-style towels for the bathroom, and some cotton pillow covers to decorate her living room with.
What Are Some Good Gifts for a Mom With Expensive Taste?
Some great gifts for moms with expensive tastes are luxurious-looking home decor items, as well as items she can use for entertaining.
These include elegant wooden candleholders, unique drink glasses, and earth-toned bowls she can use for sides and dips.
16 Expensive-Looking Gifts That Are Luxurious Yet Affordable – Conclusion
You don't need to break the bank to get expensive-looking gifts for your loved ones.
With a little bit of creativity, you can get something unique and beautiful that makes your gift recipient (and your wallet) feel appreciative.
Remember to look out for high-quality materials, minimalist shapes and finishes, and handmade or artisanal products.
These tips will help you pick out the best affordable luxury gifts for everyone on your list!
For More Gift Guides, Read This: