9 Unique Ways To Decorate Your Home Office
9 Unique Ways To Decorate Your Home Office: It can be hard to find the motivation to get to work when your home office isn't decorated. But if you took the time to decorate your home office, you wouldn't mind getting to work.
And if you work from home, you know that adding some decorative home office ideas to your workspace is a complete necessity.
This will inspire the flow of creativity and allow you to get down to business.
Skip working from your bed and get ready for these amazing ideas for decorating your home office for functionality, style, and productivity. 
---
7 Easy Home Updates eBook: Free!
Today, get a free copy of our ebook that shows you 7 simple updates you can make in your home this weekend that will make your home look expensive and increase its value. Tell us where to send your free copy:  
This site uses ads and affiliate content as an Amazon associate earning on qualifying purchases. Disclosure.
---
9 Creative Ideas To Decorate Your Home Office
Earlier this year, I turned my spare bedroom into a home office, and gave the space a nice fresh makeover:
Shop the room: SHOP ALL ITEMS HERE
Let's take a look at some other home office decor ideas to get your creativity flowing!
Shop The Room:
A well-placed home office will create an environment that is conducive to work, helping you achieve success on a day-to-day basis.
The best place for a home office is in a spare room never used for any other purpose, so that you can shut the door at the end of your working day and leave all your work behind.
You can also consider an outdoor home office like converting your garage into a home office, or a garden room too.
You May Also Like: DIY Guide On How To Build An Outdoor Garden Room
All in all, when choosing the location of your home office, consider the following questions:
Is there sufficient natural and artificial light?
Is there enough space for my desk, chair, filing cabinet, and other furniture?
Will I be able to hide my work away at the end of my workday? Call it the "shut the door" phenomenon.
Will I be as free from all kinds of distractions including noise and other interruptions as much as possible?
Is the external view likely to inspire rather than distract or demotivate me?
Once that's done, let's get proceed and decorate your home office already!
1. Paint It
The first step you can do as you decorate your home office is to just paint it!
Paint your office in a color that will inspire you to work. For some people, it's the normal office beige.
Others will prefer ocean blue to make them feel calm and concentrated.
Check out this color chart from HG TV to know which color you'd prefer to invoke certain moods and emotions, for not just your home office but also your entire house:
2. Add Some Artwork
Art is a good way to start small talk, right in your home office. Thus, the story about acquiring art or what the art means for you can be a nice introduction to any meeting and a good talking point.
When choosing the kind of artwork for your home office, consider these decorating ideas:
Personal preferences. Home offices are personal offices that present a wonderful opportunity for you to express your unique style while still demonstrating an artistic point of view. Thus, choose whatever piece you love!
Choose your theme and message. In this case, the piece of artwork should communicate relevance to your kind of work. An example would be using pop art, abstract art, or striking photography if the main thrust of your work involves creativity and innovation. For a conservative and laid-back kind of work, traditional pieces like African artwork bring a sense of stability.
Consider the kind of environment you want to create. If you're looking for a bold and playful vibe, go for more visual artwork while if you're looking to create a sophisticated ambiance, traditional pieces, or Zen artwork, spiritual art or, calligraphy would come in handy.
It's color. The colors you choose to incorporate into your choice of art will have a profound effect on the feel of your workspace. While orange, yellow, and red, bring a sense of energy and evoke spontaneity, cool blues, purples, and soft neutrals can create a feeling of calm and order. Depending on your color choice, you can use art to create a focal point too, and ensure your artworks with the decor of the room.
The size of the artwork in relation to the available space. Be sure to scale your piece of artwork according to your room's size. While oversized pieces would look amazing in larger rooms, they could overpower smaller rooms.
If you are the kind of person who gets bored easily, you could vary the art on the walls every other month to mix things up.
However, while visually stimulating pieces like artwork inspire creativity, they can be distracting especially when too busy. Thus, you might consider going for pieces with only a few colors in them.
You May Also Like: The Correct Dining Room Rug Size For Your Table
Above all, don't overdo your art! Just a few key pieces can add significantly to the overall ambiance of a space.
As open-minded as you are, feel free to go for framed artwork, sculptures, ceramics, or photographs to create an eclectic mix.
3. Create A Personalized Gallery Wall
People burn the midnight oil in their designated work areas and sometimes, work can get so demanding and stressing too.
That's why, we recommend having a personalized gallery wall, of not just any images, but of images that inspire you.
This could be your family, a special one, photos you took while on a vacation, the dream car or house you want, and just anything else that inspires you to keep on chasing your dreams.
You may want to also design a gallery wall to feature a vision board emphasizing what matters most, your career goals, and what success means to you.
And when you're feeling uninspired, just look at your gallery wall for immediate inspiration! Many love these collaged walls because they really make a room and let you express creativity.
Pro Tip: While hanging a gallery wall is a creative and inspiring way to decorate your home office, displaying antique porcelain plates over your walls takes it to the next level! It allows you to show off your aesthetic. Use wire plate hangers to display your vintage or posh collection.
4. Upgrade Your Office Furniture
Your office furniture should serve you, not the other way around.
Thus, consider investing in an office desk and a great chair-a beautiful, ergonomically correct, comfortable seat is worth every dime.
When arranging your office furniture, be sure to include bright pops of color here and there to keep you inspired even when bogged down with work.
It could mean adding some throw pillows, or a bold velvet seat for the guests.
Pro Tip: Strong pops of color can be used to create a focal point but should include a touch of the dominant color to pull the room's décor together.
Keep in mind that light colors tend to expand a small space. On the other hand, warm tones, particularly reds, pinks, golds, and oranges, can make a spacious room feel cozier.
5. Add A Stylish Rug
Get this rug here!
A cozy area rug adds visual interest to your home office whilst providing soothing sound absorption.
Using a patterned area rug also helps to define the space, and offer warmth to your office floor – you need it!
6. Check the Lighting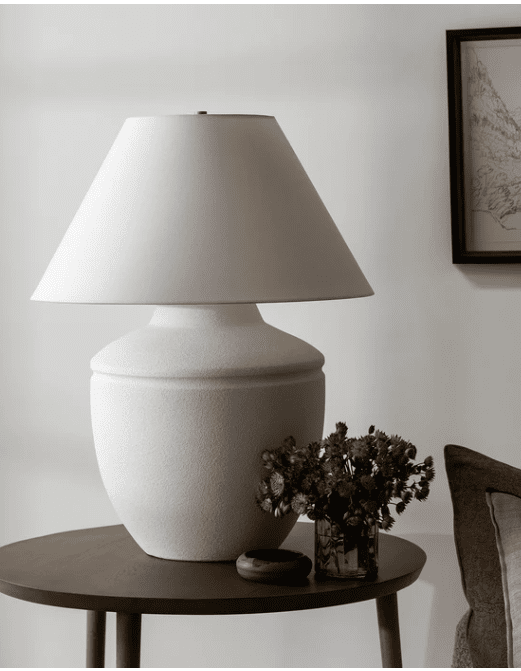 A bright and well-lit home office is the perfect place to think and create. You cannot overlook this aspect as you create and decorate your home office.
You want to take advantage of the natural light that streams into the room since natural light improves mood and productivity.
This could be by positioning your home office close to a window – preferably one that gets more sunlight.
Read: Office Decor That increases Productivity
Also, position your computer or laptop to ensure no glare from a window or overhead lighting.
Proper lighting also helps to cut down on eye strain and headaches.
Apart from natural lighting, consider installing a beautiful pendant lamp on your desk for task lighting. And if you love extra flair, a chandelier would be perfect!
You May Also Like: The Best Places To Install Pendant Lighting In Your Home
7. Upgrade Your Storage Organizers
Let's face it. How many times have you found yourself scrambling to find a pen and paper while an important call was ongoing?
Thus, the importance of perfect storage organizers in your home office.
Since your desk is going to be the place that you need to maximize productivity.
It can be a lifesaver to implement useful tools that have the power to keep every single desk in the office organized, on-brand, and looking polished as well as orderly.
Start by labeling everything to ensure no confusion when reaching out for your basic office supplies organized.
Add some canisters for the pens, a well-curated bookshelf for grouping books by color, honeycomb shelves for the keys, or files for important documents.
Of course, organization is key to optimizing your space!
You May Also Like: Multiple Electrical Outlets Not Working | What's The Cause?
Pro Tip: Vertical organizers like floating shelves on the walls help to get the papers and office equipment off the desk while vertical file folders on the desk help to keep important papers within arm's reach.
8. Introduce A Bulletin Or Peg Board
Bulletin boards spruce up dull and bare walls, whilst being useful for conveying also sorts of information.
So, if you need a place for your timetable, calendar, to-do lists, or words of affirmation, introduce a bulletin board or a pegboard in your home office.
This promotes effectiveness in task completion and you want to make it bold enough that you can see it anytime you step into your home office.
9. Add Greenery & Fresh Flowers
Adding greenery to any space makes it come to life. Particularly, live plants and not plastic plants. If you're unsure about which plants to bring into your office, we got you!
Houseplants also improve air quality and can give you a sense of calm.
If your home office is a little on the darker side, you can get a low-light plant.
Fresh flowers in a vase also go a long way in providing scent and beauty around your office.
9 Ways to Decorate your Home Office – Conclusion
Your space should inspire you—and reflect your unique personality. So don't be afraid to go all out. You don't have to limit yourself to the choices of decorating your own office space.
If you desire a chic and fashionable space, then dress up your home office with an accent wall for some added depth to your space and an elegant chandelier to add a little glamour.
After all, your home office should inspire you to work better, smarter, and more creatively. Now it's your turn: go ahead and decorate your home office!
KEEP READING
Pin This: