10 Ideas To Update Your Boring, Old, Tiny Bathroom Stylishly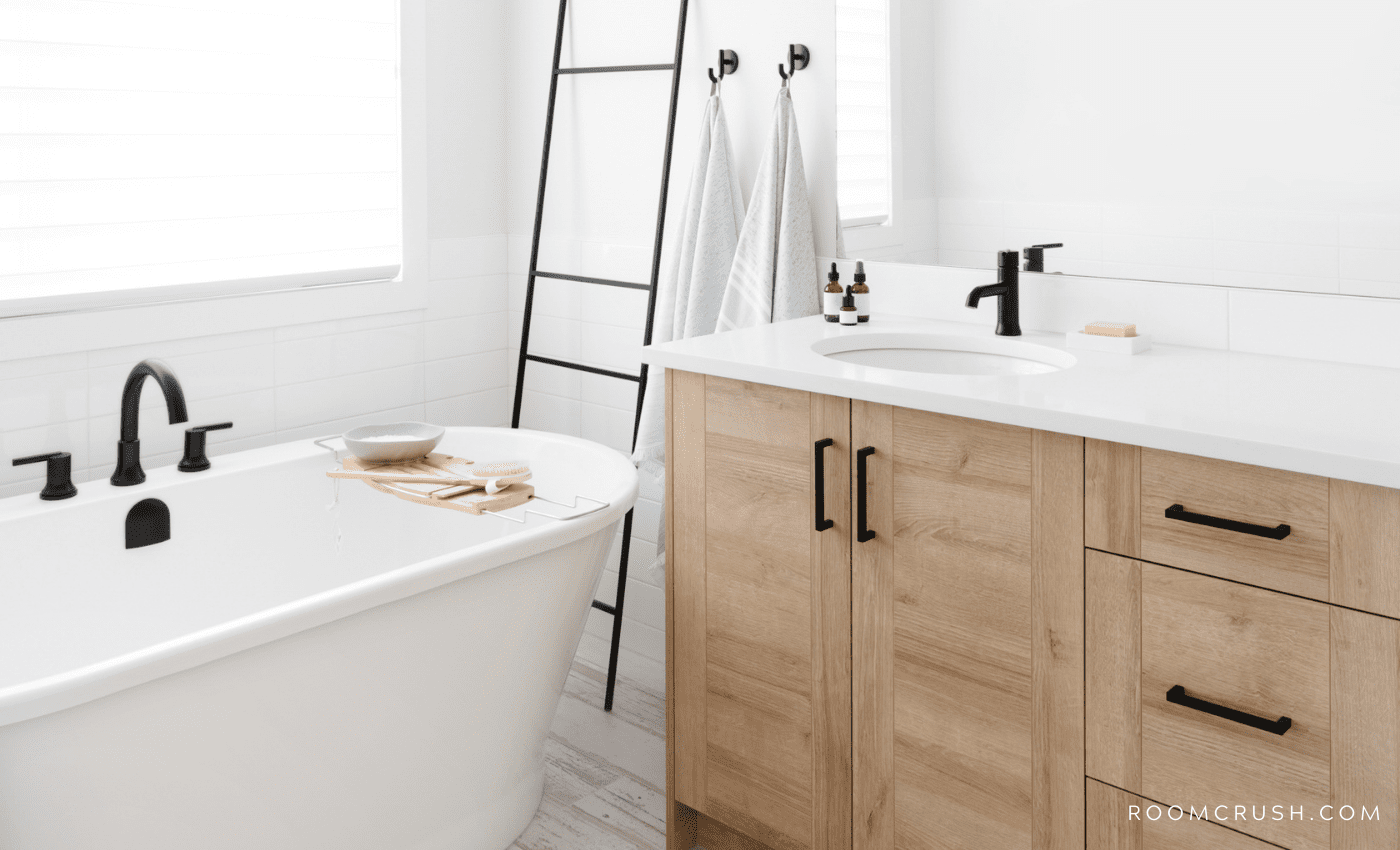 Do you have a tiny bathroom? Are you bored of your old bathroom design, and want some tiny bathroom inspiration?
When it's time to update your small, boring bathroom and give it a brand new stylish, and spacious look, RoomCrush.com has you covered.
In this article, we will help you transform your bathroom into an elegant space with these tiny bathroom decor ideas!
Read on!
---
7 Easy Home Updates eBook: Free!
Today, get a free copy of our ebook that shows you 7 simple updates you can make in your home this weekend that will make your home look expensive and increase its value. Tell us where to send your free copy:  
This site uses ads and affiliate content as an Amazon associate earning on qualifying purchases. Disclosure.
---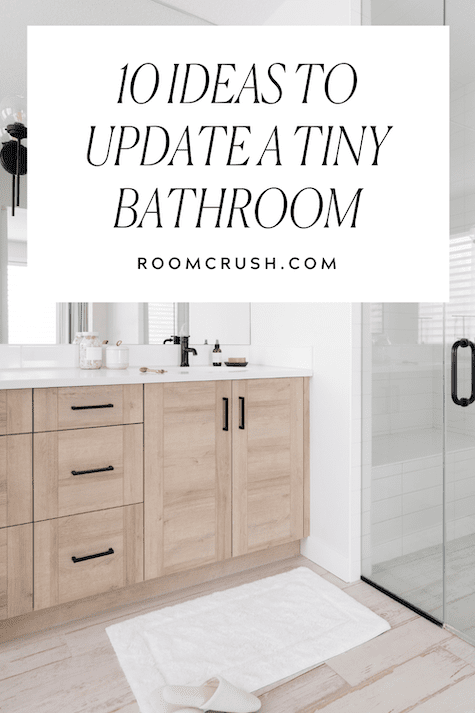 10 Ideas To Stylishly Update Your Tiny Bathroom
The great thing about a tiny bathroom is that because the floor space is small, you can do a major renovation using luxurious high-quality materials, without blowing your budget.

Here are ideas to update your tiny bathroom with style and make it look stylish and spacious: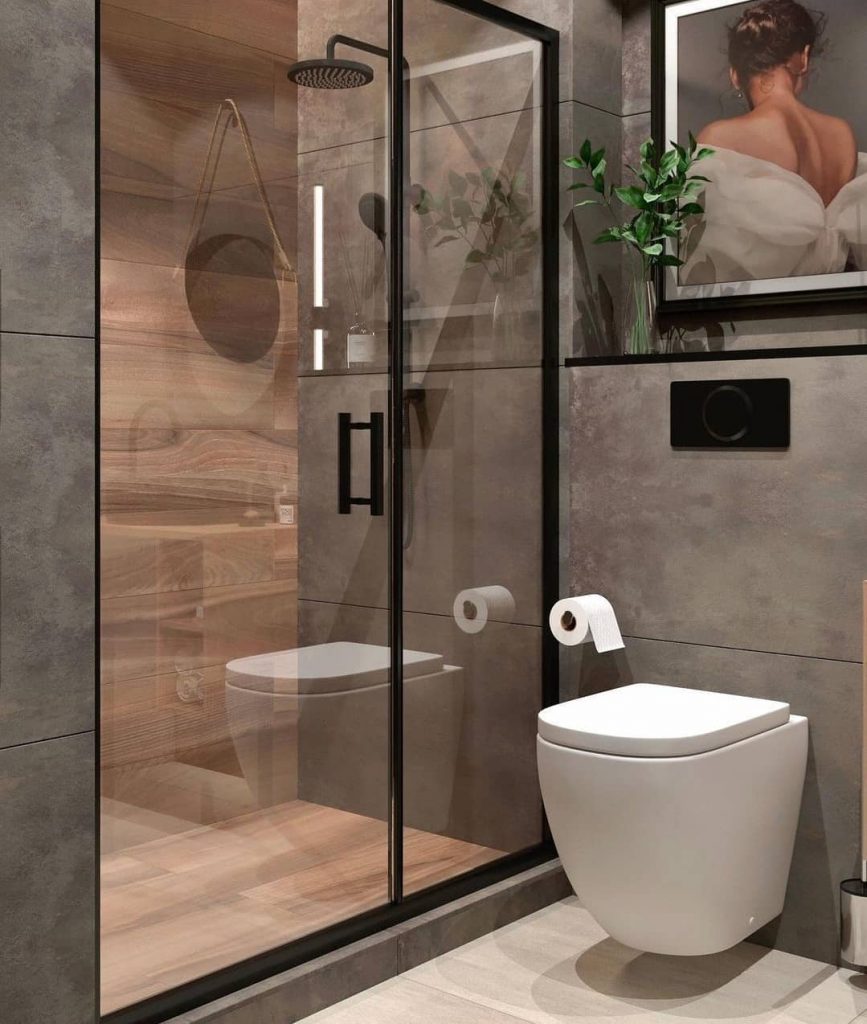 While a small-space bathroom almost seems to have not much space to work with, you can get creative and make the most of the square footage.
There are many small space tricks that can be done, including the perfect combination of mirror and glass, beautiful floating vanity, and an ample amount of storage in all of the right places.

You May Also Like: How to Create A Spa Bathroom at Home
1. Use Light Colors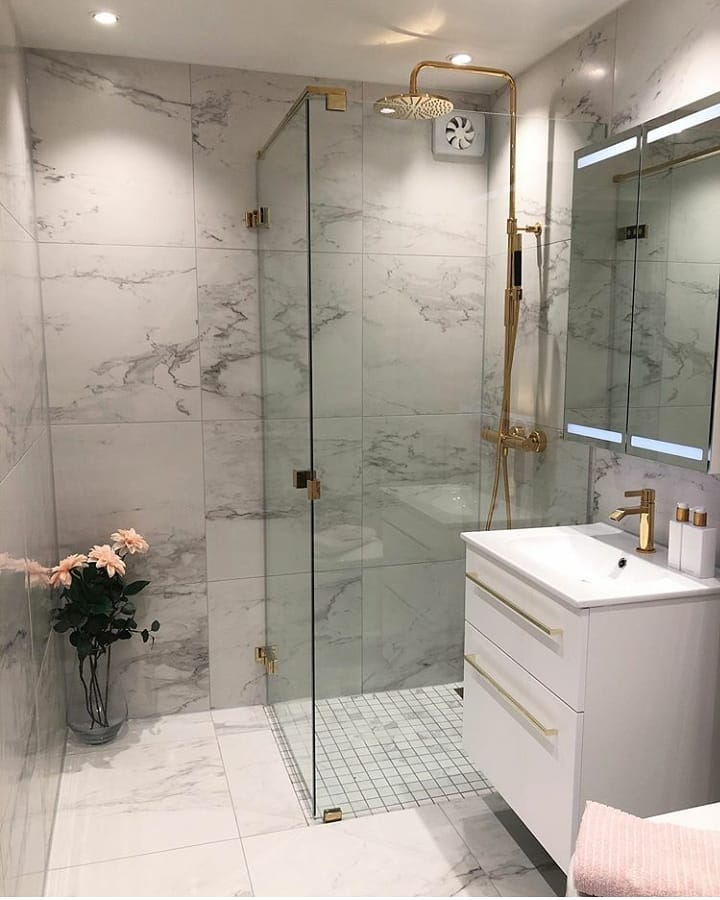 If you want to brighten any room—fast—grab a brush and paint light wall colors.
Think white, yellow, cream, light blue, or light pink.
A tiny, compact bathroom will feel more spacious if you opt for neutral colors or light pastels, particularly for the floor and wall tiles.
These light colors have the ability to reflect light, making the space feel clean, bigger, and airy.
When using white, ensure your tiny bathroom doesn't look stark white by mixing other elements and accessories like hardware in creamy off-white to soften the clinical white look.
If you would want to add more interest and depth to your tiny bathroom by using bold colors, then put it on a single wall, a shorter one is much better.
You can also use the bold color subtly below the eye level.
It's important to mention that no matter how nicely styled your bathroom is, if the floors are a mess, it won't matter!
And this is even more true when it comes to tiny bathrooms, small spaces are unforgiving when it comes to dust!
So keeping up with vacuuming and mopping will be key.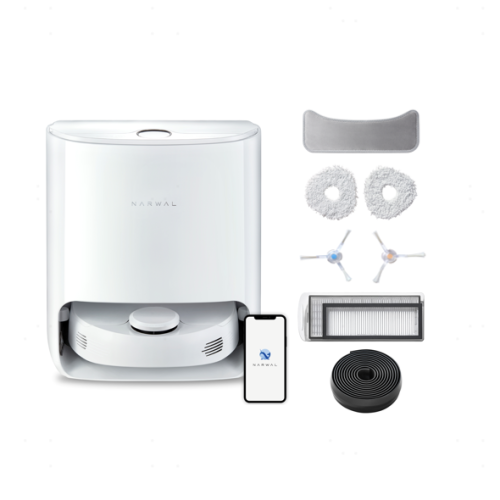 Personally, I loathe cleaning floors, so I bought a Narwal to clean my floors. Now I don't think I could live without it, I love it so much.
Narwal is a robot vacuum and mop combo. Yes, it even mops your floors automatically! 
Highly recommend! 
You May Also Like: How To Decorate A TV Wall Stylishly
2. Go Big And Incorporate Glass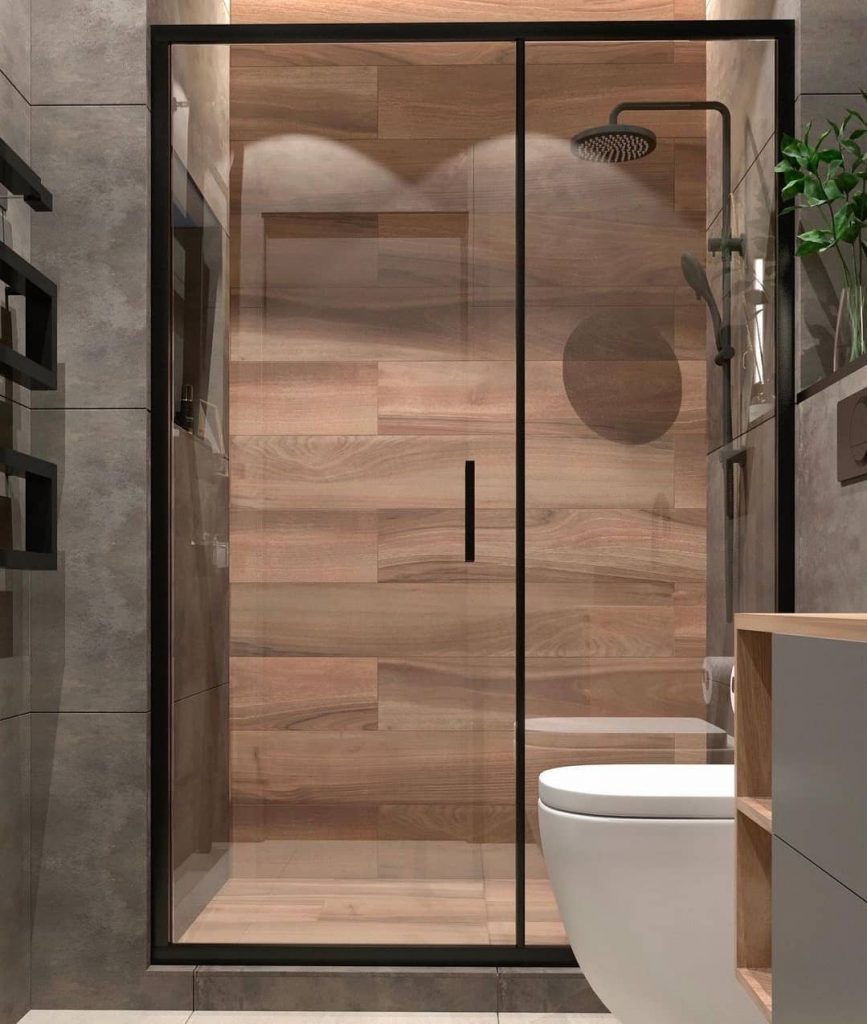 We all know that glass can make a small room appear larger.
You can add a fixed glass shower panel which is a great way to add style and functionality to your bathroom.
This panel of glass allows you to do away with a traditional shower door, as it acts as a shield and prevents water from spraying out of the shower.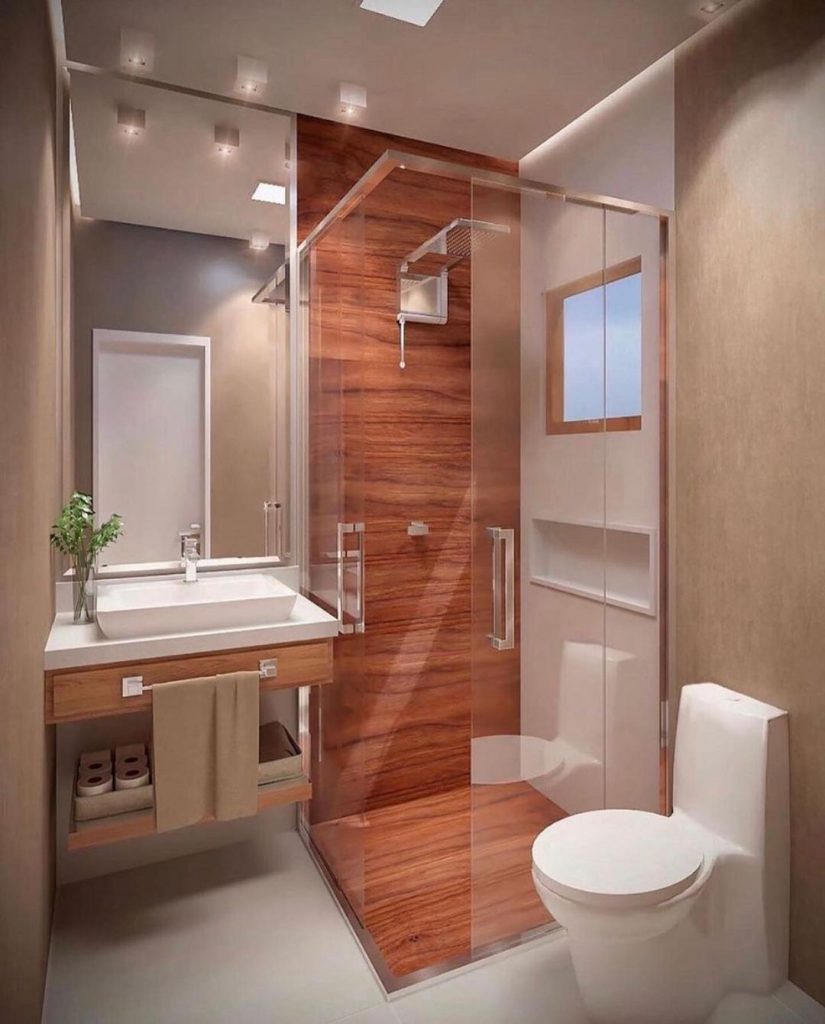 A fixed glass shower panel adds a touch of style and elegance as the glass looks more refined than a shower curtain.
It also offers you an open feel, and can make your bathroom look bigger, lighter, and more open (especially for a small bathroom layout).
To ensure the durability and safety of bathroom users, pick high-quality glass that also allows for more natural light into their design.
Look for premium toughened glass suppliers in your city who can offer a combination of style and security.
Another way to incorporate glass is by getting a tempered glass vessel sink, which gives your bathroom a spa-like feel.
3. Use Mirrors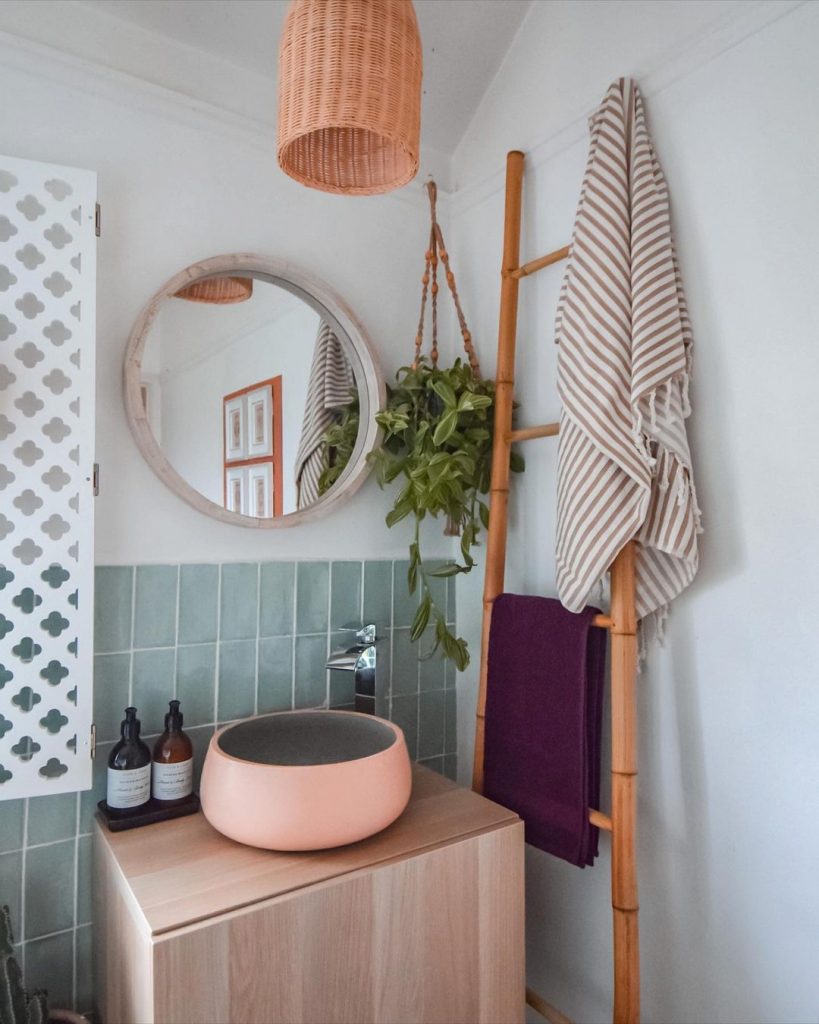 No bathroom is complete without a mirror for functional and visual effects.
A bathroom mirror is key when it comes to our daily grooming routine like shaving, wearing makeup, and styling our hair.
For most people, it is one of the last things one looks at before going out.
Thus, you want your bathroom mirrors to be both stylish and functional, so it's important to make sure you find the right mirror for your home.
Bathroom mirrors are typically larger than other mirrors in your home and might double as storage units for your toiletries.
You can combine bronze or copper bathroom mirrors with neutral colors to give your bathroom a simple and elegant finish.
You May Also Like: 9 Dazzling Mirror Decorating Ideas & Mistakes To Avoid
4. Make An Impression With Creative Lighting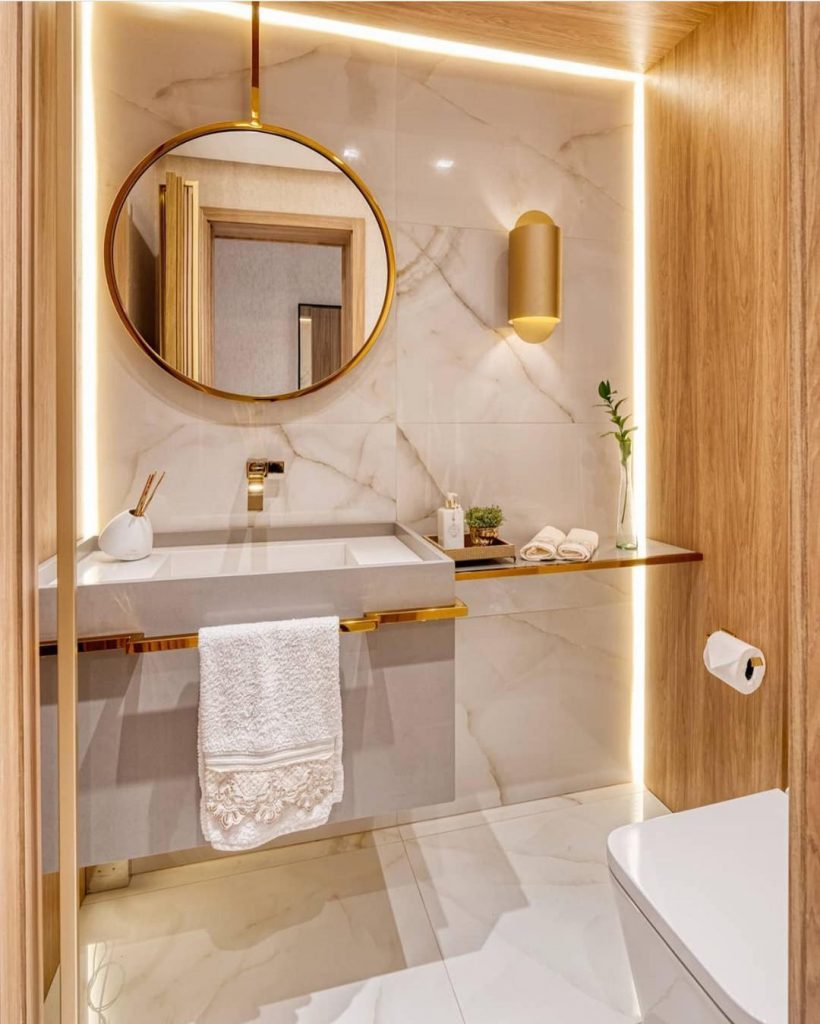 It's not surprising to see that the bathroom most often gets overlooked when it comes to home decorating, let alone ensuring it is well-lit. These are some of the best bathroom styles ideas because you can be so creative with them.
For starters, open up your bathroom to natural light- a small window near your tub, or adding a skylight.
And when it comes to bathroom lighting, one of the best options to set the mood is installing recessed shower lighting.
Recessed lighting is perfect for providing soft lighting in the shower that allows you to slowly wake up in the mornings or wind down at night.
Overhead lighting is also a sleek and unique option.
You can look for bathroom fans with lights that can help circulate air and light their bathroom.
If you do makeup, hair, or other grooming in the bathroom, you will need to install vanity lighting in the bathroom to help you see better and clearer as you go about your grooming routine.
Skip the harsh fluorescent lights and go for a dimmer. Lighting options like using smaller lamps and candles are ideal to set the mood and create a soft spa-like ambiance.
Indeed, with the right lighting, you can easily improve your bathing and shower experience.
5. Add A Floating Vanity or Sink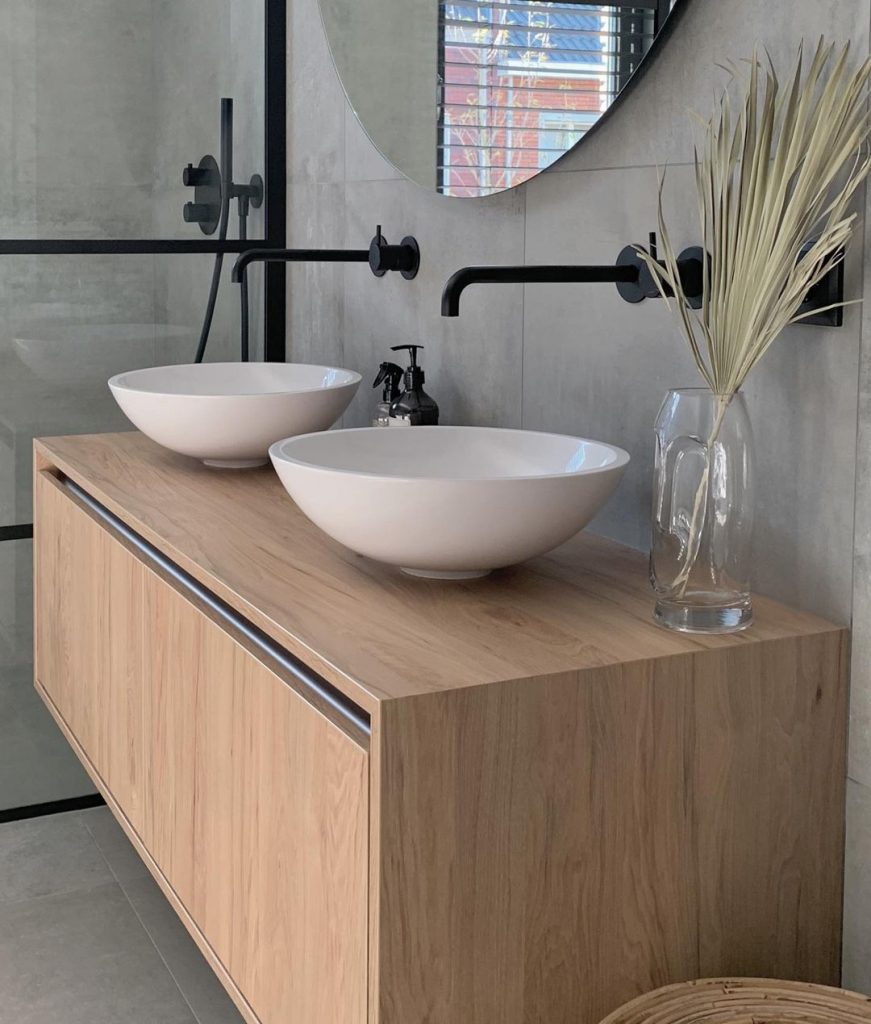 The bathroom vanity is one of the most exciting decisions to make when renovating your bathroom.
Whether you choose a floating vanity that is attached to the wall and does not rest on the floor of the bathroom or a floating sink, you have the bonus of more space.
Floating sinks are fantastic guest restroom decor ideas as you can add multiple sinks if you anticipate multiple guests.
Floating bathroom vanities leave space below the vanity to the ground and floating sinks leave space in the storage areas underneath.
When picking a floating sink, switch away from the typical porcelain sink bowls and make a style statement by going for imperfect shapes and natural materials, like thick tempered glass, or stone.
Check out my own bathroom makeover in the image below, where I used an unusually wide and low floating sink to create a spa-like space in my tiny bathroom: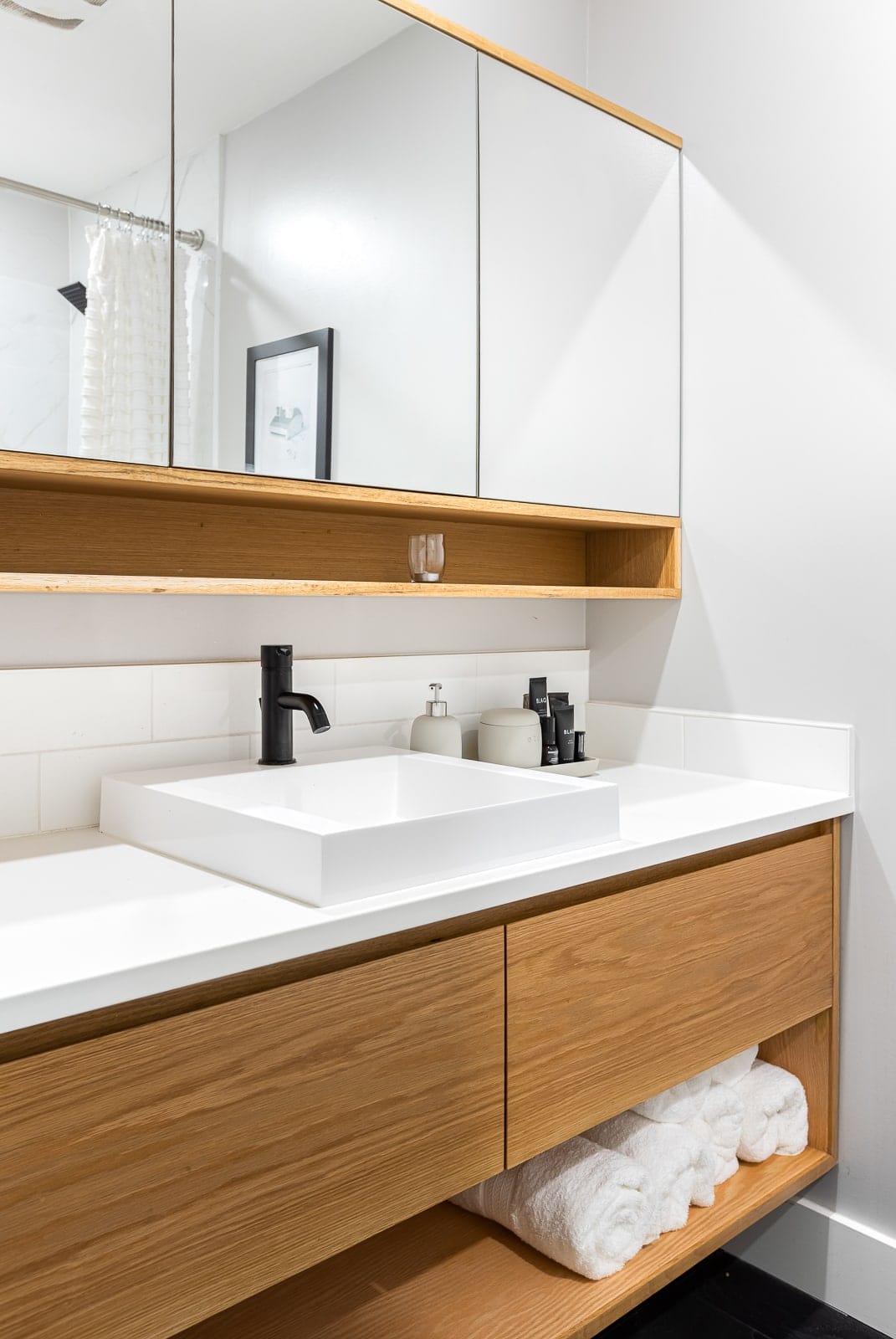 My husband Nick built the custom vanity out of white oak. Visit the RadDadBuilds blog to watch Nick's video tutorial to see how he made it.
6. Install Wall-Mounted Cabinetry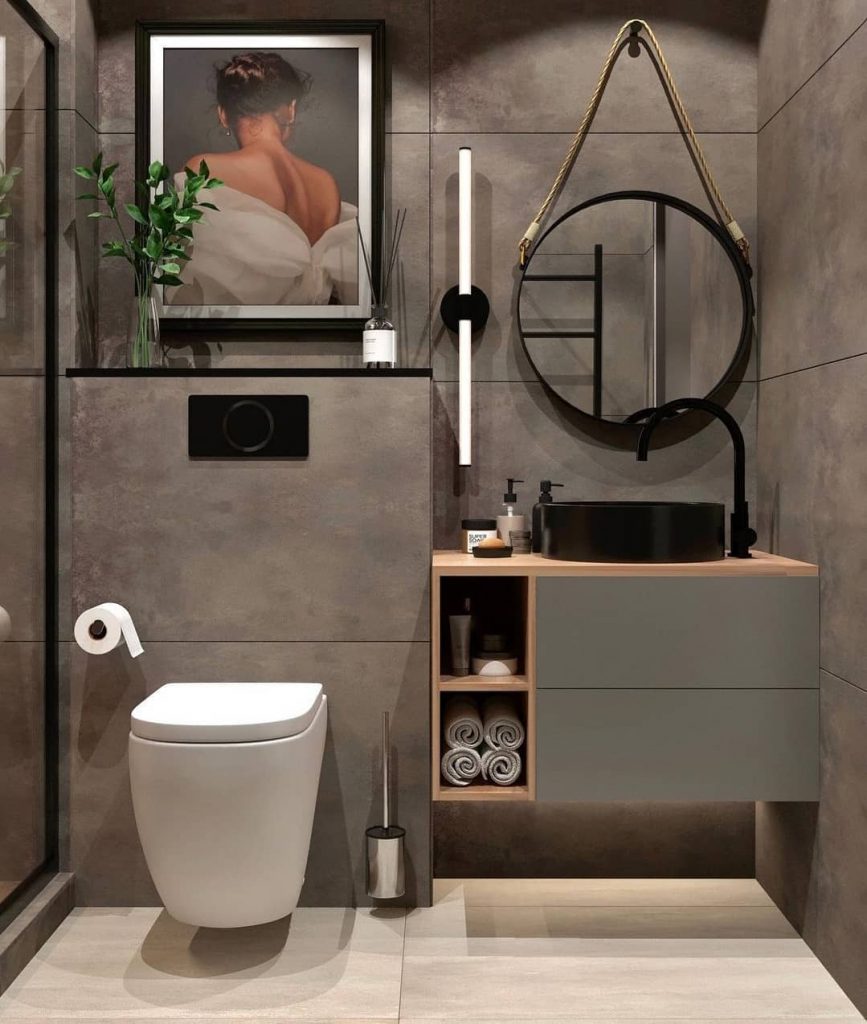 A great way to save space in your tiny bathroom is by installing wall-mounted bathroom cabinets that provide plenty of storage space whilst looking very stylish.
They also help keep the floor clear and easier to clean, giving the illusion of larger floor space.
A bathroom storage cabinet also helps conceal a majority of the bath products since your countertops won't be overloaded with stuff, making the already tiny bathroom look cluttered.
And if you have little floor space but enough height, then get a tall bathroom storage cabinet for even more storage capabilities.
Choose a color you prefer and consider getting adjustable shelves inside the cabinet to ensure more storage.
Of course, if it's difficult to drill into the walls of your bathroom (such as if you have tile all around the walls), then opt for a freestanding storage cabinet instead.
7. And A Wall-Mounted Toilet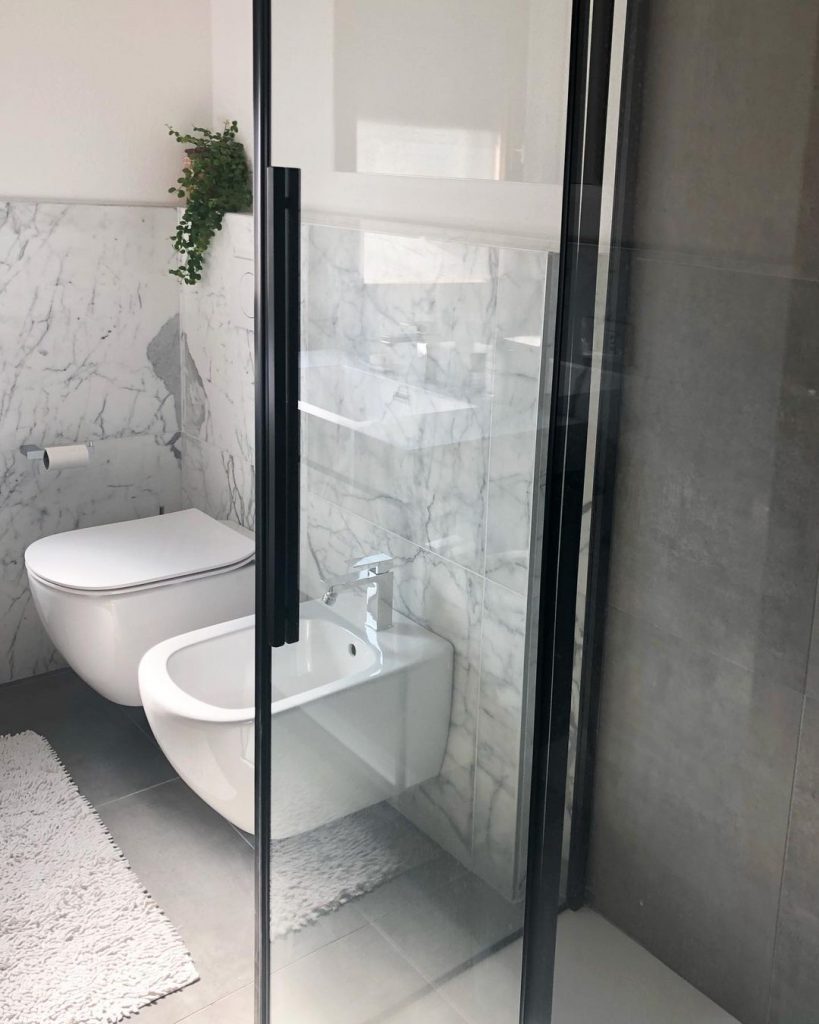 Looking to have more space in your tiny bathroom? Then add a wall-mounted toilet.
When properly installed, this design is actually quite strong and saves a lot of floor space since it does not have the center pedestal and upper tank to contend with.
They are also easy to clean using a mop to clean the area around without bending down as they are not connected to the floor.
While wall-mounted toilets are great, they can be more difficult to install than the regular kind.
The water tank is located behind the wall thus tank installation requires removal of drywall, making such a project best for when undertaking a new build or a remodel.
So, best to hire a professional to install it.
8. Tile Creatively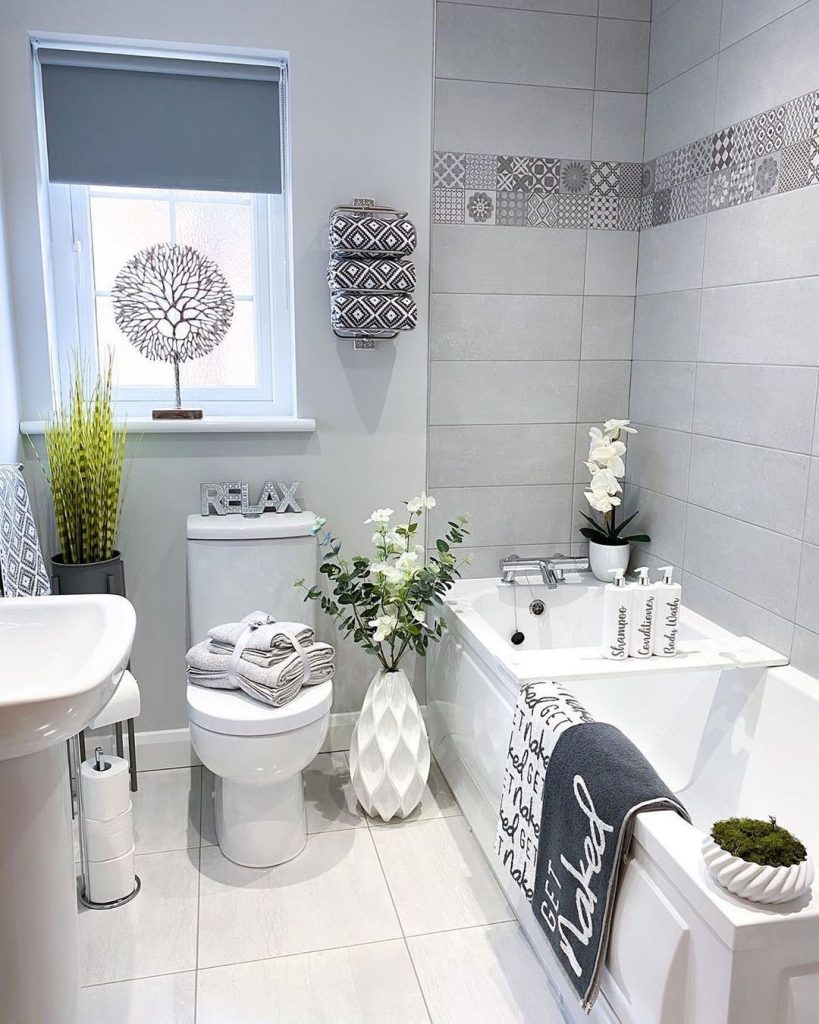 You already know that tiles are perfect for the bathroom.
Tile is easy to clean and there are endless designs and arrangements that can help you create a completely unique bathroom design.
Wall tile is easy to clean, long-lasting, and adds incomparable style to your bathroom. So, for your tiny bathroom walls, use one kind of tile in light colors.
Tiles also add more visual interest if you have a bathtub shower combo for small spaces.
While you can match your floor and wall tile, it is also a great opportunity to create contrast in a different color, shape, or material to create interest.
Only use a different color or shape on the floor only and avoid using bold-colored tiles in your tiny bathroom as this might create a jewel-box effect that can make it look smaller.
If you don't want to go that bold and just stick to all-white, try tiling the floor in a coordinating color.
Tiling your shower all the way to the top of the ceiling is a similar strategy that gives height to your bathroom.
You also want to avoid switching to another tile partway up the wall can visually cut the room off, making it appear smaller.
Be sure to minimize grout lines during the installation to ensure a clean finish.
Thus, larger designs are a great option for tiny bathrooms so the room feels less cluttered and more spacious.
Pro Tip: Use vertical shower tiles to draw attention up, creating the illusion of a higher ceiling.
Also, if you're using both tile and paint on the walls, using similar colors will help smoothly transition from one space to another without hard stops.
You May Also Like: 15 Ideas of Decorating your Walls without Repainting
9. Create A Green Zone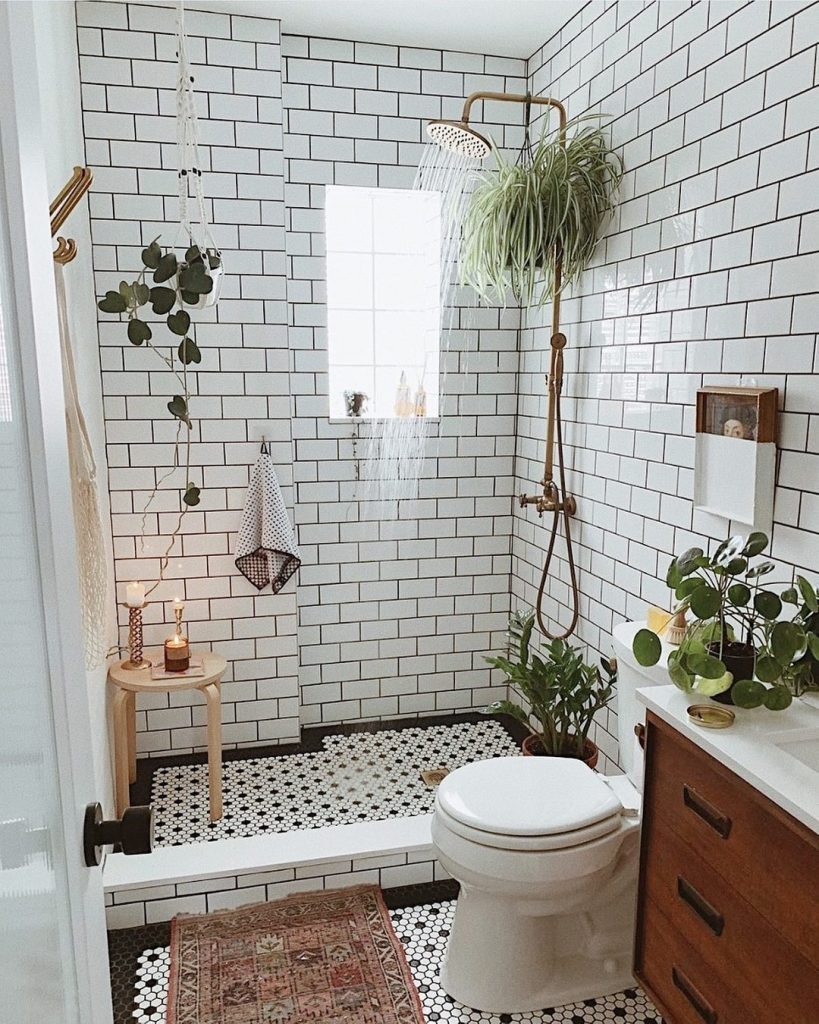 Nature comes with an instant calming effect; thus a bathroom should ideally have some plants too.
Plants will add color making it more pleasant to users, inject personality, and fresher air – and given the high humidity, you won't need a green thumb to keep your plants alive here.
Some of the best bathroom plants include golden pothos, bamboo, and Boston fern.
10. Add Interest With Hardware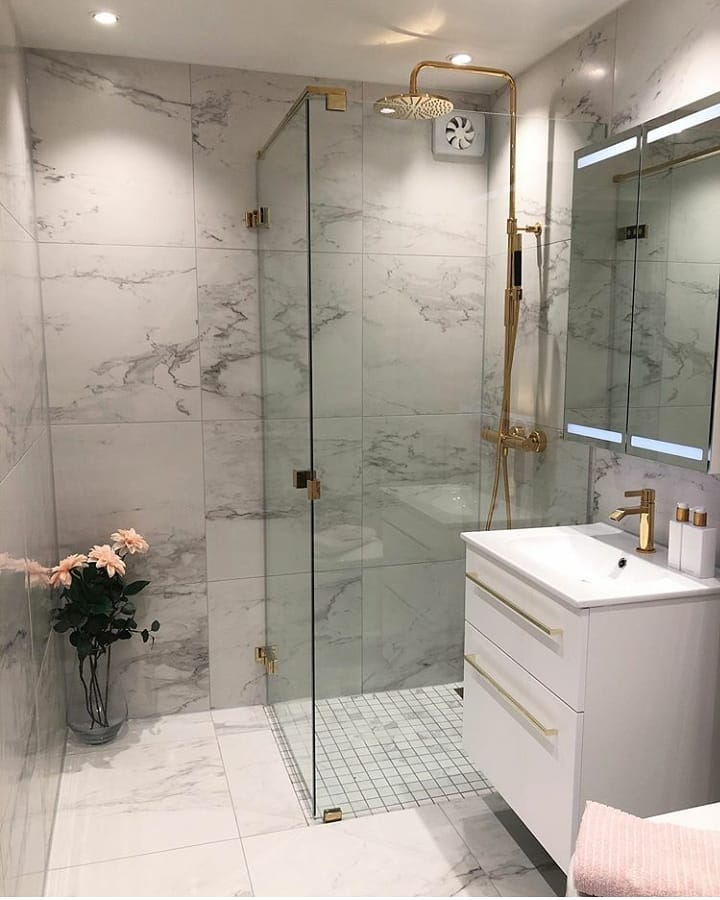 Just as in the kitchen, bathroom cabinet hardware often goes overlooked as a detail worth upgrading.
Add an extra touch of style to your bathroom with shower hooks, hook racks, and fun knobs to add an interesting personal detail that you can always change inexpensively down the road.
goldenwarm Cabinet Pulls Finger Drawer Pulls Gold Edge Pull Pocket Door Pulls Cabinet Hardware 76mm/3in Hole Center LS7027GD76, 25Pack
★ Measurements - Hole Centers: 3 inch(76mm), Overall Length: 4 inch(102mm), Width: 1.65 inch(42mm). Please make sure you double check the type and dimensions before you purchase.
★ Material - Made from high quality aluminum material, Cast in one, solid base, not easy to break, strong and durable, longer service life.
★ Special Corner Design - Classic American smooth lines, thick and round corners, without hurting the hands, not afraid of bumping, improve safety.
★ Easy to Install – Each handle come with 2 screws so you can attach your new handles the moment you receive them. use a simple manual or powered Phillips-head screwdriver to attach these in seconds. pre-drill holes to help maintain surface integrity.
★ Note - Please leave at least 1mm gap between two boards for easy pulling, when you Install one piece handle. and please leave at least 3mm gap between two boards for easy pulling, when you Install 2 pcs handles.
10 Ideas To Update Your Boring, Old, Tiny Bathroom Stylishly – Conclusion
Every bathroom needs the illusion of space. If you want to squeeze in more space or bring in the illusion of it into your bathroom, these tiny bathroom ideas can help.
Have you tried any of these ideas for your tiny bathroom?