PureTree Review: The Best Organic Latex Pillows?
We are thrilled to write this PureTree review, as organic bedding is oh, so important.
It's essential to look after our health for a variety of reasons. Many people have chosen to eat organic, exercise regularly, and live healthy lifestyles to continue living and feeling good.
However, toxins are still surrounding us, which can be detrimental to our health, even when eating and sleeping. Therefore, you can never be too careful.
Did you know that even a memory foam pillow can be made of harsh toxins that produce chemical fumes that affect you while you sleep? It's crazy to think that, but it's true.
---
7 Easy Home Updates eBook: Free!
Today, get a free copy of our ebook that shows you 7 simple updates you can make in your home this weekend that will make your home look expensive and increase its value. Tell us where to send your free copy:  
This site uses ads and affiliate content as an Amazon associate earning on qualifying purchases. Disclosure.
---
Memory foam comprises polyurethane foam which consists of emissions that include methylene chloride, methanol, toluene, methyl chloroform, and more.
Yikes. This is especially important to consider if you have allergies or skin irritations.
However, there are pillows out there with organic fillers. When we spend a quarter of our life sleeping and breathing in our bedrooms, isn't it time to rethink where we rest our heads every night?
Today we will talk about PureTree, a brand that uses natural organic materials for its products.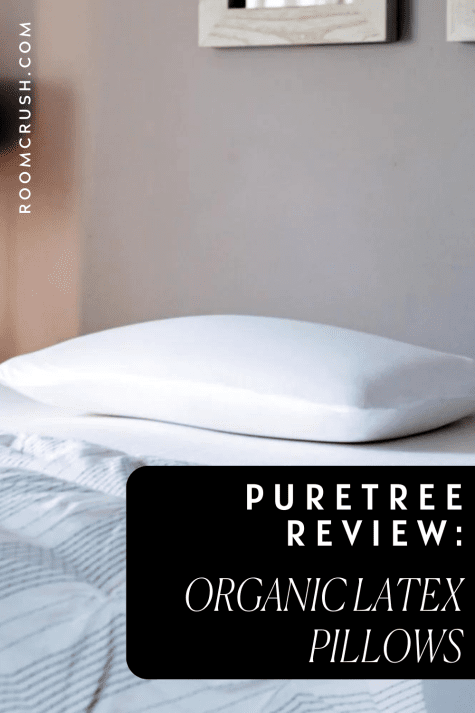 About PureTree Pillows
PureTree's mission is to educate and provide a good night's sleep. In addition, it strives to make the highest quality and most comfortable pillows and mattresses…
It is made from nature.
We already like this. What's better than natural and safe?
PureTree's products are made from tree sap of rubber trees. These trees are primarily found in South and Southeast Asia and produce sap within their vessels.
It is quite the process involving tapping, collection, and buckets. However, even neater is that the trees are not harmed during this process, and they continue to grow.
It sources USDA and GOLS Certified Organic Natural Latex and GOTS and certified organic cotton pillow casing.
The natural organic Latex is very important to the product as it is long-lasting, offers breathability, and is hypoallergenic. So if you have allergies, we're sure this is already sounding good to you.
Because PureTree puts its customers first, it provides a 30-day trial period, so if, for whatever reason, you are not happy with your product, you can receive a refund.
SleepLikeTheDead is an unbiased research site that is honest and looks into sleep products. This site highly rated latex pillows.
This is important, seeing as it has findings in publications such as The Wall Street Journal, US News, USA Today, and many others. So, it's pretty legit and should tell you that PureTree has some seriously excellent safe products.
Research proved that natural Latex was a top choice when evaluating eight pillow types.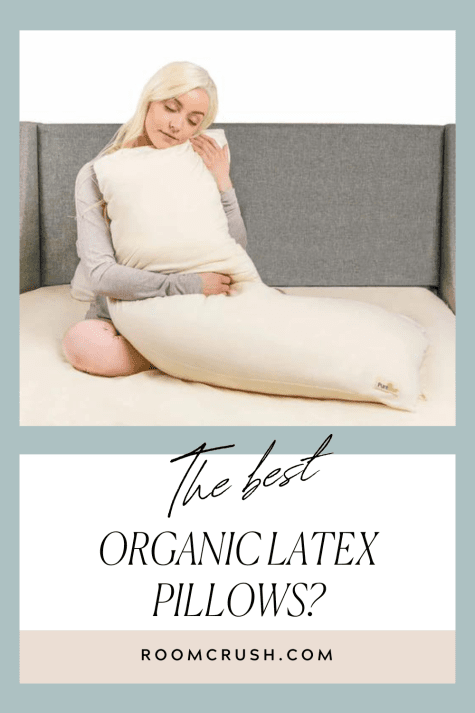 How to Order from PureTree
The PureTree website is aesthetically pleasing and relatively easy to navigate. You can choose latex mattresses or latex pillows.
You have size options from Twin to California King when choosing a mattress. You can also add up to three layers with different firmness levels.
There are a few PureTree Organic Latex Pillows. These are:
Adjustable Organic Shredded Natural Latex Pillow
USDA Certified Organic Latex Contour Pillow
Adjustable Organic Shredded Natural Latex Body Pillow/Pregnancy Pillow
Certified Organic Natural Latex Pillow
And pillowcases
So, why should you choose Latex, and how is it better than foam?
Memory foam vs. Latex foam pillows
Firstly, Latex is hypoallergenic and is an excellent alternative to memory foam pillows.
You should stick with memory foam if you're looking for something to support you throughout the night.
Memory foam allows you to rest in natural placement from your head to your shoulders.
However, the chemical odor can be bothersome for people who suffer from sensitivities and allergies.
Latex pillows are more breathable. Latex is more hygienic and snug, which is an excellent choice for those that get hot throughout the night as Latex tends to be more relaxed.
Latex pillows can help by supporting the head and neck to reduce the pain.
It's important to note that you may have to pay extra for taxes if you do go natural latex.
Shipping is free if purchased within the US.
Besides PureTree latex pillows and latex mattresses, you can order pregnancy pillows and nursing pads.
Keep scrollin' to find out more about these products.
You May Also Like: How To Make Your Bed At Home Like A Luxury Hotel
PureTree Pros and Cons
PureTree Pros
PureTree uses only organic natural latex fill
100% customer satisfaction
3-year limited warranty
30-day hassle-free return policy
Customizable firmness layers
100-night risk-free trial period
Shipping is free if purchased within the US
PureTree Cons
Some people may have an allergic reaction to Latex
PureTree Organic Latex Mattress Review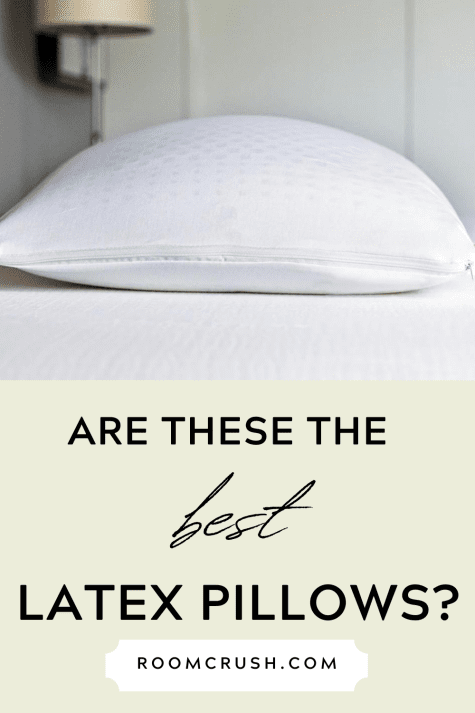 This mattress looks like a cloud that would consume you upon jumping into it. It is noted that it is built with the best and cleanest materials, and you can customize it to your preference and comfort as it has adjustable layers.
The PureTree organic latex mattress features certified organic cotton and organic wool that you can customize regarding firmness level.
PureTree does recommend a soft/medium combination for side sleepers if you're a back or stomach sleeper, a medium/firm, or firm/extra firm.
If you know what you like best, though, have a look and adjust to your comfort level.
These organic latex mattresses come in Twin to California King sizes.
PureTree Shredded Body Pillow Review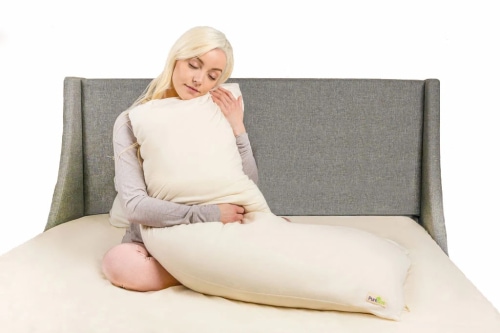 These materials are excellent for those who are pregnant. There are no harmful chemicals, and pure materials are made up of organic cotton, organic latex, etc.
Their body pillows are flexible and designed to be that way. It can be used as a pregnancy pillow to allow good support to the belly area.
You can also adjust the fill to your preference, whether hard, soft, or medium. All you have to do is find the zippered lining.
The measurements of this pillow are essential to consider. They are 18″ x 54″ x 6″, so you know if you have enough room or not for a pillow of this size.
This pillow will not go flat or dull, and if you have to clean it, no worries. Just toss it into the machine wash.
PureTree Organic Shredded Natural Latex Pillow
This pillow comes in King and Queen sizes, and it will not go flat as a cotton pillow will. However, it is similar to foam because it contours and supports your head and neck area.
It is also anti-microbial, dust mite, and mildew resistant as it is breathable and hygienic.
Not only are feather (dow) pillows cruel, but feather pillows tend to trap in dust mites and mold, you can rest at night knowing that Latex does not allow the growth of bacteria, mold, and other organisms. That is why these latex pillows are hypoallergenic.
We also love organic cotton pillows.
Designed for your comfort, you can still customize the fill to your liking through the double-sided zipper. The other lining is 100% organic cotton.
You can machine wash this luxurious organic pillow as well.
PureTree Nursing Pads for Breastfeeding Review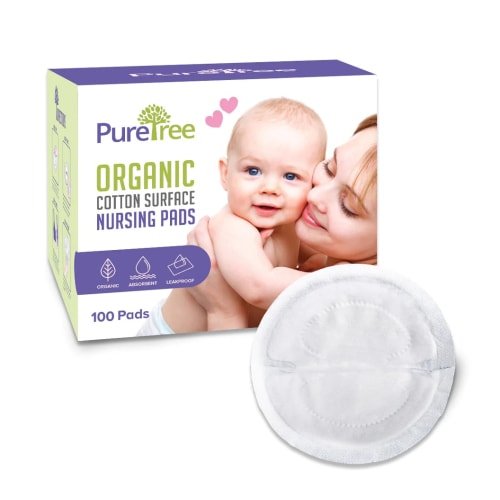 What's important to mention first about this pad is that it is FDA approved and has a patent-pending design. It is made of high-quality GOTS Certified organic cotton.
The mom who designed the pads lives an organic lifestyle, thrives in a clean and safe environment, and wants her child to. She wanted to combine organic cotton and an effective nursing pad, and she did it. All the while, she was juggling hectic and exhausting work and home life with a newborn.
This pad is incredibly absorbent, as one should be for nursing and babies.
Unfortunately, whoopsies do tend to happen. But with this pillow, you shouldn't have to worry.
This pad features super absorbent technology that keeps breastmilk to keep moms dry and leak-free.
It is also easy to pack around for those moms who are on the go. It easily secures to bras as well.
There are fifty-four pads in one box.
PureTree Reviews
The shop also sells through Amazon, so you can find many legit reviews that average a score of four or five.
PureTree VS Avocado Green Mattress VS Organic Textiles
PureTree has many qualities that stand out from other brands. Take a look below to see what those are:
Is PureTree Worth it?
PureTree is one of the best brands that sell purely organic and natural latex mattresses and pillows. The products even come with a three-year warranty and 100 Night Risk-Free trial period.
Worth taking a chance on. If you are ready to change your life and invest in your rest and a great sleep, this is the time to do it.
Read This Next: 10 Essential Master Bedroom Accessories