How To Make Your Living Room Feel Modern Yet Cozy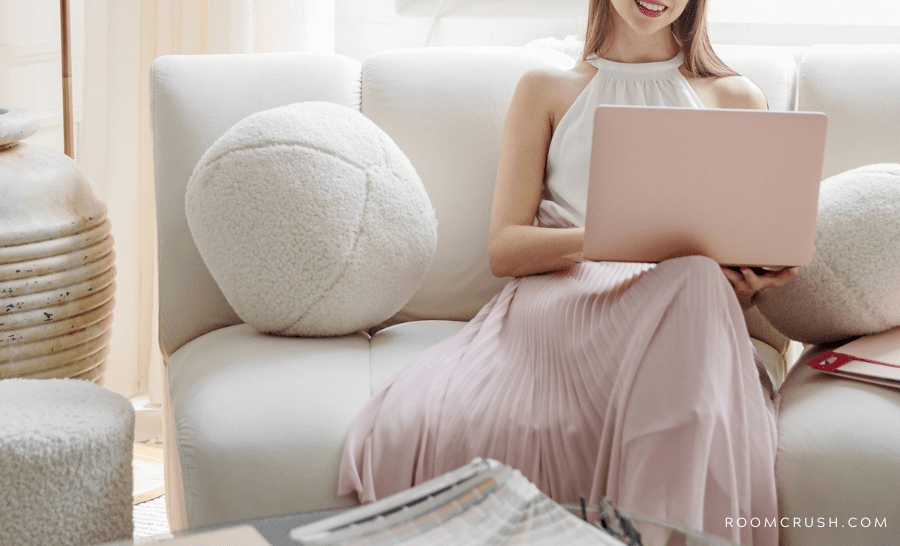 Do you know the secret to styling your living room to feel modern yet cozy at the same time? How much time do you spend in your home each day? If you're anything like me, I'm sure you spend quite a bit of time at home. That means that your living space has a big impact on your overall well-being.
The average American spends over 90% of their waking hours at home. As such, it makes sense that our homes should reflect who we are and what we value.
In other words, they should be comfortable, functional spaces where we can relax, entertain guests, or simply unwind after a long day.
With that said, let's take a look at some ways to transform your living room into a place that feels modern yet cozy.
---
7 Easy Home Updates eBook: Free!
Today, get a free copy of our ebook that shows you 7 simple updates you can make in your home this weekend that will make your home look expensive and increase its value. Tell us where to send your free copy:  
This site uses ads and affiliate content as an Amazon associate earning on qualifying purchases. Disclosure.
---
How To Make Your Living Room Feel Modern Yet Cozy
How do you define a cozy home?
Possibly rustic farmhouse décor with muted colors?
How about a vintage-looking home with quality antique furniture?
Or a house filled with glossy, smooth, and modern designs with a collection of family photos or lively colors?
"Cozy" and "lived in" are not one in the same.
When we think of a "lived-in" home we can't help but envision an old couch with pet hair and food stains, clutter everywhere and a mess of personal items that have no design sense.
Whereas a cozy home brings to mind a serene, nicely decorated space with nostalgic personal items on display just so.
It's a space you can enjoy and feel happy in.
The trick is to include a mix of modern pieces with nostalgia, to make it truly unique and inviting.
By definition, cozy is the feeling of becoming comfortable and warm.
Therefore, it is a personal matter more than a rule of thumb.
For some, a cozy home is a modern minimalist approach with clean lines and a carefully curated collection of pieces that have meaning to the person who lives there.
A few heirloom pieces can help you stay connected to family, and it doesn't need to be in just furniture.
For example, memories of your grandma may come to mind as you use her rolling pin when making homemade pizza.
Try to look around your home. Do you feel relaxed and calm?
If your answer is yes, then you did well in making your home cozy.
However, if you feel heavy, stressed, not happy, or still getting there, then this article is perfect for you to read.
The best homes tell a story of the people who grace their walls. They showcase a collection of their travels, gifts from loved ones, and their passions.
We will define modern yet cozy as a welcoming ambiance that makes you want to curl up and relax like a cocoon.
While surrounding yourself with modern decor that makes you feel uplifted.
Click the image below to shop the room:
Best Cozy Home Ideas You Can Do Yourself
There are several factors that make a home comfortable.
The architecture and proportions can contribute to the interiors.
Likewise, the interior add-on can be factors, such as furnishing styles, warm colors, fluffy pillows, books, personal collections, a fireplace, or art.
In other words, there is no solitary recipe to make a cozy home.
Everything depends on your taste and personality.
1. Add A Statement Piece
If you want to add a little something special to the room, then consider adding a statement piece.
A statement piece is any item that stands out from the rest of the furniture.
It could be an art piece, a sculpture, or even a rug.
You want things that are made of high-quality, expensive-looking materials like stone, marble, metal, and weave.
We love the many treasures you can find at Bone & Brass like these:
The key here is that it needs to stand out so that it doesn't blend in with everything else.
The statement pieces in a room should make guests say "wow! where did you get that?!"
2. Use Natural Materials
Natural materials have a way of making a space feel cozier and more relaxing and luxurious.
Think organic cotton, cashmere, silk, rattan, bamboo, marble and natural woods.
They also tend to last longer than man-made alternatives.
Not to mention, natural materials are typically toxin and chemical-free, making them better for the environment.
Wood is a great choice to instantly warm up any minimalist room.
Wood is also easy to clean and maintain, which makes it ideal for any type of setting.
Wood is a great material for making custom pieces, but it should not be considered a budget option.
A coffee table is usually made of wood, metal, or glass, whereas an ottoman is usually made of fabric or foam.
You may even wish to build your own coffee table.
Look for reclaimed wood with imperfect edges and physical character, which will bring charm into your home.
If you're looking for something that will last, consider an ottoman too.
An ottoman also comes in many sizes, shapes, and colors, making it easy to match any decor.
You'll never need to worry about sharp corners or hard surfaces hurting your feet again!
And of course, your dining room is one of the most critical parts of your home.
There are many beautiful wood species available at low prices, and there are also ways to get them at even lower costs.
You may need to buy a few small samples, but once you see what you like, you will likely end up buying enough to create a full piece.
If you are looking for something inexpensive, consider using particle board instead.
This type of board is made out of recycled materials and is very durable, yet still looks nice and feels soft against the skin.
You May Also Like: Ideas To Decorate An Apartment For A Single Guy
3. Choose Neutral Colors
Neutral colors are often considered boring. However, this isn't always true.
Neutral colors work really well when paired with bold accents.
This helps to balance the entire room without overpowering it.
You can use neutrals as the base color for most rooms, but don't hesitate to mix them up with bright hues.
Color psychology is a branch of psychology that studies the effects of color on human behavior and emotions.
There are many ways to choose colors that will help you relax and feel better.
You could go all out with bright yellows, greens, blues, reds, oranges, pinks, purples, or any other color that inspires you.
Or, if you prefer a more subtle approach, try using warm colors like browns, tans, golds, and coppers.
If you're feeling bold, add contrast with cool colors like grays, whites, or blacks.
4. Create A Focal Point
A focal point is an object that draws attention to itself.
Think about how you would describe a good photograph – there's usually one thing that grabs your attention first.
Similarly, a focal point will draw people's eyes toward it.
5. Hang Artwork
Artwork is another great way to bring personality to a space.
You can choose from many styles, including abstract pieces, portraits, landscapes, and still-life paintings. Additionally, you can find plenty of options online.
Hanging art is a great way to fill empty walls. Art doesn't need to be expensive.
Many artists offer prints at affordable prices.
A curated collection of artwork can instantly transform any room into a personal oasis.
An organized display of works of art creates a focal point and helps to draw attention away from other elements in the room.
Displaying artwork on a larger scale allows you to fill large wall space and makes the room feel less empty.
6. Incorporate Lighting
Lighting plays a huge role in creating the ambiance of a space. Natural light is best because it creates a feeling of serenity.
Artificial lights can help create moods depending on the style of the lighting.
For instance, soft lighting tends to create a romantic atmosphere, while harsh lighting can make a space seem cold and clinical.
A stately floor lamp adds character to the space.
While overhead lighting or darkroom is an uninviting vibe. Get floor and table lamps to add a definite vibe in bedrooms or living spaces.
Light up, and inevitably, it changes the dynamics of your home.
For more lighting tips read, How Important is Dining Room Lighting?
7. Add Life With Plants
Plants are a great way to add greenery to a space.
Not only does it make the room appear more spacious, but it also adds a touch of nature to the interior.
I am not born with a green thumb, but I do love plants.
Picking up some flowers and placing them on your kitchen counter or living space to brighten and add life to the space.
You only need to spend a few bucks to make your space greener, fresh and more welcoming.
If you need help in with plant styling read, How To Style Indoor Plants.
8. Make It Personal
Your living room is a reflection of yourself. Therefore, it should fit your lifestyle and preferences.
If you prefer to live in a minimalist environment, then you may not want to include lots of knickknacks.
On the other hand, if you like to keep things simple, then you might want to avoid clutter.
Family Photos And Meaningful Items To Your Home
At first, I thought hanging those photos on the wall will mean cluttering my home.
I was wrong. I found out that hanging those selected photos will invite happiness, joyful memories, trust, and comfort.
The best way of using family photos as DIY cozy home decor is to focus on middle-sized to bigger photos to avoid cluttering.
We may have old or antique-looking items at home. These things may look old, but when you place them in the right space, it will bring a cozy feeling.
The good thing about antique items (probably these are gifts from your grandparents, parents, or any relevant person in the family); it brings back warm memories.
Every old item brings a story that forms part of who you are today.
However, you keep only those items with good memories and better take away those bringing not such good memories to avoid cluttering.
9. Keep It Simple
This tip is perhaps the most important one. Don't get too carried away by trends.
Trends come and go quickly, and they aren't necessarily better than what came before.
Instead, focus on keeping things simple. This means sticking to classic designs and timeless patterns.
There's something about a well-designed living room that makes us feel at ease like we've arrived at our destination after a long journey.
Whether it's a spacious, light-filled space or a cozy nook with a fireplace, a well-appointed living room should be comfortable and inviting.
To create a relaxed atmosphere, avoid furniture and decor that feels too fancy.
Instead, opt for pieces that relax you right away.
A welcoming sofa, a comfy chair, and a few throw pillows will instantly put your feet up and your mind at ease.
An easy way to make a room feel modern yet cozy is to include natural jute baskets in the space.
10. Mix Textures
Textures are a great way to give the room depth. Using multiple textures gives off a sense of coziness and warmth.
Some examples of textures include wool, wood, metal, stone, tweed, and glass.
These can be incorporated in rugs, wall coverings, window treatments, pillows and decor items.
Pillows are an essential item in any household. They help us relax after long days at work or school, and they also provide comfort during naps and bedtime.
Pillowcases come in many designs and fabrics, and there are even special cases designed for specific types of pillows.
You can buy a single pillowcase or invest in multiple cases to keep your pillows looking fresh all year round.
If you prefer to sew your own pillowcases, you'll need fabric, thread, and a sewing machine.
For best results, choose a thick cotton material and follow the instructions carefully.
11. Go Green
If you want to save money and cut down on energy costs, then going green is an excellent option.
There are tons of ways to do this, such as installing solar panels or switching out traditional bulbs for LED ones.
12. Use Mirrors
Using mirrors as a design element can be a great way to reflect natural light throughout a space.
It's also one of the easiest ways to make a living room look modern yet cozy.
This is especially true if you have a large open area.
We love when a room design includes a large standing floor mirror.
Floor mirrors add elegance, depth and scale to any room.
13. Patterns
Be fearless in playing with patterns, textures, and colors.
Pick pieces that feel like you're in the same era, but not stuck to one style or color scheme.
While you want everything to go together, avoid going too matchy-matchy for a higher-end look.
14. Choose Comfortable Furniture
Comfortable furniture is essential to making a space feel inviting. Furniture needs to be durable so that it lasts over time.
It should also be easy to clean and maintain.
And this starts with your couch. Your couch will be the most used piece of furniture in your home.
It is also the thing that every other design decision you make for your living room will be based around.
A couch is an investment, it is not something to cheap out on.
We are obsessed with this 7-piece sectional, made in high-performance boucle material:
Can't you just see yourself curled up on this couch, Netflix on, a knit blanket wrapped around you, snacks and a drink by your side?
This boucle sectional even has a built-in side table on each side.
15. Create A Relaxing Vibe
A calm environment makes anyone feel relaxed and happy. To achieve this, try playing soothing music or burning some incense.
Do you love this stunning, modern and cozy couch pictured above? Get it for yourself, here!
Know that a cozy house idea is not only about how your home interior looks and feels. It also includes how your home smells.
Try smelling around because your home might not be carrying an inviting smell.
You can improve the smell of your home by:
spraying this in the air
and bringing in all-natural room scents by infusing fruits, spices, and herbs in jars
Indeed, all of this will give a fresh and comforting aroma.
Also, for those who are lucky to have a fireplace, light it up, and use it!
You may add a few sconces or change the color to mix perfectly the warmth of the fire it can give.
What Are Some Modern Yet Cozy Design Styles?
Here is a list of modern yet cozy home ideas that will help you create a concept around a specific design style:
Organic Modern Style
Organic Modern is the ultimate design style to make a home feel modern yet cozy.
This idea is a mixture of traditional and modern decor, paired with traditional pieces and rough, natural woods and pottery.
Toss in some add-ons of natural materials by bringing in wood, metal, or leather into your designs.
The colors are warm, natural, and relaxing.
The natural add-ons like painted wooden panel ceilings and hardwood floors will surely want you to sit all day and enjoy the chill vibes.
==> Check out the Organic Modern board for more inspiration
Light and Airy Contemporary Style
We love a view of floor-to-ceiling windows shedding light that shows style and sophistication in a  contemporary living room.
This cozy house idea will give an elegant touch, making your home to become inviting and livable.
Possibly in your coffee table, upholstered leather, throw pillows, and mix it with warm colors to make your home magnificent.
==> Check out the Contemporary board for more inspiration
Traditional Style
The traditional home is all about comfort and familiarity.
When you are sitting around the living room, what you will feel and say is, "it's my sanctuary."
Support the concept with a club chair, overstuffed sofa, soft rug, warm lighting, books, and vintage objects.
==> Check out the Traditional board for more inspiration
Scandi Style
One of my all-time favorite cozy home styles is Scandi, because of the uncluttered and tidy feel.
White walls, light wood flooring and modern, functional furniture make the spade of ingredients in this design style.
You will love to hang out and relax in a Scandi space.
Grand Millennial Style
Grand Millennial is an eclectic design style that combines decor items you'd find in any Granny's home in the 90s, with an intentional, updated spin.
Think vintage antique furniture and velvet couches, contracted with uber-modern lighting and art, on a backdrop of wild colorful wallpaper.
==> Check out the Grand Millennial board for more inspiration
Frequently Asked Questions About Modern Yet Cozy Living Spaces
Why A Cozy Home Is Important?
There are many reasons why a cozy home is important.
For one, it can make you feel more comfortable and relaxed. This is especially important if you spend a lot of time at home.
A cozy home can also make you feel more at ease and less stressed out.
Another reason why a cozy home is important is that it can help improve your mood. When you're feeling down, a modern yet cozy home can help cheer you up.
And when you're feeling happy, cozy home can make the good feelings even better.
A cozy home is also great for family gatherings or parties.
It can help create a warm and welcoming atmosphere that everyone will enjoy.
What Does It Mean When Someone Says Your House Is "Homey"?
A house can be said to be "homey" when it possesses a sense of comfort, familiarity, and ease.
This may be due to the decor, layout, or simply because it's where you've made memories and feel at ease.
Some people might find a homey house to be cozy, while others might find it to be too cluttered or personalized.
Ultimately, what makes a house homey is subjective and up to the individual.
Read this: How to create a cozy reading nook in your home
Final Thoughts
The key to creating a comfortable living room is to take into account what you love most about your home.
This includes the things you enjoy doing in your free time, whether it's reading, watching TV, or hanging out with friends.
When designing your living room, focus on those activities.
Make sure you have enough seating options and storage areas for everyone who wants to sit or hang out.
Well, there you have it, you are now fully equipped with tons of ideas to cozy up your home and make it super inviting.
Remember to view your home as a collection of pieces, and items that have meaning to you and your family.
Lastly, try not to rush this process. As, layering different elements of décor in a home takes a bit more tweaking and editing. Rather than just purchasing a fully furnished copycat style from a mass-produced department store.
What To Read Next
Pin This: