10 Best Eco-Friendly Furniture Brands According To Designers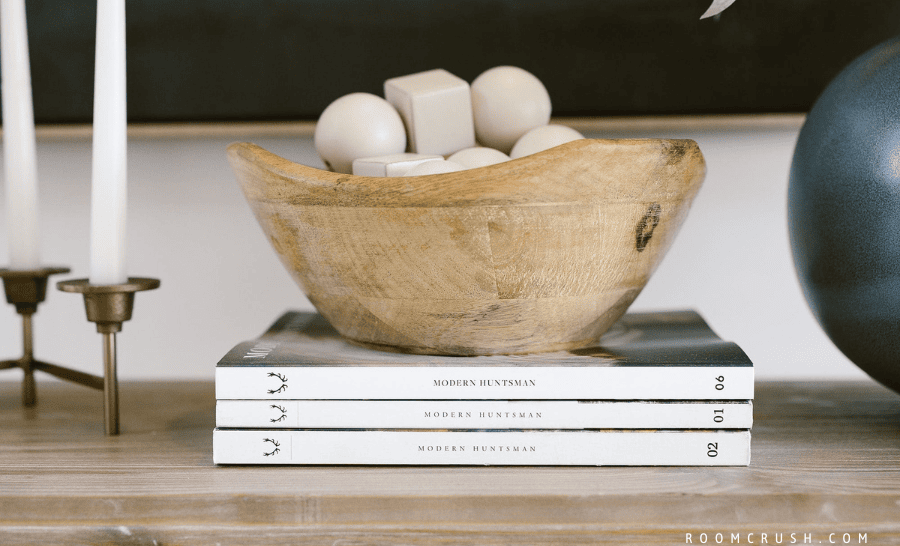 If you're looking for the best eco-friendly furniture brands, these 10 are for you.
Setting up a home can be a ton of fun but there are A LOT of choices to pick from when it comes to decorating.
From classics like West Elm that offer high-end, gorgeous furniture to unique pieces you can store off Etsy reclaimed, there's something out there for everyone.
Here's where we recommend you look, to source high-quality eco-friendly furniture for your home.
---
7 Easy Home Updates eBook: Free!
Today, get a free copy of our ebook that shows you 7 simple updates you can make in your home this weekend that will make your home look expensive and increase its value. Tell us where to send your free copy:  
This site uses ads and affiliate content as an Amazon associate earning on qualifying purchases. Disclosure.
---
Top 10 Best Eco-Friendly Furniture Brands According To Interior Designers
1. Avocado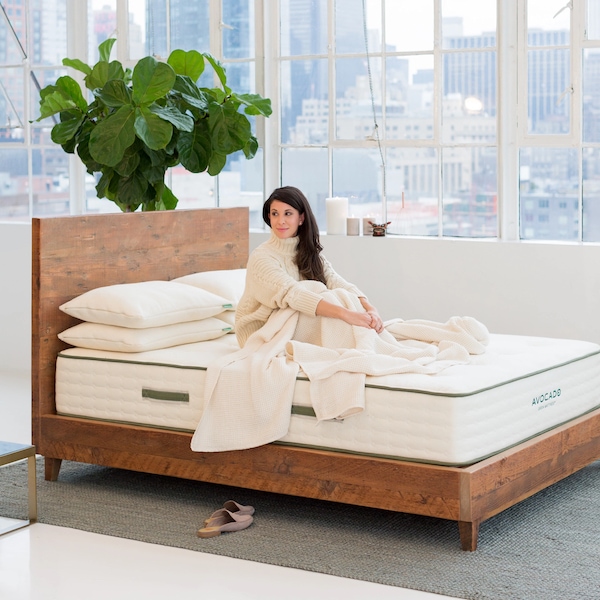 Avacado makes stellar eco-friendly furniture right in its own factory. The focus is on working with organic, natural, non-toxic materials that are family-friendly and kind to the environment. 
This is a great place to find bedding, mattresses and pillows (including organic ones!), but they also make solid, quality wood furniture. All of their furniture is handcrafted and made to be affordable.
We really like the overall minimal design that fits right into any decor style. Their pieces are beautiful and decorative, but incredibly practical.
You'll find a cozy alpaca throw, a solid wood mid-century modern bed frame, and comfortable plush mattresses that you'll love sleeping on.
Focus: Bedroom
Materials: Natural and organic materials, including organic latex, wool, hemp, linen and cotton, natural alpaca, and solid wood
Practices: Climate-neutral, 1% of all sales given to vetted nonprofits
2. Medley
Medley is a one-stop furniture shop that focuses on building pieces that are made to last and designed to live on (and in!).
Each tree that's used to build furniture is obtained from FSC-certified forests and is used for more than one piece.
They get as much use of it as they can, so you could have a bed and a couch that are related!
What we love most about Medley furniture is that you have 30 days to try out pieces, so you can make sure it fits well into your lifestyle before you commit.  
Focus: Living Room, Bedroom
Materials: FSC-certified materials
Practices: Singe tree (from an FSC certified forests) becomes multiple pieces of furniture, handcrafted in the USA.
3. Vali Wood co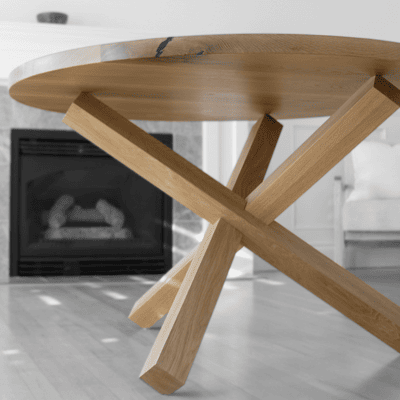 If you want something one-of-a-kind and custom, look no further than ValiWood.com.
At Vali Wood, you can co-design your dream piece, or choose from a selection of design suggestions, and have it hand-made from sustainable, solid wood.
Each piece is made-to-order. Vali Wood ships across Canada and the USA.
This brand handcrafts its furniture within Canada, and they use eco-friendly materials and old-school building techniques to make sure that their grand furniture is durable, well-designed, and cast to last for generations.
Vali Wood furniture offers modern, elegant designs.
What makes this retailer eco-friendly is their focus on responsibly sourced materials, along with their manufacturing practices.
And their furniture is made-to-order, meaning they don't have a ton of overstock and waste.
Focus: Bedroom, Living, Office, Dining, Storage and Outdoors
Materials: Natural hardwoods sourced in the Cowichan Valley
Practices: Handcrafted in Canada, fair trade and eco-friendly materials, brand is committed to sustainability and forest conservation.
4. West Elm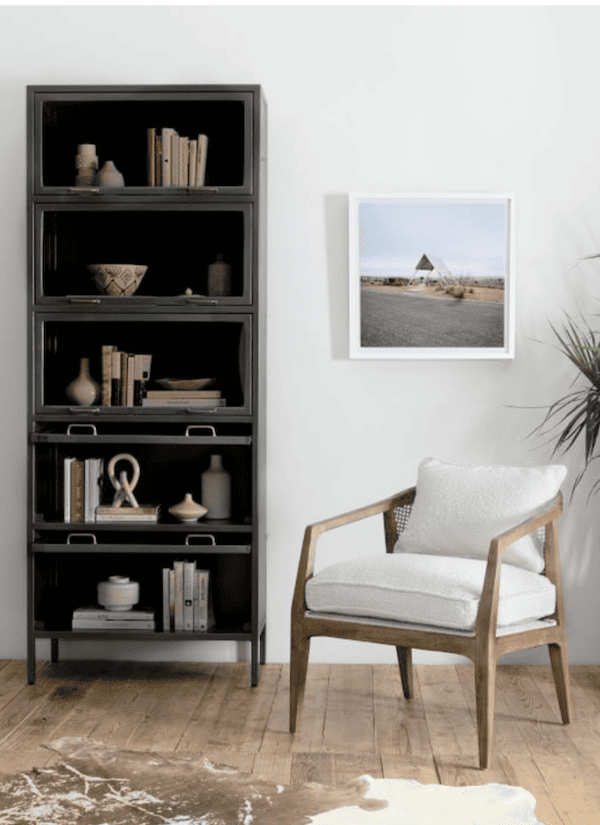 West Elm making it onto this list of the best eco-friendly furniture brands might surprise you, but this high-end home and decor retailer has some serious skin in the game.
Not only do they have gorgeous pieces, the brand features a number of fair trade and eco-friendly collections.
Here you'll find plush sofas and chairs that are versatile and can blend into any style.
It's important to note that not EVERYTHING you find at West Elm is going to be eco-friendly. But most of it will be pretty stylish and fit into any modern designed home.
West Elm has been working over the years to make their practices more sustainable. In 2021, they reported that 40% of their wood furniture offerings were made of FSC certified materials, they've saved 57 million plastic water bottles from waste disposal sites through the use of recycled polyester, and they've saved a ton of energy and water.
Overall, they're committed to helping preserve the environment around them while delivering you gorgeous pieces. 
Focus: Bedroom, Office, Dining, Storage and Outdoors
Materials: FSC certified materials
Practices: Made in the USA, fair trade and eco-friendly materials, brand is committed to sustainability and forest conservation.
5. Inside Weather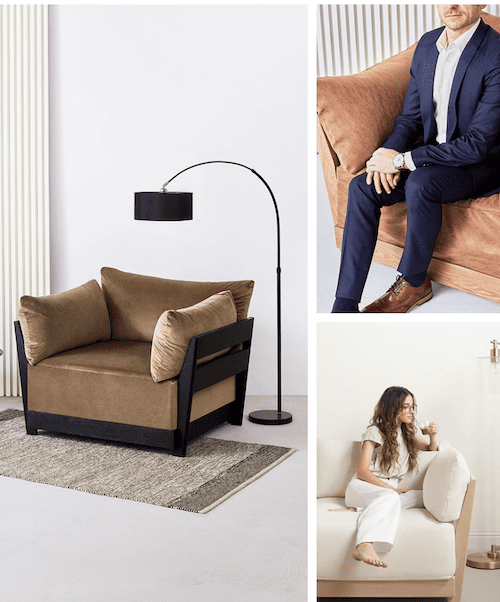 Inside Weather makes some really cool made-to-order custom modular seating options that can make your house look as unique as you are. They believe that furniture should be both personal and accessible.
This furniture builder and retailer based in Northern California uses a zero-inventory model, and they make everything in-house before they deliver it directly to your door.
This means they cut out everything from the middleman to the markups, and even offer payment plans.
Focus: Living Room, Dining Room, Bedroom, Office
Materials: FSC certified birchwood, upcycled plastic bottles (made into couches)
Practices: Custom made-to-order, sustainable partnerships.
6. Made Trade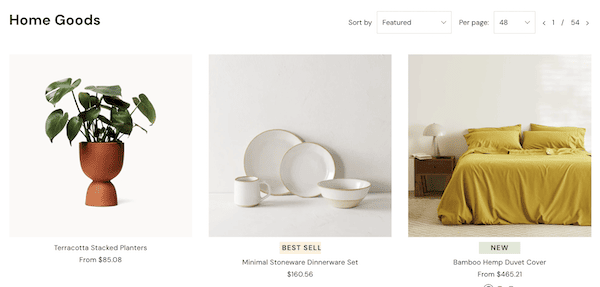 Made Trade is a woman-owned online retailer. The owner, Cayley Pater has partnered with small businesses and artists to create a one-stop sustainable shopping resource for eco-friendly home goods.
You will find hand-knotted rugs, handmade furniture, natural bedding, and earth-friendly decor at Made Trade, as well as clothing!
7. Parachute
Parachute is another essential bedding retailer, not a furniture brand exactly. But they carry some gorgeous bedding, robes and pillow decor to dress your room in style.
In addition to their plushy living room pillows, this California-based brand offers cozy bedding, robes, towels, and loungewear.
Focus: Bed, Bath, Living
Materials: OEKO-TEXⓇ STANDARD 100 Certified Products, Responsible Down, Recycled Materials
Practices: Climate-neutral, GOTS certified products.
8. Reclaimed Furniture on Etsy
Etsy's not an eco-friendly furniture "brand" but it is a great place to get your hands on some sustainable pieces. 
If unique is what you're looking for, Etsy is where you'll find it. Independent creators and small businesses reclaim, then sell furniture of ALL types – many pieces being one of a kind.
Whether you're looking for wooden artwork or an upcycled coffee table, Etsy is a great place to find it.
We love that not only are the pieces revived and ready for a new life, but they're unique – chances are you'll be one of the few people that have that particular piece.
Especially if you're looking at something that's been reclaimed and redesigned. 
Practices: Carbon-neutral shipping.
9. Kaiyo
Kaiyo offers one of the most sustainable furniture options, you really can't beat pre-owned!
They buy and sell high-end affordable furniture pieces, and to-date have saved over 5 million pounds of furniture out of the landfill. 
You can find anything from sofas to storage and beds, and because it's second-hand furniture, their inventory changes. It gives you an opportunity to own fancy furniture, even if it wouldn't normally be a top option.
Focus: Used high-end pieces
Practices: Recycles high-quality pieces, keeping them out of the landfill
10. The Citizenry
Another one-stop furniture shop is The Citizenry. They have everything from elegant mirrors to full-fledged furniture (like couches) and 100% of their products are fair trade. 
Furniture pieces at The Citizenry are elegant and natural-looking. There are a ton of sustainable, woody pieces like their rattan and wicker ottomans, and wicker benches – all of which look great in a cottage-style home theme.
You'll probably spend more money at The Citizenry, but on average they pay two times the fair trade rate – so it's worth it for those they work with.
Their pieces are made of non-toxic, organic and sustainably sourced materials, and they invest 10% of their profits back into the artisanal communities they work in.
Focus: Bedroom, Living Room
Materials: Sustainable materials that are non-toxic, organic, cruelty-free and sustainably sourced
Practices: Fair trade for ALL products, 10% of proceeds are invested back into artisanal communities 
11. Masaya & Co.
Masaya & Co. builds sustainable wood furniture that includes everything from rocking chairs and sectionals to bookshelves and tables.
They source all their wood materials responsibly and hand-make their pieces.
It was originally started as a reforestation project, but grew into a furniture company because of the talented artisans in the area.
For those looking to add some classic elegance into their home, this is the company for you.
The overall seed-to-seat model helps bolster reforestation. All their pieces are handcrafted in Nicaragua, and support 150 craftspeople and designers in the area.
Focus: Sustainable Handmade Wood Furniture
Materials: Responsibly harvested wood finished with low-VOC natural oil
Practices: Seed-to-Seat model, community and charitable giving, 100 trees planted for every product sold.
10+ Best Eco-Friendly Furniture Brands  – Conclusion
Now that you know the top eco-friendly furniture brands, it's time to start shopping!
Follow RoomCrush on Pinterest for more home decor inspo.
Read this next: