Best Eco-Friendly Cleaning Products for a Non-Toxic Home
We found the very best eco-friendly cleaning products! Most household cleaning products contain toxic chemicals. So that innocent-looking bottle of all-purpose cleaner? It likely contains carcinogens and harsh chemicals that can harm the lungs, cause asthma, and make allergies flare up.
And if you also happen to be sick of constantly throwing out plastic bottles, then why not turn to eco-friendly cleaning products?
Most eco-friendly cleaning products on the market today are safe and clean effectively, making them the perfect replacement for your old products.
Here are a few of our favorite picks to make your home look and smell great while staying safe!
---
7 Easy Home Updates eBook: Free!
Today, get a free copy of our ebook that shows you 7 simple updates you can make in your home this weekend that will make your home look expensive and increase its value. Tell us where to send your free copy:  
This site uses ads and affiliate content as an Amazon associate earning on qualifying purchases. Disclosure.
---
Best Eco-Friendly Cleaning Products for a Non-Toxic Home
One of the reasons that many people have been reluctant to get non-toxic cleaning products is that they have the false impression that they don't work as well as conventional products. But this couldn't be further from the truth!
With the rise in demand for eco-friendly products for the home, there's a  product out there for virtually everything you have to clean.
Plus, most non-toxic cleaners are also eco-friendly. This means that they come in reusable bottles that you can use forever. Many of them also come in recyclable refill packaging or just require you to add water.
So not only will these products help you detox your home and keep it safe for yourself, your kids, and your pets, but you'll also be doing a lot to reduce your carbon footprint and the amount of plastic waste you contribute to the landfill.
Below, we'll discuss some of our favorite products, ranging from items you can use to clean the kitchen, bathroom, laundry, and more!
Let's dive in!
Blueland Dish Soap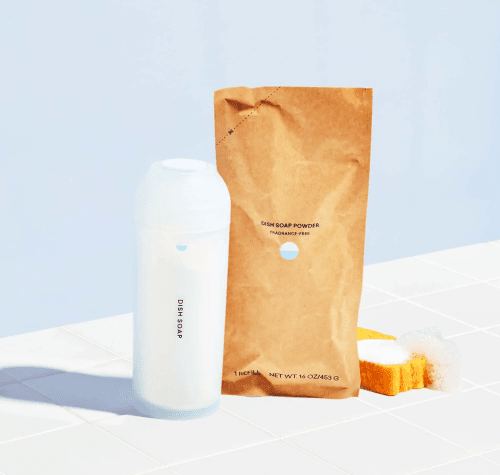 Blueland's dish soap is a complete game-changer when it comes to plastic and water waste. Unlike regular dish soap (which comes in liquid form), Blueland's dish soap comes in powder form.
Using the Forever Shaker (a convenient silicone shaker bottle), you simply shake it up with water, add it to a sponge, and start washing. This completely cuts out the need for single-use plastic bottles.
Blueland's products are also great for the environment because they cut down on the fuel and packaging needed for shipping, as transporting tablets is far less wasteful than shipping bottles of liquid.
One of my favorite things about Blueland's packaging is that it's aesthetically pleasing and is the perfect match for minimalistic decor. Unlike most cleaning products (with their flashy logos and colors), all of Blueland's "forever" bottles and tins look like they're a part of your decor.
As for the ingredients, this dish soap is cruelty-free, vegan, and made without dangerous chemicals like ammonia and bleach. Blueland's dish soap is also a good choice if you have allergies, as it has no artificial fragrances (if you prefer fragrance, check out Cleancult below).
Cleancult Dish Soap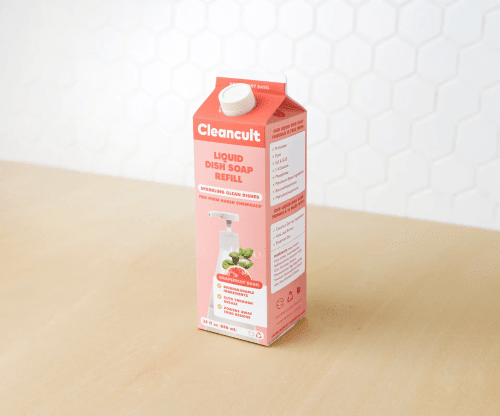 Another powerful addition to any eco-friendly cleaning arsenal is Cleancult dish soap. This soap is perfect for those who don't want to invest in a shaker bottle or already have their own reusable dish soap bottle.
This dish soap comes in recyclable milk cartons with plant-based lids, and the brand sells its own shatter-resistant, refillable glass bottles.
Just like with Blueland, I love how effortless the bottles are—even more so with Cleancult as the bottles come in so many modern colors. They're an especially great match for organic modern interiors.
Cleancult's dish soap is also a good choice if you love scented products. With their dish soap, Cleancult offers two scent options: grapefruit basil and lemongrass. Keep in mind that the formula is coconut-based, so it may not be suitable for those with allergies to the ingredients.
Like Blueland, Cleancult's soap is naturally-derived, cruelty-free, and safe for kids. The product also has a refreshingly small ingredient list, making it easy for you to double-check each ingredient for allergies or sensitivities.
Cleancult vs Blueland Dish Soap:
| Cleancult | Blueland |
| --- | --- |
| Scented | Unscented |
| Comes in liquid | Comes in powder (add water) |
| Use refillable glass bottles | Use silicone Forever Shaker |
| Recyclable milk carton package | Compostable paper package |
Blueland Dishwasher Tablets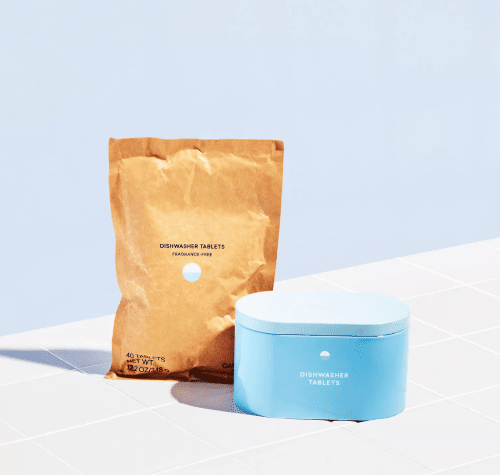 Another fragrance-free option from Blueland is their dishwasher tablets, which come in sets of 60, 120, and 240. Plus, the paper bag they come in is compostable!
One of the biggest advantages of Blueland's eco cleaners is that they're concentrated tablets that are plastic-free. This is in contrast to conventional dishwasher tablets, which come wrapped in plastic.
For those with sensitivities and allergies, Blueland's tablets are perfect because they don't have any dyes or fragrances. And like the rest of Blueland's products, they're free of harmful chemicals like parabens, ammonia, and phthalates.
To store your tablets, you can either get Blueland's steel Forever Tin (I love the minimalistic, pastel color and the fact that it's labeled) or use a tin/box you already have. I love the Forever Tin because it helps reduce bulk under my kitchen sink, and I can stack other things on top of it if I need to.
Cleancult Dishwasher Tablets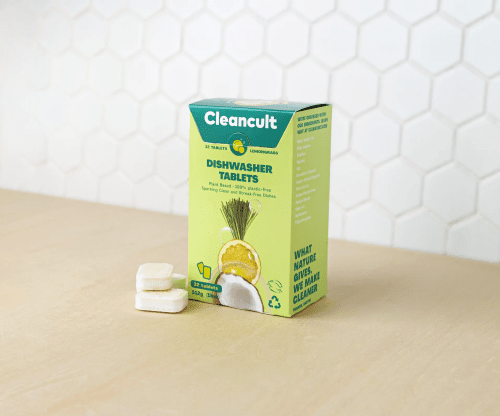 For those who want 100% biodegradable, sustainable cleaning products, look no further than Cleancult's dishwasher tablets. And unlike the chemical smell of conventional dishwasher tablets, these come with a lemongrass scent, which is sure to keep your dishes smelling fresh and clean.
Like Blueland, these dishwasher tablets are also plastic-free (Cleancult's have a thin, water-soluble film on the outside of theirs). The box is made of paper and is fully recyclable, so you don't have to worry about contributing to any plastic waste.
Reviewers love these dishwasher tablets because they work just as well as other dishwashing detergents they've used before and are much safer to boot.
For storage, Cleancult offers its own refillable tablet jar, which is made of shatter-proof glass and comes with a protective silicon sleeve. It also comes in 5 colors, so you can easily find one that matches your kitchen's color scheme. It can hold 32 tablets, which is the number of tablets you get with each refill.
If you already have Cleancult's spray bottles, the matching set of these two will look great in your kitchen, especially if you get the same color.
Cleancult vs Blueland Dishwasher Tablets:
| Cleancult | Blueland |
| --- | --- |
| Tablet form, plastic-free | Tablet form, plastic-free |
| Glass refill jar (5 color options) | Blue refill tin |
| Packs of 32 tablets | Packs of 60, 120, or 240 |
| 100% biodegradable | Planet-friendly ingredients |
| Recyclable paper box | Compostable paper bag |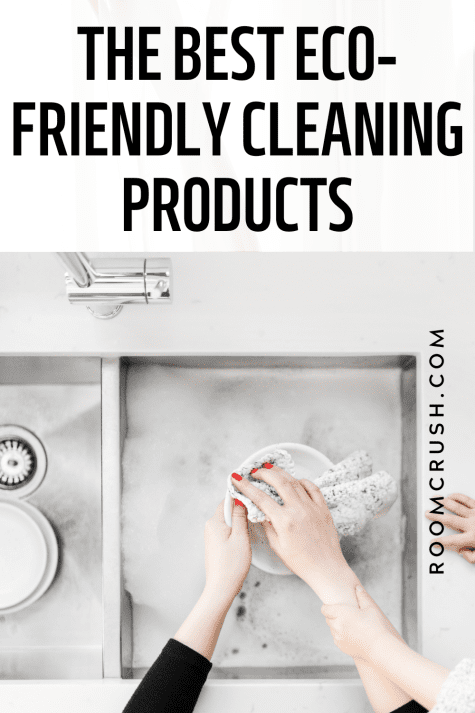 JAWS Surface Cleaner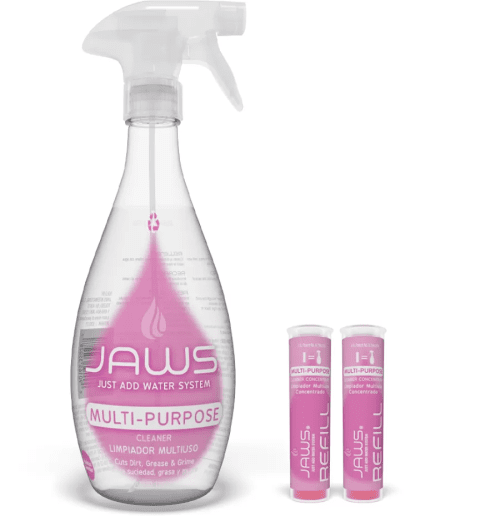 If you've never heard of JAWS before, it stands for Just Add Water System. This patented system works similarly to Blueland in that it aims to reduce the environmental impact of having to ship millions of water-filled plastic bottles.
With JAWS spray eco cleaners, all you have to do is fill your JAWS reusable bottle with water and add the refill pod containing the concentrated cleaning fluid.
One of the biggest pros of the JAWS system is the sheer number of spray cleaners they sell. While they do have an all-purpose cleaner that works well on surfaces like laminate, quartz, and stainless steel, you can also get the full cleaning system for targeted cleaning, especially on sensitive materials.
For example, JAWS carries:
Foaming bathroom cleaner
Kitchen cleaner
Daily shower cleaner
Hardwood floor cleaner
Granite Cleaner and polish
Disinfectant cleaner
One con of the JAWS system is that you do need to use their bottles, as you need to twist the refill pod into the sprayer to activate it.
The JAWS bottles are also made of plastic, so if you're looking to go plastic free, I'd suggest getting liquid dish soap refills like Cleancult and using their refillable glass dish soap bottle.
Force of Nature Multipurpose Cleaner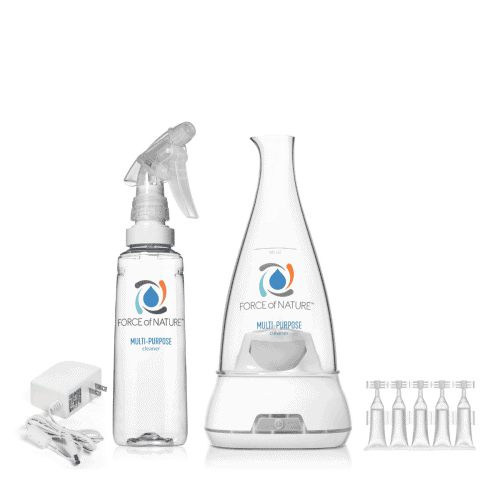 While Force of Nature's Starter Kit might look like a chemistry set at first glance, it's super easy to make this powerful cleaner at home.
The best part is that the ingredients are all-natural—the precisely-measured capsules are made of salt, water, and vinegar, making this one of the best environmentally friendly cleaning products.
To use Force of Nature, you'll need to get the Starter Kit, which comes with product capsules, a reusable spray bottle, and an electrolyzer appliance. To make a batch of cleaner, you fill the electrolyzer with tap water and squeeze a capsule into it.
The electricity makes the ingredients turn into hypochlorous acid, which is a potent (but safe) cleaner. In fact, Force of Nature is a proven, hospital-grade disinfectant, which is especially important coming into the fall and flu season.
While Force of Nature has no added fragrances, some people find the smell very strong and reminiscent of chlorine. So while the product can replace all your other cleaning products and sprays, it might not be the best choice if the smell bothers you.
But if you want a one-size-fits-all solution that cleans as well as disinfects, this product can be your go-to.
It's important to note that each batch you make only retains full disinfecting strength for 2 weeks, so you'll get the most use out of each capsule if you use Force of Nature regularly.
Cleancult Liquid Laundry Detergent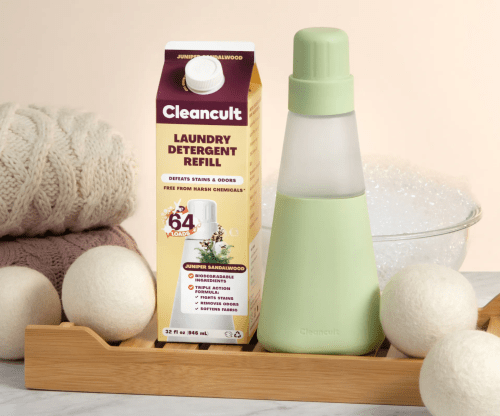 If you suffer from allergies or skin conditions like eczema, you know how important it is to get non-irritating laundry detergent.
This is where Cleancult's liquid laundry refills come in. The formula is powered by citric acid and coconut oil, which are great at tackling both stains and smells.
But in my opinion, the best thing about this detergent is that it's tough on stains while being hypoallergenic. It also works to soften clothes, eliminating the need for fabric softener, which can be a huge irritant for sensitive skin.
They come in 3 scent options: sea spray aloe, juniper and sandalwood, and fragrance-free for those with sensitivities. If you want to try the entire line with a discount, consider getting the Liquid Laundry Bundle, which has 4 bottles of refill, a refillable bottle, a stain stick, and 3 dryer balls.
And like with other Cleancult products, you can get an aesthetically-pleasing, shatter-proof Refillable Liquid Laundry Bottle for easy pouring.
Blueland Toilet Cleaner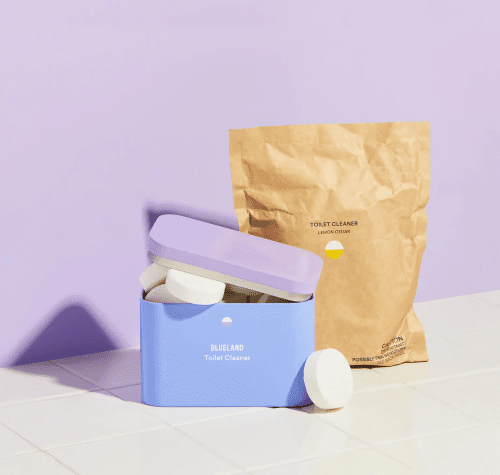 Most conventional toilet cleaners contain tons of harmful and even corrosive chemicals (like hydrochloric acid) that aren't safe to touch or inhale.
Thankfully, cleaners like Blueland's eco-friendly toilet cleaner tablets work just as well and are safe for you and the planet. They also have a pleasant lemon cedar scent that reminds you more of a candle than a toilet cleaner.
Blueland's toilet cleaner is unique in that it comes in tablet form rather than liquid. You simply drop the tablet into the toilet bowl, let it dissolve, brush it around, and then flush the toilet. It's very efficient at removing most grime in the toilet bowl, and you usually don't need to press too hard.
To store the tablets, you can use Blueland's beautiful blue and lavender Toilet Cleaner Forever Tin. I wouldn't recommend storing the tablets in a bag, as they can crumble up and waste a lot of product.
Blueland Hand Soap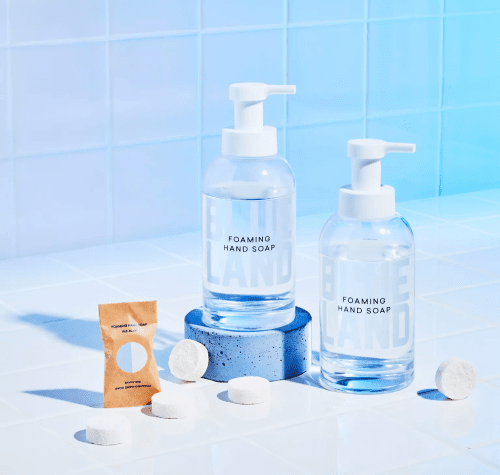 Just as with their other products, Blueland's hand soap is meant to be used with a Forever Bottle, which creates foaming hand soap that won't irritate your hands.
The hand soaps come in 3 scents: eucalyptus, lemon, and agave. They also come out with limited-edition, seasonal scents that you can buy in a bundle. There is currently no unscented option, so keep this in mind if you or a member of your household are sensitive to scents.
Made with plant-based and eco-friendly ingredients, Blueland's hand soap also helps the environment by shipping the soap in tablets rather than pre-filled bottles.
To make a new "batch" of soap, all you need to do is fill your Forever Bottle with warm water, add a hand soap tablet, let it dissolve, and put the pump back on.
This method also makes storing your hand soap much easier, as it's more space-efficient to store a pack of tablets than it is several new bottles of hand soap. Plus, you completely avoid single-use plastic waste!
Frequently Asked Questions about Eco-Friendly Cleaning Products
How Can I Clean My House without Chemicals?
Contrary to popular belief, you don't need harsh chemicals to do regular or deep cleaning of your home. For the most potent (yet safe) cleaning job, look for eco-friendly brands that are tough on stains and grime, such as Force of Nature and JAWS.
The only time you may need chemicals is when there is a serious stain or problem, but the important thing is that you're reducing your exposure as much as possible.
What Makes a Cleaner Eco-Friendly?
The two most important things to look out for in eco-friendly cleaners are packaging/waste and ingredients.
The formulas should be concentrated, while the packaging should be either recyclable or biodegradable. The best eco-friendly products will sell long-wearing bottles that you can reuse forever.
The cleaner should also be free of some of the most harmful and toxic cleaning chemicals, including ammonia, chlorine bleach, phthalates, and parabens.
Are Eco Cleaning Products Better for the Environment?
They certainly are and for two main reasons. The first is that most eco-friendly cleaners are either biodegradable or sourced from natural ingredients, ensuring no harm comes to animals and oceans after the products are flushed down the drain.
The other reason is that most eco-friendly companies feature their own reusable bottles and often ship their products as concentrates and tablets rather than water-filled containers. This saves a lot of fuel for transport, as well as packaging waste.
What Is a Natural Cleaner?
Natural cleaners use plant-based cleaning agents without the use of synthetic or harmful chemicals.
These include sodium coco-sulfate (derived from coconuts), glycerin (most often derived from vegetable oils), and even enzymes!
What Are the Best No Plastic Eco-Friendly Cleaning Products?
Blueland and Cleancult are some of the best no-plastic products that are highly effective cleaners. Both companies package their refills in paper containers/wrappers, and both sell refillable bottles that you can use forever.
Where Can I Get Eco-Friendly Cleaning Products Tablets?
With products like Blueland that come in tablets, the best places to get them are directly from the company's website, on Amazon, or at stores that sell eco-friendly cleaning products.
Best Eco-Friendly Cleaning Products for a Non-Toxic Home – Conclusion
Eco-friendly cleaning products have dozens of benefits, from being better for the planet to removing many health hazards from your home.
Whether you or a member of your household suffers from allergies or chemical sensitivities, today's eco cleaners work just as well as traditional cleaners. They'll leave your home smelling fresh without causing irritation or exacerbating many conditions.
The best part of all is that there are so many eco-friendly cleaning products out there these days. This makes it easy to replace all your conventional cleaners today!
Which of these products will you try next?
What To Read Next