5 Sustainable Cookware Brands for an Eco Friendly Kitchen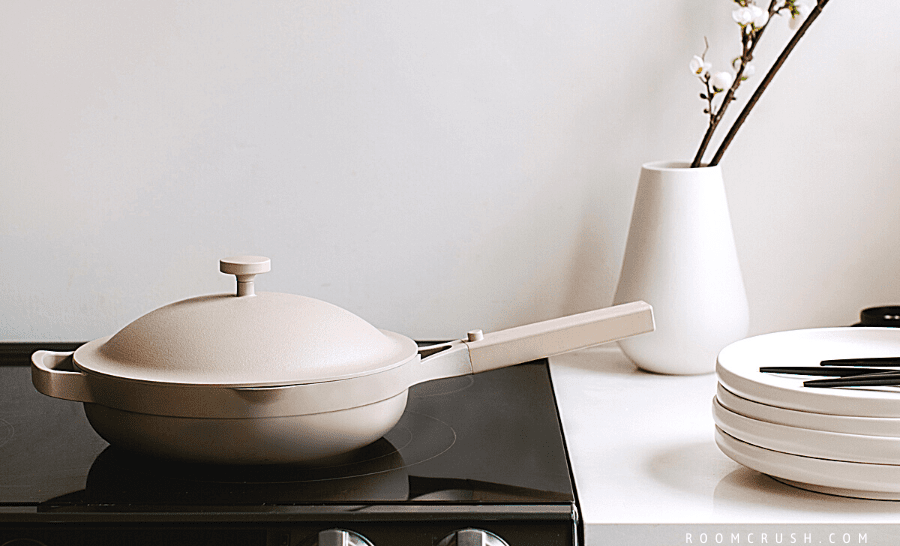 Most of us want a solid home-cooked meal, not something leached with heavy metal poisoning (even trace amounts) and next to impossible to clean up.
That's where sustainable cookware comes in. Not only is it better for the environment but you're not adding a dash of lead to your perfect roasted tomato soup.
Making the switch to sustainable cookware that is pfoa free is not only helps save the planet (one household at a time!) but ensures that Pinterest-perfect meal you just made is actually healthy for your family.
But with so many sustainable cookware brands out there, where should you even start looking?
---
7 Easy Home Updates eBook: Free!
Today, get a free copy of our ebook that shows you 7 simple updates you can make in your home this weekend that will make your home look expensive and increase its value. Tell us where to send your free copy:  
This site uses ads and affiliate content as an Amazon associate earning on qualifying purchases. Disclosure.
---
These five brands are our absolute favorite because they provide quality products that will look good in your kitchen, and come at an affordable price.
Read on for our favorite sustainable, pfoa free cookware brands.
What Makes Cookware Sustainable?
"Sustainable cookware" feels like a marketing buzzword companies use to jack up their prices, but there is a solid definition.
It's essentially well-built pieces of cookware that don't release toxins when heated. They are easy to clean and take care of, making them reusable so you create less waste.
And finally, they don't contain harsh chemicals like heavy metals, lead, and cadmium.
You'll find that a lot of eco friendly cookware is made with a ceramic coating because it doesn't release harmful chemicals. However, there are other materials available out there too!
5 Sustainable Cookware Brands for an Eco Friendly Kitchen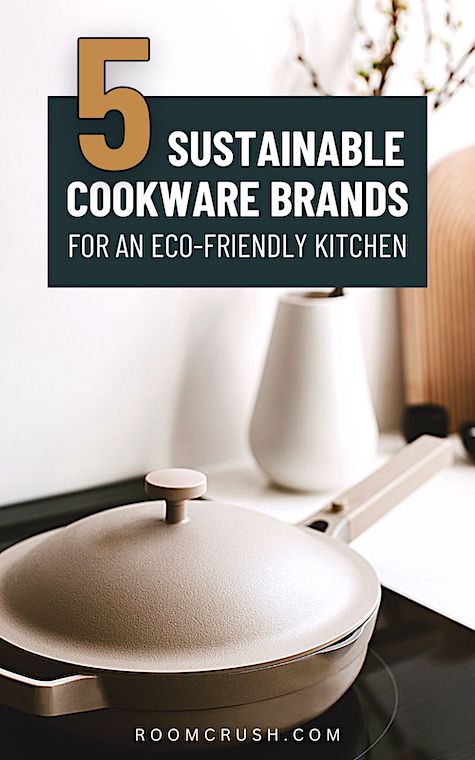 1. Our Place 
Woman owned Our Place is our favorite sustainable cookwear brand.
Our Place's viral Always Pan is the star of their line.
This single piece of cookware allows you do to almost anything you need in the kitchen.
I have had my Always Pan for years and use it all the time. It is WELL WORTH the $300 price tag.
I also bought the Perfect Pot. Paired with the Perfect Pot, you can run a full-fledged kitchen with a whopping two pieces of cookware!
The Perfect Pot is a replacement for your standard:
Dutch oven
Stock pot
Steamer
Sauce pot
Strainer
Roasting rack
While the Always Pan takes the place of:
Steamer skillet
Fry pan
Non stick pan
Sauce pan
Saucier
Sauté pan
All of their products are pfoa free. Plus, both have built-in spoon rests — so you can get rid of those too.
It's the minimalist cook's dream, helping build a versatile and effective kitchen set up without filling all your shelves.
Considering you can do so much with these two products you will find that it's well worth it to have them in your kitchen.
Sustainable materials
Our Place's sustainable cookware is made from non-toxic, non-stick material, and comes fitted with a beach wood spatula/spoon (another fancy combo item).
They use a sturdy, partially-recycled, aluminum bottom to evenly distributed heat, and the enamel coating means you don't need seasoning.
All of their products are free from toxic chemicals, including nanoparticles, cadmium, lead, PTFEs, PFOAs, and PFAs.
2. Caraway
Caraway cookware is both adorable and eco friendly. It comes in a range of colors, making it perfect for ANY kitchen.
Their eco friendly non-stick cookware is priced from $95 to $145, and they have plenty of cookware items for you to choose from.
Whether you want a frying or sauté pan, or need something a little more hearty like a Dutch oven, you can find it here.
All of their products (including frying pans) are suitable for high temperature and are built to work with induction cooktops.
They do recommend that you avoid using metal utensils with their cookware, this will help ensure it lasts longer.
Sustainable materials
Designed in New York and produced in ethical factories in China, Caraway cookware features an aluminum core with stainless steal handles.
Most importantly, they're coated with a non-toxic ceramic that does leach harmful chemicals and releases 60% CO2 during the manufacturing process.
They also use recycled cardboard, 100% biodegradable cork trivets, low-impact dies, and zero plastic bags.
3. Greenpan
Greenpan is often touted as the original creator of healthy non-stick ceramic cookware. Their pots and bans are made of non-topic materials, so no harmful chemicals will leach into your food while cooking.
Cleaning this cookware is a breeze, after you use it you simply toss it in the dishwasher and you're done!
We particularly enjoy the range of colors and designs of the cookware, and the affordable $60 to $260 price tags (depending on what you're looking at purchasing).
We love the Reserve set.
Finally, both their pots and pans are oven safe up to the extreme heat of 600F!
Their cookware product line includes:
Sauce pans
Fry pans
Saute pans
Stockpots
Roasters
Griddles
Grill pans
You can also purchase both lids and full cookware sets!
GreenPan Valencia Pro Hard Anodized Healthy Ceramic Nonstick 8″ and 10″ Frying Pan Skillet Set, PFAS-Free, Induction, Dishwasher Safe, Oven Safe, Gray
Infused with diamonds, GreenPan's Thermolon Minerals Pro healthy ceramic nonstick coating is free of PFAS, PFOA, lead, and cadmium, so it will never release toxic fumes, even if it's accidentally overheated
Metal utensil safe, our original diamond-infused nonstick coating offers remarkable durability, balanced heating, and effortless cleanup
Sustainable materials
Greenpan products are made of sustainable materials, which starts with their Thermolon non-stick coating that's free of PFAS, PFOA, nano particles, cadmium and lead, and doesn't release toxic fumes.
This coating is also able to withstand high heats and is made to be scratch resistant.
However, they do recommend that you use gentler utensils like silicone or wood with it.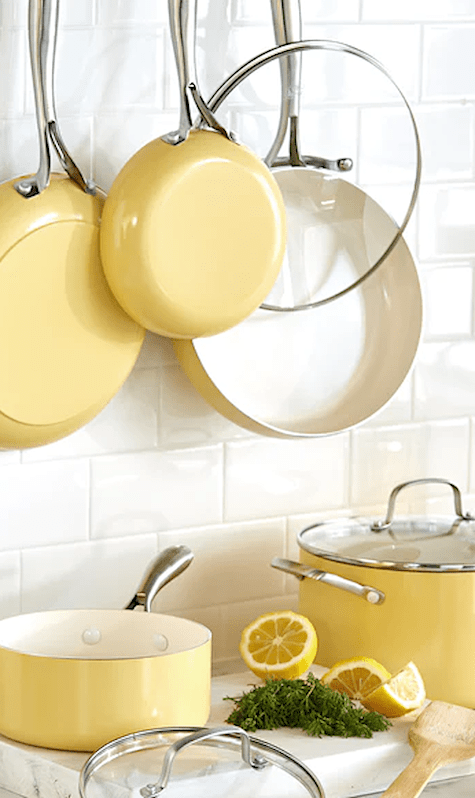 4. Greenlife
Greenlife aims to make healthy cooking affordable to everyone, and their slightly lower price bracket of $36 to $190 helps.
They cover both bakeware and cookware (including sets), and work to bring eco-friendly cooking within everyone's reach.
You can cook with confidence, and rest knowing that you aren't compromising on safety while you're cooking.
We particularly like that their products are dishwasher safe, made with non-toxic materials, and you can cook with just a little bit of oil (no need to grease the whole thing up).
Plus, the ceramic non-stick coating heats up quickly and released food easily.
Perhaps the most fun part of their cookware is that it comes in whimsical colors that go with ANY kitchen.
Sustainable material
The Greenlife cook and bakeware pieces do not contain PFAS, PFOA or any other dangerous chemicals. This means you can be confident that there won't be any toxins released while you're cooking.
But it's not just the materials that are eco friendly, their entire process creates 60% less CO2 emissions than traditional coatings.
Furthermore, 30% of their factory power comes from solar power, and they have their own treatment plan for industrial wastewater.
5. Great Jones
Great Jones has some gorgeous cookware and bakeware, that just so happens to be eco-friendly.
It doesn't matter what you're looking for, chances are their line has it, and it'll be well worth the $75 to $190 price tag.
With everything from stock pots and frying pans to sauciers and bread pans, their online storefront is the home chef's dream. They even have sets if you want to make sure your house is all matchy-matchy!
They have an assortment of cookware and bakeware made from stainless steel (which does contain trace amounts of nickel, but no Teflon), enameled cast iron and ceramic stoneware.
All their pieces work for low and medium temperatures, and some (like the stoneware) can handle a whopping 450F.
They also have a unique service called "pot line." It's a free text message service that allows you to get real time cooking advice and recipe suggestions — no Pinterest required!
Sustainable materials
Their products are made of varying eco friendly material, depending on the specific one.
They use enabled cast iron, ceramic (stoneware), and stainless steel — which is Teflon free, but has some nickel.
Great Jones partners with cookware factories around the world that practice sustainability and any returned items are donated or recycled.
Is sustainable cookware worth it?
Sustainable cookware does carry a heftier price tag, but in the end, it's worth it.
Not only are these brands making sustainable products, they do it ethically and with some serious style.
You can cook and bake without being concerned that you're slowly giving your family lead positioning without realizing it.
5 Sustainable Cookware Brands for an Eco Friendly Kitchen – Conclusion
What we like best about sustainable kitchen brands is that they make and sell items individually.
Unlike with your average bargain store 20-piece set, you get a solid piece of cookware that does more than one thing.
That means that you can replace your current items in a budget-friendly way, if that's important to you.
Read This Next: