Best Dorm Bedding Sets: Duvet or Comforter?
Living in a dorm, away from family, can be scary at first, but the right things make the experience worth it.
Comfort is one of the essential factors to feeling at home, so it is necessary to choose the bedding that works best for you.
After a long day of working hard to maintain your GPA, nothing feels better than curling up on your bed and watching Netflix. But what will help you relax more, a comforter or duvet?
You know that we can't dive into the topic before understanding precisely these pieces, so it will help to know the central point between a duvet and a comforter.
---
7 Easy Home Updates eBook: Free!
Today, get a free copy of our ebook that shows you 7 simple updates you can make in your home this weekend that will make your home look expensive and increase its value. Tell us where to send your free copy:  
This site uses ads and affiliate content as an Amazon associate earning on qualifying purchases. Disclosure.
---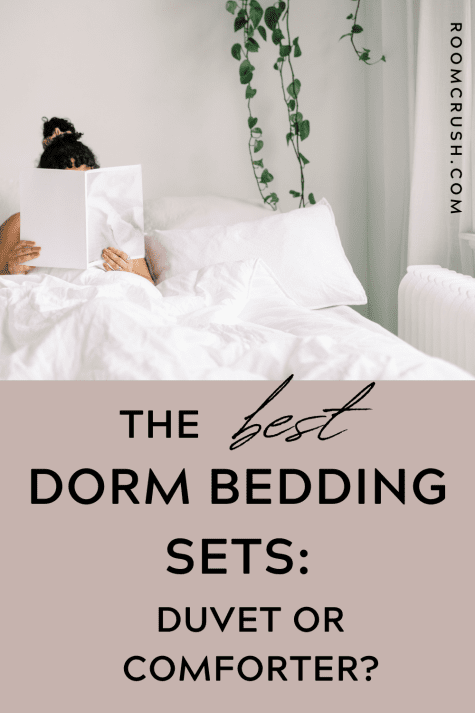 Best Dorm Bedding Sets: Duvet or Comforter?
A duvet comprises two sections, a cover and an insert, whereas a comforter is only one complete piece.
So, which is better for a dorm? Well, that depends on many factors, and keeping those in mind, we are here to help you decide.
Maintenance
One of the issues with duvets is that it does not stay put, meaning it is constantly twisting and turning because of the two separate pieces.
So, no matter how hard you try to pin it, you will rarely find it in the same place. Conversely, a comforter doesn't shift or twist like a duvet cover. With this one-package offer, you'll get all you need in one go.
So, if you choose a duvet, you will have to spend some time readjusting it, while the comforter doesn't require the same. However, if you are one of those students who relieve stress by cleaning and upkeep, the duvet could be your choice. If not, you can consider a comforter.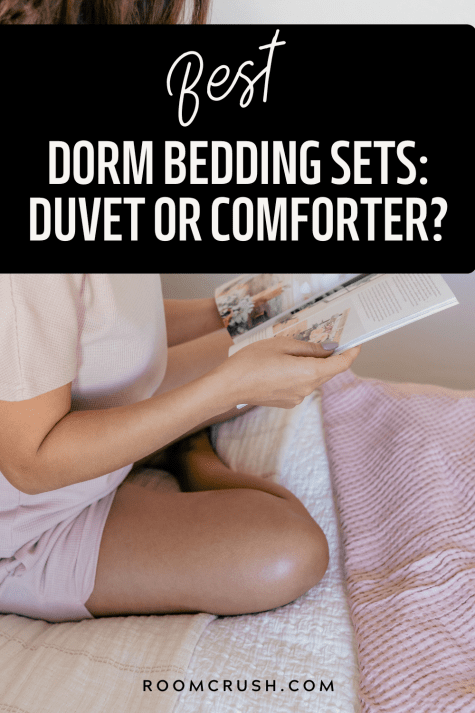 Decor
A comforter may be a great choice if arranging colors and decor is not your strong suit. With a comforter set, you receive all the pieces in matching colors for instant coordination.
If you prefer a quick and easy way to attain that cohesive bedroom look, you should choose a comforter.
You could choose a duvet cover if you are prone to changing your mind about what you want. Changing your duvet cover is an easy and cost-effective way to do so. Plus, there are significantly more design options for duvet covers than for comforter sets.
Wash
Washing down comforters can be a hassle. While some comforters can be washed typically, some must be dry cleaned.
On the other hand, duvets may be washed in the washing machine with ease. Also, once you remove the duvet insert, a duvet cover can simply be tossed in the wash. So, your choice may
depend on how much time you have to care for your sheets.
Top Sheet
Comforters may require a top sheet. It's best to use a full sheet with a dry-clean-only comforter since you can wash that regularly.
Even if you make your bed every day, taking a few extra minutes to straighten up the top sheet might be helpful.
However, a duvet cover can substitute the traditional top sheet. Since it is removable and washable, making the bed can be much easier. The choice will also depend on your morning routine and how much time you have to make the bed.
Regardless of which works best for you, you will have various options to choose from. Here are some duvets and comforter sets that can make for a cozy, alluring dorm room where even studying is enjoyable!
Here are our picks for the best dorm bedding sets:
1. Luxury Bohemian Duvet Cover
This beautiful red duvet cover is the perfect combination of bohemian and luxury. Its 350-thread count Egyptian cotton is sure to be soft and smooth on your skin, and the fabric is also fade and wrinkle-resistant.
I love that the paisley pattern on this duvet cover is eye-catching without being overwhelming, and the deep red color adds that touch of comfort I'm looking to create in a bedroom.
Pair this duvet cover with pillows in matching jewel tones, or keep it simple with black and white and let the duvet be the focal point of the bedspread.
2. Blue 3-Piece Quilt Set
Adding a touch of vibrancy to your bedroom, this Quilt Set is constructed with stunning mosaic quilting with an engineered medallion print in various shades of Blue and White.
Paired with matching shams with a diamond pattern reverse, this truly timeless collection has the updated beauty your bedroom decor needs. Add the Afton Window Treatments, Euros, And Pillows to complete this upscale, eclectic look.
Sale
Lush Decor Quilt Set, King, Nisha 3 Piece, Blue
Two quilts in one – a delicate, wide stripe floral print design on one side and a light gray and white pattern on the reverse.
Soft, 100% cotton fabric quilt with a cotton/poly blend filling – perfectly weighted, all season bedding.
Lush Décor Nisha bedding set is the ideal piece for your farmhouse or country style bedroom decor.
3 piece king quilt set includes a reversible blanket (92 x 108 inches) and 2 matching shams (20 x 36 inches).
Both quilt and shams are easy to care for and safe to machine wash and tumble dry.
3. Bebejan 5-Piece Comforter Set
Soft and inviting, the lovely floral pattern of the 5 Piece comforter set will lull you to sleep. But if you are interested in changing the look of your room, just turn it to the reverse side for a faux denim texture.
The navy ground with tones of white and olive are classic for traditional, transitional, or contemporary bedrooms. The 5 Piece set includes a 100% cotton sateen 230 Thread count reversible comforter, 2 reversible shams with embroidered and printed decorative pillows.
4. Hira Duvet Cover Set
Soft, silky, and exquisitely lustrous, the Hira Duvet Cover Setfeatures a contemporary accent diamond embroidery.
Crafted from extra-long, hand-picked Egyptian Cotton fibers, the Hira collection effortlessly transforms a room into a stylish space. Pure 100% certified Egyptian cotton.
Hotel Collection Hira Sateen Duvet Cover Set, 100% Long Staple Certified Giza Egyptian Cotton, Cool, Breathable, Natural, Sustainable, Diamond Embroidery, Duvet Cover & 2 Shams (Ivory, King/Cal King)
100% Long Staple Certified Giza Egyptian Cotton
Sateen Weave
All Pure Parima products are environmentally conscious, natural, sustainable, renewable, and biodegradable
OEKO-TEX Certified Non-Harmful Chemicals
Luxurious 400 Thread Count
5. Yalda Duvet Cover Set
The elegant pearl finish of the Yalda Duvet Cover Set brings the serenity of heaven to any bedroom.
Crafted with extra-long, hand-picked fibers that were delicately spun into strong, smooth yarn to weave the most luxuriously soft double-hem stitched duvet covers.
Yalda's soft, silky, and smooth feel promises sweet dreams. Pure 100% certified Egyptian cotton.
Best Dorm Bedding Sets: Duvet or Comforter?
Whether you choose a comforter or a duvet, there are endless options out there to suit the design style you've chosen for your dorm room.
When in doubt, choose a style that's neutral or can be swapped out easily (as is the case with duvet covers).
And if you're still deciding between a duvet and a comforter, read some product reviews. These will help you decide which item suits your lifestyle better.
Happy shopping!
Read This Next: 10 Essential Master Bedroom Accessories