15 Useful Gifts for New Homeowners
So your bestie just bought a brand new home and you want to gift them with something useful that they preferably don't have. It sounds like you're looking for the most useful gifts for new homeowners. 
Luckily, you're in the right place.
Whether you want to help them master the kitchen or make cleaning their new space easier, we've got an idea for you.
From cozy to sleek, these are the best, most useful gifts for new homeowners.
---
7 Easy Home Updates eBook: Free!
Today, get a free copy of our ebook that shows you 7 simple updates you can make in your home this weekend that will make your home look expensive and increase its value. Tell us where to send your free copy:  
This site uses ads and affiliate content as an Amazon associate earning on qualifying purchases. Disclosure.
---
Kitchen Essentials
1. Quality Knife Set
Knives are essential for prepping meals and help ensure efficient cooking, and a quality knife set can last forever.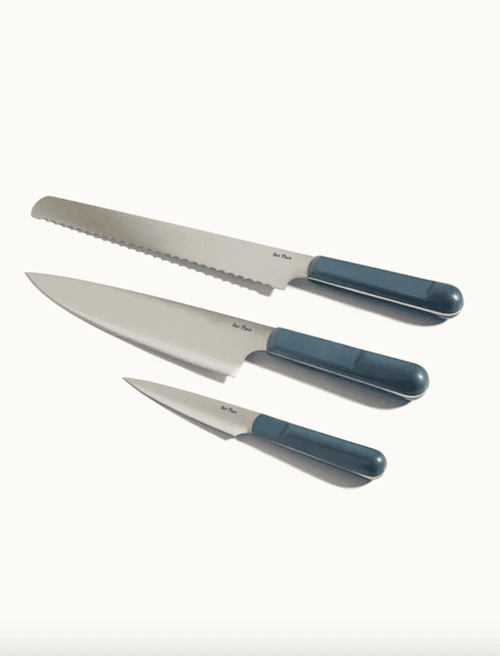 This is a great gift for new homeowners, especially if they've been using a sub-par set.
Look for sets that include a variety of knife types, making them versatile and indispensable in their kitchen.
The Knife Set from Our Place tops our list.
2. Cookware Set
Cookware is the backbone of your kitchen. Whether you're whipping up a hearty stew or searing a succulent steak, good pots and pans make it all possible.
This can be an invaluable gift for brand-new homeowners, especially if they're working with hand-me-downs now. 
For durability, think about non-stick or stainless steel options. And for those health-conscious homeowners, consider non-toxic cookware, ensuring their meals are as wholesome as their new home.
A standout piece we love is the Always Pan, it is a stellar choice.
3. Food Processor
Food processors can help you whip up smoothies, and quality craft soups and tackle other culinary challenges with ease. It's like having a kitchen assistant at your fingertips.
Sale
A2300 SmartPrep Kitchen System
The Vitamix A2300 SmartPrep Kitchen System provides a standard blending container that is incredibly versatile, making everything from smoothies to soup to nut butter. And with the addition of the Food Processor Attachment, your Ascent Series A2300 base becomes a full-featured kitchen system, allowing you to speed through food prep tasks.
When picking out a food processor for a new homeowner, go for models with multiple speed settings and attachments – this way they can grow it as they skill up in the kitchen.
4. Espresso Machine
Sale
Espresso machines can elevate a kitchen to a whole new level, especially if the new homeowner is a coffee aficionado.
It takes the morning ritual to a whole new level, offering the perfect wake-up brew.
There are a ton of fancy machines out there for coffee enthusiasts of all levels, but we recommend opting for something with a built-in grinder and programmable options (hello, hands-off routine!). 
Home Maintenance Tools
5. Tool Kit
A tool kit is a perfect gift for new homeowners.
Sale
Packed with essentials like hammers, screwdrivers, and measuring tapes, it's their go-to for assembling furniture and handling minor repairs. It's the key to tackling DIY projects and ensuring their new space feels truly like home.
6. Cordless Drill
A cordless drill is a superb gift for new homeowners, making various home projects a breeze.
Sale
We recommend looking for models with variable speeds and robust battery life for the ultimate versatility.
Alternatively, consider an electric screwdriver for quick fixes and assembly tasks.
While they tend to be less expensive, they're just as useful, helping to cut down simple household tasks. Both of these tools can be a homeowner's trusty sidekick for DIY adventures.
7. Gardening Tools
Gardening tools aren't going to be the best fit for ALL homeowners, but if they love to spend time outdoors they could be a winner.
Sale
Garden Tool Set
11-PIECE GARDENING SET: This essential all-in-one gardening set includes a large trowel, small trowel, hand rake, cultivator, weeder, pruning shears, 100ft gardening rope, handheld sprayer, digging claw gardening gloves, pruning snips, and an Oxford cloth tote to keep all your tools packed away and organized so you can prune, dig, weed, aerate, and plant to perfection.
Equip your new home-owning friend with essentials gloves, pruning shears, and a watering can, and help them nurture their green space and add a touch of natural beauty.
Tech Gadgets
8. Smart Thermostat
Another brilliant gift for a brand-new homeowner is a smart thermostat.
Sale
Google Nest Thermostat – Smart Thermostat for Home – Programmable Wifi Thermostat – Charcoal
ENERGY STAR certified smart thermostat for home that helps you save energy and stay comfortable.Connectivity : Wi-Fi – 802.11b/g/n 2.4 GHz, 802.11a/n 5 GHz Wi-Fi., Wireless interconnect : Bluetooth Low Energy Please refer to the product description section below for all applicable legal disclaimers.Product note: You can also check your system's compatibility before purchasing a Nest thermostat with our online Nest Compatibility Checker on the Google Nest support page
This can help them have effective and efficient temperature control in their space without a ton of extra work.
Smart thermostats are great because they learn preferences and helps to save energy, ultimately lowering bills.
Opt for models compatible with smart home systems, granting remote control and enhancing their home's efficiency and comfort.
9. Video Doorbell
Video doorbells offer new homeowners both security and convenience – the best part is they don't have to be overly expensive!
Sale
With good video quality and motion detection, it keeps them informed about visitors and enhances their home's safety.
It's a smart addition to their entryway, ensuring peace of mind and easy access control.
10. Smart Plugs
Smart plugs are a practical gift for new homeowners, granting voice or app control over lights and appliances.
Sale
Kasa Smart Plug Mini 15A, Apple HomeKit Supported, Smart Outlet Works with Siri, Alexa & Google Home, UL Certified, App Control, Scheduling, Timer, 2.4G WiFi Only, 4-Pack (EP25P4), White
【Apple Homekit Support】This Apple HomeKit compatible smart plug fully integrates into your Apple ecosystem, just ask Siri to turn on/off the devices in your home. (Apple HomeKit remote control requires an additional networked Apple device at home such as an iPad, HomePod or Apple TV.)
Compatible with Amazon Alexa, Google Assistant, and more, they transform the home into a connected oasis, enhancing convenience and energy efficiency with effortless automation.
Bring your friend into the future with a few of these.
11. Robot Vacuum
If you really want to lend the new homeowner a hand, go for something that helps make cleaning easier.
A robot vaccum is a perfect gift, providing daily floor cleaning convenience without extra effort on their part. 
We recommend checking out models with scheduling features and efficient navigation, ensuring their floors stay spotless with minimal effort.
Our #1 picks for the best robot vaccums are Narwal and Yeedi-Vac.
It's a modern addition that brings both practicality and a touch of luxury to their new home.
Miscellaneous
12. Subscription Box Service
Who doesn't love getting mail? A subscription box service is an ideal gift for new homeowners, bringing monthly surprises to their doorstep.
We love that they can be perfectly tailored to the homeowner's preferences, and you can find something that falls in almost any budget. 
Whether it's goods, food, or books, there is a subscriptioon box for everyone here. You can tailor it to their interests and needs.
It's a thoughtful gesture that keeps giving, adding excitement and convenience to their new chapter.
13. Gift Cards to Local Restaurants or Grocery Stores
If you're not sure what to get but you don't want to hand over cash, gift cards can be helpful – especially if they're new to the town or city.
Go with cards for local restaurants or grocery stores, not only can you help them take advantage of the surroundings, but you can give them a bit of a break.
They come in handy on busy days when cooking isn't feasible.
Consider the recipient's location and preferences, ensuring they have convenient options for delicious meals or stocking up their new kitchen.
14. Scented Candles or Essential Oil Diffusers
For those who identify smell with comfort, scented candles or an essential oils diffuser make for the perfect new home gift.
Sale
These can help create a relaxing atmosphere in their new space, fostering tranquility and comfort.
Opt for calming scents like lavender or eucalyptus to enhance their overall well-being and make their home feel even cozier.
15. Cozy Blanket or Throw
A cozy blanket or throw can be a wonderful gift for new homeowners, adding warmth and comfort to their living space.
Choose soft and durable materials to ensure it becomes their go-to companion for chilly nights and relaxing moments.
If you're not confident in their color scheme, air on the side of neutral for the most versatility.
Our pick: The Organic Cotton Knit Throw from Parachute.
This is a gift perfect for movie night – so if you want to step up your game, throw in a gift card to Netflix.
Useful Gifts for New Homeowners – Conclusion
The most useful gifts for new homeowners are not pre-picked decor (unless you know their tastes really well) or copious amounts of things they won't use – it's most often something you have or use often yourself.
If this is the homeowner's FIRST time living on their own, something like a quality knife set might be a good pick.
But something cozy like scented candles or a throw can be meaningful and gets lots of use without the higher price tag!
It's worth noting that before you go out and buy something fancy (regardless of how useful it is) you might want to consider checking in with the new homeowner.
No one needs two robot vacuums, and there might be something more meaningful you can get them.