How To Decorate A Dining Room Wall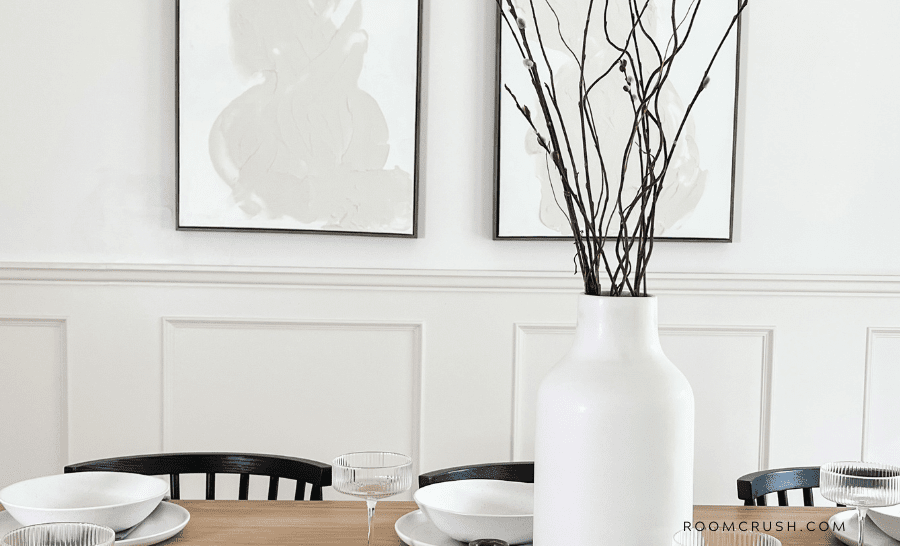 Looking for ideas to decorate your dining wall? We would love to share creative ideas with you!
No matter how much eating spaces around the home are becoming more casual_think the kitchen island bar areas, the dining room will still reign supreme, especially for families who treasure bonding moments as they chat over a meal.
Undoubtedly, the dining room gives a clear impression that this space is meant for meals and maybe entertaining guests.
This means the dining room should be decorated to look more inviting.
---
7 Easy Home Updates eBook: Free!
Today, get a free copy of our ebook that shows you 7 simple updates you can make in your home this weekend that will make your home look expensive and increase its value. Tell us where to send your free copy:  
This site uses ads and affiliate content as an Amazon associate earning on qualifying purchases. Disclosure.
---
How To Decorate A Dining Room Wall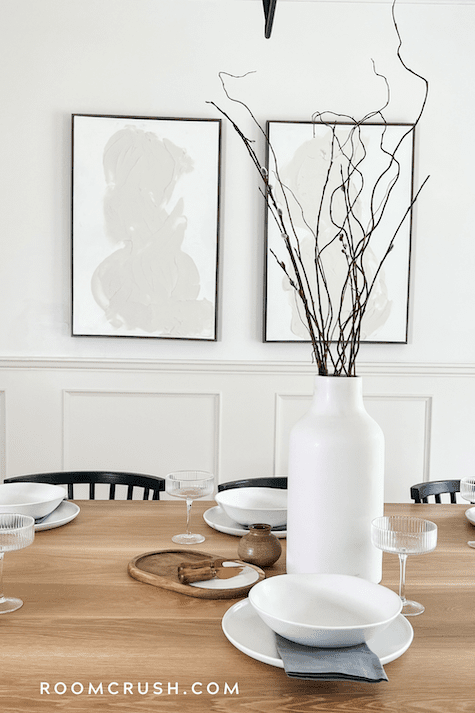 For my dining room, I created two DIY paintings (pictured above) by painting over some framed canvases with drywall mud. 
It makes for a nice, modern look (and it cost less than $50 to make!)
Here's some more inspiration for how you can decorate your dining room walls!
With quite a few considerations to put in mind when decorating your dining wall, including your choices for the furniture and lighting to the tablescapes, we cannot overlook decorating your dining wall.
Your dining wall is perhaps one of the key architectural features in this space, although, in some cases, the dining area is usually centered within an open plan kitchen-living room.
This wall allows you to play around with decorative items that add more interest to your dining room.
If you're looking to decorate your dining wall, try these chic ideas that will spruce up your space:
1. Appreciate the Kitchen's View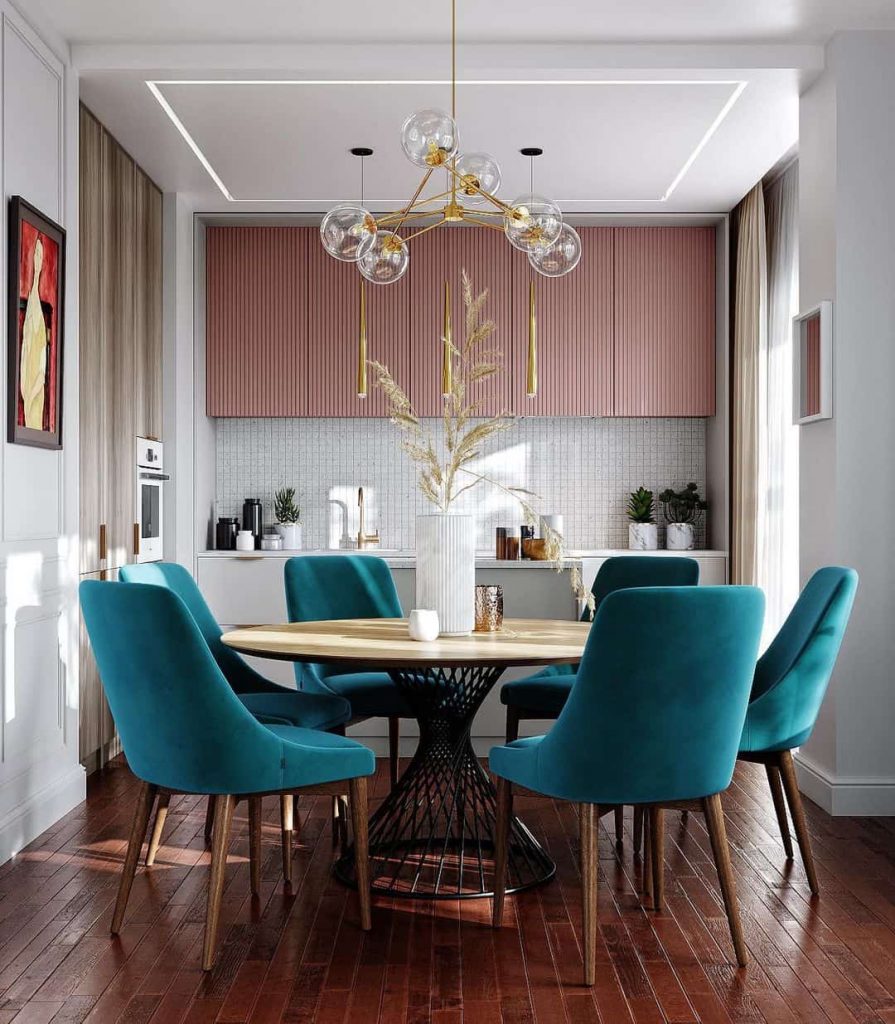 Want to add some pizzazz to a boring open-plan dining area that has no exciting view?
Consider upgrading your kitchen cabinets, countertops and match beautiful colors between your kitchen and dining area to create a cohesive space.
That way, any person who sits to enjoy a meal at your dining table will meet the polished look of your kitchen and be in awe of your interiors!
2. Or the Outdoor View
If your dining area is situated near a window, then lucky you! Consider the outdoor view as your statement maker and enjoy it while you munch on some food. For sure, this view outside the dining area can look very enchanting during daytime.
This is an example of how a simple dining room can be perfected by the existing architecture of the room, that is, the large windows letting in much sunlight.
Decor Tips…
Create extra seating in your dining area by using a cozy bench beneath the window that offers a low-profile nook. Add some throw pillows for maximum comfort.
You May Also Like: How To Create A Cozy Reading Nook In Your Home
Windowsills are seriously prime real estate in your home when it comes to plants. So, make the most of the outdoor view by adding houseplants to contemplate the windowsill decor.
Echeverias are such popular windowsill plants because they need bright light and minimal watering thus, relatively easy to care for (as long as you don't overwater them). They are also small enough for the windowsill area.
Cacti, succulents, and also the missionary plant, Pilea perperomiodes are all low-maintenance houseplants that are perfect for a windowsill.
Just remember to keep an eye out for sunburned leaves if your plant is getting southern or eastern exposure to the sun.
You May Also Like: How Do You Start & Care For A Cactus Garden?
3. Your Kitchen's Accent Wall is your Dining's Accent Wall Too
A beautiful accent wall with a pretty color, texture, or material can brighten your day.
Whether you install wood paneling, wallpaper, or a backsplash in the kitchen, this beautiful feature wall can draw eyes from the dining table so make it worthwhile.
Just remember that wherever possible, try to avoid using wall coverings that come into direct contact with heat, steam, or water.
Non-woven papers are an ideal choice for kitchens as not only are they easier to apply, they can be wiped clean of any marks or splashes.
You May Also Like: How To Create The Ultimate Feature Wall
4. Paint it Bold
A plain white wall can be given a welcome dose of warmth and depth simply by painting a feature wall in a vibrant color, like the terracotta shade used in this dining area.
Subtle coordinating elements, such as the terracotta light fixture and the beige dining chairs both ensure a harmonious scheme.
5. Add Wallpaper
The dining wall provides the perfect space to embrace patterns and covering its feature wall in wallpaper is one of the easiest ways to create an elegant, yet impactful decor transformation.
A general rule of thumb to employ when decorating this dining area is to use colors that have the same hue and intensity.
For instance, the maroon dining chairs in this dining area pair perfectly with the maroon-patterned wallpaper.
You May Also Like: 15 Creative Ideas To Decorate With Wallpaper
6. Or Statement Art
Don't be afraid of going big and bold when decorating your dining wall. A large piece of art lets you anchor a room, grounding the space and centering visual interest on a single focal point.
In fact, the colors in a large wall art piece set the tone and temperature of your dining room perfectly, tying together the different elements of your decor and unifying the dining room as a whole.
You May Also Like: How To Use Wall Art In The Bathroom For A Stunning Display
7. A Gallery Wall Is A Win!
If using a single oversized art piece is not to your liking, then create a gallery wall: start by placing your biggest pieces first, and build around them with many small art pieces.
Ideally, the larger the dining wall, and the more pieces you have, then the more frame styles you can mix in.
To keep your gallery wall looking interesting, you want to have a good mix of vertical and horizontal pieces. Also, create grids within your gallery wall by putting a mini collection of 2, 3, or 4 pieces together.
While creating a gallery wall can be very daunting to put together, here is a complete guide on Style by Emily Henderson on how to create a gallery wall.
8. Install Floating Shelves
Floating shelves provide an opportunity to show off your personality in the dining area; they are an easy way to decorate your dining wall effortlessly.
Use decor items in a variety of shapes and sizes to create a more visually interesting arrangement. Remember to add houseplants, including beautiful trailing and hanging plants.
9. Or an Open Shelving Unit
You can't go wrong with using an open shelving unit to decorate a dining wall. Featuring multiple shelves, such a shelf provides a flexible storage solution to your lifestyle without breaking the bank.
10. Add a Mirror
Instantly add an interesting focal point to your dining wall with a statement wall mirror which also gives a little extra pop to your dining room decor whilst giving the illusion of more space.
The end result is a striking and eye-catching piece perfect for your dining room. Now, enjoy your meals!
You May Also Like: 9 Dazzling Mirror Decorating Ideas To Try & Mistakes To Avoid
11. Decorate a Console Table
While console tables are mostly used on entryways and hallways, you can still place one more console strategically along your dining wall to anchor the space.
Center statement artwork above your console and consider the surface as an extra spot for displaying cute vignettes and florals.
You May Also Like: A Step-by-Step Guide To Follow For Your Console Table Decor
12. Hang a TV
In a minimalist dining area that is devoid of any decor besides the furniture and statement lighting, hanging a television on the dining wall would be a chief conversation starter.
This allows people to generally have a topic of conversation, besides mundane topics like weather and politics. And when night falls, the television becomes the only source of entertainment that can be enjoyed.
13. Let your Light Fixture Stand Out!
Your dining room lighting can create a stunning focal point once people make their way into the dining area.
A plain wall or large windows make a perfect backdrop for statement lighting so choose ambient lighting above your table that illuminates the entire dining space.
Ready to decorate your dining wall? Try these simple ideas and spruce up your dining area.