14 Ways To Decorate Your Walls – No Painting Needed!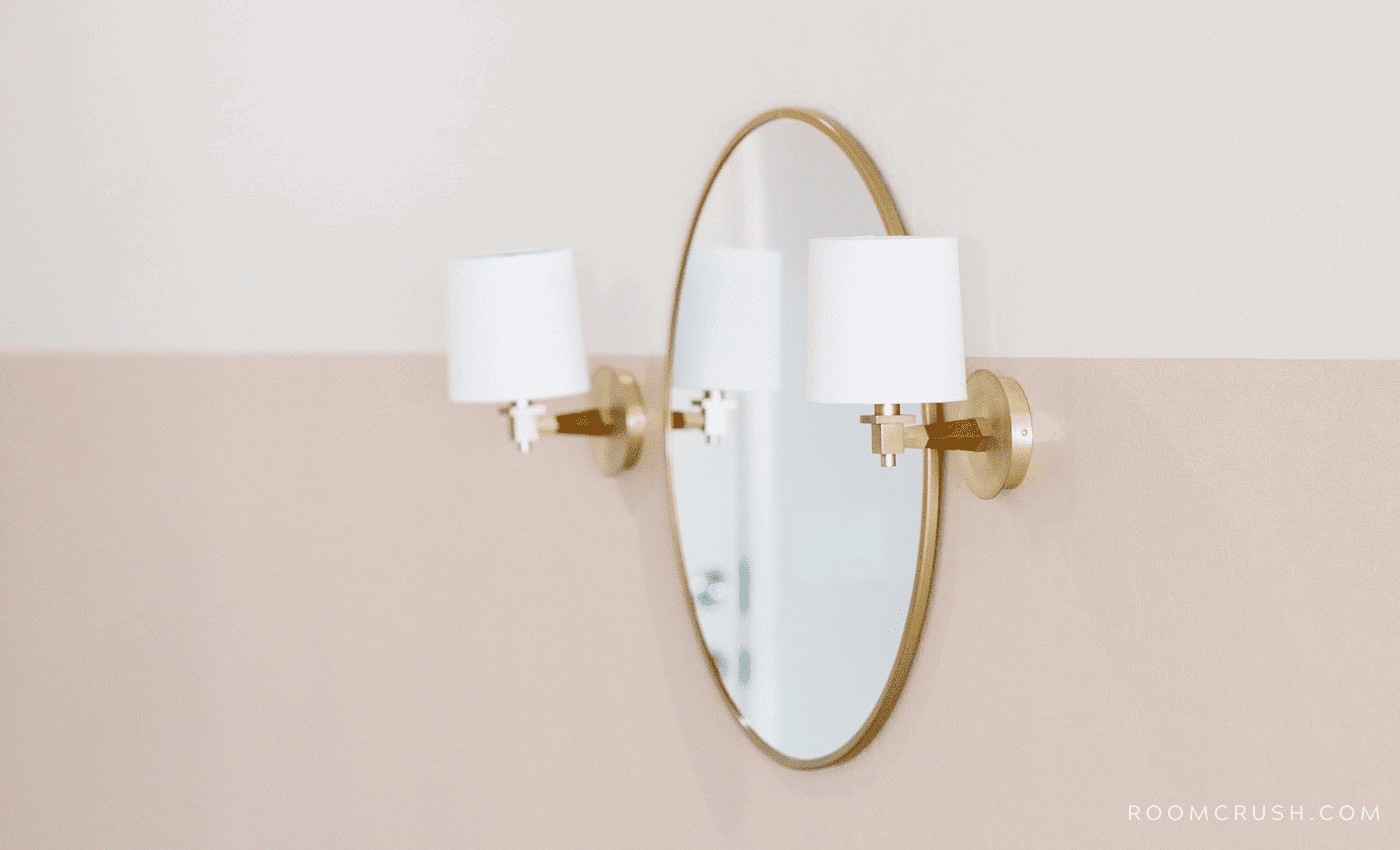 There are many ways to decorate your walls,  without the chore of having to paint.  Sure, you can change the look of your home to befit a particular season and still, make it feel completely new is by just repainting it. A fresh lick of paint is great but have you thought of other ways to decorate your walls without painting?
The walls in our homes have the power to speak volumes about our lives. Thus, we can inject our personality into the walls and make our homes unique.
And let's face it, blank walls can be very boring and make it seem like no one is living there – no matter how well-painted and clean they are.
If you're looking to pack your personality into your walls, here are a few ideas of what you can do in each room of your house to make those blank walls look a little more interesting!
---
7 Easy Home Updates eBook: Free!
Today, get a free copy of our ebook that shows you 7 simple updates you can make in your home this weekend that will make your home look expensive and increase its value. Tell us where to send your free copy:  
This site uses ads and affiliate content as an Amazon associate earning on qualifying purchases. Disclosure.
---
Before you start your decorating your walls, first, choose the colors you're working with.
That way, you can build your decor around those colors for a very cohesive room.
This will also ensure every item in your decor has the purpose of being there since it's well-tied with another color around the room.
You May Also Like: 10 Home Decorating Ideas on a Budget
14 Ideas To Decorate Your Walls – No Repainting Necessary!
Different accessories can be used to decorate different rooms around your home. Thus, we will base our decorating ideas on the kind of rooms they would look best in.
Whether you're considering a remodel or refresh of your home, these tasteful wall decor ideas will give your walls personality and style.
1. Wallpaper Your Walls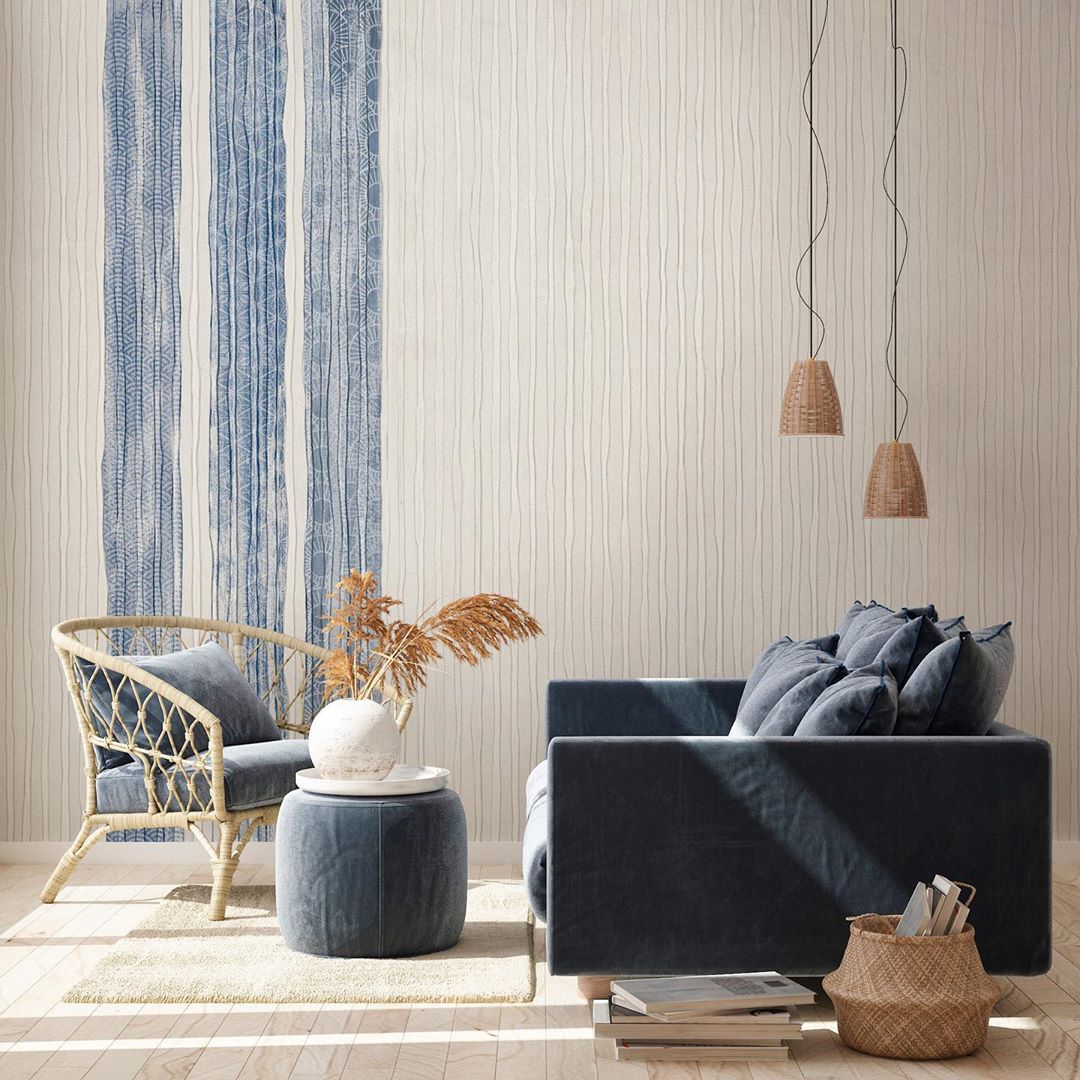 Whether you want to showcase your personal style or décor that matches your new coffee table, a wall mural or wallpaper is an easy way to accentuate your living room.
Create a stylish accent wall with modern designs and patterns, or use your own image for a unique and personalized look.
Adding a wallpaper mural to your ceiling is a great way to add life to your living room. As well, pop art-style mural wallpaper brings a bold, colorful element into rooms with neutral furnishings.
You May Also Like: 15 Creative Ways of Decorating with Wallpaper
2. Hang A Wall Mural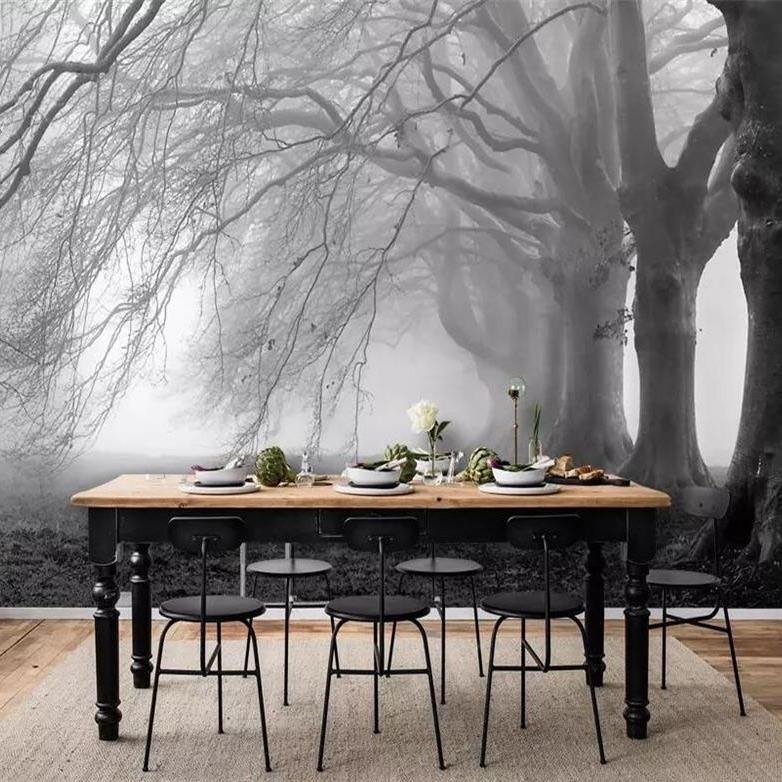 Wallpapers are great, but, have you tried wall murals? These wallpaper's contemporary and customizable counterparts can be altered to fit your design needs and personalized to your taste.
You even have the option to use your own artwork. And the best part is, you can be sure that your mural will fit your space, unlike wallpaper.
Wall murals are an easy DIY wall decor idea to add color, depth, and texture to any room. You can use a blank canvas that is ready to be painted.
Thus, you can paint the canvas as desired to reflect the atmosphere you want to create in your home- think watercolors drawing trees in nature, stars in space, or random calligraphy, your choice.
I would personally love to paint on the canvas some rich earthy-toned flowers and leaves just to bring nature inside.
You can also consider hanging a ready-made wall mural to create an accent wall. Perhaps an easier and less demanding way to decorate your walls with murals.
Wallpaper and wall murals are great in:
The living room. Want an accent wall that really stands out? Use a wall mural instead of plain paint.
The bedroom.
Your kid's room or nursery. Trendy woodland forests and animals wallpaper murals are a great way to decorate a nursery.
Your bathroom. Add interest to small spaces like bathrooms.
Ceilings are a great place to add wallpaper or wall murals, especially if you have an inset panel.
The dining room. A gorgeous wall mural adds charm and interest to an otherwise plain dining room.
The kitchen. The kitchen is the heart of the home – dish up some style with a beautiful wall mural or colorful wallpaper around the cabinets, to side your kitchen island or furnish your backsplash.
Your hallways and stairways.
3. Create a Contrasting Gallery Wall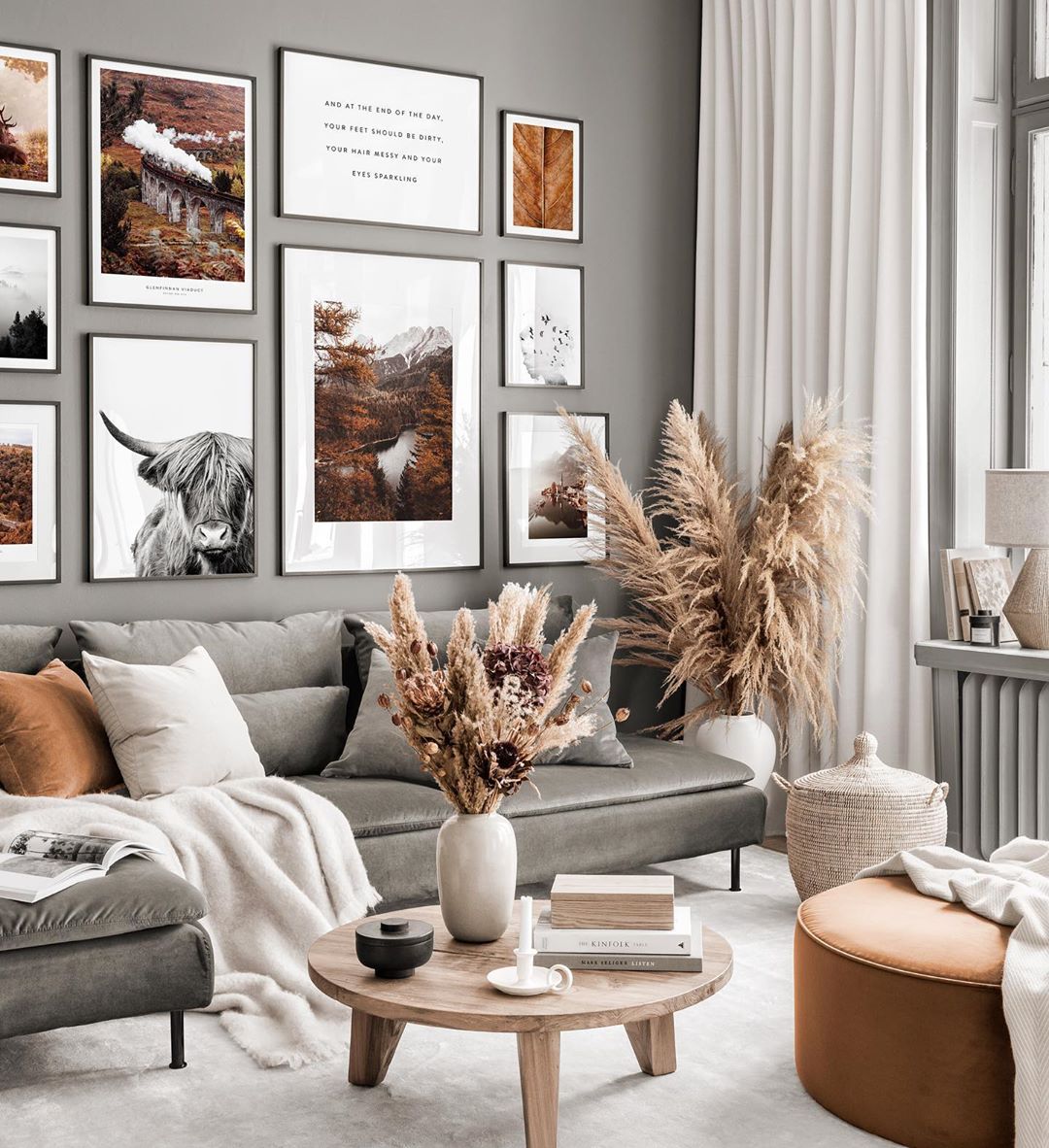 We all love gallery walls, and it's not hard to see why. They're an amazing way to infuse color and pattern into space, allowing art-lovers to display their collections in groups
Gallery walls are an excellent way to take up empty space on a large wall, making the room feel fully inhabited.
Be sure to add a great gallery wall that could include photographs, drawings, or art, and then start adding in the things you cherish like postcards from favorite vacations, your grandmother's dishes, jewelry, or pieces from your favorite game.
A creative gallery wall could:
easily spice up a more traditional dining area.
add a cozy feel to a seating area.
create a focal point for your headboard space in your bedroom.
Decor Hack: For walls that already have some personality and color, choose items and frames that will pop against that backdrop. For plain walls, it is easier to show off your paintings or photographs so people can admire them.
Add a distinctive charm to your walls by varying the sizes of the frames. This diversity adds much-needed beauty to your space. And to make your painting stand out, opt for simple frames since sophisticated frames take attention away from the painting or photograph.
4. Include Some Pressed Leaf Frames
If you're looking to inject some modern Mid-century vibe into your home, consider bringing in some pressed leaf frames to your gallery wall instead of the normal pictures or photographs.
The simplicity of the leaves trapped in a clear glass frame add an instant charm to your indoor environment.
To make a pressed leaf frame, get two leaves or flowers of your choice and place them on two white sheets of paper. Place two other sheets of paper onto them and iron the plant on medium-high heat.
Put a little pressure on it and don't move the iron. Instead, hold it down at the same spot for a few seconds.
Repeat the process until your plant is completely dry and flat. Once done, attach it to a clear glass frame.
And there you have your pressed-leaf frames! Perfect for your living room or bedroom wall.
You May Also Like: The Best Indoor Plants For Beginners
5. Hang A Statement Mirror
Mirrors create a focal point and certainly add sparkle to any room.
Thanks to its incredibly striking features, it is hardly overshadowed even by bold furniture since the strong golden color creates a sunny room with a joyous character!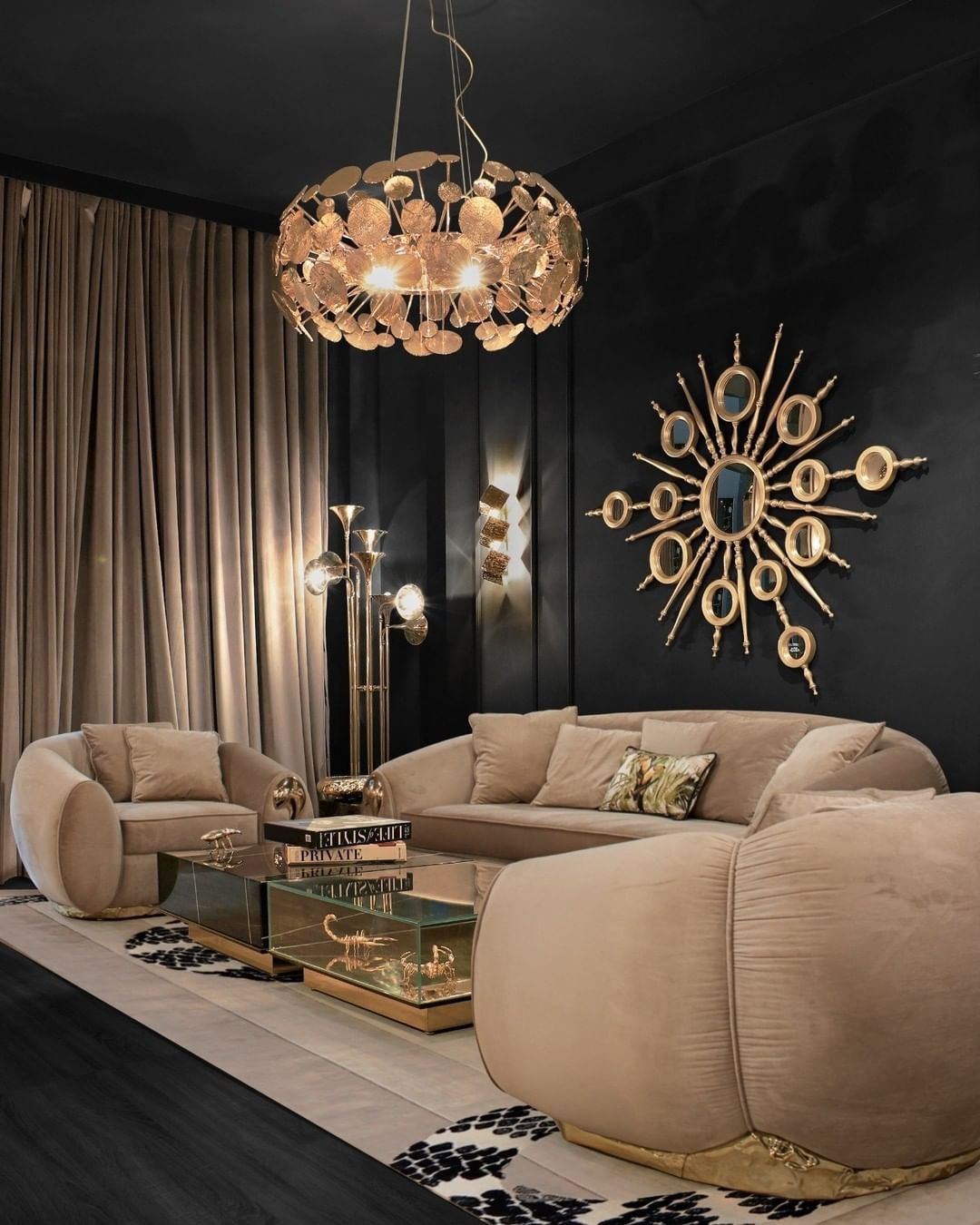 It can be a very big piece, claiming much of the wall space or a smaller piece but nonetheless an enchanting one!
The sizing is not its most charming feature after all; it is the radiance and the gleam!
In the living room, it unveils how gentle golden tones of the sunburst mirror perfectly blend in within warm interiors.
You May Also Like: Ideas To Decorate An Apartment For A Single Guy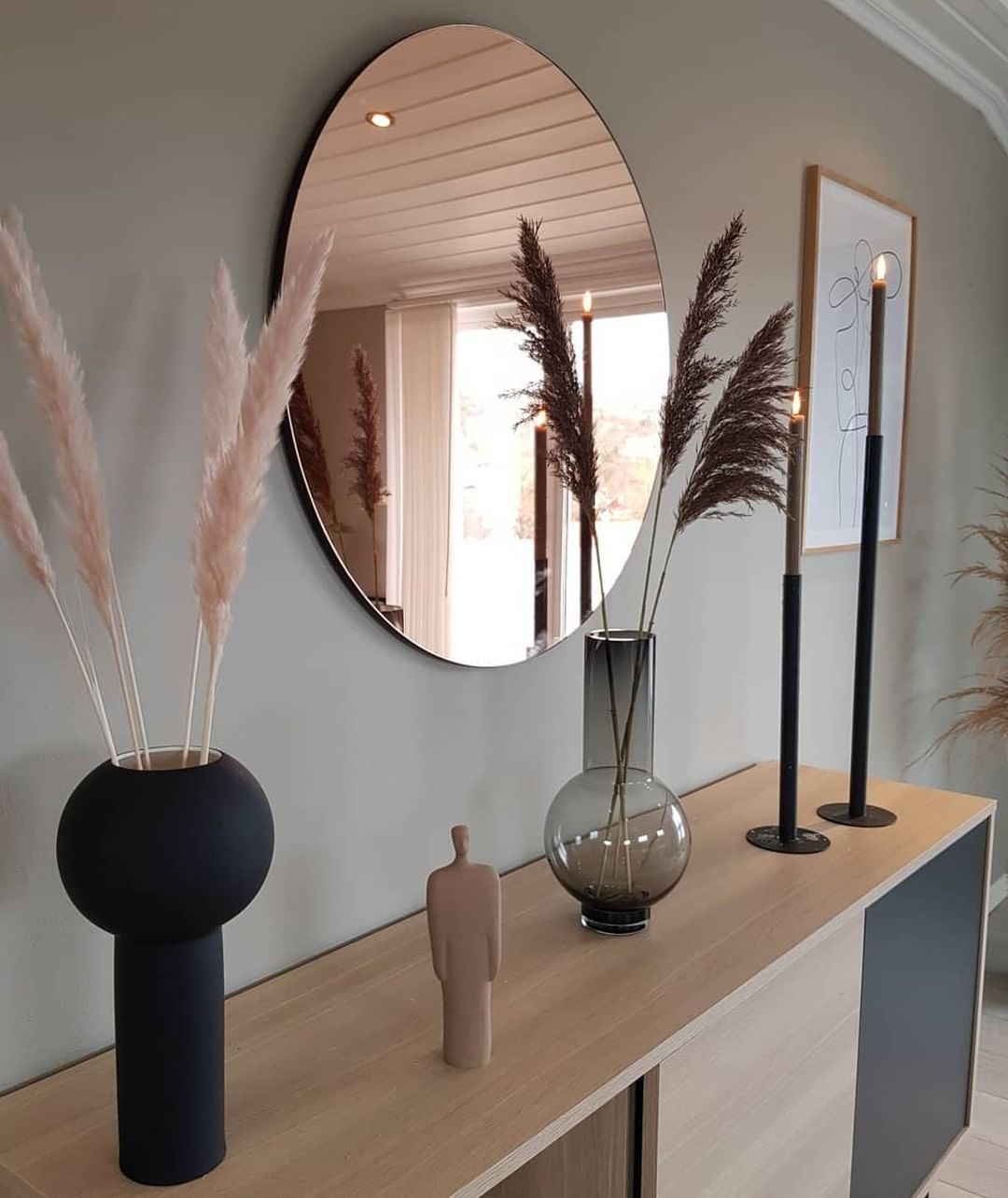 Mirrors aren't just designed to add a decorative touch to an interior. They're also the perfect solution for making a space feel brighter and larger.
If you don't appreciate the radiance of a sunburst mirror, a normal statement mirror will add interest to your room.
These are perfect for your bedroom walls, living room, bathroom, or entryway.
6. DIY  Wall Art
Create your own abstract painting on canvas, using 2 or 3 neutral colors.
7. Purchase Wall Art
Adding a statement piece of art that can make a dominant design statement in a room, even if minimalist in design.
No wonder, by hanging a great piece of wall art, every homeowner is able to decorate their walls without much effort!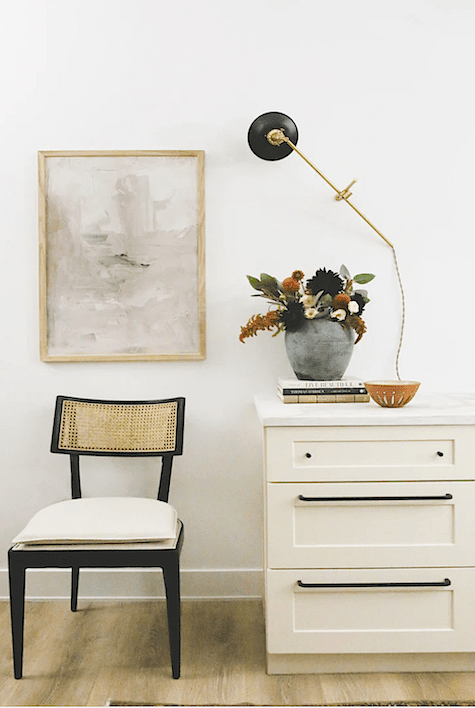 Get this wall art here!
It will also create a tranquil focal point and draw the eyes up and away from the more functional parts of the room. Particularly if oversized, it makes a great wall accessory.
Pro Tip: When chosen thoughtfully, the right wall art can provide for the entire room. To do that, find a painting that you absolutely love and can use that piece as the inspiration for your room's eventual color palette.
Your first step is to pick out two or three shades of wall art that you'd like to incorporate into your decor.
Choose the dominant color, as well as a few additional shades that you'd like to pull out as accents. Then, look for those colors in the items you use to decorate your space. Now you have a cohesive color palette for your home.
8. Install Floating Shelves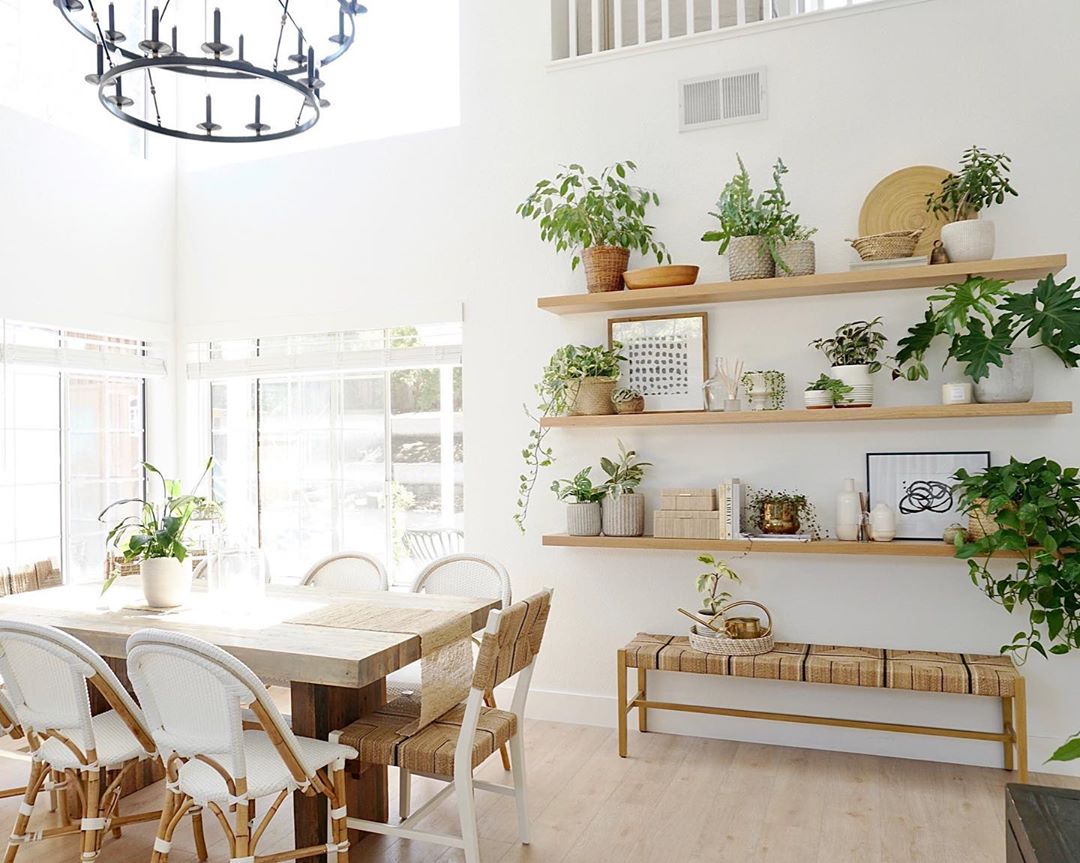 If you can't decide what to do with a blank wall, install stylish floating shelves on your walls.
Stick stacks into a lonely corner to create a decorative vignette that showcases all of your favorite things including your books and plants, especially in your living room or home office.
You May Also Like: How to Decorate your Home Office to Get Work Inspiration Back
In the kitchen, floating shelves can be super chic and practical, especially when you also use the underside to hang mugs underneath to eke out every drop of storage.
In the bathroom, stylish bathroom shelves provide practical yet beautiful storage solutions.
Pro Tip:  Have fun with shapes and angles when you group shelves of different sizes into a pretty, 3D wall collage.
9. Stack Up Wooden Crates
Stacking up your wooden crates artistically from the storage room allows you to decorate your walls whilst creating a practical storage solution.
After arranging them by your walls artistically, screw them in position after sanding them thoroughly and painting them as you please.
As you incorporate this kind of practical shelving into your design, you'll find that functionality and beauty can coexist.
You can add greenery over here or arrange a stack of books neatly.
10. Hang Plates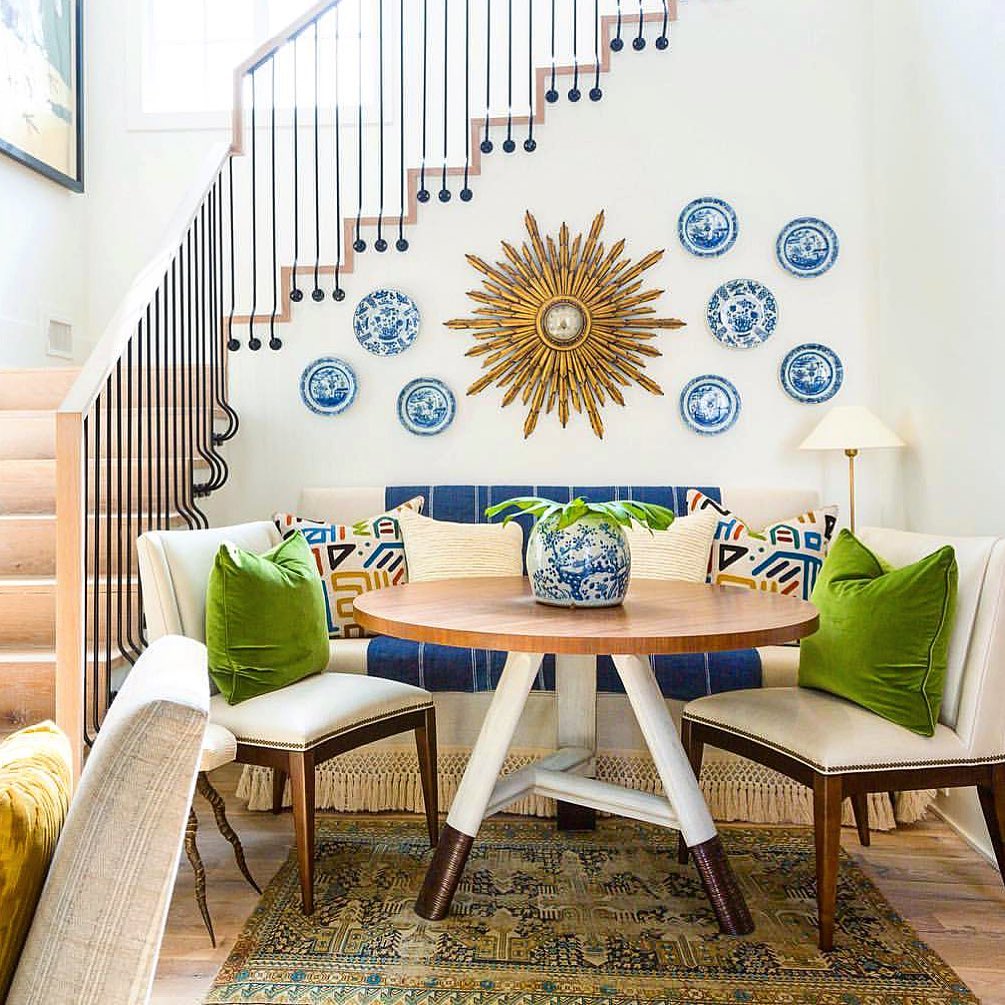 Don't leave your favorite decorative plates hidden away in a cabinet or drawer because a well-done display of decorative plates helps to add visual interest to your walls.
11. Make A Hat Wall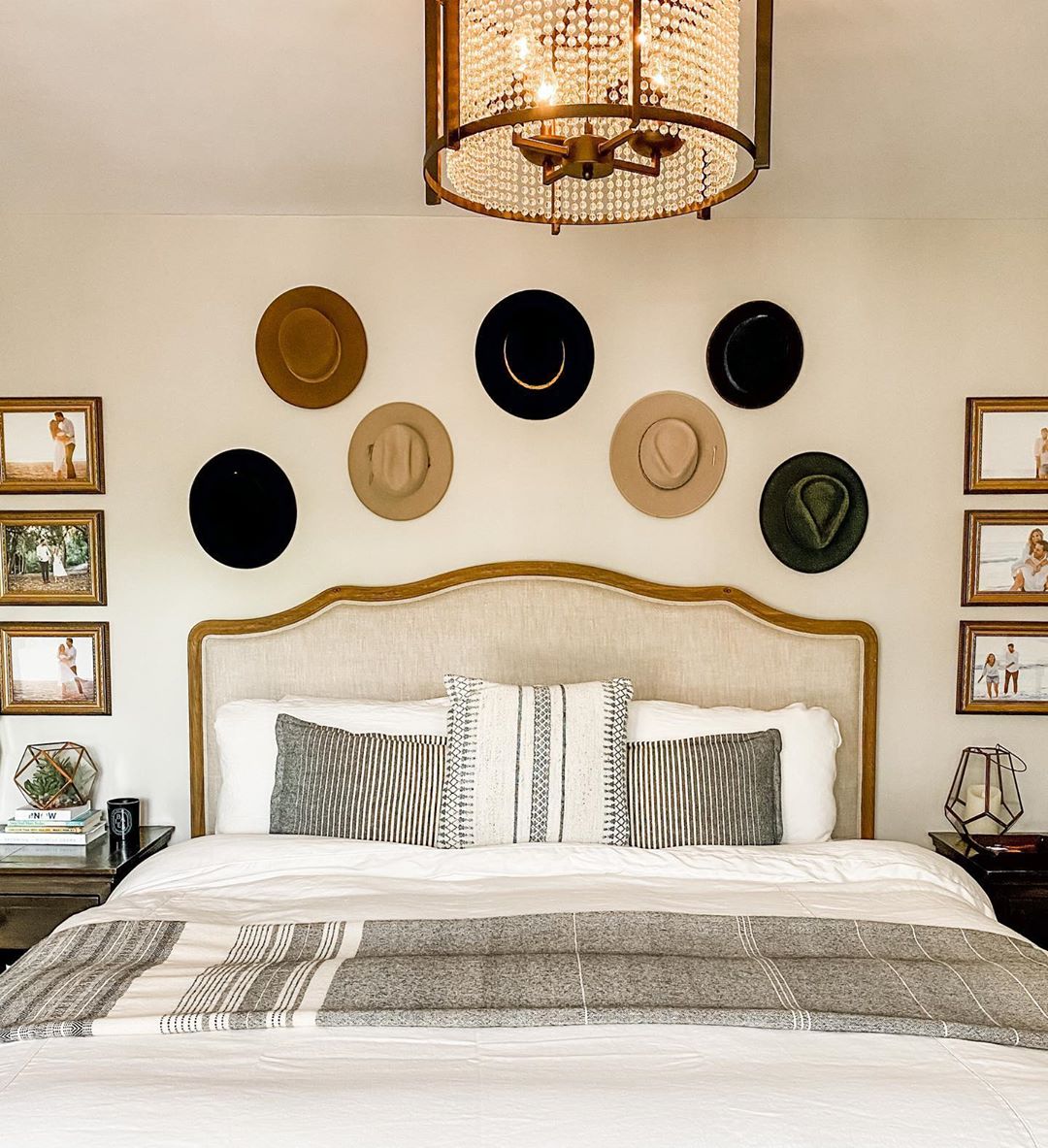 This decorative style is great in your bedroom or entryway. Other homeowners also incorporate hat walls in their living rooms, particularly, if the decor is bohemian and gives off a casual vibe.
If you have a collection of hats that can be hung up, turn it into artwork by putting it on display in a cluster.
It's a fun, stylish, and affordable way to give new life to things you already have.
12. Showcase Fabric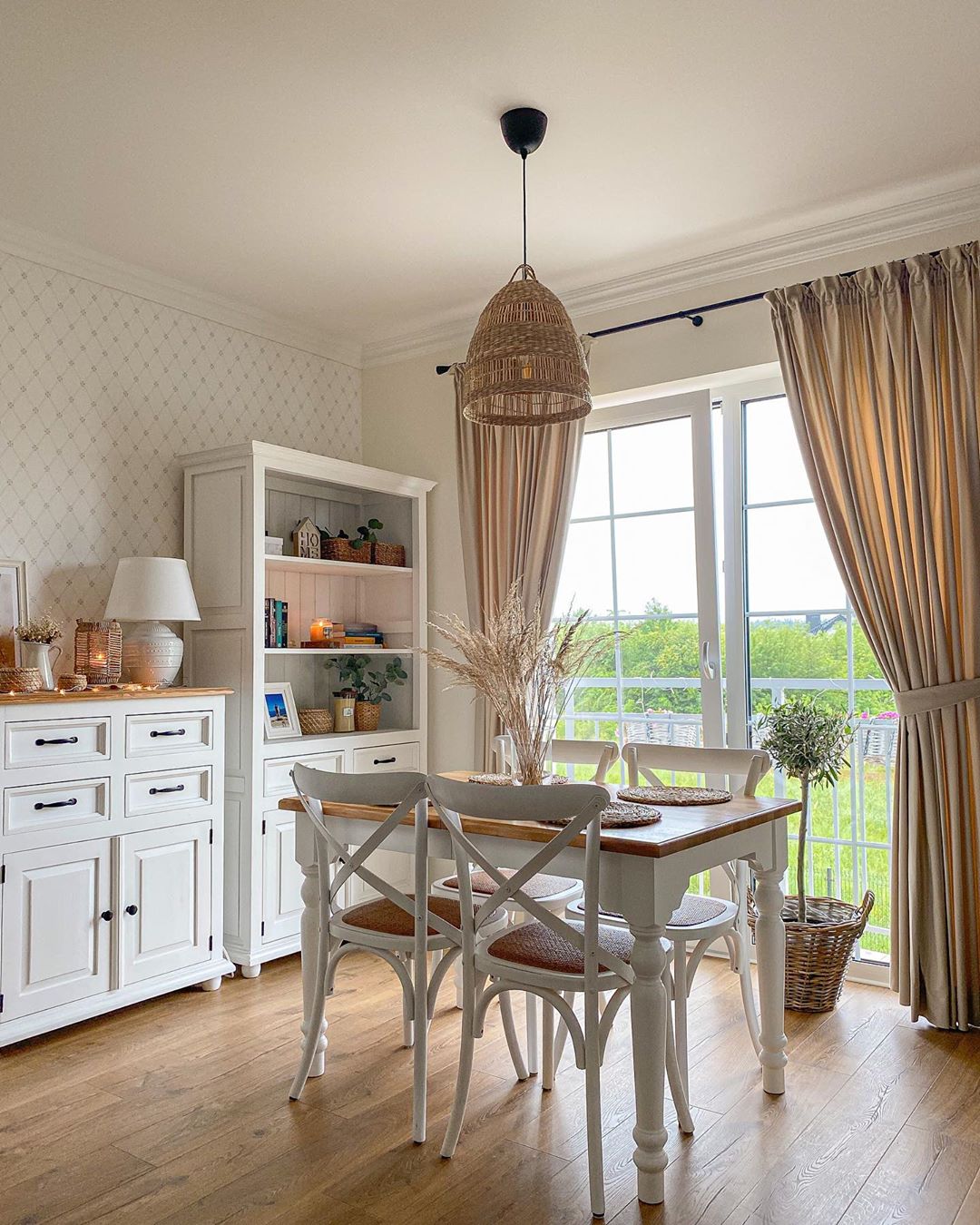 Perhaps one of the most common tricks homeowners use to decorate their walls, and we can see why. Curtains and draperies placed along a wall can be used to hide cracks, outdated wallpaper, shelving units, and other clutter.
Again, an entire wall of curtains brings definition to a space by adding texture, depth, and color.
Depending on your choice of fabric, fresh draperies and curtains help to bring in sophistication to your room.
Be sure to consider the color of the accents in your room.
Such as throw pillows, cozy blankets, and rugs so you can match with the color of your curtains or draperies. By combining the colors, patterns, and texture, you get to add an upscale look to any room.
13. Install Some Hanging Basket Gardens on Walls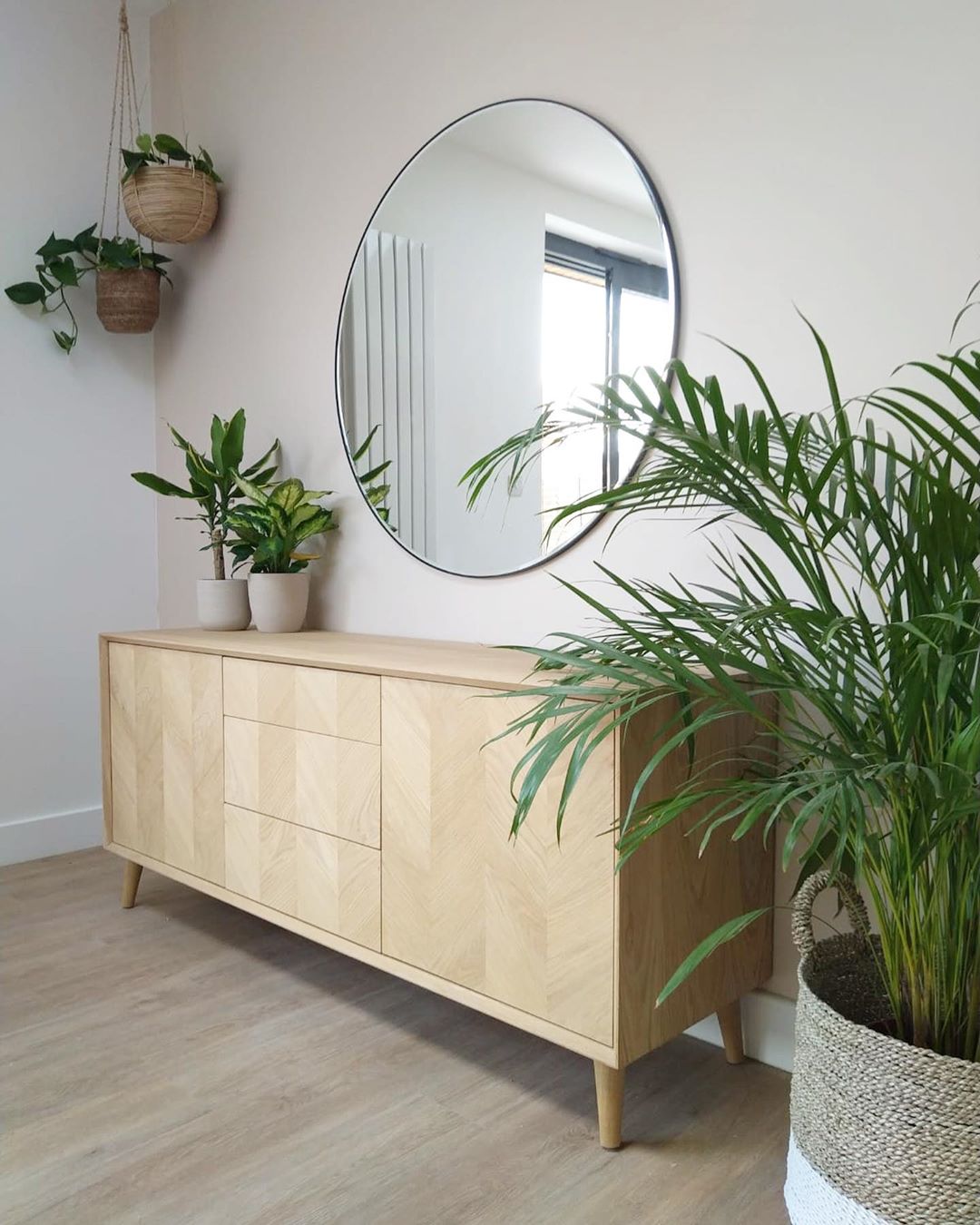 Bringing nature inside always brings a space to life, much more in the fall when the colors are very cozy and inviting.
Install hanging planters for your greenery and flowers to add a soft, elegant style to your walls.
Pro Tip: While you can hang planter gardens on your walls, you might also give thought to just hanging an actual plant. It introduces more dimension and carries the botanical theme into the space in a much tactile way.
You May Also Like: How to Start a Hanging Basket Garden
14. Add Sculptural Sconces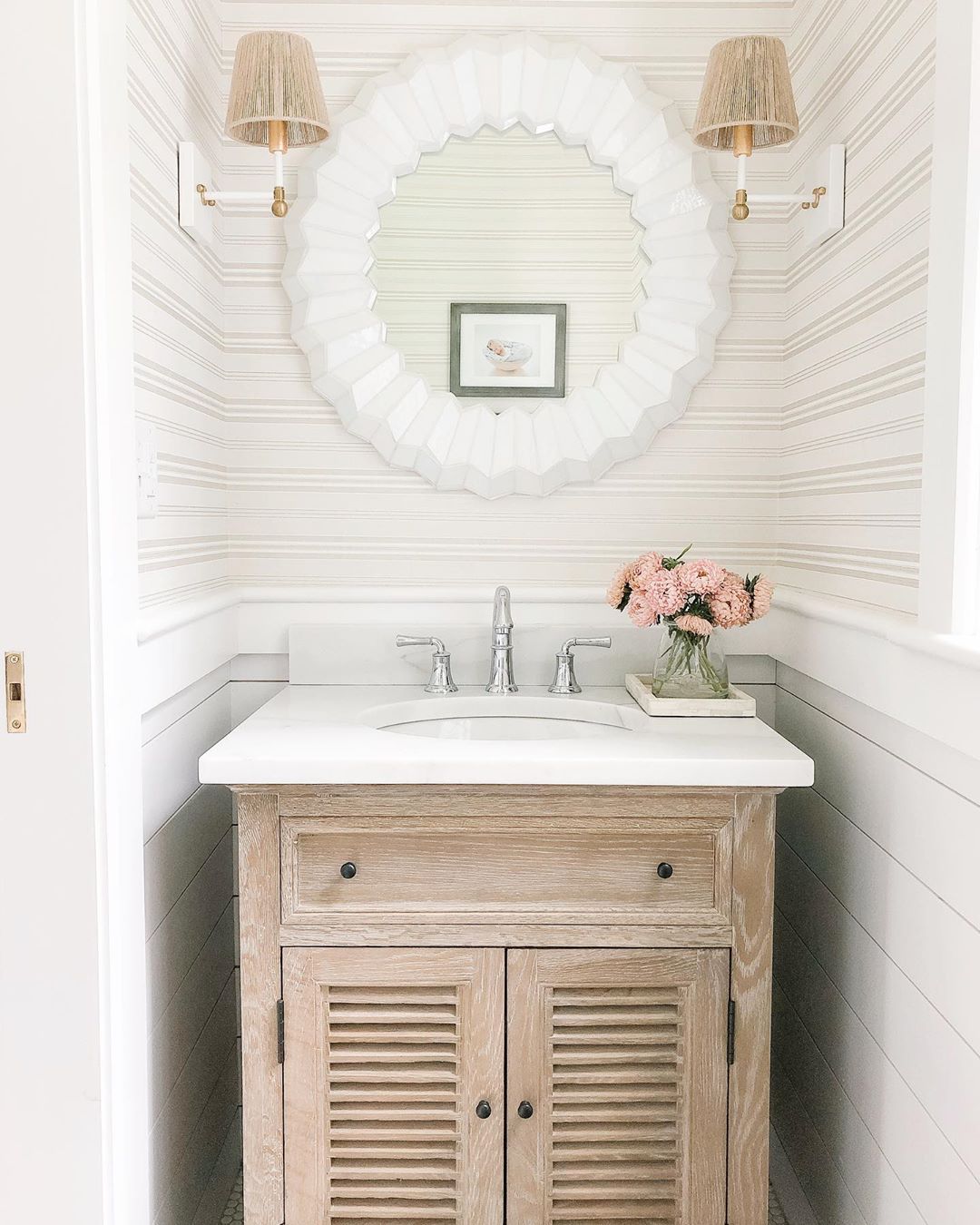 A sconce is a type of light fixture that is fixed to a wall. Before you buy a wall sconce, it would be wise to determine which variety is going to look best in your house and go with your decor.
A picture light would be typically used for highlighting a portrait, painting, or piece of art that is hung on the wall.
Sconces also provide uplighting as a primary or secondary source of illumination in stairways, entryways, hallways, corridors, or large dining/living rooms.
Rustic sconces will fit right in at your home especially if dark colors, animal motifs, and distressed finishes sum up your style. You have a couple of options when picking sconces so feel free to express your style and personality.
You May Also Like: How To Choose Lighting For Your Dining Room
14 Ways To Decorate Your Walls – Conclusion
Do you dress up your mantel? What is your favorite way to decorate your walls this season?