How To Find The Best Home Decor Deals At Target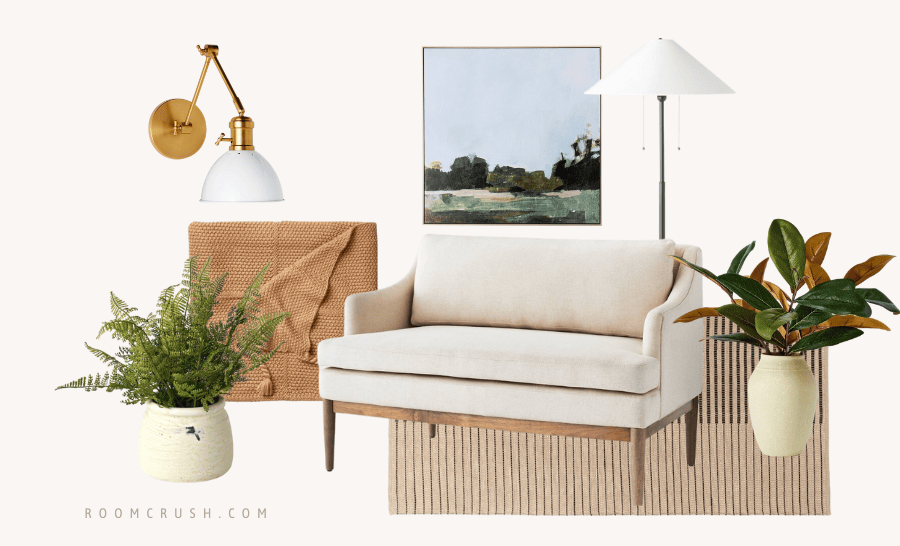 Get excited, because you are about to learn how to find the best home decor deals at Target, according to interior designers!
Fact: most people feel shopping at Target is a cut above its similar price point competitors.
Maybe it's because Target likes to borrow its strategies and trends from higher-end retailers. 
One thing they get right, they are fantastic at duping home décor styles at lower price points, making unaffordable items within our reach.
---
7 Easy Home Updates eBook: Free!
Today, get a free copy of our ebook that shows you 7 simple updates you can make in your home this weekend that will make your home look expensive and increase its value. Tell us where to send your free copy:  
This site uses ads and affiliate content as an Amazon associate earning on qualifying purchases. Disclosure.
---
That being said, many of their customers do not utilize all of their resources simply because they are unaware of them.
Let us introduce you to a few Target shopping hacks!
How To Find The Best Home Decor Deals At Target
Finding great deals on home decor at Target can be easy if you know where to look and how to take advantage of certain promotions or services.
In this article, I'll share some strategies to get the most out of your shopping experience.
Insider Hacks: How Interior Designers Shop For Home Decor Deals At Target
As an interior design creator, I receive insider information about upcoming sales and deals before the masses do.
So when you click my Target link, it will direct you to the current best deals.
Don't worry, your coupons are still valid and this does not increase your pricing. In fact, shopping through Room Crush's links often gives you insider discounts.
It's a win, win situation!
1. Markdown Schedule
Target uses a weekday schedule to mark down its inventory by department.
The first markdown is usually 30%, which is followed by a 50% markdown one to two weeks later. Finally, leftover stock can be reduced up to 70%.
Price tags ending in the number four, (e.g., $11.44) will be the final clearance price, and no further discounts will be given.
Price tags ending with $0.49, $0.79, or $0.99 indicates there is a gift card promotion currently on those items.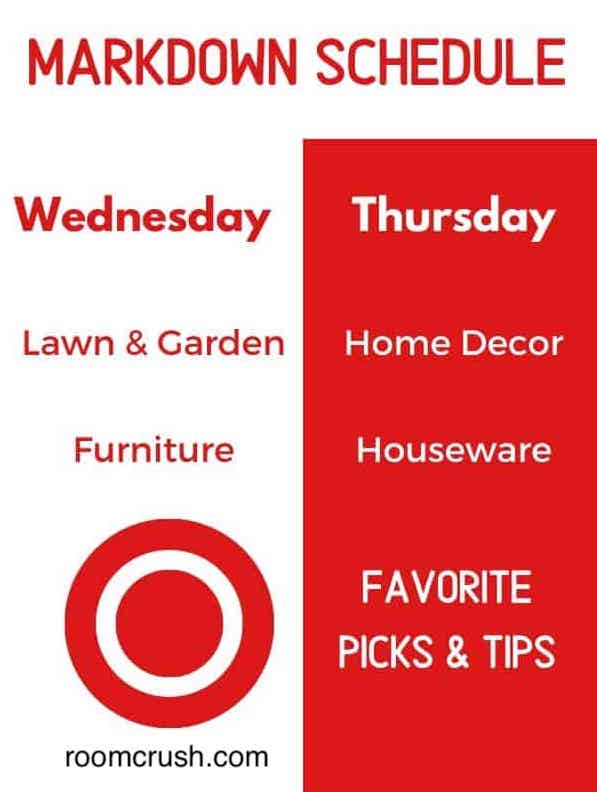 2. Target Circle
Target has rolled out a new program nationwide called, Target Circle.
This is a loyalty program that offers benefits like early access to deals, a birthday gift, and the ability to earn votes to help direct Target's community giving.
If you already have a Target account, Cartwheel, or a Redcard – you're already in!
One of the biggest perks is you are earning 1% towards future Target purchases while continuing to receive your 5% on Redcard purchases.
3. Target App and Website
Keep an eye on the Target app or website for weekly deals and promotions. You can also find clearance items there that may not be available in-store.
4. Clearance Section
Most Target stores have a clearance section, typically at the end of aisles, where you can find discounted items.
The clearance section often includes home decor items that are out of season or discontinued.
5. Cartwheel Offers
This feature within the Target app offers additional discounts on certain items, including home decor.
You just have to add the offers to your list before you go shopping.
6. RedCard
If you are a frequent Target shopper, consider getting a Target RedCard. You get a 5% discount on every purchase, free shipping on most items from Target.com, and extended returns.
7. Subscribe and Save
For certain items that you purchase regularly, such as cleaning supplies or certain home decor items, Target offers a "Subscribe & Save" option where you get a discount for setting up a recurring order.
8. Price Match Guarantee
Target has a price match guarantee where they will match the price if you find the same item for a lower price at select online or local competitors.
9. Holiday and End-of-Season Sales
Target usually has big sales around holidays and at the end of seasons, where they'll discount home decor and other items.
This can be a great time to buy for the next year.
10. Coupons
Keep an eye out for Target coupons in mailers, online, and in the Target app.
These can often be used for additional savings on top of sale prices.
Helpful Things To Know When Shopping For Home Decor At Target
Your local Target's inventory will be based on space availability and local demand. Target.com will carry all its stock and higher-end products.
Since they offer free shipping on orders over $35 – plus returns to their local stores, don't shy away from shopping online.
If you don't shop on their online store, you're seriously missing out on crazy deals.
Related: How to make your home look expensive
Target Uses Augmented Reality
If you caught yourself saying, "I can't imagine what this will look like in my house." Let us help you finally solve that problem!
Because Target has built augmented reality into its platform.
Yep, it's a pretty cool feature that allows you to see the product in your space. This feature takes the guesswork out of your purchase.
Online Shopping Advantages
As I mentioned earlier, shopping online widens your options as well as your savings.
Some retailers partner up their inventory with other big box stores to cross-promote each other's products in order to increase sales.
Although Target is not known for its extensive furniture line, Target.com paints a VERY different picture.
Not to worry, as all photos will be clickable to direct you to the product page on Target.com.
Below is just a sample of what you are missing out on.
Target carries all kinds of dining chair styles, whether you're looking for a minimalist or farmhouse-style set.
While Target has all sorts of dining table sizes, shapes, and styles, we particularly love how they sell wooden, picnic-style tables at a fraction of the cost that other stores do!
Target has an extensive line of lighting fixtures. I have used them several times for dining room chandeliers.
You May Also Like: How To Choose Lighting For Your Dining Room
Yes, Target Carries Bed Frames Too!
How To Find The Best Home Decor Deals At Target – Conclusion
We hope these Target shopping hacks helped you find new ways to shop at one of the country's most affordable retailers.
And if you notice any furniture trends you love but are disappointed that they're too expensive, always be sure to check Target! Chances are, you'll find something similar at a price point that will make your wallet happy.
What are some of your favorite pieces you've bought at Target? I'd love to read about them in the comments!
Read this next: Best Apartment Decorating Tips