11 Natural Ways To Keep Your Home Smelling Fresh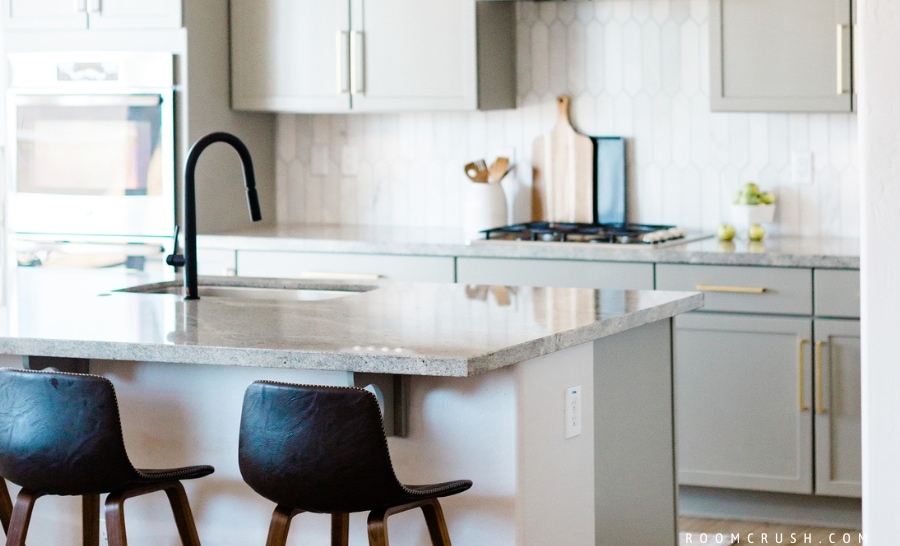 There are many natural ways to keep your home smelling fresh. Sure, you could buy a bunch of air fresheners and candles, but why not try some natural methods first? Whether you have pets or kids, the potpourri of unpleasant smells can really take over your home quickly.
Even if you don't have either, sometimes cooking can leave behind some not-so-pleasant aromas.
These days, air fresheners are filled with many fragrances and strange ingredients. If you want to avoid those, try some of these natural methods for keeping your home smelling fresh:
Here's how to avoid toxins and chemicals, by freshening up your home naturally.
---
7 Easy Home Updates eBook: Free!
Today, get a free copy of our ebook that shows you 7 simple updates you can make in your home this weekend that will make your home look expensive and increase its value. Tell us where to send your free copy:  
This site uses ads and affiliate content as an Amazon associate earning on qualifying purchases. Disclosure.
---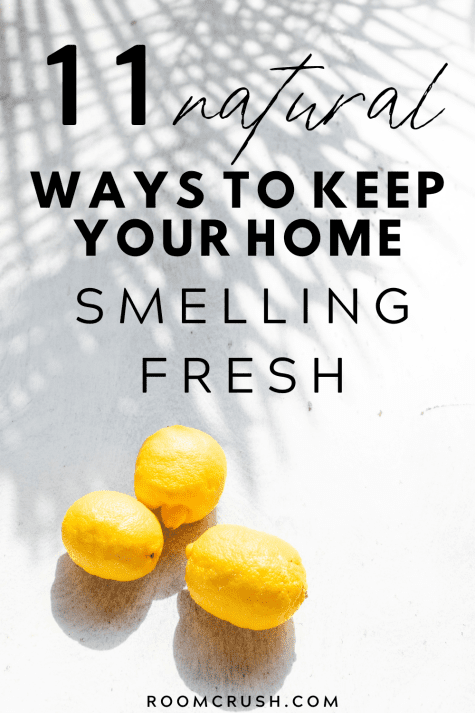 11 Natural Ways To Keep Your Home Smelling Fresh
Freshening up your home naturally is pretty affordable, and it definitely beats using overly-scented products full of chemicals and artificial fragrances.
If you're not sure where to start, I always recommend starting with keeping the house well-ventilated and then trying out the natural scents that appeal most to you. Eventually, you'll come across a winning combination that you'll come back to again and again.
Here are my favorite ways to keep your home smelling fresh, naturally!
1. Ventilate
Opening the windows on a crisp day is the easiest way to keep your home smelling fresh.
By opening up your windows and doors, you're allowing fresh air to circulate throughout the space and help to remove any stale or musty odors. Try to open your windows as frequently as you're comfortable with allowing your home to air out.
2. Use Essential Oils
Essential oils are a great way to naturally keep your home smelling fresh. You can diffuse them in each room or make your own natural air fresheners using essential oils and water.
Some great essential oils for freshness include lemon, lavender, and eucalyptus. There are many options available online, but I prefer Edens or Mountain Rose Herbs.
Edens Garden Top Essential Oil Blends Sampler 18 Set, Pure Aromatherapy Sampler Pack (for Diffuser) – Set of 18
Women-owned and family-operated since 2009, we personally source each essential oil and raw ingredient to ensure affordable prices without compromising quality. Voted the #1 Non-MLM essential oil company, it's our pleasure to be your one-stop shop for all things aromatherapy.
As the leader in the essential oils industry, we value safety, quality and education in offering only the best aromatherapy products. For this reason, we test every batch of essential oils and provide GC/MS reports to our customers to ensure each oil's therapeutic value and purity.
Each of our products is expertly formulated and hand-poured, including over 200 essential oils and synergy blends. We also offer a wide array of natural home and body products that are kind to the environment. Have a question about essential oils? Our certified aromatherapists are happy to lend a hand in your EO journey!
3. Make Your Own Potpourri
You can make your own potpourri using dried herbs, flowers, spices, and essential oils. Simply combine these ingredients in a bowl and mix well.
Then, place the potpourri in a small dish or sachet and enjoy the fresh scent throughout your home. Potpourri also works great in bedroom drawers or small spaces that tend to get stale.
One of my all-time flowers to use for potpourri is lavender, as the scent is so calming and is just what I need after a long day.
Sale
Dried Lavender Bundles, Uieke Natural Dried Lavender Flowers 280-300 Stems 16" for Home Weeding Decoration Flower Arrangements Home Fragrance 2 Bundles
100% Natural Lavender Dried Flowers: Selecting Top quality lavender flowers, naturally dried,adopting exquisite processing technology, to maintain the most primitive look and natural beauty of flowers.
LAVENDER Value: Sedative and hypnotic effects,can help sleep, refresh your mind.fragrance long lasting.balance oil secretion, can shrink the whole body skin,keep your skin fragrant,and Make room air better.
"Born in the Purple": Arrange some dried lavender flowers in an exquisite vase and put it on your desk, it will make you more enthusiastic and happier at work. Put some lavender flowers in the living room makes your home more cozy. If you plan to take some breathtakingly beautiful photos, why not choose a bunch of dried lavender?
A Must-have for Wedding Bouquet: Selecting Top quality lavender flowers,No additives, retaining the original floral fragrance of lavender, smells very comfortable,fragrance long lasting.
2 BUNDLES PACK: Uieke Lavender bundles are carefully wrapped with old newspapers. each bundle has 130-140 stems, a total of 280 stems, length 15-17 inches.
4. Simmer Cinnamon Sticks or Citrus Peels on the Stovetop
Cinnamon sticks are a great way to naturally keep your home smelling fresh (especially in the fall). If you're looking for a more summer/spring scent, try boiling citrus peels such as lemon or orange.
Simply simmer a few cinnamon sticks or peels on the stovetop in water to release their fragrance into the air. You can also add other spices or essential oils to the water for a more potent smell.
Frontier Co-op Cut & Sifted Orange Peel 1lb
ORANGE PEEL – Frontier Co-op Orange Peel (Citrus sinensis) is removed from the orange and dried to perfection, preserving the intensity of its citrus flavor. The orange originated in Ancient China and is grown and harvested in tropical and subtropical regions across the world, including Brazil, India, and the southern U.S.
GREAT SUBSTITUTE – Our dried orange peel is the perfect substitute for dishes that call for fresh peels. Use it as-is or reconstitute it in hot water. It is a common baking ingredient but can also be used as a garnish or to marinate meat. Mix some into your sauce recipes, or add some to your smoothies, herbal tea blends, and salads.
AROMATIC & FLAVORFUL – Frontier Co-op Orange Peel is cut and dried to preserve its fragrance and citrusy flavor. The white rind is removed so all you get is genuine orange peels; they are known to be sweeter and less tart than lemon peels.
SOURCED FROM THE U.S.A. – Frontier Co-op Orange Peel is harvested in the US and made using the outer peel of oranges that are hand-picked during the peak season for a sweeter, more flavorful peel. Only the outer peel is used to avoid the bitterness of the white rind. Our product is kosher certified and non-irradiated.
ABOUT US – Owned by stores and organizations that buy and sell our products, Frontier Co-op has been a member-owned cooperative since 1976. We support natural living and our products are never irradiated or treated with ETO. We're committed to the health and welfare of the environment and everyone producing and consuming our botanical products.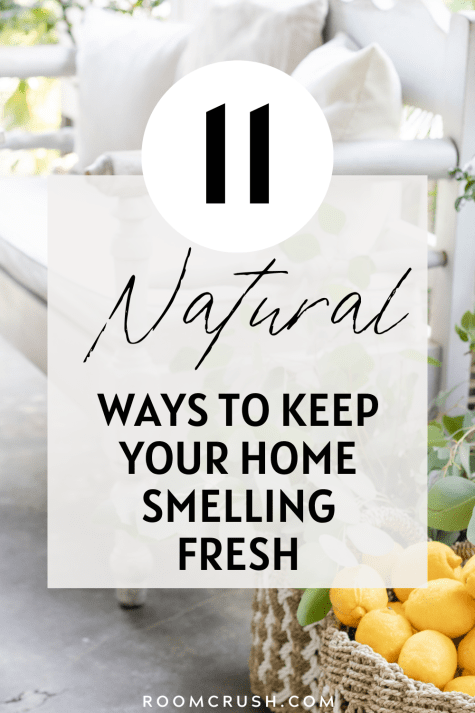 5. Use Bowls of White Vinegar
Vinegar will absorb any bad odors in the air and leave your home smelling clean and fresh. Be sure to change out the bowl of vinegar every few days for best results.
6. Baking Soda Is Your Friend!
Simply sprinkle some baking soda on carpets, upholstered furniture, and in pet bedding to help absorb any bad odors.
You can vacuum the baking soda up after 15-20 minutes. You can also place a bowl of baking soda in the fridge to help absorb any unpleasant smells that may be lurking. Change out the baking soda once a month for best results.
Related: Litter Robot Review: Self-Cleaning Cat Litter Box, Worth It?
7. Coffee Grounds
Coffee grounds are a natural way to absorb unpleasant odors. Place a bowl of coffee grounds in the fridge or wherever you notice bad smells the most. Be sure to change out the coffee grounds every few days for best results.
8. Get Some Houseplants, Herbs, or Flowers
Not only do houseplants purify the air, but some of them also have natural fragrance. Place a few pots of fresh herbs near your kitchen to help neutralize any cooking odors.
Or try a scented geranium in the living room for a light, floral fragrance. Fresh flowers add color and pleasant fragrance to your home as well.
I just love the smell of herb assortments—they make my kitchen smell like a villa in the south of France!
Herb Garden Kit Indoor Herb Starter Kit – 10 Variety Herbs with Complete Herb Growing Kit – Kitchen Window Herb Garden – Unique Gardening Gifts for Women & Men
EASY TO GROW – Introducing our indoor herb garden starter kit, the perfect solution for growing fresh, aromatic herbs in the comfort of your own home, all year round! Our herb kit comes with everything you need to get started, including pots, soil, seeds, a set of garden tools, illustrated instructions, and a soil meter to help you monitor the health of your plants.
10 POPULAR HERBS – With our kitchen herb garden kit, you can grow a variety of popular herbs, such as Basil, Mint, Parsley, Cilantro, Thyme, Lavender, Oregano, Sage, Chives, and Dill, all with the convenience of having them within arm's reach. These herbs are not only delicious, but they are also rich in nutrients and can add a fresh burst of flavor to any dish.
PREMIUM QUALITY – Our pots are made of high-quality materials and come in a sleek and modern design, perfect for any kitchen or living space. The soil is specially formulated which can expand and become soft after adding water to help seeds sprout and plants grow. There are also handy gardening tools set for digging, soil loosening, and watering.
VALUABLE HERB KIT – What really sets our herb garden kit apart is the included soil meter. This tool allows you to measure the moisture and pH level of your soil, helping you ensure that your herbs are getting the right amount of water, sunlight, and nutrients. The meter is easy to use and provides instant, accurate readings, so you can adjust your care as needed to keep your herbs healthy and thriving.
PERFECT FOR ANYONE- Wonyava's well-crafted instructions booklet guides you step by step, whether you're an experienced gardener or just starting out, our indoor herb garden kit is the perfect way to bring the joy and satisfaction of gardening into your home. Enjoy the great fresh taste, unexpected surprises, and unlimited fun during the process of growing. Order your herb kit today and start growing your own fresh, delicious herbs with ease!
9. Don't Forget About Lemons!
Lemons are a great way to clean your house and make it smell fresh. Simply cut a lemon in half and rub it over surfaces that need to be cleaned (such as the inside of your sink).
The lemon will help to remove any dirt or grime and leave your home smelling fresh and citrusy. You can also add lemon to water when cleaning floors or other surfaces.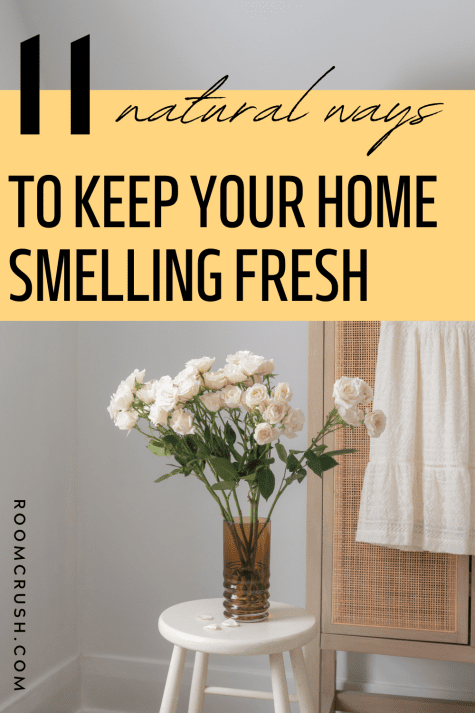 10. Use Natural Candles
Not all candles are created equal. Some candles are full of chemicals that can actually make your home smell worse. Opt for candles made with essential oils or beeswax to naturally fragrance your home.
11. Sage Your Home
Sage is a great way to cleanse your home of negative energy, bad vibes, and yucky smells. Simply light a sage stick and waft the smoke throughout each room of your home.
Bless-White-Sage-Incense-Sticks 100%-Natural-Handmade-Hand-Dipped-Incense-Sticks Organic-Chemicals-Free for-Purification-Relaxation-Positivity-Yoga-Meditation The-Best-Woods-Scent (25 Sticks (40GM))
Trademark Product from Bless International With 5000 plus reviews and the best in class which is Hand Rolled With Essential Oils and soaked for a minimum of 48 hours.
Each 25 incense sticks box weighs around 40 GM and each stick is around 8 inches natural fiber stick that burns for 40-50 mins and fragrance lasts as long as 24 hours in a room.
Our products are 100% natural and organic and are free from any harmful chemicals and are strongly scented with White Sage premium fragrance essential oil by Bless International Fragrances.
Can be used for worshipping gods in many religions, to practice yoga or to meditate, to encourage emotional release, to deepen spirituality. To get inspired, to revamp your routine, to heal, to soothe and to waft the beautiful fragrance in your house and all around.
Made fresh when you order them, guaranteed! You have the option of no questions return too with our products if you don't like them. Also comes with an exclusive bestseller eBook Health Rich Wealth Rich.
11 Natural Ways To Keep Your Home Smelling Fresh – Conclusion
These are just a few of the many ways I like to keep my home smelling fresh (naturally!)
Remember that you don't need to mix all of these strategies together for a great-smelling home. Simply combine ventilation with one or two of these strategies and enjoy the clean, fresh smell!
What are your favorite ways to keep your home smelling fresh?
Read this next: Earth Breeze vs Blueland: Which has the best eco-friendly detergent?