Knowing how to choose lighting for your dining room can make the difference between a great space, and a perfect space.
Whilst modern dining rooms are often used for a variety of purposes depending on the time of day, there are times when you'll want the atmosphere of the room to be just right. Where you'll want to create a space that perfectly accompanies dinner parties or family meals.
But picking the right lighting can be difficult. There are so many different factors to keep track of, especially considering everyone's room and tastes will be different.
If you find yourself overwhelmed with the number of options, or if you're just not sure where to begin, you've come to the right place!
In this article we're going to be breaking down everything there is to know about how to choose lighting for your dining room.
We'll take a look at a few different ideas and give you some small tips so you can make a space that really sticks out to your guests or family.
We've also included a short FAQ section to help answer any questions you may have.
How To Choose Lighting For Your Dining Room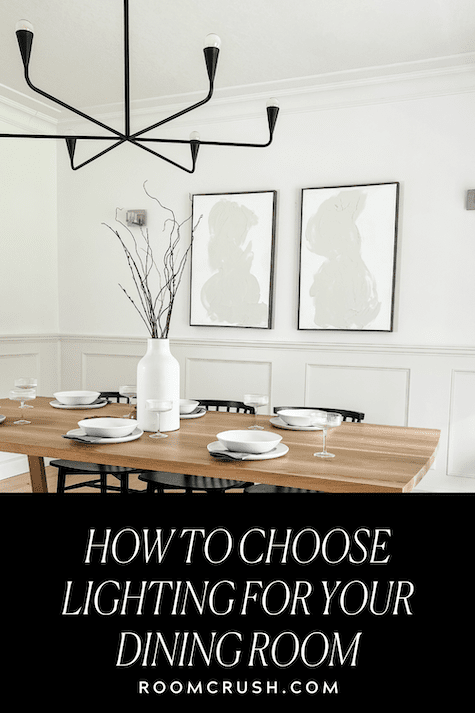 When I bought this home, it came filled with light fixtures in a shiny silver metal finish, which to me just looks cold, cheap and public-bathroomy.
So I am slowly replacing all the light fixtures in the home, one by one.
The first one to go, was the glitzy crystal chandelier in the dining room. It was just too glam for my organic-modern style, it had to go.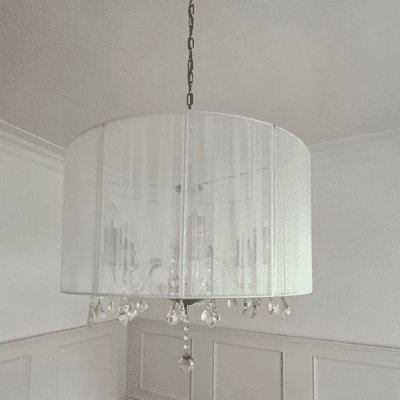 I tried to sell it for cheap on FB Marketplace, but no one was interested. So it now hangs in my mom's garden.
Then came the job of replacing it with something more modern.
Finding the right dining room chandelier was not easy! It took me months to find the perfect one.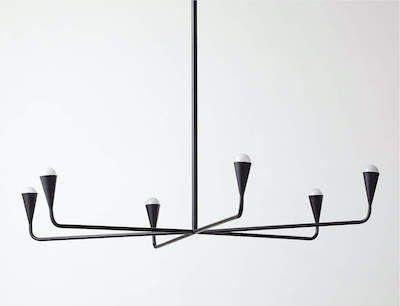 But I eventually landed on this one from CB2.
I love how it's modern, yet a little quirky.
Take a look at these similar picks:
Get this light here
Get this light here
By the way, you can see all the items in my modern organic dining room here!
One of the first things you'll need to consider is the overall setting of your dining room.
What atmosphere are you looking to create?
Who are the kind of guests you're going to be having over?
There are big differences between a dining room for a family breakfast, and a dining room for an intimate, late-night dinner party.
Deciding between these can be difficult, and you may find that you'll want both settings depending on the time of day.
This can be achieved with extra lighting applications that you can bring out for special occasions, or through all-purpose lights with different colors that you can tweak depending on the setting.
Most Important Things To Keep In Mind When Choosing Lighting For Your Dining Room
In this section I'm going to take you through some of the most important aspects of lighting you'll need to keep in mind before committing to any purchases or decisions.
Table Lighting
Get this light here
Tables lamps add class and make a dining room look especially refined.
You can also use lamps on tables or the credenza beside your main dining table, too.
You'll want to pick some that don't have too harsh lighting, and lamps that fit aesthetically with the general look of your room.
One of the main things you're going to need to do is make sure the dinner table has adequate lighting.
This is the most important focal point of the room, as guests or family members will need to be able to see what they're eating.
You can do this in a few ways. Some choose to have overhanging lights fixed above the table, whilst others prefer candles or something with a little more atmosphere.
Either way, making sure you have a full view of your table is a vital part of lighting a dining room.
Tip: Install a dimmer switch in your dining room, and choose light fixtures that work with dimmable bulbs. This way you can easily set the mood for different types of dinner parties.
Wall Lights (Sconces)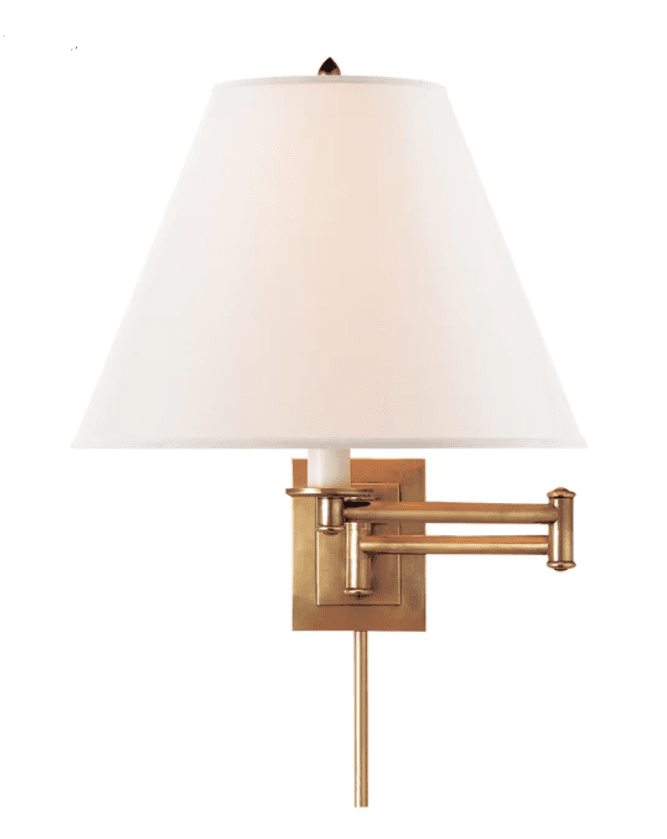 Get this sconce here
Wall lights, also known as sconces, can be a great, unobtrusive way to get some atmospheric lighting into your dining room.
I'm really into alabaster sconces these days, and bought two alabaster sconces with bronze bases for my dining room. Alabaster just looks refined in my opinion.
You can also use lamps on tables or the credenza beside your main dining table, too.
You'll want to pick some that don't have too harsh lighting, and lamps that fit aesthetically with the general look of your room.
For my dining room, I replaced the 2000's chrome scones with beautiful alabaster and brass sconces. The new ones look like a piece of art!
Get this alabaster wall sconce here
Natural Lighting
You might want to consider what natural lighting you have available. Does your dining room have a large window? If so, this can be used for completely natural, beautiful light during the daytime.
If you're looking for a darker setting, then perhaps you'll need a set of good drapes to block it out.
All About Ambiance
Ambiance is a word used to describe the general feeling of a room. This is a very important accompaniment to any dinner party, and something that Michelin Star chefs use to great effect.
For a successful dinner party, you'll want something that will make your guests feel at ease and calm in the area.
To achieve this, you'll want to consider the color of the lighting in your room, and how well-lit you'd like everything to be.
Generally, white or yellow lighting is the best way to do this.
Of course, you can get some unique looks with colored lighting, it's usually a lot more difficult for guests to see what they're eating as well as each other.
We would suggest warm, yellow lights because this color is known to make guests feel at ease.
You can achieve this with lamps covered by lampshades, or with multiple candles dotted around the room and placed on the table.
Final Thoughts
So there you have it, whilst lighting can feel like a difficult task to get just right, with a few ground rules you'll be able to get something perfect.
Consider natural light, the light sources you have available, and where they are in the room, and finally make sure to consider the color of these lights and how they affect the general ambiance of the room.
We hope that this guide has given you some tips on how to choose lighting for your dining room and that it now has a much closer feel to what you were hoping for.
If you still have some questions, check out our short FAQ below.
Good luck and happy dining!
Frequently Asked Questions
How Many Light Sources Should I Include In My Dining Room?
This is a difficult question to answer because it all depends on the size of your room. For an average dining room, I would typically suggest three light sources for your room.
These will usually include ambient lighting, such as candles or small lamps, table lighting, and general lighting.
If you have three lighting sources available but it appears too much, then you can always simply remove one.
If you have a larger room you might want to double the amount.
What Are The Most Efficient Bulbs I Can Buy?
LED lightbulbs are usually the most efficient option. They have a very low wattage rate when you compare them to incandescent bulbs, but still, have a great output of lighting.
In fact, LED lights can last up to 10 years as long as nothing goes wrong, which means you won't have to keep changing them all the time.
Pin This: