4 Ways To Save Money On Your Energy Bills This Fall
Fall is upon us, a beautiful time of the year when the leaves turn golden and the winds turn chilly.
The festive season lurks around the corner, and people will spend more time at home than at other times of the year.
Let's explore how you can save money on your energy bills this Fall.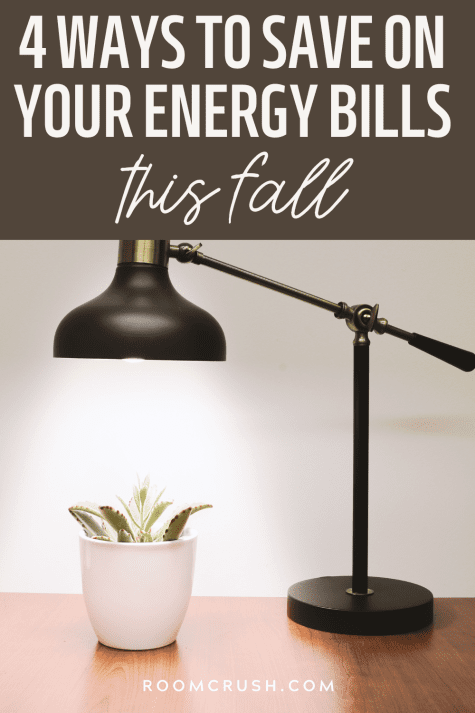 Ways To Save Money On Your Energy Bills This Fall
With more time at home and a colder climate outside, your energy consumption is set to rise.
---
7 Easy Home Updates eBook: Free!
Today, get a free copy of our ebook that shows you 7 simple updates you can make in your home this weekend that will make your home look expensive and increase its value. Tell us where to send your free copy:  
This site uses ads and affiliate content as an Amazon associate earning on qualifying purchases. Disclosure.
---
Whether it is heating your home, powering your appliances, or carrying out domestic chores, more time in the house means more energy being used.
Energy costs money, which means this could be an expensive time for families.
There are ways you can reduce that impact on your bills while still placing excessive demands on your utilities, though.
We have some practical steps and advice you can follow to help make things a little easier this Fall.
1. Lower The Heat
One effective method to save money is to turn your thermostat down, even when the heating is needed. It might sound counter-productive to turn the heating down when you need it the most, but it makes sense if you do it right.
HomeServe explains that your thermostat should be set to the lowest comfortable temperature you can manage, and each degree you reduce the heat will save you money.
If you reduce the heat a little more overnight, the savings are even more impressive – the US Department of Energy believes you can save up to 15% on your bills. If you often forget to monitor your thermostat, maybe consider installing a smart device, which learns your family's habits and makes the saving for you over time.
For example, you could get a smart home energy monitor, which monitors your home's energy use in real time and makes this information super easy to access through an app on your phone.
Smart Home Energy Monitor with 16 50A Circuit Level Sensors | Vue – Real Time Electricity Monitor/Meter | Solar/Net Metering
INSTALLS IN CIRCUIT PANEL of most homes with clamp-on sensors. Supports single-phase up to 240VAC line-neutral; single, split-phase 120/240VAC; and three-phase up to 415Y/240VAC (no Delta). Panels with access only to busbars will need flexible sensors available from Emporia Energy.
24/7 ENERGY MONITORING: Monitor your home's real power anywhere, anytime to prevent costly repairs, conserve energy, and save costs. Monitor solar / net metering. Light commercial 3 phase option available as a separate bundle. PROTECTED BY A 1-YEAR WARRANTY.
APPLIANCE MONITORING WITHOUT GUESSWORK: Comes with sixteen (16) 50A sensors to accurately monitor your air conditioner, furnace, water heater, washer, dryer, range, etc.
LOWER YOUR ELECTRIC BILL: Gauge real-time spending and get actionable notifications to understand where you can save costs.
REAL-TIME ENERGY DATA: REQUIRES 2.4 GHz WIFI WITH AN INTERNET CONNECTION to monitor energy use with iPhone / Android app. Vue sensors provide 1-second data and are accurate from ±2%. The Vue is UL and CE Listed for your safety. 1 second data is retained 3 hours, 1 minute data is retained 7 days, 1 hour data is retained indefinitely. Export the data whenever you want in the app.
For the smart monitor above, you can also get smart plugs and add them to your system.
These smart plugs help you monitor the energy your small appliances use, and it has the handy feature of setting timers, and schedules, and the ability to turn the appliances on and off using the app:
2. Take Shorter Showers
It is easy to linger a little longer in the shower than you should, especially on those cold mornings when work beckons, but the less time you spend in there, the less you will spend on heating the water.
Do not be tempted to take a long shower if you do not need to, as you will only be paying more for your energy.
When you shower rather than bathe, your warm water usage is far less and consequently, so are your bills.
For those cold nights, consider getting a gel heating pad that you can microwave or use a hot water bottle. This will keep you warm without those expensive shower bills!
And if your home's water pressure allows for it, you could get a low-flow shower head to save even more heated water:
Sale
Speakman S-2005-HB-E175
CONTEMPORARY DESIGN: This premium high flow shower head has clean lines and a sleek, simple faucet design to enhance and complement any modern bathroom's bath and shower accessories.
ANYSTREAM TECHNOLOGY: The adjustable shower head's patented Anystream 360° system effortlessly transitions through Intense, Massage and Combination settings, evenly distributing water.
HIGH PRESSURE: Shower heads control the spread of water as it leaves the nozzle with patented plungers so that pressure can build and intensify, making it an ideal low water pressure shower head.
LOW MAINTENANCE: Self-clean plungers within the replacement showerhead resist hard-water buildup and sediment keeping the shower head cleaner and easier to maintain.
SPEAKMAN PLUMBING: From commercial plumbers' supplies to bathroom accessories to fall in love with, Speakman delivers quality, innovation and performance with every product.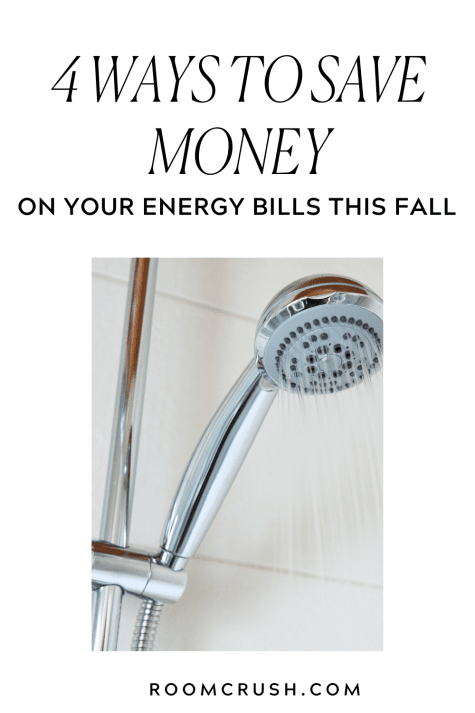 3. Run Appliances At Night
When exploring our article, How to Drastically Cut Household Expenses, running appliances such as the dishwasher or washing machine at night can reduce your utility bills.
Energy costs are higher during the hours when power grids are most in-demand, so by running yours overnight; you should be getting cheaper energy.
Some providers offer attractive tariffs for overnight usage, and energy-heavy appliances should benefit.
At the very least, consider doing laundry after 7 pm, and having the dishwasher on overnight, so your plates and pans are clean in the morning when you get up.
You'll also want to use an effective-yet-safe dish detergent that will ensure you don't have to run your dishwasher more than once for the same load.
I love Blueland and CleanCult for this purpose, as they have planet-and-people-friendly ingredients while being highly effective dishwashing products.
4. Speak To Your Energy Company
Finally, make sure you have spoken to your energy company about your current bills.
Some companies have deals that may give you lower prices at certain times, but you are not aware of those at present.
Also, if you threaten to change suppliers, you may get offered a discount without flicking a switch in your home at all.
Utility providers will often conduct an energy survey at your home, sometimes for free, which offers practical steps to help you become more efficient and, thus, save money.
To our surprise, our energy audit revealed our electrical meter, which is owned by the municipality, was faulty.
The estimates were reading that we were overpaying an average of $86 dollars more a month than the power usage.
The inspector submitted a ticket to have our equipment replaced, and after the audit is completed, I will try to request a credit for the overpayment.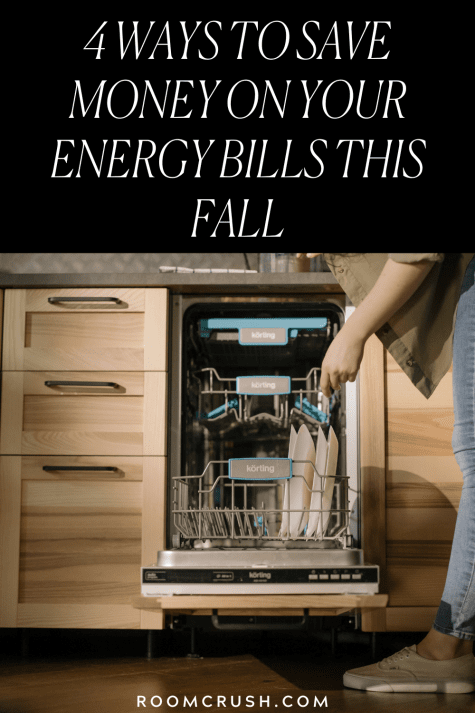 4 Ways To Save Money On Your Energy Bills This Fall – Conclusion
We hope you found these ideas helpful, for how to save money on your energy bills.
Not only does decreasing your energy bills help your wallet out, but it's a great way to take care of the planet.
And even if the savings seem small at first, they'll add up over months and years!
Do you have a great money-saving hack for energy bills? Let us know in the comments!
Read This Next: