Pure Parima Review: The Best Egyptian Cotton Sheets Out There?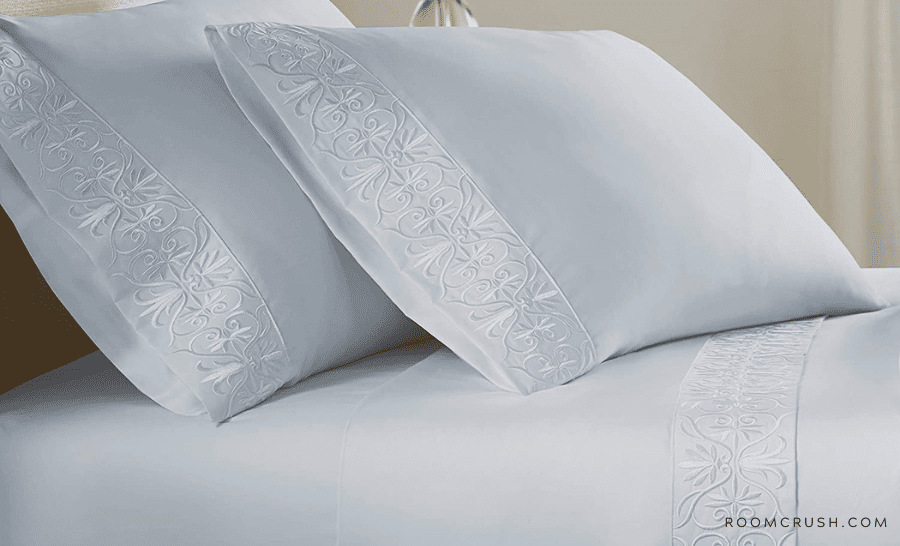 This Pure Parima review will help you decide if their Egyptian cotton sheets are right for you. After a long, exhausting day, there's nothing better than lying in bed to catch those well-deserved Z's.
Comfy mattresses and fluffy pillows are a must to get a good night's rest. But they're not the only thing that can give you a fabulous eight hours of sleep.
Having soft, high-quality cotton sheets makes or breaks how luxurious your sleep is. If you don't invest in sheets made with quality materials, you may have mediocre ones. And who wants to sleep in rough sheets that don't keep you warm on a cold night?
It's easy to dismiss luxury sheets because of their high price tag. But the notion that the best bed sheets are super expensive is a myth.
---
7 Easy Home Updates eBook: Free!
Today, get a free copy of our ebook that shows you 7 simple updates you can make in your home this weekend that will make your home look expensive and increase its value. Tell us where to send your free copy:  
This site uses ads and affiliate content as an Amazon associate earning on qualifying purchases. Disclosure.
---
Today, we'll be talking about a brand we believe has the best Egyptian cotton sheets in the US: Pure Parima. The best part? You can get these luxury sheets for a reasonable price.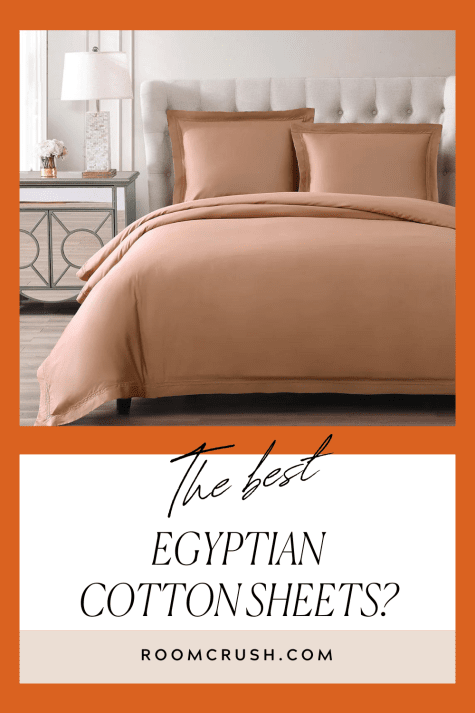 About Pure Parima
Pure Parima is a luxury cotton sheets brand based in New Jersey. Although their products are designed in America, they partner with farmers in the Nile River Valley. This is from whom they source their pure Egyptian cotton.
The Cotton Egypt Association even audits them to ensure they use 100% Egyptian cotton for their luxury sheets! Although other companies make 100% Egyptian cotton products, only Pure Parima is certified.
They've already secured an accredited gold seal from the organization. So, you can rest assured that your sheets and duvet covers are made only from premium materials.
Pure Parima has gotten a lot of attention from the press in recent years. The brand has been featured in publications like Vogue, Elle Décor, and Cosmopolitan, to name a few. It also holds the title of the best Egyptian cotton sheets on 'Tuck.'
But then there's the burning question: why use Egyptian cotton for your sheets in the first place?
The simple answer is that it's more comfortable and high-quality than other materials.
Egyptian cotton has very long fibers thanks to the Nile's vitamin-rich soil. The fabric is smoother, fuller, and more comfortable to lie down on.
It also makes Egyptian cotton sheets sturdier and more durable. They'll fray less, so you can be sure to keep them for years to come.
Only 1% of cotton in the entire world is Egyptian cotton. This rare cotton is a hallmark for luxury sheets and duvet covers. Pure Parima's cotton is sourced ethically from the Nile River Valley. So, you know you're only getting the best Egyptian cotton sheets.
Related: How To Make Your Bed At Home Like A Luxury Hotel
How to order from Pure Parima
While all Pure Parima sheets are made of Egyptian cotton, they are categorized into five main fabrics.
Yalda, Ariane and Hira fabrics are everyday staples. They're perfect year-round!
Triple-Luxe Sateen is warm and cozy (excellent for winter).
Ultra Cotton Percale is durable yet lightweight (ideal for summer).
Pure Parima sheets are made only of single-ply yarn. This makes the sheets softer and more breathable for the best sleep possible.
When ordering from the website, you can choose from several bedding products. They carry pre-bundled sets that include sheets, duvet covers, and coverlets. You can also look through pillows and pillowcases.
Many of the bedsheet sets are discounted from time to time. They come in multiple sizes, including Full, Queen, King, California King, and Twin.
Every set comes in luxurious signature gift packaging which is recyclable and reusable.
Before you place an order, double-check the measurement guide on their website. That way, you can be sure your sheets will fit your mattress to a T.
Pure Parima Egyptian Cotton Sheets Review
The Bestseller: Yalda Sheet Set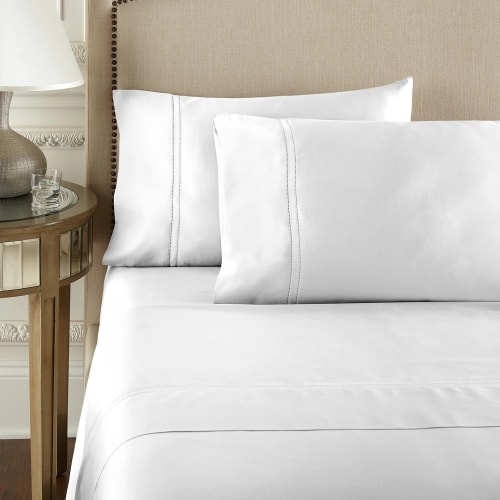 If you want clean, classic sheets, this set is great. These sheets are smooth and soft, giving you a calm and deep sleep after a long, hard day. They're double-hem stitched, so they'll be strong and durable even if you toss and turn as you sleep.
The set is available in ten sophisticated colors to fit your taste. It contains one loose sheet, one fitted sheet, and two pillowcases. However, smaller sizes (like the twin and twin XL) come with just one pillowcase. Bigger sizes (like the Yalda king) have two fitted sheets.
The pillowcases have unique envelope closures at the edges to conceal the inner pillows. This is also to keep your cushions in place so they don't wiggle out.
Meanwhile, the fitted sheets have deep pockets, 18 inches. That way, they can cover thicker mattresses. They're also elasticized, so they'll be locked securely once you put them over your bed.
What do customers love about it?
Soft and silky
Sleek, great packaging makes it feel more luxe.
Comes with a certificate of Egyptian cotton authenticity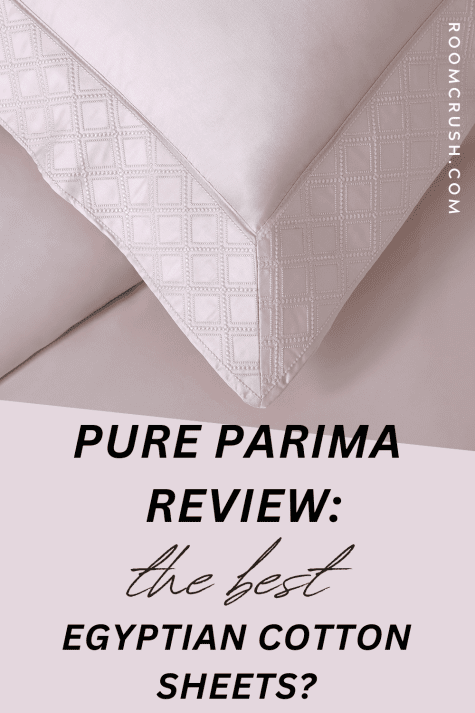 Pure Parima Duvet Cover Set Review
Ariane Duvet Cover Set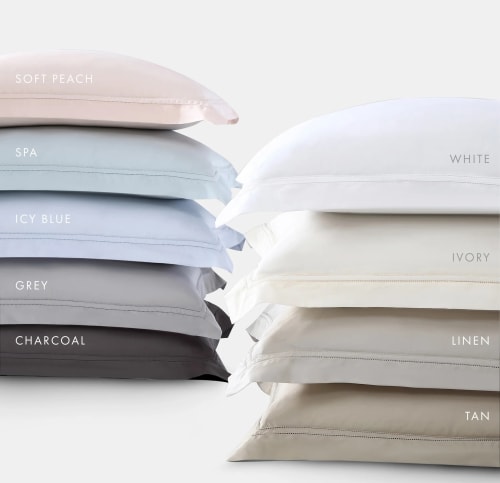 If you're a fan of embroidery, you'll love this duvet cover set. While its design is sleek and elegant, it has a sophisticated embroidered lining at the edges. However, it still looks chic—never old-school or outdated.
The set is made of cotton sateen derived from 100% Egyptian cotton for durability and softness. It includes a duvet cover and two soft shams, all made from cotton sateen. They boast a thread count of 400 for maximum softness and comfort.
The duvet has ties on all four corners to secure it to your duvet insert easily. All the inclusions also have hidden zippers and flap closures to keep your bedding in place.
You can get this duvet cover set in six pastel colors. They come in two sizes: King and Queen.
What do customers love about it?
Very comfortable since it's so soft
Has beautiful, intricately embroidered edges
Pure Parima Pros and Cons
Pure Parima Pros:
Egyptian cotton is ethically sourced from the Nile
Durable yet comfortable
Fabrics are free of harmful chemicals
Free shipping and returns within the USA
Risk-free trial for 100 nights
Offers 10% off for new customers
Has a "sale" tab for discounted items
Excellent customer service
Holiday discounts and freebies
Pure Parima Cons:
Sets are pre-bundled, so you can't customize them
Pure Parima VS Peacock Alley VS Boll & Branch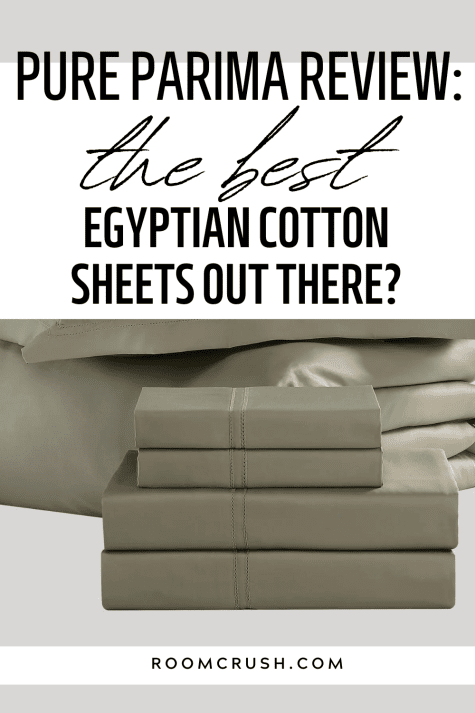 Pure Parima Reviews
Customers who have bought from Pure Parima vouch for the comfort and luxury of their sheets. You can tell how much they love the brand based on all the glittering five-star reviews on the website.
Pure Parima also gets pretty high scores on other online marketplaces, like Amazon.
People love the brand so much that some make full-length reviews on YouTube. Content creator AM2PM even gave a quick rundown of why Pure Parima Egyptian cotton is high-quality.
He was also impressed with the durability and lack of fraying in the sheets. "I don't see any pilling," he remarked. "We've washed them about three or four times. So that's a great sign that these are going to last a long time."
Is Pure Parima worth it?
If you want a luxurious and comfortable sleeping experience, Pure Parima is worth it. These ultra-soft, 100% Egyptian cotton sheets give you a relaxing sleep. And since they're of top-notch quality, they'll last you many years.
What's great about it is that even if it's a premium brand, the prices are fair. The "sale" tab is a great place to look for the most affordable options. You even get free shipping in the US!
What to read next: