How To Decorate Your Home With Bright Colors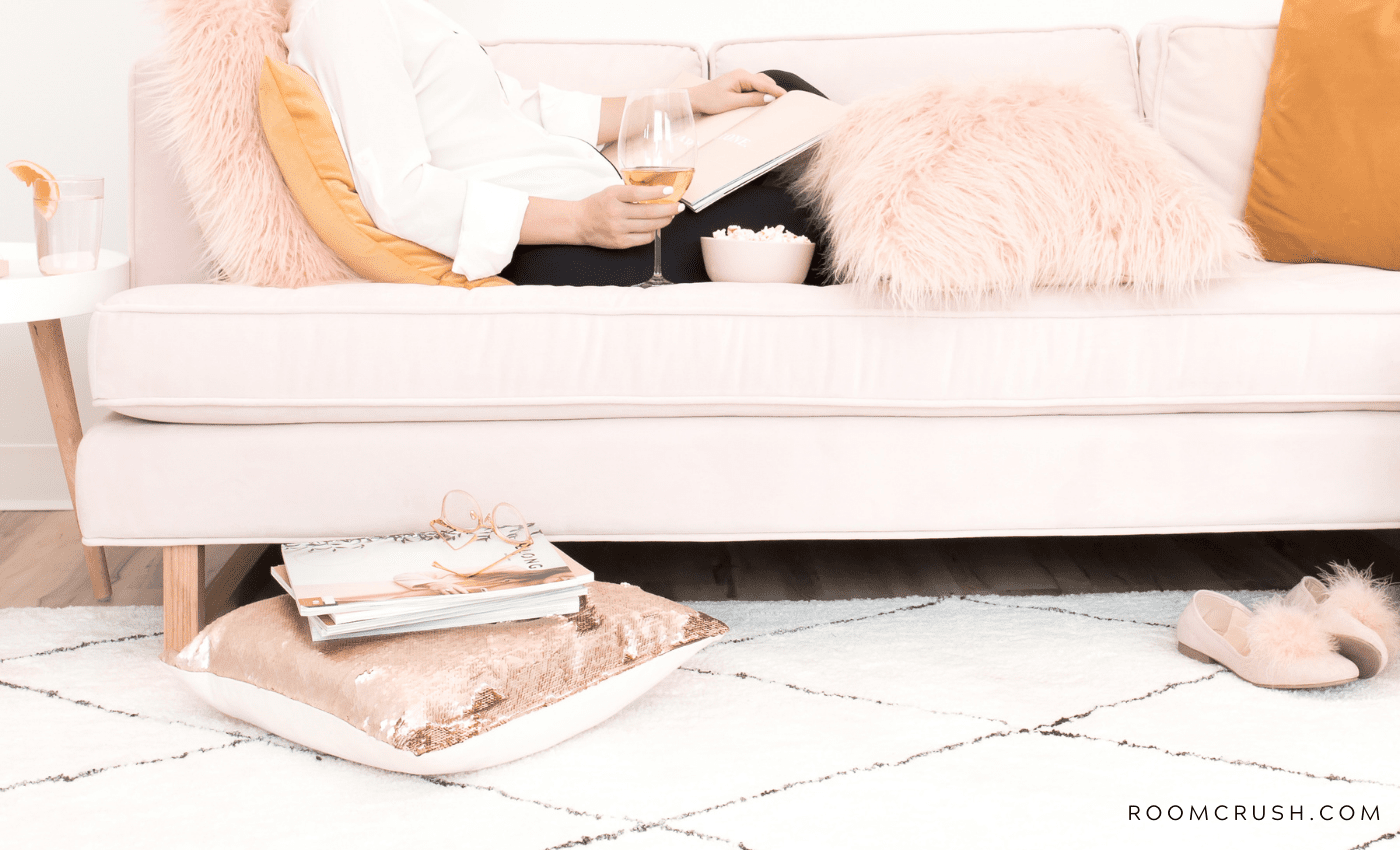 You have seen those bold maximalist design spaces and you are inspired to decorate your home with bright colors too. But how?
You've been playing it safe with neutrals thus far, and for good reason! 
Neutrals are popular not just for their clean aesthetic, but because they are less overwhelming than bold colors.
---
7 Easy Home Updates eBook: Free!
Today, get a free copy of our ebook that shows you 7 simple updates you can make in your home this weekend that will make your home look expensive and increase its value. Tell us where to send your free copy:  
This site uses ads and affiliate content as an Amazon associate earning on qualifying purchases. Disclosure.
---
Now, if you are finding it hard to decorate your home with bright colors, let's help you with that.
How To Decorate Your Home With Bright Colors
Check out our Amazon recommendations for the best home decor deals here!
Red and yellow are primary warm colors with orange being secondary and a result of the two when combined in proportionate amounts. Any variations of these three hues are considered bright colors.
Certain shades of blue and green, although cool, can also be bright.
In most color palettes used in interior design, bright colors are used as accents with the primary colors being more subtle and cool.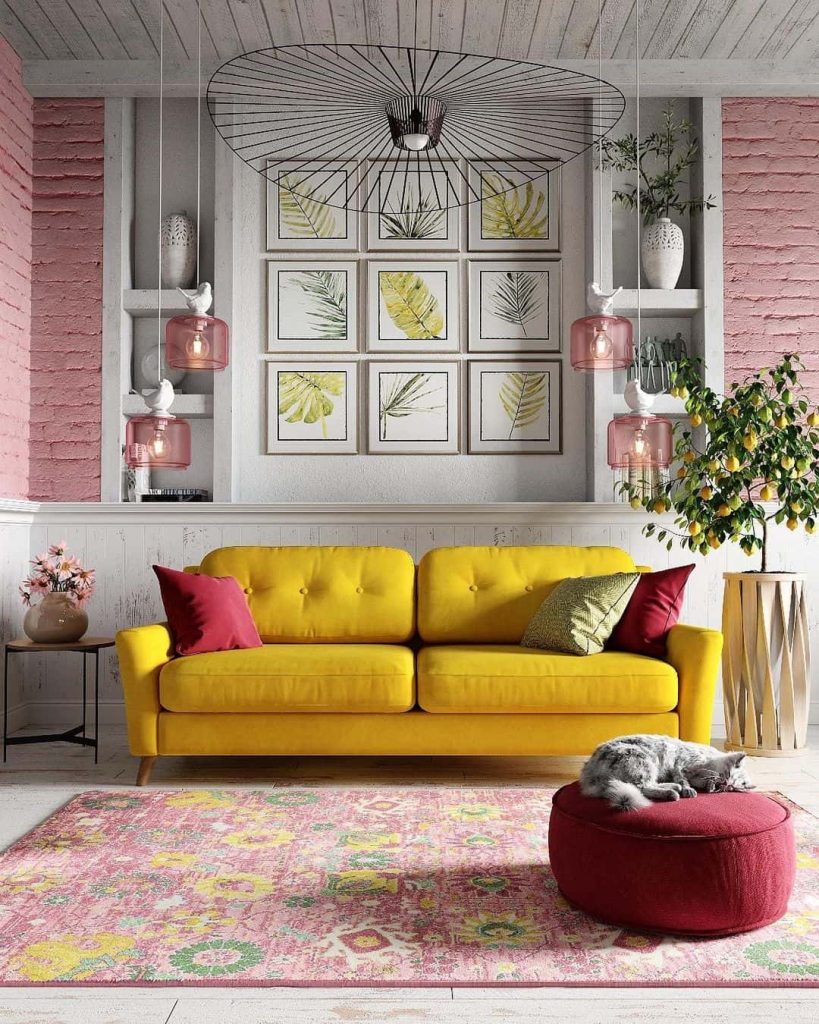 Nevertheless, one can carefully and artistically use combinations of bright colors in their space and it would actually look great.
One great attribute of bright colors is the effect they have on mood.
They instantly boost mood and energy and evoke feelings of warmth hence being referred to as energy colors.
Sale
CangLong Velvet Seat Chair with Metal Legs for Kitchen Dining Room, Pack of 2. Beige
In a classic shape with an open back, so you feel free and airy even if you're chained to any desk or table.
Two cute dining chairs: Velvet cushion seat and back , ergonomic design is simple and beautiful outlook, quality material convenient for cleaning, just wipe with a damp cloth.
Versatile Usage: Retro and fashionable appearance and functional use. The sturdy chairs can be used in dining room, guest room, living room, kitchen room, lounge home, extra room, etc.
Simple assembling, hardware and manual included, easy installation and save your precious time.
Excellent Customer Service: worry-free quality assurance&friendly customer support, e-mail us when you need help.
Bright colors are not only eye-catchy but also bold, daring and vibrant. They have the ability to make your house look cheerful, warm and welcoming.
You May Like: How to Create a Cohesive Maximalist Living Room
Master How to Decorate Your Home With Bright Colors
Interior designers coined the 60-30-10 rule of decorating with color, and we can agree that the strategy always works.
So, even before you start decorating your home with bright colors, consider applying this rule.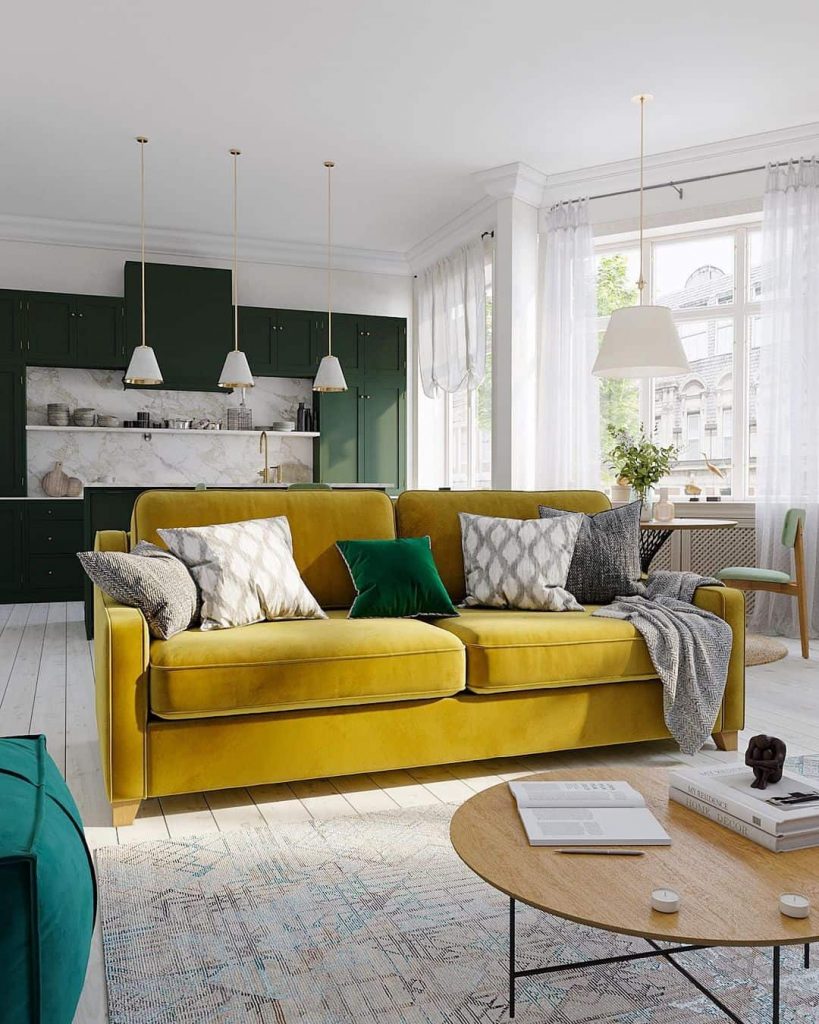 Here's how it works:
Use a dominant color for 60% of the room and the walls largely get this larger proportion.
Use another color for 30% of the room, ideally, the furniture and window treatments-think curtains), and the third color for 10% in the form of a few tasteful accents.
When picking your 3 colors to use, consider the color wheel below to help you to visualize the relationships between colors.: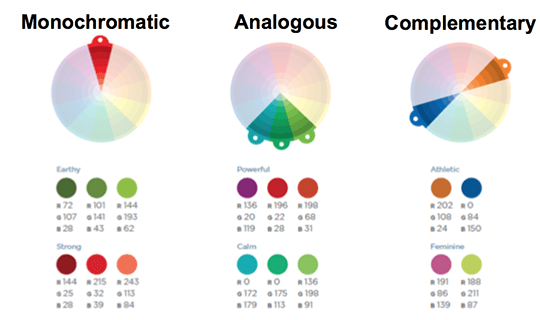 You will realize that it's not just about picking 3 colors to incorporate in your interiors because some combinations just don't work.
While monochromatic: colors are variations of the same color, analogous colors sit beside each other and create a harmonious color scheme.
Complementary colors sit on the opposite ends of the color wheel to provide the most contrast.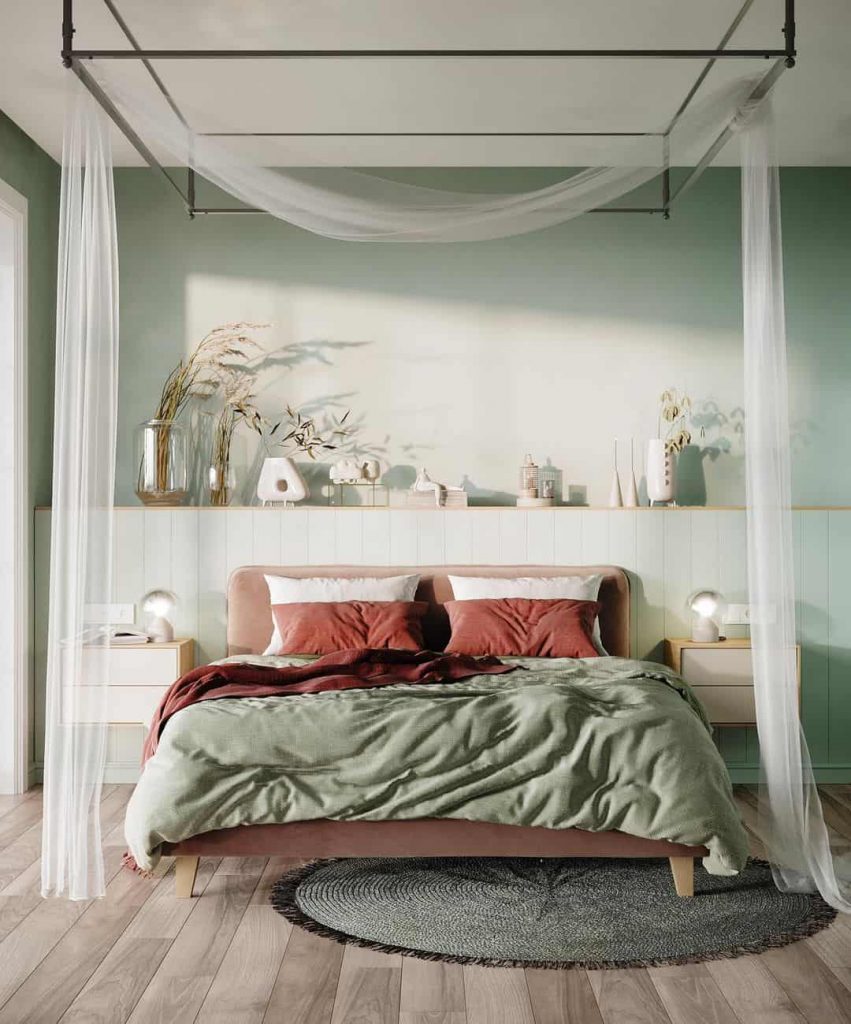 We recommend using analogous colors in the bedroom or family room for such a relaxing vibe.
But at the end of the day, you want to choose a color palette that works well together.
You May Also Read: Top 7 Mistakes To Avoid In Maximalist Design For Your Home
Here are some useful ideas on how to delicately and correctly decorate with bright colors for your gorgeous home:
1. Color Blocking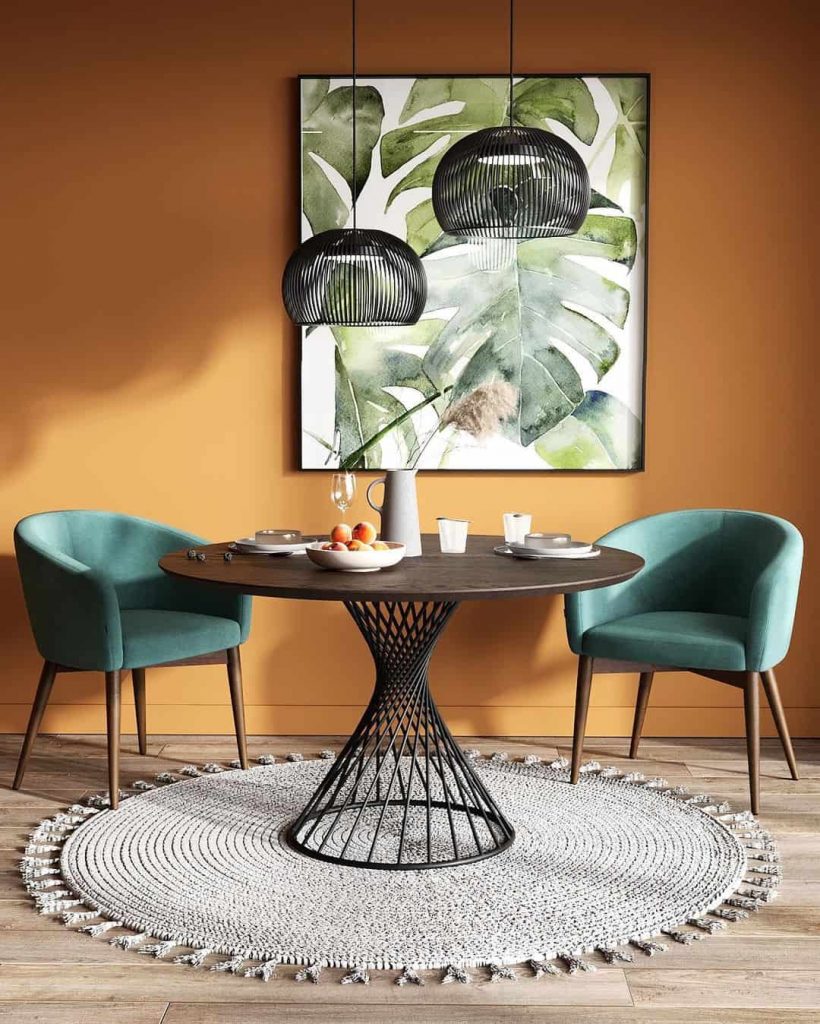 Mixing and matching up colors is a style that has been well received over the years and will stay with us for quite some time.
The contrast achieved by placing two completely different colors rather known as complementary colors next to each creates such a bold statement.
Deciding on which color to put together can be challenging and that's where a color wheel comes in handy.
With the help of the color wheel, it becomes easier to find out which colors go well with each other.
To make your color blocking stand out even further, you could use analogous colors and unusual color combinations.
Think the pink and yellow trend taking over Instagram right now.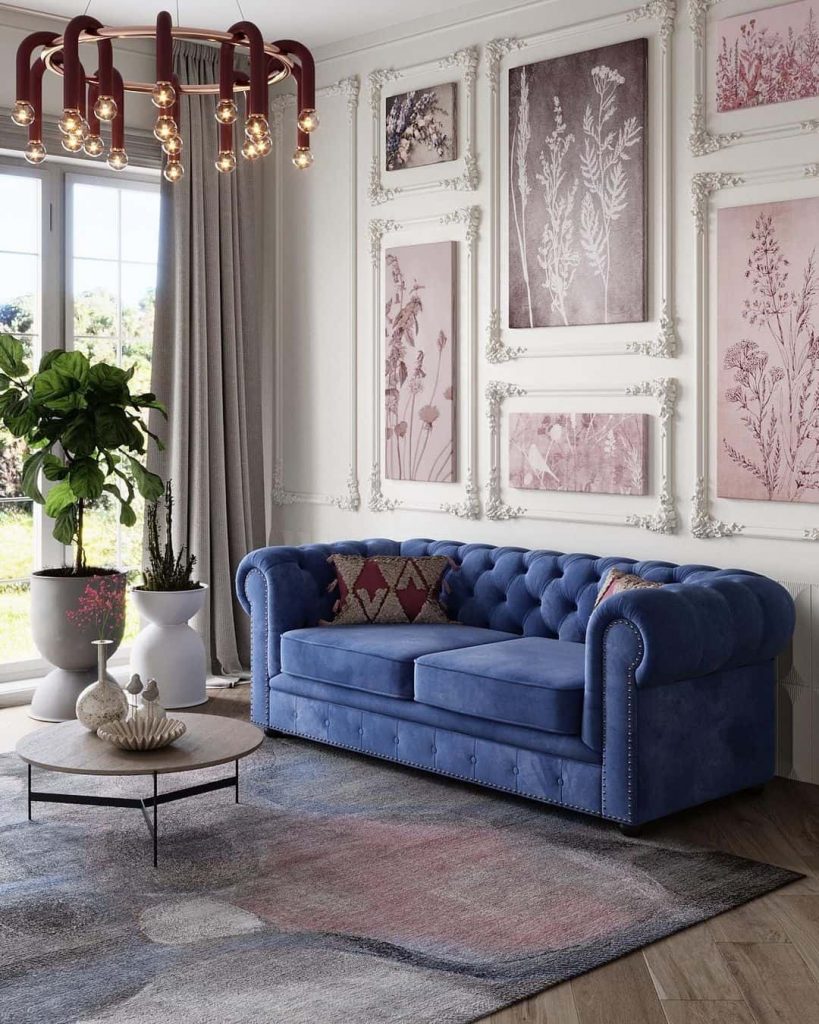 There's no better compliment of your space than 'oh, I didn't think that was possible'. And as interior designer Holly Wick says, 'throw out strict color palettes and rigid themes and follow your heart.'
Decor Tip: Your Bright Color Should Flow in your Home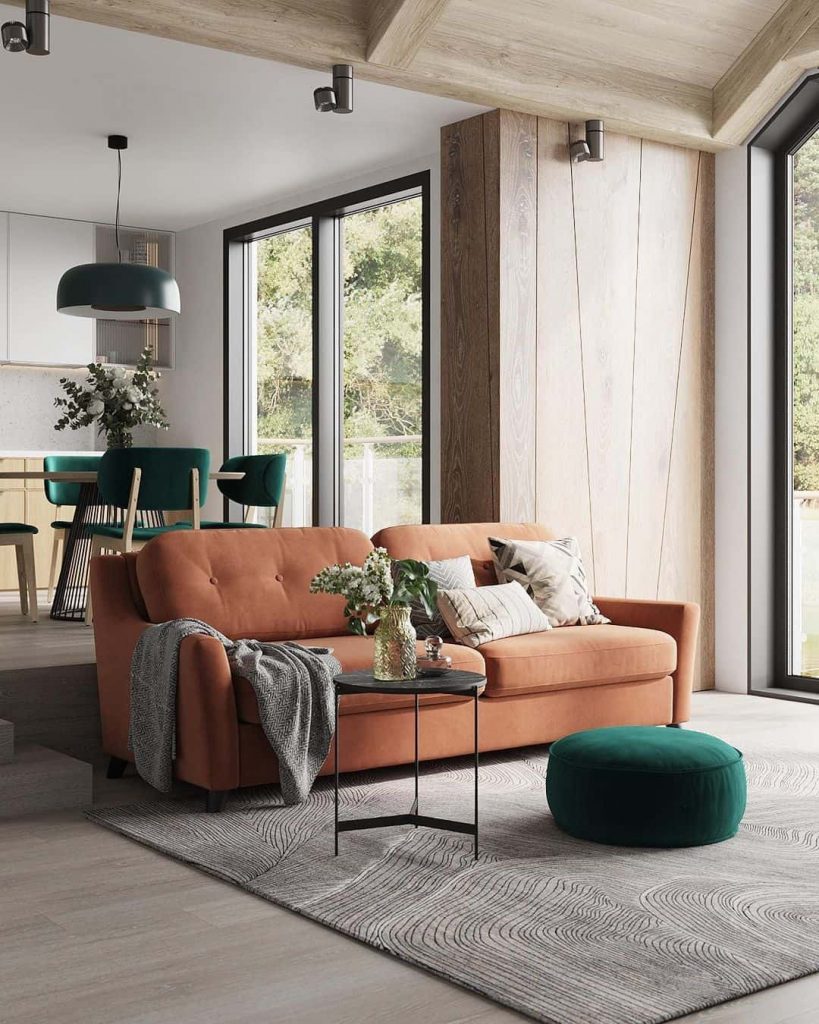 Scattering all kinds of bright colors in different rooms around your home distorts the cohesiveness of your space, making it look like a patchwork of colors and feel more overwhelming.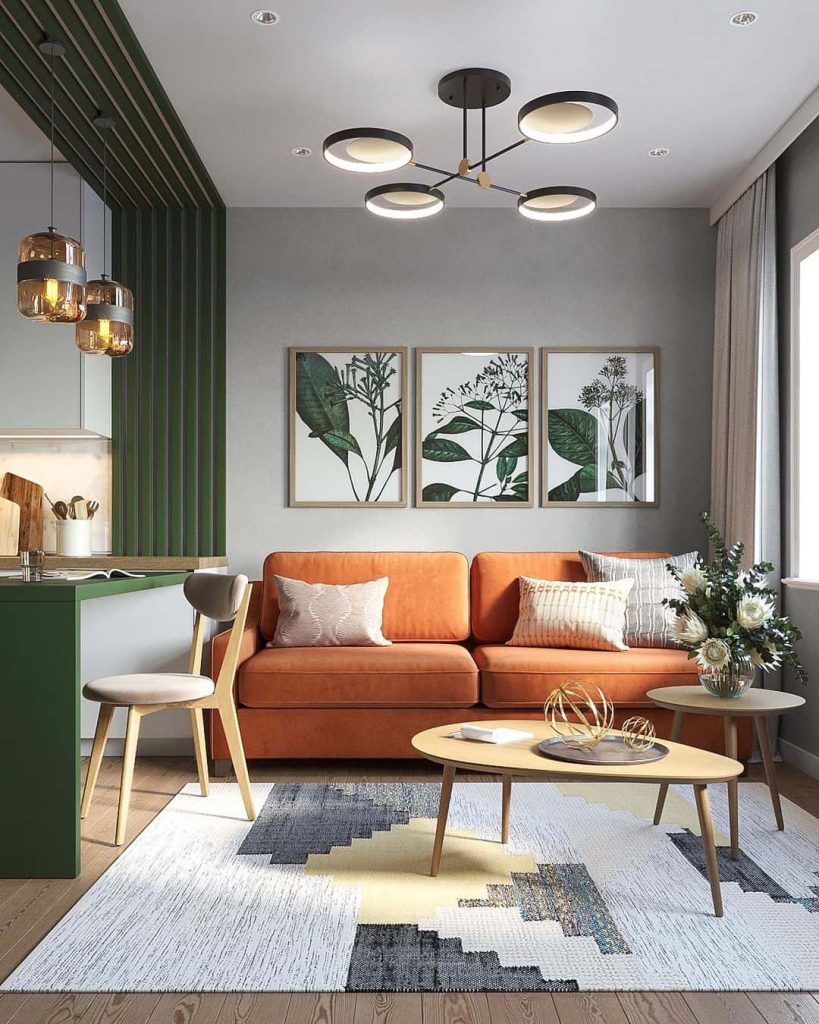 The key is to pick one favorite color look that you can use across the different rooms. For instance, spread pastel pink around your home, from your throw pillows to bedsheets, to your dining's accent walls and the like.
You May Also Like: How To Create The Ultimate Feature Wall
2. Bright Accents
Using bright accents is a great way to decorate your home with bright colors if you are not quite as adventurous with bold colors, for instance, for all walls around an entire room.
If your wall color or general theme is neutral, you could sure use some pop of color to break the softness and simple clean look.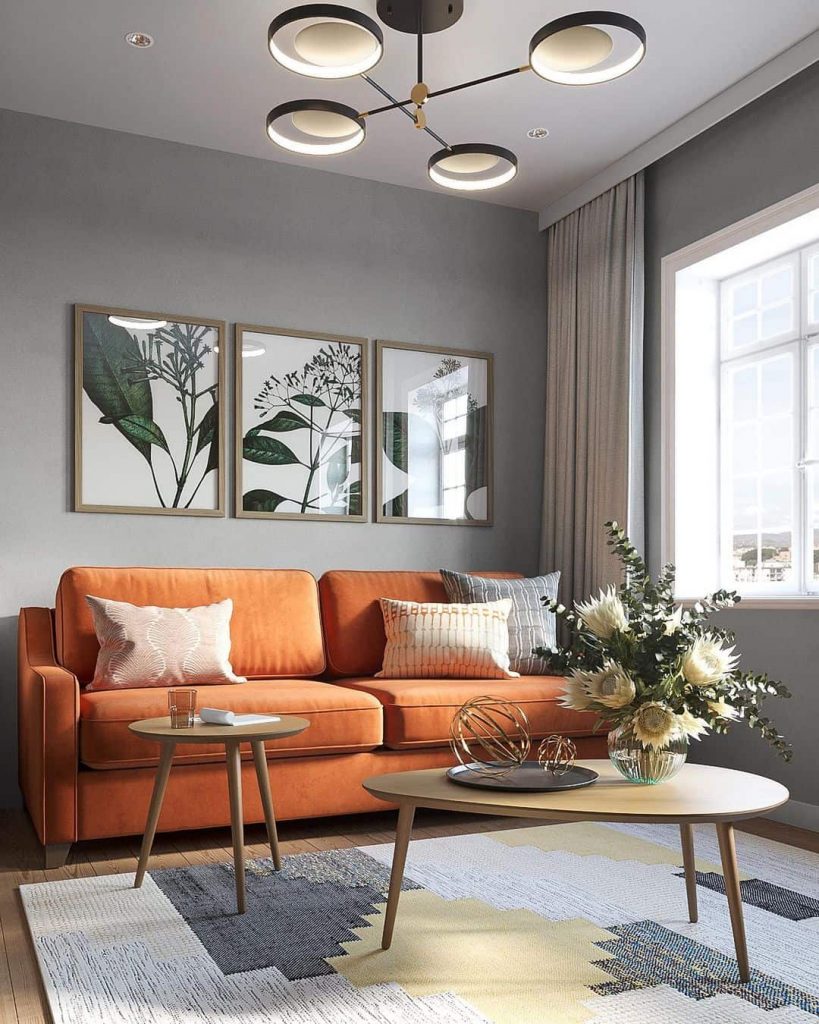 You have a myriad of options of bright colors if neutrals are your jam because neutrals work really well with basically every other color.
You could for example have white walls and paint one of the four, your accent wall, with a warm color.
The wall will draw attention without being the only focus. Brightly colored art could also enliven plan walls.
Another creative way to accentuate is to display smaller décor pieces of bright colors on larger neutral-colored pieces.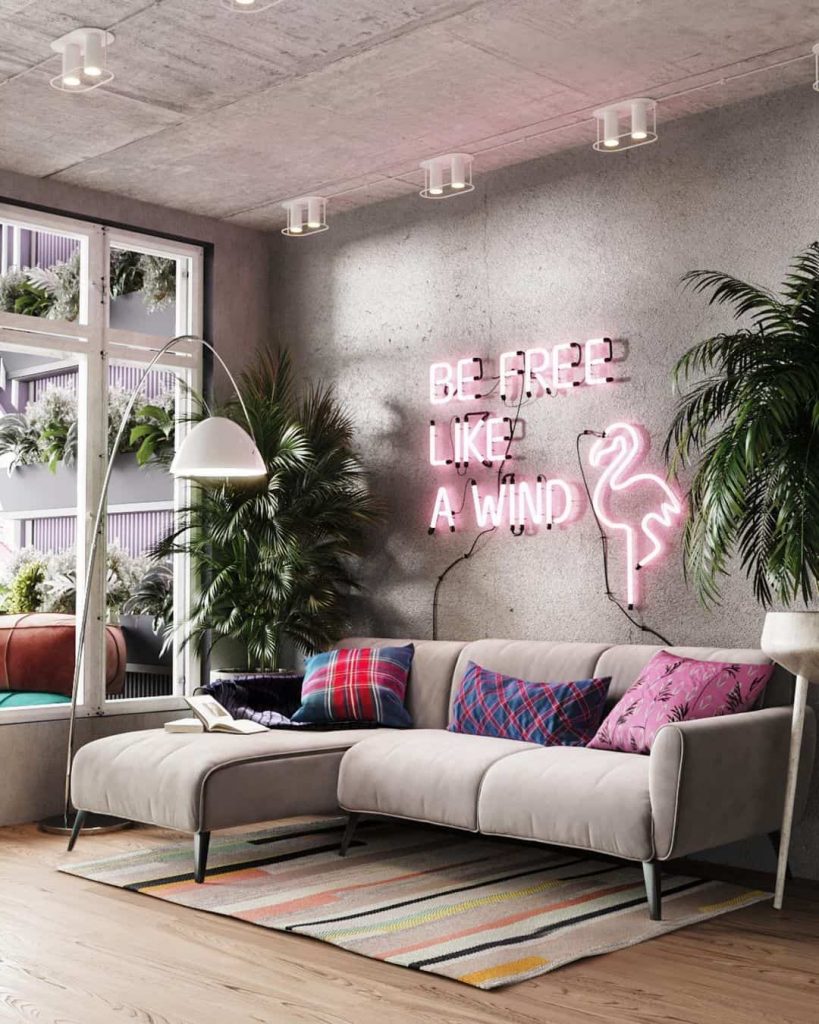 This all-white apartment compensates for 'lack of color' by maximizing colorful pillows of different patterns that draw attention to themselves and distributes it to the entire room.
Sale
Custom Neon Sign for Wall Decor Personalized LED Neon Light Signs Bathroom Preppy Room Decor Aesthetic Bedroom Wall Decor Wedding Party Home Decorations Congrats Birthday Gifts for Women Beauty Bar Neon Light Signs
【Customize Your Neon Signs】Personalized name neon sign is available. You can customize your name, logo, words, emoji, wedding backdrop and choose your favorite font, color, backboard shape for your neon sign, which can make your custom neon signs to be fantastic and unique. And the sign of image or logo design are available.
【Get it Quick】It takes about 2 days to make the custom neon sign. You can get your sign about one week.
【Custom Sign Gifts & Wall Decor】The neon letter signs are perfect for wall decor aesthetic home room decor, bedroom, beauty bar, cafe, wedding, birthday party, Preppy room decor aesthetic decor. It is a fantastic backdrop for your company, store, playroom, bathroom decor, daily girls room decorations. The custom neon signs are the greatest birthday gifts, Christmas gift, guaduation gifts for women or falimiles or friends, or your children.
【Handmade LED Sign】The Handmade Custom LED Neon Sign is Made of durable and Flexible Led Light Strips and 0.2"(5mm) Thickness Transparent Acrylic Backboard Which is Brighter than glass tube neon sign. There is no Noise and No Heat.
【Package Included】1x Custom neon sign+Power adapter+hanging chain+fixing screws+On/Off switch with dimmer function+installation instruction.
Decor Tip:  When decorating any home, employ the Feng Shui guide of achieving balance. In this case, create a relaxed interior by balancing the color palette using one base color, a color in a medium tone, and a few lighter accents.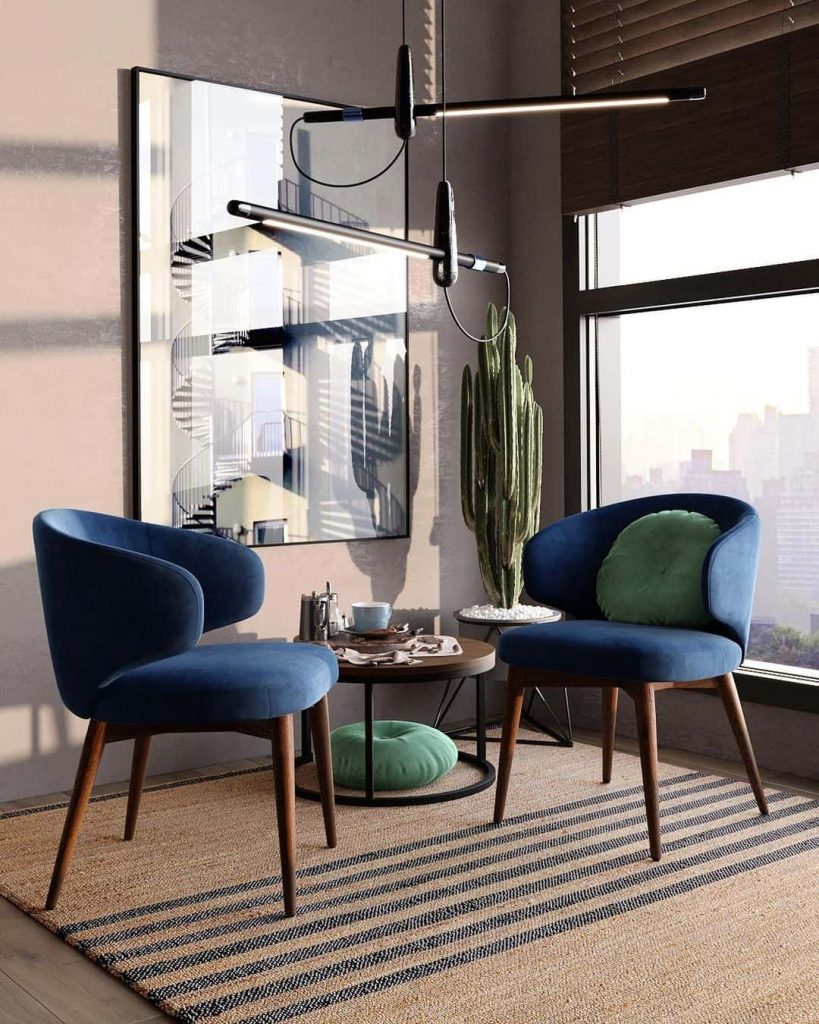 Also, get rid of clutter which tends to overwhelm the space.
Keep it clean and crisp, and that includes color clutter with too many colors and decorations that make the room look busy and overwhelming.
3. Use Subtle Shades
Too much presence of bright colors can be irritating and disturbing to the eye.
To avoid this, you can use toned-down versions of bright colors, that is to mean lighter shades or pastels that will not be too distracting.
These shades also have the ability to make your house look really, soothing, delicate and lavish.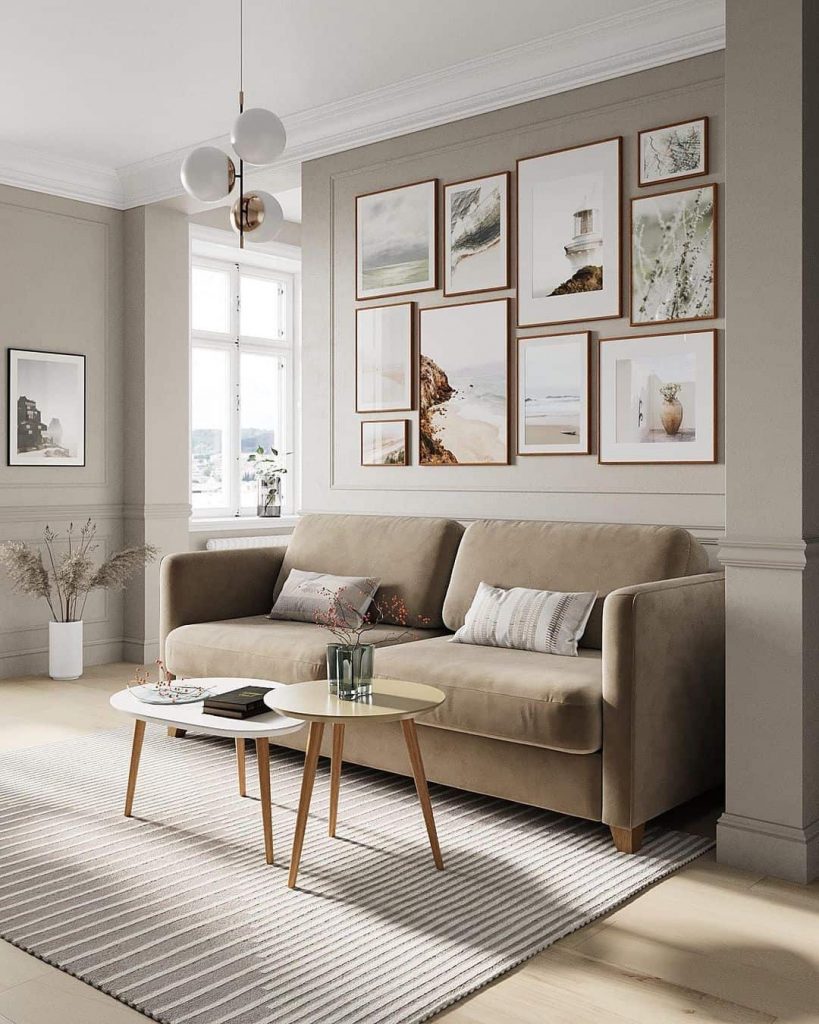 Think grey and beige, and layer with metallic colors like gold and silver to upgrade this subtle look.
You May Also Like: 10 Minimalist Living Room Ideas That Will Inspire You To Declutter
4. Certain Spots/ Rooms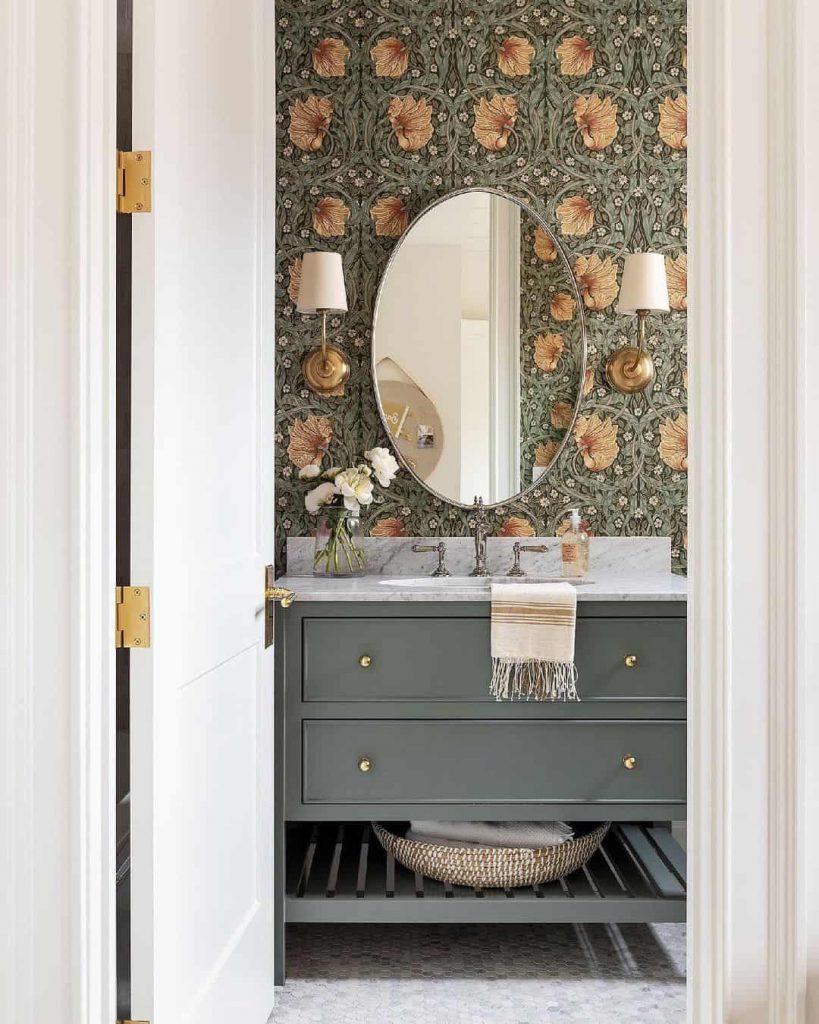 Instead of using bright colors in the entire house, we could use the colors on certain spots of the house that you'd like to draw attention to as the center of attractions.
These spots could be your workstation, cozy corner, meditation area or reading nook.
It could also be smaller rooms of the house like the clock room, bathroom, laundry area or balcony.
This is to avoid the splash of color from being overwhelming.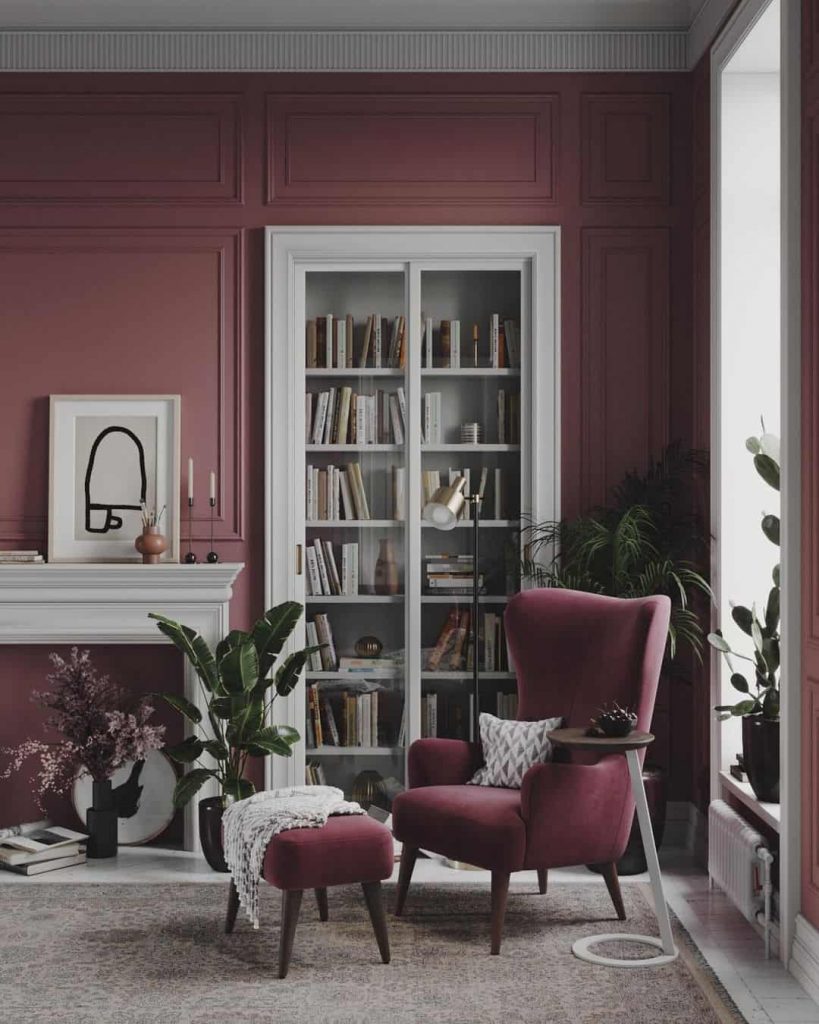 This corner forms the perfect relaxation spot that will always call out to you the moment you walk into a room after a long day.
You May Also Like: Ideas to Update Your Tiny, Boring, Old Bathroom Stylishly
5. Create a Monochrome
Focus on one single color. I know I know. That sounds like having yellow seats, with yellow curtains and yellow tables…no not in that way.
Yes, that's what I mean but not exactly.
Think about different shades of the same color! Splendid, right?
Use different shades of one single color but make sure to break the monotony with another strong color like black or dark brown or green so that your space does not look like a single block of color jabbed in a room.
Vary and balance textures too, have a little velvet here, a little macramé, some stitching, some sisal and everything will look great. Adding metallic colors also adds to the magic.
You May Also Like: 13 Mistakes Most People Make In Minimalist Design & How To Fix Them
6. Introduce Shapes to your Walls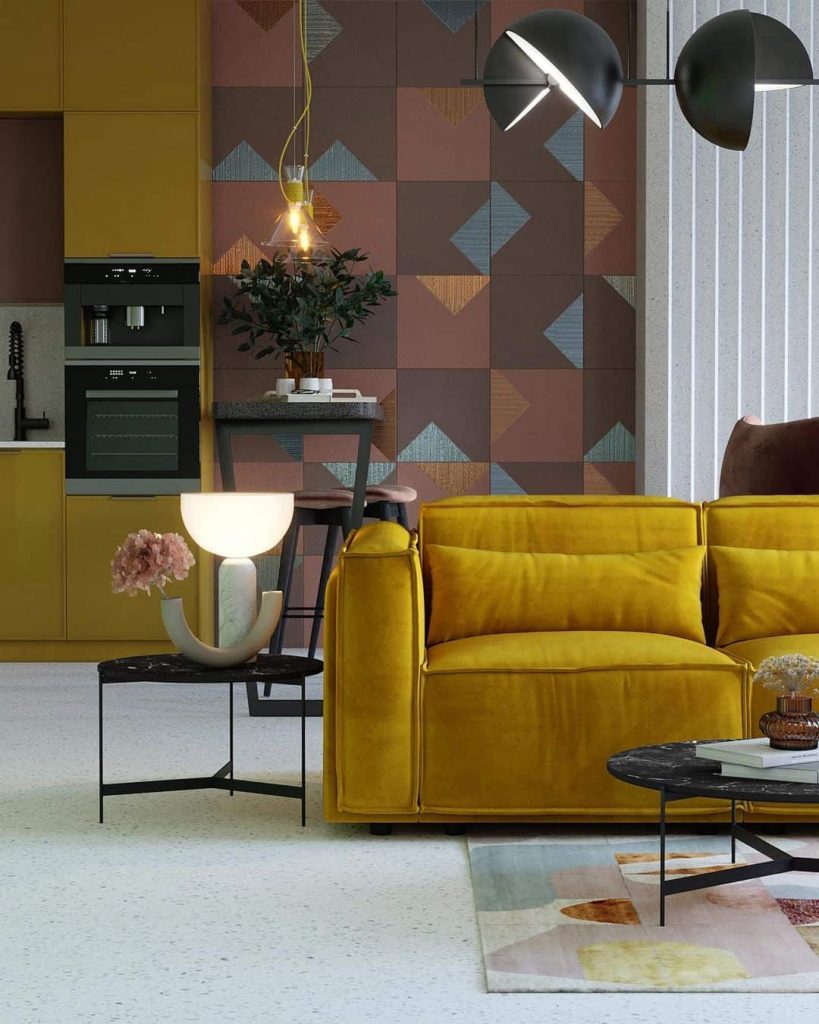 Painting shapes in different colors on your wall is another good interior design approach to add life to them. Ensure there is a definite distinction on their boundaries for a clean and edgy look.
These shapes can also be used to mimic items like a bright color all around the door opening could give an illusion of a larger architrave. A rectangle painted over the bed could also mimic a headboard.
9. Interesting Ceiling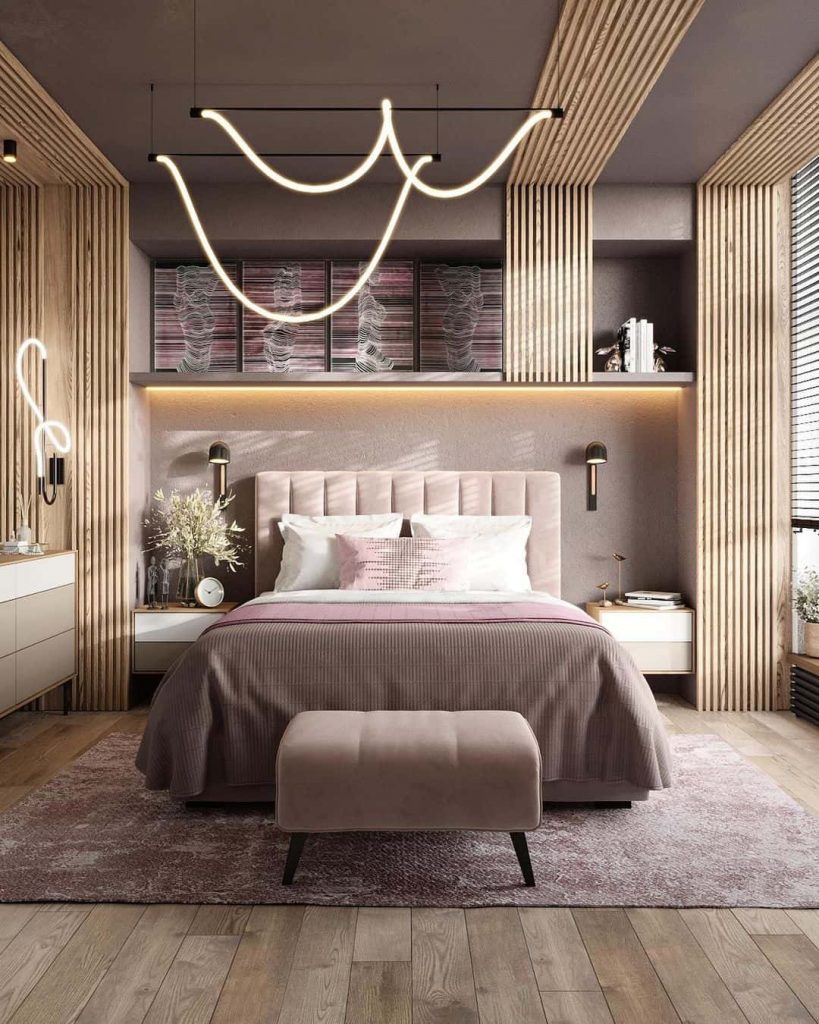 White is not the only ceiling color option available. For plain walls a splash of color could change the overall aesthetic of the room both during the day and at night.
For small and dimly lit rooms, a bright ceiling reflects light back into the room making it brighter.
You May Also Like:
How To Choose Lighting For Your Dining Room
The key to painting color on the ceiling that is already within your color scheme to give your rooms a finished look.
Other than that, it adds color to the light emitted hence making it warmer. A colorful ceiling also leads the eye upwards and distracts one from items below the eye line.
Modern LED Chandelier,Led Chandelier 5 Rings Modern Chandelier for Dining Room,Dimmable with Remote,Acrylic Luxury Foyer Chandelier Lighting Fixture High Ceiling Hanging Living Room LED Pendant Light
【Stepless Dimmable Modern LED Chandelier】 This silver modern led chandelier 5 rings chandelier is dimmable, the color temperature of the LED chandelier light can be controlled remotely. There are three light modes :warm light, natural light, white light, let you have different lights to accompany you during situation ;The modern chandelier light fixture has built-in LED lights, which is with long service life over 50000 working hrs, can also save a lot of electricity;
【Multiple Shapes Led Chandelier,5 Rings Modern Chandelier】You will get multiple shapes from this dining room chandelier light fixture, hanging mordern chandeliers for dinging room by adjusting the strings via cable locking pins; DIY and choosing your favorite shape before install ; The strings are 78.74 inches adjustable which is perfectly fitting the height of your ceiling;Modern led chandelier's 5 circle rings can adjust it as you like, which keep your fixtures decor never out of date;
【Modern Chandeliers for Dining Room】This dining room modern led chandelier ceiling light fixture is designed in a modern shape with 5 rings and adjustable height.The simple led pendant light will add more elegant and luxurious elements to your house. The shape of 5 rings chandelier led pendant lights can be varied by adjusting the hanging cord.Design your own unique shape at any time. Recommended for living room,dining room,staircase, entry-way, hall-way, entrance, hotel, office;
【Acrylic Ring Chandelier Light Fixture,Mordern LED Chandelier Hanging for Dinging Room】 This modern chandeliers led ring chandelier made of high-quality metal + Acrylic, High light transmittance. Efficient LED light source, energy saving, soft light without glare. Ring Size Diameter: 23.6"+19.6"+15.7"+11.8"+7.87"(60cm+50cm+40cm+30cm+20cm), Maximum Hanging: Height Adjustable From 11.8"(300mm) to 47.2"(1200mm); The adjustable stainless steel cable thickness up to 1mm;
【No Risk Purchase Modern LED Chandelier 5 Rings Chandelier LED】 30 days free exchange and return on this modern led chandelier,5 rings chandelier,led pendant light,led chandelier for dinging room, and also 3 year warranty (can send broken accessories or partially refund). We have our own factory and a professional engineer team; if you have any question on this dinging room chandelier light fixture with remote control,please contact us anytime,we are together.
On walls, wallpaper is a rental-friendly option of adding color to a room as it is temporary.
We love interesting feature walls!
You May Also Like: 15 Creative Ideas To Decorate With Wallpaper
When decorating your home with bright colors, pay attention to proportion and scale.
Using too much of one, bright or bold color in your interiors can feel overwhelming, rather than like a trendy style statement.
To be on the safest side, especially if your room is small or big, opt for an accent wall over covering the whole room in one bold color.
You May Also Like: 15 Ways To Decorate Your Walls- No Painting Needed!
Whatever bright colors you choose to use should match the function to help create the right ambience for the room to serve its intended purpose satisfactorily.
An important tip perhaps is to ensure you try out various colors combinations before you invest in purchasing furniture and décor pieces in those colors.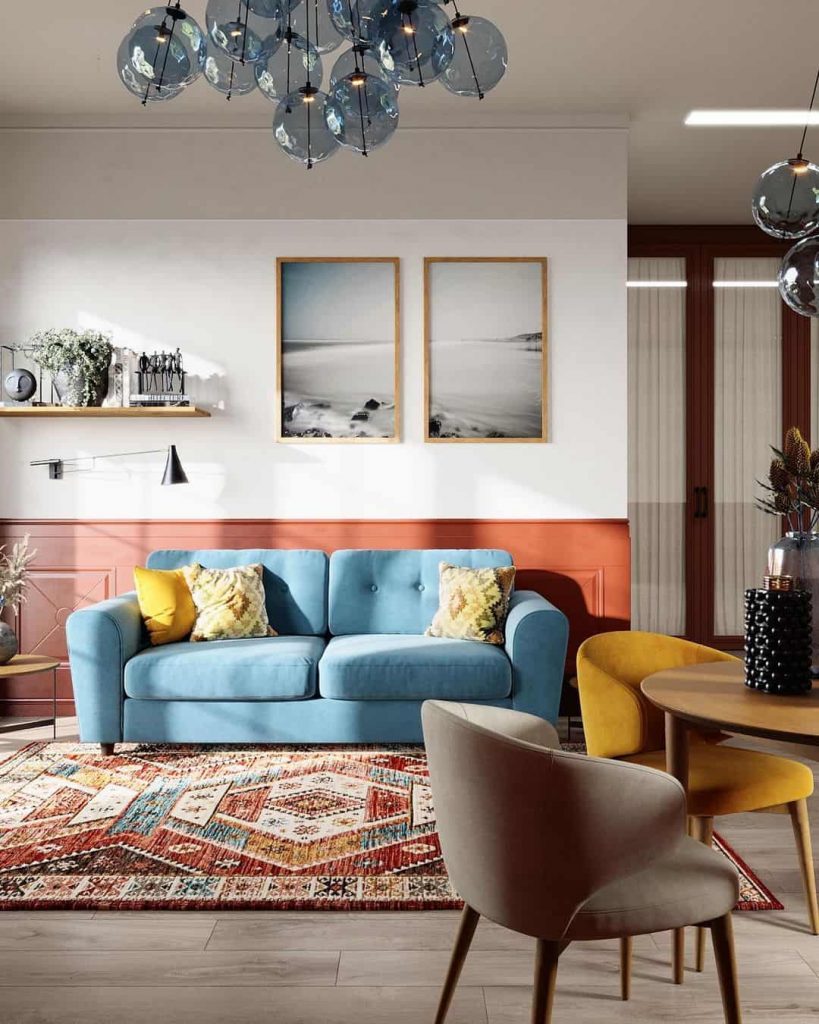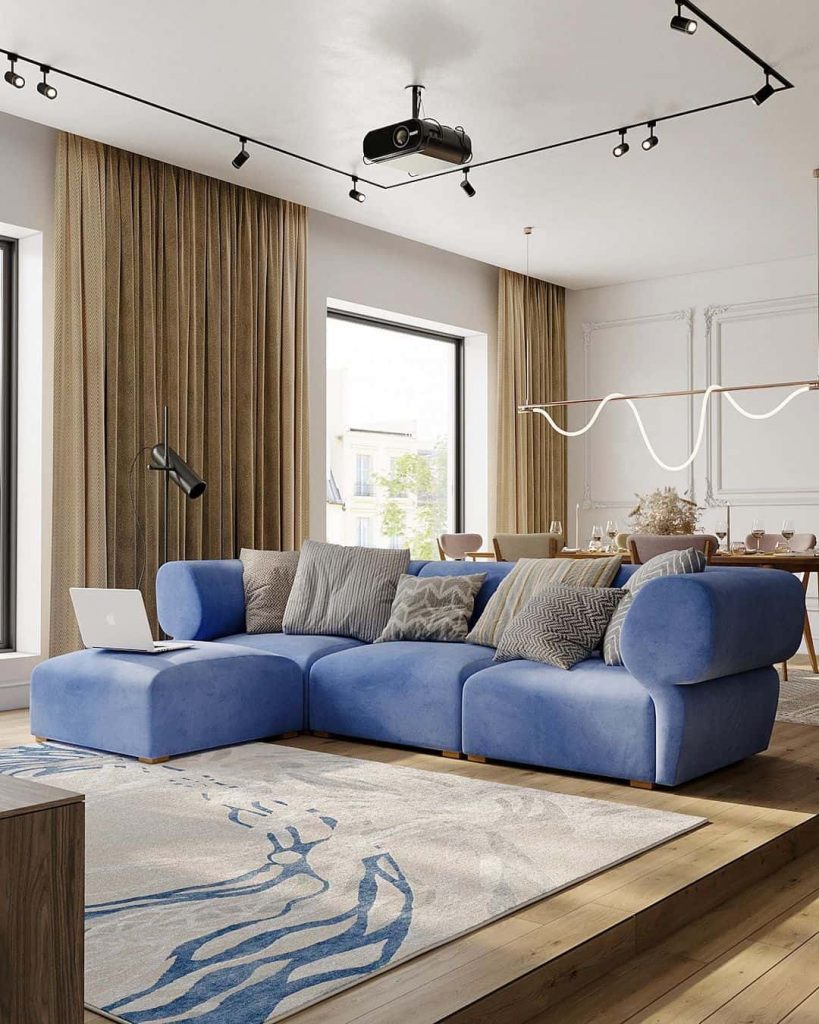 Also, create a working color palette that you will stick to while shopping.
The colors you choose should not necessarily be colors that you like but those that you can stand for a while before you consider to changing them.
Now, go ahead and decorate your home with bright colors!