Is GhostBed Legit? GhostBed Complaints, Reviews & Return Experience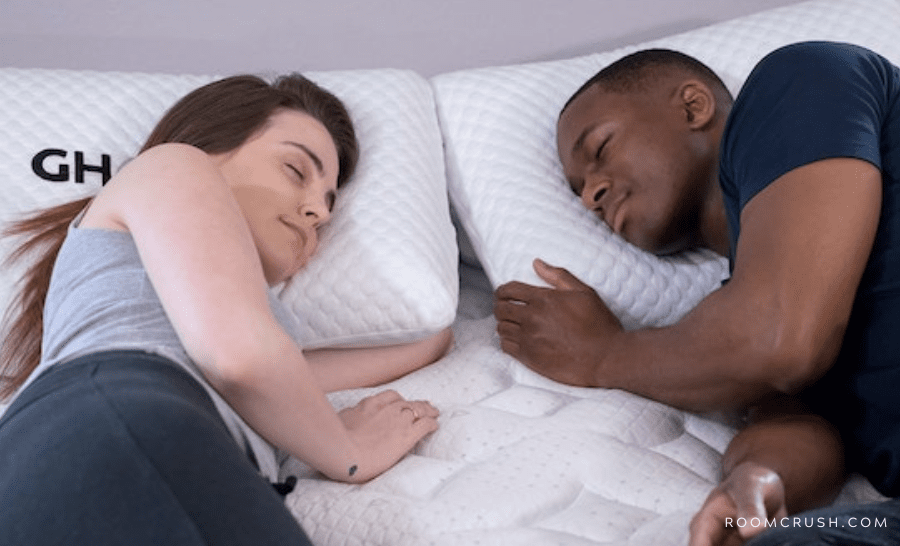 No brand can please everyone. Expecting even the best brands to get exclusively positive reviews is impossible. For every 1,000 stellar reviews for a product, there's bound to be one rotten egg lurking somewhere.
If a trusted brand like GhostBed sells up to 1,000 beds daily, it's unlikely that it only gets rave reviews.
However, there will always be something that a customer will have trouble with. This may range from one-off issues with shipping to the universal hassle of returns.
So, what should you focus on when shopping for a bed? A few bad reviews or the overall quality of the product and experience with the brand?
---
7 Easy Home Updates eBook: Free!
Today, get a free copy of our ebook that shows you 7 simple updates you can make in your home this weekend that will make your home look expensive and increase its value. Tell us where to send your free copy:  
This site uses ads and affiliate content as an Amazon associate earning on qualifying purchases. Disclosure.
---
Today, we will investigate GhostBed. This established, family-run business has glittering reviews as well as some complaints. But, are they anything to worry about?
About GhostBed
GhostBed is a company that knows about sleep and mattress-making like the back of its hand.
They take pride in not being a gimmicky brand that is strong on marketing. Instead, they focus on the science and engineering of mattress-making to give you the best bed.
The company's goal is to produce high-quality beds for an affordable price. So over the years, they've fine-tuned their mattress designs to manufacture only the best. Now, they have patents for unique features like mattress cooling technology.
GhostBed cares about sustainability, too. All their mattresses are made of CertiPUR-US® certified foams.
That means they make mattresses only with low-emission materials while maintaining top-tier quality. They even have a product called the Venus Cooling Cover, made from fibers fashioned from recycled water bottles.
To date, GhostBed by Nature's Sleep has sold almost a million mattresses or probably more since starting back in 2021. 
The brand has 17 factories across the US and Canada. It's all shipped from here in the US. Delivery is then more eco-friendly and has fewer carbon emissions than international shipping.
They've also been featured in news outlets like CBS, Esquire, Insider, and more.
Ordering from GhostBed
Shopping on the GhostBed website is relatively easy. And you also get free shipping nationwide, which is always a plus. But what are some of the common complaints about GhostBed? Let's go through each one.
GhostBed Delays on Shipping
In 2020, some people's GhostBed orders did not ship on time.
You might recall that over 5,000 container ships were stuck in the ocean at one point in 2020. Indeed, a brand that carries large products like mattresses would have logistical issues like this too.
Since then, we saw that the brand had improved its communication with the customer.
Now, emails are sent out about product delays. This is to reassure the buyer that their order has been processed.
They also offer other options for how to proceed with the purchase. There seems to be a team dedicated to sending and replying to emails about this.
Thankfully, it seems like everything's in order now. Most products are back in stock, and they aren't having the same delivery issues as they did at the pandemic's peak.
GhostBed Return Policy & Not Refunding Customers
The brand is very transparent with its 101 Night Sleep Trial policy. The terms are even emailed to the customer when they make a purchase. But, sadly, some customers don't end up reading this policy. So, they request returns and expect a full, instant refund.
But a company can't always guarantee a quick refund to be issued. For instance, they can't control when there are delays with the credit card provider.
Sometimes, it takes a few extra days for the refund to be credited back to their account. So patience is critical when requesting refunds.
Another issue is where the mattress ends when a customer requests a return. Returns are complex for beds because they are sent vacuum sealed.
Once they are opened, they won't fit into the box they came from anymore. So, every return means tossing out that mattress in the end.
This isn't sustainable for the environment, and GhostBed knows that. That's why they've come up with a mattress donation system. 
Each returned mattress is donated to non-profits or recycling organizations that might need a bed or the materials used to make it.
Finding somewhere to donate your mattress can take a while. So, the process might not be as quick as you anticipate.
GhostBed Mattress Donation
Let's talk a little more about that donation process. GhostBed tries its best not to fill up landfills with returned mattresses. 
So, when customers insist on returning a bed, they find a new home for it within the local community.
The brand contacts organizations near you. Then, they arrange for proper disposal or donation of your mattress. You can read more about mattress disposal and donations on their website.
But don't let this complaint from other buyers scare you! Many GhostBed customers say they sleep on the same mattress they purchased over 20 years ago. Pretty crazy if you ask us. That's the true testament to GhostBed mattresses' quality and durability.
What's GhostBed's Warranty like?
One strength of GhostBed vs its competitors is its explicit warranty. You can claim GhostBed if your mattress sags.
Meanwhile, competitors only allow you to claim your warranty if your bed sags by over 1.5 inches.
The fact that other brands need to specify a high sag measurement makes us think that they don't believe in their product. Meanwhile, GhostBed is very confident in theirs.
GhostBed Venus Williams Collection Review
The hottest new collection from GhostBed collaborates with the one and only Venus Williams. Venus is an iconic, busy athlete known for her power on and off the court. So, this collection is all about rejuvenating the body through better, deeper sleep.
Related: The Best Moon Lamps For Better Sleep
The line is designed with far infrared therapy to help you recover after a long, tiring, active day. There are two key mattress models in the Venus Williams collection:
Venus Williams Legend
First up is this 12-inch mattress designed for the utmost support for recovery. It has an exclusive Venus FIT layer. This layer is memory foam made of mineral-infused gel. This helps promote muscle healing and recovery. This leads to better sleep after an exhausting day.
It's built with far infrared materials to help your body relax and sleep deeper. This allows you to wake up feeling like a champion the next day. So, it's very suitable for athletes and those that live an active lifestyle.
The mattress also has a built-in Venus Cooling Cover to regulate your temperature at night. That means you'll feel relaxed, calm, and fresh as you sleep. No more distracting night sweats!
The mattress gives you high levels of comfort. In addition, it's very durable, thanks to the support of its 8-inch high-density GhostBounce base foam layer.
You can get this mattress from Twin XL to Split King.
Venus Williams Legend Hybrid
Now, this mattress is like an upgraded version of the first. It has all the features of the Legend mattress but with the added benefit of responsiveness.
This bed is made with GhostBed's Spirited Edge™ reinforced mattress edges. That's eight inches of springy, bouncy support, thanks to individual coils. This, combined with the contouring memory foam gel, makes it even more relaxing to sleep after a long day.
So, this is the bed for you if you want to strike a balance between luxury and muscle relaxation.
GhostBed Reviews
GhostBed seems to have a team dedicated to responding to review sites.
When we checked out the brand's page on BBB, almost every complaint in the last year had a proper response. It looks like the brand worked on improving customer communication after the pandemic started.
On sites like Amazon and Home Depot, GhostBed continually gets excellent reviews. However, on Consumer Affairs, they have an average score. This is not bad for a company that sells up to a thousand mattresses daily.
You can also find YouTube videos to see reviews from real people who love their GhostBeds. The famous bed channel Mattress Clarity even made an entire video to review GhostBed.
"GhostBed is good for hot sleepers, stomach and back sleepers," they say in the video. "Also good for those who like a balanced foam feel. And last but not least, it is affordable for a latex mattress."
Is GhostBed worth it?
Yes, GhostBed is worth the price. It's been in the market for over 20 years and has garnered over 40,000 reviews. It's one of the most-loved companies in the US for its thoughtful, luxurious designs and top-notch customer service.
Plus, you get a 101-night trial and 30-day return policy that gives you peace of mind as you shop.
The best part about shopping at GhostBed is that you'll buy from people who care about mattress-making. 
Their founder Marc Werner said it himself on TikTok "We're engineering people; we're inventors. They're marketing people," he said, about other bed brands that are all hype. "If you want to feel comfortable and cool…you want a GhostBed. If you want great marketing, go to the other guys."
So, don't let one bad GhostBed review make you think ill of them. Remember, it's a small percentage of all thoughts.
They're nothing compared to all customers' good experiences with GhostBed in the past 20 years. Give them a chance, and you'll also experience cool, comfy, deep sleep firsthand.
Read This Next: How To Make Your Bed At Home Like A Luxury Hotel