Inspired Home Reviews: Furniture Guide (Buy/Avoid?)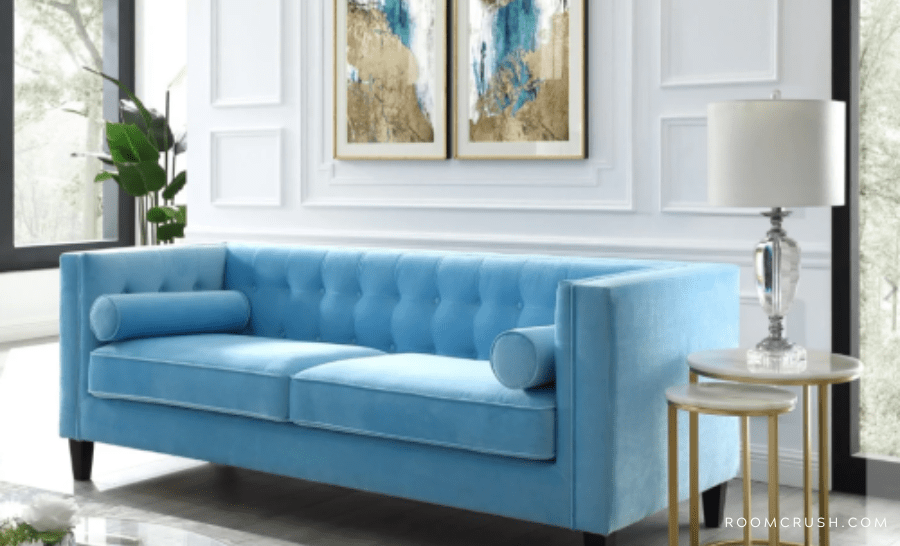 You've probably seen many photos of living rooms and bedrooms decorated with lush, luxurious-looking furniture. And you've probably thought those items were too expensive and hard to find.
But did you know that clean, sleek, modern furniture can be yours at the touch of a button—and for an affordable price? You don't have to burn a hole in your pocket to get gorgeous-looking furniture. With a site like Inspired Home, you can easily find the perfect furniture to add a personal touch to your home.
Inspired Home is a New York-based design company that creates sleek, simple furniture. Could this be the brand you're looking for to help spruce up your space? Read our review below to find out.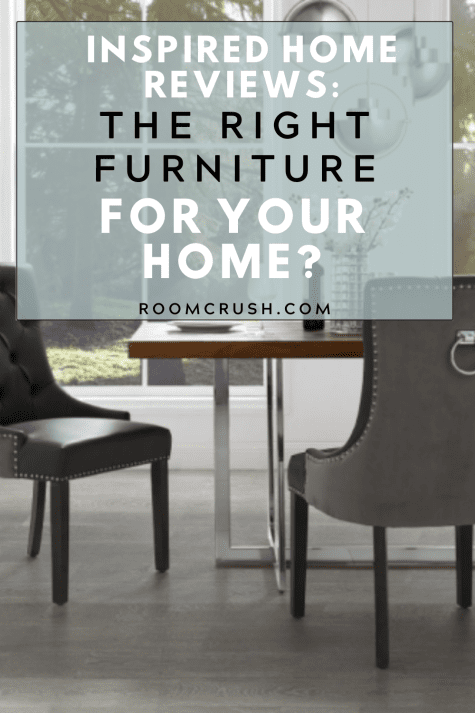 About Inspired Home
Looking to spruce up your place with sophisticated furniture? Add a bit more elegance to your space with modern furniture collection.
---
7 Easy Home Updates eBook: Free!
Today, get a free copy of our ebook that shows you 7 simple updates you can make in your home this weekend that will make your home look expensive and increase its value. Tell us where to send your free copy:  
This site uses ads and affiliate content as an Amazon associate earning on qualifying purchases. Disclosure.
---
Inspired Home has everything you can think of to elevate how your home looks, from beds to tables to stools. The brand is great for designing any room, whether it's the kitchen, bedroom, or living area.
Their main goal is to provide people with sleek, unique designs that won't cost a fortune. They also strive to give you only high-quality pieces made with sturdy materials.
What's awesome is that the company is involved in each product's 360° development process. The same team works on every step, from designing the pieces to production and shipping.
If you wish to see the pieces in person, you can always book an appointment for their New York showroom. It's a great way to gauge whether the furniture you're eyeing is right for you.
Today, they have a community of 50k followers on Instagram. They post the most exquisite interior design photos on their page to inspire their fans.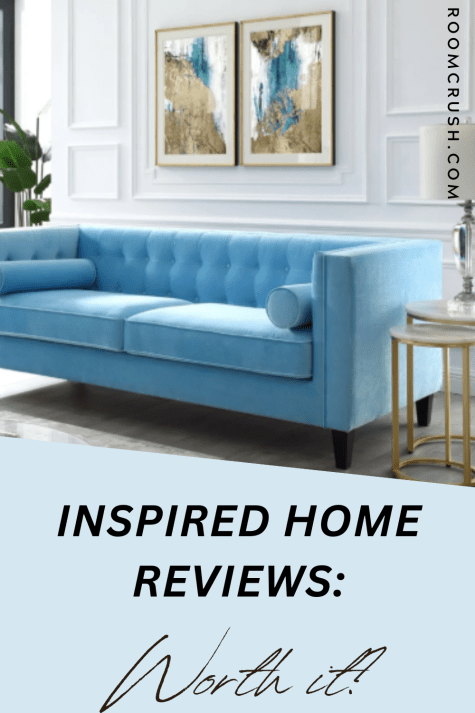 Ordering from Inspired Home
The furniture comes in a bunch of styles. They also come in multiple finishes, be it wood, metal, leather, and the like. Whether you like traditional or modern, minimalist designs, you'll always find something up your alley. You can find affordable trendy accent furniture like benches, ottomans and side tables.
Recently, the brand had a collaboration with Nicole Miller. They released furniture for the kitchen, bedroom, and living room. The collection included bar carts, dining tables, nightstands, and more. All of the pieces had eye-catching colors and pretty textures.
The furniture company has warehouses in New York and California. So, whichever coast or US state you live, delivery is fast and hassle-free.
You May Also Like: How To Make Your Living Room Feel Modern Yet Cozy
Inspired Home Bestsellers
There are currently four brands under the Inspired Home design company. The main mother brand are Nicole Miller, Loungie, and Loft Lyfe.
Ready to see some of their stuff? Check out these items—we think you'll love them.
Alberto Dining Chair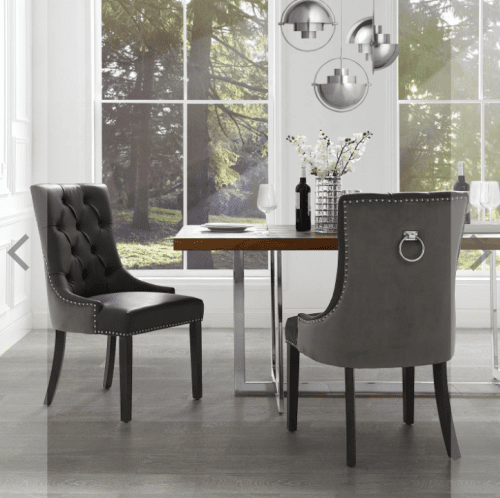 These trendy dining chairs come in a set of two. It's perfect for couples who want a more simple but more modern look to their dining area. The black, sophisticated design makes your dining space look regal.
The chairs have a nailhead trim detailing around the chair for an edgy, bold vibe. This is a great way to balance the elegant look with something chic and fashionable. It's also button-tufted for a stylish, majestic touch.
Clean white color—not off-white
The height is perfect for dining
Easy to bolt on the legs
Sturdy
Lotte Velvet Sofa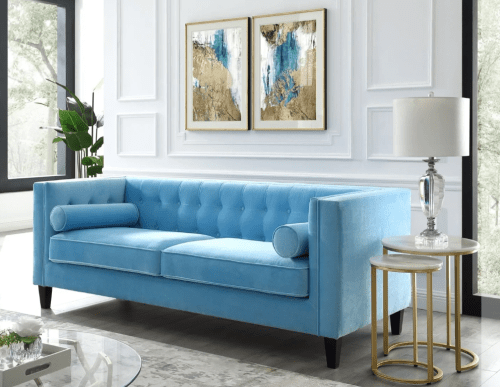 Looking for a centerpiece for your living room? This tuxedo sofa will be gorgeous for any room style, whether traditional or modern.
While it comes in vivid colors, it's muted and minimalist enough to blend in with the rest of your furniture. It has traditional straight silhouettes and square arms. But the velvet upholstery, button tufting, and tapered legs give it that younger, more fun aura.
The frame of this sofa is made of sturdy, high-quality wood. That said, it's still super comfy. This is thanks to the soft, tufted area for your back and the two free bolster pillows it comes with. It will for sure be your new fave napping spot!
Velvet fabric makes it very comfy
Easy to brush away pet fur
The cushions are removable
Lotte Velvet Club Chair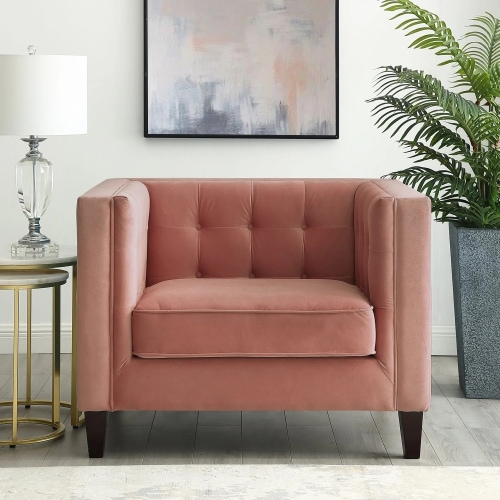 Pair the couch above with this Lotte Blush Velvet Club Chairone-seater version " /of it. It has the same silhouettes, lines, and tufting pattern but is designed for one. It matches so well with the tuxedo sofa, making for a cohesive living room design.
What's cool is that you can use this chair wherever you want in the house, not just in the living room. It can be your reading chair in the library or where guests can sit comfortably in your office.
The color is exactly as advertised
Pros and Cons
Pros:
Cons:
Inspired Home Customer Reviews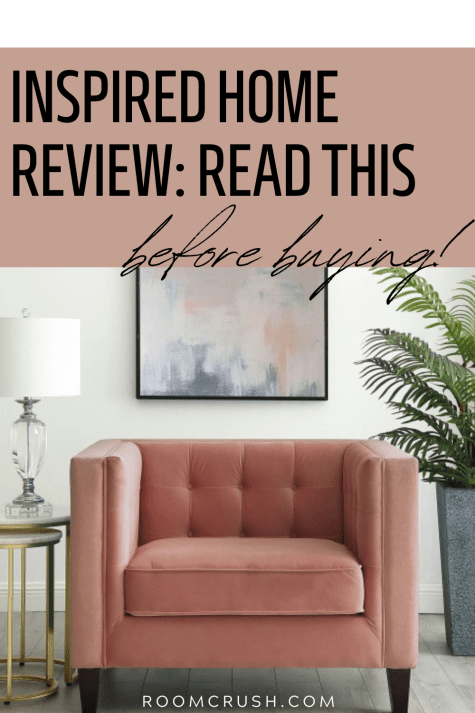 The brand scored 4.6 out of 5 at Reviews Bird, which is quite high. You can also find some reviews on retail sites, like Wayfair or Amazon.
But the best place to read reviews on Inspired Home is on the brand's main website. There are thousands of glowing reviews about their products there. It's a testament to how well-loved their pieces are.
Is Inspired Home worth it?
We think buying beautiful furniture from Inspired Home is more than worth it. The company offers its gorgeous pieces at the most reasonable prices. They also have a wide range of items to choose from, so shopping is always exciting.
You don't have to settle for low-quality furniture to save money. With Inspired Home, you get sleek, expensive-looking chairs, sofas, and tables that won't break the bank. Scroll through their website to see if any of their furniture catches your eye.
Read This Next: