15 Luxury Bedroom Ideas For A Posh Hotel-Style Makeover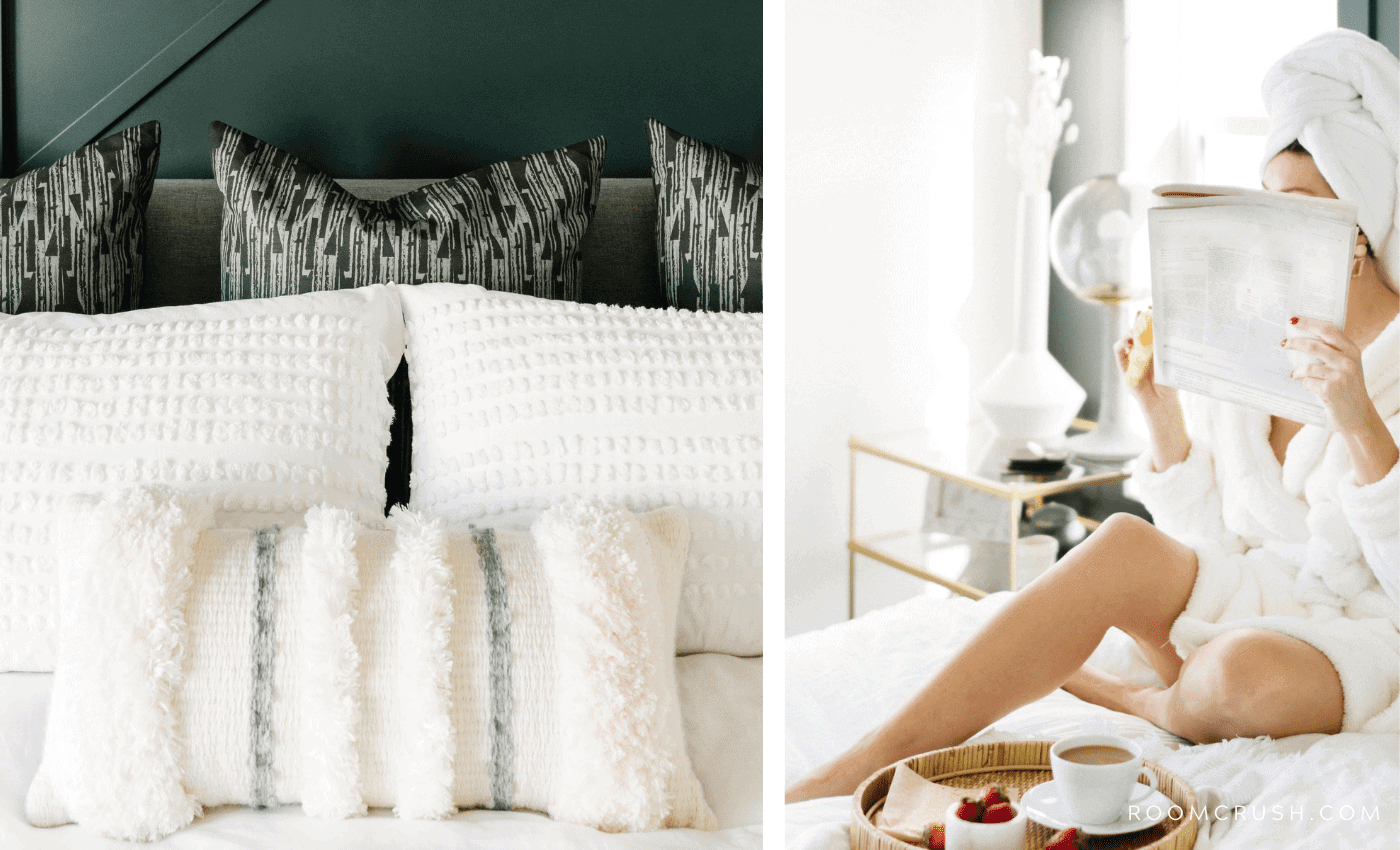 The Best Luxury Bedroom Ideas: Everyone desires to transform their sleeping spaces into a luxury haven.
This is why hotels make a killing, especially if they have terrific bed experiences to offer. Thus, if you're looking for luxury bedroom ideas to make your bedroom look awesome, let's help you!
Yearning for a posh hotel-like space, cloud-like pillows, and the fluffy robes?
Don't book another getaway just yet, even on a budget, you can do a few tweaks over the weekend to give your bedroom a 5-star luxury hotel makeover.
---
7 Easy Home Updates eBook: Free!
Today, get a free copy of our ebook that shows you 7 simple updates you can make in your home this weekend that will make your home look expensive and increase its value. Tell us where to send your free copy:  
This site uses ads and affiliate content as an Amazon associate earning on qualifying purchases. Disclosure.
---
15 Luxury Bedroom Ideas For A Refined Decor Makeover
Last week, I showed you how to turn your bathroom into a luxurious spa, and revealed how to transform your balcony into a posh staycation retreat.
Now, in order to make your bedroom more luxurious, there are a few investments you should have made already.
These include getting a good bed and the right mattress, and you can work your way up.
A stable bed with a good, well-made mattress helps you achieve good back health which is key for a comfortable good night's sleep.
As the main furniture piece in the bedroom, your bed is the focal point of the room.
Thus, pick one that's supportive, beautiful, and aesthetically pleasing.
Also, when choosing a mattress, remember that we are all shaped differently, sleep in different positions, so it's important we have a model that fits us perfectly.
Consult expert advice when buying a mattress.
Now, let's upgrade your space and make it as luxurious as it can be:
15 High-Class Luxury Bedroom Ideas You Must Try
Luxury bedrooms always have a theme!
Think contemporary, minimalist, maximalist, boho, midcentury modern, or even a farmhouse style.
Thus, pick out an aesthetic first and build the rest of your décor around this general aesthetic.
While you can make some bold color choices for your bedroom, for the most part, you might want your modern luxury bedroom to feel peaceful, relaxed, neutral, and inviting.
This adds easy elegance without having to think too hard.
You May Also Like: 15 Bedroom Makeover Ideas to Transform Your Bedroom
Now let's explore some quick luxury bedroom ideas for your room deisgn:
1. Incorporate A Wow-Factor Headboard
If you're unsure about how you can make your bedroom look expensive even on a budget, go for a padded headboard!
A well-done headboard can significantly impact to a room's décor, no matter the size. It provides a wonderful surface when you're reading in bed, and still adds a luxurious atmosphere.
It can be used to fill up space in a large bedroom, whilst giving off a luxurious vibe.
And in a small bedroom, it makes the sleeping area feel luxe without taking up valuable square footage.
You can decide to attach one to a bed frame or mount it directly to the wall. When choosing a soft headrest, velvet is a classic covering for your headboard.
2. Create A Feature Wall
Every well-done room has a focal point that draws the eye. In the bedroom, a feature wall makes a perfect choice.
Add a designer touch to your bedroom by creating a feature wall behind the bedhead.
It could be by using patterned wallpaper in this area, grooved wood as an accent wall, or a sheet of semi-tinted, patterned glass for this space.
Such a geometric wall doubles as a luxurious headboard!
Wallpaper is particularly an affordable option. For instance, if shying away from bold statements, you can lightly pattern your central wall, like with a grey wall-papered design.
You May Also Like: 15 Creative Ways to Dress your Walls with Wallpaper
3. Get Super Comfy Bedding
One of the best yet quickest luxury bedroom ideas that anyone can incorporate to level up the décor in their bedroom is by actually using comfy, and high-quality bedding.
The right bedding will transform your bedroom into a relaxing oasis by adding extra comfort to your bedroom and make it feel welcoming.
Luxury bedding can help you to sleep better at night and ensure that you awaken feeling refreshed, revitalized, and ready to face the day ahead.
Since the bed is the central piece in any bedroom, a beautiful Egyptian cotton duvet cover, can be the special décor item that sets the theme for the entire bedroom décor since duvet covers are key in taking up a lot of visual space.
Also, pick a luxurious bedsheet that keeps you cool at night. White is a good color choice since it's easy to bleach and clean, making your bedroom look clean at all times.
The best overall bedsheet choice is the Brooklinen bedsheet bundle √ that includes a core sheet set, extra pillowcases, and duvet cover, bringing that coveted hotel experience to your home. Literally.
Avoid low-quality bedding because the seams start to come apart sooner, the color starts to dissipate after a few washes, thus they are not durable.
Pro Tip: To your fresh sheets, add a soothing linen spray for an incredible night's sleep.
4. Pile Up On Pillows
Pillows are a huge secret to bedroom pleasure. They are both aesthetically pleasing and extremely functional when it comes to sleep.
Pick your pillows well to ensure your head and neck are aligned so that when you're lying down, your neck isn't tilting in any direction.
Also, when making your bed, style it to perfection by layering your pillows. A combination of functional and decorative pillows will add fluff and flavor to your bedroom décor in no time.
A perfectly made bed is what you're aiming for!
You May Also Like: How to Make Your Bed at Home like a Luxurious Hotel
5. Add Texture With A Rug, Drapes & Curtains
Perhaps one of the most embraced luxury bedroom ideas, a rug is indeed a beautiful way to add texture and warmth to your bedroom. It also boosts your bedroom's style factor whilst defining your space.
Use your favorite comfy rug as the basis of the color scheme in a room. You can also use the rug to accent or tie in your existing colors after you have your furniture in place.
Upgrading curtains and drapes turn the natural light in your bedroom into a focal point, adding that needed touch of character and interest.
You might also want to layer two or more curtains for dimension and more control over light and air getting into the room.
When hung on a classic curtain rod, your window treatments will add a soft detail to your overall décor.
Remember to also upgrade your curtain pull for a fancier functional option.
6. Add A Bar Cart
Every luxury hotel room must have room service, and your posh master bedroom suite at home is no different.
I'm in love with this bar cart. Be sure to stock your bedroom bar cart with crystal glasses, cutlery and of course, everything you need to mix up a proper drink.
And if you want to go even further, did you know that you can actually buy those room service plate covers that hotels use, right on Amazon?! Talk about the good life!
7. Stock Up On Plush Bath Robes and Slip-Ons
If you haven't noticed, people stay at hotels to enjoy, not only the bed experience but also the bath experience. And the fluffy waffle bathrobes √ and slip-ons play a huge role in that!
Similarly, bring this luxe hotel vibe to your own bedroom by acquiring some soft waffle bathrobes to inject some textured elegance into your room.
In fact, get a pile so you can have more for your guests when they come over.
8. Add a Blanket Ladder
A blanket ladder is such a small piece that screams style and function.
Keep the towels, throws, or scarves at the ready with a set of ladders, a welcome addition to any bedroom, or bathroom layout.
9. And A Mirror
A mirror in your bedroom can visually enlarge the space or create a nice focal point. When a mirror is placed in a beautiful frame, it will accentuate any interior and can make your bedroom look bigger.
Choose a wardrobe with mirror doors, have a standing mirror, add a mirror opposite the entrance of your walk-in closet to make the room bigger or above the dresser. You can also add a large mirror beside your bed to reflect your perfectly made bed.
You May Also Like: 9 Ways to Decorate with Mirrors like a Pro & Mistakes to Avoid
10. Use a Bedside Lamp & Upgrade The Lampshades
A bedside lamp add a luxe feel to any bedroom.
However, if you're looking for an affordable way to give your existing décor a fresh look, you want to upgrade the lampshades. Choose a more interesting fabric that accents your décor.
Also, avoid cluttering your nightstand with too many accessories as they can also fall and cause a mess.
11. Use Plants
Adding some greenery to take your room to the next level of luxury. Instead of picking fake plants or flowers, go for live plants that not only clean the air in your bedroom but also add colour.
You May Also Like:
12. Display Your Favorite Art
A statement piece of artwork will instantly give any bedroom a designer feel. For maximum impact, choose a large painting or print, and position it over the bedhead.
13. Rock A Hanging Light Fixture
A statement-making hanging light or a glamorous chandelier is a quick way to add luxury to your bedroom.
While you might need to invest in a good lighting fixture, it is definitely worth it.
14. Rethink The Clutter
Let's face it. Most bedrooms have prone to clutter, particularly, if one has no closet room or a laundry room.
Thus, carefully rethink how you're displaying your clutter and by all means, go for stylish hidden storage.
A cluttered bedroom never looks luxurious at all! Perhaps a great organization tip would be to keep the floor clean, and empty as this creates space in your room, making it look inviting and non-constricting.
Stacks your books and piles of extension cords away, organize your vanity using a makeup organizer, and display your essential items by the nightstand in a beautiful tray if you can't store them away.
15. Introduce Scents
You want to have some good smells floating in the air for a luxurious atmosphere.
First, get rid of any kind of odor-from dirty clothes or clutter. Then, grab some fragrant plants too for a naturally good-smelling home.
You can also add good organic candles also use a whole house humidifier, especially at night to add moisture to the dry air.
15 Luxury Bedroom Ideas For A Refined Decor Makeover – Conclusion
Remember that the best luxury bedrooms are extensions of yourself. Your style, your sleep, and your moods should all factor into creating beautiful modern luxury bedrooms.
After all, if it's not for you, then who is it for? Create a space that makes you happy, and don't be afraid to change things up if you get tired of something.
Have you tried any of these luxury bedroom ideas?
Pin This: