How To Have A Staycation At Home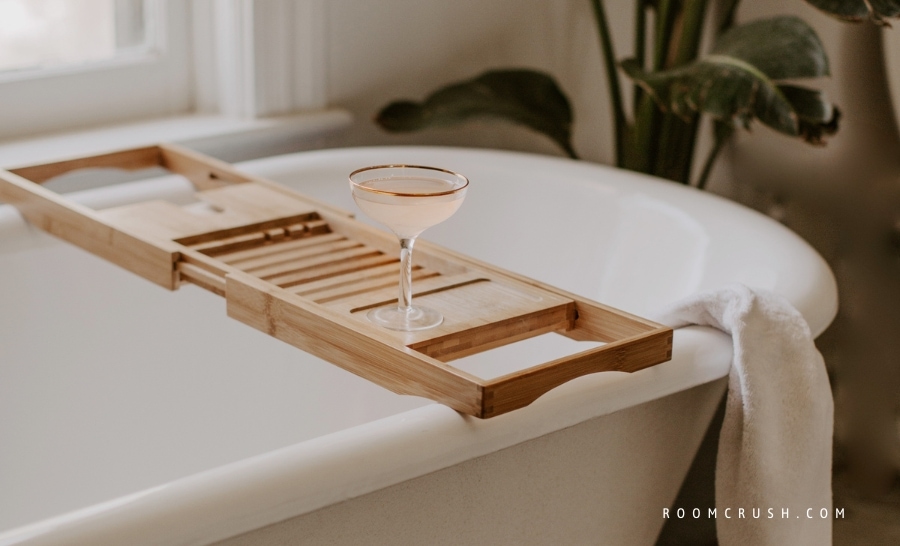 Finding the best staycation ideas at home has become a growing trend.
If you followed our guides on how to make your bedroom feel like a posh hotel, and how to style your backyard like a luxury retreat – why would you ever need to leave your property at all?
Considering going on a vacation can be quite a sizable expense, opting for a staycation may be a great idea.
Whether you are planning to host one with your family, with friends, your partner of by yourself. Here's what you need to do, to create a luxurious staycation at home. 
---
7 Easy Home Updates eBook: Free!
Today, get a free copy of our ebook that shows you 7 simple updates you can make in your home this weekend that will make your home look expensive and increase its value. Tell us where to send your free copy:  
This site uses ads and affiliate content as an Amazon associate earning on qualifying purchases. Disclosure.
---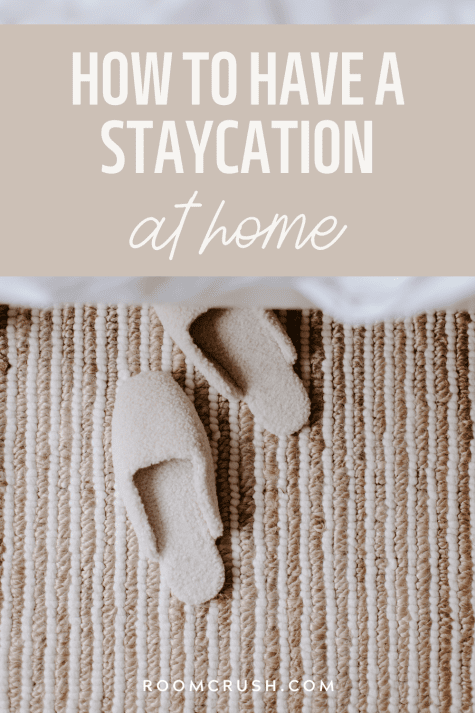 How To Have A Staycation At Home
People always have the best intentions of sticking to a vacation budget; however, chances are, they blow it. Oops!
First, things are usually more expensive than planned, or they sabotage their plans by "needing" to try every new food, or visiting every hot spot since they will likely not be returning to that location. Can't say I blame them!
Are they alone?
Nope, according to this article found at Credit Donkey, an average vacation for a family of four costs $4,580. The average person spends around $1,200 per year on vacation.
Since Disney World is a popular destination for the kiddos, I wanted to check what a vacation to see Mikey Mouse would cost for a family of four. Money.com cites if you splurge on a four-day Disney World experience, it will set you back about $6,360
Unfortunately, the reality check of our overspending doesn't hit us until we get back home.
However, that should not stop us from taking time off even if that means time off in our own homes.
Cost isn't always the only reason a staycation at home would be beneficial. 
Why Consider A Staycation?
One of my favorite reasons to plan a staycation is to reduce stress. Case and point, have you ever heard the saying, "After my vacation, I need a vacation." This is often due to a tight schedule and not being able to truly unwind in an unfamiliar place.
You see, if you plan accordingly, a staycation can feel more relaxing than a stressful and expensive trip planned elsewhere.
That being said, it is only effective if done correctly.
Should Your Staycation Be Alone Or With Friends?
Who you include on your staycation is entirely up to you. We have a few ideas to help you decide:
1. Solo Staycation Ideas
We don't blame you for wanting peace, quiet and solitude on your staycation!
Some tips for hosting a solo staycation at home:
If you have a busy household where it's not possible to get a full weekend of quiet alone time, don't worry! Opt to stay at a hotel for a few nights, and have your staycation there instead. Hello room service!
Solo staycations can be good for self-care and self-reflection. But they can also be great for entrepreneurs to use as a dedicated strategy-planning time for their businesses.
Chelsea Clarke says: "Once a quarter, I book myself into a nice hotel, no kids, no partner. Just me alone for a weekend to spend time planning my next quarter's goals and business strategy for my company HerPaperRoute. My "CEO weekend", as I call them. It's the best!"
If you are excited by the idea of spending a weekend in the tranquility of your own company too, then a solo staycation may be perfect for you.
Or if quality time with loved ones is more what you are leaning to, check out these ideas:
2. Staycation Ideas For Couples
Life gets busy and sometimes it can feel like you and your partner are just going through the same routine day after day. "Ships passing in the night", as they say.
Well then, a staycation with your partner is in order!
Here are some staycation ideas for couples:
3. Family Staycation Ideas
We are all guilty of spending too much time on our phones, computers and video games.
Which causes us to lose touch with our families even though we are living under the same roof. A family staycation can be a perfect reason to unplug from tech and reconnect with each other.
Here are some staycation ideas for families:
Sale
4. Staycation Ideas For A Girl's Weekend
When was the last time you had a girl's trip with your best friends? Hey, when was the last time you saw your friends at all??
If you are like me, you are overdue for a girl's weekend.
Here are some staycation ideas for a girl's weekend:
WHAT DO YOU MEME? for The Girls – The Ultimate Girls Night Party Game
Back to College Gifts: Grab Friends, This game is designed for ages 17+. Encouraged to be played with 3+ players.
Get Girls Night Started: Whoever has most Instagram followers goes first, rolling the die. Whichever side of the die lands face-up, take the top card from the corresponding color deck. Read it aloud to the group & perform whatever action is on the card. Some cards involve just that player, some require the whole group. The player to their left then rolls the die & the game continues like this. Every winning card gets you a point. 1 Card = 1 Point. The player with the most cards at the end wins!
Jen says: "At my girl's staycation we rented a cabin, which ended up having some board games at it. We chose Guess Who. But we created a rule that when guessing who the other player was, you couldn't say anything about a person's gender to get clues about them. It made for a hilarious game, where people resulted to stereotypes about what a person who looks like that might do or say in a social situation – and I don't think I've laughed that hard in years."
Staycation Ideas At Home For Maximum Stress Relief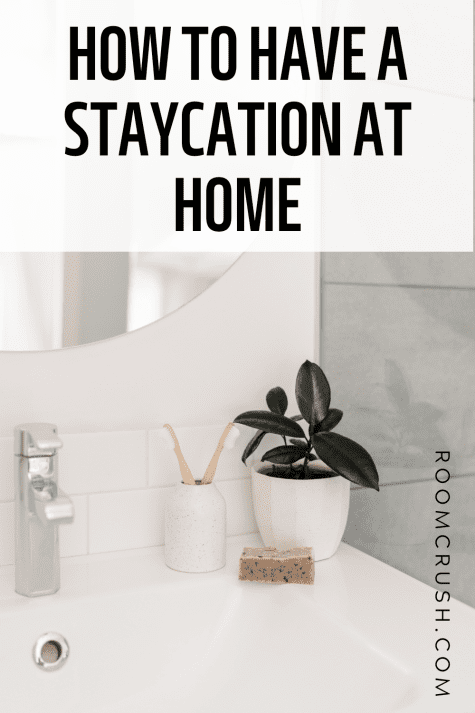 Create A Budget
Yes, a budget! Remember, the goal of a staycation is to enjoy some rest and relaxation.
Your budget should allow for things that will help create that environment and should include items such as food from your favorite restaurants, day trips, spa time, and even a shopping day.
Local spas will be more than happy to provide you with one-day price packages, which are much more affordable.
To get an even better bang for your buck, stock up on spa supplies and create your own DIY spa day.
This could include nail polish, a jade roller set, and relaxing aromatherapy shower steamers.
You don't need to spend a fortune; however, it's okay to splurge a bit.
For the price of one airplane ticket, you could probably have a luxury vacation for the entire family at home.
Prepare For Time Off
The problem that many people have when trying to relax at home is not being able to disconnect.
Don't worry; our planning phase is going to fix that!
For it to feel like an actual vacation, you need to prepare to take time off from what you are trying to escape from.
These things should include work, house chores, laundry, and cooking.
A few days before your vacation begins plan on doing your laundry and cleaning your house. You can also spend this time using some eco-friendly cleaning products to keep your home smelling fresh and free of chemicals.
If your schedule doesn't give you ample time to complete these tasks, consider outsourcing them.
Out-Of-Office Notification
Cell phones have literally placed our offices in the palm of our hands. To resist the temptation of checking your email, create an out-of-office autoresponder message.
Feel free to steal this example:
Hello,

Thank you for your email. Please be aware, I will be out of the office from mm/dd to mm/dd and will have limited access to email (or) not have access to email.

If this is urgent, please contact [NAME] at [EMAIL] or [PHONE]. I will promptly follow up on your email when I return to the office.
Further, it's important to remind yourself that when co-workers are on vacation, you most likely were respectful of their time off.
If you mention, you will be away on vacation until the following Monday – honor that. Even if your office is in your spare room, no one needs to know you're currently enjoying a cocktail at home while getting lost in a book.
Therefore, it's best not to post any social media photos until after your staycation is over.
Take Worries Out Of Sight
Guess what – if you remove the source of stress, you'll likely remove stressful feelings as well. Bills equal stress and bills come in the mail.
Therefore, skip the mail or toss them in a basket for the next few days. You can sort the letters, invoices, and junk mail when your vacation is over.
Give Your Family and Friends A Heads Up
The last thing you want is people dropping by unannounced. So to avoid unwanted interruptions, make people aware of your decision, and be firm about them respecting it.
Your message could be as simple as this:
Hey everyone,

I've been a bit overworked, and I'm in much need of some quiet time to rest. Please be aware that I will be playing "hooky" at home and will be away from social media and turning off my phone. Trust me; I'll be a better version of me when I resurface from some rest.

Thank you in advance for giving me the time to catch up on some sleep by not checking in on me.
Lose Track Of Time
Here's a sure way to take the daily grind off your mind. Gather up all the clocks and stash them away.
What Should I Do On My Staycation?
Before jumping into the suggestions below, I would like to add the following piece of advice.
We feel improving our living space has a more significant impact on our everyday lives than spending money for one day or an event.
In other words, I would pass on a few restaurants, and spa trips to upgrade a patio, which I would be able to enjoy over and over again – even well after my staycation is over!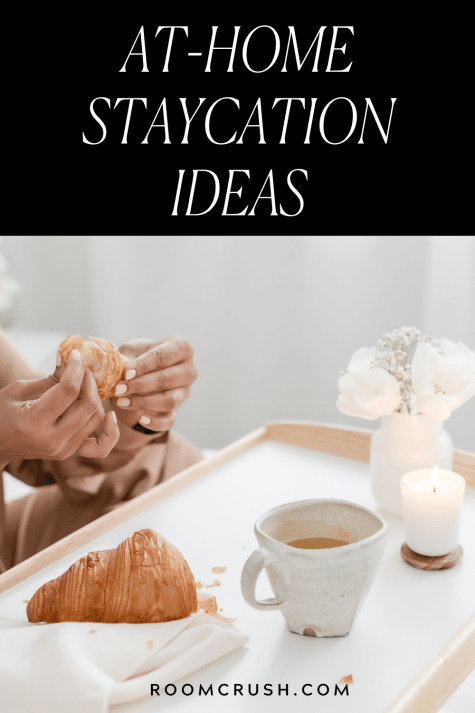 Have A Spa Day
Relax and rejuvenate by treating yourself to an at-home spa day on your staycation.
Simply pick up some luxurious skincare products like these, and enjoy a quiet day of self-care.
Be A Tourist In Your Own Town
Why is this such a great idea? The truth is every country, state, and town has something to offer.
Exploring your city will challenge you to take different roads and visit places you've never considered before.
You will likely discover some history and be rewarded with a new appreciation for the place you live in.
Lastly, it will remind you that you can find beautiful things right where you live, which you could include in your everyday life moving forward.
For most of my life, I lived minutes away from NYC. Looking back, I wished I would have taken more bike rides in Central Park or walked around the fashion district more often for inspiration.
When I relocated to my new sunny location, I vowed to appreciate my surroundings more often, which leads me to my next suggestion.
How To Do A Staycation At Home?
Create A Mini-Oasis In Your Backyard
We opted to create a relaxing oasis in our backyard. Depending on the staycation-at-home budget you set aside, here are several inexpensive options.
Keep in mind that you do not need to tackle all these projects at once.
To help your patio or backyard feel more resort-like, add some outdoor string lights, (dimmable if possible) and music.
Sale
Every vacationer looks forward to a cocktail hour, so consider your sitting area. Cozy up the space with a colorful rug, a few plants, candles, and possibly a water feature. Plants grow for many years, giving you joy even after your staycation is over.
Choose some fragrant plants for around the fire pit and outdoor dining area. Add a few different fruit trees to enjoy homegrown produce. If it's within your budget, you might want to invest in new patio furniture altogether.
Now, if you live in a colder climate and are on a tight budget, let's think outside the box.
You can still enjoy your backyard in a stylish wilderness camping trip kind of way!
If you don't already own a tent, why not get one today?
If you want to really make the staycation memorable, set up an outdoor projector to watch movies under the stars.
To make your staycation at home over the top for the kids, why not build a fire pit and make some s'mores.
Isn't it amazing that people associate wealth with vacationing?
It's been my experience that some of my friends with the least wealth are the most traveled.
Swap Houses For A Staycation
Hear me out on this one….it's not that farfetched.
Despite all the suggestions above, some of you may STILL not be able to feel like you are on vacation while at home.
Although it may get some getting use to, I would try more than once before throwing in the towel. The benefits are too great to give up so quickly.
Another alternative is to swap houses with a close friend.
Both parties will be able to set up their properties to receive guests, and you will be able to truly "get away" without spending a dime. The house swap will feel exciting and provide a new experience.
Now, even when your staycation is not in your home, you still must eat. If you're trying to keep the budget super low, cook your meals but add a twist.
Instead of visiting the same old grocery store, try exploring an upscale farmer's market and purchase at least a few prepared meals to give yourself some time off.
For the rest of your meals, gather a few appetizers to create a grazing spread.
Staycation Ideas At Home – Conclusion
If life feels to be genuinely getting out of control and money is tight, then try out some Staycation ideas at home that can be just the thing you need to help you unwind and hit the reset button.
Just a fair warning once you try it, you may be hooked for life since you will feel the benefits shortly after that.
With growing concerns about unstable job markets and illnesses, travel has become less appealing. In fact, this article in Forbes, outlined many reasons the United States has slowly become a no-vacation nation.
The prediction is that staycations at home will become the new norm, so why not begin by practicing now?
Read this next:
9 Accessories You Need To Create A Luxurious Spa Bathroom