13 Dated Minimalist Design Mistakes & How To Fix Them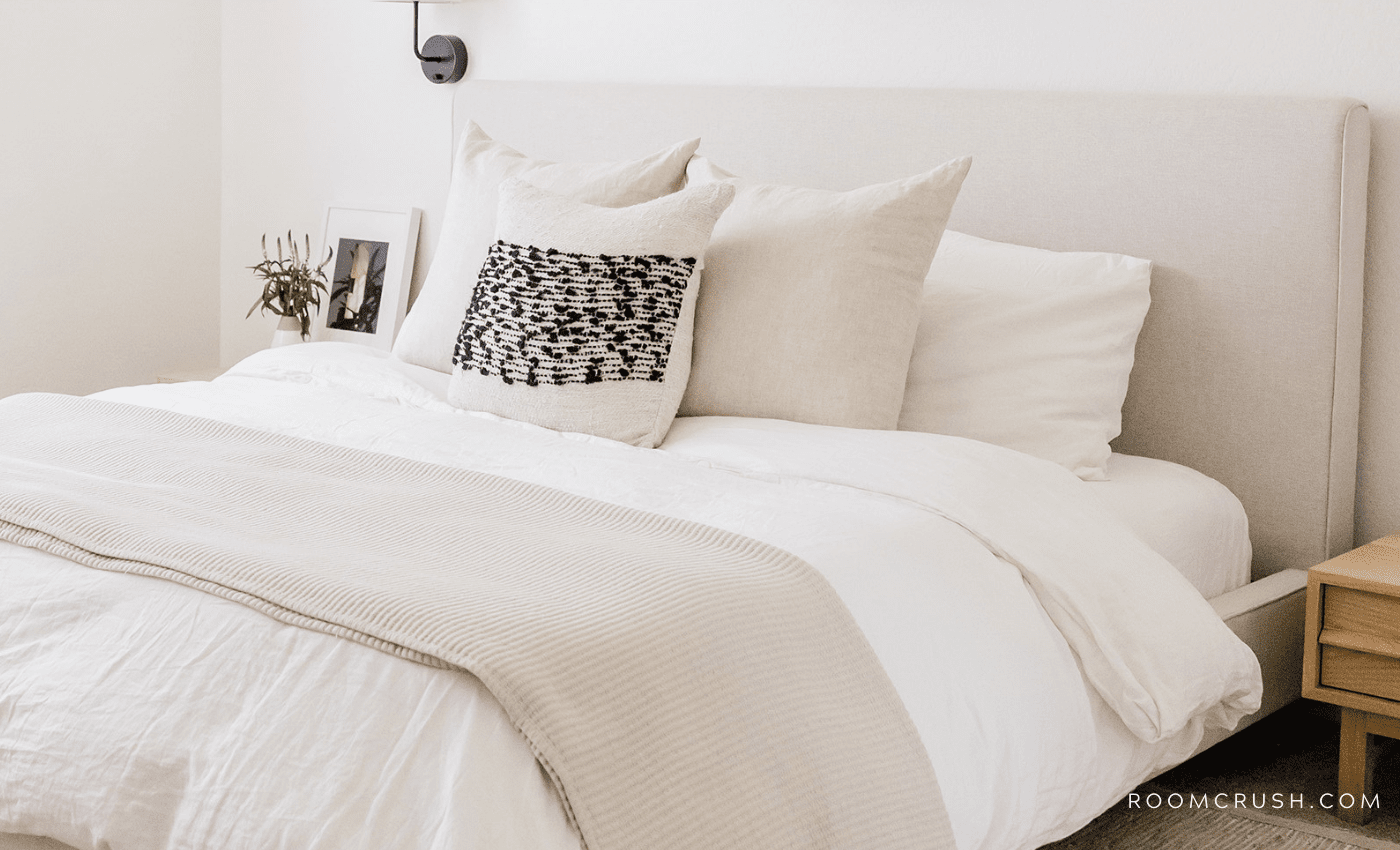 Are you guilty of making these minimalist design mistakes? Minimalist design is associated with simplicity, neutral color palettes, and clean lines.
And of course, everyone should feel free to put their own personal spin on any trend. But there are a few common things that can make your minimalistic room look dated. 
Let's help you spot the top mistakes most people make in minimalism home design and how you can fix them.
---
7 Easy Home Updates eBook: Free!
Today, get a free copy of our ebook that shows you 7 simple updates you can make in your home this weekend that will make your home look expensive and increase its value. Tell us where to send your free copy:  
This site uses ads and affiliate content as an Amazon associate earning on qualifying purchases. Disclosure.
---
13 Dated Minimalist Design Mistakes & How To Fix Them
Over the past few years, minimalism has taken center stage in the home design world, and more homeowners prefer to keep their homes minimal.
It is fantastic, especially, if you lead a busy lifestyle and the thought of regularly cleaning up the rooms becomes overwhelming.
Bringing things down to the basics and doing away with unnecessary items not only creates a super sleep, comfortable and clean-looking room.
It can also do wonders for your overall well-being.
However, some minimalists are making design mistakes that take away from the beauty of minimalism. 
Here's how to make sure your rooms don't look dated or tired, by avoiding these common minimalist design mistakes. 
You May Also Like: 10 Minimalist Living Room Ideas That Will Inspire You to Declutter
Let's go!
1. Too Plain & All White Rooms
Here's the thing, when done right, I LOVE white walls. I really do!
But in order for a room to really make a statement, you need some contrast with a base color and interesting texture.
When creating a minimalistic interior, it's all about keeping the base color subdued.
This neutral tone creates a sense of calm- think beige, white, or light greys.
However, some decorators keep it bland and boring by sticking to one very neutral color palette, all across the room.
Imagine how plain white countertops and kitchen cabinetry alone can be. That can quickly overwhelm a room and make it feel cold.
But a white cabinet and white countertop kitchen can look totally stunning when you mix in natural wood shelves, and an island painted a contrasting color.
You need to warm the room up in a jiffy with high-contrast color that is inviting.
You May Also Like: How To Decorate A TV Wall Stylishly
You can also warm up the neutrals by throwing punches of color and texture, here and there. No wonder bold-colored throw pillows are great to accessorize your large, white couch.
Art will also add color and pattern to your white walls, making the room cozier.
Pro Tip: When choosing paint for your walls, use hues with yellow undertones to warm up the walls. They balance the light well without giving off a clinical vibe that pure white paint does.
You May Also Like: 15 Creative Ways to Decorate with Wallpaper
2. No Texture
It can tend to feel cold and bland in a minimalistic room with neutral tones, not just because of lacking color, but also, texture!
You want to use different textures of materials but in similar tones. This will bring in a good blend and a much-needed comfort factor.
Think knitted throw blankets, a leather sofa, marble or sandstone fireplace, textured clay candle holders,  fluffy rugs, and velvet chairs.
3. A Very Blank Entrance
A blank entrance makes you feel like you're walking into an igloo.
You don't want to create a bland first impression on your guests.
Spruce up this empty spot by:
laying down a good rug
adding a console table
adding an entryway bench for seating
hanging a wall mirror or wall art
mounting wall hooks
and possibly, having a beautiful plant to just inject life to this space
This makes the space very inviting and adds texture, warmth and pops of color to your entryway.
By the way, you can get the faux olive tree that is blowing up on TikTok here on Etsy!
You May Also Like: 18 Entryway Décor Ideas to Set the Tone for your Home
4. Lacking A Focal Point
The focal point is one of the most fundamental elements in interior design.
It is the star of the room. It helps create a WOW factor in your room.
However, some minimalists will not provide anything interesting to catch the eye, making the room seemingly boring.
Ideally, most rooms in your home have a built-in focal point. Such as amazing views from the window, fireplaces, or angled walls.
In that case, you have to design or decorate in such a way that highlights this existing feature. 
However, if your room has no built-in focal point, you want to create your own focal point.
For example, creating an accent/feature wall or using a large piece of statement furniture.
Pro Tip: You want to only have one focal point to create a balance in the room. There is no need of having your eye switch between several striking features as this comes off as distractive.
5. Not Bringing In Striking Signature Pieces
Now that less is more in a minimalist's space, you want to bring in stand-out pieces that make your room interesting.
Add a signature piece that screams 'LOOK AT ME!'
It can be decorative shelves, a sunburst mirror, a long vintage table with decorated tops, or terrific sofas.
Small details, like gilded hardware, also elevate the look. You want to give life to your dressers, cabinets or any decorative piece with knobs or knockers by applying the gilding properly.
6. Having Little to No Décor
We can appreciate minimalism but there is such a thing as too minimal.
We have seen extreme minimalists skipping necessary decor items. Perhaps they don't use them and that's understandable.
However, if you are going for a high-style modern minimalistic design, the decor is important.
We wouldn't skip having a bed that we can afford just because of minimalism. Also, having enough seating for the guests or plates to eat.
In this case, too little is just not enough!
That's why we advocate for moderate minimalism. In this case, one has everything required to live comfortably while maintaining the 'less is more' mantra.
You May Also Like: 20 DIY Home Décor Ideas to Try from the Dossier Blog
As when purchasing any furniture pieces for your home, regardless of trends, think high-quality, long-lasting, and multi-purpose.
Instead of having small-size, cheap décor items, consider going for items that can serve more functions to ensure you always have what you need.
Consider an ottoman with hidden storage.
It provides a seating area yet it opens up to reveal ample storage for accent pillows and throw blankets in the living room, or children's toys and board games in the playroom. 
7. Not Accessorizing The Space
In minimalist interior design, every piece is functional.
However, some minimalists overlook the need for accessorizing the space.
They forego the need of adding visual interest to the room which brings about coziness.
You want to accessorize but around your most functional pieces like your couch, sofa or bed.
For instance, by layering pillows. However, go for sleek and clean pieces to ensure balance and create an appeal.
And if you don't appreciate the visual overload, go for muted accessories-keep them texturized so your room doesn't look so plain. Metalized furnishings are amazing- think silver sconces to bring about texture and class.
And plants can be the best accessories as they inject the dose and freshness of nature into your space.
Pro Tip: Use decorative elements as accents to ensure your room is not overwhelmed with many things. Thus, don't be afraid of trying out decorations and color in your minimalist home.
You May Also Like: 9 Dazzling Mirror Decorating Ideas To Try & Mistakes To Avoid
8. Adding Too Many Accessories
While accessorizing your minimalist home is key in creating an appeal, you don't want to add too many accessories in the name of adding interest to the room.
This makes the room cluttered and can also distract and pull away attention from signature pieces in your room.
Just keep things simple, and use accessories wisely!
9. Bad Lighting
Most minimalist homes tend to give off a stark and clinical vibe, making it look cold.
To avoid this, allow in as much natural light to warm up the space.
The best part is that natural light does not add any unnecessary visual clutter.
Embrace large windows and adorn them with thin curtains or blinds to let the light pour in.
However, avoid having bare windows but bring in curtains to add texture and pattern to a subtly-looking room.
Another mistake to avoid is to rely completely on overhead lighting, which makes the space look blunt.
You want to layer up lighting to create a more pleasant ambiance.
Think task lighting to highlight artwork or focal points, recessed lighting for general lighting, or mood lighting to create a subtle ambiance.
10. Poor Utilization of Space
While empty space is considered an important element in minimalist design, you have to properly plan your space to ensure the space interacts with the décor items and defines the look.
When you create minimalism, you're not just spreading things around because you don't have enough to fill the room.
Instead, you have to make wise choices to compose an inviting space. 
A good arrangement of furniture is key, making sure to avoid any awkward spaces.
This creates a visual balance.
Space planning will also feature your storage solutions. You want to use smart storage solutions that don't make the space look cluttered and unorganized.
11. Forgoing Functionality Over Style
A big mistake, commonly seen in minimalist design, is overlooking the functionality of a décor item and acquiring it because it's simply stylish.
For instance, one would go for a stylishly designed chair that it makes for a great focal point.
However, it is super uncomfortable that it would only fit being in a museum!
So, when selecting your furniture, keep things practical. If they are stylish, the better.
But don't overlook their comfort for anything.
12. Overlooking The Plants
Plants bring life to your room. Just because you want to achieve the most minimalist of rooms, don't forget about the plants!
If you're worried that plants are hard to maintain, there are plants that will require low maintenance including the famous snake plant, pothos plant, aloe vera plant, and the Areca palm plant.
If you have green thumbs then you can experiment with many beautiful plants or flowers.
You May Also Like: The Best Easy-to-Care Houseplants For Beginners
13. Not Showcasing Your Personality
Don't fall into the trap of not personalizing your space, even when it comes to embracing a minimalist design for your home.
And a bare room is devoid of personality. Any cozy home has been decorated in such a way that it appeals to you first!
While it is okay to get inspiration from design styles by other people. you want to bring in décor items that are necessary for you.
After all, your necessities are different from other people's.
Don't be afraid to make your minimalist approach your own.
Design and decorate your space in the most appropriate way for you. After all, each home is unique and deserves a customized approach.
13 Dated Minimalist Design Mistakes & How To Fix Them – Conclusion
The key to minimalist design is creating a spacious and beautiful space with appealing warmth.
Using a critical eye, check your space for the above mistakes and try the various fixes to see what works best to correct what's not working.
Have you tried minimalist design in your home before?
Which of these mistakes did you make? 
Keep Reading: