How To Make Your Bed At Home Like A Luxury Hotel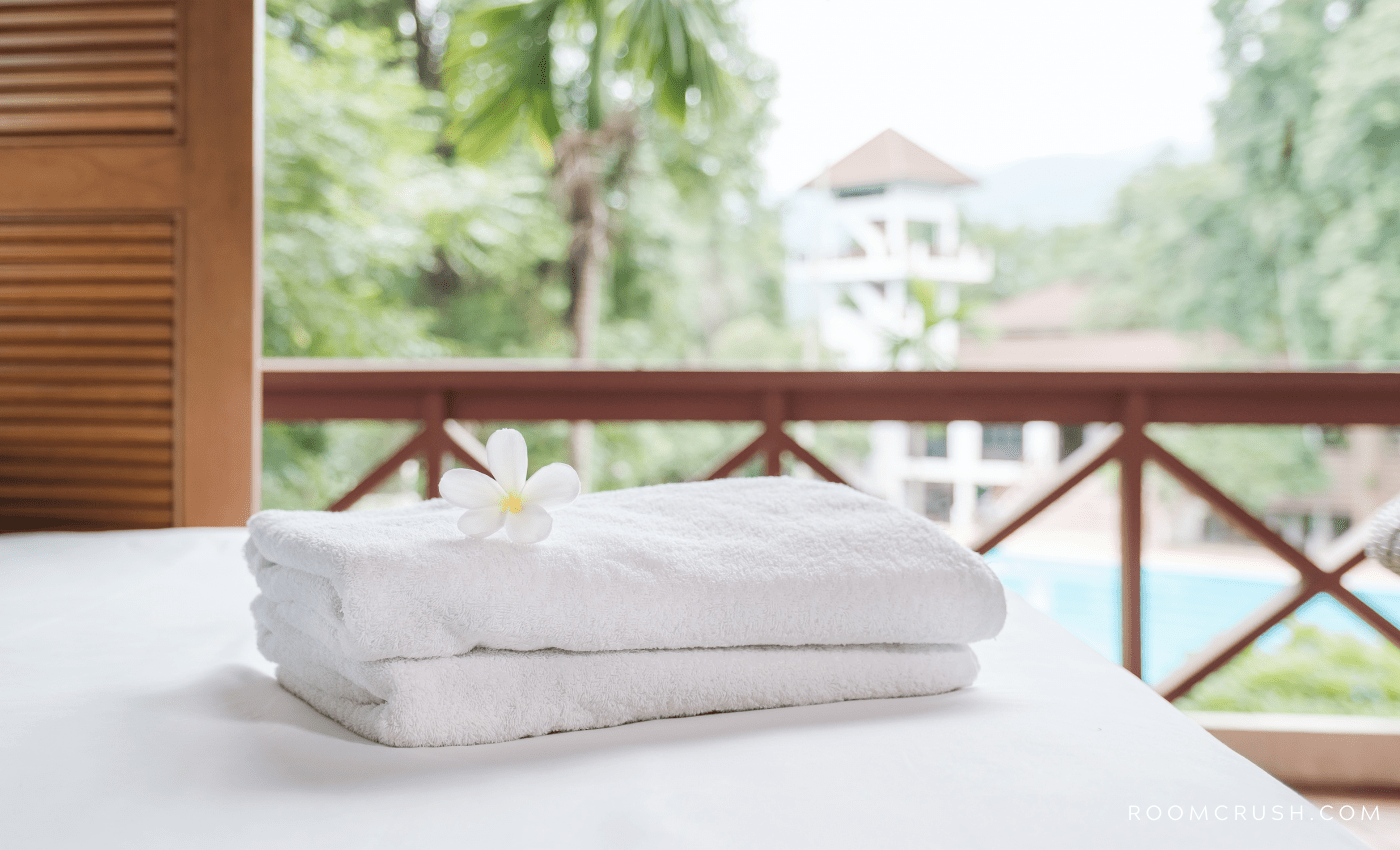 It's possible to learn how to make your bed at home like a luxury hotel!
If you've had the privilege of spending the night in a luxury hotel, you can agree with us that the bed experience was one of the best you've most likely had in your life.
After the hustles and bustles of the day, sleeping in a very comfortable bed is everyone's desire.
---
7 Easy Home Updates eBook: Free!
Today, get a free copy of our ebook that shows you 7 simple updates you can make in your home this weekend that will make your home look expensive and increase its value. Tell us where to send your free copy:  
This site uses ads and affiliate content as an Amazon associate earning on qualifying purchases. Disclosure.
---
So, we'll help you know how to make your bed at home as comfortable as that in a luxury hotel.
How To Make Your Bed At Home Like A Luxury Hotel
To make your bed as comfortable and luxurious as a 5-star hotel bed, here are some pro tips to keep in mind:
Choose a good bed. Whether it's a king-size, queen-size, or twin bed, you can always get a bed that is well-constructed, comfortable and goes well with your bedroom theme. We recommend this Nectar memory foam mattress. Not only is it super comfortable but it ships to your door in an impressively small box that is easy to move!
You can also add bedside tables, seating areas, storage areas, and other items that you need in your bedroom. This gets rid of too much awkward space and when properly organized, everything makes a design statement.
Get accessories that are suitable for your bedroom's theme. You can actually use stuff that you already own. Think accent pillows, bedside lighting, and more.
Check out this article on the 15 luxury bedroom makeover ideas that will transform the feel and look of your bedroom. In that article, you will also discover which 5-star hotel amenities you need to put in your room, too. 
10 Steps To Make Your Bed Like A 5-Star Hotel
Are you wondering how to transform your bed so it looks (and feels) like it could be straight from a magazine spread? It all comes down to layering.
Now you have the right colors, the right bed, good wall decor, the right flooring, curtains, lighting, and smart storage in your bedroom, it's time to make your bed.
Step 1: Get The Most Comfy Mattress For Yourself
Nothing calls for a good night's sleep than a really comfy mattress. While we love our Nectar mattress, everyone's needs are different.
But we can all agree that a firm mattress with a layer of memory foam is a good one!
Step 2: Clear Your Bed
Since you're making your hotel-like bed, you want to start from scratch. Remove all your used linen and clean any possible dirt or dust from your mattress, if any.
Shake out any mattress pads, pillow protectors, and comforters that don't need to be laundered, and just make sure your mattress is free of dirt, dust, and debris.
Step 3: Add Luxurious Bedsheets
In order to make a luxury hotel-like bed, stick predominantly to white because white beddings are the most commonly used color for hotel linens and bedding.
They are also easier to clean thanks to bleach and anyone can sleep comfortably trusting and knowing they're laying on clean sheets.
White sheets allow you to freely layer on other prints, patterns, and textures without having to coordinate them with your sheets. Talk about versatility!
If you can afford expensive sheets, stain and silk sheets are some of the best materials to use alongside Pima, Supima, and Egyptian Cotton.
These materials are incredibly soft, comfortable, moisture-absorbing, and adapt well for use throughout the year.
However, if you're working on a budget, your 100% clean, fresh-smelling white cotton bedsheets should suffice.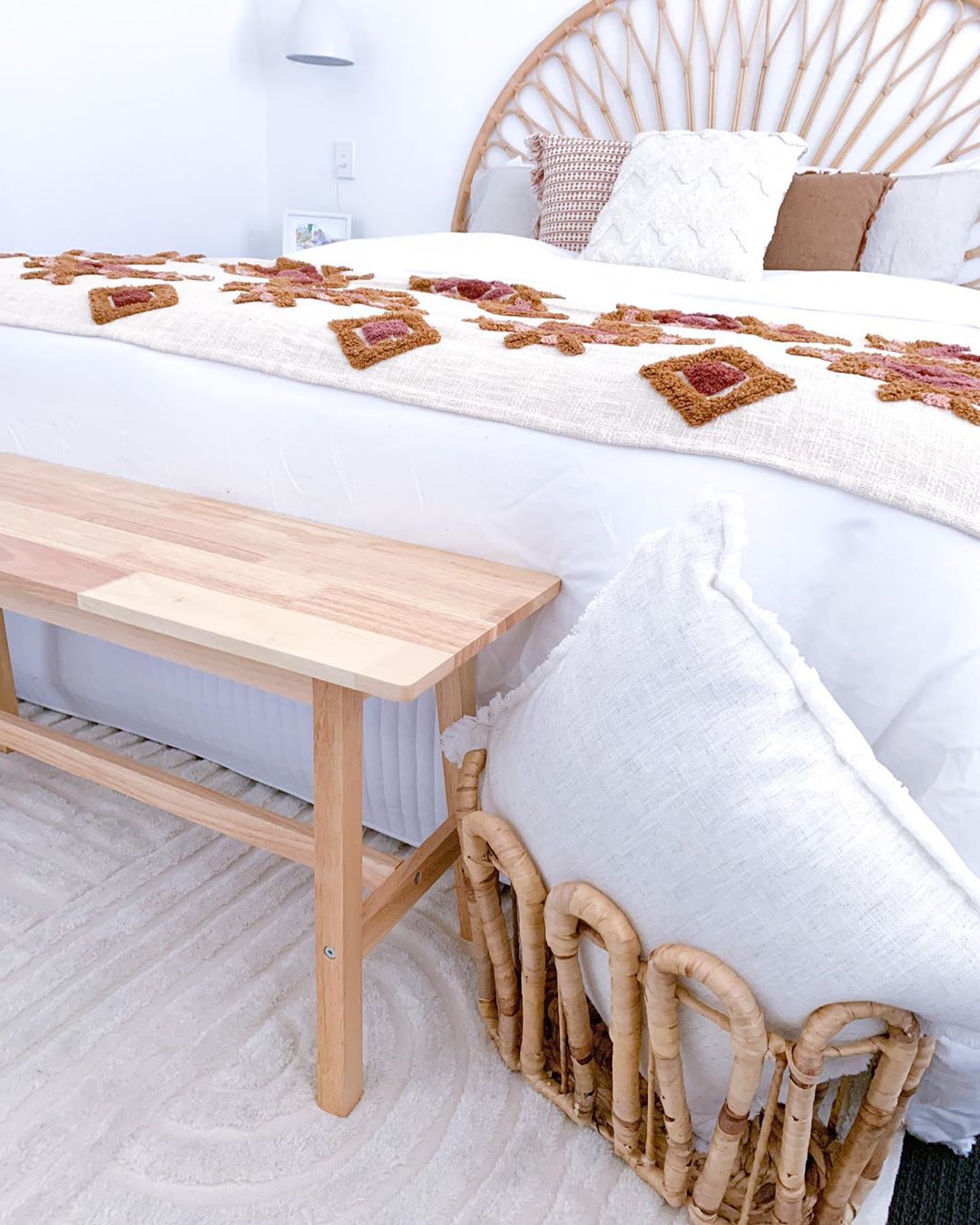 Courtesy: Veroniiica
Pro Tip: If you have the fitted sheet (one that has the rounded elastic corners) lying somewhere in your closet, you won't be needing it since we making a hotel-like bed.
And if you've stayed over at hotels, you'll notice that this particular sheet is missing from the bed.
Instead, hotels use two flat sheets: a bottom flat sheet that is usually oversized and tightly tucked around the mattress using hospital corners and a top flat sheet that is tucked in on the sides and the foot of the bed, with the top folded over and also, tucked.
However, you can leave most of each side of the top sheet untucked so it is easier to get into the bed.
Also, ensure to put the top flat sheet on upside down, so when you fold over the top portion, you see the correct side of the sheet.
Check out this IG TV video below and see how the Hilton hotel makes its beds.
 

 

View this post on Instagram

 
Step 4:

Add a High-Quality Bed Covering
You have the best mattress, and bed sheets for your needs, but your sleeping system is incomplete without a bed covering.
There are so many options of bed covering to choose from: blankets, comforters, bedspreads, duvets, and much more. But we love a good duvet or a comforter.
Clearly, the covering you put on your bed can affect the style of your bedroom as well as your comfort when you're sleeping.
A comforter is a thick, warm bed covering made of breathable fabric casing that's filled with insulating materials such as down, down alternative, or polyester. Thus, the comforter has more weight and offers more warmth.
A bedspread is a lightweight, decorative bed covering that can be used alone in warm weather or as a decorative addition to a comforter in cold weather. Bedspreads add an extra element of style to your bed during fall and winter and quilt is every homeowner's summer favorite.
A blanket is a large piece of material that keeps you warm when you're in bed or taking a nap on the couch. While throw blankets can be used everywhere, some people use thicker, warmer, and longer baskets as a bed covering. Everyone has them!
A duvet is like a soft flat bag made with different kinds of fabric and stuffed with down, or down alternative, like silk, wool, polyester, or feathers. Duvets (also duvet inserts) are usually plain white in color, but you can dress them up in fancy duvet covers, depending on the occasion, season, or mood.
To use your bed covering, spread it over your sheets on the mattress, and smooth it out. These warmer options are good for the fall and winter and they also cozy up the room.
However, in the warmer months of summer, just use a quilt bedspread on the bed. It makes the bed feel light and airy for summer.
You want to throw any of these coverings on your bed and let it float down on tops of your sheets. If it's a duvet or comforter, this motion will allow your bed to retain the fluff.
Afterward, pull the corners taught and equally distributed on both sides of the bed. Then, fold the top of the covering (the area close to the headboard) in a rectangle to leave room for your pillows.
You May Also Like: How To Decorate A TV Wall Stylishly
Step 5: Get Comfy Pillows
We can't emphasize enough on the importance of good, comfy pillows – for your health, a good night's sleep, and the overall look of your room.
As you make your bed, place the pillows in the desired configuration.
While some may want to place pillows underneath the blanket, you want to place the pillows upright against the headboard or wall at the head of the bed to give your bed the luxury hotel-bed look you want to achieve.
Pro Tip: You may love that pile of pillows on your bed, but if you never wash them they can be bad news for your skin and health. You want to wash your pillowcases every week, and your pillows every two months.
Also, consider regularly replacing your regularly cleaned pillows after a few years, probably two to three.
Step 6: Dress Them With Satin Pillow Cases
Satin and silk pillowcases are great!
They are smooth, super gentle on skin and hair, and the fabric allows your hair and skin to look fresh. No wonder hotels invest in satin pillowcases to wow their guests.
Step 7: Add Accent Pillows
Accent pillows add a decorative element to your bed.
After you've made it so well, you want to make a style statement. Accent pillows allow you to also inject pops of color into your decor, particularly, if you've used neutral colors while making your bed.
Pro Tip: When it comes to decorating your bed with accent pillows, pillow arrangements make all the difference. Pile on the pillows to create a bed statement any time!
Start with your sleeping pillows and prop them against the headboard with the open side of the pillowcases facing the nearest side of the bed.
Place your three euro pillows next, followed by two more king pillows. Center your bolster at the front of your formation. While this is just one of the most common pillow arrangements, there are a ton of them and you have the options to choose.
Check out this article on 12 pillow arrangements you can try for your king bed, queen bed, and twin bed.
Furthermore, here is a chart I found on Pottery Barn that demonstrates how many pillows you could use and how to arrange them on your bed.
Step 8: Spread Out Throws & Blankets
For a well-dressed, hotel-like bed, the details. For a crowning touch and added texture, fold a throw blanket, thin quilt, or extra blanket, and layer it across the foot of the bed. You can also toss onto an end-of-bed bench if you wish to accent your bed further.
We love the chunky cable knit and faux fur throws as they can add an immediate sense of luxurious texture.
Even when you simply toss them onto the bed instead of folding them, throws and blankets make the space look elegant and inviting.
Step 9: Add A Welcome Pack
Everyone feels at home when the bedroom is very calming and inviting.
Some of the accessories you can use to create a luxury hotel welcome pack in your own home bedroom include:
Clean, white towels neatly rolled and artistically arranged alongside a foot-of-the-bed wine bottle and a welcome note. This would be great for you and your partner!
Clean and neatly-folded towels with a bottle of sparkling water for you to hydrate yourself before taking a shower,
Clean towels with your evening routine bath and skincare products – that way, you won't forget to take a shower and care for your skin at night.
A throw blanket or a neatly folded duvet.
Your choice of welcoming pack depends on you, and what activities you want to do in your bedroom just before you fall asleep.
As well, most people will want to add this pack in the master bedroom and guest rooms, and not necessarily the kids' bedroom.
However, you can also add it there, and possibly include a journal and a throw blanket for your kids.
Step 10: Step Back & Enjoy The View!
You've come a long way already! So walk back a little and just look at your hotel-like bed. Do you like it? That's great. Laying in there tonight will be awesome!
Pro Tip: Accessorize your bed with a nightstand and bedside lighting to heighten the experience. A nightstand accents the room and provides storage as you can have your essentials for your nighttime ritual on it while a table lamp provides gentle task lighting.
Make a ritual of bed-making. The more often you make your bed, the more enjoyable it is, and the faster your process. At this point, it becomes a welcome ritual, signifying setting things in order for a new day.
Among all rooms in your home, your bedroom's look should be the most relaxing. It should have a calm atmosphere. Your interior design will greatly affect the ambiance and mood of your bedroom.
Looking to dress your bed like a luxury hotel?
Layering is key. Remember, hotel-inspired beds are typically contemporary with pared-down bedding that appears lush and inviting.
Choose high-quality white linens and sheets as the base layer and keep the color palette of the quilt, duvet, or comforter and throws neutral but elegant- here, the fabric is your key so use it to your advantage. Pile some decorative pillows and round enjoy your well-dressed bed!
How do you make your bed? Have you tried a hotel-like bed before?
Related: How to makeover your bedroom to look like a luxury 5-star hotel
Pin This: