How To Make Your Home Look Expensive
If you want to learn how to make your home look expensive while keeping your money in your wallet, read on my friend.
You see, as potential buyers anxiously walk through your home, they are picturing themselves living in among your carefully curated decor. They will value the property as well as the decor at a much higher value than you paid.
Your buyer may have no knowledge of how to upcycle furniture. But they will, however, appreciate the antique chest that holds the firewood and marble top console table in the foyer with a bowl waiting for them to drop their keys in.
Those pieces add to the charm of your home, and facilitate the experience of feeling welcome in the space. And when a home is staged correctly, it helps facilitate higher offers.
---
7 Easy Home Updates eBook: Free!
Today, get a free copy of our ebook that shows you 7 simple updates you can make in your home this weekend that will make your home look expensive and increase its value. Tell us where to send your free copy:  
This site uses ads and affiliate content as an Amazon associate earning on qualifying purchases. Disclosure.
---
How Can I Make My Home Expensive and Unique?
Do you want to know how to make your home look expensive? Want to avoid making your home look tacky?
These home decor tricks will increase your home's value and keep your friends guessing how much you paid along the way.
First, it's important we cover the basics:
Know that filling your home with expensive furniture, art and decor is not a surefire way to make your home look expensive. No matter how much you paid for it.
Making a home look expensive is all about quality and class. Not a price tag. 
We have shared advice on how to make your front entryway look expensive, and how to make your bedroom look like a 5-star hotel.
There are many ways to make your home expensive and unique.
One way is to add your own personal touches to it.
For example, you could paint the walls in a color that you love, or hang artwork that reflects your personality. You could also choose furniture and decor that reflects your unique style.
Another way to make your home unique is to embrace its history.
If your home has a distinctive style or architectural features that set it apart from other homes, embrace them!
You can feature these elements in your decor, or even use them as the basis for a renovation project.
A Home Should Be Collected, Not Decorated
By collecting things you love that are authentic to you as an individual, your home will become a representation of your family's story.
Each time you view the framed heirloom family recipe, the plant that was graphed from your friend's garden or a photograph, you will be filled with gratitude.
First, it's usually best to try to decorate a home according to the style of the property.
Forcing the farmhouse decor in a Spanish villa home would be a crime. It will also detract from its beauty and decrease its value altogether.
Second, we appreciate all decor styles and don't feel the need to stick to one.
There are, however, a few decor principles we try to obey so as not to create chaos.
Here's How To Make Your Home Look More Expensive Where It Counts Most
Upon entering a home, most floor plans have you arrive in the foyer, or the living room.
It's a room that definitely lives up to its name, as it's where "living" happens.
Super Bowl parties, late movie nights binging on Netflix, and where you spend a lazy Sunday napping.
That first point of entry to your home should have a wow factor.
Don't worry; you won't need to dump out your 401(K) to spruce up your space.
You could pick and choose which projects to take on within your given budget.
Paint The Walls White
If you're looking to make a house look expensive, paint the walls white.
This color choice will help set off any other decorating choices you make.
It's also a good idea to use neutral wall coverings such as wallpaper or fabric.
Add Crown Molding
Crown molding is an investment not to be skipped.
It has a high return on investment since it adds value to the architectural elements of the structure.
If you are not able to afford to put crown molding in the entire house, focus on the main areas of your home such as the living room and dining room.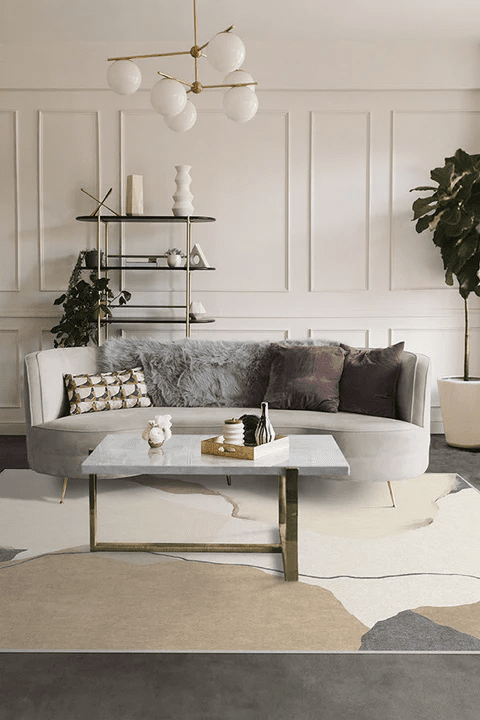 Molding adds an immediate luxurious effect to any decor.
Since molding is installed in sections, additional rooms can be added in the future if desired. But is not necessary. We must add, a skilled craftsman should do the installation.
With seasonal temperature changes, the molding will expand and contract causing faults to be apparent.
In other words, shoddy work will look more horrible as time passes.
No caulk will cover an abundance of errors.
Use Curtains In A Luxurious Fabric
To add some luxe to any room, use curtains in quality material and in a neutral tone.
Make sure your curtains hit the floor – no high water allowed!
If you really want to go the extra mile, line all your draperies the same color.
Doing so will give your house extra brownie points when viewing your home from the curbside.
Expensive Looking Homes Incorporate Natural Materials and Textures
Choose a variety of wood tones, metals, leather, and woven materials to create both texture and interest.
For example, if you choose a wool blend sofa, toss both leather and chunky knit pillows into the mix.
If you're an animal lover like me, add a faux-fur blanket to the arm of the sofa.
If you are trying to learn how to make your home look more expensive, remember it's not about price; it's about choosing items that blend well together. Please keep this in mind so as not to fall prey to bad choices simply because it's less expensive.
You can have both – cost savings and good taste.
Use Art To Elevate Your Space
I choose the photo below to illustrate the power one piece of art can have on a space.
This room has no drapery or rug; however, the art pulls the room together. It even gives a false sense of feeling finished.
Do you need to purchase expensive original artwork to make an impact?
Not at all, in fact, you can often purchase prints of beautiful art, for a fraction of the price.
Although visiting your local art galleries and supporting artists through purchasing their original work is always encouraged, prints are a cost-effective alternative.
We recommend Juniper Studio for sourcing awesome, expensive-looking prints.
Canvas paper prints can also be purchased and framed to your liking.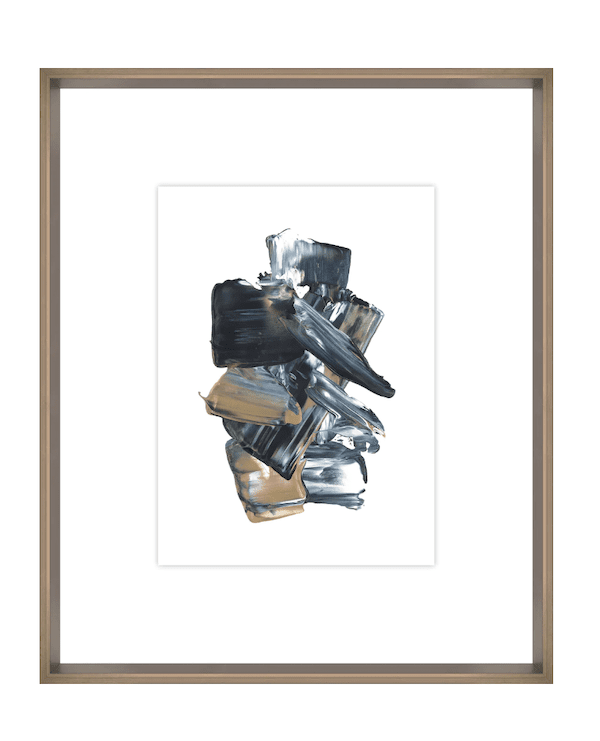 Pro tip: To give an art print a more luxe feel add a mat before framing.
Use a Rug To Make Your Space Look Expensive
Finding the right area rug can make or break your décor.
Basically, you need to determine two key things: the right rug size and how to properly place your rug.
Don't worry I got you covered in this department when ready jump on my post what is the right size area rug for my room? 
The principles of that article apply to almost any room and you will learn a few tricks to make even your inexpensive rug look good.
Properly Use Lighting
Here's a fantastic and inexpensive way to create some severe ambiance and make any room look luxurious.
I know that's probably not what you were expecting, but everything looks better in romantic lighting.
You can also add different light sources to create more complexity in your design.
Of course, having the right color bulbs is a must.
For living rooms, bedrooms and dens, you should look for warm white light bulbs with a kelvin range of 3,000 to 3,500. These bulbs produce yellowish-white lighting which is warmer and more flattering.
Bright white light bulbs are known to be colder due to their blue tones, but they are perfect for lighting a kitchen.
By far, your dining room is one of the most critical rooms to get your lighting correct.
For my blog post – How Important is Dining Room Lighting? I interviewed a restaurant developer. She shared a few helpful tips that anyone can apply to their own spaces, including proper height, style, and sizes to make your fixtures work in your décor.
Understand Proportion and Scale
The words scale and proportion are used interchangeably; however, they have different meanings.
When speaking of scale, this refers to the relation of one object to another. As an example, the standard heights for countertops are scaled to fit or work for the average person.
Proportion refers to a more general relationship in size between several objects.
An example of this would be the recommendation of a coffee table is about two-thirds the length of the sofa they are set next to.
The photo below shows the sofa being on the wrong scale as it clearly does not fit in the space.
The proportion of the lighting fixture is too small for its intended use.
Keep Your Decor Cohesive
The photo below shows a busy design done correctly.
Why? A few reasons the designer stuck to the color pallet, use rugs to separate the spaces in the open floor plan, and used one accent color – yellow.
Having a clear vision of your end décor goals will allow you to keep in control of your décor. Creating a mood board can be extremely helpful.
Here's How To Avoid Decorating Mistakes.
It's All In The Details
After all the hard work is done of painting, finding the right furniture pieces, and hanging up curtains are completed, now it's time to put the icing on top.
It's all in the finishing details. Arranging a few well-chosen objects is an insider trick of the trade.
This is how you can make your home feel expensive, even with inexpensive items.
A small plant, a candle, or books is sometimes all it takes.
Focus on one or two areas to layer and add a few touches.
In general, bookshelves, coffee tables, nightstands, and mantles are the go-to places.
Frequently Asked Questions About Making A Home Look Expensive
Q. How Can I Make The Exterior of My House Look More Expensive?
There are a few things you can do to make your house look more expensive from the outside.
One is to landscape the yard properly with nice plants and flowers and maybe even add in some outdoor furniture or a pond.
You can also install new windows and doors, paint or stain the exterior, or add shutters or trim.
And don't forget about the roof – a new roof can really enhance the appearance of your house.
Whatever you do, make sure it's done well and looks professional. You don't want your house to look like it needs repairs!
Add Some Landscaping
If you've got a yard, consider adding landscaping features such as flower beds, trees, shrubs, and even a garden.
These additions not only add beauty to your property but also provide shade and shelter for wildlife.
You'll find that these small changes can go a long way toward making your home feel more welcoming.
q. What Makes A House Look Tacky?
A lot of things can make a house look tacky, but one of the most common problems is clutter. Tidying up your home will make instantly make it look better.
Other things that make homes look tacky:
The 'live laugh love' aesthetic of the mid-00s.
Think, tacky signs all over a gallery wall, cutesy, cheap Hobby Lobby decor.
Mass-Produced Art
Stay away from mass-produced art from places like Winners, Ross, Walmart, Ikea and others.
Unless you are just using the canvas to paint over to make your own unique art, that is!
Dated light fixtures
Replace those dated boob lights with something more modern.
Bad Lighting
Another thing that can cause your house to look tacky is bad lighting.
If you have too much light in some areas and not enough in others, it can create an imbalance that makes your home look unpolished.
Additionally, using the wrong type of lighting can also make your home look tacky. fluorescent light bulbs, for example, are often harshly lit and can make a space feel cheap and uninviting.
How To Make Your Home Look Expensive –  Conclusion
As you can see, how to make your home look more expensive is easier than you think. Keeping your home organized and tidy, always makes your pad look more polished.
Lastly, it's not about how much you spend, but more about knowing how to pick pieces of furniture that complement each other.
You want to go for class and sophistication above all.
To recap what was discussed in this post, see the outline below.
How To Make Your Home Look Expensive
Install crown molding. If on a limited budget, focus on the main living areas only.
Make sure all draperies hit the floor.
Learn the art of layering and grouping small details.
Incorporate natural materials and textures.
Incorporate some art. Purchase inexpensive prints, enlarge them with mats, and finish with a timeless frame.
Roll out a few rugs. Use them to separate spaces in open floor plans.
Find furniture pieces that are the right scale. Decorate with proper proportions.
Make sure your design is cohesive and blends well together. Aim for soft or warm lighting bulbs with a range of 3-3,500. Max of 4,000 kelvins.
Add a few simple details to complete the decor. Less is more.
Just a friendly remember – a neat, organize, and fresh-smelling home always looks more expensive.
Be sure to read this guide to home decor and luxurious gift ideas that look more expensive than they actually are!
Pin this: