Guest Bedroom Ideas Your In-laws And Friends Will Appreciate
Implementing a few guest bedroom ideas can significantly impact your friends and family's stay.
To create the right experience for your guest, you must begin by thinking like one.
In this article, we will share some helpful ideas for how you can make your guest bedroom inviting and welcoming.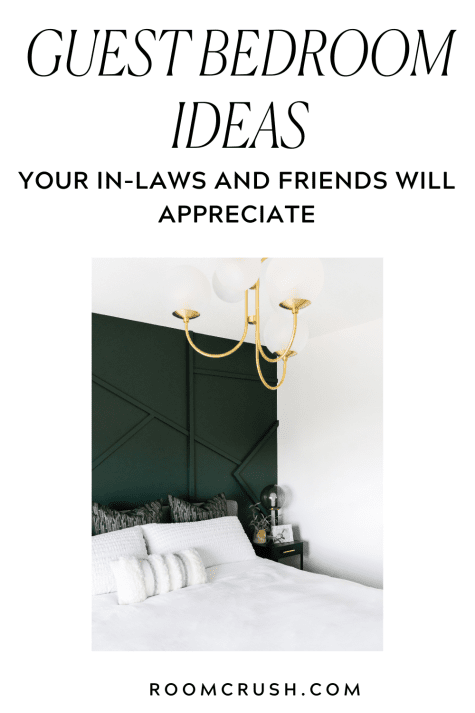 ---
7 Easy Home Updates eBook: Free!
Today, get a free copy of our ebook that shows you 7 simple updates you can make in your home this weekend that will make your home look expensive and increase its value. Tell us where to send your free copy:  
This site uses ads and affiliate content as an Amazon associate earning on qualifying purchases. Disclosure.
---
17 Guest Bedroom Ideas Your In-laws And Friends Will Appreciate
A week or two before vacation, most people are excited and have big plans to be as organized as possible. You have high hopes to get laundry and bills done early to ensure that you'll leave with ease.
As life has it, the prior weeks are complete chaos.
Fast forward to the night before your trip, and you're scrambling to get everything done and end up not getting a good night's rest.
As you button up some last minutes things, your mother is calling you to guilt you for leaving the area for a few days.  And then you hear your husband asking if you grabbed his shaving kit.
It's about this time that you begin to have that uneasy feeling that you may have forgotten to pack something important – yes, probably his shaving kit!
As you race to the airport because your ride was late, you make a promise to create a written list of things to pack for your next trip.
Whether you travel by flight or take a road trip by the end of the day you're looking forward to freshening up a bit.
These are things that you, as the host can take care of for your guests before they arrive.
The Best Guest Room Ideas For A Relaxing Stay
Be sure to include these items in your guest room before your next guests arrive, and they will be feeling well taken care of.
1. A Cozy, Well-dressed Bed
When it comes to decorating a guest room, follow this simple furniture principle; less is more.
Your goal is to provide your guest with comfortable yet temporary accommodations.
Your guest room can be completed using minimal furniture pieces. The bed is the most important.
Remember, you do not need a complete bedroom set. A simple nightstand with a few accessories may be all that is necessary.
Because anything that would make the room look overcrowded isn't welcome.
And don't forget to include a comfortable mattress!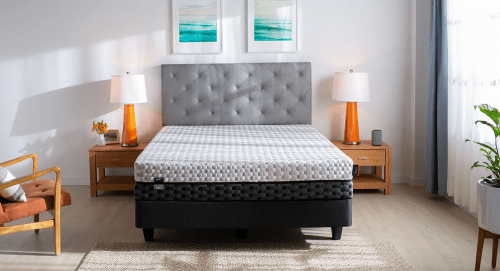 Read: How to make a bed like a luxury hotel
2. Comfortable Pillows
The pillows you choose should be just as comfortable as the guest bedroom mattress!
Not only do you want to pick comfortable pillows, but they should be allergy-friendly as well:
Beckham Hotel Collection Bed Pillows Standard / Queen Size Set of 2 - Down Alternative Bedding Gel Cooling Pillow for Back, Stomach or Side Sleepers
SUPERIOR COMFORT - Queen pillows have a 250 thread count cover filled with a soft down alternative. One of the best first apartment or new home essentials gift for bedroom, guest bed room, college dorm or house decor.
KEEP COOL - If you easily overheat, or maybe you're looking for cool queen size pillows for night sweats, the breathability of our standard bed pillow can offer welcome relief.
SAFE & SOUND - These fluffy bed pillows are made in an OEKO-TEX Standard Certified factory that ensures textiles meet high safety and environmental standards.
EASY CLEAN - Unlike memory foam pillows, our pillow for side sleepers is designed to make life as easy! Simply pop them in the washer and tumble dry.
NO SHIFT DESIGN - Whether you're a back, side, or stomach sleeper - our cooling pillows for sleeping can accommodate! The plush bounce-back design of this firm pillow will keep its shape in any position.
For optimal guest comfort, choose breathable pillow cover materials like bamboo. Not only are these eco-friendly, but they're super luxurious to the touch.
Read: The best bamboo bedding.
3. Extra Blankets
One of the worst things that can happen to your guests is feeling cold in the middle of the night.
Storing extra blankets in the guest bedroom closet saves your guests from having to awkwardly knock on your door in the middle of the night to stop themselves from freezing.
For extra blankets, stick with warm, yet thin materials they can easily layer over the existing bedspread.
Sale
Exclusivo Mezcla Waffle Textured Dusty Pink Fleece Blanket, Super Soft and Warm 50x70 inches Throw Blanket for Couch, Cozy, Fuzzy and Lightweight
Realiable quality-The flannel fabric we choose is originally made from 100% microfiber polyester and brushed to create extra softness on both sides. Enough weight to keep you comfortable, yet light enough to keep you from breaking out in sweat.The antistatic finish will effectively improve the situation of statics.
Extra large- Compared with standard size ones, this throw blanket measured by 50" x 70" suits better for you to wrap up. No more worries about your toes.
Versatile- This premium throw is a very useful item to have on hand, it can protect your sofa/chair from dust and stain, keep you warm and cozy for a nap or movie time. Perfect size and weight to carry with both for indoor and outdoor activities.
Decorative- Throw features a velvet touch softness with rich and inviting designs,featuring a double-faced plush with graceful luster. Easily coordinates or enhances existing bedding or home décor.
Easy care- No need to spend special effort,it is machine washable and dry-able and would hold up well after washing. No shrinkage, No colour fading, and No unravelling.
4. Organic Cotton Towels
Organic cotton towels are one of the best ways to create a luxurious spa bathroom experience for your guests.
You can either leave them in the guest bathroom or place them on top of the bed or in the closet for your guests to see when they arrive.
The cotton towel pictured below is organic Turkish cotton, which has extra-long fibers that absorb water better than regular cotton does.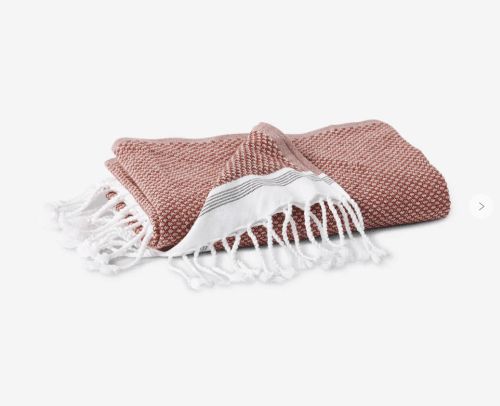 5. Tooth Brushes
In the frenzy of travel, people often forget to pack their toothbrushes.
So to save yourself (or worse, your guests) from a last-minute run to the store, always have at least two extra toothbrushes in the guest bathroom for those unexpected times.
Sale
6. Disposable Shavers
Just like with toothbrushes, you'll want to have some disposable shavers in your guest bathroom.
It's always a good idea to get shavers suitable for sensitive skin so you can accommodate all your guests.
7. Soap & Hair Products
While people sometimes bring their hair products with them, they're not likely to bring soap.
To make things easier on yourself, get liquid soap refills from an allergy-friendly brand like Blueland. Refilling a reusable soap bottle is a lot more eco-friendly and also saves you the hassle of opening a new bar of soap each time you have guests.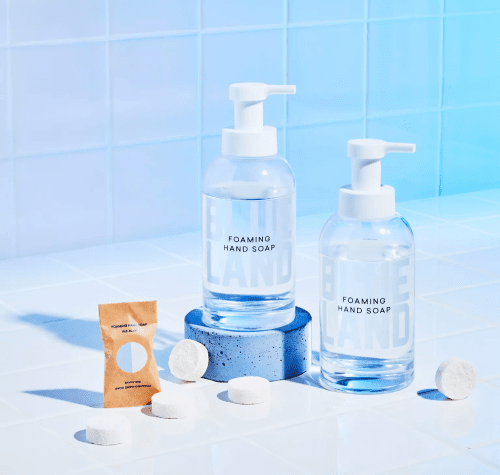 And even if your guests bring hair products, they may not bring enough.
This is especially true if all your guests have brought with them is a carry-on from the airplane. Chances are they've only got those mini travel sizes, which are only going to last for a couple of days.
So, make sure to include a few hair essentials, like men's and women's shampoo, conditioner, and perhaps a small hairspray.
Brickell Men's Daily Revitalizing Hair Care Routine, Shampoo and Conditioner Set For Men, Mint and Tea Tree Oil Shampoo, Strength and Volume Enhancing Conditioner, Natural and Organic, Gift Set
What It Does: This men's hair care set contains the two best organic hair products for men to create stronger, fuller, healthier hair through a unique combination of natural ingredients.
Who It's For: Men of any age with any hair type who want better, healthier hair. Makes the Perfect Men's Gift Set
How It Works: These two all natural hair care products for men work together to deliver a simple, but powerful men's hair care routine that builds stronger hair, volumizes, and brings back shine. Your hair will never look healthier.
Key Ingredients: Natural & Certified Organic ingredients, including aloe, Vitamin E, tea tree oil, hydrolyzed protein, Pro-Vitamin B5, & silk protein amino acids.
Who We Are: Brickell creates skincare and grooming products for men using natural & certified organic ingredients. Our hair products for men are sold in over 100 countries and have appeared in GQ, Men's Health, Men's Journal, and other popular men's magazines.
8. Makeup
Some of the most common things your guests may forget are certain makeup items. To save your mother-in-law or friend from a trip to the store, stock your guest room with a few simple makeup essentials.
These can include mascara, eyeliner, and a few concealer palettes that suit different skin tones.
Make sure to get eyeliner that doesn't require sharpening, or get a sharpener as well!
Sale
Sale
9. Toiletries
Aside from shampoo, conditioner, and disposable razors, the most important toiletries to include in your guest bathroom are body lotion, face cream, shaving cream, tampons, and toothpaste.
You can put all these items in a guest bathroom basket to make it easy for guests to find everything without having to ask you.
You can either get the items separately or get a pre-packed toiletry bag. Just make sure it has everything, and if it doesn't, get a few extra things to add:
Sale
Asom Travel Convenience Toiletry Kit Prefilled Personal Care Hygiene Traveling Essential Accessory Unisex Toiletries Set, Men and Women Travel Size TSA Approved Kit with Toiletries, 20 Piece.
TRAVEL TOILETRY KIT - Travel essential Travel-size Toiletries accessories set for short stays away from home or on business vacation trips
ACCESSIBLE TOILETRIES ESSENTIALS CONVENIENCE BAG - A well organized Toiletry Travel Kit is the key to making travel easier and choosing the right toiletry bag can bring order and tranquility to your trip
UNISEX QUALITY TOILETRY KITS - All products in your toiletry travel convenience kit are brand name quality products to insure you get a quality product toiletry kit you deserve when it is needed
TSA COMPLIANT TRAVEL- SIZE PREFILLED KIT - Toiletry bag is transparent and waterproof fully compliant with TSA rules and regulations, makes traveling save time quick and easy
PERSONAL CARE TRAVEL ESSENTIALS TOILETRIES CASE - Keeps your toiletries in place Easy to clean Toiletry travel bag size 6 Inch by 5 inch by 2 Inch
10. Tissues or Wipes
Aside from stocking the bathroom or guest room with a few tissue boxes, include a few packs of wet wipes as well.
Not only are these helpful for those with kids, but they're a great way to freshen up during the summer.
Sale
Nice 'N Clean Adult Flushable Wipes (3 x 60 Count) | Personal Cleansing Wipes Made from Plant-Based Fibers | Infused with Aloe & Vitamin E
UPGRADE YOUR BATHROOM: Nice 'n Clean Moist Flushable Wipes are designed to provide a fresher, cleaner feeling instead of using toilet paper alone. Clean, refresh, and deodorize yourself for an all-day clean feeling!
SAFE FOR SEWERS AND SEPTIC SYSTEMS: The wet wipes are made with an advanced flushable technology from 100% plant-based materials, meaning they are safe for well-maintained sewers and septic systems so you can feel confident flushing one wipe at a time.
GENTLE ON SKIN: Each flushable wipe is infused with Aloe and Vitamin E for a moisturizing boost where you need it most. The wipes are hypoallergenic, alcohol-free, and free from chemical binders making the wipes adult and children-friendly.
FRESH WIPES EVERY TIME: The easy to open, flip top Moisture Lock lid prevents wipes from drying out before use. 3 packs are included. Each pack contains 60 wipes for a total of 180 flushable moist wipes.
MADE FOR FAMILIES: We stand behind our quality and guarantee you will be satisfied or your money back. Our wet wipes are safe and gentle for your whole family!
11. Full-Length Mirror
A full-length mirror helps your guests get ready for whatever event they'll be going to.
Just be sure to get a mirror with a stand attached to avoid the mirror falling over by accident.
Natsukage 59"x20" Black Full Length Mirror Large Floor Mirror with Stand Wall Mirror Full Length Body Mirror Standing Hanging or Leaning Against Wall Dressing Mirror for Bedroom Aluminum Alloy Frame
★【FULL LENGTH MIRROR】The size of the floor mirror is 59"x20". It is long and big enough for you to admire the whole body in a single glance.
★【DURABLE ALLOY FRAME】The frame is made of corrosion-resistant aluminum alloy material. Rectangular vertical frame, simple and precise in design, available in a variety of colors to add a beautiful and elegant look to your room.
★【 EXPLOSION-PROOF HD GLASS】Anti-splash explosion-proof film, anti-shatter - broken glass will not be splashed even if it is impacted by external force, which is safer and more protective.High-definition glass lens, the image is clearer and more realistic, and will not morph the way you look.
★【FLOOR STANDING MIRROR & WALL-MOUNTED MIRROR】 The full-length mirror can be leaned directly against the wall, or hung on the wall with the behind hook, or stand on the floor with the standing bracket.Multifunctional body mirror is suitable for dressing room, bedroom,bathroom,corridor,living room..etc
★【100% SATISFACTION GUARANTEE】If the mirror arrives damaged, or you don't absolutely like our products, please contact us via Amazon message in time, we will provide you with the best solution within 24 hours!
You May Also Like: 10 Ideas To Update Your Boring, Old, Tiny Bathroom Stylishly
12. Ceiling Fan
If you don't have air conditioning in your space, then a ceiling fan is a must.
These can also add to the decor of your space, so make sure to get a ceiling fan that matches the rest of the guest room's design style.
13. Closet Space
No one likes to live out of a suitcase. So, provide a little closet space where guest could unpack their belongings.
It will allow your guest to feel more organized and locate whatever they are looking for easily, leaving them to feel right at home.
You May Also Like: Ideas To Decorate An Apartment For A Single Guy
14. Water
For most of your guests, they won't feel close enough to you to feel like they can freely rummage through your cupboards.
So, give them a few bottles of water they can drink from or take with them on an outing if you're not available.
You can also supply a water pitcher with a few reusable water bottles if you prefer.
15. Snacks
Just as your guests might feel uncomfortable rummaging through your cupboards for water, the same is true for snacks.
To save your guests from their growling stomachs at the thought of a midnight snack, supply a few snacks in a basket in the guest room. The easiest way to do this is to get some packaged snacks that are healthy and allergy friendly, like these cookies:
FreeYumm Oatmeal Chocolate Chip Soft Baked Cookies - Plant Based - Allergy Friendly Snacks - Gluten Free - Safe for School - 42 Individually Wrapped Cookies
School-Safe Snack - Individually wrapped & inclusive to all major dietary restrictions, you can share our products with friends and family anywhere you go
Delicious Plant-Based Cookie - Soft vegan cookie made with simple ingredients and no artificial colors, flavors, or fillers for your healthy diets
Gluten Free Desserts - Only includes whole food ingredients such as whole grain oats, organic coconut, palm sugar, & chocolate chips for easy & guilt-free snacking
Clean & Healthy NonGMO Snacking - Excludes gluten, peanuts, tree nuts, wheat, gluten, soy, fish, shellfish, sulphites, sesame, milk, and eggs
Top 9 Allergen Free Snacks - Baked in our dedicated allergen-free bakery where the allergens are never allowed on site to ensure quality, safety, and taste
16. Mini Fridge & Microwave
Including a mini-fridge and microwave in their room is always a nice touch of convenience.
As well, the use of flowers or greenery is always welcome.
And of course, make sure the entire house is clean and tidy.
17. A Warm Welcome
As your friends walk into your home, greet them with a hug, a glass of wine, and a tray of appetizers.
Then comes…"Hey, we realize you could have chosen to spend your vacation time anywhere so thanks for spending it with us. Free feel to drop off your items in the guest room, take a shower or just unwind for a bit before we catch up."
To their surprise, the guest room is not only clean but guest-ready.  They will begin to unwind as they notice a basket full of travel-size toiletries that include…disposable shavers!
As they slip into some cozy luxury sheets, they'll realize it's going to be a great vacation.
Guest Bedroom Ideas –  Conclusion
Having comfortable guests tend to make you feel good about yourself and your home.
You have nothing to worry about when someone comes over as you are always ready to give them the ultimate guestroom retreat.
Noe that you know the best guest bedroom ideas to make yours awesome, are you feeling confident to host your next guest?
Read this next: How to make a bedroom feel like a posh hotel