Implementing a few guest bedroom ideas can significantly impact your friends and family's stay.
To create the right experience for your guest, you must begin by thinking like one.
In this article, we will share some helpful ideas for how you can make your guest bedroom inviting and welcoming.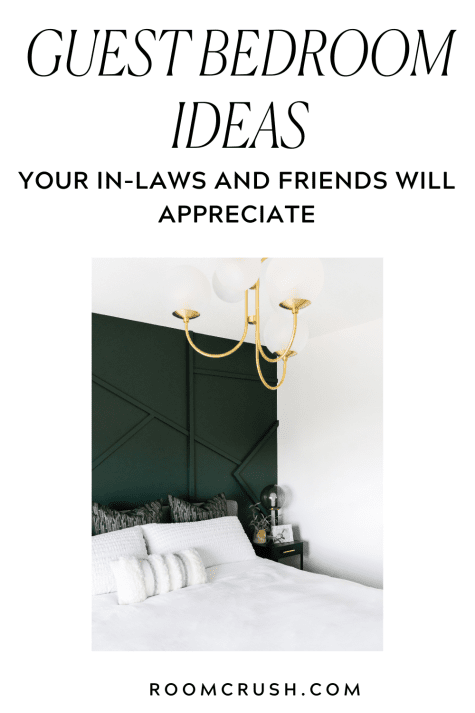 17 Guest Bedroom Ideas Your In-laws And Friends Will Appreciate
A week or two before vacation, most people are excited and have big plans to be as organized as possible. You have high hopes to get laundry and bills done early to ensure that you'll leave with ease.
As life has it, the prior weeks are complete chaos.
Fast forward to the night before your trip, and you're scrambling to get everything done and end up not getting a good night's rest.
As you button up some last minutes things, your mother is calling you to guilt you for leaving the area for a few days.  And then you hear your husband asking if you grabbed his shaving kit.
It's about this time that you begin to have that uneasy feeling that you may have forgotten to pack something important – yes, probably his shaving kit!
As you race to the airport because your ride was late, you make a promise to create a written list of things to pack for your next trip.
Whether you travel by flight or take a road trip by the end of the day you're looking forward to freshening up a bit.
These are things that you, as the host can take care of for your guests before they arrive.
The Best Guest Room Ideas For A Relaxing Stay
Be sure to include these items in your guest room before your next guests arrive, and they will be feeling well taken care of.
1. A Cozy, Well-dressed Bed
When it comes to decorating a guest room, follow this simple furniture principle; less is more.
Your goal is to provide your guest with comfortable yet temporary accommodations.
Your guest room can be completed using minimal furniture pieces. The bed is the most important.
Remember, you do not need a complete bedroom set. A simple nightstand with a few accessories may be all that is necessary.
Because anything that would make the room look overcrowded isn't welcome.
And don't forget to include a comfortable mattress!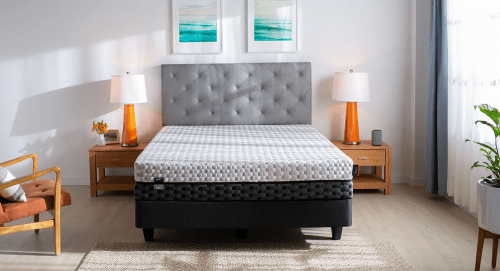 Read: How to make a bed like a luxury hotel
2. Comfortable Pillows
The pillows you choose should be just as comfortable as the guest bedroom mattress!
Not only do you want to pick comfortable pillows, but they should be allergy-friendly as well:
For optimal guest comfort, choose breathable pillow cover materials like bamboo. Not only are these eco-friendly, but they're super luxurious to the touch.
3. Extra Blankets
One of the worst things that can happen to your guests is feeling cold in the middle of the night.
Storing extra blankets in the guest bedroom closet saves your guests from having to awkwardly knock on your door in the middle of the night to stop themselves from freezing.
For extra blankets, stick with warm, yet thin materials they can easily layer over the existing bedspread.
4. Organic Cotton Towels
Organic cotton towels are one of the best ways to create a luxurious spa bathroom experience for your guests.
You can either leave them in the guest bathroom or place them on top of the bed or in the closet for your guests to see when they arrive.
The cotton towel pictured below is organic Turkish cotton, which has extra-long fibers that absorb water better than regular cotton does.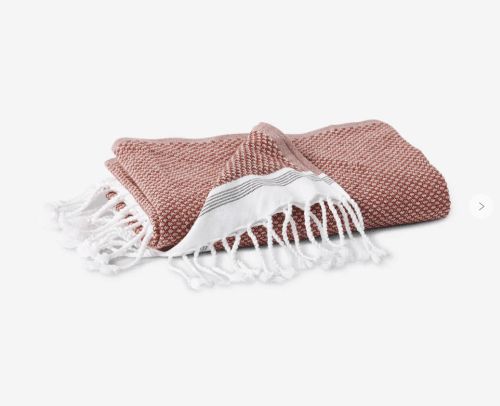 5. Tooth Brushes
In the frenzy of travel, people often forget to pack their toothbrushes.
So to save yourself (or worse, your guests) from a last-minute run to the store, always have at least two extra toothbrushes in the guest bathroom for those unexpected times.
6. Disposable Shavers
Just like with toothbrushes, you'll want to have some disposable shavers in your guest bathroom.
It's always a good idea to get shavers suitable for sensitive skin so you can accommodate all your guests.
7. Soap & Hair Products
While people sometimes bring their hair products with them, they're not likely to bring soap.
To make things easier on yourself, get liquid soap refills from an allergy-friendly brand like Blueland. Refilling a reusable soap bottle is a lot more eco-friendly and also saves you the hassle of opening a new bar of soap each time you have guests.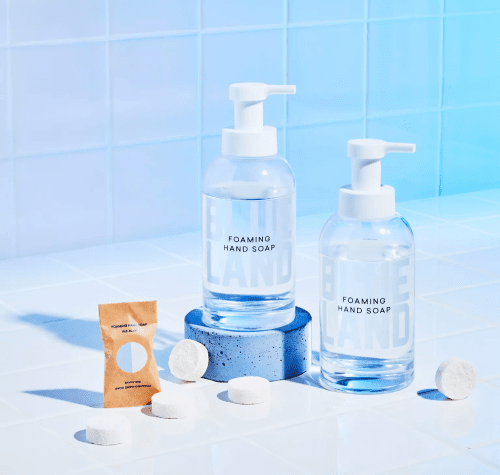 And even if your guests bring hair products, they may not bring enough.
This is especially true if all your guests have brought with them is a carry-on from the airplane. Chances are they've only got those mini travel sizes, which are only going to last for a couple of days.
So, make sure to include a few hair essentials, like men's and women's shampoo, conditioner, and perhaps a small hairspray.
8. Makeup
Some of the most common things your guests may forget are certain makeup items. To save your mother-in-law or friend from a trip to the store, stock your guest room with a few simple makeup essentials.
These can include mascara, eyeliner, and a few concealer palettes that suit different skin tones.
Make sure to get eyeliner that doesn't require sharpening, or get a sharpener as well!
9. Toiletries
Aside from shampoo, conditioner, and disposable razors, the most important toiletries to include in your guest bathroom are body lotion, face cream, shaving cream, tampons, and toothpaste.
You can put all these items in a guest bathroom basket to make it easy for guests to find everything without having to ask you.
You can either get the items separately or get a pre-packed toiletry bag. Just make sure it has everything, and if it doesn't, get a few extra things to add:
10. Tissues or Wipes
Aside from stocking the bathroom or guest room with a few tissue boxes, include a few packs of wet wipes as well.
Not only are these helpful for those with kids, but they're a great way to freshen up during the summer.
11. Full-Length Mirror
A full-length mirror helps your guests get ready for whatever event they'll be going to.
Just be sure to get a mirror with a stand attached to avoid the mirror falling over by accident.
12. Ceiling Fan
If you don't have air conditioning in your space, then a ceiling fan is a must.
These can also add to the decor of your space, so make sure to get a ceiling fan that matches the rest of the guest room's design style.
13. Closet Space
No one likes to live out of a suitcase. So, provide a little closet space where guest could unpack their belongings.
It will allow your guest to feel more organized and locate whatever they are looking for easily, leaving them to feel right at home.
14. Water
For most of your guests, they won't feel close enough to you to feel like they can freely rummage through your cupboards.
So, give them a few bottles of water they can drink from or take with them on an outing if you're not available.
You can also supply a water pitcher with a few reusable water bottles if you prefer.
15. Snacks
Just as your guests might feel uncomfortable rummaging through your cupboards for water, the same is true for snacks.
To save your guests from their growling stomachs at the thought of a midnight snack, supply a few snacks in a basket in the guest room. The easiest way to do this is to get some packaged snacks that are healthy and allergy friendly, like these cookies:
16. Mini Fridge & Microwave
Including a mini-fridge and microwave in their room is always a nice touch of convenience.
As well, the use of flowers or greenery is always welcome.
And of course, make sure the entire house is clean and tidy.
17. A Warm Welcome
As your friends walk into your home, greet them with a hug, a glass of wine, and a tray of appetizers.
Then comes…"Hey, we realize you could have chosen to spend your vacation time anywhere so thanks for spending it with us. Free feel to drop off your items in the guest room, take a shower or just unwind for a bit before we catch up."
To their surprise, the guest room is not only clean but guest-ready.  They will begin to unwind as they notice a basket full of travel-size toiletries that include…disposable shavers!
As they slip into some cozy luxury sheets, they'll realize it's going to be a great vacation.
Guest Bedroom Ideas -  Conclusion
Having comfortable guests tend to make you feel good about yourself and your home.
You have nothing to worry about when someone comes over as you are always ready to give them the ultimate guestroom retreat.
Noe that you know the best guest bedroom ideas to make yours awesome, are you feeling confident to host your next guest?
Read this next: How to make a bedroom feel like a posh hotel